Bright colors, bold makeup, statement styles, big shoulders, and dramatic hair are some of the many things the 80s fashion was all about. If you are confused about what to wear to an 80s party, we've rounded up a collection of outfits and ideas for you to look into.
In the world of fashion and style, the 80s hold a very special and significant place because of what they had to offer and bring to the table. The 80s fashion was loud and big and didn't shy away from making unique and striking style statements.
It also led to numerous fashion subcultures such as punk fashion, hip-hop fashion, grunge fashion, and goth fashion.
Take a look at some of the ideal 80s fashion ideas and outfits for parties that will help you do justice to the decade's true essence.
80s Fashion Ideas for Parties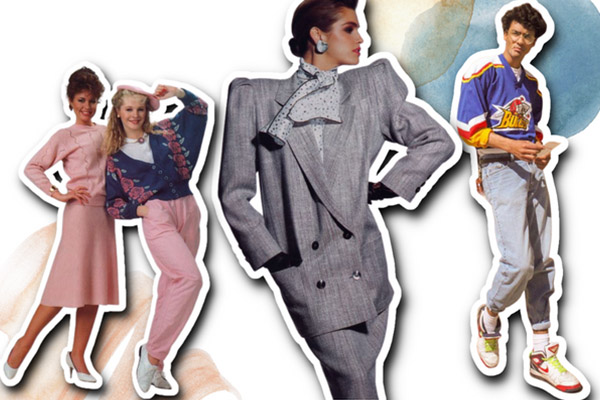 While the 80s fashion featured a great number of key elements and styles, here are some of the most popular ones that you can rock at an 80s-themed party.
Learn how to dress 80s with the following options and make a striking statement at your next party!
Denim Jacket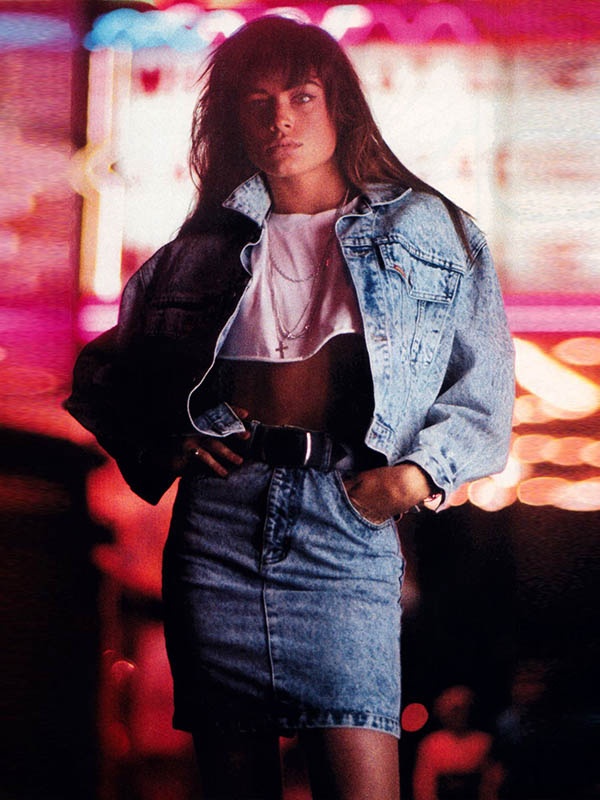 The 80s party attire is incomplete without a short-waisted denim jacket that was a classic and an unbeatable wardrobe essential for women back in the decade.
Ideally paired with a short dress, mini skirt, jeans, or a ruffled blouse, the stone-washed stone washed denim jacket was a huge part of the 80s teen fashion. Not just women, but most men also had a denim jacket or two in their wardrobe to help add a retro touch to their daily outfits.
For an 80s fashion party, consider an acid-washed denim jacket adorned with rhinestones, sequins or fringes, or patches and wear it with a nice skirt or skinny jeans.
Denim On Denim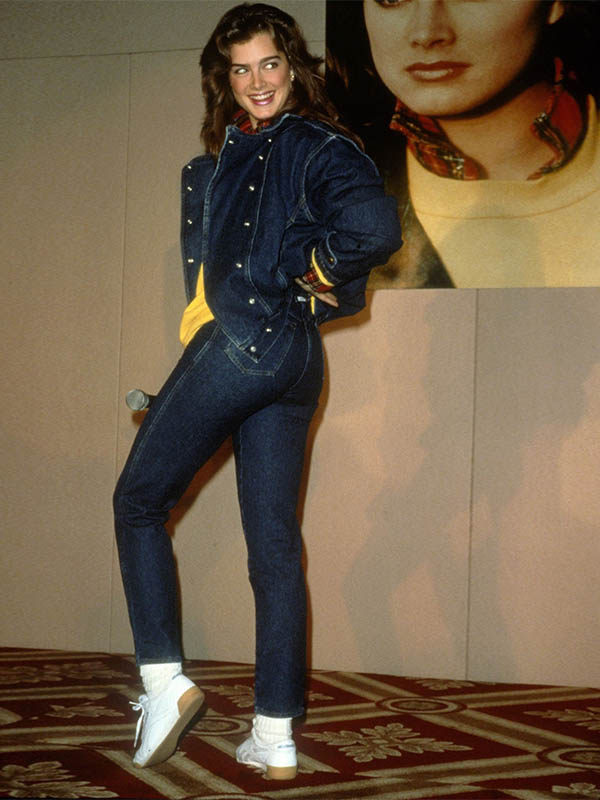 The double denim craze was everywhere during the 80s, the credit for of which also goes to the celebrities of that time.
A stone-washed denim jacket paired with matching jeans is one of the ideal 80s looks for parties considering how it's quintessentially 80s!
Enhance your denim or denim outfit with a chunky belt, lace-up booties, big flashy earrings, and a funky hairstyle such as crimped hair which was all the rage in the 80s. Curly bangs also scream the 80s so if you are looking for a way to rock those natural curls, this is the right way to do it!
All Kinds of Jeans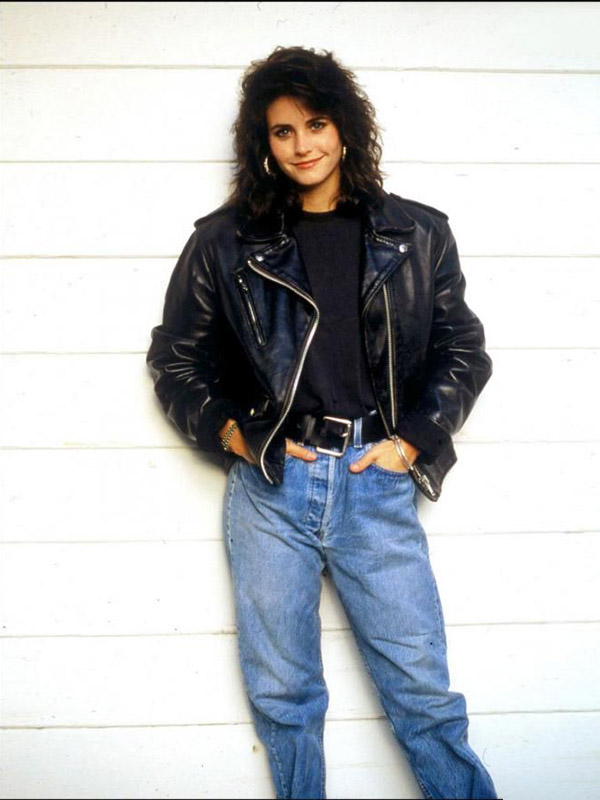 From acid-washed to skinny to ripped to high-waisted, the 80s were a time when everyone had a favorite pair of jeans sitting in their wardrobe.
While plain blue denim jeans were a cult favorite, there were many other preferred styles such as jeans with colored panels on the back, jeans with multiple pockets, jeans with flowers embroidered all over them, glitter jeans, colored jeans, and so many others.
The 80s have seen all kinds of jeans, so for your 80s party look, opt for a skinny or straight-leg straight leg pair of jeans, plain or embellished, and pair it with either a biker jacket, a printed t-shirt, or a cable knit jumper.
Disco Tops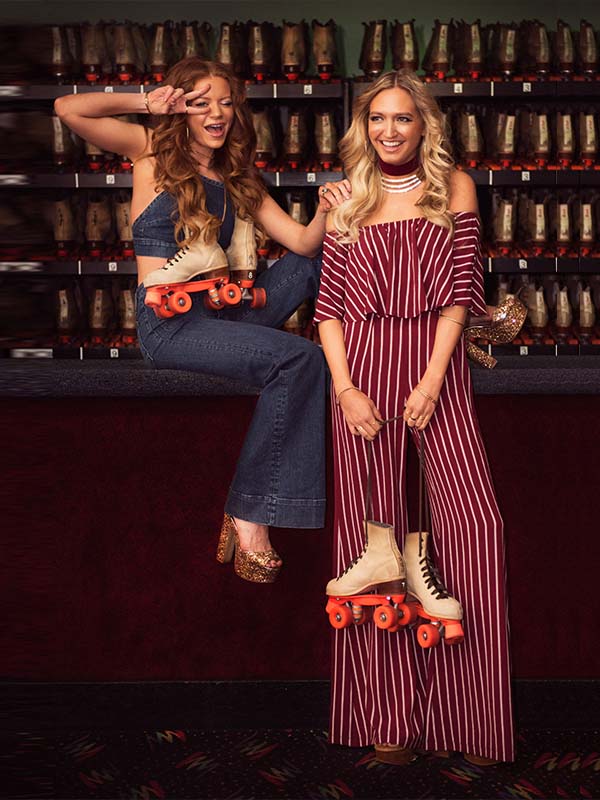 Looking to rock your 80s party look with a bit of bling and glamor? Go for a sequined, draped disco top paired with high-waisted jeans, shiny high heels or platform boots, and of course, some blingy jewelry!
Disco tops offered the ideal party-girl aesthetic that was so prevalent in the 80s and is one of the perfect 80s looks for parties. Complete your party ensemble with the right hairstyle from that decade where you have many options of hairstyles for girls to choose from such as curly bangs, feathered layers, high ponytail with bangs, and permed hair, to name a few.
Power Suits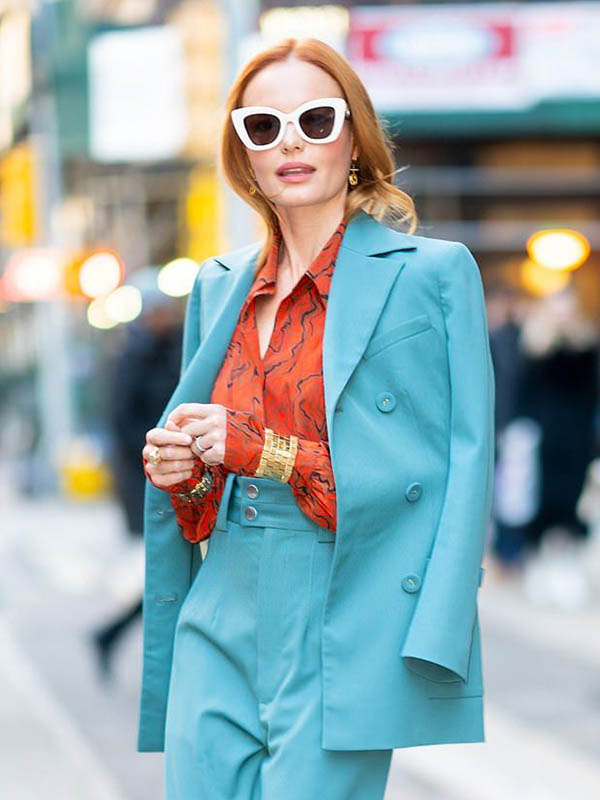 While a power suit might not be your ideal choice of outfit for an 80s party, you will be surprised to see just how stylish and chic it looks!
Many women in the 80s would often choose to go with power suits over the usual party dresses and ended up making unique and solid style statements!
The popular 80s term 'power dressing' was all the rage back then and while these suits were originally designed to help women appear strong, energetic, and unapologetic in corporate settings, there's no reason why you can't wear one to a party!
Opt for a loud power suit with big shoulders featuring extra padding, and add a chunky to it for a defined waist. Accessorize your look with hoop earrings, wrist bangles, and bold makeup, and you are good to go!
Overalls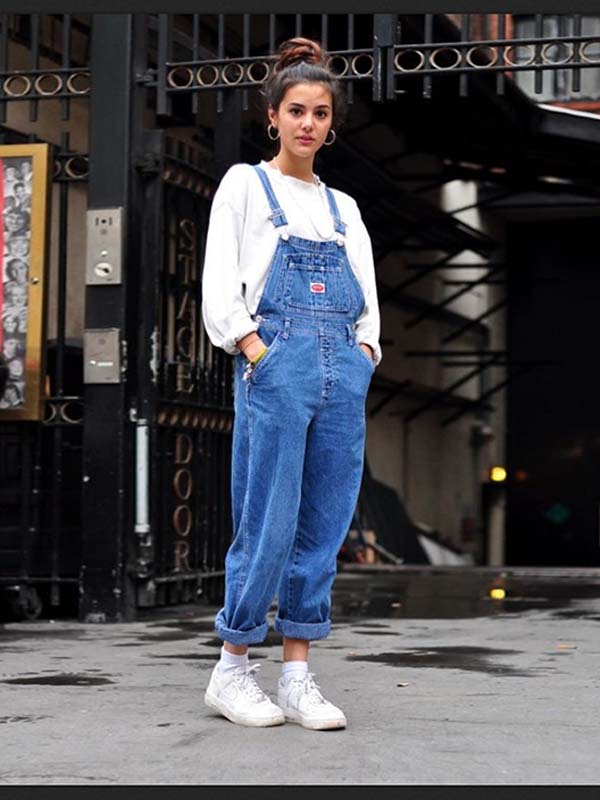 One of the most casual and popular 80s outfits is none other than overalls paired with bright-colored t-shirts. Acid-washed denim overalls, in particular, were a go-to choice for many women and were typically worn with graphic and vintage t-shirts featuring their favorite movies and bands from that decade.
For your 80s themed attire, consider a pair of denim overalls or any colored ones, paired with a loud t-shirt or a neutral button-down shirt, and of course sneakers! Wedges, boots, and sandals also go really well with overalls so you can consider different footwear options here.
The popularity of this clothing item also continued to the next decade and many 90s outfits featured denim overalls, sometimes even rocked with both straps down.
80s Attire for A Party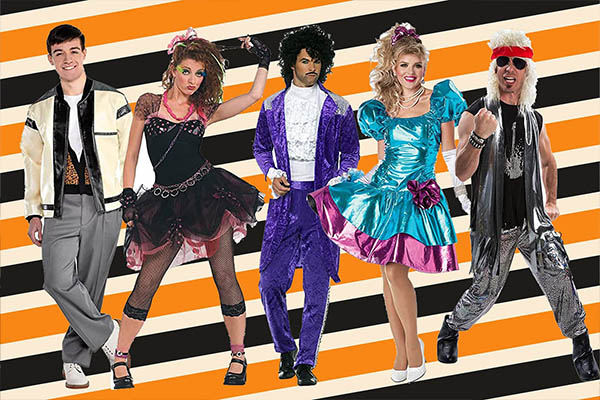 If you are looking for specific outfit combinations for an 80s-themed party, we've got you covered! They range from basic and simple to glamorous and out-there so take your pick according to your personal style fashion game.
Cropped Hoodie with Jeans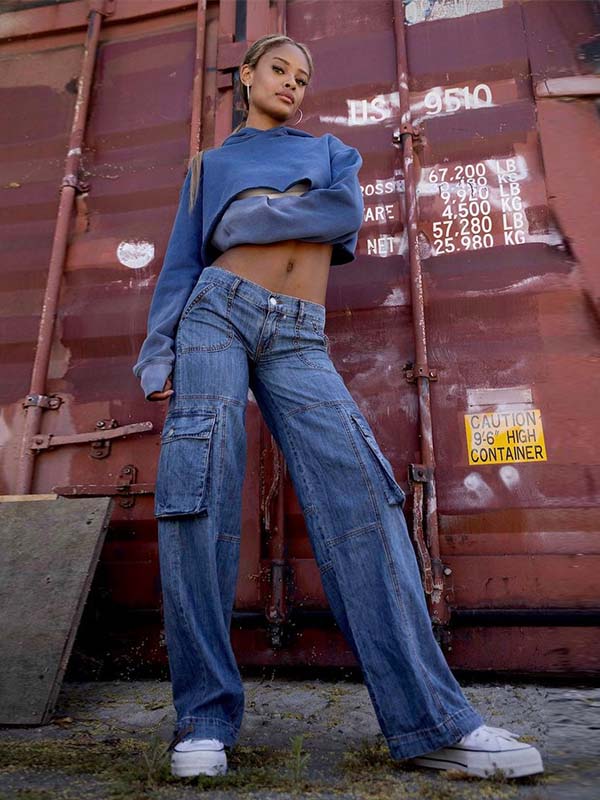 If you know how to style hoodies in a fun and creative manner, this one's for you!
A cropped hoodie paired with high-waisted or skinny jeans is the ideal dress idea for an 80s party. Wearing a hoodie to a party might sound boring at first, but a cropped version looks super chic and stylish. Elevate this simple outfit with a pair of retro sunglasses, some jewelry, and comfy pumps or trainers.
The best thing about this 80s attire for a party is that you can experiment with different colors here, different styles of jeans, and accessories too.
The David Bowie-Inspired Look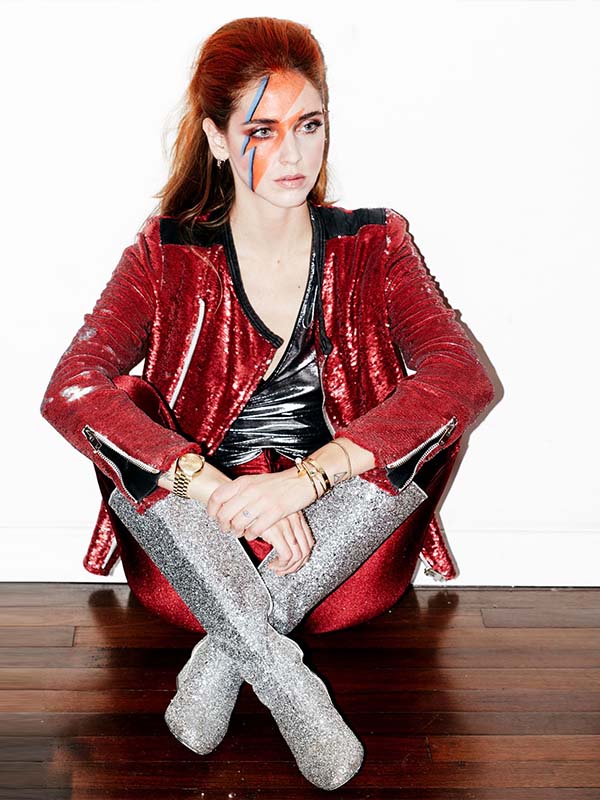 1980s-themed-party clothes don't get better than those inspired by David Bowie, who wasn't just one of the leading figures in the music industry, but also the fashion world.
He is considered a true fashion icon who brought us some of the most unique, out-there, and bold fashion trends of all time!
Consider a multi-colored blazer paired with a bright shirt, a vibrant 8-bit bow tie, mismatched earrings, and a bright pair of men's shorts. Complete the look with theatrical makeup which was a big part of David Bowie's persona and fashion looks.
Oversized Hoodie with Leggings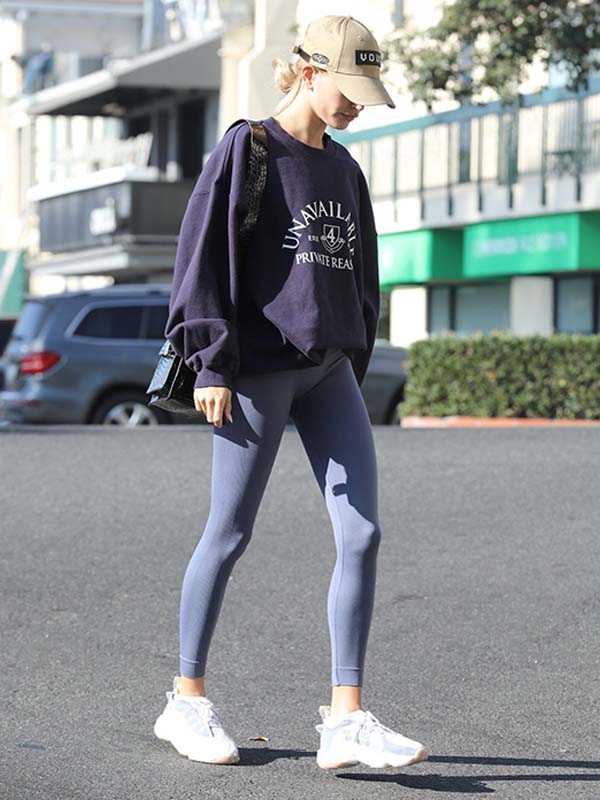 If cropped hoodies aren't your style, consider an oversized hoodie which is also a key feature of the 80s fashion scene for women.
Pair your oversized hoodie with flashy leggings, fingerless gloves, retro sunglasses, and neon accessories which will really help add a touch of color and drama to this otherwise simple attire. While sneakers are the perfect footwear option to wear with a hoodie, you can ditch them for heels considering that this look is for an 80s party.
The best part about this attire is you simply have to grab a few different pieces from your wardrobe and mix and match them to create the 80s-themed 80s themed look!
Mini Skirt with Leg Warmers
Mini skirts were as popular in the 80s as they were during the 70s fashion, and were seen in all kinds of colors, textures, shapes, and outfits.
While mini skirts were initially typically worn with go-go boots in the earlier decades, they were popularly paired with leg warmers or leggings in the 80s.
The beauty of the mini skirt is that it can be worn in so many stylish, fun, and unique ways, making it a must-have essential for your 80s party wear.
A great outfit option here is a red leather, high-waisted mini skirt paired with a black tank top, stockings, dramatic 80s-inspired makeup, and some jewelry. Another way to go about this is a pink mini skirt worn with matching slouchy boots, a white t-shirt, a denim jacket, and heels.
Padded Shoulder Dress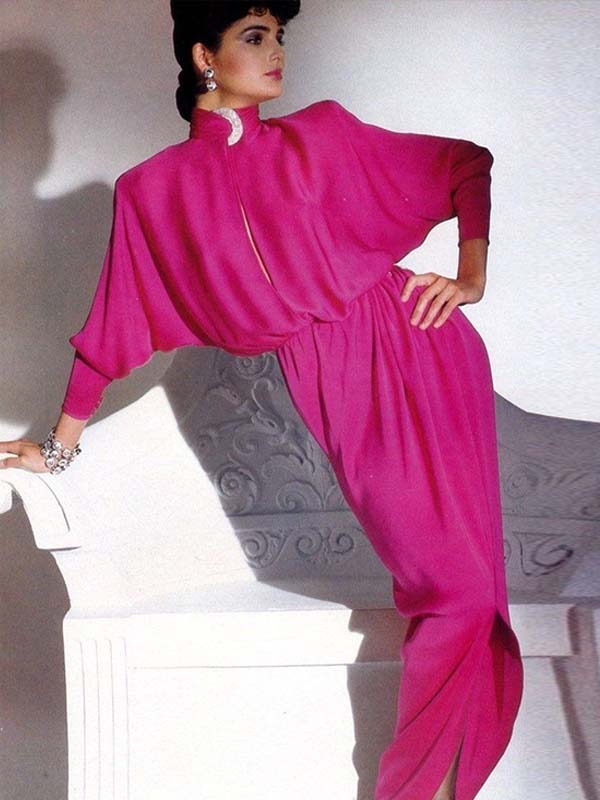 Padded shoulders were a defining feature of the 80s fashion and everyone from celebrities to political figures were found sporting outfits featuring big shoulders back in the day.
Dresses with notable shoulder pads, puffed sleeves, and unique cuts and shapes were popular party attire in the 80s. Consider a nice printed long-slit long slit dress with padded shoulders and puffy sleeves for your 80s party style outfit. Further enhance the look with bold makeup, long dangling earrings, a pair of sparkly heels, and the right hairstyle that goes with this particular ensemble.
Even if you aren't a fan of big shoulders, you should still consider a padded shoulder dress because it not only best represents the 80s fashion, but also looks super stylish and flattering.
80s Men's Party Outfits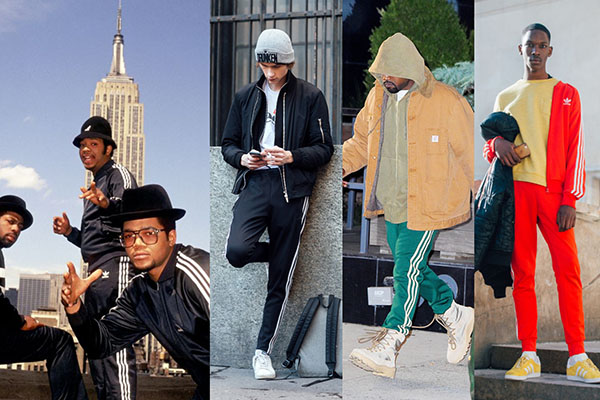 80s fashion for men was as bold and unique as it was for women. Big hair, loud colors, experimental styles, and wild trends are some key elements that dominated the decade's men's fashion.
Consider the following looks to create the perfect 80s party men's outfits and make a loud statement with whichever option you choose!
The Casual Look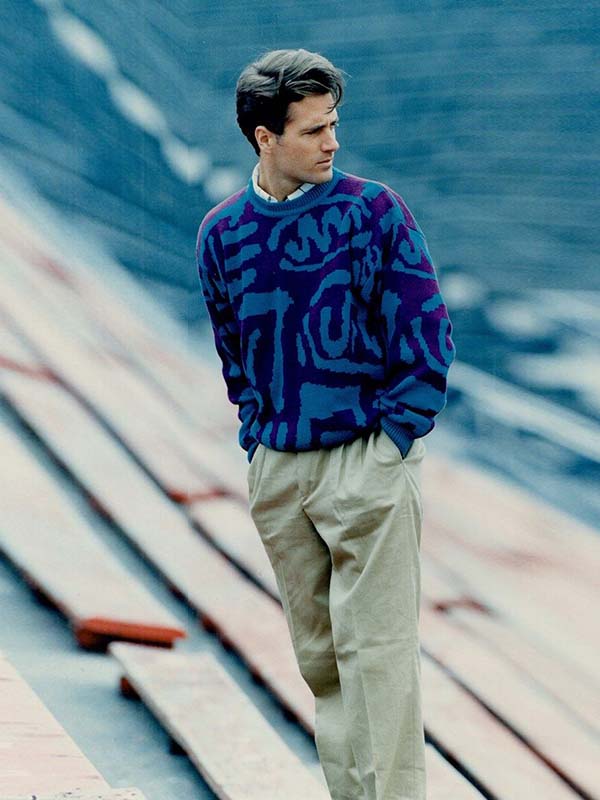 If you are looking for casual 80s fashion ideas for a party, this popular casual look from the decade is the one to beat! Consider a pair of dad jeans which are basically loose from the knee down, slightly relaxed in the thigh region, and sit higher on the waist, paired with a loose shirt, and a leather jacket.
You can experiment a little here by replacing the loose shirt with a t-shirt, and the leather jacket with a bomber jacket. The most popular choice of footwear here is none other than white sneakers which perfectly encapsulate the essence of this casual look.
The Hip-Hop Look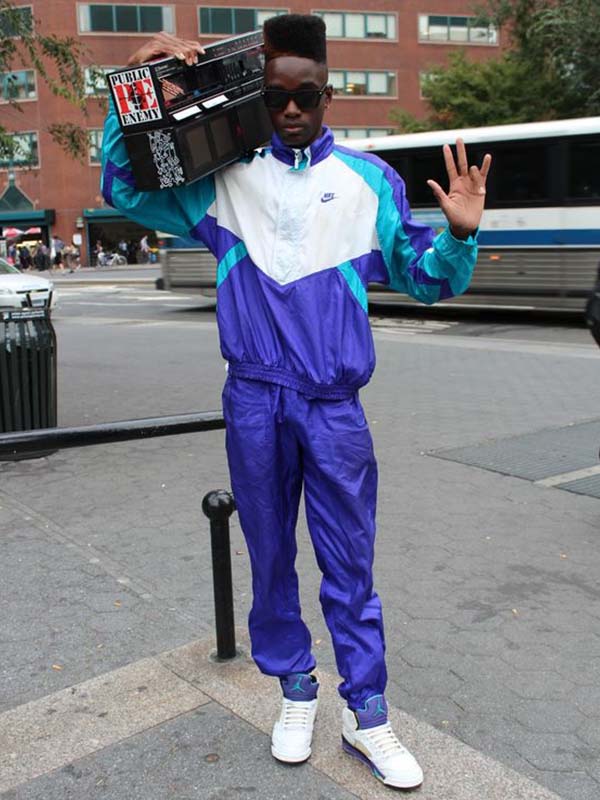 If you've heard of Run-DMC, the popular American hip-hop hip hop group from the 80s, you probably already know what the hip-hop hip hop look is all about!
Inspired by the 80s hip-hop hip hop music scene of the decade, this particular men's fashion look comprises features such as oversized silhouettes, baggy details, sportswear, and street-style clothing.
Consider a pair of hammer pants for your hip-hop hip hop 80s-themed attire, along with a denim jacket or an oversized jumper, sneakers, and most importantly, statement accessories such as chunky gold chains. Add an athletic cap to your ensemble to make your outfit really scream the 80s hip-hop fashion!
If you happen to have the mullet hairstyle, it's like the cherry on the cake given how the mullet was one of the most popular hairstyles for men in the 80s.
The Punk Look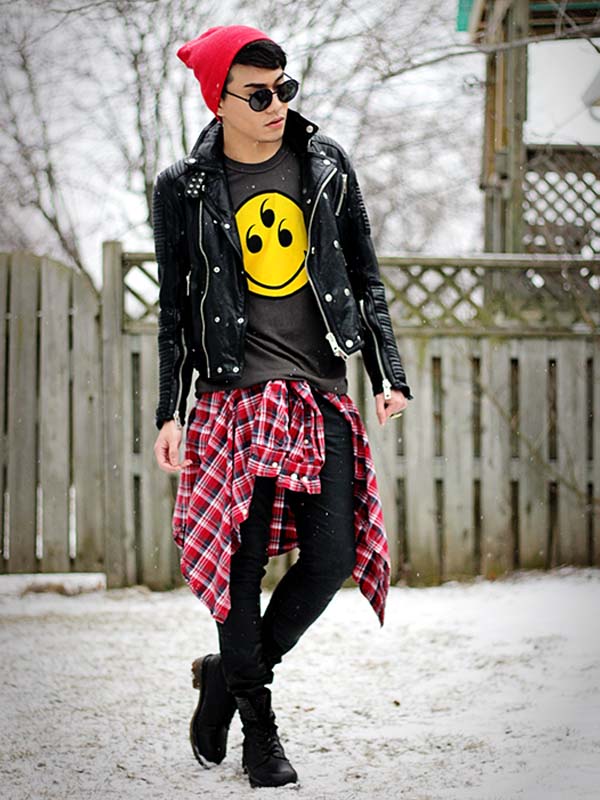 The 80s punk fashion can be best described as 'edgy' considering how it reflected the anti-establishment movement of the decade through its clothes and attires.
Punk fashion for men in the 80s saw a lot of leather where the most ideal leather pieces were jackets and trousers, and it also played a big part in the decade's steampunk fashion. Leather was popularly paired with tartan plaid to create a striking contrast and unique combinations between the two fabrics.
Oversized and metallic, sequined fabrics were also popular among punks that helped them create bold, rebellious style statements and stand out from the crowd.
Along with these outfit options, if you wish to go all out with your 80s men's party outfit, consider a brightly-colored spike or mohawk hairstyle, which screams 80s punk fashion better than anything else!
The Rock Look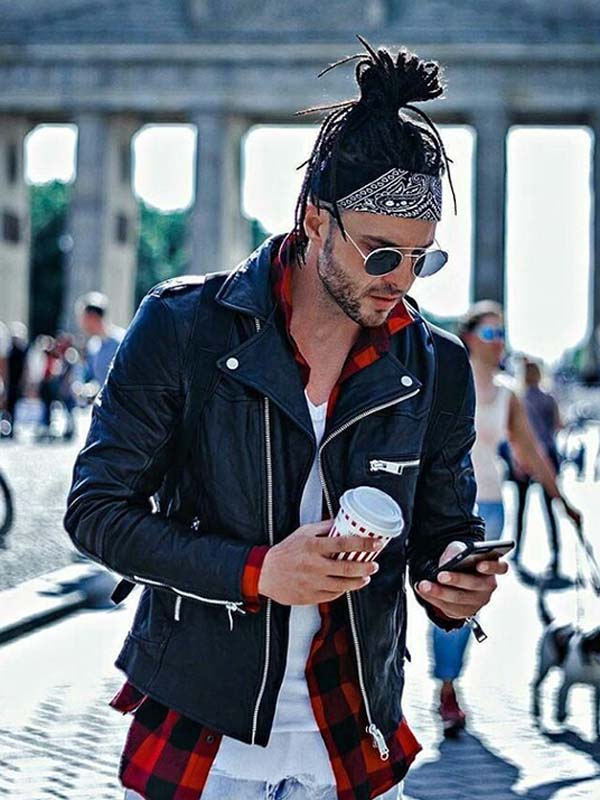 Wild, big, and bold, the 80s rock fashion for men was all that and more! It offers the best, statement-making ideas for an 80s dress up party where you can take your clothes, hair, makeup, and even your attitude to a whole other level!
Some of the biggest and most prevalent 80s rock fashion trends include big leather jackets, sleeveless tops, over-the-top hats, ripped clothes, jewelry, headbands, Doc Martens boots, colorful bandanas, washed denim, big hair, bold makeup, leather bracelets, and so much more.
One go-to look that you can sport here includes a pair of acid-washed denim jeans with metal chains dangling from the loops, a sleeveless top, a leather jacket, and bold eyes.
The Preppy Look
Other than hip-hop, punk and rock, the 80s were also big on preppy fashion which featured a mix of bright hues and dark colors, unlike the former trends.
A simple yet super stylish 80s-inspired preppy look for men features a pair of khakis or slacks, a pink or yellow polo shirt, a dark-colored dark colored sweater that is draped over your shoulders as an accessory, and penny loafers to complete your preppy ensemble.
You can also replace the polo shirt with a light-colored turtleneck shirt or sweater which was another key clothing item worn by those who were big on preppy fashion in the 80s.
Conclusion
Some elements of the 80s fashion might not be well within your comfort zone, but one can't deny that they were truly eccentric, fun, and creative! You can choose what to wear to an 80s party according to your personal style, but it wouldn't hurt to step a little out of your comfort zone and make a big, loud fashion statement that the decade's fashion truly requires!