We may have left the 90s behind us, but remnants of the 90s fashion still seem to linger in today's world of fashion. While the fashion choices of that era are often described as 'questionable', there's no denying the fact that many of our styles and trends today are deeply inspired by the 90s outfits!
Call it sentimental inspiration, maybe?
90s Outfits: Best & Worst Moments
From plaid flannel shirts to denim overalls to all things oversized, these are just a few staples that influenced everyday 90s fashion. While some may have hit the mark, others not so much.
When talking about the best fashion moments from that era, we simply can't overlook the enigmatic gothic styles, brimmed hats, baggy shirts, flared jeans, bomber jackets, and patterned dresses, to name a few.
On the other hand, we have tube tops, low-rise jeans, silk dresses, bandana tops, bike shorts, slap bracelets, and jelly sandals that have been characterized as the worst trends from the 90s fashion.
Iconic 90s Outfits
The 90s was undoubtedly a glorious age in terms of fashion and it's impossible to talk about 90s fashion without mentioning classic movies of that time. Some of the most iconic 90s outfits and fashion moments have come from those movies where A-list celebrities were spotted absolutely rocking the 90s style clothing.
It's almost fascinating how fashion trends and styles from years ago have influenced some of the most trending looks and styles of today. Perhaps, it's time to revisit some of the most popular classic movies from the 90s to help you recreate your own 90s inspired outfits!
The Matrix
Best known for its brilliance on the Sci-Fi front, The Matrix also became the pioneer of cyberpunk fashion back in 1999. The film paved the way for a futuristic fashion aesthetic with long black leather trench coats, tiny rimless oval sunglasses, combat boots and slicked back hair.
The Matrix has definitely made huge waves in the fashion world while giving away a load of inspiration for 90s outfits for men!
Pulp Fiction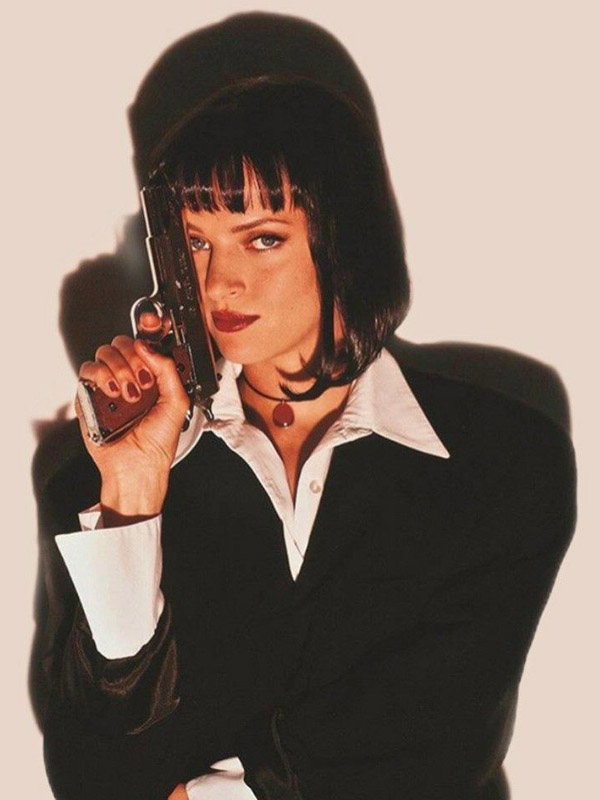 Most of you probably remember Pulp Fiction for its sheer humor and comic dialogues, but the fashion world clearly picked on something else – the iconic plain white button down shirt featuring long cuffs and a larger-than-usual collar, paired with cropped black pants.
This movie has brought us a number of amazing 90s outfits for women, but it doesn't get better than the timeless white collared shirt and black pant duo.
Clueless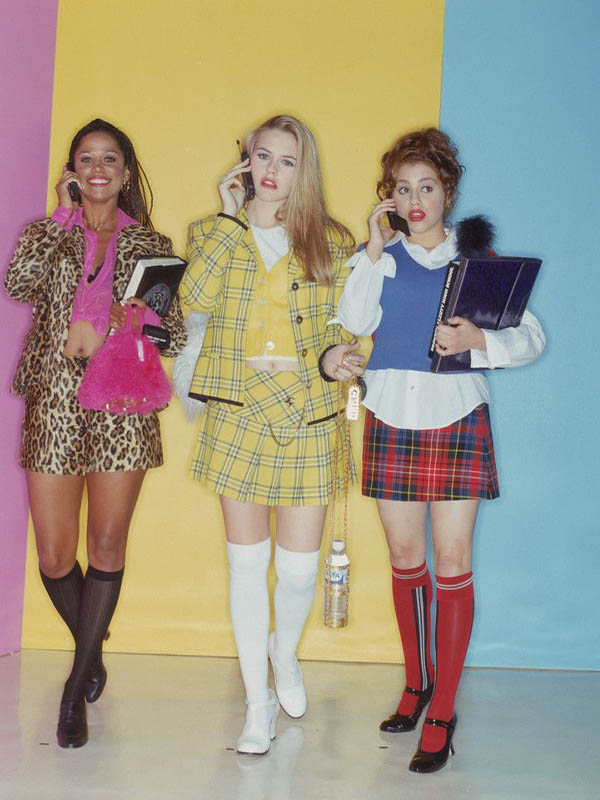 If you are looking for the ultimate 90s outfit inspo to recreate today, the matching yellow plaid skirt and blazer set from the movie Clueless is the way to go.
This quintessential outfit took the 90s world of fashion by a storm and actually created a cult obsession among young teenage girls. It is funky, creative, a colorful representation of the 90s fashion, and makes quite a bold fashion statement!
Fear and Loathing In Las Vegas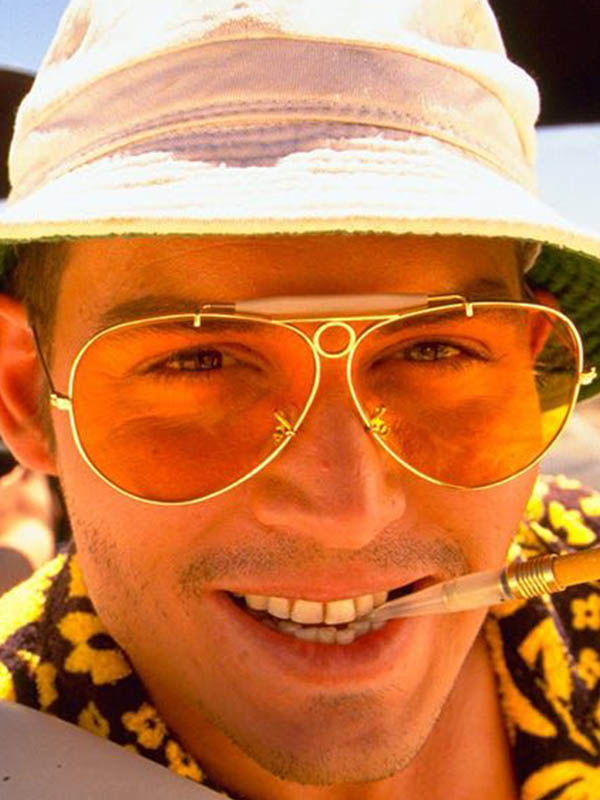 A beloved comedy of the 90s, Fear and Loathing in Las Vegas left a vibrant mark in the fashion world with its colorful Hawaiian shirts, bucket hat, amber sunglasses, multi-colored patch jacket, and short shorts.
Featuring a few retro touches, this innovative style can easily be pulled off as a 90s party outfit for the summer! From a fashion standpoint, the movie is all about flamboyant, vivid and eccentric elements.
Pretty Woman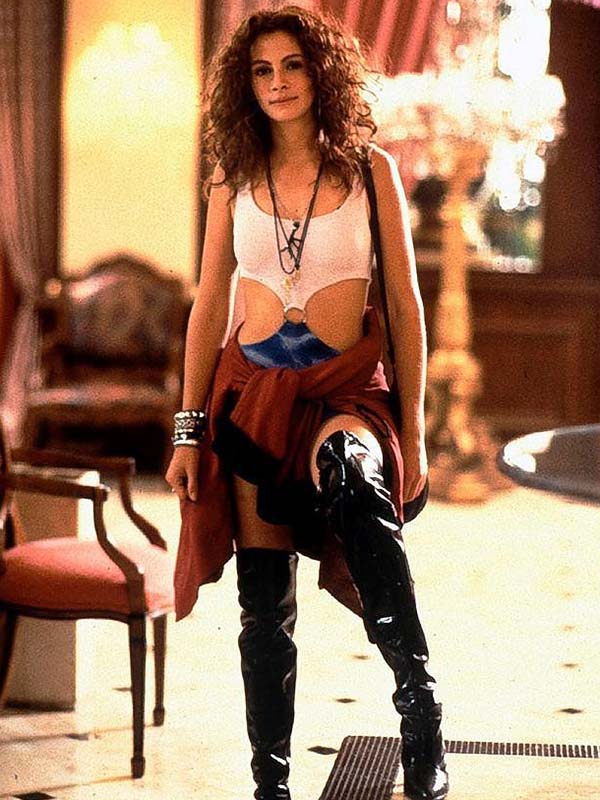 This movie is best known and remembered for that iconic off-the-shoulder red ball gown paired with white gloves that literally left everyone in awe. It's one of the most memorable ensembles of the 90s fashion that has been taken inspiration from even in today's time.
The dress screams elegance and minimalism, and simply goes to show that you can make a great style statement even in the simplest of outfits!
Thelma and Louise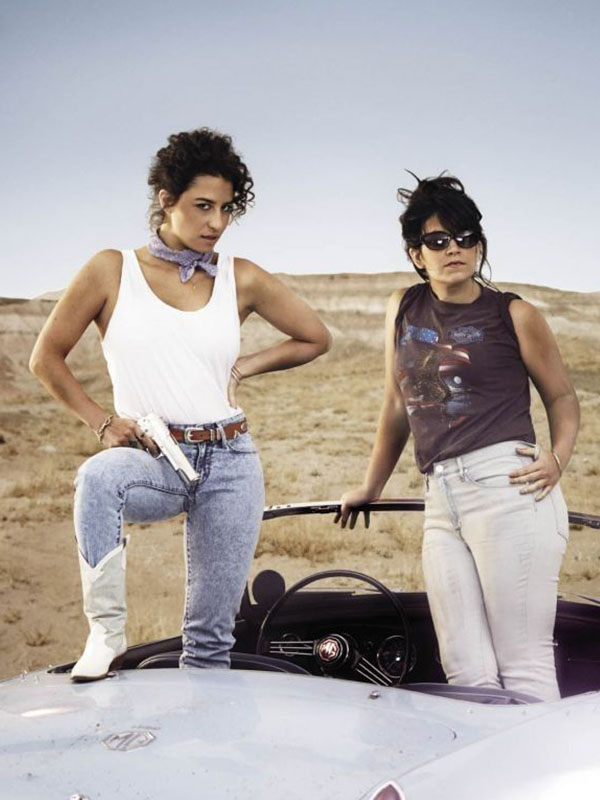 Looking to up your fashion game on your next road trip? Perhaps, take a leaf out of Thelma's and Louise's book and hit the road in unique style!
Double denim, cat-eye sunnies, graphic tank tops, cowboy hats, and funky headscarves are some of the prominent wardrobe essentials shown in the movie. The retro looks in Thelma and Louise are the answer to the question: how to dress like the 90s.
Basic Instinct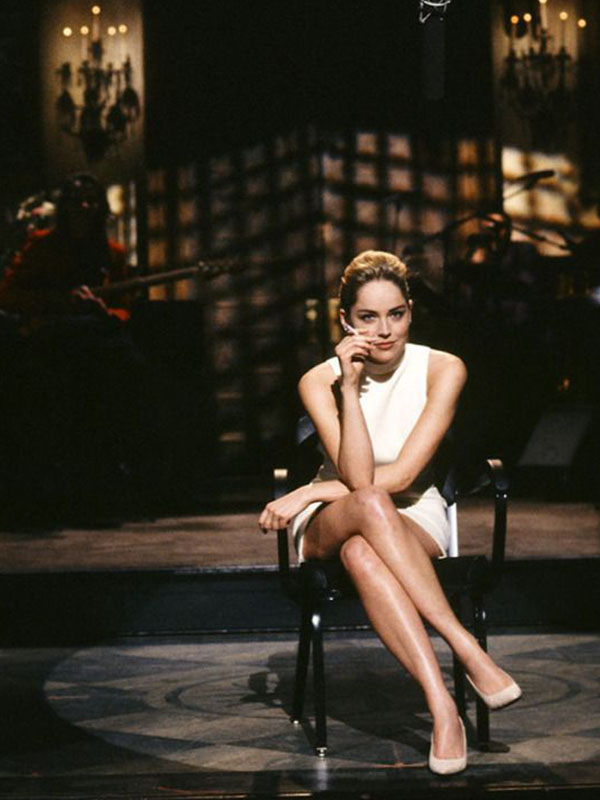 Turtleneck dresses are as popular today as they were in the 90s and the movie Basic Instant deserves credit for the outfit's ever-increasing popularity.
But, not just any turtleneck – a beautiful white colored slim-fitting short turtleneck dress paired with matching pumps is the ultimate 90s fashion look to recreate. Pull your hair back in a low bun and there you have it, the classic 90s dress style of all times!
Fight Club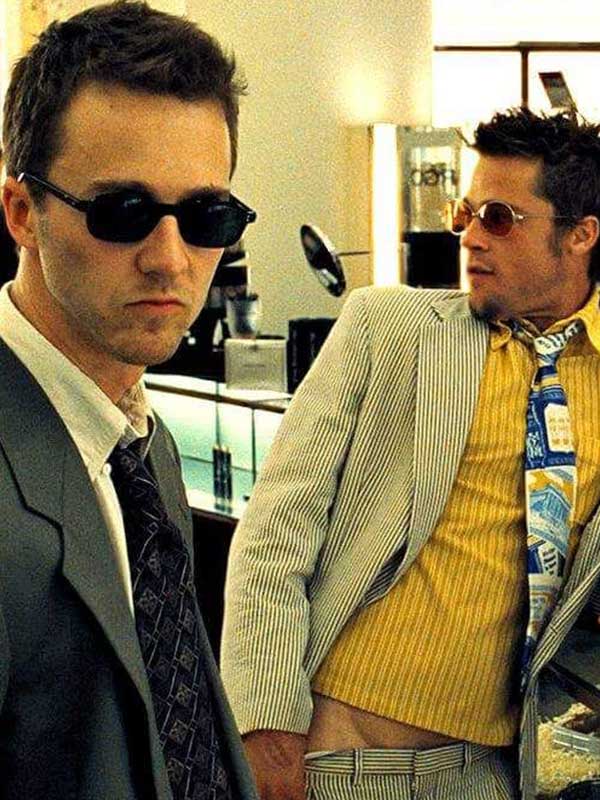 For anyone big on thrift shopping, the movie Fight Club brings you tons of thrift-inspired looks and styles. The red leather jacket paired with matching red sunglasses is a standout fashion look from the movie, alongside vivid graphic tank tops, loafers, and printed shirts.
Who says you can't make a unique fashion statement with thrifted clothes? You totally can and this movie shows you exactly how to do that!
Jawbreaker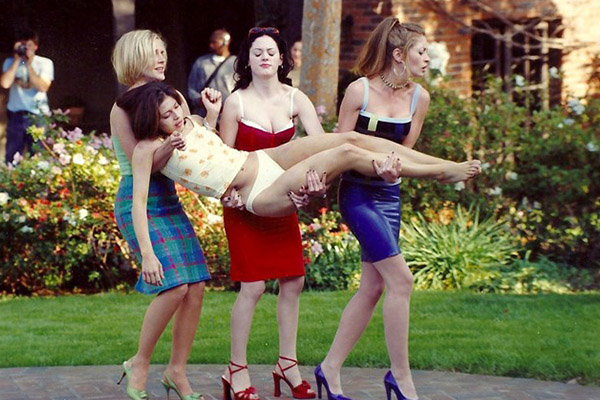 Bold, vibrant and feminine, Jawbreaker is yet another classic 90s movie that has displayed some of the most interesting 90s outfits. There's quite a technicolor vibe and tone running throughout the movie with its characters serving some highly bold fashion looks.
We see many cropped cardigans and monochromatic outfits in the movie, but the most standout pieces have to be the short colorful skirts, crop tops, spaghetti straps and heels!
Romeo + Juliet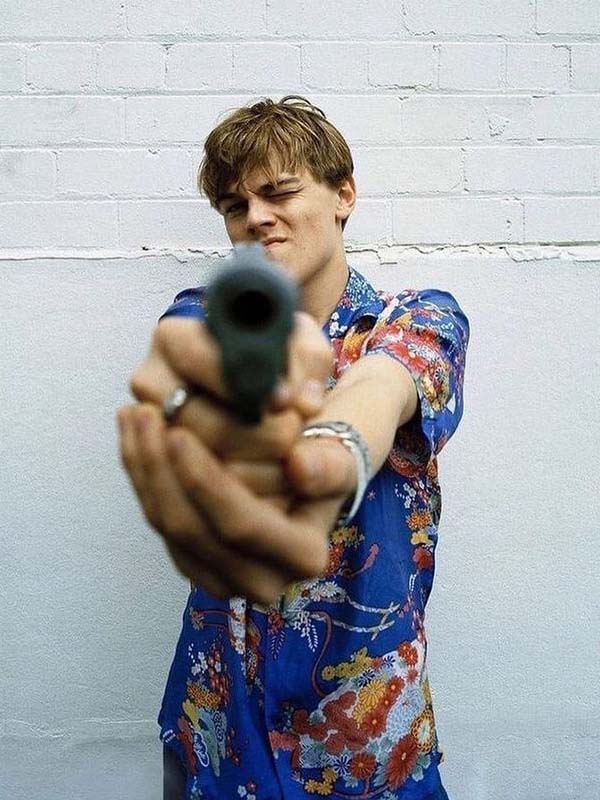 There's something unique about symbolic outfits, isn't it?
The movie Romeo + Juliet definitely brings its A game on symbolism with the famous stark plain white dress coupled with elegant white angel-like wings to create an air of innocence.
Interestingly, many pop culture references have been inspired by this particular angelic look from a 90s movie, while maintaining their own distinctive touch on the 90s fashion. Fancy recreating this sophisticated look?
White Men Can't Jump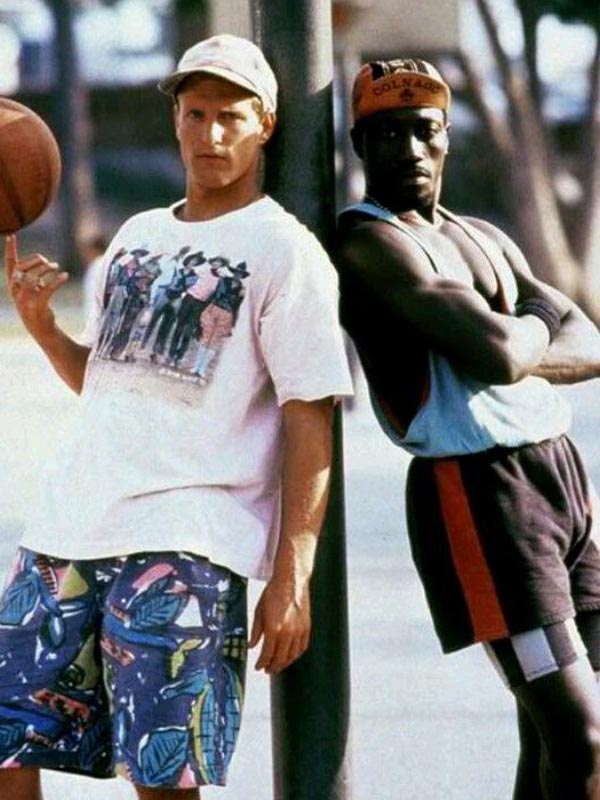 This movie seems to be emanating a kaleidoscope of colors in fashion terms featuring outfits with wild prints, bold and loud colors, and a vintage palette.
From funky tie-dye hats to bright muscle shirts, you will find a number of hip hop 90s outfits in this movie!
While the current fashion trends may not be all about tie-dye hats, we still definitely see lots of popping colors, prints, and patterns. 
Juice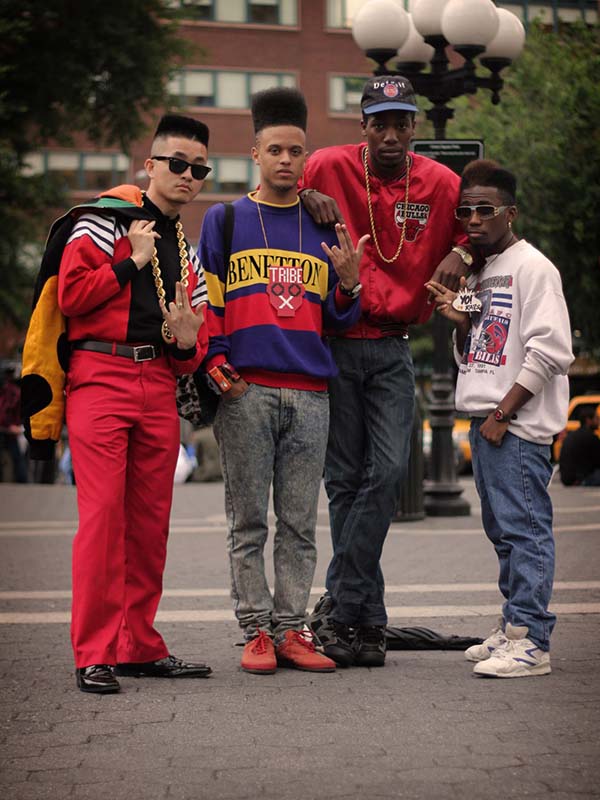 Denim is a fashion staple and there are no two ways about it. From denim bottoms to everything denim, it's a timeless fashion item.
The movie Juice is definitely all about denim and you might get some inspiration for denim-based 90s overall outfits. It's also big on hoodies, puffy jackets, bucket hats and checkered dungarees, serving some great fashion looks for young and teen boys.
The Doom Generation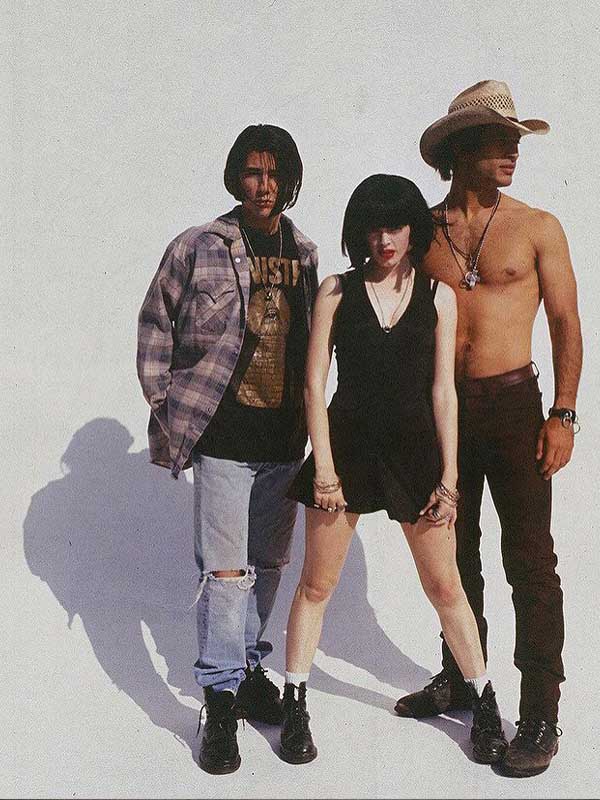 This movie is often considered to be one of the most stylish and fashion-forward movies of the 90s, and for all the right reasons too!
The Doom Generation is highly fixated on the punk rock appeal with oversized leather jackets, and deep-neck vintage sundresses. Oversized everything seems to be the ongoing trend these days, anyway, and there are no surprises there given how chic and cool oversized clothing looks!
Set It Off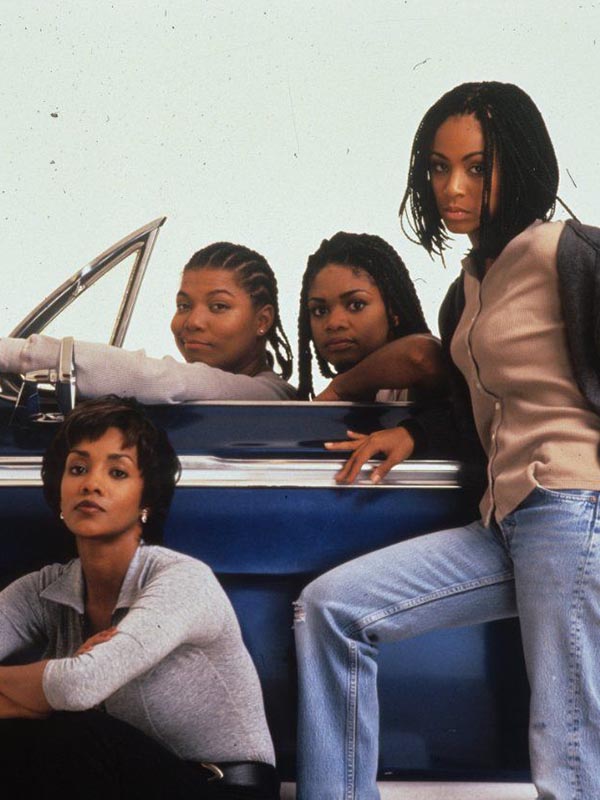 Plaid flannels shirts were all the rage in the 90s world of fashion and the movie Set It Off is a testament to that.
We see all kinds of plaid flannel shirts in the movie paired with different clothing items in the movie such as plain white tees, colored polo shirts and even sweatshirts! Needless to say, this wardrobe staple is trending today as well, thanks to its styling versatility!
FAQS – 90s Outfits
What movies influenced fashion in the 90s?
There are so many movies that influenced fashion in the 90s, many of which are mentioned above such as clueless, pulp fiction, pretty woman, jawbreaker, The Doom Generation, and The Matrix. There are several others as well such as Prêt-à-Porter, Unzipped, Catwalk, The Parent Trap, You've Got Mail, Boyz N the Hood, Reality Bites, Singles, and so many others.
What is the 90s dress code?
It's quite impossible to narrow the 90s fashion trends because there are far too many! But, for starters, the 90s dress code is all about the grunge style, plaid shirts, mom jeans, flared jeans, crop tops, punk rock style, patterned dresses, silk and satin dress, scrunchies, chokers, turtlenecks, ribbed cardigans, bucket hats, spaghetti straps, platform shoes, tube tops and so much more.
How do you dress like Kat Stratford?
Kat Stratford is a character in the 90s classic rom-com movie,'10 Things I Hate About You' and it is played by Julia Stiles.
In the movie, Kat's outfits initially begin with quite a masculine, tomboy vibe and gradually transform into more feminine, skin-showing attires.
To dress like Kat Stratford, you would have to opt for red-purple accents or muted brown tones, paired with a simple top and mid-rise pants. 
How do you dress like Nancy from The Craft?
Nancy is a character played by Fairuza Balk in the supernatural horror film, The Craft.
Her style in the movie is mainly characterized as 'outrageously gothic' for it comprises dog collars, dark makeup, and witchy dresses.
To dress like Nancy, you need black a black goth necklace, black leather jacket and collared shirt, and lace-up pointed boots. Top it off with thick black eyeliner and a very dark lip color.
Concluding Our Thoughts on 90s Outfits
These classic movies best represent the 90s fashion trends and the most popular 90s outfits of that age.
While some of these 90s throwback outfits might not be in style today, others are still quite the rage of today's world of fashion such as denim wear, crop tops, bold and bright patterns, and Hawaiian shirts, to name a few.
Recreate your favorite looks from the 90s and experience a wave of nostalgia all over again! More than the nostalgic sentiment, it's also about how some fashion trends are here to stay and keep making waves regardless of the changing times.