There is just so much to offer in the teenager 80s fashion. It allowed the teenagers to have fun as well as elegantly blend in with adult fashion, as they stood out on their own.
Comprising all sorts of fun stuff, including neon colors, denim jackets, workout clothes as well as colorful jelly accessories, 80s teenage fashion is an era to be celebrated.
Even though it may not be as prevalent as it was back then, that doesn't mean teenagers can't take inspiration from their trendsetter ancestors and create their best wardrobe yet.
Allow yourself to indulge in the world of 80s teenage fashion, where having fun was the best form of fashion.
Teenager 80s Fashion: What Was 80s High School Fashion Like?
Pop culture like in all decades had a major influence on teenage 80s fashion. Bomber jackets and big sweaters with bold prints were worn with tight-fitting trousers, while neon colors were a big hit in the fashion trends of the 1980s.
Casual was the new cool and the 60s miniskirts of feminism were still a big hit where school girls were wearing them, and became part of popular teenage 80s fashion. 
Crop tops weren't only popular among girls but also boys, and became a good excuse to flaunt their abs. 
Denim raged in 80s high school fashion, where the teens would rip and distress their pair of jeans or flaunt them as denim jackets over colorful t-shirts.
Workout clothing was something that traveled from the 80s clothing trends to the 90s style. Tights were introduced in the 1980s where they were worn under extra short dresses and sneakers along with cotton headbands and leg warmers to complete the sporty look.
Princess Diana, the everlasting queen who won over millions of hearts with simplicity influenced 80s teenage outfits where her multiple watch trend was adopted by many teenage girls, as well as her shoulder pads that added to the silhouette of her form.
Shoulder pads could be worn under bomber jackets or denim jackets where they were further enhanced and added to the volume of your shoulders.
Colorful makeup was also quite in the 80s fashion trends, to go along with their jelly accessories and neon clothing. 80s teenage fashion was bubbly fun and allowed room for experimentation and fitted in well with adult fashion while holding its own place and identity.
Teenage 80s Fashion: What Did Girls Wear in the 80s?
A typical 80s teenage girl was characterized by big poofy hair, and bright colorful casual clothing that gave them a chance to dress up every day, along with bubbly jelly accessories. 
Madonna was a huge influence on popular teenager fashion where her "Like a virgin" look created waves in the fashion trends of the 1980s.
Bras were worn as outerwear, fishnet gloves were introduced and messy hairstyles adorned with headbands came into teenage fashion at the same time.
These symbolized sexual freedom and continued on into 90s fashion where the trend of wearing articles of clothing previously considered undergarments (such as slip dresses) was profoundly flaunted as everyday casual wear. 
It is no wonder that an 80s teenage girl is still looked up to for inspiration by young girls of today, due to her fierce tactics when it came to fashion. Let's delve a little deeper into the life of a young teenage girl of the 80s who wore everyday clothes like there was no backing her up.
Casual Styles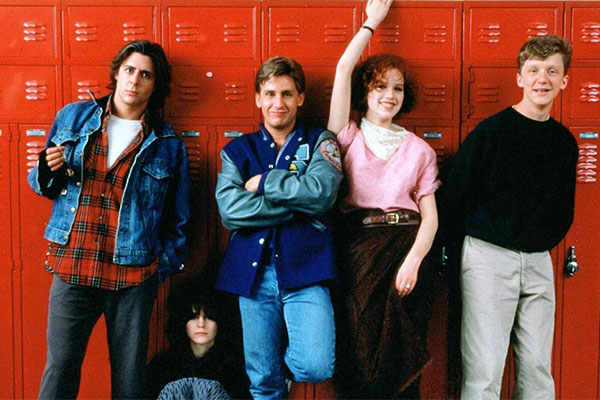 In the early 1980s, the focus was on keeping things simple. Basic colors and minimal jewelry were in fashion, which they have incorporated in knee-length flowy dresses, as well as androgynous clothing such as oversized sweaters. 
Shoes included knee-high boots and kitten heels, rounded-toe shoes as well as jelly shoes that were available in every color meaning they could be mixed and matched with a variety of outfits. 
Denim Jackets And Jeans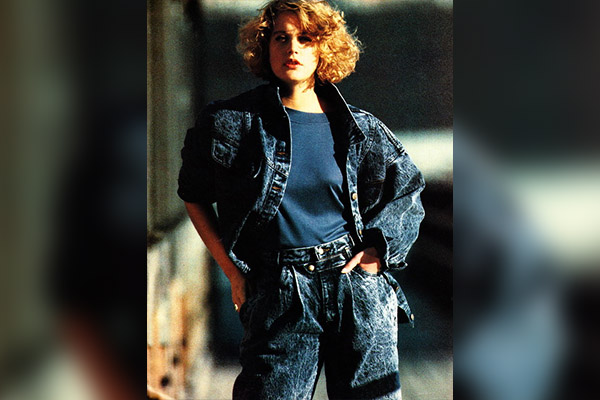 Jeans weren't as popular as in the 70s when pants with flairs had been replaced with straight-leg pants and high-waisted styles and embroidered designs. Denim was also incorporated in jackets where they were often worn with shoulder pads to enhance their silhouettes and forms.
Jelly Shoes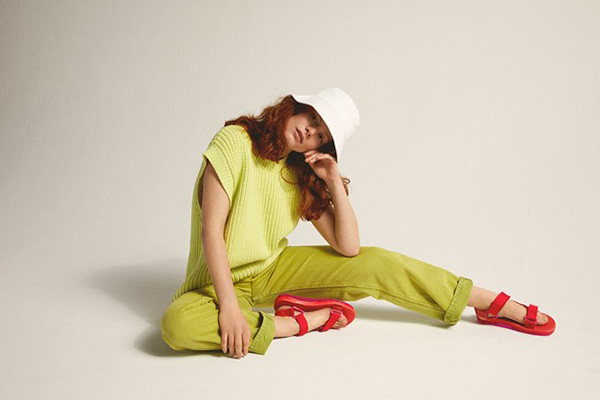 A cheap, colorful, and fun extension of the 1980s was the jelly shoes which went well with jelly bracelets, were introduced by rising pop queen Madonna and were quickly adopted by the public. They were available in a wide variety of bright colors and went well with the colorful 80s teenage outfits. 
Crop Tops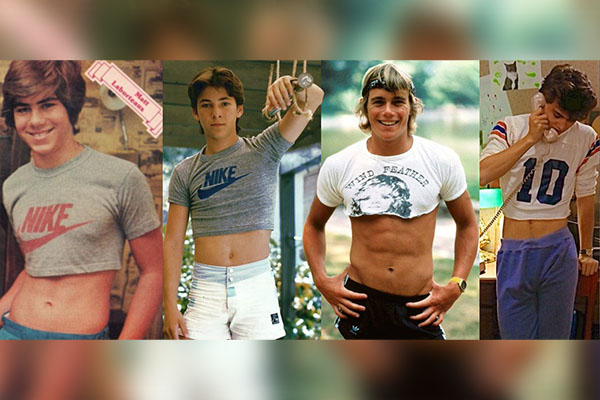 A staple taken from the 70s "Goddess of Pop" Cher, crop tops were still worn in the 80s by teenage girls and boys alike and were cut out to reveal your midsection. 
It seems pretty bizarre to imagine a boy wearing crop tops but this was one of the most popular trends in 70s men's style as well as 80s fashion.
For an 80s teenage girl, crop tops could be worn over another bright-colored t-shirt if you felt like covering up or as it is, to turn heads everywhere you went.
Neon Colors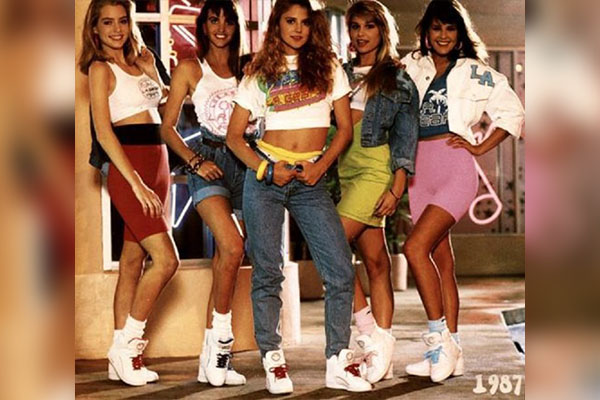 Flashing bright and bold, these neon colors held a special place in popular teenage 80s fashion and were seen everywhere. 
From vendors, and flashy sports cars to rebel graffiti on street walls and sported by most teenage girls in the form of tights, miniskirts, dark-t-shirts with bold prints, and tank tops, NEON was the way to go.
Fashion Trends Of The 1980s– 80s Teenage Outfits
Fashion trends of the 1980s held a lot of unisex staples including jackets and sweaters that could be worn by men and women alike. Androgynous clothing from the 60s fashion was still very much in fashion where it was a form of power clothing to fit in with male counterparts from all walks of life.
Although skirts of all lengths were acceptable, the mainstream length of the skirt was worn well over the thigh and was in fitted forms as well as tulle skirts, another trend started by Madonna. 
The workout clothes with the introduction of spandex, came in the form of tight clothing with colorful sweatbands, leg warmers, and sneakers to complete the sporty look.
There are many unique apparels that remain true to the 80s fashion era, and who knows? We might witness their revival one day. Here are some of our favorite fashion trends of the 1980s, suitable for both men and women.
Bomber Jackets
Bomber jackets, usually made of leather, zippers, and pockets installed in the front, with cuffs and waistbands, were made popular by 80s movies like Top Gun. 
Quite a versatile piece of clothing where it was worn by men and women of all ages and was the perfect way to add some class to your everyday casual wear.
Sneakers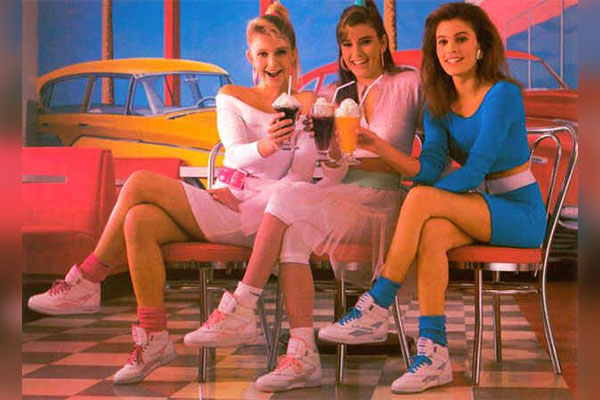 Since workout clothing and the overall sporty look was a big hit in the eighties, translated into the choice of shoes where most teenagers preferred sneakers.
Converse and Reebok sneakers were a big hit at that time, adding to the comfort of casual teenager 80s fashion, and went great with whatever 80s outfit you had on. 
Letterman Jackets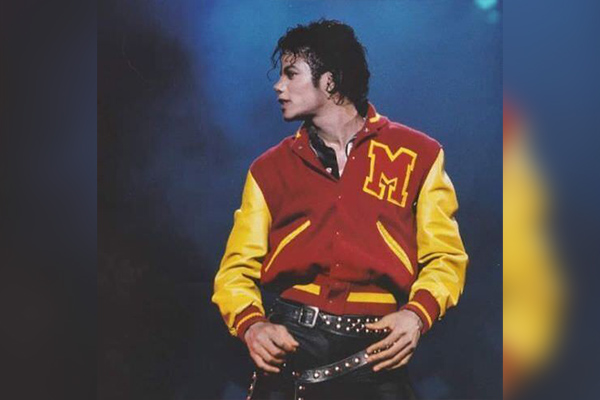 Letterman jackets were the type of jackets that were a big hit in 80s high school fashion. Best worn oversize, these jackets were a symbol of school spirit, where they held your school logos and big bold letter patches. 
Repeating the same jacket wasn't frowned upon but encouraged, and was worn regularly by outgoing teenagers of high school and was part of popular teenage 80s fashion.
Fanny Packs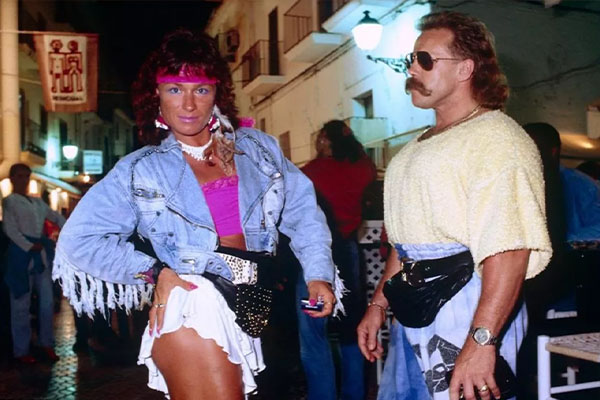 A functional, fun, and quite stylish edition of the 80s teenage fashion was the fanny Pack. Small pouches on belts that were worn over the waist area served to be pretty useful in carrying your everyday essentials. 
They were gender-neutral so it didn't matter if you were a boy or girl you could still rock the fanny Packs.
FAQs – Teenager 80s Fashion
What did teenagers wear in the 1980s?
eon colors, distressed jeans, and sneakers made the casual teenagers' 80s fashion, not only comfortable but also fun. 
The fashion trends of the 1980s held a lot of unisex trends for example the big poofy hair was a popular hairstyle for teenager 80s fashion boys as well as 80s teenage girls. Distressed jeans, big sweaters, bomber jackets, sneakers, and fanny packs were worn by both sexes.
How do you dress like an 80s girl?
You know how popular neon colors were during the 80s so don't be afraid to go all bright. Wear shoulder pads to buck up shoulders and earn that power pose, by throwing on a denim jacket to further accentuate your shoulders. Go for extra short length when picking your dress or skirt and wear it on top of colorful leggings and sneakers to complete your 80s teenage girl look.
How do you cut a shirt like in the 80s?
Cut your graphic tee in half, and scoop out the neckband to go a little deeper. Remove the sleeves and add holes to your tee for a more tattered look.
Concluding Our Thoughts on Teenager 80s Fashion
The 80s teenage fashion holds a special place in the iconic fashion eras, for many reasons. These include the casual, budget-friendly clothing that were available for all and everyone to wear. 
80s fashion allotted a special place for teenage fashion, allowing them to stand out from their adults and maintain their unique place in society.
It gave them the chance to channel their inner rebellion through the new, popular fashion made by rising stars of the music industry as well as designers who quickly incorporated them into their clothing lines and made them available to the public. 
The bold neon colors, the seemingly unconventional clothing like crop tops for men, mini skirts, jelly accessories, denim clothing, unisex apparel as well as sporty outerwear all made it possible to capture the fun 80s fashion spirit. 
It also gave the adults a chance to channel their younger selves and have a go at the 80s teen fashion, since when did teenagers ever judge?