The world of fashion is ever-evolving and every decade has brought us new fashion trends and concepts. While some may have come and gone, others have stuck around to this day. The 17th century, in particular, is known for its revolutionary androgynous fashion, a spectacular movement in the fashion industry that focused on non-binary gender identity and gender inclusivity.
Androgynous clothing is all about mixed-gender clothing that helps remove all the distinctions that exist between male and female physical characteristics, primarily created by social and societal constructs. The idea here is to avoid being restricted by gender in terms of fashion and clothing, as well as all other types of stereotypes related to gender. 
Think of androgynous clothing as gender-free or genderless clothing that allows women to wear clothes that are typically associated with men, and that allows men to wear clothes that are supposed to be worn by women.
What Is Androgynous Fashion?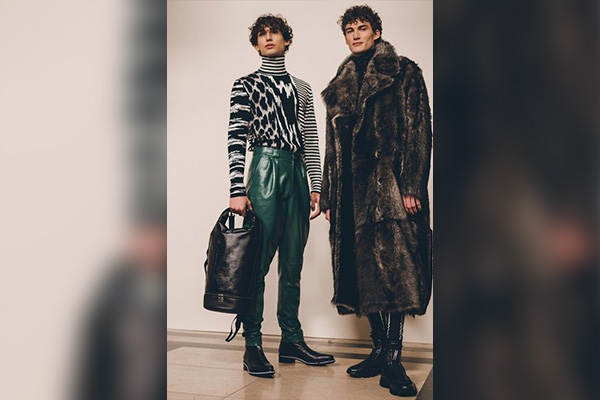 The term androgynous has been derived from 'androgyne' which is a Latin word with a Greek origin. It simply refers to a mix or blend of feminine and masculine physical characteristics, thereby making it a kind of gender expression through different avenues, in this case, fashion.
Androgynous fashion, in particular, refers to neutral clothing that breaks gender stereotypes in fashion by not associating itself with any specific gender.  The androgynous style of clothing is not affiliated with any gender which simply means that anyone can wear any outfit they desire regardless of their gender identity.
17th century and onwards, androgynous clothing started gaining significant popularity primarily due to the prominent role played by women activists during that time. Luisa Capetillo is one of the biggest and most important names that come to mind when you talk about breaking societal gender stereotypes and fighting for equal rights for women. She was the first ever woman in Puerto Rico who went out in public wearing a men's suit and tie.
This moment was the ultimate turning point in the history of androgynous fashion after which many women began wearing clothes worn by men, also because of how comfortable and convenient they were in terms of physical activity and movement in general.
Japanese fashion is also one of the best representations of androgynous fashion given how Japan is one of the pioneers of this trend in modern times.
Feminine Androgynous Clothing Vs Masculine Women's Clothing
There was a time when a person's gender was defined by the type of clothes they used to wear. Men were always associated with formal pantsuits, blazers, boots, types of sneakers, and loose pants. On the other hand, women were associated with skirts, flowy dresses, and floral patterns and designs.
However, ever since the rise in androgynous fashion in the 17th century, fashion rules and standards have undergone a massive revolution. Today, women are seen absolutely rocking masculine types of clothing, and men are also seen accepting and embracing the trend of genderless fashion.
When it comes to androgynous clothing, it's not just women sporting masculine attire, but men are also wearing feminine clothing items. We have witnessed a great degree of gender fluidity in the fashion world where individuals are constantly breaking down barriers and societal standards of masculine and feminine fashion.
Feminine androgynous clothing comprises tees and tops, blouses, skirts, shift dresses, semi-transparent clothes, skinny jeans, high-rise jeans, short shorts, and cropped sweaters, to name a few.
Masculine women's clothing, on the other hand, includes pantsuits, dress pants, oversized blazers and cardigans, corduroys, baggy pants, loose-fitting clothes, oversized layers, and canvas sneakers, among many others.
These types of clothes aren't restricted to one gender and that's mainly how they have contributed to gender fluidity over the years.
Best Androgynous Clothing Brands
With the ever-increasing rise in androgynous clothing, numerous fashion designers and brands have also jumped on the bandwagon.
Anyone who identifies as an androgyne no longer has to struggle in terms of finding the best clothes for themselves, thanks to all the androgynous clothing brands that have entered the fashion world.
If you are looking for some nice non-binary outfit ideas and options, these are some of the best and top non-binary clothing brands that deserve your attention.
Wales Bonner
The British designer Grace Wales Bonner introduced her brand 'Wales Bonner' which was launched in 2014 as a gender-free clothing label.
The brand started off with unique menswear collections followed by diverse women's clothing. She describes her clothing collections as 'whole' instead of something that has been broken down into men's and women's clothes.
Telfar
Ever since its launch back in 2005, Telfar has focused on creating diverse unisex clothing, strictly adhering to its motto: "not for you, for everyone."
The brand's styles, designs, and clothes cater to an all-inclusive community, ranging from androgynous plus-size clothing to petite clothing as well.
Eckhaus Latta
This New York-based genderless fashion brand was founded in 2011 by Mike Eckhaus and Zoe Latta and is known for its inclusive casting on the runways and incredible gender-neutral designs.
The brand's fashion shows have also been the talk of the town for their take on androgynous clothing and fashion.
Androgynous Outfits — How To Dress Androgynous
From smart casual to semi-formal outfits, androgynous fashion brings you a wide array of clothing options that you can choose from. 
Take a look at some of the key elements of androgynous fashion that you can incorporate into your fashion and style game, regardless of whichever gender you identify with.
Androgynous Dresses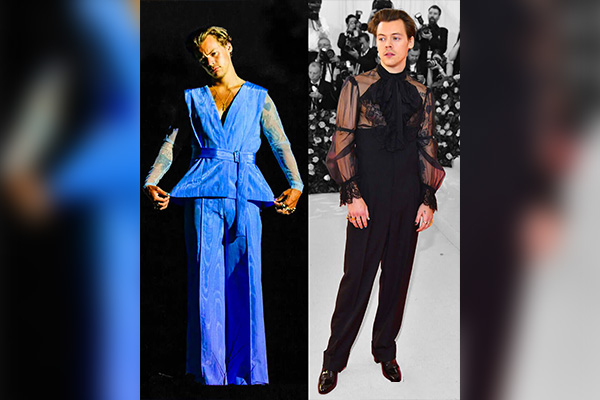 Androgynous clothing greatly emphasizes choosing the right colors, and the right fit, and pairing the right kinds of clothing items to ensure balance and gender fluidity.
When it comes to colors, the ideal androgynous colors are focused on a neutral color palette that includes shades of grey, white, black, and brown.
Well-fitted tailored shirts, boyfriend jeans, denim jackets, baggy pants, lounge shirts, oversized blazers, and trench coats are some key elements of androgynous dresses given how they can be worn by both men and women.
The idea here is to wear anything that doesn't have gender-specific characteristics attached to it.
Androgynous Pants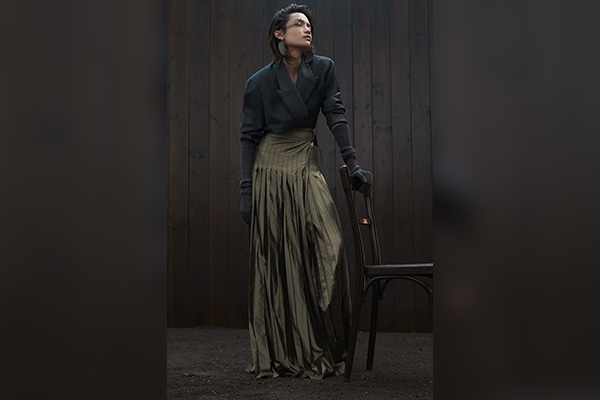 Baggy, lightweight, and loose-fitting pants are the classic type of androgynous pants considering how they are inclusive and gender non-specific.
Both men and women can wear loose, baggy pants without accentuating their body curves and silhouettes which is primarily what androgynous clothing is all about.
Pants are also a huge part of androgynous streetwear as well as semi formal outfits for both men and women.
Corduroy pants, in particular, are generally a wardrobe staple for men, but they are now found in most women's wardrobes as well. They are a classic example of androgynous pants and are super stylish too!
Androgynous Make Up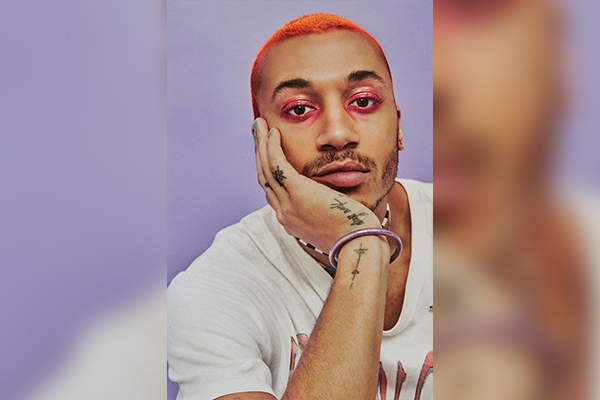 In the world of androgynous fashion, makeup is an art, a form of expression, and a play on different colors and textures. Makeup is for boys and for girls, for him and her, for they and them, for everyone!
Androgynous makeup reminds you of the 90s make up style that featured a beautiful blend of bold and subtle and creating something spectacular out of those elements.
For instance, you could opt for an overall matte look to keep it soft and natural, but add a bold touch to it with thick and pronounced eyebrows.
A bold, red lip is another wonderful addition to your androgynous makeup for some added glam.
Androgynous Hairstyle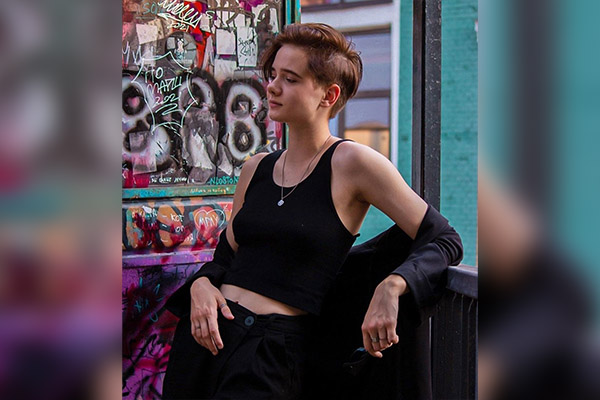 Buzz cuts, pixie cuts, and side mohawks are some of the most popular types of androgynous hairstyles, like a mohawk haircut, for those with dominant female features. These hairstyles look super chic, elegant, and unique. 
On the other hand, for androgynously-styled men, longer haircuts and hairstyles are the way to go!
However, you don't necessarily have to adhere to these hairstyles in order to look and dress androgynously. Androgynous men don't have to have long hair and androgynous women don't need to chop off all their long hair!
It's really more about the overall look you create and your choice of clothes in particular.
Androgynous Accessories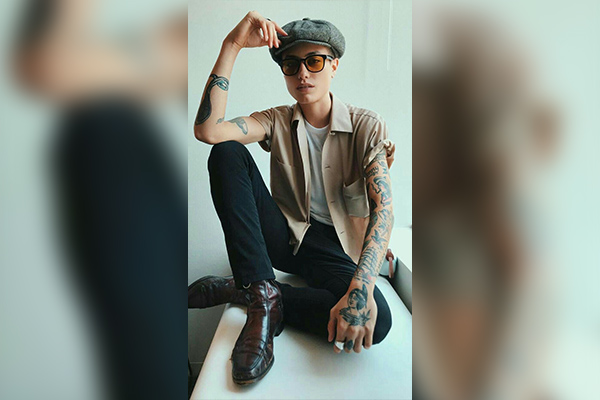 Androgynous clothing is simply incomplete without the right and matching accessories to complete your final look. Scarves and hats are the two best types of gender-neutral accessories that help amplify an androgynous look. The important thing to understand here is that there's no division in jewelry and accessories to create an androgynous look. 
Some great options include fedoras, suspenders, pearl necklaces, floral silk ties, sequined bow ties, skull rings and so much more! Regardless of your chosen accessories, the goal is to wear anything that makes you feel confident, comfortable, and happy. Androgynous fashion, after all, is all about breaking the norm!
FAQs
What clothes are androgynous?
Some of the most popular androgynous clothes include tailored tops, oversized jackets or cardigans, vests, coats, boyfriend jeans, denim jackets, trench coats, baggy pants, blazers, well-fitted bottoms, and garments made of materials like silk, lace, satin, and velvet to create a soft look.
Androgynous clothing also has a few similarities with the Y2K fashion such as denim, for instance. Denim is greatly featured in both these fashion trends which isn't a surprise considering how denim is one of the most timeless and classic fashion essentials of all time!
What does dressing androgynously mean?
Dressing androgynous simply means breaking free from the confines of masculine and feminine binaries that have been set by societal constructs.
The idea here is to create a genderless style by blending the feminine and the masculine, thereby blurring the lines between the two. To dress androgynously, one is required to mix, match and blend different elements of masculine and feminine style in their outfits in ways that reflect their non-binary gender identity. 
By removing the traditional distinction between males and females, androgynous clothing creates a neutral style of clothing and fashion that is not associated with any single gender.
How do I know if I am androgynous?
An androgynous person is someone who doesn't characterize as particularly masculine or feminine and basically has both female and male characteristics. They might even present themselves outside of the traditional male-female binary.
One way to know if you are androgynous is by assessing the way you present yourself and the kind of features or characteristics that you identify with. For instance, an androgynous man might wear clothes typically worn by women such as skirts. And, an androgynous woman is likely to wear manly clothes like baggy pants. Fashion and style, gender identity, and inherent appearance are the common markers here.
Concluding Our Thoughts on Androgynous Clothing
Genderless fashion has long become a staple in the fashion world, and for all the right reasons, too. It's important to blur the lines of gender when it comes to style and fashion because a person's gender shouldn't be defined by what they wear!
Androgynous clothing and fashion have achieved exactly what with its inculcation of gender-free labels and non-binary clothing.
Everyone has their own, unique identity and as an individual, a person has all the rights to dress however they want, without having to confine to the standards set by society. This is the ultimate crux of androgynous fashion and it refused all kinds or forms of gender stereotypes.