Jean jacket outfits are the way to rock your casual attire, every day without overdoing it. You can look smart, edgy, and tough all on the basis of how you want to carry your look. 
That's the feature that makes jean jackets so versatile and lovable for every male out there because they don't have to do too much to nail the look. However, just because it doesn't require much effort, doesn't mean you can't. 
Unlike a leather jacket which doesn't sit well on everybody and needs more insight on how to wear it, a denim jacket can be rocked with a simple black or white tee and some jeans and slacks, and be on with your day.
Here's how our dudes can take their denim jacket game to the next level with these top-eight outfit ideas of ours. 
Of course, you can tweak them however you like according to your style, but there are a few things that you'll have to keep in mind that can make or break your denim jacket outfit.
Men's Jean Jacket Outfit: Do's And Don'ts
There are a few guidelines that you can make use of when wearing a denim jacket. Beware of the Canadian tuxedo. Make sure that the jean you are pairing it up with is of a different color than the color of your denim jacket.
It creates a bland and indecisive look, definitely not good for your denim jacket look. Do pay attention to the color. When you are buying your denim jacket, pick a color that is according to the look you want to create. 
If it's a dressier, preppier one, go for darker wash denim as they create a more formal, classy look. If you're looking for a more laid-back style then a faded, lighter denim jacket color might be a good choice.
Pick a decent shirt to wear underneath. It could be a button-up, or it could be a simple casual tee. Just make sure you're not going overboard with either, since you don't want to look too formal but you don't want to look like a street rat either. 
And that's what the denim jacket is here for, to provide the perfect balance between the two. Not the street rat and runway-ready looks, but the casual and formal ones.
Also, it would fare you well if you kept your denim jacket looking leaning towards the casual side. The whole point of creating a denim jacket look is to enjoy your everyday appearance with the concept of simple elegance provided with the use of denim jackets. So, better not mess it up.
Jean Jacket Outfit: How To Wear A Denim Jacket?
Well as mentioned before, a denim jacket is quite versatile and one of the must-haves apparel to have in your wardrobe. 
Not to mention the variety of styles that are in right now and available makes it all the more exciting and universal apparel that can be enjoyed by anybody and everybody.
One of the first things that you should be on the lookout for, are the pants you are pairing with your denim jacket. There are some that just won't sit well with your denim jacket.
Well, we're here to help you out with those, as well as the quintessential part of dressing in a denim jacket that many could get confused about… Layering, my friends and folks. Layering is the devil that one should be ever aware of.
Here are a few safe and steady, and dare I say, slightly dangerous outfit ideas for you to incorporate with your denim jacket.
Jean Jacket Outfits For Men
Double Denim
The ever-classic denim jacket look from the 80s fashion men has traveled down and is the first go-to when thinking about putting together a denim jacket look.
However, it's not as easy as it looks or sounds. One of the first catastrophes that you need to be aware of is the one mentioned before *insert drumroll*: pairing your denim jacket with the same colored jeans. 
Always go for a jean that has a different shade than your denim jacket. Honestly, this can't be stressed enough.
Denim Jacket Patches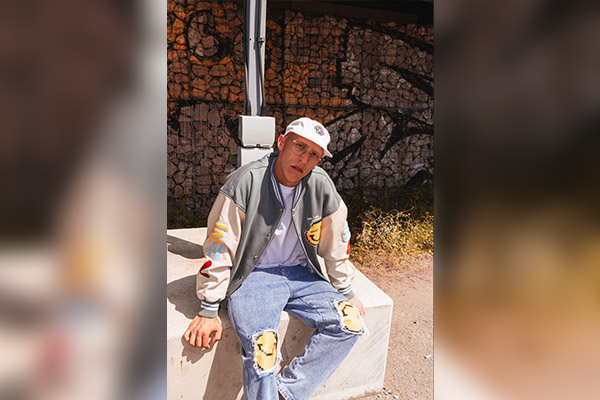 Part of 80s high school fashion, this is a trend that carries on as a legacy of our high school fashion predecessors. 
This style gives you the opportunity to customize your denim jacket however you like with the help of patches that catch your eye and appeal to you the most.
These can be brand logos, sassy slogans, or peace signs, on your denim jacket where there is no limit to the number of these patches.
Shearling Denim Jacket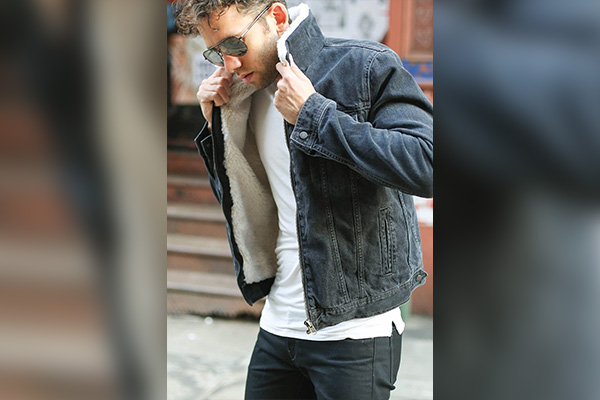 The shearling denim jacket is one which is lined with thick fur on the inside which can be visible on collars, however, this is mostly intentional. 
These kinds and styles of denim jackets are better suited to crisp winter days, uggs, and dark wash jeans.
Chinos And Denim Jacket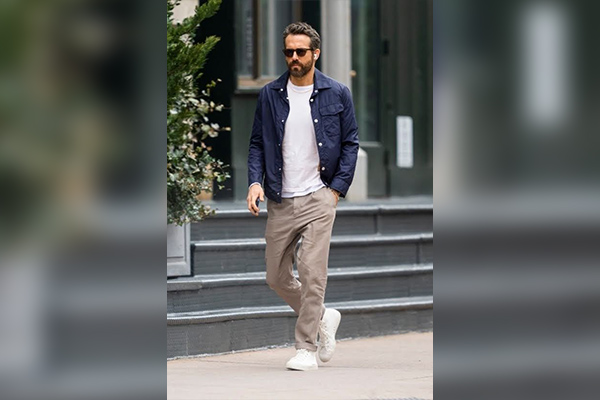 Chinos are a great way to avoid the Canadian tuxedo look, as well as form a comfortable yet classy alternative to jeans.
Due to their military background, chinos can very well be paired with high lace-ups, slacks, or a classic pair of converse to pass up for the smart casual look.
T-Shirt And Denim Jacket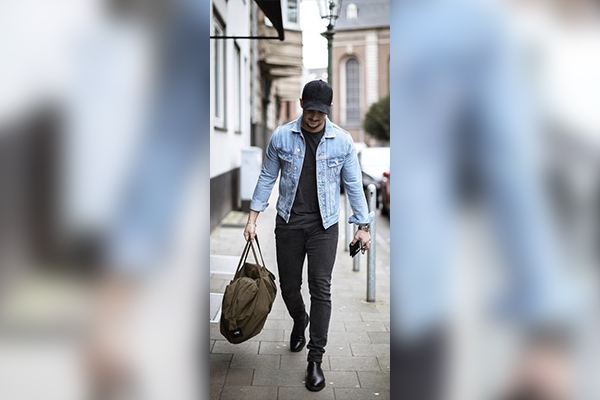 This classic duo can never go out of style. Go for graphic tees or plain white or black tee when pairing your denim jacket.
However make sure the graphics on your t-shirt aren't too glossy or bold, since you don't want them to outshine your denim jacket. 
Wear it with a pair of jeans and different types of sneakers for a cool, bad-boy look.
Shirt And Denim Jacket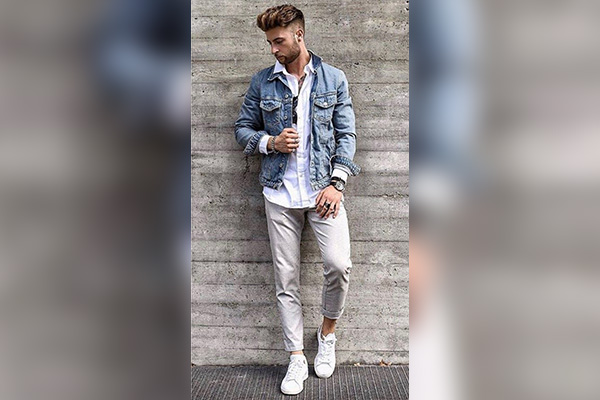 Just because denim jackets look great even when simple, doesn't mean you can't dress them up.
Wearing a button up shirt is a great way to achieve this smart casual look and pairing it up with chinos or corduroy pants will take it to the next level.
Darker wash denim jackets will fit this look better however you can easily go for faded, lighter options. Pair them with a checkered shirt and ripped jeans for a more casual look.
Sweatshirt And Denim Jacket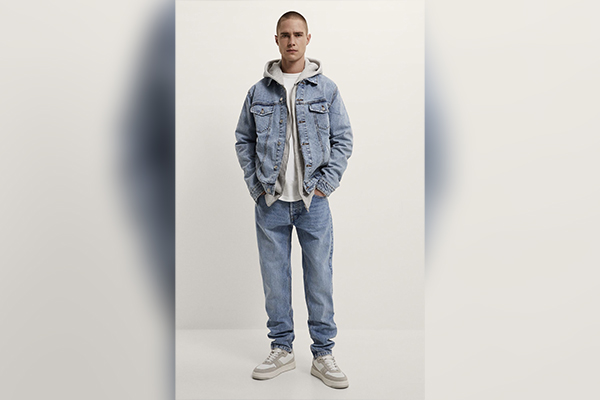 Thinner denim jackets never go out of fashion. However, they might not prove to be very effective against the cold.
So what do you do during winter days when the only jean jacket you have is a thin one, and you're tempted to wear it, but you're not sure how, because you don't want to die out in the cold?
You layer it, of course! Wearing your denim jacket with a sweatshirt or hoodie is a great way to avoid the cold without looking awkward.
Go for crew neck sweaters in deeper colors of red like maroon, or just a plain hoodie to create a stylish denim jacket look.
Denim Vest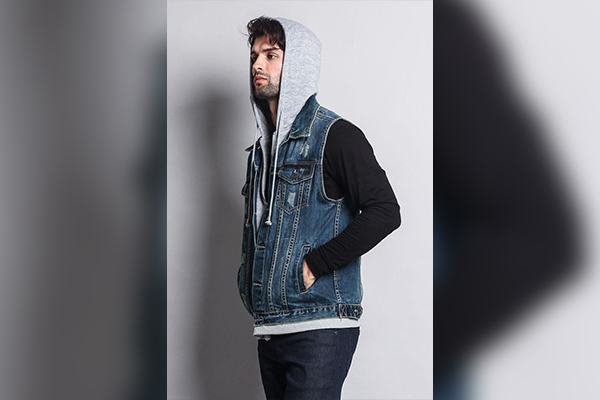 A reminisce of the 70s fashion, denim vests are jackets with cut-out sleeves. 
They can be customized according to your style and can fit into a variety of settings, making them a versatile option for men who prefer a preppy look as well as those who want an edgier one.
Denim vests can be paired with t-shirts as well as shirts. You can also add patches to the front and back of your denim vest.
Denim Jacket And Corduroy Pants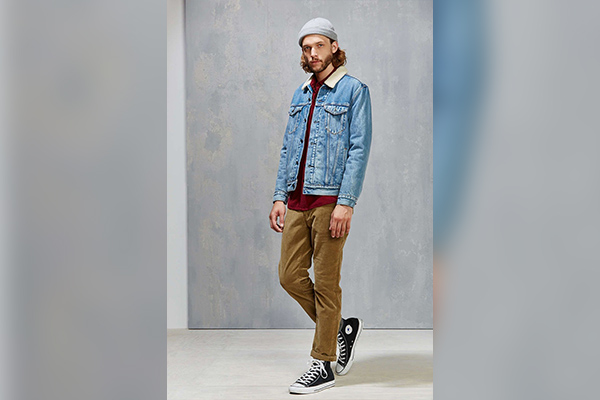 This is another way to incorporate formality in your jean jacket outfits, men. However, you can easily go for a more casual look depending on your mood and personal style as well as the setting you want to go out on.
Go for a slimmer fitting and darker color for a more formal look, and looser corduroy pants in lighter shades for a laid-back look.
Black Denim Jacket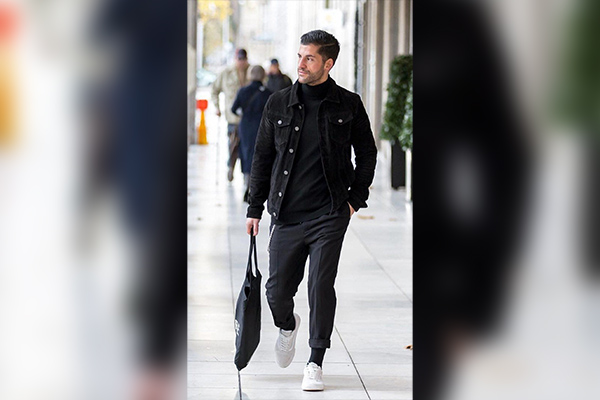 Along with its daredevil companions, white and gray, black denim jackets can be used to create a monochromatic, dressier look, or even add some edge to your denim jacket outfit.
Pair it up with a lighter wash ripped jeans and t-shirt, and some vans to complete your denim jacket look.
FAQs – Jean Jacket Outfits
What should men wear with a Jean jacket?
T-shirts and jeans with sneakers are the ever-lethal combos to pair with your denim jacket. However, don't be afraid to incorporate your own style into your jean jacket outfit for men and adjust it according to your setting. Whether it's a casual, everyday, laid-back style, or if you're going for a date night look, jean jackets will never disappoint you.
Is Denim Jackets in Style 2022?
Jean jacket outfits for men are definitely back in 2022. This mainly pertains to their versatility and the various ways they can be worn.  There are also a variety of designs and cuts in denim jackets for you to choose from, making it outerwear for every man and woman out there.
What do you wear under a jean jacket?
Plain or graphic t-shirts, button-up shirts, sweatshirts, crew necks, and turtlenecks all go well with a Jean jacket. It's just a matter of how you layer it into your denim jacket outfit, taking into consideration the whole vibe and look you are going for.
Are Denim Jackets Attractive?
Jean jacket outfits for men are super cool, with a laid-back vibe, sure to grab the attention of the ladies around you. 
Just make sure you are wearing it right, and be careful of the few fallacies that you could fall prey to, and everything will be alright. 
Conclusion
Jean jacket outfits men have made quite the turnaround from the hipster style from the 1990s and Y2K fashion men, as well as the 70s punk rock fashion and 80s high school fashion, where they never truly went out of style in any decade. 
The secret behind this timeless article of clothing is the simple elegance it exudes, and its ability to enhance the natural persona of the wearer. The fact that it is available in different shades of denim as well as solid black, white, and gray grey colors, just adds to the versatility of the outerwear.
The single-layered thin denim jackets, the slightly thicker as well as the shearling makes it a piece that can be worn in all seasons and weathers. From cool crisp autumn, and snowy winter to the bright spring and warmer summers, you can adjust your jean jacket outfit to suit the weather and settings. 
The best thing about jean jackets is that they can be worn by anyone and everyone, which can be said about most outerwear apparel. It requires minimal effort and just a few basic guidelines to create your perfect denim jacket outfit, male.