If there is one type of footwear that you are likely going to find in almost every individual's wardrobe, it's none other than sneakers. Comfortable to wear, durable, and a true staple of modern fashion, there's no denying the fact that there are different types of sneakers that are super popular all around the world.
The history of sneakers goes a long way back, particularly to the late 18th century when people used to wear shoes with rubber soles called plimsolls. It was in 1892 when the first rubber sneaker with a canvas was invented by the U.S Rubber Company which they called 'Keds'.
Soon enough, by the year 1917, sneakers were being mass-produced everywhere!
But what are sneakers, exactly? The definition of sneakers is simply this: a type of soft shoe designed for sports and casual wear.
Types of Sneakers
There are many different types of sneakers out there, some that you probably already know of, and others that might sound unfamiliar. Interestingly, oftentimes people use the terms sneakers and shoes interchangeably, but they are actually different from each other.
The major difference when it comes to shoes vs sneakers is that the former is a generic term for all types of footwear, while the latter refers to athletic shoes. Secondly, shoes can be made from many different materials whereas sneakers are crafted from synthetic fabrics and feature rubber soles only.
Sneakers also get their name from the fact that since they comprise rubber soles, they make very little noise and you can easily sneak up on someone while wearing sneakers.
We have listed below the 18 most common types of sneakers, each of which is quite unique from the others and has distinctive features and characteristics to offer.
Plimsoll Sneakers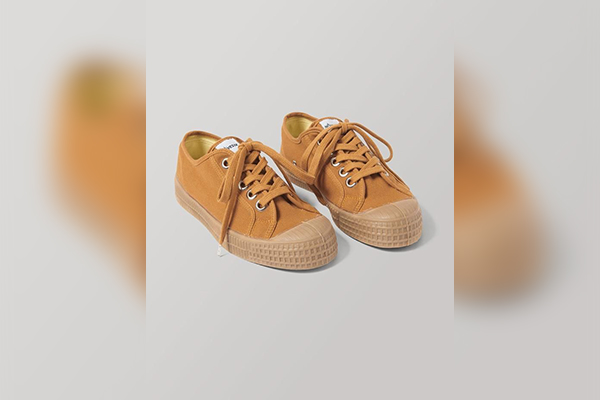 This is one of the most popular sneaker styles and also goes by another name which is 'low top sneakers'.
Plimsoll sneakers are a light type of athletic shoe that features a canvas upper and a rubber sole. It is quite interesting to note that the line between the sole and canvas on these sneakers resembles a ship's Plimsoll line which is a marking that shows the limit of submersion for a ship.
These sneakers are supposed to be worn without socks which in itself is a fashion statement, and they look best with rolled-up jeans or skinny jeans.
Canvas Sneakers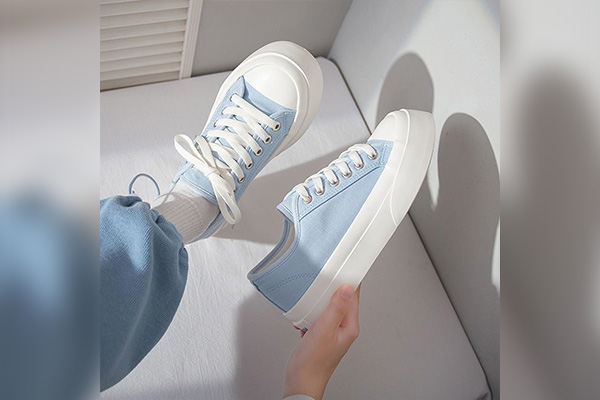 Comfortable, conventional and sturdy, canvas sneakers are all the rage among youngsters and adults alike given their casual and chic look. They are quite versatile, and multi-purpose, and come in many different styles such as slip-ons, lace-ups, and pumps.
These are quite low-maintenance types of sneakers and are ideal for daily wear. As the name implies, these sneakers are made of canvas material which offers great resistance against water, making a great option for outdoor wear.
Canvas sneakers look great with a wide range of cute outfits, particularly rolled-up jeans paired with different types of shirts and other fun accessories.
Leather Sneakers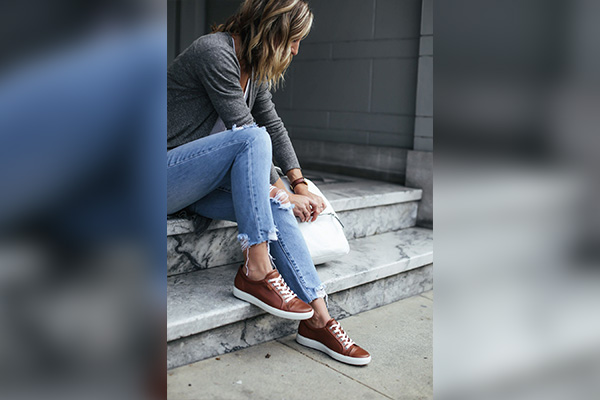 Best known for durability, comfort, and a unique fashion statement, leather sneakers are also a popular choice of sneakers among both men and women. They are a little expensive compared to other types of sneakers, however, they are surely worth the investment considering the myriad of features that they have to offer.
One of the best things about leather sneakers is that they fit like a glove which makes them a good option for sports and other athletic activities. Moreover, since they are designed with high-quality materials, you can also pair them with office ensembles and formal suits.
Printed Sneakers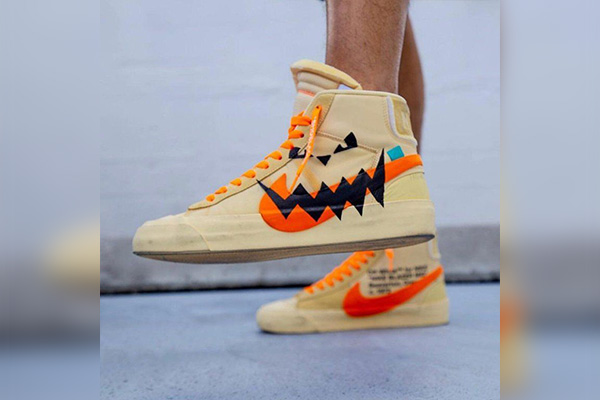 If you wish to elevate your outfit while also prioritizing comfort, printed sneakers are the one for you. They have long been in style in the footwear world given their aesthetic appeal and the availability of so many styles, colors, designs, and patterns, ranging from plaid to abstract, and everything in between.
They often come with a heel pull tab that allows you to get in and out of them easily and a mesh upper that offers maximum comfort and breathability.
From boyfriend jeans to maxi dresses to pencil skirts, printed sneakers look absolutely stunning with a number of outfits.
Knitted Sneakers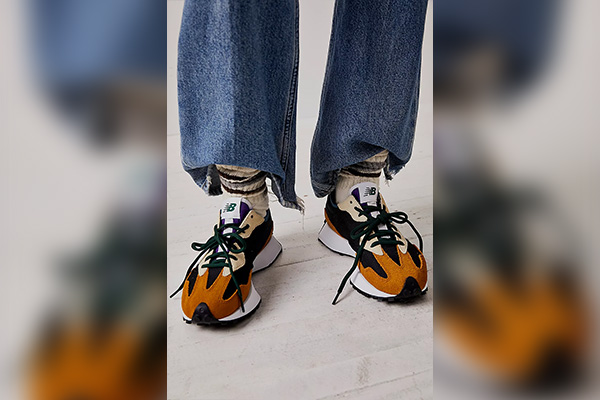 When heading out to run errands, comfortable footwear is always a top priority for literally everyone. There's nothing worse than ending up wearing the wrong kind of shoes that are uncomfortable and painful.
Enter knitted sneakers, one of the most comfortable types of sneakers that have become a favorite among both men and women for the high level of comfort and practicality that they have to offer.
Knitted sneakers are primarily crafted from quality synthetic materials such as knitted fibers which provide durability and breathability. They also come in numerous designs that are ideal for both casual and fancy occasions.
High-Top Basketball Sneakers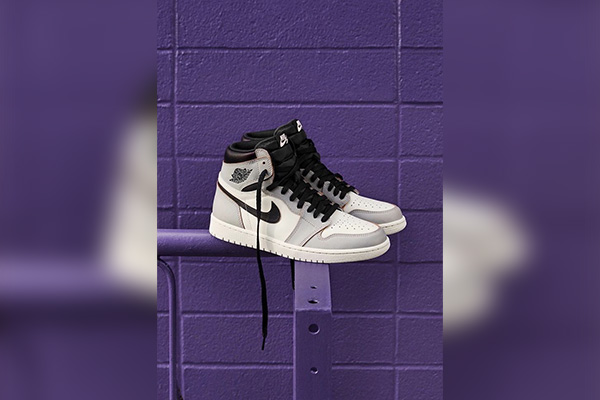 As the name gives it away, these are types of men's sneakers that are often spotted at basketball courts. Since they are high-top, they properly cover the foot and the ankle, which allows you to wear long socks with these sneakers with confidence. Moreover, the high-top feature protects your feet and reduces the risk of ankle rollover which can typically occur during a basketball game.
Other than the sporty vibe of high-top basket sneakers, they also have a trendy fashion aesthetic about them. They look super chic when paired with fitted jeans for men or even denim shorts for women.
Chuck Taylor Sneakers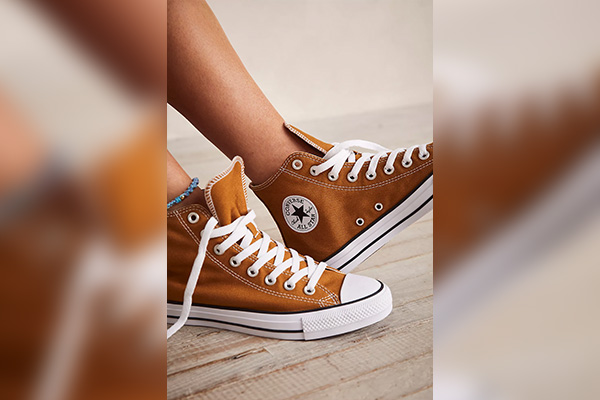 As the name gives it away, the Chuck Taylor sneakers were made popular in 1923 by the American basketball player, Chuck Taylor. These have to be one of the most iconic types of sneakers in the whole world, owing to their unmistakable and unique silhouette, high quality and durable vulcanized rubber soles, variety of materials, and classic colors.
The Chuck Taylor sneakers have successfully achieved an 'icon-status' over the years, and it's safe to assume that their popularity has remained quite consistent.
From quality to versatility to being an absolute fashion staple, these sneakers have so much to offer!
Denim Sneakers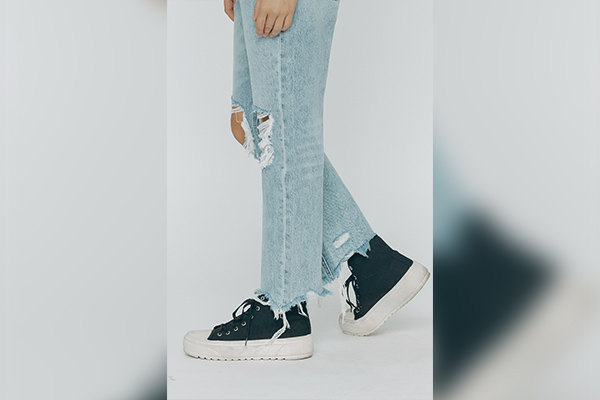 Denim is a forever, timeless classic, and has been that way ever since its inception in 1873. So, there's no surprise as to why denim sneakers have been gaining so much popularity over the years.
The denim shoe trend has been making waves lately, considering how casual, comfortable, and fashionable denim sneakers are. They are an excellent everyday footwear option and offer great grip, comfort, and flexibility.
If you are big on sustainable fashion, you can look into denim sneakers made from recycled fabric. You will find such a huge variety in terms of style, design, colors, shades, and more.
Slip-On Sneakers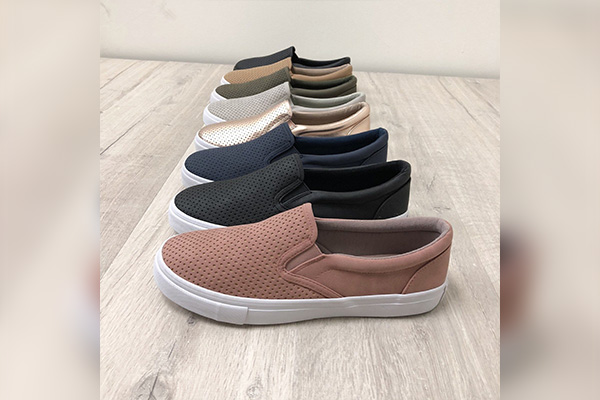 Those who tend to struggle with shoelaces and the whole process of getting the shoelaces right, slip-on sneakers are ideal for you.
These are laceless sneakers which means they are easier and faster to put on as compared to other sneakers that come with laces. They are super comfortable, and cushy, and offer a very snug fit. You can also easily remove them without any inconvenience.
Slip-on sneakers are available in a range of designs, colors, patterns, and finishes, and serve as excellent daily wear sneakers. However, note that they are low-rise or low-top sneakers so avoid wearing high socks with them.
LED Lighted Sneakers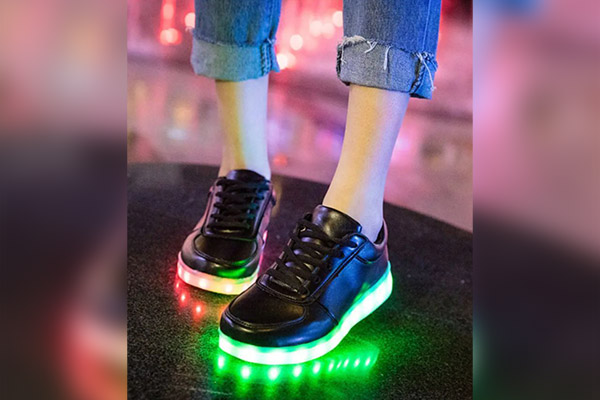 Once upon a time, LED-lighted sneakers were all the rage among kids and the younger female generation, but now, they have made a massive comeback, and are equally popular among males as well!
The most obvious and attractive feature of these sneakers is the LED tube that runs around the exterior of the shoe. You will find both single-colored and multi-colored LED shoes, which makes it all the more fun and fascinating.
These sneakers are ideal for concerts, parties, and other such events have given how loud and flashy they are. You can even wear them to a Hawaiian-themed party and make a bold fashion statement!
Textile Blend Sneakers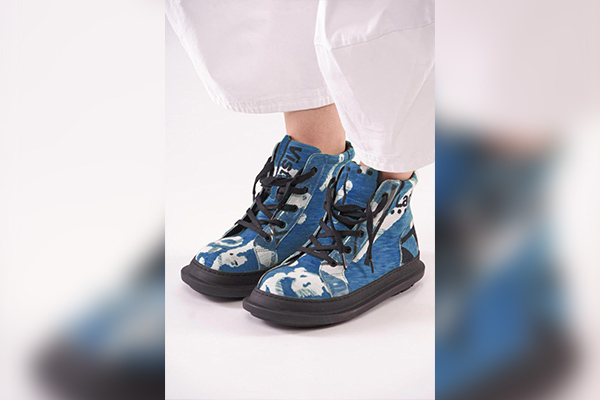 From athletic wear to general, daily wear, textile blend sneakers are a multi-purpose choice of footwear that offers great comfort, breathability, and durability,
These sneakers feature a unique blend of different materials, featuring various combinations such as textile and leather, or plastic and leather, for instance.
It is always a good idea to find out what blend or materials have been used to make your choice of sneakers so that you know exactly what they have to offer. You can style these textile blend sneakers with casual clothes such as jeans and shorts, as well as sportswear and athletic attire.
Synthetic Sneakers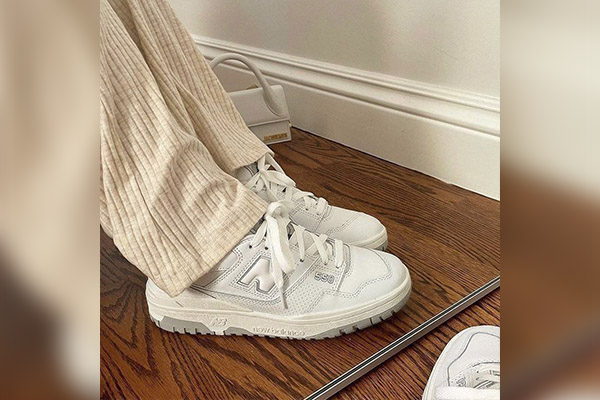 Where there are popular, fashionable, quality sneakers, there are also unfashionable and less durable varieties, one of which is synthetic sneakers.
Made from materials like polyester, nylon, and synthetic leather, these sneakers are deemed the most uncomfortable type of shoes with reduced breathability and flexibility. However, there are many variants, some of which are made from the highest quality materials which tend to look better and offer better levels of comfort. But, even so, they aren't exactly the best types of sneakers available out there.
The only upside to synthetic sneakers is they are lightweight, more affordable, and easier to care for and maintain.
Velcro Sneakers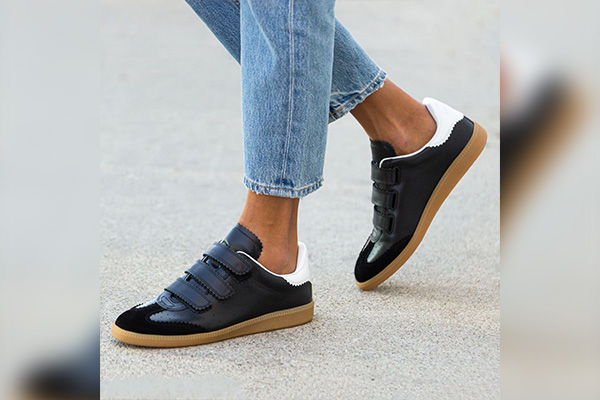 Velcro sneakers are most synonymous with school-going children because more often than not, you see these sneakers as a part of school attire and ensemble. However, over the years, velcro sneakers have undergone a huge evolution and have transformed into a unique style statement for both men and women.
As the name suggests, these sneakers feature velcro straps instead of laces and have been deemed more convenient compared to the latter. They pair really well with casual outfits, streetwear, and sometimes even formal clothes.
If you need some inspiration as to how to rock velcro sneakers, consider Hailey Beiber's outfits who has often been spotted sporting these sneakers with great style and elegance.
Wrestler Sneakers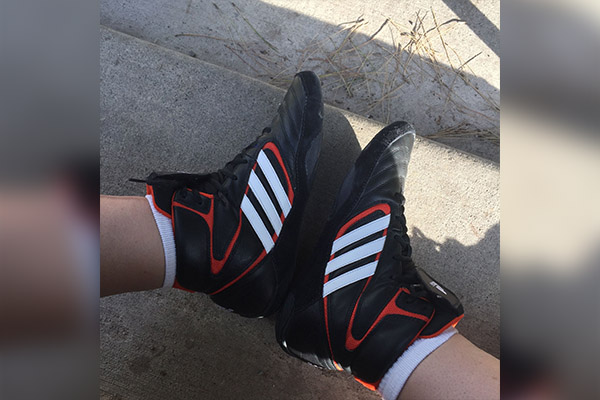 These are worn by professional wrestlers mainly because they feature little spikes on the sole that promote better traction which is very important for the wearer when they are wrestling with the opponent.
Wrestler sneakers are generally flexible and light, and they feature a high-top design that offers cushion and ankle support. These are high-performance athletic shoes that have purely been designed for the wrestling sport, especially considering how it involves a great degree of foot movement and requires extra support and grip.
They are typically made of lightweight synthetics with rubber soles that prevent slipping, and often feature mesh uppers.
Retro Sneakers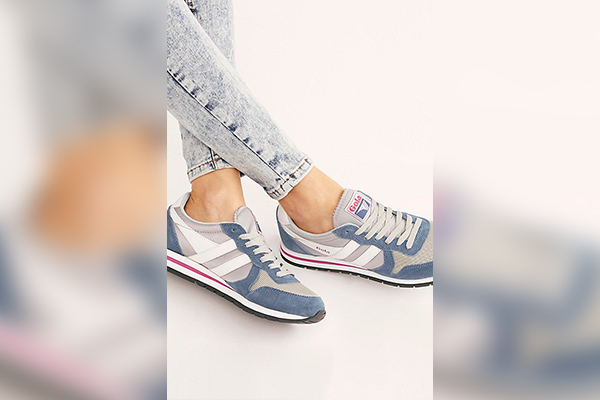 When you talk about retro sneakers, you can't not mention the 1980s sneaker craze when Air Jordans and Reeboks were experiencing massive popularity.
Retro sneakers help add a vintage touch to your outfits and that's one of the many reasons why the retro sneaker market has been making such an explosive comeback. More and more brands are coming up with retro sneakers inspired by past decades in a variety of styles, colors, designs, and patterns.
Some varieties of these sneakers feature synthetic fabrics such as mesh and nylon, while others are made of suede and leather.
In terms of styling, you can take a look at Kendall Jenner's outfits from recent times to get some inspiration on how to style these types of sneakers!
Baseball Cleats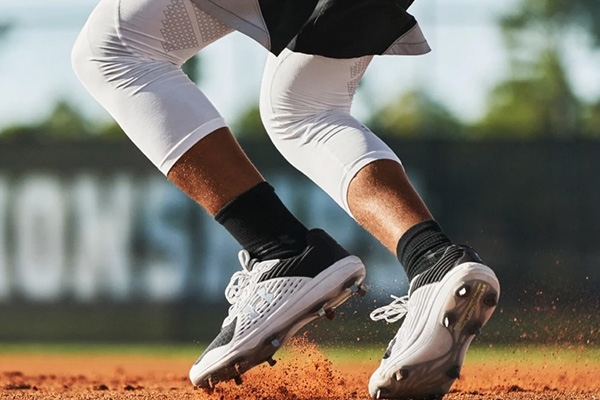 If you are a baseball enthusiast, you probably own a pair of baseball cleats! There's a baseball cleat for everyone, regardless of age or baseball league.
Baseball cleats are types of sneakers specifically designed for baseball with responsive cushioning and stable traction control. These sneakers offer the comfort, support, and traction that baseball players require to perform on the diamond.
The outsole of baseball cleats often features two styles: molded and metal. A molded outsole is ideal for younger players given the safety concerns, and a metal outsole comprises bladed studs that offer advanced traction, durability, and acceleration.
Tennis Shoes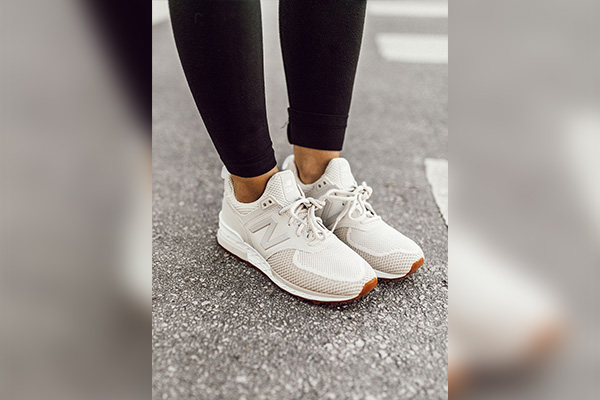 Particularly designed for tennis players, tennis shoes have been around since the 1930s and are quite a popular choice of sporty footwear among both men and women.
Tennis shoes are a type of lace-up sneakers typically made of canvas, and they feature lightweight uppers and vulcanized rubber soles. These shoes may have been designed for tennis players, but swiftly became a wardrobe staple and are often paired with casual clothes and streetwear.
The rubber soles in these sneakers offer flexibility, support, and shock absorption, and the canvas uppers provide breathability. From jogging to running errands to walking to work, you can trust tennis shoes to be your ideal footwear partner.
Court Sneakers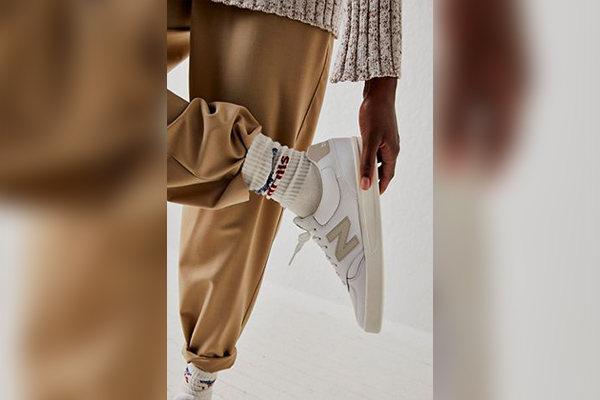 Initially designed for basketball players with rubber soles, midsole cushioning, low tops, and quality uppers, court sneakers are perfect to be worn on hard surfaces. Basketball courts generally have hard flooring and these shoes help protect the players' feet from injury.
Court sneakers are super popular among athletes other than basketball players as well since they work really well on grass and turf fields too. But, these sneakers aren't just worn by sports enthusiasts; they have long become a trendy footwear choice for even those who don't play sports given how they strike the right balance between durability, quality, and style.
Top Sneaker Brands In the World
The sneaker market in today's time is incredibly huge, versatile, and multi-varied with a large number of sneaker brands, each of which has unique features to offer. It's also interesting to note that sneakers are also one of the most popular choices of footwear among youngsters and adults alike, as well as both men and women.
Sneakers are no longer restricted to sports and athletic wear, they have now successfully transformed into the go-to footwear choice for any and every occasion, be it running errands or heading to an event.
Thanks to the variety of different brands of sneakers that we have at our disposal, there are so many options to choose from.
We've rounded up some of the best and the top sneaker brands in the world, most of which you probably already know.
Nike
Adidas
Puma
Reebok
Converse
New Balance
Vans
Common Projects
Filling Pieces
Air Jordan
Balenciaga
Solomon
Yeezy
These are just a few top brands for sneakers that have a range of different types of trainers and sneakers to offer in a variety of colors, patterns, designs, styles, and materials.
Conclusion
From formal gatherings to a night out with friends to traveling to sports activities, sneakers are one of those versatile and multi-purpose types of shoes that are ideal for different settings and situations.
While there are many reasons why sneakers are so popular among people of all ages, one of the biggest reasons is how comfortable and durable this trendy, sporty footwear is. And, with such a large variety of colors and designs to choose from, you can have different types of sneakers in your wardrobe which you can wear with a variety of outfits and ensembles.
Now that you are familiar with some of the most popular names of sneakers, you can get yourself a new pair to add to your sneaker collection!