Even though we are just at the dawn of the new Millenia, we have seen a fast resurgence in the Y2K fashion men, which changes every day, either producing new items or bringing them back from the past, or insinuating those two in the most breathtaking ways. 
This has created a dilemma for the current fashion trends where originality seems to have been lost and all that is left are the creative titbits from the past that we are left to survive on.
Due to fast fashion where so many trends are rising and falling, coming back only to go to sleep again has created a certain redundancy in the world we live in right now, where there is a constant fear of being left out.
Whether it was the bold aesthetics, eccentric accessories, or the blast of denim, Y2K fashion challenged people to try something new and go out of their way in expressing themselves.
What Is Y2K Fashion Men?
Freshly out of the 90s, Y2K adopted much of its styles including the denim rage, influences from 90s hip hop fashion and the overall carefree look were the big staples of the early 2000s.
The trends were heavily influenced by boy bands like NSYNC and The Puff Daddy's, where denim on denim was a popular look. The style diverged from the grunge fashion looks of the early 90s fashion, leaning towards the casual street style looks, 90s hip hop fashions incorporated.
The sporty clothing along with chunky heavy accessories were staples of style icons like Jay Z, Snoop Dogg, and the likes. Bright bold colors were introduced instead of the grunge's dark metallic themes. Distressed jeans and oversized clothing continued to make history with the rise of upcoming stars who wore them with pride and their own personal twists. 
The mid-2000s saw a throwback to an even earlier era of fashion, where cowboy styles took over once more, and classic metal rock t-shirts, cargo shorts, and bootcut style jeans were brought back into the styles. 
The era concluded with a blend of the beginning and mids of Y2K fashion, where many items saw a revival including the 80's power suit which came back with slimmer fittings, relatively narrower jeans, leather jackets, overcoats, and v-neck sweaters. 
All in all, Y2K fashion was a period of fun and discovery where new styles were being brought out every other day, while the public was still reeling from the earlier trends. However, due to globalization and the concept of fast fashion trendy items, fresh from the runways were available at budget-friendly prices in nearby stores so the public was kept in pace with the rising trends.
Is Y2K Fashion Men Back?
Y2K fashion seems to be back with a roar with many of the Y2K fashion trends making a comeback. These include the resurgence of trucker hats, low-rise jeans and straight pants, oversized jeans, and shirts. 
Many of the celebrities are sporting these looks with styles of their own, such as Eminem, and even our top model Hailey Bieber was seen wearing the hat with pride along with the rest of her 90s attire including crop tops and flared jeans. Brands like Tommy Hilfiger and Karl Kani brands which were among the fashion brands in 1990 are making a comeback with their tracksuits and bright colors, and bringing with them the 90s hip-hop trend.
The ever-classic jackets which never seemed to have left are more popular than ever and along with them flared jeans as well as Adidas sneakers, which were an important part of the 90s fashion and were ever-present in Y2K outfits in streetwear. 
Much of the preppier Y2K American trends, like the looks from O.C. played by our favorite Adam Brody, seemed to have made a return in the form of polo shirts, cardigans, slimmer fit jeans, and corduroy pants.
The question as to whether or not Y2K fashion is returning for good depends mainly on the public on how ready they embrace it and how long they are willing to keep up with it. For the time being, Y2K fashion seems to be in for a warm welcome.
Cyber Y2K Fashion Men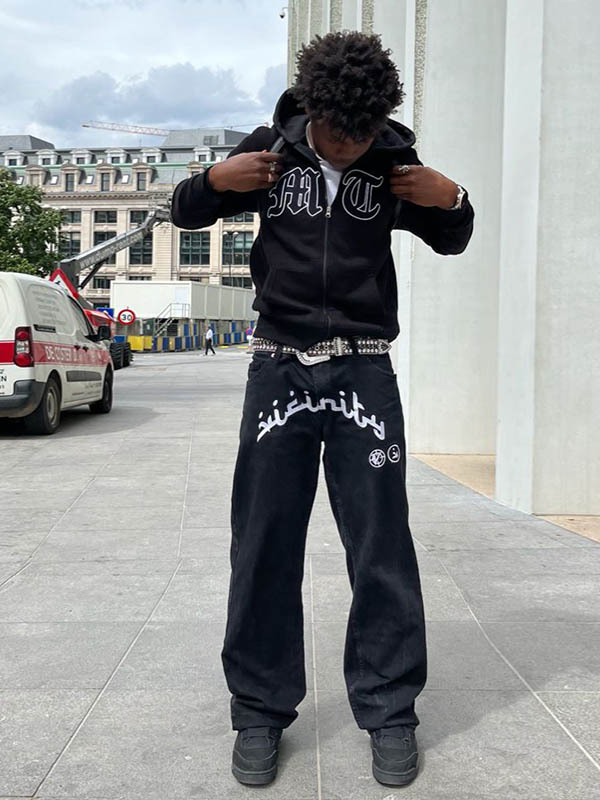 Cyber Y2K fashion became a thing with emerging technologies with a blend of Y2K fashion, punk rock, and streetwear. These include neon colors and a blast from the 90s fashion, presenting them with a new exquisite twist. 
From tracksuits to low-rise jeans, and baby tees combined with leather jackets and metal bling was a perfect Y2K outfit to wear in the earlier part of the century.
Streetwear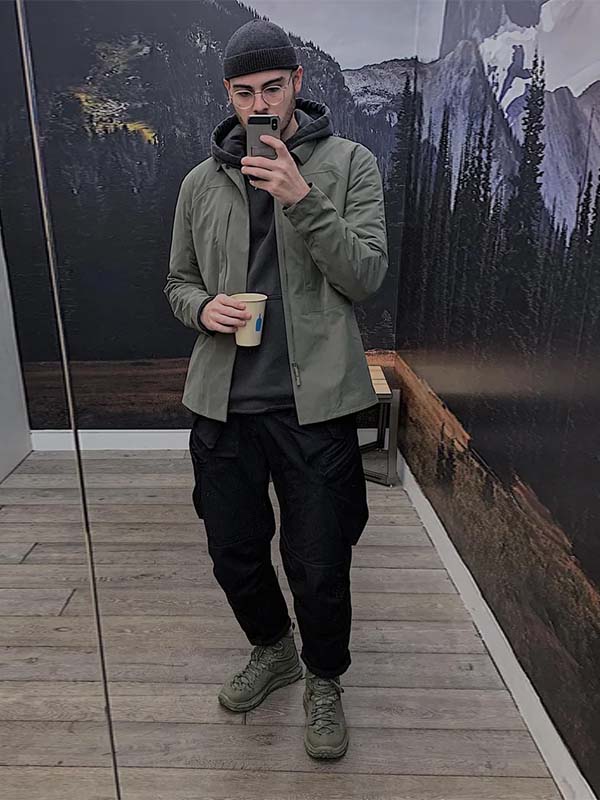 Hip-hop culture from the 90s fashion was another influence in the Y2K fashion. These included oversized clothes and puffer jackets all worn oversize, by hip-hop style icons of the age like SnoopDogg and 50 cent.
This streetwear style was seen all over the world thanks to the rise of pop culture and globalization, where everyone seemed to be embracing it wholeheartedly.
Denim Everywhere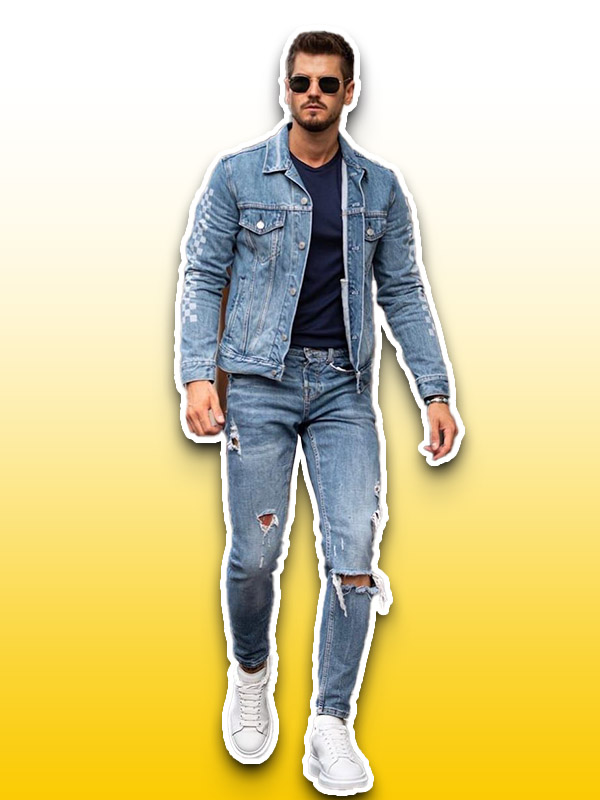 Justin Timberlake was the king of denim wear, where he rocked two jean pieces at many of his concerts. Denim was available in all shapes and sizes including trousers, jackets even shirts which were usually paired with either black, white, or graphic tees and timberland boots. 
You could almost never go wrong with a denim-on-denim outfit, where you could glam it up with funky accessories of that era or leave it to its classic Y2K aesthetics and vibes. 
The denim aesthetics left so little room for going wrong and provided the perfect casual Y2K outfit for streetwear.
Bohemian Prints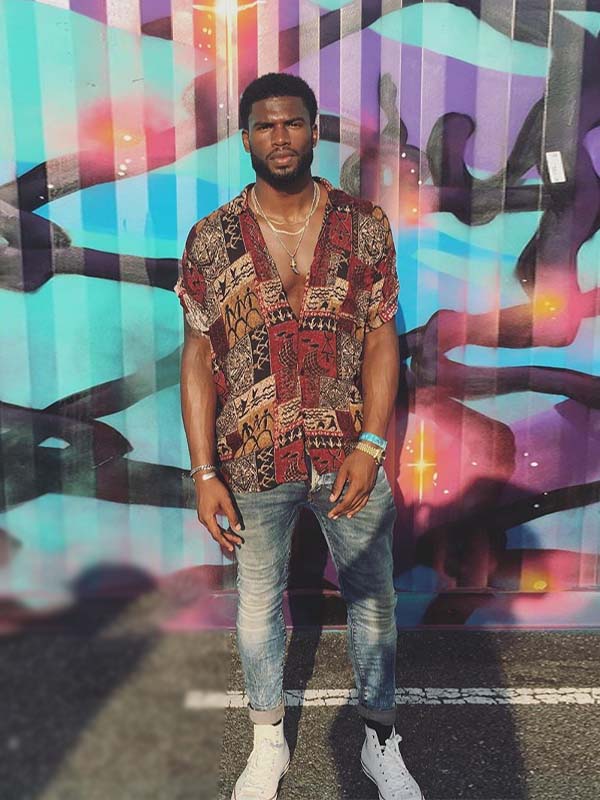 These fresh retro prints and warm tones were characterized by the easygoing styles of the 70s which were best worn with loose-fitting pants and funky accessories. It's actually a culture in its own sense, with a wide variety of patterns available and many of the articles of clothing named after it, bohemian style is making its way into the current fashion with a flurry.
Eccentric Accessories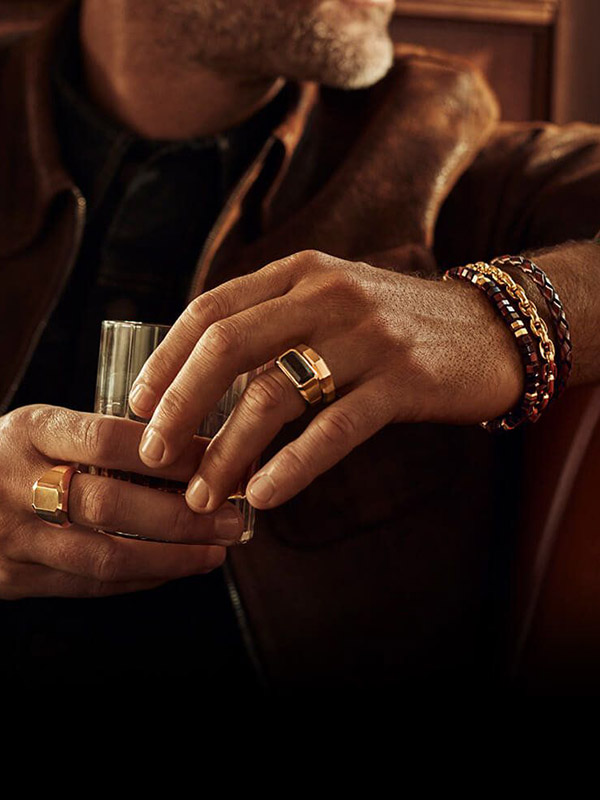 The Y2K fashion taking inspiration from the 90s fashion was a time of having fun. This translated into the accessories used in the decade including huge chunky belts, visors, truck hats and ties worn over a t-shirt were some of the major accessory trends ruling over Y2K fashion.
While they may not always be agreeable to many in the present times, many of the accessories are making a comeback and trucker hats are already among them.
FAQs – Y2K Fashion Men
How would you describe Y2K fashion?
Y2K fashion is eccentric, bold, and versatile in the best ways possible, crossing borders of time and place.
Why is Y2K fashion popular?
Denim on denim, the casual carefree style of the 90s fashion, as well as the twists of the emerging age and era, has made Y2K fashion timeless and might be the secret behind its survival to the 2020s.
 What's Y2K aesthetics?
Y2K aesthetics include the overall appeal of the Y2K fashion including the denim on denim, bohemian prints, and neon and metallic themes from Cyber Y2K fashion. 
Concluding Our Thoughts on Y2K Fashion Men
Perhaps, all genres of the Y2K fashion are making a comeback including streetwear, hip hop fashion, preppy Americana, and even the rise of Scene, a 2000 punk rock band influenced by the 90s grunge style. 
All in all we are witnessing a steady rise in the Y2K fashion trends in the 2020s where the 90s fashion seems to be back with a roar.
However, inspiration is always taken from the past to recreate the present and this is how it will ever be.
It might be too early to say Y2K fashion is back and here to stay because you never know what tomorrow will bring. The preferences of people here change at a speed faster than most of our internet browsers and want something new every day. 
However, it is not too early to bring out the early Y2K jeans from your closet because the fashion is coming back and you don't know when it will stay.