Cultural and flamboyant. Distinct and innovative. Vivacious and spunky. With a history that's given birth to several Japanese fashion subcultures, Japan heralds the most innovative fashion trends in the world.
From the unafraid use of neon colors, ankle socks with flip flops, face masks (yes, their fashion sense is unexplainably imaginative), and exaggerated silhouettes to pop cultural references (hello, kitty), and layers and layers of textures, one thing that most Japanese fashion trends have in common is a sense of self-expression, culture, community, and most importantly, laying bets on the boldest combinations that the world has ever seen – After all, not everyone can pull off matching prints with kitschy accessories, right?
In addition to its popular Harajuku Street style, the Japanese have always been great at assimilating outside influences and reimagining them to the taste of their own.
If you're looking for a wardrobe refresher inspired by the streets of Tokyo, we have assembled some Japanese fashion trends that can get you started.
Modern Japan Fashion – Fashion in Tokyo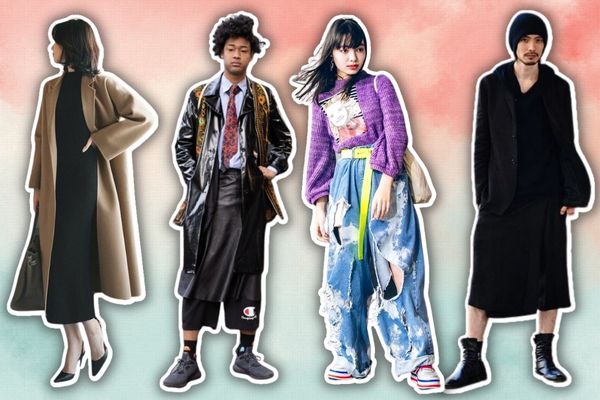 The 2022 Tokyo Fashion Week saw stylish showgoers in eye-popping neon and bold prints. Of course, loads of layering and baggy pants were also there. The latest Japanese fashion trends display a mix of traditional haute couture and accessories, which reflect distinctive Japanese fashion styles and fashion-forward statements.
The outlandish and zealous fashionistas of Tokyo progressed at such a pace that it's almost impossible to document them without falling out of date. However, numerous local fashion designers have embraced modern designs and silhouettes while staying true to their heritage.
Speaking of which, Japanese street fashion saw a revival of traditional Kimono – the most famous piece of clothing in the history of Japanese casual fashion. This iconic wardrobe has been worn on the streets of Milan, Paris, New York, and Tokyo.
Mostly paired with Geta and socks, the Kamino used to be a significant part of casual wear for Japanese women's fashion.
Many fashion designers have played with its traditional shape for years; in fact, iconic artists even iconic artists like Rihanna and Gwen Stefani were also seen donning one during their performances.
Judging by the latest street style scene from Tokyo, expect to continue seeing statement dresses in all sorts of colors, silhouettes, and prints. Tailored suits are also in for a few seasons, but we've seen showgoers play with exaggerated proportions, as a cropped blazer and oversized jackets cinched in with a belt.
Plus, immersing in loads of textures has also become a fashion favorite, be it lace, crochet knits, pleats, ruffles, or other distressed details. Needless to say, modern Japanese fashion is just about being the boldest dresser you can be!
The best of Japanese street fashion – Japanese Fashion Subcultures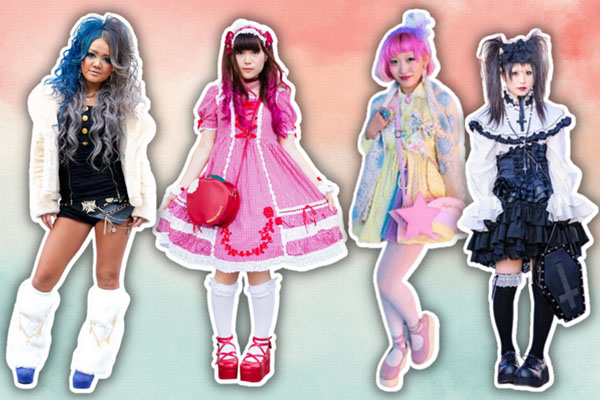 Japan is a hub of fashion subcultures, in fact, it probably has the widest range of subcultures of any country in the world. Members of these subcultures are spread across Japan, though they tend to be primarily populated in larger cities, such as Tokyo.
Common subcultures, each with its own unique fashion identity, include; Lolita, Decora, Fairy Kei, Gyaru, Vishal Kei, and Kogal. These subcultures gradually evolve and adapt throughout the years, constantly reminding us that fashion is not just about clothing, it's a way of life!
Check out the most popular styles of Japanese street fashion below:
– Lolita: It is one of the most common Japanese fashion subcultures with a cult following worldwide. A sweet Lolita features Victorian-inspired Japanese clothing, ruffles, bows, pastel colors, frocks, skirts, and all things cute. This subculture is further slashed down to five subcategories: Sweet, Gothic, Classic, Punk, and Kodona.
– Kogal: This street style features a Japanese school uniform with miniskirts, colored hair, tan skin, loose socks, scarves, and tan skin. This style was a significant part of Japanese 80s fashion that rose to popularity in Anime in the 1990s but has since declined.
–        Decora: This Japanese street style is definitely not for the faint of heart. Think of bright neon colors, layers of cute accessories, funky socks, stuffed animals, vibrant bags, legwarmers, and, well, all things loud.
– Fairy Kei: This style is basically when Sweet Lolita meets Decora with a twist of 80s Japanese fashion. It features tutus, faux fur, pastel colors, and characters from iconic cartoons from the 80s.
– Gyaru: Unlike the rest in the list, Gyaru is more girly, over-the-top, glamorous, dramatic makeup street style with everything fake. No, seriously! Taking inspiration from western styling (the Kardashians family, more specifically), Gyaru street look features fake nails, fake hair, fake lashes, and, like I said, everything fake.
– Visual Kei: Inspired by Japanese rock and punk bands, Visual Kei is an iconic punk Japanese fashion, featuring unique (read weird) hairdos, flamboyant clothes, and dark eye makeup – quite like the glam rock bands from the West.
The Japanese fashion landscape has shifted drastically, mostly gone are the extravagant fashionistas of Harajuku. However, while many of the above-mentioned styles have declined in popularity, Japanese street fashion still lives on with a new sense of belonging and modernism!
In today's mainstream fashion, many go for basic, simple, clean looks exhibited by popular fashion brands like Muji and Uniqlo. But still, if you dig a bit deeper into the Japanese fashion scene, you'll find a group of passionate individuals doing their best to keep their subcultures alive.
Sounds like your kinda thing? Let's explore all the latest Japanese fashion trends to bring to your wardrobe straight from the streets of Tokyo:
Goth Grunge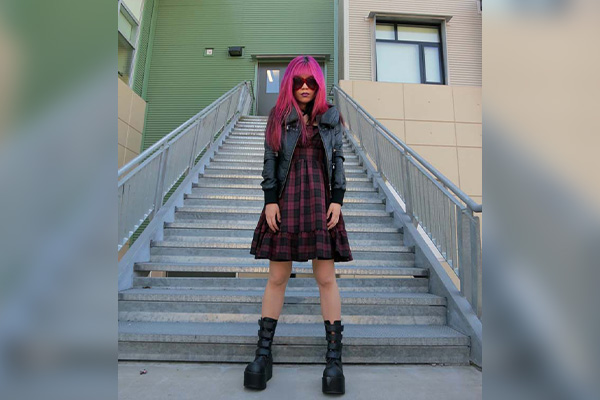 The streets of Harajuku sometimes feel like a counterculture litmus test. The Japanese, regarded for their bold and vibrant aesthetics, have previously displayed neon jesters or tiered ruffles as a fashionable reaction to our times.
But that vibrancy has taken a dark turn. The district is now flooded with an army of hipsters dressed in all black – a Goth for the new era.
With teens wearing black vintage Victorian mourning tops, lace shirting, oversize tailoring, and dark outfit, fashion-obsessive Japanese are using goth grunge to convey powerful fashion statements in 2022.
Oversized Hoodies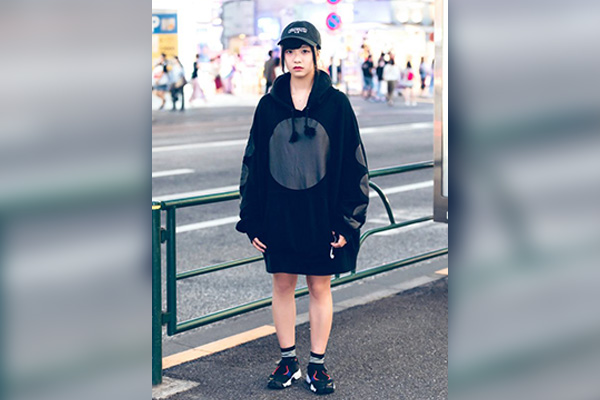 Japanese street fashion is enormous – literally! Many of our readers ask, "Why is Japanese clothing so loose?"
Well, apparently, it's in fashion! In fact, the trend of oversized hoodies, widely known as an official uniform of many American hip-hop artists, actually originated in the streets of Tokyo. Yes!
And honestly, it suits them… Since the Japanese tend to have a slimmer physical build (pardon if I'm generalizing), the bulky, drapey outfits hanging over their bodies look a whole lot cooler than in any other nation.
A quick skim through Japanese fashion magazines will also reveal that loose, baggy, unisex, and colorful hoodies are very in right now.
E-girl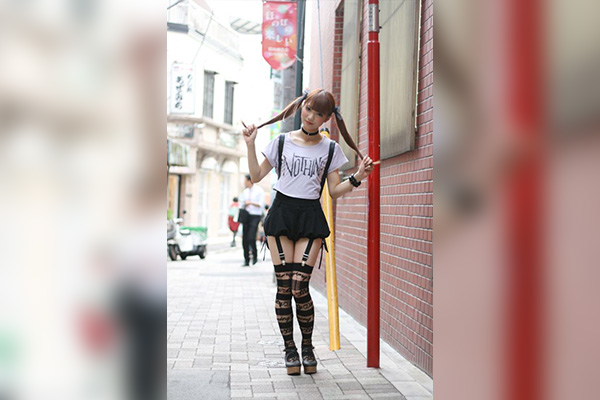 During an era driven by TikTok, social media, and live streams, one trend has risen above all others: the E-girl (electronic girl) known for doll-like Anime looks fused into grunge, skater, and Japanese gothic fashion styles.
But not just the styling, the look is also known for its signature pout and the famous Eddie Munson (from Stranger Things) tongue-out facial expression.
The E-girl style features a short circular skirt and a striped t-shirt with long sleeves usually worn under an oversized shirt. As for the accessories, it consists of more edgy punk themes like pins for earrings, chokers, and sometimes, some facial piercings.
Techwear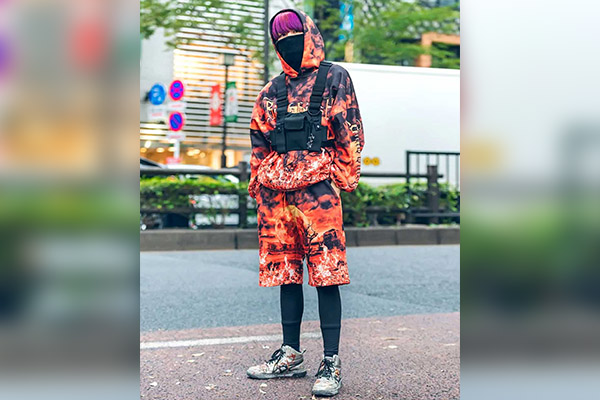 Besides Anime, one thing Japan is famous for is its increased focus on technology – And, obviously, they wouldn't mind expressing it through their clothing!
Techwear, or "technical wear," is known for prioritizing comfort and effectiveness over fashion. It features baggy cargo pants, bulky hiking jackets, huge backpacks, rugged types of sneakers, and so on. Often made with unique fabrics like GORE-TEX or Cordura, these styles are durable enough to bear extreme weather conditions.
In 2022, however, Techwear has been ditching its utilitarian reputation and started embracing the latest, sleeker designs that look trendy and hip, especially among the Japanese street style community.
Loud Printed Shirts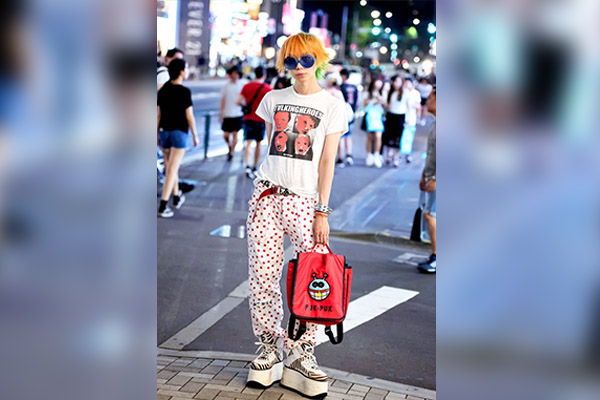 Another dated fashion trend that got its fresh new revival is printed Hawaii shirts. Previously, Japanese fashion designers loved to adorn shirts with printed boho-chic florals and traditional signs, like dragons, cherry trees, snakes, and bamboo sticks.
However, the 2022 Japanese shirts feature the same elements but with a twist of western culture. This year the tone is much more vibrant and colorful.
Hence, it's probably a suitable time to immerse yourself in crazy prints, vibrant colors, and loud fashion statement pieces because the louder, the better!
Plaid on Plaid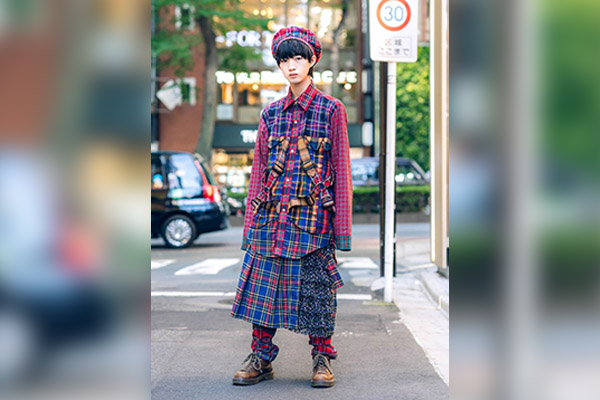 When Lolita fashion style meets visual kei – but with a funky twist!
Inspired by the preppy look of 90s fashion, mixing plaids in a single outfit is currently dominating street fashion in Tokyo.
Besides, Plaid has always been an outfit staple in Japan, especially during the autumn. While there's still time for the leaves to fall off, you can still pair plaid with plain or printed innerwear.
Or better, pick out a vibrant plaid skirt and pair it with a toned-down top to bring your skirt to the spotlight. You can even pair it with platform shoes for the best Japanese street-style look. 
Silver & Metallics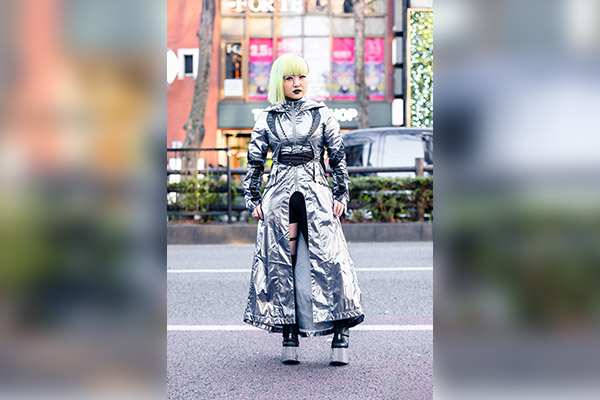 Returning from the Harajuku streets in the 80s fashion, metallic and silver are currently undergoing an unprecedented rise in popularity – thanks to their unintentional association with the retro-futurist look of Japanese fashion men.
This striking metallic statement piece will definitely add spunk to your wardrobe.
Sometimes roared along with a sci-fi sexy feel, these looks can best be achieved through sexy metallic tops, shining pleated skirts, cropped bottoms, mini skirts, and paillettes.
If you want to tone down the shimmering, consider throwing in some solid basics and neutrals. Complete your style with shiny side bags, flashy makeup, silvery cheeks and eyeshadow, and glistening hair.
Dalmatian Dots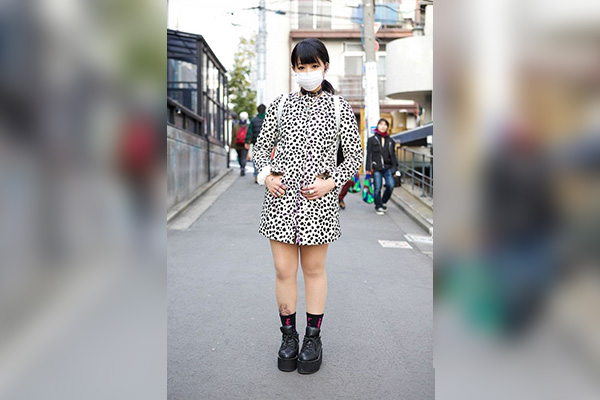 Heavily influenced by the history and heritage of Great Britain, the dalmatian dots have got a newfound interest in the land of the rising sun.
Japanese fashionistas aren't afraid to take inspiration from foreign lands; hence, they embraced Dalmatian dots like one of their own and made it even better! The dalmatian dots trend has taken off after the release of the Disney movie "Cruella", and landed in the streets of Tokyo.
Pop & Block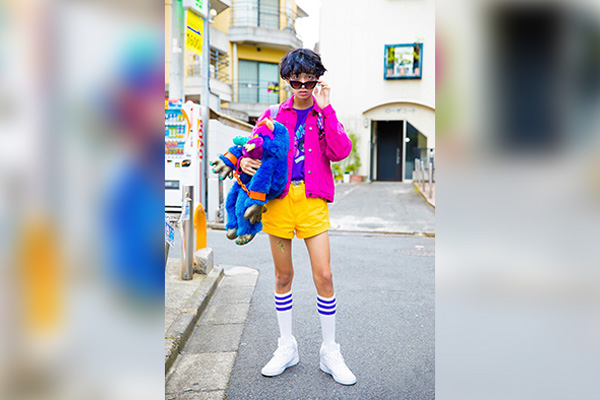 Stand out and embrace a brighter fashion look by clashing rainbow hues and shades. This season, create a statement look by fusing pop colors with graphic green. Those of you following the "color wheel" rule has got it right!
The secret ingredient to nailing this look is to stick to simple shades. Pair your e-girl pencil skirt with classic pants with hues that are at the contrasting section of the color wheel. Don't go for sharp contrasts and shades of similar intensity.
For instance, orange will go best with pink, but the same pink with light green will not look pleasing to the eyes.
Camo Queen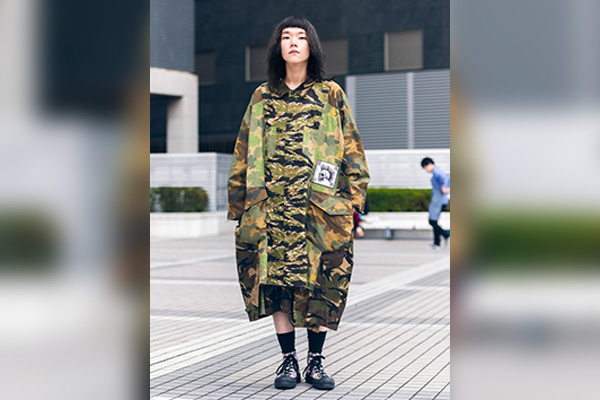 Camo Queen is hailed as one of the fast-rising fashion trends in recent years.
From trousers and sleeves to boots, this military-inspired camouflage wardrobe style gives you a much-needed boost to your personality, enough to turn heads at the party. Be it for Japanese fashion casual wear or a party look, the Camo Queen outfit will go along with any mood you desire.
Camo outfits drenched in olive hues, dry grass, and gothic-themed monochronic dark shades are the most sought-after camo ensembles currently.
Deconstructed Trench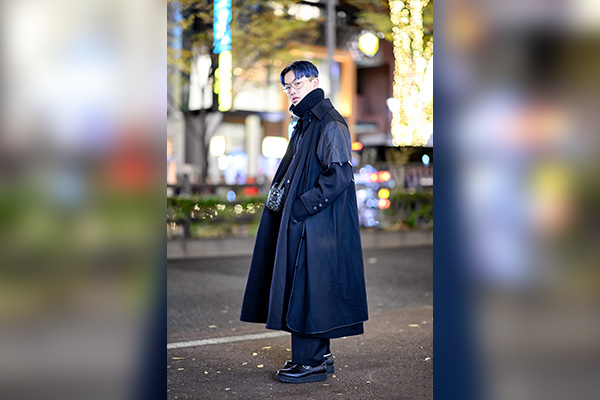 Don't freak out with the word "deconstructed," because this latest fashion trend is far from tattered or torn in any way. In fact, it's the ultimate answer to all those wondering how to look rich in 2022.
Welcome to the season of deconstructed trench coats where you'll find plenty of unconventional coats with shredded hems, and extra collars, buckles, and flaps. Some Japanese designers have even cut off the entire shoulder and neckline, turning this classic trench piece into a dress. How fun!
Bubblegum Denim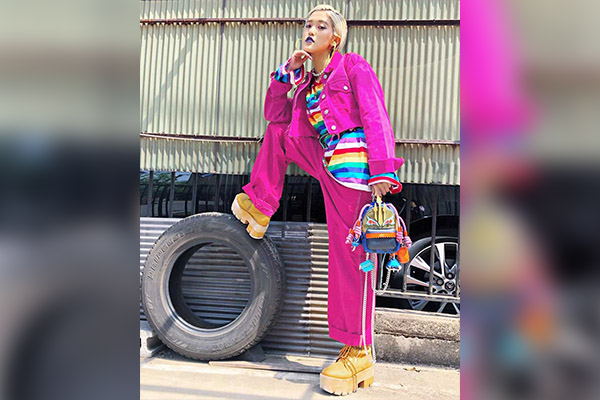 Bubblegum pink is a versatile color that can be both extreme and soft. Whether you want to have a sensitive crowd-pleasing look or to add a powerful political punch to your wardrobe, you can pull off each of these looks with trendy bubblegum denim.
This color gives you a striking, vibrant, and bright feel that is enough to start your day. With Kawaii Japanese fashion dominating the styling arena, bubblegum is here to stay as an ideal choice for a solid and chic style.
For extra fun, throw in some neutrals like hues of beige, off-whites, and earthy-browns.
Cozy Coatigans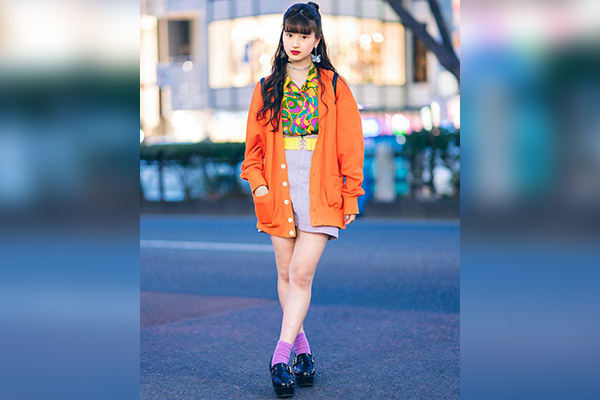 When a coat and a cardigan meet, you have a coatigan. It is heavier than your typical winter wear and lighter than your warm outwear, making it an ideal choice to add layers without covering up your overall look.
Initially regarded as a fashion statement only reserved for grandmas and mamas, coatigans have returned to style millennials like never before.
You can wear it over colorful blouses or printed dresses for a cozy and chic look. If you're into gothic style, adorn dark lipstick, and here you go! To complete the look, complement it with statement earrings. You will rock it, we're pretty sure!
Graphic Athleisure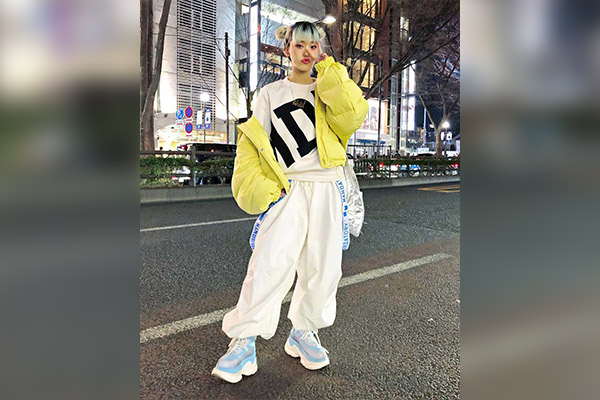 Japanese people and their love for athleisure is never-ending! Also, because 2022 marked a return to basics and a need for more comfortable attire, athleisure is shaping up to be the ultimate Japanese trend of the next 12 months, with track pants at its center.
That's also why Japanese fashion trendsetters are reviving the style of joggers, track pants, bottoms, and runners, lending streetwear outfits a much-needed refreshing look.
Any signature triple white stripes from Adidas and squat-proof leggings are one of the most sought-after joggers this season.
Dump away all the complications and play around with colors and extravagant accessories for an instant and easy way to style Tokyo's graphic athleisure trend.
Oversized Trench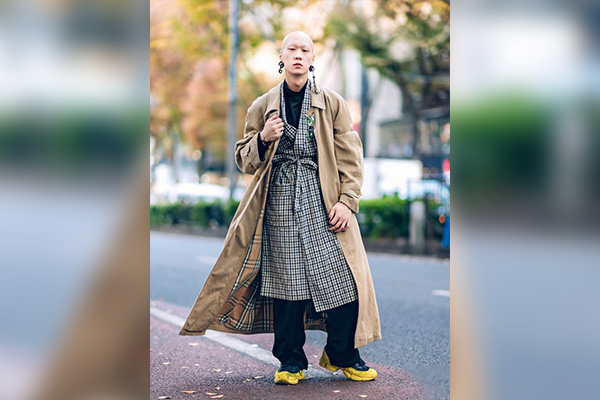 Oversized trench coats are a much-cherished staple in a woman's wardrobe. Versatile, functional, weatherproof, and always stylish, the large trench is one of the most followed trends in the Japanese fashion world.
Throw it over anything, from athleisure to jeans and elegant formal dresses. Baggy trench coats have a distinct level of feel that translates into ease and effortlessness.
There's not a fashion season where the trench coat doesn't make an appearance, and the most recent shows were no exception.
We saw people donning it on the streets with traditional coats made with signature gabardine material, sturdy storm flaps, and snug belts for extra warmth.
Designer Clogs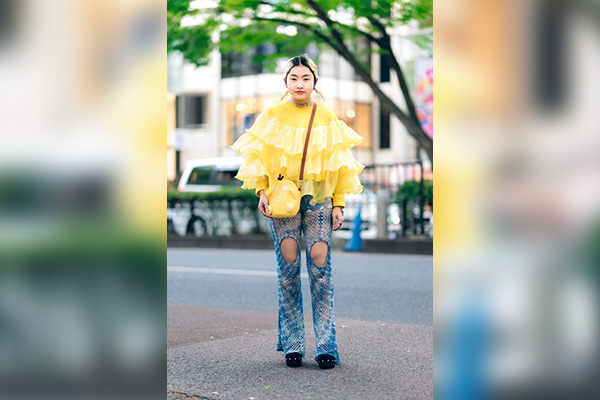 Stemming from the 13th century, the clog initially appeared as a wooden flip-flop in medieval Japan. They came back into fashion in the 60s, when people adopted this staple to signal a pretty bohemian bent.
If a sandal that click-clacks or a space-age bubble shoe is your thing, then you must hop on the clog-wagon.
Now that we are in 2022, the best clogs are coming out of hiding. They are stomping down the hallways and Tokyo's streets, walking across the galleries, and moving towards Tokyo's coffee shops.  
We have seen clogs as not just comfortable and practical but celebratory. Clogs represent a life where one follows the heart and submits to their will of desire.
Matrix Monochrome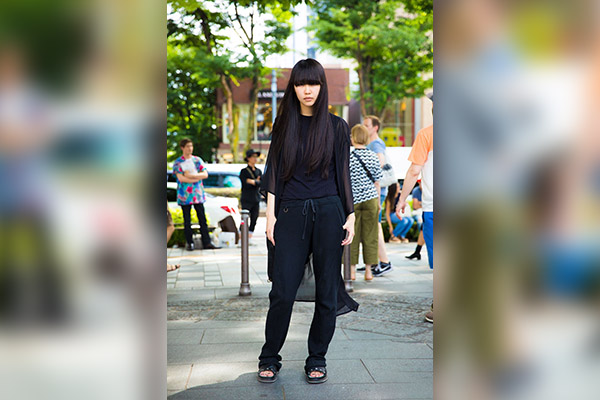 Looking at all the recent images from the streets of Tokyo and runways, you will likely be reminded of a few popular 90s characters: Carrie Bradshaw of Sex and the City and New, Trinity, and Morpheus of The Matrix.
Yes, you've guessed it right! Matrix Monochronic style is back! You will see people donning floor-gazing all-leather trench coats, combat boots, and tiny sunglasses.
The latest Japanese fashion trends have a unique take on this look, clashing together the nude shades of chocolate, beige, and off-white. Be it color-blocking, textural, or layered, monochromatic hues complement everyone and will stay in trend – maybe like forever!
Minimalism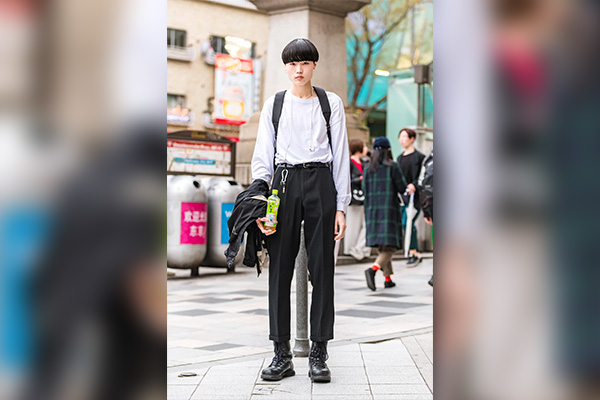 With under-tones and decent-looking silhouettes, the Japanese are switching their loud Harajuku Japanese old fashion trend with basic and neutrals. The latest minimalistic look consists of cool colors that are pleasing to the eyes and different shapes to provide perfect fits.
But hey, we are talking about Japanese here!
Despite being basic, the new minimalistic outfits are far from plain. Designers have embraced various kinds of textures to diversify a wardrobe and prevent it from looking dull and boring.
Camel-Toe Boots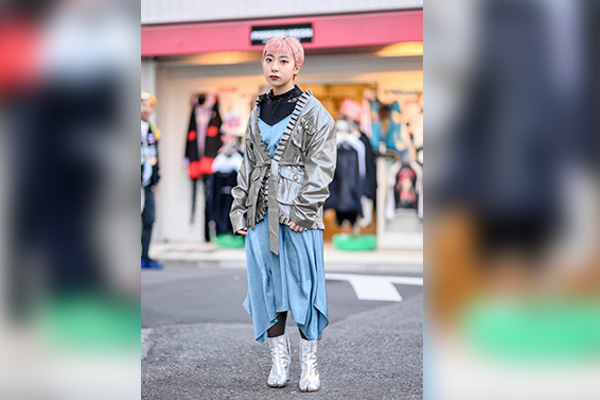 This season is all about different types of aesthetic summer outfits paired with square-toe boots. Add a geometrical design to your everyday look by pairing it with straight trousers, denim, monochronic, or vibrant baggy tops.
Slouchy Outwear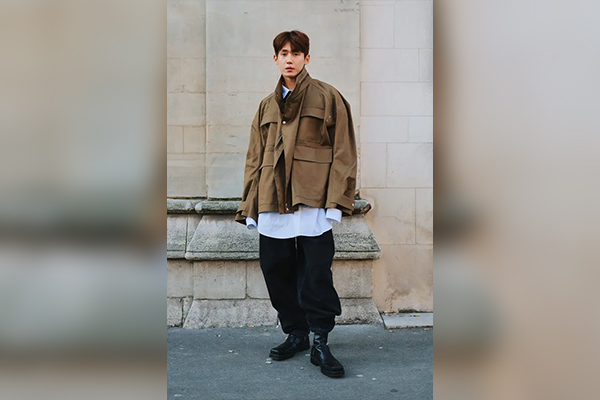 Slouchy outwear is effortless in the most literal sense of the word. While it may look as louche, low-key, and graceful as even the shrillest suit if styled correctly.
And that's why the latest Japanese men's fashion has mastered the art of comfy pajamas and sweats look, giving out some dead-drop style inspirations.
Knitted Headwear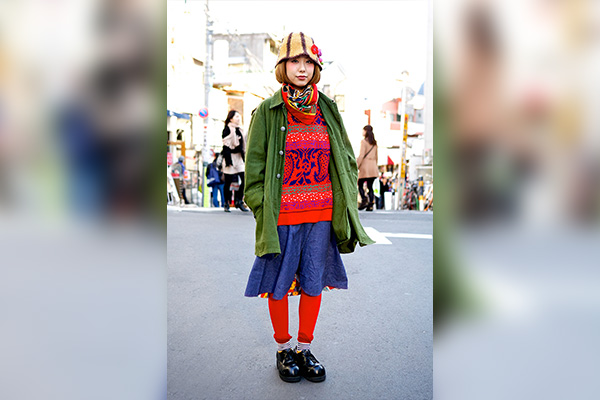 Yeah, you might prefer dickies, trapper hats, balaclavas, and beanies, but might we suggest another way to keep your neck and head warm this winter? Introducing knitted headwear!
Stylish and popular, knitted headwear is coming back into style – that too with a bang!
It gives you the warmth of dickeys and the coverage of a winter hat without inducing hair static or covering your face like balaclavas.
A knitted hood is a chic solution if you're stuck in a sudden freezing rain with a naked head. You can layer one under any of your hoodies, winter coats, or even biker jackets!
Anime Accessories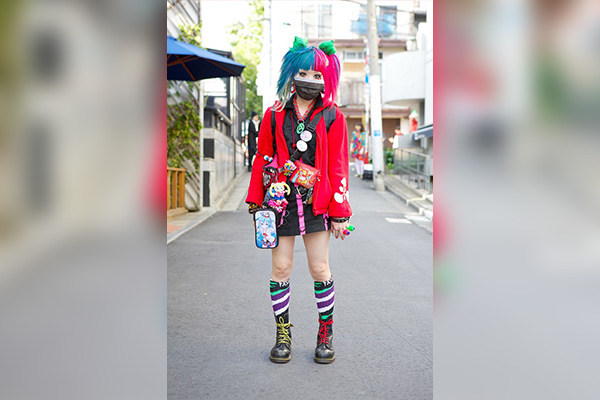 When we talk about Japanese fashion, there will always be a discussion about Anime.
Unsurprisingly, Anime significantly impacts the Japanese fashion industry, especially in street style. While wandering the streets of Harajuku or Akihabara, all you'll see is anime-inspired colors and print styles with enhanced accessories.
What is Japanese street fashion called?
When one talks about Japanese street fashion, this one name might roll off your tongue: Harajuku. This is a popular area between Jingumae-machi and Sendagaya, located between the Shinjuku and Shibuya wards in the capital city of Tokyo.
Why is Japanese fashion so popular?
Japan is well-known for being one of the world's fashion hubs for so many reasons. Japanese fashion has risen in popularity thanks to its distinct and unique heritage and vibrant culture.  
Why is Japanese fashion so unique?
Japanese fashion is unique because of its vibrant color palettes, unafraid combinations of designs and styles, and bold, unapologetic uniqueness that led to the Yuugen kids' foundation. Putting all of these factors together is what makes Japanese fashion so unique.
Why is Japanese streetwear so popular?
The foundation of typical Japanese streetwear was laid in the 80s. Then, taking some inspiration from the West, the Japanese broke styling norms, changed lifestyles, and set the stage for the "golden years" of street style in Japan. It was in the 90s that Tokyo was regarded as the hub of Japanese streetwear.  
Concluding Our Thoughts on Japanese Fashion
What makes Japan such an intriguing hotbed of fashion is the people's mysterious ability to draw influence from a wide range of sources yet make it distinctive, innovative, unique, and simply, better!
The Japanese fashion landscape has changed drastically over the years. The bold, extremely loud, and flashy looks might be gone but what still remains is a sense of style centered around self-expression, individualism, culture, and community.