New York Fashion Week finally kicked off with all its might and glory, giving us some of the most incredible fashion inspirations of all time.
This season, we have witnessed a slew of fashion accessories that have dominated the NYFW Spring 2023, some of which have resurged from the past, and others that have long been trending in the fashion world.
Take a look!
Maxi Denim Skirts
This season has witnessed longer skirts in a variety of styles and designs ranging from cargo silhouettes to patchwork denim. Long maxi denim skirts, in particular, dominated the NYFW 2022 where many attendees were spotted sporting these structured denim skirts which look best with chunky sneakers.
Cowboy Boots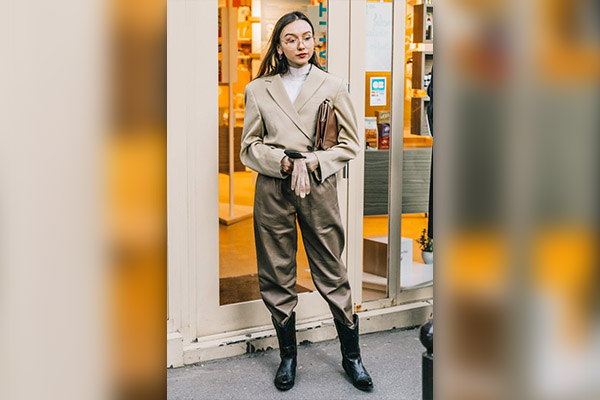 With a high heel, decorative stitching, a pointed toe, and the characteristic embroidered leather style, cowboy boots are back in the limelight this season, and for good reason.
These knee-high boots look super chic, especially when paired with a high-waisted pair of jeans, printed tees, or simply a crisp white shirt!
Low-Rise Pants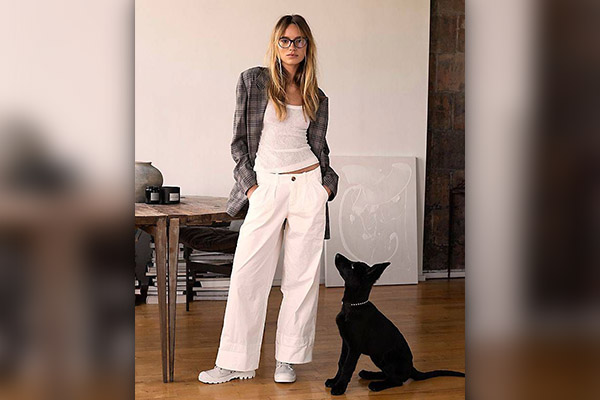 Some of you might have a love-hate relationship with the low-rise trend, but either way, they are back in style and are perfect for the summer season.
The OG low-rise pants have been updated and transformed with a modern spin, making them more wearable and approachable. With New York Fashion Week serving some great style inspirations, you now have several ways in which you can style these low-rise pants.
Sculpture Heels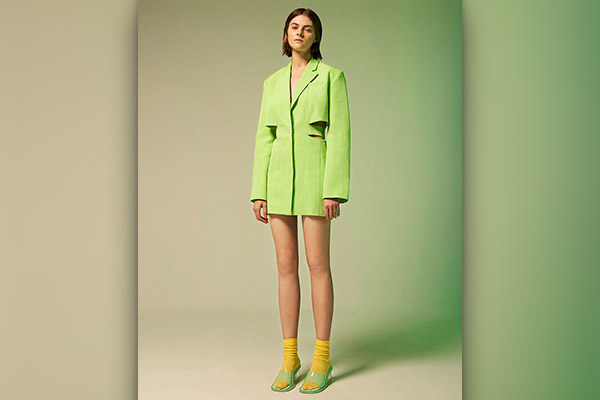 Who said footwear can't double as wearable art?
Spanish fashion house Loewe's sculpture heels this season say otherwise! These avante-garde sculpted heels are all the rage with artistic silhouettes that beckon you to go bold!
From roses to cracked eggs to nail varnish bottles beautifully sculpted in place of the traditional heel, Loewe's sculpted heels are the one must-have accessory in your wardrobe this season.
Wired Headphones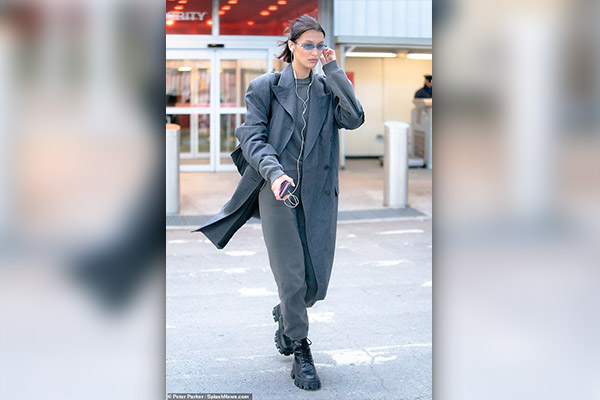 Wireless headphones may have taken over both the world of sound and fashion, but wired headphones are making their way back into it.
These retro earpieces have made a successful resurgence as the newest, hottest accessory for the Gen-Z crowd, thanks to several celebrities who have been rocking their wired headphones in style.
Over-Ear Headphones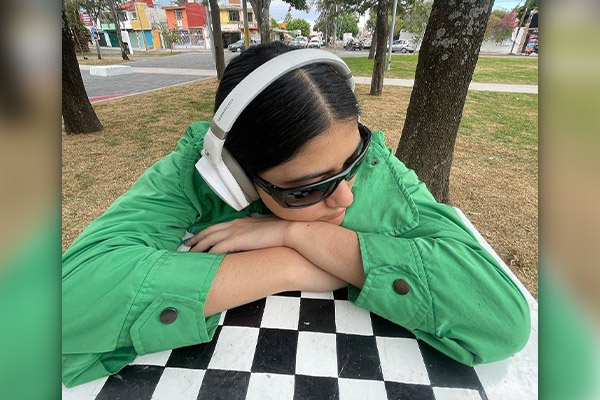 Like wired headphones, over-the-ear headphones have also experienced a massive resurgence this season and were spotted at the New York Fashion Week Fall 2022 presentations held earlier this year in February.
Available in a slew of designs, colors, and decorative details, it's time to rock this street-style-inspired accessory!
Tinted Sunglasses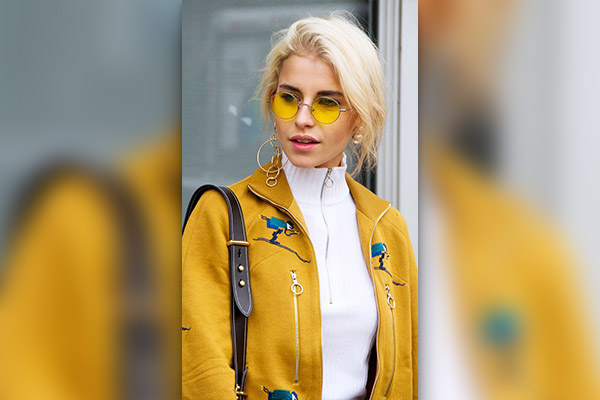 Why wear the common run-of-the-mill black and brown shades when you can up your style game with color-tinted sunglasses this summer season?
NYC Fashion Week, among many other things, has brought back tinted sunglasses for another round after becoming the hottest sunglasses summer trend last year.
Short Suits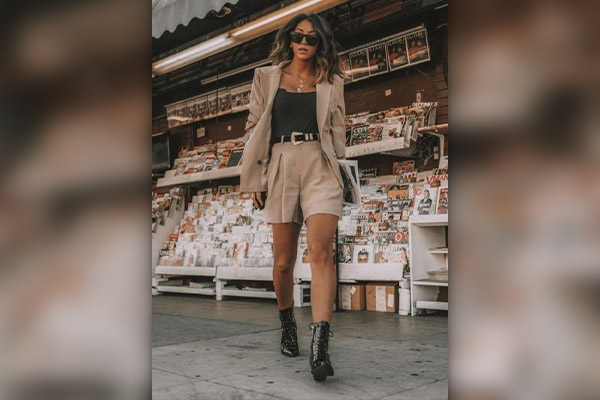 Suits are a classic wardrobe staple for sure, but this season is all about a more modern, refreshing, and chic take on your typical suited look. Enter short suits, featuring knee-length shorts and oversized blazers that make an effortless style statement, while being super comfortable and casual.
Chunky Pendant Necklaces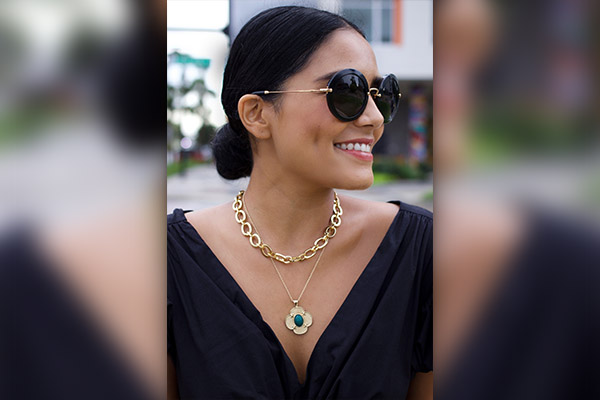 Oversized jewelry accessories always seem to be in style, so it's no surprise that early 2000s-inspired chunky pendant necklaces have been brought back this season.
These larger-than-life pendants have long been a favorite for many and make a true style statement, making them a staple accessory to have in your jewelry collection.
New Balance 550 Sneakers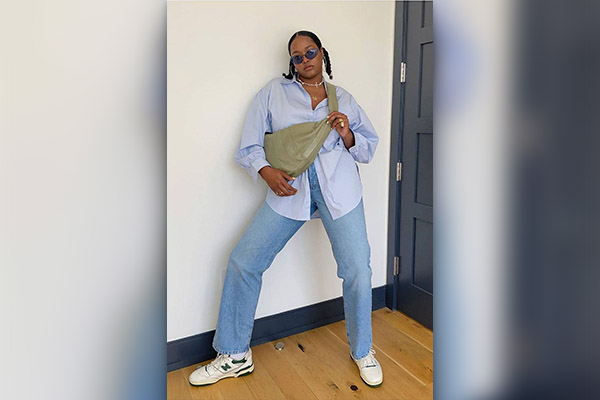 First released in 1989 and had vanished for years, the most sought-after New Balance 550 sneakers made quite a comeback in 2020 and it's safe to say that they are one of the most trending footwear silhouettes this season.
Balenciaga's Le Cagole Bag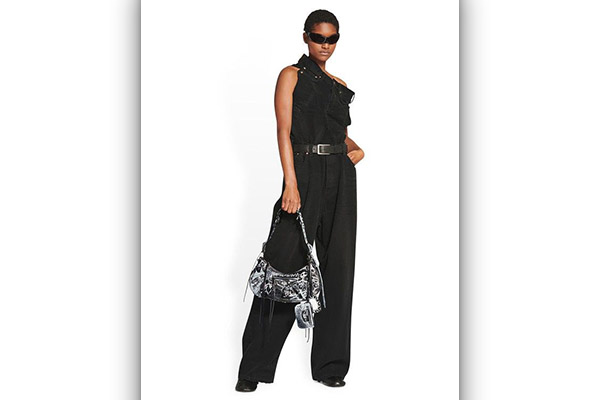 Each year brings us a must-have bag, and this year's most coveted bag is none other than Balenciaga's Le Cagole bag.
This crescent-shaped purse features lots of creative details and a curved silhouette that seems to have taken over the streets of New York City.
Wraparound Sunglasses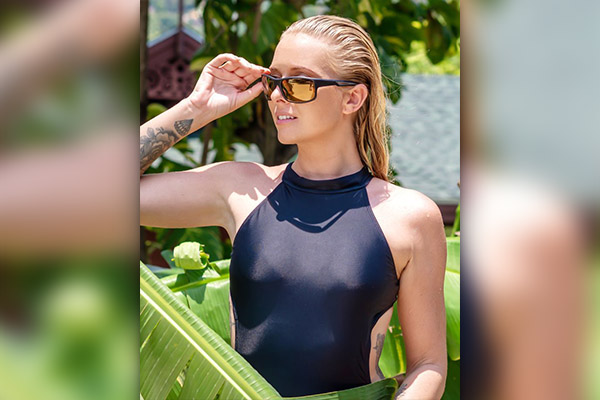 Sunglasses were a common occurrence at the fashion week during the day shows and events, and many attendees were seen donning wraparound sunglasses in a variety of styles ranging from sleek to alien-like.
They are chic, unique, and stunning!
Rainbow Knits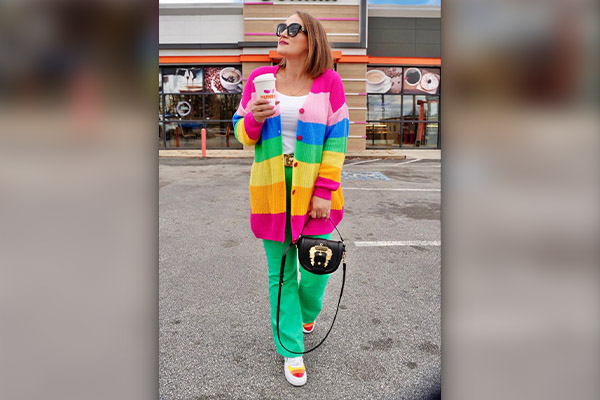 Add a touch of color and vibrance to your fashion game with Christopher John Rogers' colorful rainbow knits that were first spotted on New York runways in recent times.
These trendy, vibrant knits are truly a must-have item for this season and maybe even the next one!
Itty Bitty Mini Skirts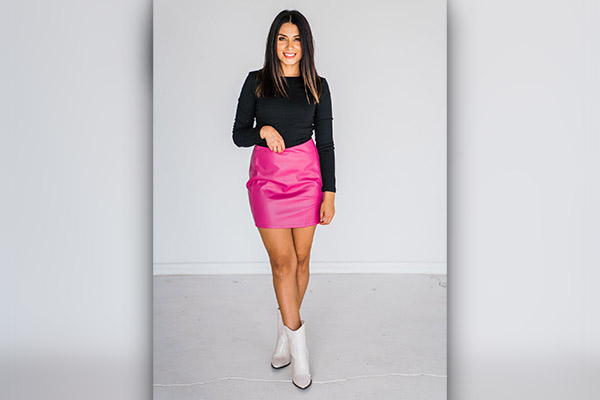 It seems as if the classic mini skirt is getting mini-er by the second, thanks to a slew of attendees and celebs at the NYFW 2022 looking chic in these super-tiny, micro mini skirts!
Maxi Tote Bags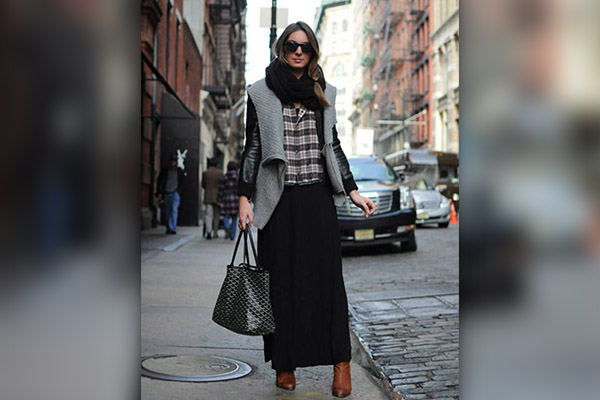 The bigger the bag, the better, no?
Tis the season of everything oversized and bags are no exception! Maxi tote bags are what's in style right now, offering style, comfort, and convenience, all at the same time.
Quilted Jackets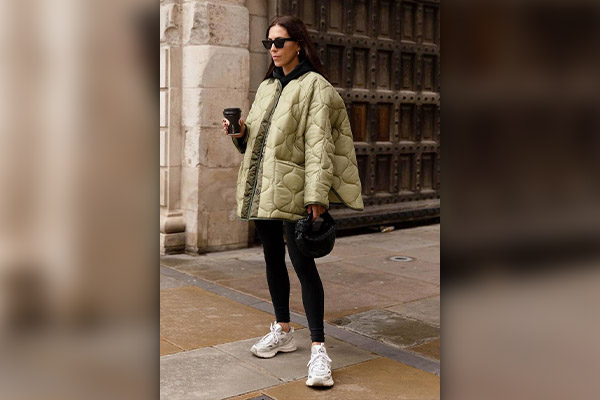 When there's a nip in the air, a quilted jacket is your best friend that not just keeps you warm, but also keeps your style game in check.
Glamorous Sportswear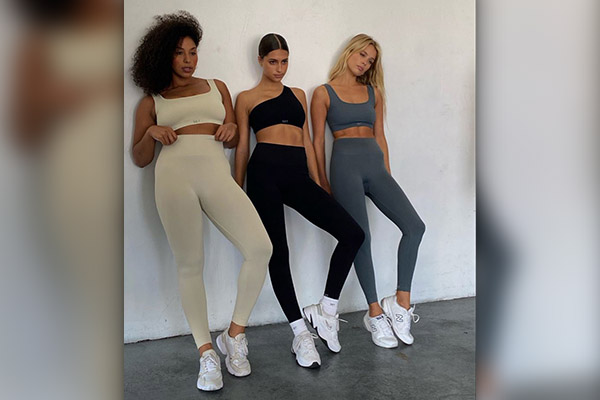 Whoever said or thought that sportswear can't be fashionable couldn't have been more wrong. The sporty glam aesthetic is back this season which means you can now pair your sports jersey with knee-high boots or sparkly kitten heels without fear or hesitation!
Long Denim Shorts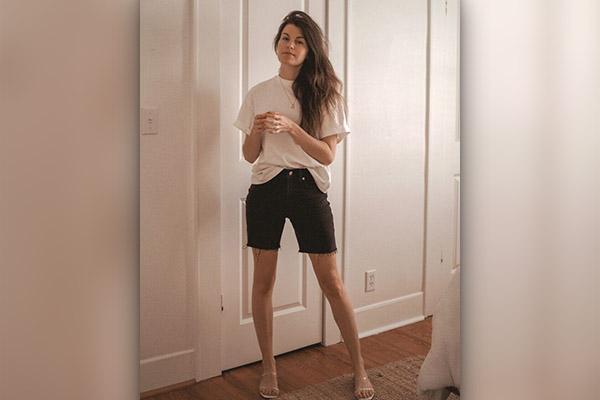 For those who don't fancy mini skirts and shorts, long denim shorts are just in for you!
These loose and lowkey baggy knee-hitting denim bottoms have been trending lately, making them the ideal streetwear clothing accessory. Pair it with a midriff-baring crop top or your favorite printed t-shirt, and a unique style statement is inevitable.
Ballet Flats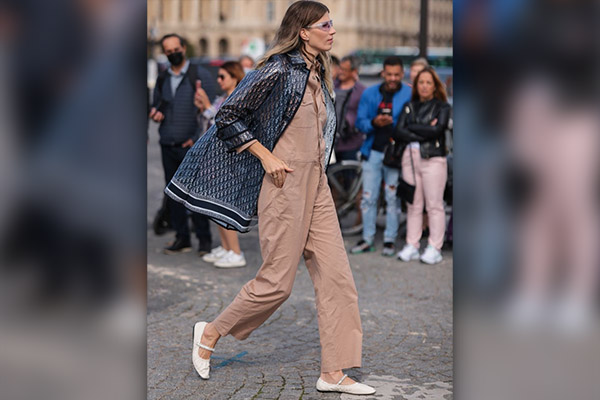 With the ballet core aesthetic taking the internet by storm, it's time to bring your Mary Janes and ballet flats out front from the back of your wardrobes.
Miu Miu's buckled ballet flats are the ones to grab this season in case you've already gotten rid of yours!
Ribbed Tank Tops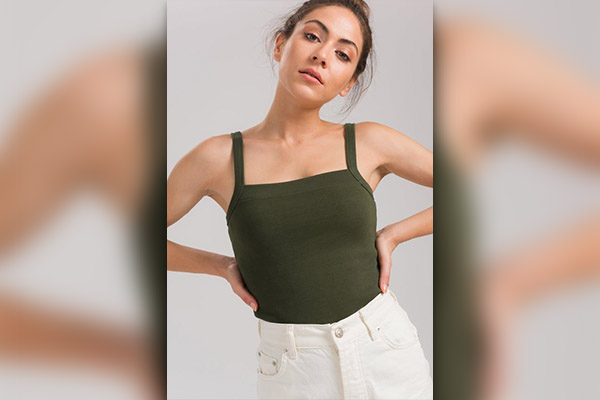 This is undoubtedly a classic wardrobe staple, and this season's fashion week has brought us ribbed tank tops that are best paired with, well, everything!