Do you happen to have a hoodie just hanging in your closet and you're simply wondering how to style hoodies men the right way in a stylish and sophisticated manner? You are certainly not alone! 
Hoodies might be a timeless wardrobe staple and while most men probably own at least one, some people might often find it hard to style it differently and come up with unique combinations and outfits.
A great thing about this overly simple yet classic and versatile wardrobe item is that it can be styled in so many different and fun ways. It's not only designed to keep you warm and comfy in cold weather but it can also be transformed into chic streetwear or trendy sportswear, for instance.
We've rounded up a few great outfit ideas that will help you style your hoodie, and perhaps even tempt you to go buy a couple more!
Shirt Under Hoodie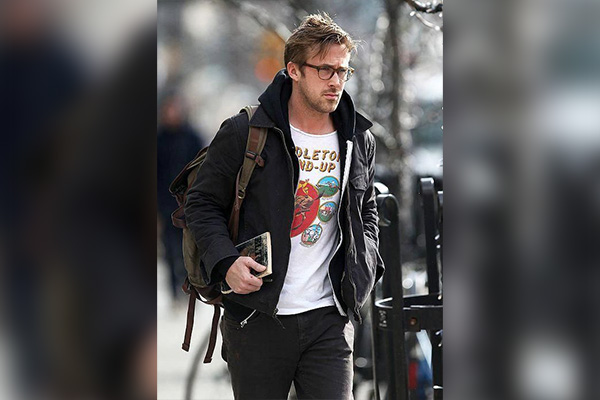 This is one of the most popular hoodie styles for men and is ideal for the cold weather when you need that extra layer of warmth to keep you comfortable.
The beauty of this look lies in its versatility – you can literally pair your favorite hoodie with different types of shirts from your wardrobe, as well as pants.
From polo shirts to t-shirts to cuban collared shirts to short sleeve shirts, hoodies look great with almost every type of shirt.
A great outfit example for the shirt under hoodie style is a white crew neck t-shirt paired with a zip-up hoodie, slim jeans, and a pair of fresh sneakers. For colder days when there's a real nip in the air, you can create a layered look and add a jacket or an overcoat on top of the hoodie.
Shirt Over Hoodie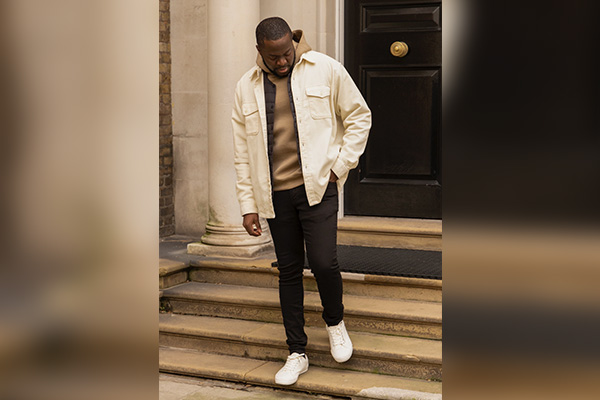 Nothing says cool and casual better than a shirt thrown over a hoodie, a style that has gained significant popularity among boys over the years. If you are looking for new ways to dress in your 20s, this is the one to add to your wardrobe!
It's a timeless kind of ensemble that is both functional and stylish and allows you to make a bold fashion statement by adding layers to your outfit.
If you are looking for an everyday shirt over a hoodie outfit, go with a graphic t-shirt, a gray hoodie, a pair of blue jeans, and sneakers. In order to pull off this style properly, you must ensure that your chosen shirt is loose enough to go over the hoodie comfortably.
For characteristic street-style attire, opt for a black athletic shirt, distressed black jeans, a white hoodie, and white sneakers. 
A great thing about this hoodie style is that you can put your creativity to good use and play with different colors, cool band t-shirts, and striking graphics.
Sweater Over Hoodie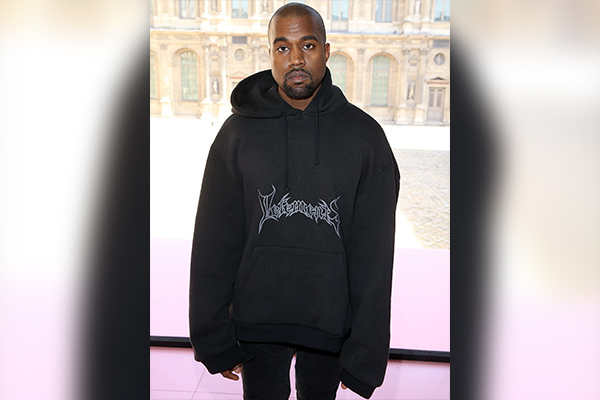 Offering a blend of relaxed, cozy, and smart, this sweater over hoodie is another great way to not only keep yourself warm but also your style game in check.
Opt for a sweater with buttons down the center, also called a cardigan as it goes best with a hoodie.
For a smart casual look, wear a black hoodie with a gray cardigan, khakis, and a pair of black leather monks. For a more contemporary look with a touch of formality, consider pairing a beige hoodie with a light-colored cardigan, black formal pants, and brown suede boots. 
If you wish to add a little oomph to your hoodie and sweater outfit, go with a black hoodie, a turquoise cardigan, dark wash jeans, and black velvet loafers. 
Jacket Over hoodie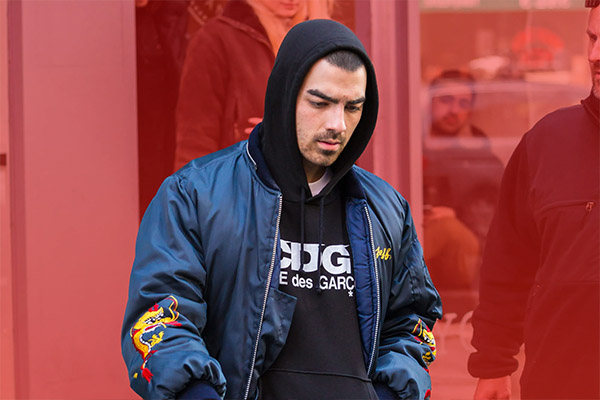 This has to be one of the most versatile and stylish hoodie outfit options considering the many different types of jackets to choose from. The addition of a stylish jacket over a hoodie is a great way to elevate your outfit and also add an extra layer of warmth and comfort.
For instance, consider pairing a bomber jacket with a hoodie to achieve a contemporary urban look. Opt for a zip-up hoodie in a dark color such as navy or black, wear a matching or a different colored hoodie in either nylon or wool over it, dark blue or black jeans, and complete the look with a pair of stylish sneakers.
If you are more of a denim jacket kind of person, you can create some amazingly cool and stylish outfits and serve bold style statements.
A classic option is a blue denim jacket with a gray or white hooded sweatshirt, blue skinny jeans, and a pair of sneakers from your footwear collection.
Another classic outfit idea is none other than a timeless black leather biker jacket with a black hoodie and slim-cut jeans – this is an edgy, retro, urban kind of look and you simply can't go wrong with it. If the weather's too cold, complete this jacket over a hoodie ensemble with a cuffed beanie.
Tie and Shirt Under Hoodie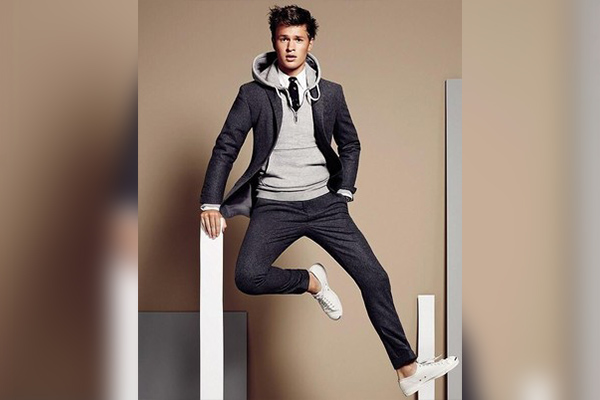 While a hoodie doesn't really say 'formal' in any way if your workplace has a flexible dress code in place, why not wear a tie and shirt under a hoodie? This is the ideal opportunity for you to sport a hoodie with a dress shirt which may sound like a weird pairing, but it actually looks cool!
For example, take a light-colored shirt, and pair a dark-colored tie with it, a dark fleece hoodie, formal pants, and brown leather desert boots.
Another way to go about this look is to wear a white dress shirt with a beige hoodie, a dark blue tie, relaxed gray trousers, and black leather double monks. You can make this outfit a little formal by adding a gray blazer over the hoodie.
Hoodie with Jeans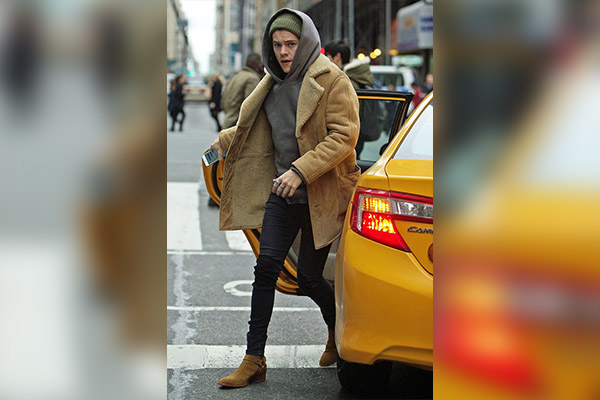 When it comes to hoodies, nothing pairs better with them than denim jeans, and a plain t-shirt. For a rugged, gangster kind of look, go with blue ripped jeans, a solid-colored t-shirt, white joggers, and a stylish plain black hoodie. Add an accessory to your outfit to elevate the look such as a chain or a ring and you are good to go!
For a street style-inspired look, wear your hoodie with a pair of ripped jeans, a plain t-shirt, and any sneakers or running shoes that you own.
When heading out at night for, say, a drink with friends, wear your hoodie with jeans and throw a classic black leather jacket over it, which is a timeless wardrobe staple that always helps elevate an outfit! 
Printed Hoodie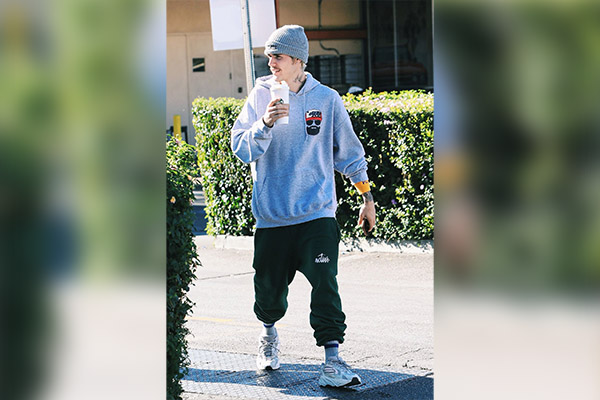 Simple, casual, versatile, and fun all at the same time, there's no reason to not have a printed hoodie in your wardrobe!
Customized printed hoodies are a great way to add a touch of color and drama to your outfit, especially when you pair it with a plain t-shirt and dark-colored jeans. 
You can even go for a graphic printed hoodie which is bold in appearance and perfect for those casual hangouts where there are no dress codes or rules!
Sleeveless Hoodie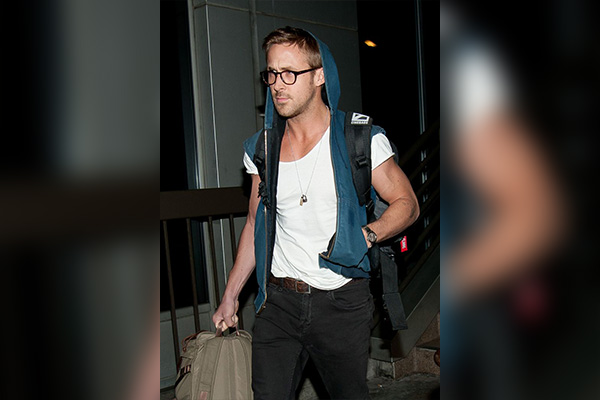 Love wearing hoodies, but the weather doesn't allow you to wear one? Go for a sleeveless hoodie!
Sleeveless hoodies, as the name suggests, don't come with sleeves and are ideal for times when you wish to make a style statement without feeling too hot. These hoodies are also particularly useful for the gym, sports, and exercising, and are a novelty item among gym enthusiasts.
What's great about a sleeveless hoodie is that it's super casual so you can wear one with jeans, chinos, shorts, or sweatpants.
Hoodie with Funky Pants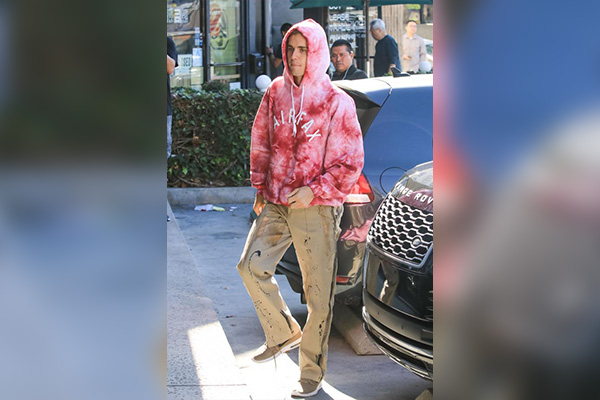 Do you happen to own a loud, bold, funky pair of pants, but have never gotten around to wearing them because you aren't sure how to style them?
Well, you can dress them down with a light-colored hoodie and wear a simple, plain t-shirt underneath it. Complete the outfit with a pair of sneakers and you are all set to head out to make a colorful statement!
This outfit features a blend of casual on top and party at bottom kind of look which is a great option for young men!
Blazer with Hoodie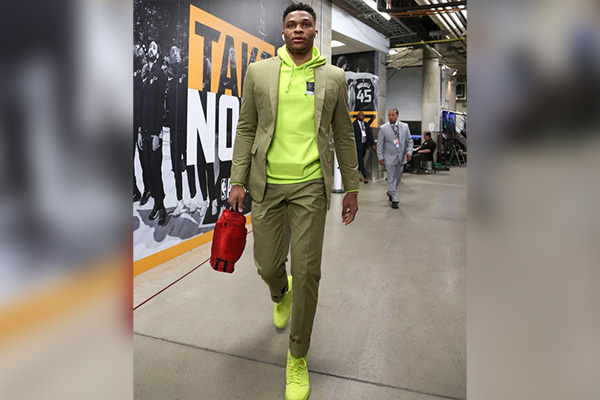 Hoodies don't really go with men's business casual outfits, but if your workplace isn't particularly strict about dress codes, you can totally wear one!
There's nothing more classic here than a plain black hoodie paired with a stylish, tailored black or navy blazer, and either dark-colored jeans or chinos, depending on what you like more, or what's more appropriate for your workplace.
However, this look isn't just limited to office wear – you can sport it when heading to an evening party or a night hangout with friends or colleagues.
Flannel Shirt with Hoodie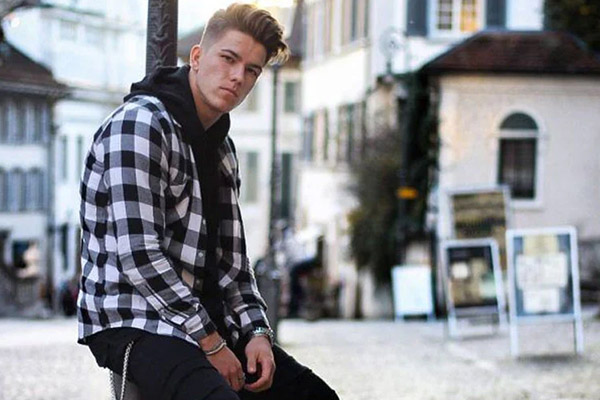 Flannel shirts are ideal for layered outfits for the fall season so why not add a warm hoodie to the equation and create a stylish fall look?
A classic fall outfit is a zip-up hoodie paired with a colorful flannel shirt and corduroy bottoms. This also makes a great fashion-forward streetwear look with just the right amount of oomph to make a striking style statement!
If you want, you can replace the corduroy bottoms with ripped skinny jeans to turn them into an uber-casual look.
Factors to Consider When Buying A Hoodie
While hoodies are a must-have wardrobe staple, in case you don't happen to have one, now's the time to buy a nice, stylish hoodie to add to your wardrobe!
There are a few key things or details to bear in mind when buying a hoodie so that you get the right one that not only looks good on you but also compliments your personality.
Color
A loud, bold-colored hoodie might seem quite striking to you and while it really is, it is best to stick to subtle, classic shades such as black, navy, white and gray because there's so much you can do with these ever-versatile colors.
You will be able to create a number of unique looks and outfits with these colors by pairing them with different types of pants, shirts, and shoes.
Material
The ideal hoodie material is cotton considering how it helps keep you warm and is also quite lightweight, consider other materials as well such as polyester, fleece, and nylon. 
It also depends on where you live and the weather conditions there. Sometimes, materials also determine the quality of the product so when buying a hoodie, make sure to feel the material, explore different options, and then make a decision.  
Length and Size
You don't want to wear a hoodie that is way too baggy on you, or too long for you. 'The larger, the more comfortable' may be true when it comes to clothes, but truth be told, more often than not, it simply ends up looking unappealing.
It is important to choose a hoodie that has a nice fit and isn't too tight or loose, nor too big or small.
Tips for Styling A Hoodie
A hoodie paired with a simple t-shirt and jeans is a popular combo that surely does look great, yes, but even so, there are a few details to consider that will help you wear and style your hoodie with perfection.
Wear the Right Color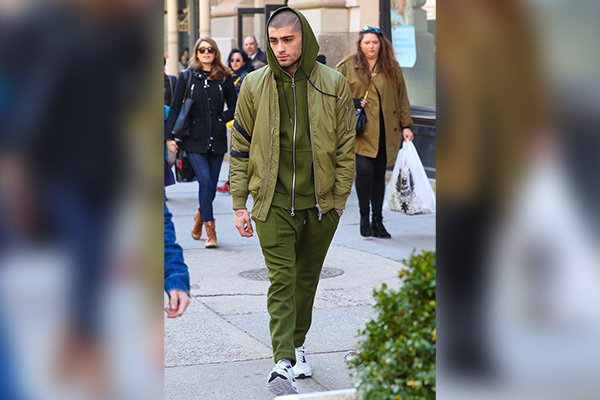 The right color can make or break the look of your hoodie. When it comes to hoodies, be intentional about the color and choose the one that you know will accentuate your overall outfit.
For instance, neutral colors like gray, white, and brown can offer quite a sophisticated look, especially when paired with the right clothing items and accessories.
You don't want to wear a bright red hoodie with a classic leather jacket, for example. This is likely going to end up looking like a serious wardrobe disaster if anything.  
Timeless Designs Over Fads
Fashion trends come and go, and while it might seem appealing to pick a hoodie that's trending everywhere, it is best to opt for a versatile, timeless design that you can use for years to come without the fear of it going out of fashion in a short time.
You want to go for something that can stay in your wardrobe forever, instead of a fashion fad that comes with short-lived popularity.
Know When to Wear Which Style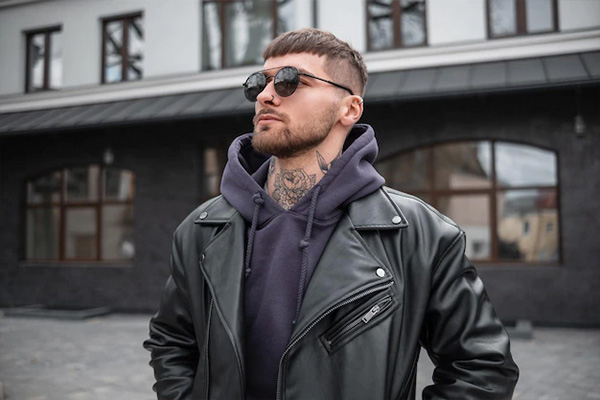 There are two main types of hoodie styles – pullover and zip-up.
While pullover hoodies are typically considered to be smarter in looks than zip-up styles, there may be instances where the latter might be the more appropriate choice, considering the rest of your outfit.
Moreover, when you decide to wear a zip-up hoodie over a plain t-shirt, for instance, it is best to keep it unzipped because that's the whole look and vibe of this hoodie style. It's also a classic combo that has been a staple in the fashion world.
If you don't plan to keep a zip-up hoodie unzipped, go for a pullover hoodie instead. 
So, know when to wear which style because this can make a huge difference to the overall look.
Accessorize Your Look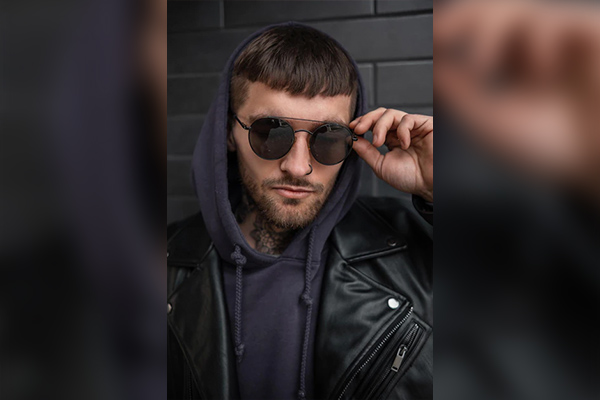 Accessories like a pair of sunglasses, a cap, a beanie, a wristwatch, or a winter scarf, for instance, are a great way to elevate a hoodie outfit. Depending on the time of day, where you are going and the type of occasion, accessorize your look appropriately.
Layered Outfits
A hoodie, on its own, looks absolutely stylish, but when incorporated into a layered outfit, you can take the style element to another level.
A pullover hoodie, when paired with and worn under a bomber jacket or a black leather jacket is an excellent outfit idea, especially for cold days. Complete the ensemble with straight-leg jeans and sneakers and you are all set to head out!
For more formal looks, replace the jacket with a blazer, a trench coat, or a pea coat, and choose appropriate footwear to complete the outfit. 
Conclusion
The key to rocking a hoodie lies in knowing how to style hoodies in unique and creative ways that help you make a great fashion statement!
Considering how it's a must-have outerwear clothing item, it's a good idea to have some different looks and outfit ideas up your sleeve so that you can serve serious style inspo with your hoodie wherever you go!