There's no denying the fact that a leather jacket is one of the most fashionable and classic of all types of outerwear. The only thing that people often struggle with is what to wear with a leather jacket.
Leather jackets may be super versatile and are ideal for both casual and formal attires, but you need to wear them in the right manner to really make a classy style statement. From button-down shirts to t-shirts to sweaters to hoodies, there are many things you can wear with a leather jacket and create unique outfits and looks.
Learn how to wear a men's leather jacket the right way and take your outfits to another level!
Leather Jacket Styles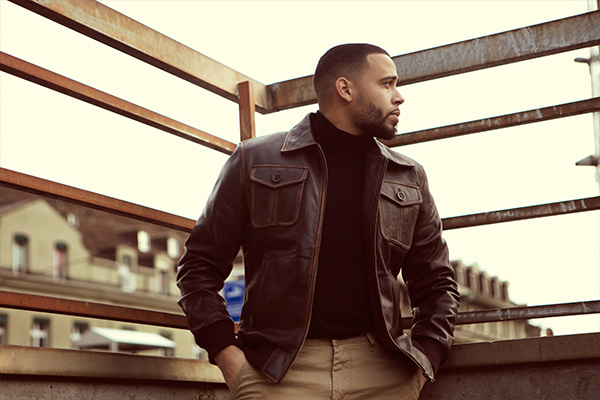 We all know of the 'classic leather jacket' but there's actually more to it – there are many different leather jacket styles and varieties that a lot of people might not be aware of.
Biker Jacket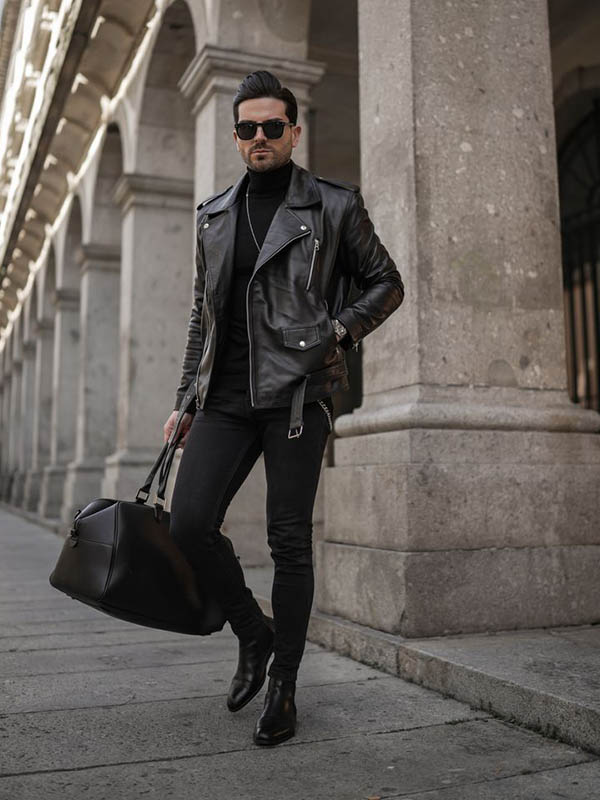 This is one of the most iconic types of leather jackets that almost every man has in his wardrobe. It has a characteristic cool factor to it and has been a popular jacket option in the fashion world ever since its inception.
A biker jacket is basically a close-fitting garment that comes with studs, zips, and snaps, and was initially only associated with bikers or motorcyclists.
You will find biker jackets in different colors, but truth be told, nothing beats a black leather biker jacket!
Bomber Jacket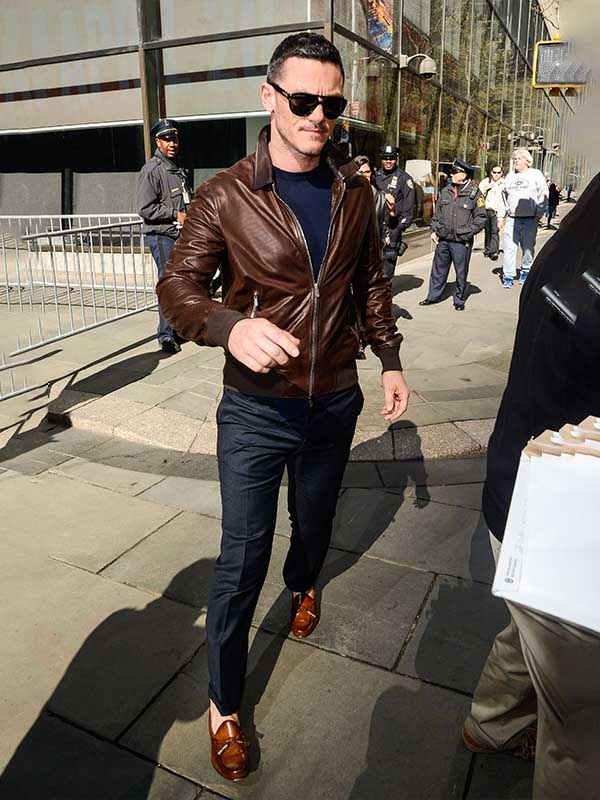 Featuring knitted cuffs, pockets, and a zippered front, The bomber jacket is another popular type of jacket that has greatly evolved over the years in terms of style.
It was traditionally worn by pilots, but soon became a style icon and an important part of most men's wardrobes.
Moto Jacket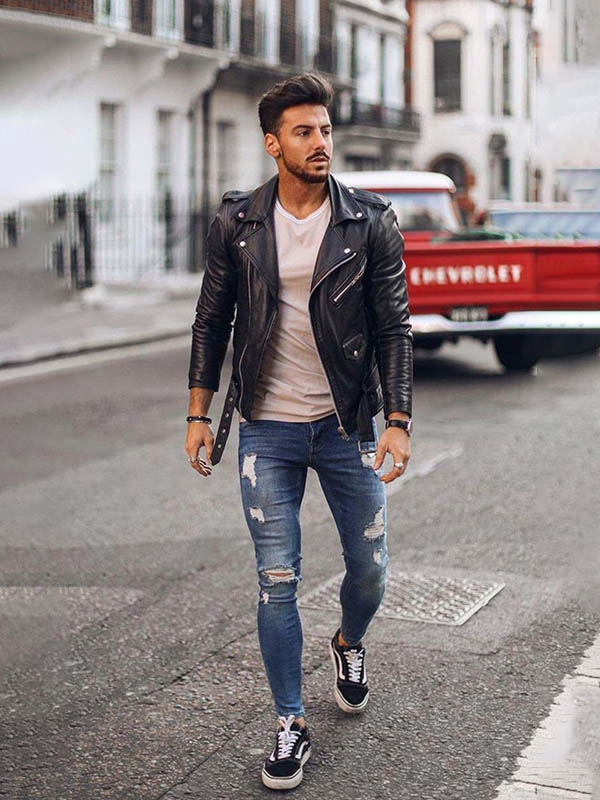 Also known as a motorcycle jacket, the moto jacket offers a fun twist with more zippers, pockets, buckles, and a shorter hem as compared to a classic leather jacket.
Moto jackets offer a wonderful way to add a touch of modernity to your wardrobe and your everyday outfits. One of its most defining features is the detailed leatherwork and elegant stitching which sets it apart from other jackets.
Racer Jacket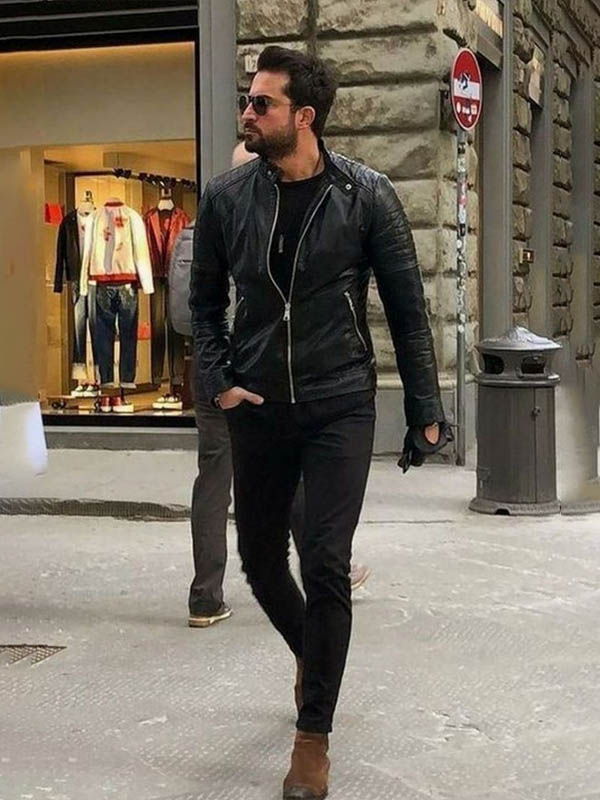 This is another stylish jacket that comes with a centralized front zipper and the signature round collar. Think of the racer jacket as a modern version of the classic biker jacket, and the major difference here is that the racer jacket is worn more for its style appeal than function.
Outfits with Leather Jacket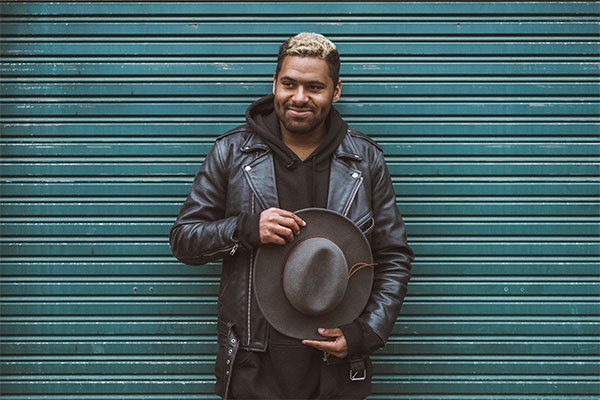 Leather jackets are a timeless fashion staple that can elevate any outfit. Whether you prefer edgy, classic, or casual looks, our guide to outfits with leather jackets has got you covered. Discover new ways to style your leather jacket with our expert fashion tips and inspiration. From layering to accessorizing, we've got the ultimate guide to take your fashion game to the next level.
Leather Jacket with Button-Down Shirt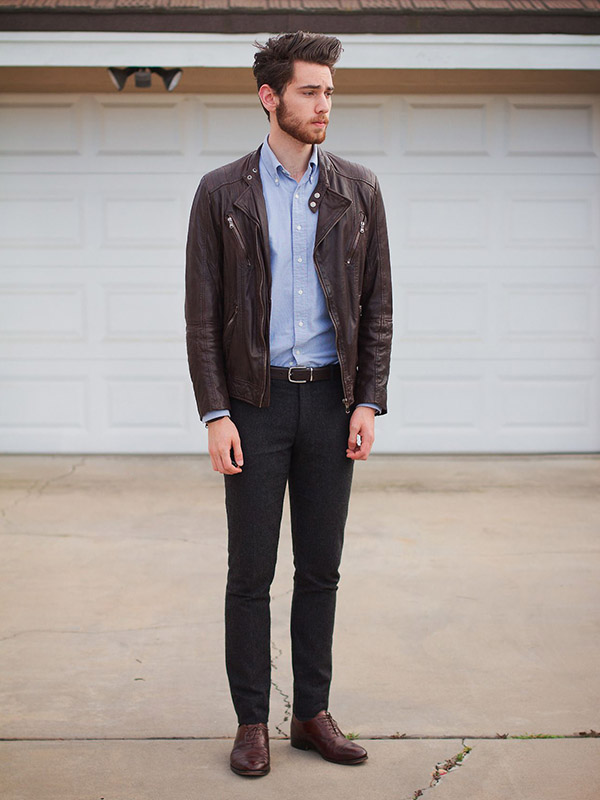 There's no reason why you can't sport a leather jacket with a button-down shirt to your workplace given how versatile it is and can be dressed up or down, however, you want.
While a leather jacket isn't as formal as a business suit, for instance, most modern offices and workplaces now allow smart casual dress codes and different attire. For a classic office look or a formal look for parties and dinners, pair a black leather jacket with a light-colored button-down shirt, khaki chinos, and oxford shoes or penny loafers.
For a more casual kind of look, leave your button-down shirt untucked and replace the chinos with a pair of dark-wash jeans. A dark brown leather trucker jacket would also work better for this outfit given its casual chic appeal. Another change to consider here is adding a pair of your everyday or go-to sneakers which is the perfect way to flaunt the everyday look while also making a great style statement!
Leather Jacket with Hat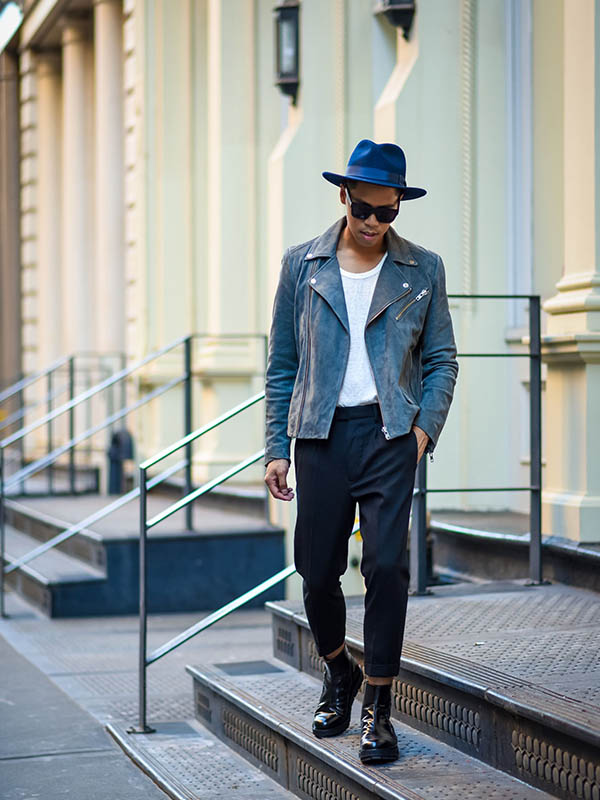 If you've never worn a leather jacket with a hat before, now's the time to do that! Leather jackets and hats go together effortlessly, and the addition of a hat to your outfit can instantly elevate your look by adding a trendy, stylish touch to it.
There are so many different types of hats that you can pair with your leather jacket, each offering a unique look and style factor.
A classic hat option is none other than a fedora hat which features quintessential features such as a pinched front, an indented crown, and a soft brim. A fedora hat worn with a leather jacket creates quite an elegant look that is unmatched by any other hat and jacket combination.
Another great option is an ascot hat which shares many similarities with a flat cap but still looks unique given its rounded shape and hardness. Ascot caps are typically made from wool felt, but you will also find them in fur, leather, and tweed varieties.
If you wish to dress down your leather jacket outfit, but also look stylish at the same time, a muted color ascot cap in brown, beige, or gray is the perfect option. Complete the look with your daily wear jeans and sneakers, and you are good to go!
If you are big on out-of-the-box kind of style statements, consider a leather motorcycle jacket with a trucker hat which was popularly featured in the early 2000s outfits for men.
Leather Jacket with Hoodie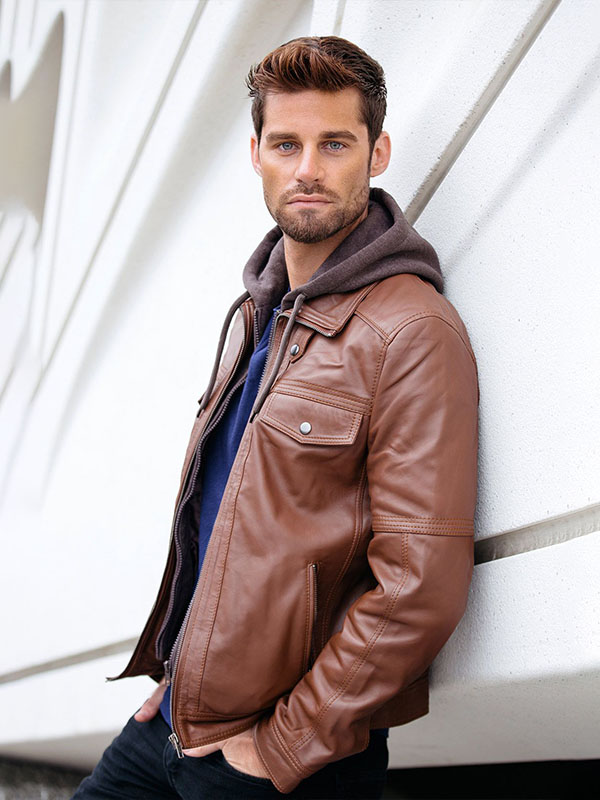 A true winter staple, the ubiquitous hoodie has long evolved from sportswear to streetwear, thanks to the skater style and culture that was highly prevalent during the 80s fashion for men.
Not just that, but the timeless hoodie continued on its popularity streak, swiftly entering the 90s hip-hop fashion scene where it emerged into different styles and varieties.
Make a fashion-forward style statement by pairing your leather jacket with a hoodie, which is also a classic cold-weather combination that not just keeps you warm, but also keeps your style in check.
A simple yet chic way for wearing a leather jacket with a hoodie is pairing a charcoal print hoodie with a black leather bomber jacket, charcoal chinos, and black suede low-top sneakers. This is a casual yet smart look for any well-dressed man and makes great weekend attire.
For a look that screams 'street style', opt for a gray printed hoodie, a black quilted leather biker jacket, slim-fit black jeans, black and white canvas low-top sneakers, and a pair of colorful socks. Another way to add a pop of color to your leather jacket with a hoodie look is to ditch the gray hoodie and replace it with a rust-colored one.
The best thing about this particular look is you can pair any kind of hoodie with your leather jacket, and end up making a great style statement.
Leather Jacket with Sweater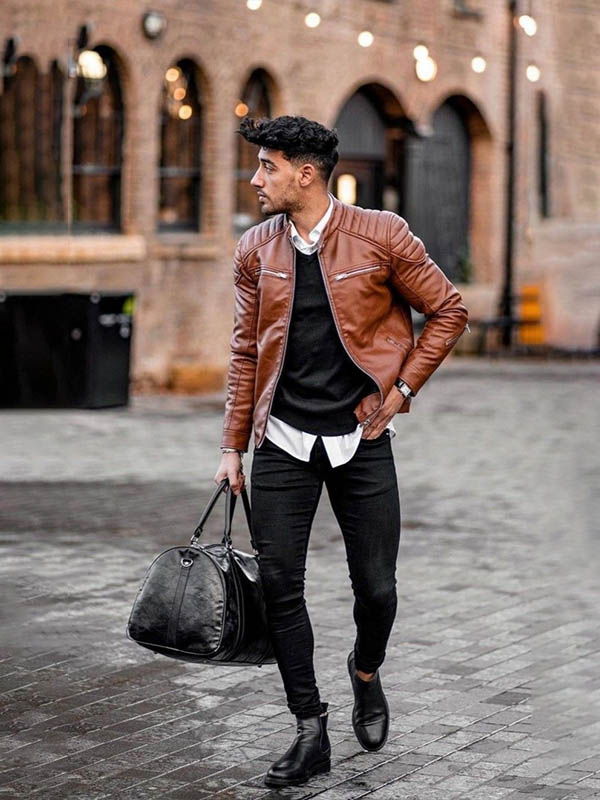 When the weather takes a cold turn, layer up and opt for a nice, warm sweater to pair with your leather jacket, another classic winter combination that never disappoints. These two clothing items are ideal for layering in the winter while also looking your absolute best.
Take a dark brown leather jacket and wear it over a light brown sweater which would create a soothing color combination. Complete the look with black jeans or chinos, and a pair of leather loafers for that added sophisticated touch.
For those who are big on matching their tops with their bottoms, there's no reason why you can't match a leather jacket with leather pants and go for a full-leather attire! Add a textured army green men's sweater to this leather equation to add a nice color contrast and take your outfit to another level of chic! Make sure to opt for a biker jacket here because it blends beautifully with matching leather pants.
The choice of footwear is up to you and also depends on where you are going. Ideally, a pair of chunky sneakers or loafers would look great in this outfit. If you know how to style loafers, go for it since loafers are super versatile and make an effortless style statement.
Another way to style a leather jacket with a sweater is a distressed brown leather jacket worn over a dark red sweater, dark blue jeans, and a pair of brown boots. This is a super casual, but fashionable look that you sport on an everyday basis or even when heading out with friends for a low-key lunch or dinner affair.
Leather Jacket with a T-Shirt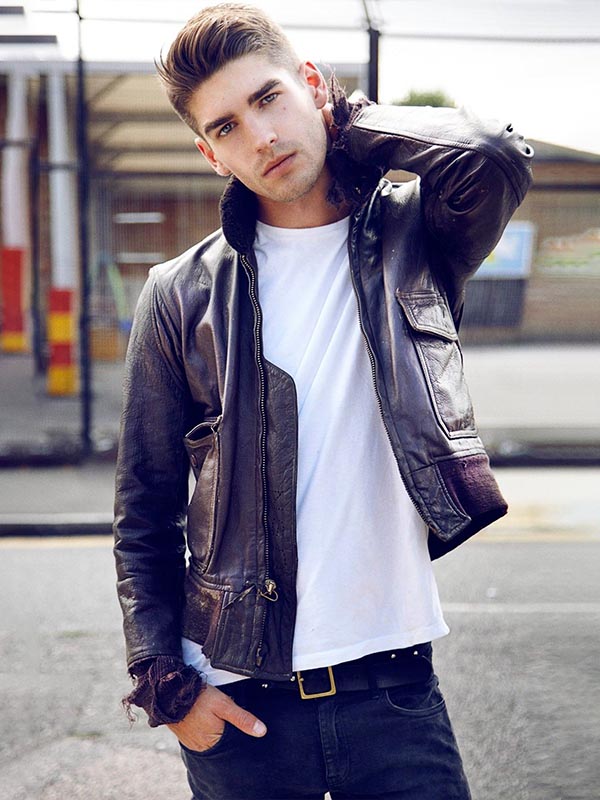 When in doubt, simply throw a classic black leather jacket over a plain white t-shirt, and your everyday jeans, and complete the ensemble with your favorite pair of sneakers. A leather jacket with a t-shirt is one of those evergreen, timeless, never-fail combinations and it just works regardless of the occasion!
The ideal choice of a jacket here is either a flight jacket or a moto jacket since they both go really well with t-shirts. If you wish to dress up this look, you can do so by opting for dark-washed slim-fit jeans, and if you wish to dress it down, pair lighter-wash distressed jeans with white sneakers.
A perfectly laid-back yet contemporary ensemble here is a black leather jacket with a black t-shirt, slim-fit charcoal jeans, and brown leather low-top sneakers. A bomber jacket is an ideal choice here. You can also pull off another stylish option featuring a black leather biker jacket, beige or tan v-neck t-shirt, gray chinos, and white canvas low-top sneakers.
You can also accessorize this look with some accessories such as a pair of shades if you are heading out during the day, or leather bracelets if you are big on jewelry.
Leather Jacket with Turtleneck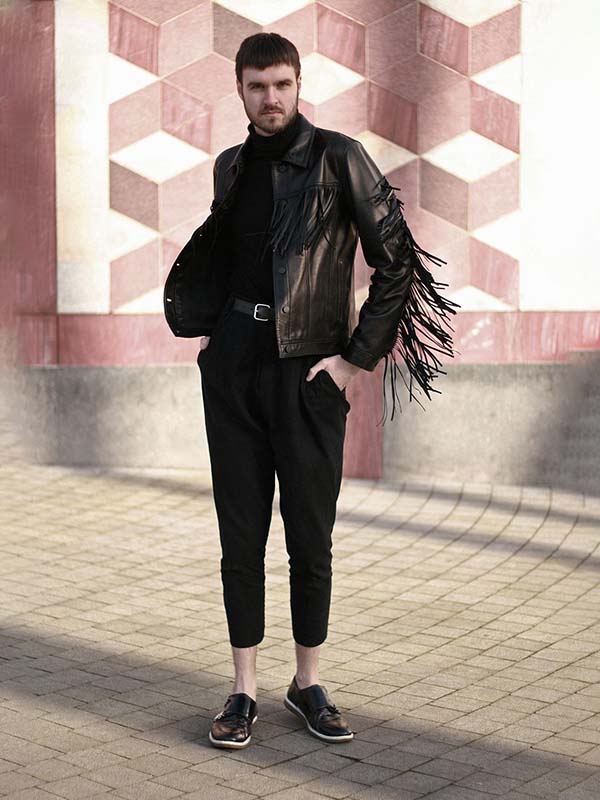 Turtlenecks are the perfect knitwear companion for your leather jacket for those cold weather days when you want to achieve the right blend between style and comfort.
Consider a dark brown shearling leather jacket with a green turtleneck, indigo denim jeans, and black leather boots. This look is not too casual nor too formal, and you can easily sport it at a casual hangout with friends or any event that calls for a smart casual dress code.
If you are more into all-black outfits, you can opt for a black turtleneck, a black leather biker jacket, a black leather belt, and black distressed jeans. Add an elegant touch to your outfit with black leather loafers and black sunglasses.
An ideal off-duty winter outfit is a black leather biker jacket paired with olive cargo pants, a dark brown turtleneck, black suede loafers, and a brown trench coat. This is also one of the most stylish loafer men's outfits given the classy appeal of suede loafers. If you wish to take this look to another level of chic, throw on a dark green knit beanie and you are all set to head out in style!
Leather Jacket with Plaid Pants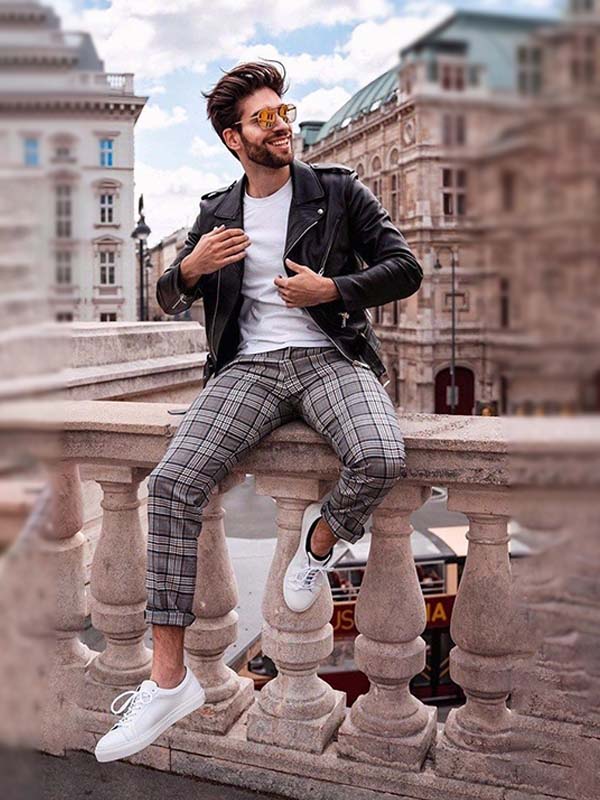 If you happen to have a pair of plaid pants sitting in your wardrobe forever and you don't know what to wear with plaid pants, a leather jacket is an ideal option.
Opt for gray plaid chinos, a black leather biker jacket, a white hoodie, a black leather watch, and white low-top canvas sneakers.
For a formal look, you can pair your plaid chinos with black leather oxford shoes, a classic black jacket, and a navy chambray dress shirt. Add a black tie and a black leather watch to this look if you are heading to a party or a formal office dinner, for instance.
You can also dress down this look by going for a white crew neck t-shirt, an orange hoodie, and black high-top sneakers.
While black and white are go-to color options to pair with gray plaid pants, there's no reason why you shouldn't experiment with other colors such as tan, beige, brown, and blue, to name a few which look equally fashionable and stylish.
When choosing to wear plaid pants, make sure they are well-tailored and have a great fit for formal and smart casual outfits.
Tips for Styling A Leather Jacket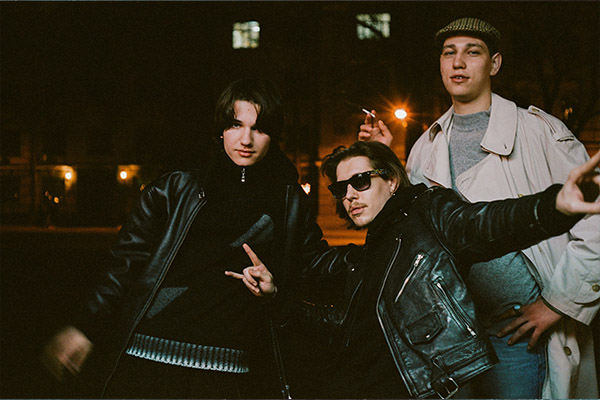 If you own a leather jacket, great! But there are a few essential things to consider when styling a leather jacket to really do justice to this classic, evergreen piece of clothing.
Pay Attention to the Fit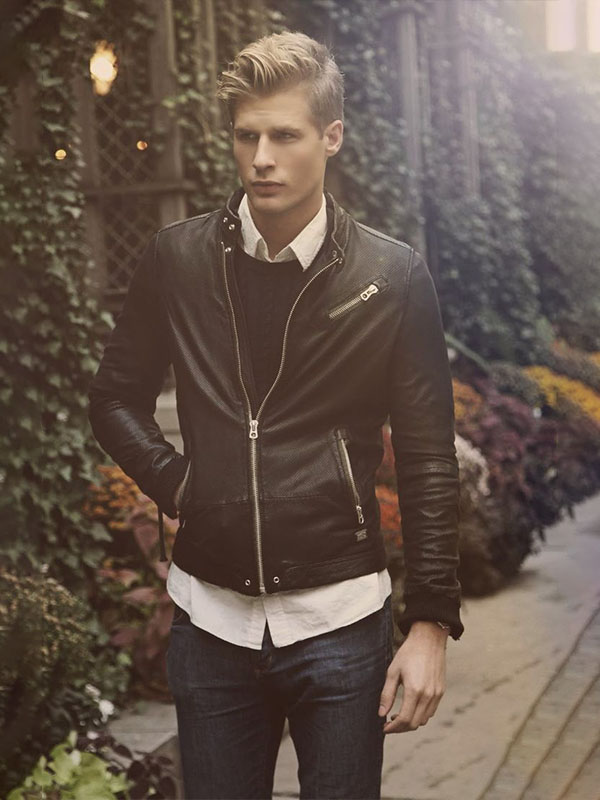 The key to pulling off a leather jacket is ensuring that it has a solid fit. There's nothing worse than ill-fitting clothing that's too tight or too loose. After all, one of the most important things about knowing how to dress well is wearing well-fitting clothes.
Pay attention to the fit of your leather jacket by trying it once before you buy it. Make sure to also try it over another garment such as a cardigan or shirt to ensure that you can layer it with other options without it being too tight.
Create Layered Looks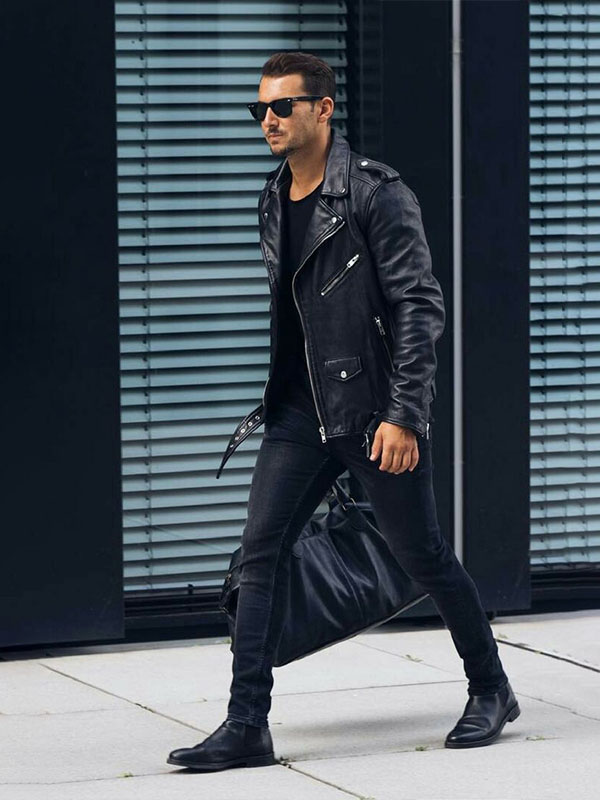 Layering is your best friend when it comes to leather jackets. This clothing item is ideal for layering and the best part is no matter how you wear it, it always stands out and makes its own unique style statement.
You can create numerous layered leather jacket looks with the help of other articles such as t-shirts, shirts, turtlenecks, hoodies, sweaters, and so many others.
Layered looks have quite a chic appeal to them and look really great given that you do it right.
Keep It Simple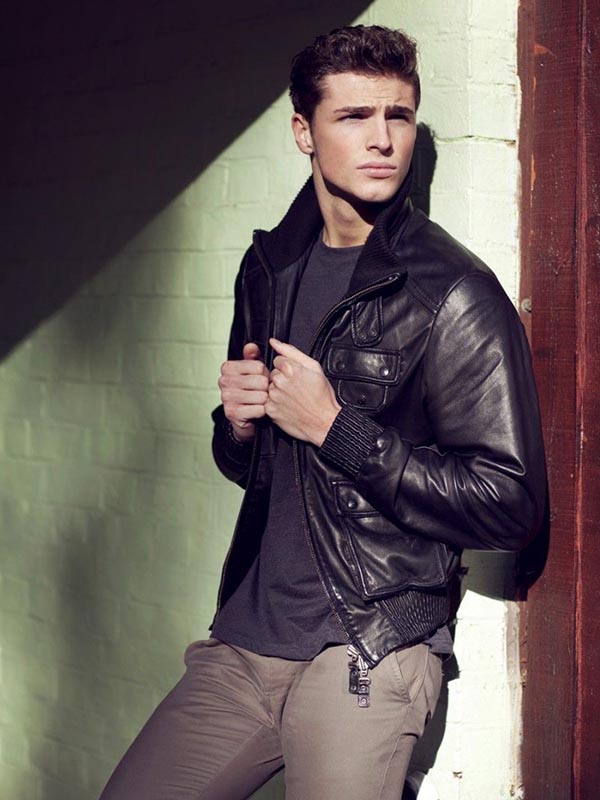 Leather jackets are stylish on their own, so avoid going overboard with the details such as extra padding and zippers, for instance. The key to sporting a classic leather jacket is to avoid over-accessorizing it and trusting the jacket to do its job perfectly.
You will find many minimalist leather jackets that are simple in appearance, but just enough to look sophisticated and contemporary.
Conclusion
A leather jacket is one of those types of jackets that have been popular for ages, and from the looks of it, it will continue to be timeless as ever in the future as well. All you need to know is what to wear with a leather jacket and you are all set to flaunt your outfits in style and confidence!