Are you a man looking for inspiration on what to wear with plaid pants? Look no further! This men's fashion guide will provide you with tips and ideas on how to style your plaid pants in a fashionable and trendy way. From smart casual to dressy looks, this guide will help you create the perfect checkered pants outfit for men. Read on to discover the best ways to wear your plaid pants and stay stylish.
But first, let's discuss.
What is a Plaid Pant?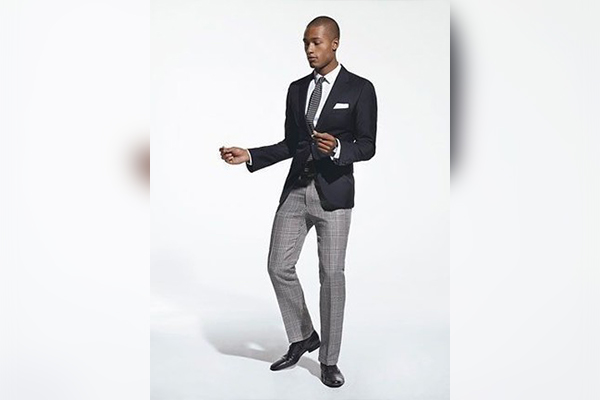 Plaid pants are a pair of pants with alternating horizontal stripes that usually differ in color from one stripe to another. The patterns can be geometric or more organic in nature, but they always have at least two colors. They are typically made from wool or flannel fabric in order to keep the wearer warm when worn during colder months of the year.
The plaid pant is also known as the tartan pant, which is where you may have heard of this style before. The pant itself has an interesting history, as it was originally designed by the Scottish in the 1700s. Scottish clans would wear them as blankets or sling them across their shoulders. When tartan crossed the sea to the New World, "plaid" and "tartan" became synonymous.
This trend has remained popular ever since then and continues today with men who want something different than what everyone else is wearing on any given day. If you're looking for some tips on how to wear plaid pants then read on.
How to Incorporate Plaid Pants Into Your Existing Wardrobe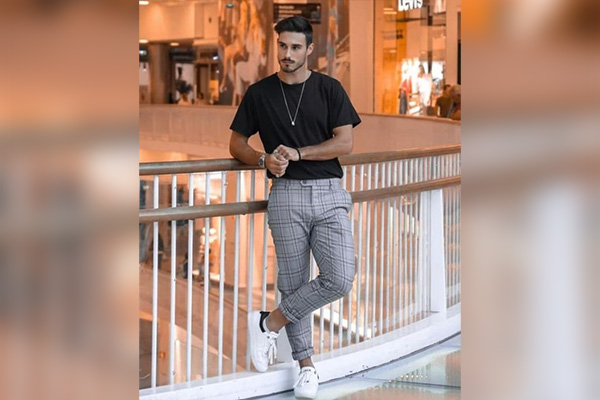 Whether you're wondering what to wear with checkered pants or searching for a stylish plaid pants men's outfit, incorporating this versatile garment into your wardrobe can be easy. Plaid pants can range from casual to dressy and can be used to mix and match items in your existing wardrobe. Here are some tips for styling plaid pants for men: 
Try pairing your plaid pants with a plain white t-shirt and a classic denim jacket for a more casual plaid pants outfit look. For a more subtle approach, go for neutral tones like brown or black. You can also go for a more refined look by adding a tweed blazer or blazer to the ensemble. Finally, choose the right shoes to complete your look.
Here are some of the events you can wear plaid pants at:
Plaid Pant for an Interview
If you're wearing plaid pants to an interview, you might be wondering what else to wear. Well, the answer is simple: a plain shirt and tie. You can also go with a collared shirt and no tie if you want a minimal look.
I recommend wearing a solid-color tie because plaids clash with each other too much—you don't want your outfit to look like a puzzle piece that doesn't fit together. If any color in your plaids is dark or bright, then go with something lighter or more muted for your other pieces of clothing (shirt/tie).
Plaid Pant for a Wedding
Since plaids are sometimes associated with the Scottish, you could go for a kilt at a wedding. The traditional Scottish attire is not only eye-catching but also comfortable and easy to wear.
A white shirt will be perfect on top of your kilt to add contrast and make it stand out more against your dark pants. If you want something more elaborate though then try cufflinks instead since these look great paired with different types of jacket including those made from wool fabric (not just cotton).
Pair Plaid Pants with Casuals
We'll start with the basics. A light and dark plaid that's more on the dressy side works best when paired with a polo shirt or oxford shirt. If you want to add a little casualness, try pairing those same pants with denim for a denim jean jacket outfit.
A bold, louder plaid comes off as more casual than its lighter counterparts—even though they're both made from wool and cotton. This type of plaid works well when paired with other casual items like V-neck sweaters, and different types of jackets including bomber jackets, and even leather jackets.
Plaid Pants for Formal Occasions
If you're attending a formal occasion, you'll want to wear plaid pants. Formal events include weddings, proms, and corporate events.
When it comes to matching your shirt and jacket together, the best way is by choosing items that are the same color as your pants.
Plaid Pants for a Date
If you're on a date, plaid pants are a great choice. They're elegant, yet they don't try too hard (you know what I mean). A pair of casual chinos or wool trousers can be paired with a nice button-down shirt and some polished leather shoes—an outfit that's enough to make any lady swoon.
Plaids are already loud enough on their own; there's no need for extra patterns or accessories that will show your poor skills on how to dress appropriately.
The Best Colors To Pair With Plaid Pants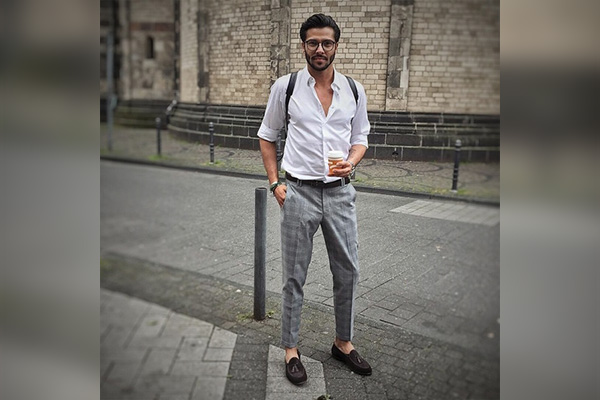 When styling plaid pants, the color of your shirt, jacket, shoes, and accessories can create a polished, trendy, or casual look. To create a classic look, match the same colors found within your plaid pattern. For a modern and sophisticated twist, add one or two complementary colors. 
Opt for monochrome hues like black, white, and gray for a trendy plaid pants outfit.
Pair plaid pants with a white tee and black blazer for a casual-cool streetwear look. 
Choose primary colors like red, yellow, and blue for styling plaid pants for men.
Team up navy blue checkered pants with a bright yellow tee or sweater and red sneakers.
Try wearing mustard or olive green if you want to add a pop of color.
When it comes to finding a fitting shirt to wear with plaid pants, men look for something that balances the look and creates contrast. A white or light grey shirt is a timeless choice that pairs perfectly with almost any plaid shade. For a more contemporary look, pick a patterned shirt in complementary colors. Different types of shirts including stripes, and check prints are all great options for styling plaid pants for men.
Choose colors and patterns that complement your plaid pants. For example, if you're wearing navy plaid pants, a white shirt and khaki jacket is a great outfits with plaid pants.
The Do's and Don'ts of Wearing Plaid Pants
By following these dos and don'ts of wearing plaid pants, you'll be able to craft the perfect outfit with plaid pants. 
Don't be afraid to accessorize. Play around with colorful socks, hats, belts, etc., to add dimension to your outfit with plaid pants.
Do make sure your outfit with plaid pants is tailored to flatter your shape.
Don't forget the details – use accessories to add a unique touch and make your look stand out.
Do have fun and experiment with how to style checkered pants by playing with different colors, patterns, and accessories.
Don't be afraid to take risks with color and textures – the possibilities are endless.
Do stick with neutral colors and similar patterned clothes when choosing a casual outfit with plaid pants.
Don't wear too many patterns in the same outfit.
Do experiment with different colors, textures, and accessories when styling your how-to-style checkered pants. 
Don't be afraid of taking risks and creating a unique look with plaid pants.
Wearing a Jacket or Blazer With Plaid Pants
Plaid pants look great with jackets or blazers because they make the overall outfit more sophisticated and put together. The color of your jacket will determine what kind of shoes you should wear—you'll want something darker than your pants so it doesn't compete with them. A dark denim jacket is always a safe and casual choice, as is a black blazer.
Plaid pants can also be worn without jackets or blazers—just make sure that when styling plaid pants without jackets, it's done in an intentional way that doesn't look like an accident.
Pair With the Right Shirt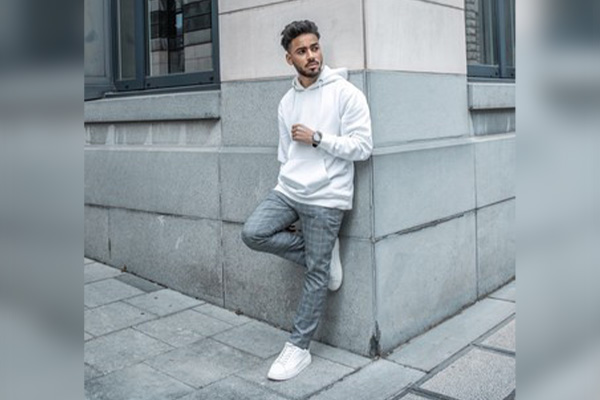 Figuring out what shirt to wear with plaid pants men can be a tricky business, but it doesn't have to be. Try pairing your plaid pants with a plain white button-down shirt for a classic look that's easy to pair with any other pieces in your closet. Or, try pairing them with an all-over print shirt like this one, which will add some pattern to your otherwise neutral outfit.
You can also pair plaid pants with a striped shirt—the stripes will help add some visual interest while still maintaining the same color palette as your pants. Or, try wearing these plaid pants with a patterned t-shirt and pair them with a solid sweatshirt or cardigan. The key is to keep things simple and easy to match when choosing what to wear with plaid pants.
If you're going out at night, try wearing a black shirt with your plaid pants. Black can be seen as formal or casual depending on how you style it, so this is a great way to dress up your outfit without making yourself look stiff.
Add the Right Accessories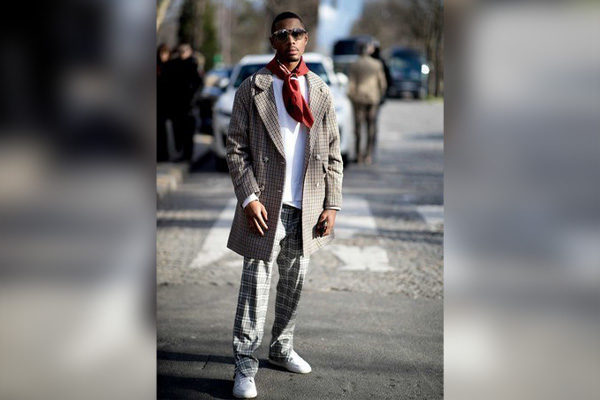 As far as we're concerned, plaid pants are the perfect casual menswear piece. They're like the black leather jacket or pants: they can be worn with anything, and they look good with everything.
But if you're trying to decide what to wear with plaid pants, it's easy to feel a little overwhelmed by all the options. Here are three ideas for styling your plaid pants in different ways:
1) Plaid pants + shirt + scarf:
This is a classic look that's great for fall days when you don't want to break out a heavy coat but still want to layer up.
2) Plaid pants + hoodie + sneakers:
We especially love this look if you're pairing your plaid pants with a hoodie and athletic shoes—it's casual but still looks put together!
3) Plaid pants + sweater + sneaker:
If you want something a little more formal than the first outfit but still want streetwear plaid pants to outfit vibes, try pairing your plaid pants with a sweater or hoodie and sneakers or boots.
The Belt
The belt is one of the best accessories to wear with plaid pants. It will give you a polished, put-together look that's perfect for work and play.
You can choose a color that compliments your shirt or tie, or you can go with an opposing color. Either way, it will add some much-needed contrast to your outfit.
If you're wearing a casual outfit, you can use a brown leather belt and pair it with jeans and a plaid shirt. If you want to dress up your outfit, try pairing a dark brown belt with dark denim pants and black shoes for an instantly chic look.
Choose the Right Shoes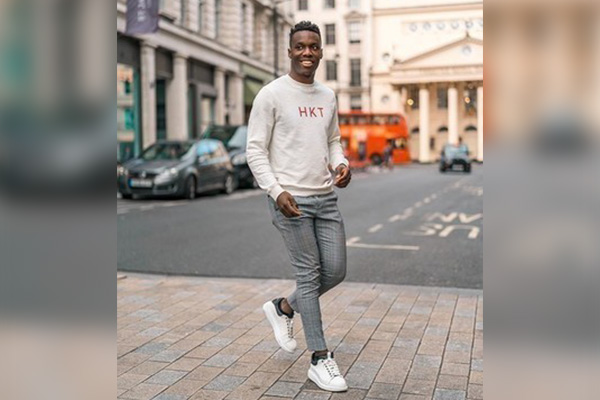 When it comes to plaid pants, there are a few things you should consider when choosing the right shoes.
First of all, you'll want to make sure you're wearing shoes that are in line with your outfit. If you're wearing a casual plaid pant outfit, for example, then you might want to wear sneakers or boots. If you're going for a more formal look, then dress shoes are appropriate.
Secondly, think about whether or not you'd like to have a pop of color in your shoe—if so, then choose a shoe that ties into either the color of your shirt or the pattern on your pants (or both!).
Finally, pay attention to how much height is added by your footwear—you don't want to go too high because it will make your legs look shorter.
Pairing plaid pants is easy, just follow these simple dressing tips
Plaid is a great way to add an extra layer of style and personality to your outfit. The key is picking the right pair of plaid pants, as well as choosing complementary pieces that don't compete with or overpower the pattern in question. Here are five tips for pairing plaids:
Choose a pair of pants that fit you well. Plaids look best when they aren't too tight or loose around the legs – remember that they're supposed to mimic patterns.
Also be sure not to wear them too high-waisted, as this can make you look shorter than usual.
Pick a shirt that complements but doesn't compete with your pants. A light-colored button-down works perfectly here; go for something in white or blue so it doesn't distract from your plaids.
Pick a jacket or sweater with similar colors and patterns as those found on your trousers—but don't match them exactly. This will only make it seem like you're trying too hard and detract from whatever outfit might have otherwise looked cool enough without any help at all.
Are plaid pants out of style 2022?
Plaid pants are not out of style! In fact, they are more popular than ever. They're a great way to add some variety to your wardrobe without making a huge commitment. If you like plaids, and wondering what to wear with plaid pants then try adding them as an accent piece in one outfit per week. 
What are men wearing in 2022?
The answer is, it depends on where your tastes lie. If you're looking for something sleek and classic, you might go with a button-down shirt or a blazer. If you're looking for something more casual, try out a graphic tee or a hoodie.
What shirt to wear with checkered pants?
You can wear just about any shirt with plaid pants. If you have a button-up shirt that has a thin check pattern on it, this will make your outfit look more stylish. You should also try wearing a plain T-shirt or your button-up shirt.
How to style patterned pants for men?
The best way to style patterned pants for men is to pair them with a simple, solid color shirt and shoes. This will allow your patterned pants to be the center of attention while allowing you to choose a shirt that matches your personality and interests.
Conclusion
Ultimately, you have several options when it comes to what to wear with plaid pants. There are even a few more options out there than we have discussed, but these are the basics that you can use as your foundation. The good news is that you can't really go wrong with any of them, as all of these options work in almost every casual setting.