If there's one piece of clothing that you'd find in almost every guy's wardrobe, it's the classic leather jacket. But, in some situations, men don't really know how to wear leather jackets men with style and confidence.
There's no denying the fact that leather jackets are a wardrobe staple that will never go out of style so it makes perfect sense to have one in your wardrobe.
The secret lies in choosing the right style of jacket in a versatile color that goes with all kinds of outfits, ensuring that it has a seamless fitting, and wearing it the right way. Leather jackets might be timeless, but they can end up looking out of place if you don't pair them with the right outfits.
Types of Leather Jackets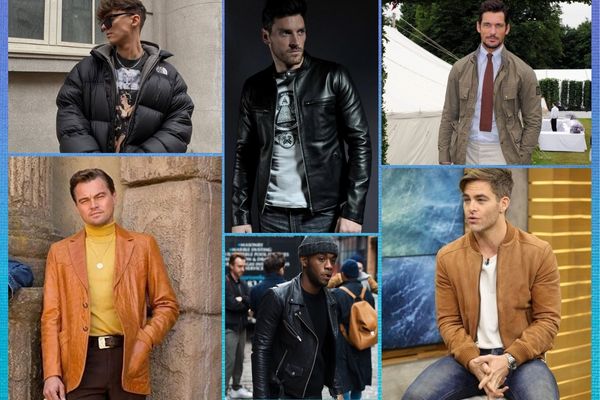 Apart from the classic black leather jacket that you see everywhere, there are many different types of leather jackets for men that you should know of.
From formal to casual outfits, you can wear a leather jacket to suit both types of attire!
Take a look!
Biker Jacket
Originally worn by motorcyclists and known for its characteristic 'bad boy look', the biker jacket is considered to be one of the most iconic and edgy types of outerwear.
It features a cropped body, four pockets, studs, diagonal asymmetrical zips, and notch lapels. It was initially designed to offer protection to motorcyclists on the road, but now, they are synonymous with style and most men are found sporting a shiny leather biker jacket.
How To Style A Leather Biker Jacket?
While they look super stylish, it's important to know how to wear a biker jacket for men to make a solid style statement.
A leather biker jacket looks great with ripped jeans, preferably black but blue also pairs well, a plain black or white t-shirt, and either boots or sneakers.
Racer Jacket
As the name suggests, the racer jacket was initially worn by racers and motorcyclists as well and is believed to be a modern version of the classic biker jacket. It's like a low-key alternative for times when a biker jacket feels too much.
The racer jacket has successfully found its way into the fashion world as a minimalist, edgy, and cool type of outerwear for men of all ages. It features a slimmer fit, a strong zipper down the front, and a banded collar.
Some varieties also come with zipped cuffs and a chest pocket.
How To Style A Leather Racer Jacket?
While black leather jackets are simply timeless, when it comes to the biker jacket, consider getting one in brown. Pair it with black pants and a black t-shirt, and you will find yourself making a great style statement!
Bomber Jacket
This is also referred to as the flight jacket considering how it was designed for, and worn by pilots during World War II.
Some of its key features include a cropped length, cuffed sleeves, waistbands, one main zipper in the front for closure, ribbed collars, and in some cases, a chest pocket.
Bomber jackets are ideal for the winter season given how warm and comfortable they are. A leather bomber jacket is both practical and stylish and can be found in a variety of colors.
How To Style A Leather Bomber Jacket?
A leather bomber jacket looks particularly great in classic, solid colors such as black, brown, navy, and charcoal gray. A simple yet classy outfit idea is a brown bomber paired with a white t-shirt underneath and running shoes, boots, or dress shoes, depending on the occasion.
Field Jacket
While the field jacket was designed for utilitarian purposes for the military, it's one of the most stylish leather jackets for men who are in their 50s or above. It has quite an expensive, refined look to it which makes it such an ideal option for older men.
Field jackets typically consist of zippers, buttons, large pockets, a longer length, and sometimes a slightly cinched waist with a draw cord.
How To Style A Leather Field Jacket?
The simplest way to style a leather field jacket is to wear it with a pair of crisp white sneakers, blue jeans, and either a polo shirt or a crew neck t-shirt.
The great thing about the field jacket is that it's ideal for layering and you can wear it with your smart casual outfits such as a two-piece business suit, making it a great stylish and functional outerwear piece.
Puffer Jacket
The world of men's leather jackets has always seen the puffer jacket trending among both young and older men. After all, it's one of the most stylish and timeless jacket options out there.
One of the most noticeable features of the puffer jacket is its quilted design with 'puffy' sections between the stitching, which is how the jacket got its name.
How To Style A Leather Puffer Jacket?
Puffer jackets are as fashionable as they are practical. The beauty of this jacket lies in how versatile it is – you can pair it with your comfy sweatpants and canvas low-top sneakers to create a casual weekend look. Or, if your workplace allows a business casual dress code for men, you can wear the leather puffer over your office suit.
Leather Blazer
Nothing beats the look of a stylish, well-tailored leather blazer, paired with matching leather boots, your favorite jeans and a simple, plain t-shirt!
Leather blazers are ideal for smart casual attires and a must-have wardrobe staple for men. They typically feature large lapels, a functional pocket on each side, buttons down the center for closure, and a slim cut that extends to the mid-hip level.
How To Style A Leather Blazer?
If you are looking for an all-safe, chic kind of look, wear your leather blazer with black athletic shoes and black jeans. Another great outfit option is a black leather blazer with brown dress pants, black leather loafers, and a white t-shirt.
Different Leather Jacket Looks for Men
The beauty of the ever-iconic leather jacket is how versatile it is and can be worn in so many different ways to create some of the most fashionable men's leather jacket looks.
From formal to casual to sporty to rugged, there are so many unique leather jacket outfits for men that you can create and sport on different occasions.
The Grunge Look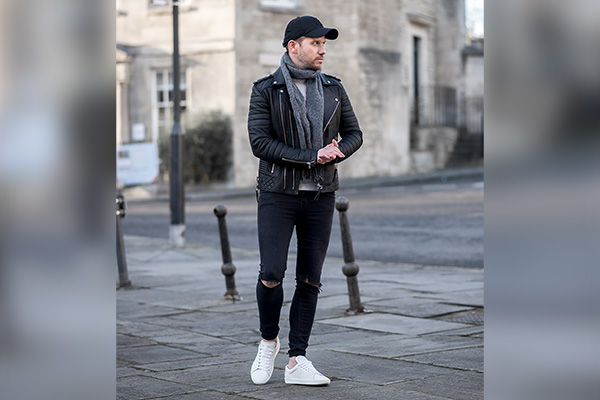 Grunge fashion is all about dark colors, metallic details, oversized and baggy clothes, ripped elements, and a stubble punk style.
A popular leather jacket look among young men is a classic black biker jacket paired with ripped or distressed black jeans, a plain black t-shirt, and high-top sneakers.
You can also opt for baggy denim, skate shoes, and a striped t-shirt for a more streetwear-inspired look. Make sure to opt for darker colors across your outfit because that's one of the hallmark features of the 80s grunge fashion.
The Practical Look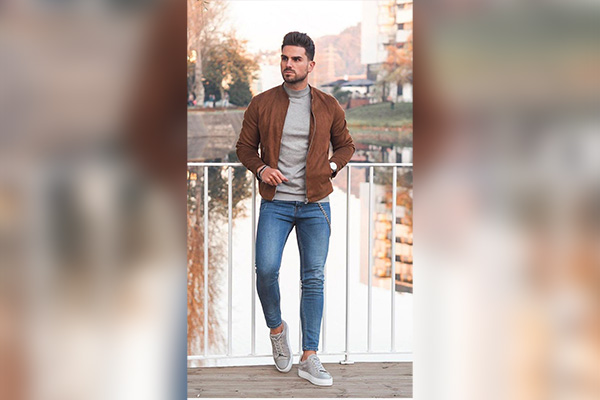 When you don't feel like wearing a tailored suit to work, but still wish for your outfit to look practical and office-appropriate, opt for a brown bomber jacket and pair it with some chinos, a nice turtleneck sweater, and derby shoes.
A leather racer jacket is also an excellent choice here which you can wear with jeans, a white button-down shirt, and formal shoes to give your overall look a refined touch.
The Casual Look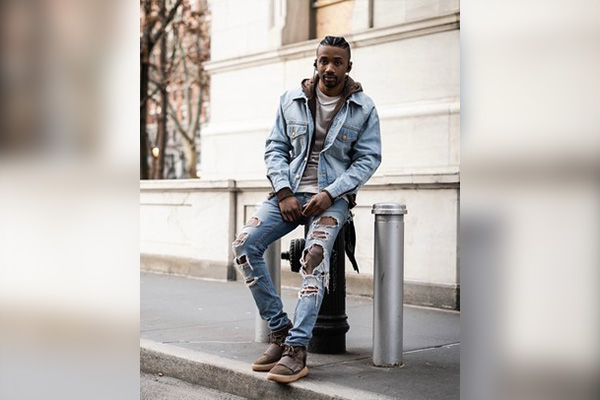 For those casual, fun, lazy weekends, wear a simple leather jacket with ripped jeans, and a round-neck shirt. If there's a nip in the air, layer your leather jacket over a hoodie or wear a close-fitting jacket with a simple white t-shirt and sweatpants.
The casual look allows you to style your leather jacket however you want – you can even opt for vibrant accessories to add a pop of color to your casual outfit.
The Smart Casual Look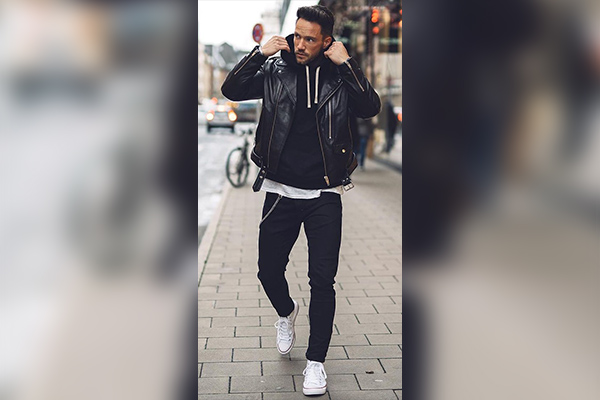 If you are looking for something smart casual to wear on a night out with friends, a leather puffer jacket with blue jeans and elastic ankle boots is a must-consider outfit option for you!
Another option is a leather blazer with neat jeans, a white shirt, and clean brown loafers which isn't just comfortable and functional, but also a super stylish smart casual attire.
The Formal Look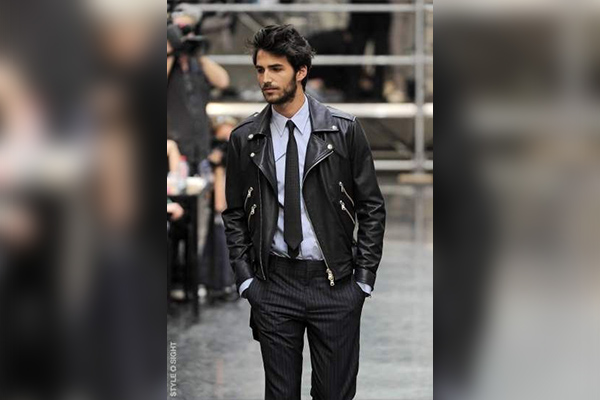 While most leather jackets aren't really appropriate for formal situations since they are designed for a street style-inspired fashion, you can still adopt a formal look with a shirt collar leather jacket or cropped leather jacket styles.
You can wear a formal suit with a leather jacket, or pair the jacket with formal shirts and trousers to achieve an overall formal attire.
The Rugged Look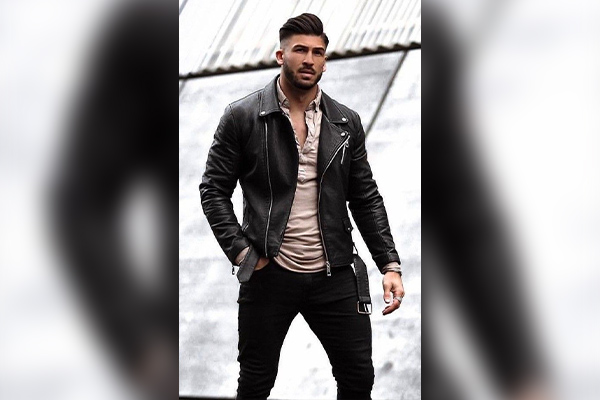 Got a distressed leather jacket hanging in your wardrobe? Pair it with your favorite ripped jeans, add a few tan-colored accessories and you have the perfect rugged look for a casual weekend or a night out with friends!
Keep your choice of footwear low-key and casual to go with the overall such as sneakers or loafers.
The Sporty Look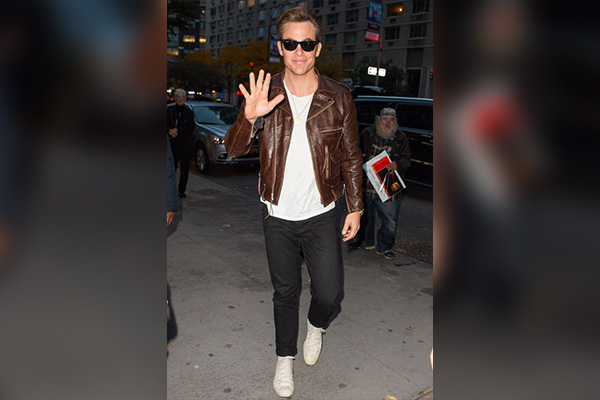 If you are into sports-inspired outfits, go for the sport leather jacket look with a leather varsity jacket, chunky sneakers, and pleated trousers. If this look doesn't work for you, you can switch to slim-fitting black jeans and a t-shirt with a logo on it.
Take your sport look to another level with a hoodie underneath your jacket and a cap which would be the perfect addition to this outfit.
The Sophisticated Look
Heading to an evening party? Sport this sophisticated look which simply requires a clean, crisp white shirt, proper gray trousers, and a classic leather jacket, preferably in the color brown which works perfectly for the evening time.
Make sure to wear matching leather shoes to go with your jacket to add the perfect finish to your look.
The Party Look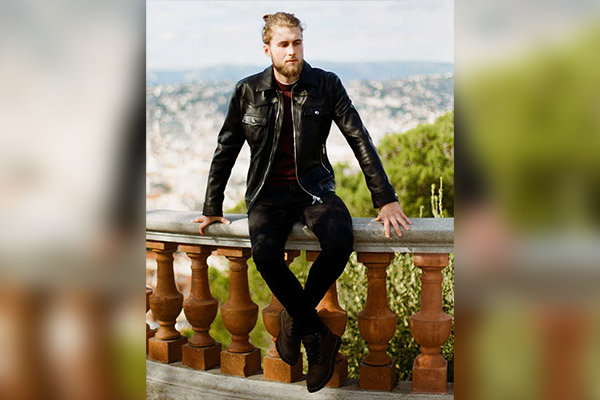 For all the partygoers out there, there's no reason why you can't rock a nice, stylish leather jacket to a party!
Consider a leather motorcycle jacket with a pair of washed-out jeans, sneakers, and a round-neck t-shirt. Black jeans and a plain v-neck t-shirt would also work for this party look.
The Cocktail Look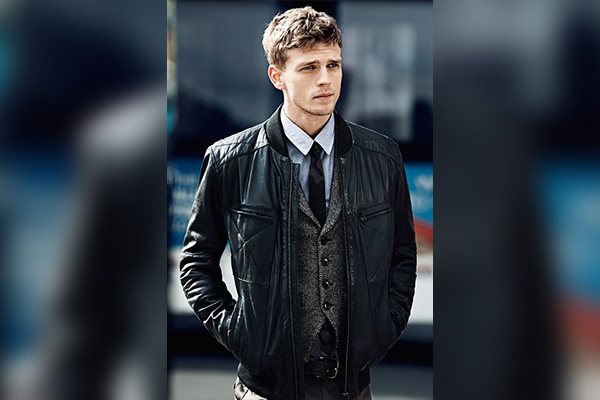 Cocktail attire for men typically lies somewhere between semi-formal and casual, giving you the ideal opportunity to sport a stylish leather jacket.
Men often wear leather jackets to cocktail parties, but when wearing one, there are a few important things to keep in mind, the most important of which is to wear a well-fitting jacket that looks flattering on you. And, make sure that the color of the jacket matches the color of your belt and shoes.
The Everyday Look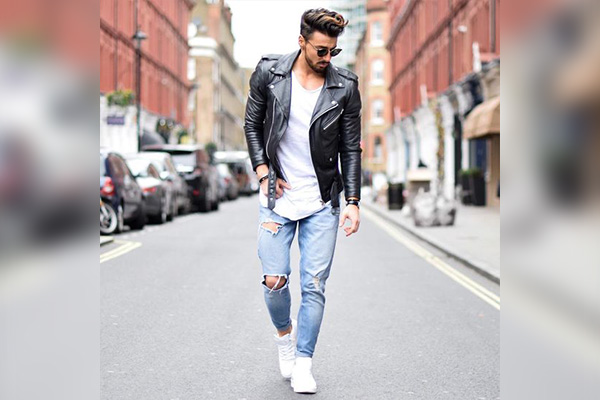 If you are a leather jacket enthusiast and don't mind wearing one on a daily basis, the everyday look is for you!
Fine one that's a cross between a classic leather jacket and a puffer jacket with buttons and zip details, and pair with a simple tee, straight leg jeans, and any casual shoes to complete the ensemble. In case the weather gets cold, you can replace the tee with a warm sweater.
Another outfit option that's ideal for the everyday look is pairing the leather jacket with black ripped jeans, a white tee and matching monochrome sneakers.
The All-Black Look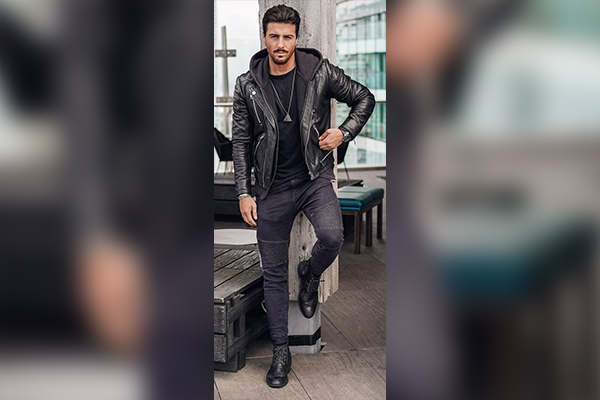 The color black is one of the best, the most timeless and classic colors of all time in the fashion world. So, when in doubt, go for the all-black men's leather jacket look which always makes a great style statement!
Go for a sleek black leather bomber jacket, a plain black t-shirt, and black pants or straight leg jeans. Complete the look with black shoes, or if you want to add some color, opt for clean white sneakers which look amazing against a black backdrop anyway!
The Off-Duty Look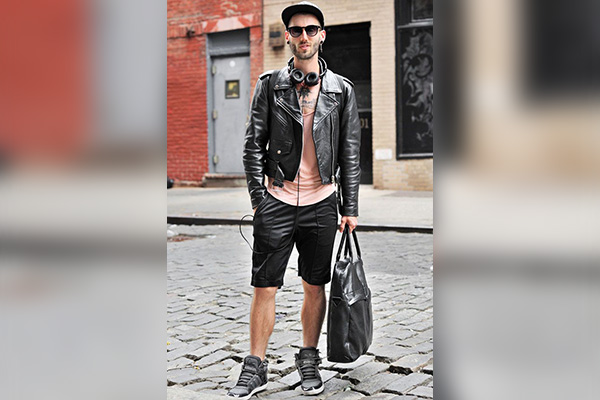 Your off-duty attire doesn't have to be dull or boring – you can still make it stylish at the same time!
Take a black leather jacket and wear it with black leather chelsea boots and brown chinos. This look is the perfect blend of stylish and casual, so if you happen to head out to meet some friends for drinks, this is the right outfit to sport and make a statement.
FAQs – How to Wear A Leather Jacket
How to wear a leather jacket over 40?
The key to wearing a leather jacket over 40 is to choose the right style and color, and pair it with the right clothing items. A leather field jacket, for instance, is ideal for men over 40, and the best colors for you are subdued shades such as charcoal gray, black and brown. Moreover, make sure that it features a sleek, well-tailored fit.
Should older guys over 50 wear leather jackets?
Yes, for sure! Men over 50 can totally wear leather jackets because they are an absolute wardrobe staple and you are never too old to sport a classic leather jacket. 
Why is a leather jacket attractive?
Leather jackets are attractive due to a number of reasons – they offer a sense of confidence and attitude to the wearer, they are extremely durable and can last you for years to come, they are super versatile and stylish, and lastly, the addition of a leather jacket to your outfit can instantly elevate its look and feel.
What do leather jackets say about a person?
Given how classy, versatile and fashionable leather jackets are, they go to show that a person truly knows what's in style, is confident enough to sport such a timeless classic clothing item, and your choice of jacket style also says a lot about your personality.
What does a black leather jacket symbolize?
Among many things, a black leather jacket symbolizes the representation of cultures and trends from the past considering how the underground music scenes, and goth, techno and punk cultures featured this timeless piece as an essential wardrobe staple. In many ways, a person wearing a black leather jacket can be taken to be showing their allegiance to a particular culture or community from the past and what they used to stand for.
Do leather jackets go with everything?
Leather jackets are truly versatile so yes, they mostly go with everything. Some men even pair a leather jacket with shorts so in essence, they look great with all kinds of outfits.
Which is the best weather to wear a leather jacket?
Leather jackets are perfect for winter and spring, but you can also wear a non-quilted jacket during warm weather conditions and serve some serious street style inspo.
Conclusion
If you don't already own a leather jacket, now's the time to do that!
You now know how to wear a leather jacket, so the only thing left for you to do is get the one you find most appealing which aligns with your personal style, come up with different outfit combinations using clothing items from your wardrobe, and you are all set to make a great style statement.