If you're wondering about flat front vs pleated pants: what's the difference? Then, you are in the right place!
Pleated pants have long been a style staple of a nicely dressed man. The pleats create a fuller look and are great for adding an extra bit of style to your outfit. However, flat-front pants have also gained popularity over the years and there are many reasons why they are so popular.
So, which one is best for you? This article will help you understand the difference between flat front and pleated pants and how you can wear each type of pants on different occasions.
What Are Pleated Pants?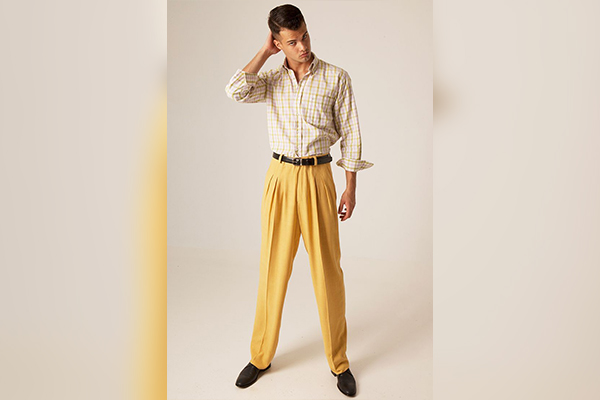 Pleats are a design element that can be found on any type of garment, from pants to skirts to shirts. They give the garment a more formal look and make it more comfortable to wear.
Unlike other elements of clothing design, pleats are functional. They provide extra space in the garment so that it can fit better around your body. The extra fabric also provides more room for movement.
Pleats were originally used in military uniforms because they provided the wearer with extra protection when riding horseback or sitting on horseback for long periods, but now they're used for fashion as well. People consider pleated pants for a more relaxed fit.
History Of Pleated Pants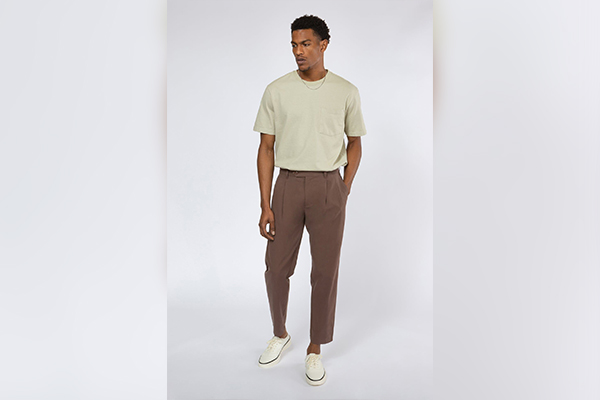 The history of pleated pants is a bit of a mystery, but the earliest mentions of these trousers date back to the mid-19th century. As their popularity grew, pleated pants became associated with men of higher social status. The first accounts of pleats were often written as if they were part of formal wear — more specifically, they were worn by aristocrats in Europe during the Victorian era. However, this wasn't necessarily true; pleats were also used extensively in military uniforms during this period and could be seen on soldiers right up through World War II.
While the use of pleats declined during the 20th century, they made a comeback when fashion designers began reintroducing them into their collections in the 1990s. Today, almost all men's trousers have some sort of pleat at their waistline, which allows for greater comfort and movement while retaining an upscale look that flat fronts can't offer.
Types of Pleated Pants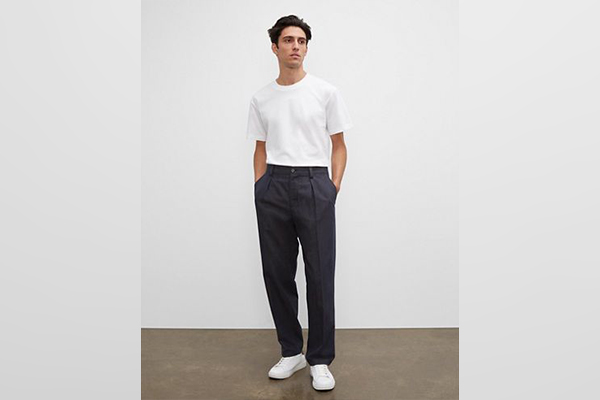 Pants come in a variety of styles, but all pleated pants can be divided into one of three groups: double-pleated, forward-pleated, and reverse-pleated.
Double-Pleated Pant Style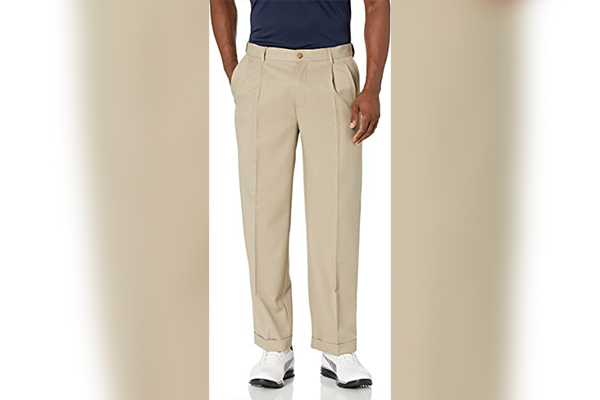 Double-pleated pants are the most common style of pleated pants and are made with two folds in the fabric at the waistband. This gives them a wide leg opening, which can be adjusted by changing the size of each fold. The most popular double-pleated pants are suit pants or "dress pants."
Forward-Pleated Pant Style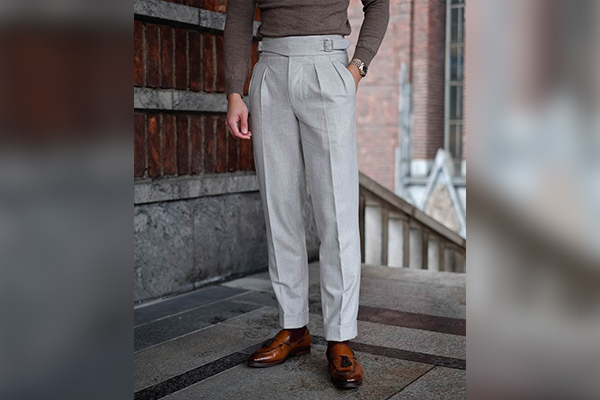 Forward-pleated pants have one fold at the waistband and another fold that begins near the knee and moves toward the hemline. This creates a slimming effect as well as adds volume to your silhouette. Forward-pleated pants are typically worn with a belt to help hold them up, and their slim fit makes them suitable for wearing with dress shoes, such as style Chelsea boots.
Reverse-Pleated Pant Style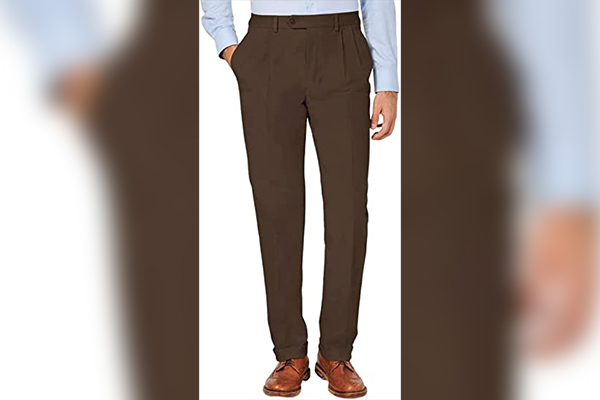 Reverse-pleated pants have one fold at the waistband and another fold that begins near the hemline and faces the pockets. They are similar to forward-pleated pants but have more volume in their legs because there is more material on each side between each pair of pleats.
Benefits Of Wearing Pleated Pants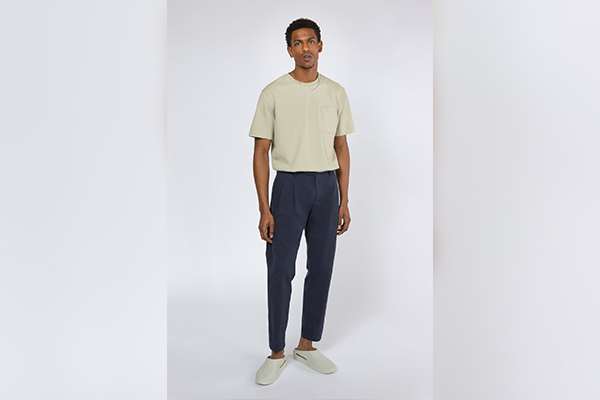 The most obvious benefit of wearing pleated pants is that they will make your waistline look smaller. If you are trying to hide a little bit of extra weight around your midsection, then pleated pants will do just that!
Another benefit of wearing pleated pants is that they tend to be more comfortable than flat fronts because they allow more room in the waistband area. This allows airflow to circulate around your legs so they don't get too hot during warm weather months.
If you have a muscular build or athletic body type, pleated pants will look great on you because they flatter curves well and give off a smart casual, and elegant appearance when worn with dress shoes and a sport coat or blazer.
If you have a long torso and short legs, then pleated pants will elongate your legs making them appear longer than they really are!
Best Occasion To Wear Pleated Pants
The best occasion to wear pleated pants is when you want to look smartly dressed up and formal. They are usually worn with a blazer or jacket and proper footwear. If you want to pair them with a shirt and tie, then go ahead because they will look good together too.
Pleated pants are a classic style that can be dressed up or down depending on your needs. They work well for business casual events like networking lunches and client dinners because they help balance out your look with a more professional vibe. They also work well with dressier shirts in button-down styles or even blazers for wedding men's dresses if you want to take it up another notch without getting too formal.
On the other hand, if you're looking for something more relaxed, pleats are also great when paired with t-shirts, sweaters, and other casual tops — just make sure your shoes match up! You can also try matching pleated pants with a polo shirt or button-down shirt but pair it
What Are Flat Front Pants?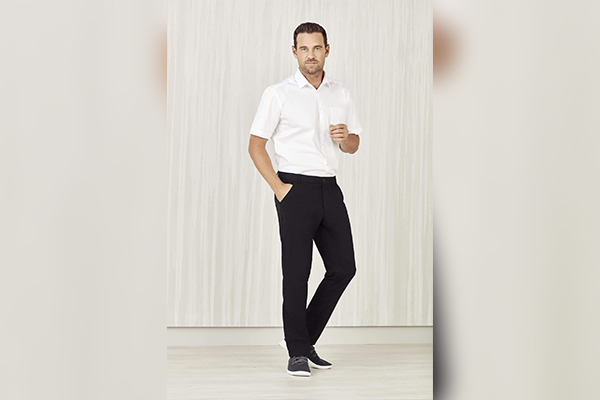 Flat-front pants are exactly what they sound like: pants with no pleats. They are popular among men who want to maintain a more formal look and feel.
Flat-front pants are popular among men who want to maintain a more formal look and feel. These pants have no pleats, so they usually have a straight leg or an easy, relaxed cut. The flat front style is also a good choice for men who don't like the way their thighs look in pleated pants (especially men with muscular thighs).
The flat front foundings just look cleaner than pleated pants—it's not just about comfort or flexibility; it's about how sharp your clothes look on you. While there are certainly pleated pants that are very clean-looking and sophisticated, it's hard to top the simplicity of a flat-front pair of slacks or chinos.
History Of Flat Front Pants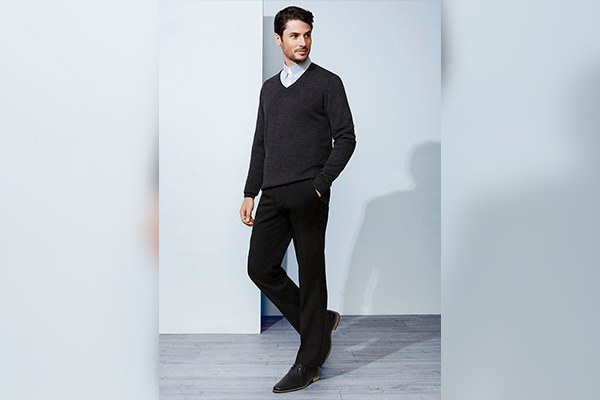 The history of flat-front pants goes way back. Flat-front pants have been around for a long time—so long that we're not exactly sure when they first appeared on the scene. But we do know they've been popular since the 1960s, and they're still going strong today.
Flat fronts are characterized by a lack of pleats in the front of the pant leg, which creates a more streamlined look. They're often worn with dress shirts or blouses tucked into them.
Flat-front pants are a great choice for business casual men's outfits, but they can also be paired with other pieces to create more formal looks.
Benefits Of Wearing Flat Front Pants
The benefits of wearing flat-front pants compared to pleated pants include:
They're more comfortable. Pleats can cause discomfort and bulging at the waistline when it's time for you to sit down or bend over. Flat-front pants don't have this problem, so you'll feel more comfortable throughout your day.
They're easier to maintain. Flat-front pants are less likely to get out of shape than pleated pants because they don't require any special treatment after washing them (e.g., ironing). This makes them easier to care for than pleated pants, which require ironing after every wash cycle in order to maintain their shape and appearance.
You won't experience discomfort when sitting down or bending over in public places such as airplanes or restaurants, because there are no pleats on the front side of your legs where they would rub together when you're bent over or sitting down.
Dressy Flat Front Pants For Special Events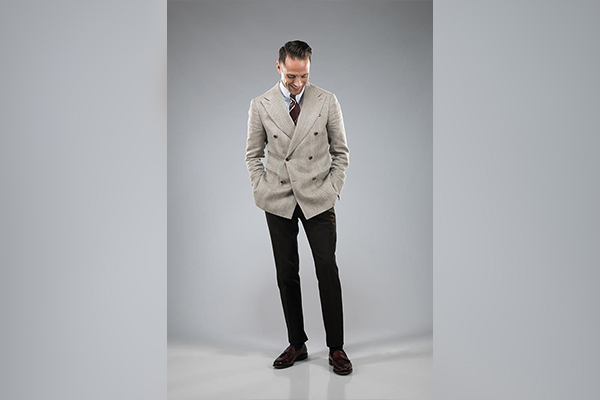 When you're shopping for dressy flat-front pants for special events, there are a few things to look out for.
Flat-front pants are more casual than pleated pants, but they can still make you look professional if you choose a color that's appropriate for your environment. For example, black flat-front pants are a staple of many men's wardrobes because they go with everything — from button-down shirts to sweaters to sports jerseys — and work in virtually any situation except the most formal ones (think dress for weddings).
In addition to black pants, there are other colors that are appropriate for smart casual dress codes or special events like beach wedding dresses: gray and navy blue. If you're worried about looking too casual in these colors, consider wearing them with a suit jacket or sport coat to tone down the formality slightly.
Flat Front Pants For A Modern Look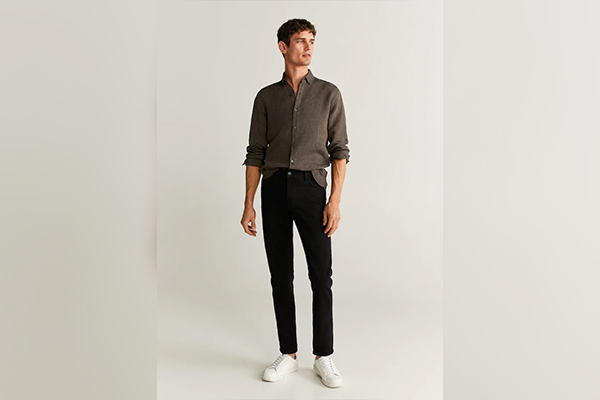 You may be wondering why flat-front pants are more popular than pleated pants. The reason is simple: flat front pants are more modern and fashionable than pleated ones. They're also easier to wear with a variety of different shirts and shoes. This makes them a great choice for just about any occasion, whether you're attending an important business meeting or going on a date with your significant other at the local restaurant. You can even wear flat-front pants with dress shoes if you want to look like James Bond!
The main difference between flat front and pleated pants is the way they look when they're hanging on a hanger or when they're being worn by someone who's standing up straight. Pleatless pants have no folds or creases in them at all, which means there's no need for pleats on either side of each leg opening (or fly). They fit smoothly against the body without any wrinkles or bulges around. So, choose flat-front pants for a modern look!
Pleated Pants For A Traditional Look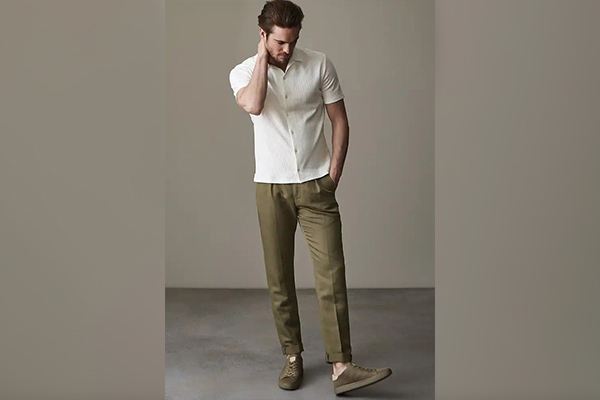 Pleated pants are a great way to add some traditional flair to your outfit. They're perfect for work or weekend wear, and they can be worn with pretty much anything.
A key thing to remember when buying pleats is that they're not all created equal. The more pleats you have, the more formal your look will be. If you're looking for something with a little more structure and tailoring, consider getting pants with pleats in front and back. This will give you a more polished silhouette.
Hence, go for pleated pants for a traditional look!
Tips For Wearing Flat Front And Pleated Pants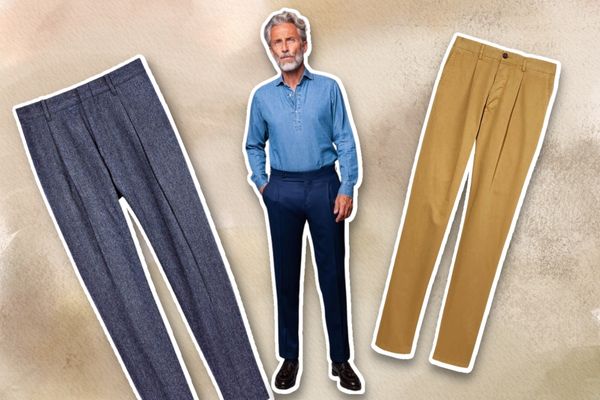 Here are some tips for wearing flat front and pleated pants:
Tips For Wearing Flat Front Pants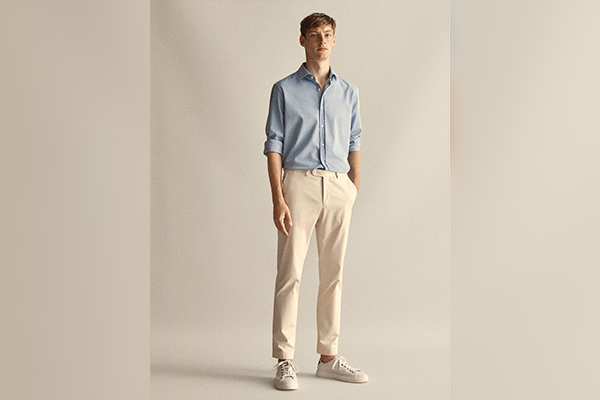 Flat-front pants are a great way to make your legs look longer, but there's a right way and a wrong way to wear them. Here's how to dress well:
1. The fit is everything. Flat-front pants should fit you snugly, but not too tight. If you're wearing a belt, make sure the pants aren't pulling in at the waist or bunching up over your belt loops.
2. Keep it simple with your shirt and shoes. You want your outfit to be clean and crisp, so keep it simple—don't mix different colors or patterns together; go for dark colors like black or navy blue; and don't wear anything too bright (like yellow).
3. Paired with a blazer? A blazer will take away from the slimming effect of flat-front pants, so stick with a classic button-down shirt instead!
4. Avoid wrinkles. Wrinkles on pants look sloppy and unprofessional, especially when you're trying to impress someone at work or in a formal setting. To avoid wrinkles, make sure that you hang up your pants as soon as possible after wearing them so they can dry out. If you have an ironing board at home, ironing them before hanging them up will help prevent wrinkles from forming in the first place.
5. One common mistake people make when wearing flat-front pants is choosing a length that's too short for their height. To avoid this problem, try lengthening your hem by an inch or two. This will give you more room to move around comfortably without showing off too much ankle!
6. If you're worried about showing too much ankle in your flat front pants, double cuffing them will make sure that no one can see anything they shouldn't be seeing! Double cuffing also adds a nice touch of style and flair to any outfit without being too flashy or distracting from what matters most: YOU!
Tips For Wearing Pleated Pants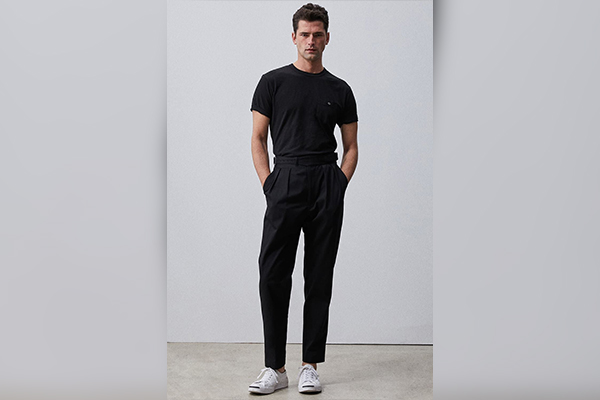 Pleated pants are back. And although they're not exactly new, they're still a little bit confusing.
If you want to wear pleated pants with confidence this season, we've got some tips to help you out.
1. Pleats look best when they're pressed and crisp, so make sure your pants are clean and wrinkle-free before you put them on.
2. Pair your pleated pants with a slim-fitting T-shirt or v-neck sweater for a more modern look—the contrast between the structured top and relaxed pants will really draw attention to your outfit!
3. When trying on pleated pants, it's important to make sure that the waistband sits high enough up on your body so that it doesn't sag or droop down too low (this happens especially if you have a larger waist).
4. Choose the right color: Pleated pants are such a classic style that there's really no wrong color choice when it comes to wearing them—they'll look great in almost every color out there! However, if you're looking for a way to stand out from the crowd, try pairing your pleated suit pants with a bright or bold color like red or yellow.
5. Keep it simple. The beauty of pleated pants is their simplicity—there's no need to overthink them! Just choose what feels most comfortable and flattering on your body type and go with that. You'll be surprised by how much confidence this will give off when you wear them around town!
Flat Front vs Pleated: Which One is Best For You?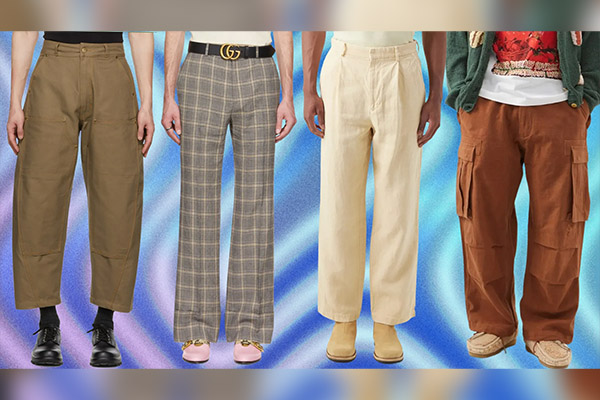 Pleated pants were once the norm for both business and casual wear, but they're now mostly found in more traditional workplaces like law firms or banks. That doesn't mean you should never wear them though; if you want a more relaxed look, pleats may be a good choice for you.
Flat-front pants offer a sleeker, more modern style that's perfect for business casual settings or when you just want something more contemporary than your average pair of slacks. They have no pleats at all, so they don't wrinkle nearly as much as pleated pants do after sitting down or moving around throughout the day (or night). Flat-front pants tend to be more expensive than pleated ones because they require more fabric to create the clean lines of the front seam opening on your trousers.
At the end of the day, the choice is yours!
FAQs
What Are Pleats In Pants?
Pleats are folds of fabric that sit parallel to the front seam of a pair of pants. They're usually located at the hips, but can also be found in other areas as well.
Are Pleated Pants In Style?
The pleated pant style was popular in the early 1900s but then fell out of favor as people began to prefer the flat-front style. However, it's been gaining steam again recently, thanks to its retro vibe and ease of use.
Are Flat Front Pants In Style?
Yes! Flat-front pants are very much in style and have been for a few years now. They are much more modern than pleated pants, and they look great with any shirt or blazer.
Conclusion
While there is a key difference between flat front and pleated pants, the best way to determine which one is best for you is to try them out for yourself. In any case, understanding these two different styles and the advantages each one offers will enable you to pick the pair that is the best fit for your needs.