Wedding season is upon us which means one has to start looking up for beach wedding dresses. While this may bring you joy, it might also bring you a bit of dread, because what are you going to wear to a summer beach wedding?
You can't opt for floor-length gowns or dresses in silk and satin or velvet, because that would be too heavy both in terms of the weather and the occasion. A sundress would also seem like a no-no, because that would seem too casual and simple, right?
So what could you possibly wear that would fit the beach wedding theme? Well, the answer lies in finding the balance between the two, where opting for a dressy casual look would be the best option for now.
Obviously, this can seem difficult to accomplish because there are so many ways you can go wrong, right?
Wrong! We're here to tell you that your wedding attire is all about having fun, and there are only a few things to take care of when putting together your beach wedding guest outfit.
How Would One Describe Appropriate Beach Wedding Dresses?
Whether it's a daytime wedding or a nighttime wedding, you need to get your information right. The venue, the timing, and the setting are all crucial in determining the perfect wedding guest outfit. Check the wedding card, or visit the wedding website to get a better idea of all these essentials.
Get a reading on the weather forecast when the wedding is due, and choose an outfit accordingly. It is best to opt for a flowy lightweight dress for women than heavy gowns and dresses with sequins since they can prove to be quite uncomfortable especially if the weather is hot, not to mention quite out of the picture.
The same goes for men when opting for shirts where light-colored button-ups are the safest option with khakis or chinos when going for semi formal attire.
One should also avoid heels to avoid them sinking in the sand. Instead opt for sandals and platforms with lower wedge heels when choosing your shoes, keeping them comfortable for you to enjoy and dance around at the wedding.
Midi dresses and shorter lengths are the way to go for summer wedding guest dresses, but you can also go for fuller lengths. However, make sure the fabric is lightweight and breathable, but also durable enough to withstand a little wind.
What To Wear At A Beach Wedding By Dress Code?
It is important to take into consideration the dress code mentioned on the card, as it is seen as a sign of respect and regard for the couple. It is a special occasion after special occasion that calls for special measures so make sure you are prepared or otherwise be prepared to look like a fish out of water.
If you're a guy, pack your suits and tuxedos as those are the safest options during weddings. As mentioned before, take into consideration the dress code, the venue, and the timings so that you know what you're getting yourself into.
Beach Formal Wedding Attire
When opting for formal attire for a beach wedding, choose lightweight fabrics like linen, cotton, and seersucker. Light colors, subtle prints, and longer-length maxi dresses are best for formal beach wedding guest dresses.
The safest option for men is a suit, however, instead of opting for black or darker shades, choose lighter shades, and don't forget your belts and slacks. 
Choose classic, timeless pieces of jewelry when choosing accessories for your formal beach wedding guest dresses, to keep you looking subtle and elegant throughout the wedding.
Mermaid Maxi Dress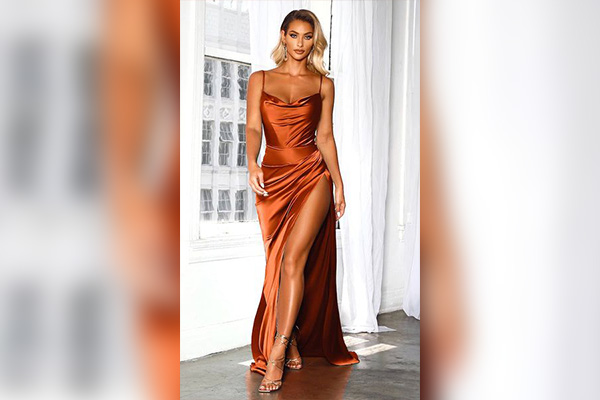 A mermaid maxi dress falls pretty well in the formal beach wedding guest dresses category and forms the perfect picture of elegance without going overboard. 
The slim fitting of the dress around your waist and torso compliments your figure and the full length fits the formal dress category the flair at your feet adds the extra drama you may be missing. You can opt for a strappy sandal (or other types of sandals), and subtle jewelry will do the trick for a mermaid maxi.
Soa Dress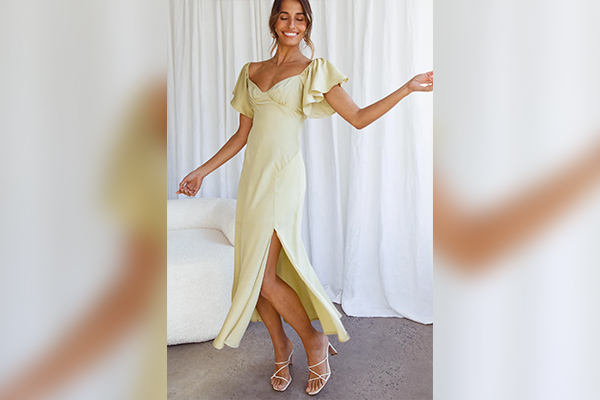 The shapeless silhouette dress clasped on a single shoulder, paints a dreamy picture of a beach wedding party. 
These soa summer wedding guest dresses work best in lightweight fabrics where it hangs loosely around your body. It falls at floor length while allowing you free movement as the dress flows around you, turning heads your way as you walk through the crowd. 
Strapless Tulip Gown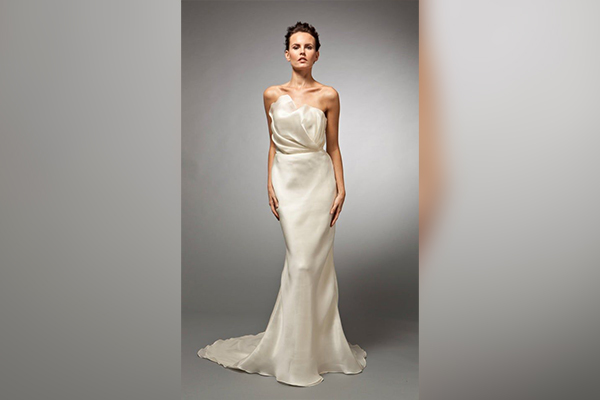 The tulip skirt and the strapless torso create the perfect beach wedding guest dress and add to your femininity. 
Try to look for light coral colors, when choosing your dresses to wear to a beach wedding, or go for romantic floral prints to match the beachy vibe.
Halter Maxi Dress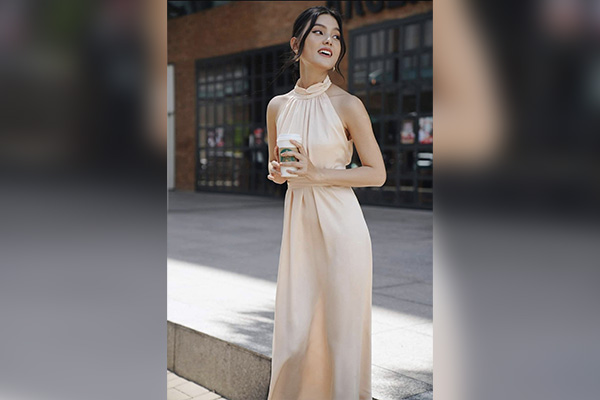 The unique neckline and the full length add to the dramatic vibe of a beach wedding party. Try to look for bright prints and colors, and opt for chunky earrings and low-platform heels to go with your maxi beach wedding guest dresses.
Beaded Maxi Dress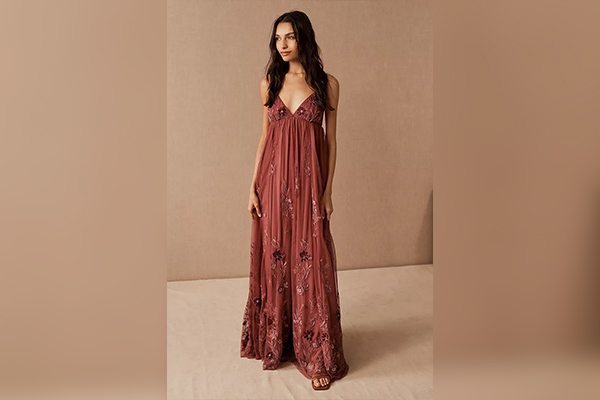 While you can opt for simpler options, it wouldn't hurt to add a little bling to your dresses. Go for flowy skirts, low bodice, and cinched waists when choosing your beaded maxi beach wedding guest dresses.
Selena Lace Midi Dress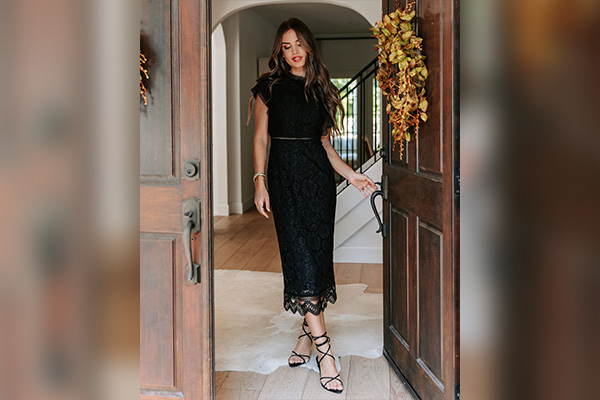 This ultra-feminine dress with a bustier top, and sheer lace creates the perfect formal cocktail wedding guest dress. It compliments most body shapes and can be worn with low wedges and beady handbags to complement the dress perfectly.
Pleated Midi Dress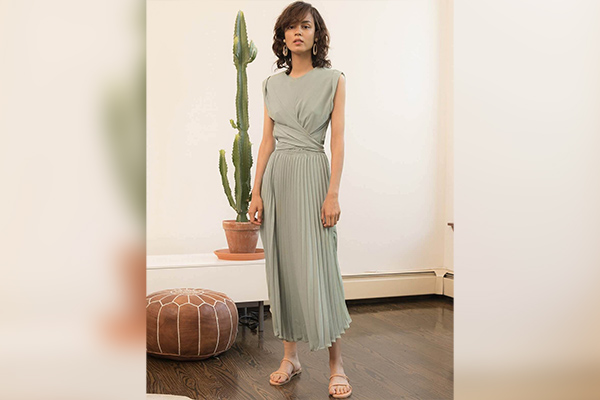 This creative piece makes a funky beach wedding outfit coupled with the middle length and gives you the chance to shine on the dance floor with its ballroom skirt.
Beach Wedding Cocktail Attire
Cocktail attire is characterized by a semi-formal dress code where women are decked out in knee-length dresses, but can also go for longer options along with shoes ranging from dressy flats, sandals, and low wedges to keep you moveable still in keeping with the formality of the occasion. 
Pearl necklaces, stud earrings, and overall subtle jewelry is the usual go-to for dresses for beach wedding, but you can definitely have fun with your accessories. While cocktail midi and maxi beach wedding guest dresses are cute, you can also opt for classy jumpsuits and trendy separates as your beach wedding guest outfit.
As for the beach wedding guest outfit for men, go for a relaxed dress code to assemble the cocktail attire. You can ditch your tie if you want to, as well as your slacks and go for loafers or boat shoes for a nice blend between formal and casual. 
Opt for a long sleeve button-up shirt and dress pants when choosing your cocktail attire and pair it up with a blazer, or a sports vest and please, don't forget your belt. You can even add a metal wristwatch for a little bling.
Puff Sleeve Midi Dress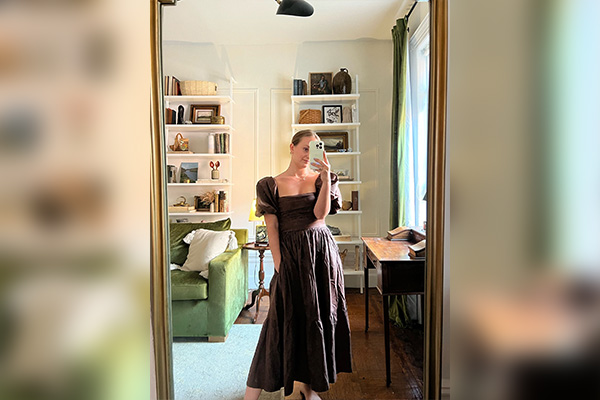 A puff sleeve midi dress forms the perfect cocktail attire for women and proves to be quite versatile on occasions like a beach wedding. You can dress it up as well as down to suit the dress code of your invitation.
Crepe Midi Dress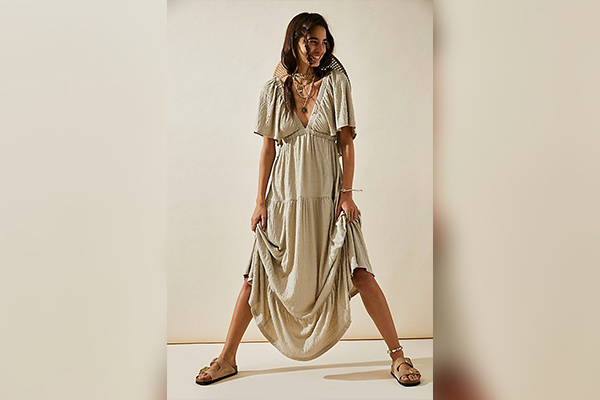 Crepe is one of the best materials to opt for in a beach wedding guest dress due to its innate grace and lightweight properties that help you keep cool in the summer heat.
Crepe midi dresses come in a variety of styles, cuts, and designs, so choose one that flatters your body shape and fits in the beach wedding party theme.
Cutout Midi Dress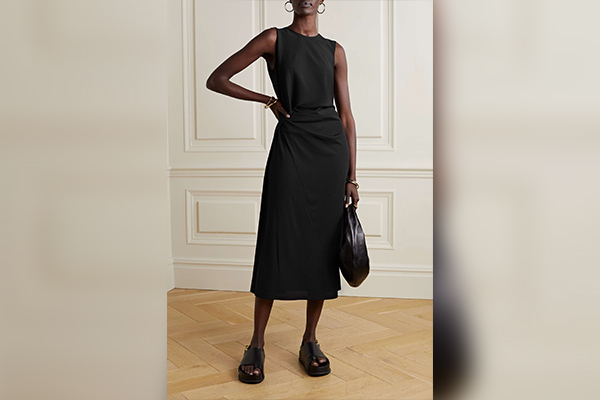 This beach wedding guest dress is perfect in literally every way. You don't even have to opt for bold colors to shine on the beach wedding party as a guest but also no one can stop you from doing so.
Choose cutouts that flatter and accentuate your curves and pay attention to the neckline where there is a variety of styles for you to choose from, ranging from high halter necklines, to bold cowl necks that add to the magic of the dress.
Asymmetrical Bodycon Mini Dress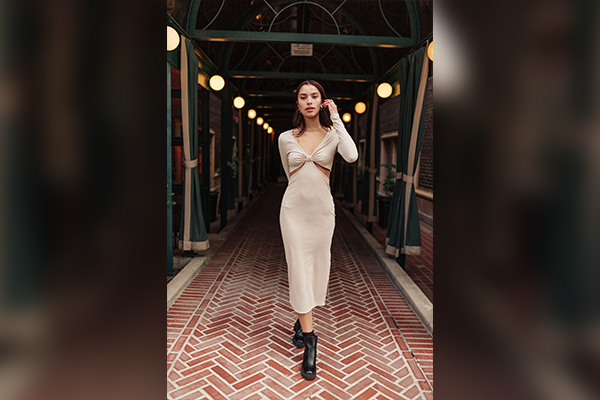 A rather daring concept but worth all the attention, an asymmetrical bodycon dress will add the necessary spice and sugar to your wedding guest outfit. 
Marguerite Silk Dress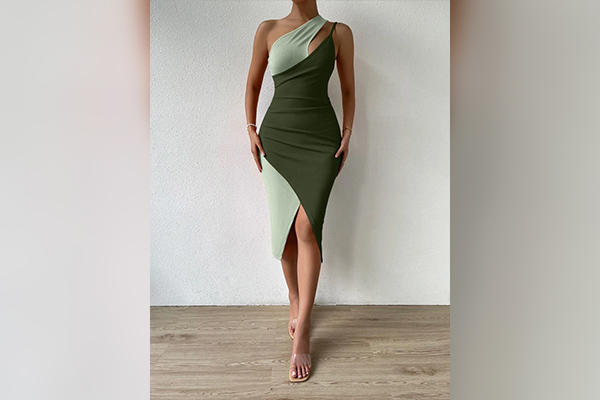 This fun, sexy staple piece from the sixties allows you to embody your inner fashionista while having all the fun in the world.
The slit in the rather comfortable wrap of the skirt and the silky material of the dress creates a rather sensual picture in the eye of the beholder. The highlight of the dress is its subtlety while maintaining its sophistication, making it the perfect choice for a beach wedding guest dress.
Beach Casual Wedding Attire
When we say casual for a wedding, it's not really that casual. It's more of a relaxed dinner attire, where you can't just wear your worn-out tee and jeans and be ready to go. 
However, you also wouldn't want to go overboard on such a theme, like wearing a three-piece suit, tie and all, or floor-length gowns and all that fancy stuff.
Try to keep it simple but nice and decent. A polo shirt would be a good choice as well as a half sleeve button shirt. Chinos, khakis, and shorts are all acceptable choices for men's beach wedding attire, but if you're not sure about the shorts you most probably should skip them.  
Women, as always, have the upper hand in outfit choices where you can wear midi dresses with floral prints and light colors and fabrics to keep the fun beachy vibe going on.
Skip your heels and enjoy the day in a pair of nice sandals or dressy flats to make the most of your beach wedding guest outfit.
You can also opt for separates, like a blouse and a skirt, or a one-piece to create a flattering beach wedding guest dress.
Now that you have an idea about what kind of dress code you should expect at a beach wedding party, here are a few dresses for beach wedding ideas that are best for semi-casual looks.
Tie Back Mini Dress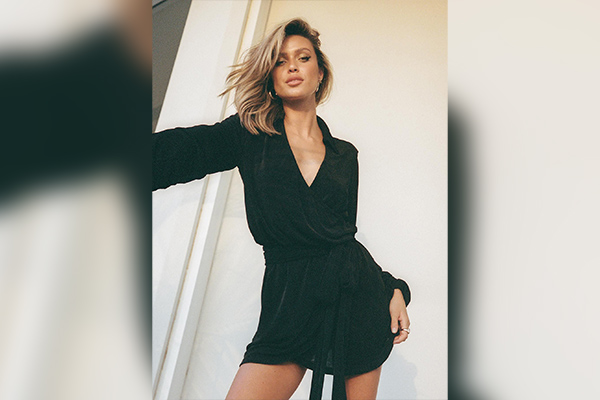 A tie-back mini dress is a really cutesy option for all those willing to adopt a little fun in their dresses for beach wedding guests. 
Along with keeping you light and breezy, it is sure to make you the star of the show at the wedding. Pair your tie-back mini dress with a pair of sandals, and accessorize it with a clutch and fun pieces of jewelry that you think go well with your outfit. Wear your hair up in a bun to give it a full effect.
Off The Shoulder Dress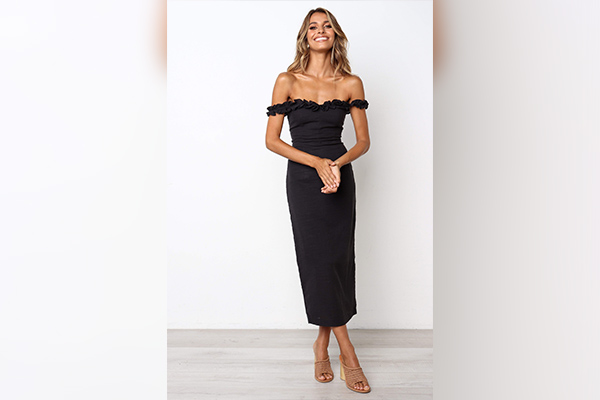 This classic staple piece from your wardrobe is a safe play for all those not sure of what to wear to a beach wedding. It is sophisticated and elegant, yet can easily pass the casual code for a beach wedding party. 
You can opt for a maxi or midi dress, with lightweight fabrics and floral prints. Choose a slit to have a little fun and pair your off-shoulder dress with sandals or dressy flats and accessorize your beach wedding dresses as you like.  
Backless Jumpsuit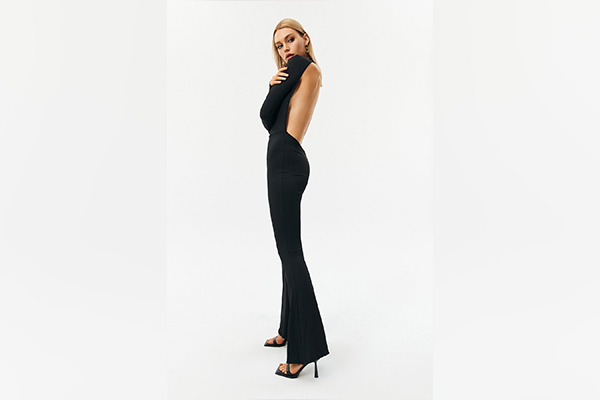 Jumpsuits and dressy separates are just as acceptable as summer wedding guest dresses, so don't be afraid to add a nice jumpsuit to your backpack. 
A versatile solid color jumpsuit will help you in the long run and is an easy go when it comes to casual beach wedding outfits. Pair them up with low wedges and accessories to make the most of your wedding party guest look.
A Corset Back Lace Midi Dress
When you're keeping things simple, detailing becomes very important. These sexy summer wedding guest dresses are sure to turn heads your way at the beach wedding party. 
The intricate details on the back of your dress coupled with its ideal length for a beach wedding, make it one of the best summer wedding guest dresses, making sure you dazzle your way on the sandy floors.
Plus Size Beach Wedding Guest Dresses
Plus Wrap Dress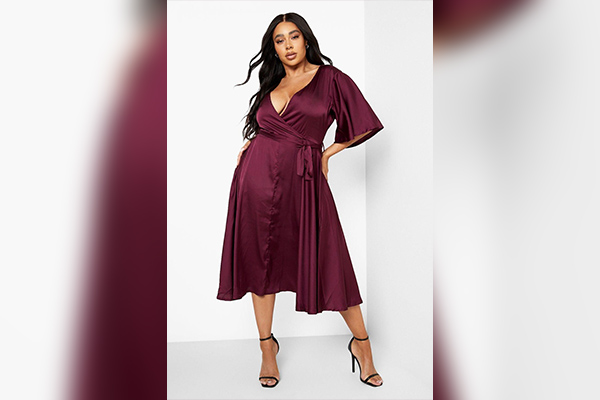 There are many types of dresses but this dress gives both romantic and trendy vibes with the slit in the skirt and puffy sleeves. Wear your hair down or up with this romantic piece and pair it up with trendy sunglasses and accessories.
Smocked Midi Dress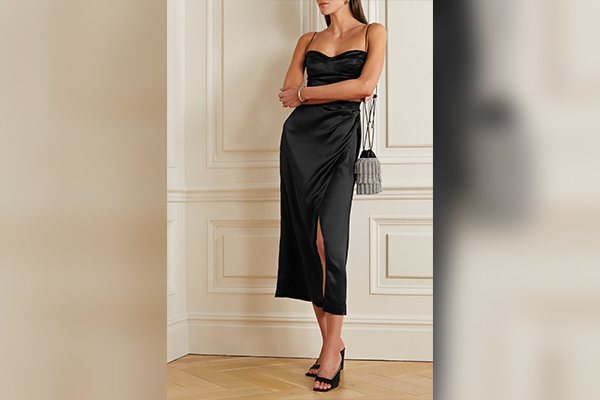 A smocked midi dress is a dress for all sizes and can fit into all occasions chosen and worn properly.
With the fitted torso and flowy midi skirt length, the dress creates a lovely beach wedding outfit. Choose brighter colors and fun prints and summer fabrics cotton and linen when choosing a smocked midi dress.
Flutter Sleeve Maxi Beach Dress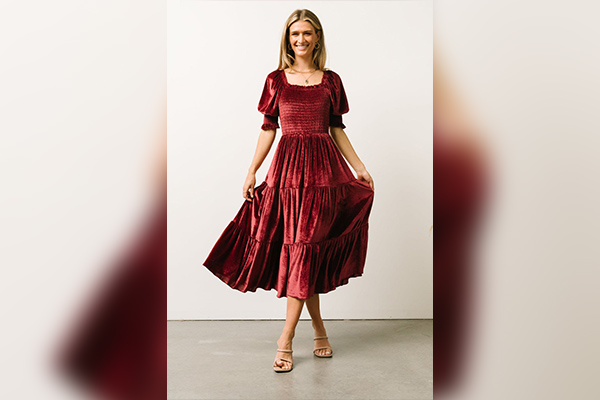 The romantic sleeves and sensual cuts and designs incorporated within the maxi beach dress make it one of the best dresses for a beach wedding. Choose coral colors and romantic prints, but don't be afraid to pick a brighter, more fun option for maxi beach wedding guest dresses.
Cowl Neck Tie Waist Midi Dress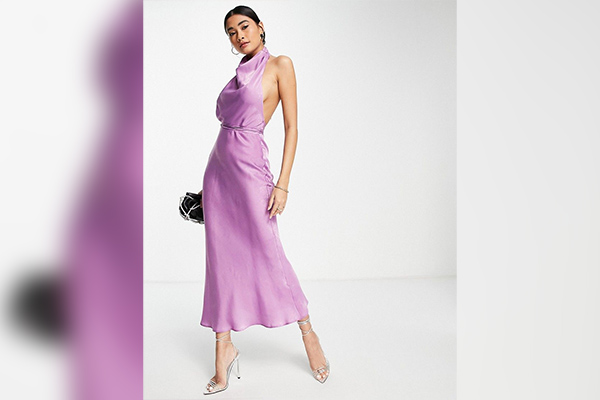 This sensual piece cleaves in all the right parts, where the tie in the middle gives an illusion of a slimmer waist.
You can opt for a slit on the leg if you are feeling daring and opt for metallic bold colors to bring out the beauty of the dress.
Cinched Front Midi Dress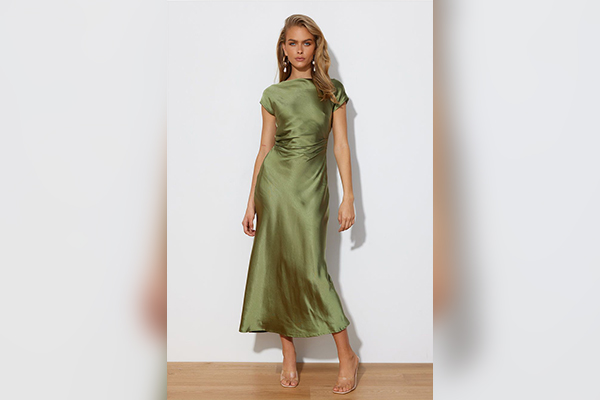 When going for a plus size midi beach wedding guest dress, then nothing comes better than a cinched front that slims down attention on your waist and brings it to all the right places instead.
Gatsby Dress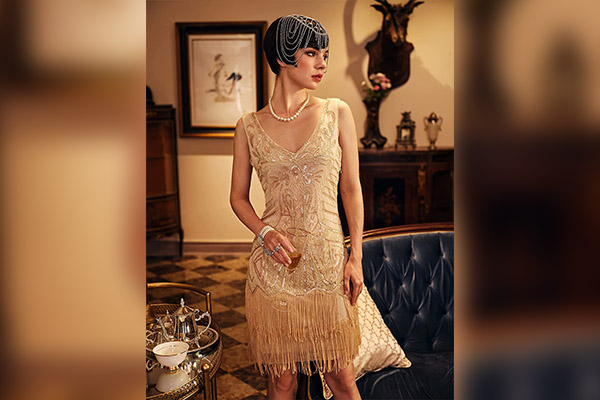 Nothing can go wrong with a signature Gatsby dress with its long cut down in the middle, the fitted torso, low bodice, and sleeves that make a perfect formal beach wedding dress. 
Avoid darker colors when choosing a Gatsby dress for the wedding, and opt for lighter tones instead. You can for bold prints or even solid colors as per your preference.
Slip Midaxi Dress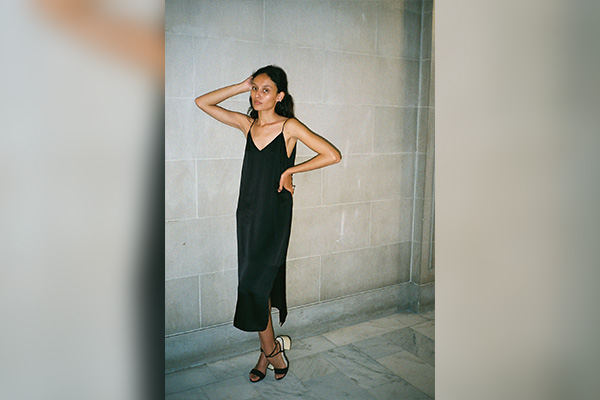 Ok, so this is the dress of the hour. It is impossible to attend a cocktail event without seeing one of these beauties on the floor and we can totally understand the reasons.
The sweet silk, irresistible cuts, and elegant lengths are what have taken this blend of a midi and maxi dress to the next level.
Men's Beach Wedding Attire
Super Skinny Jacket And Pants In Navy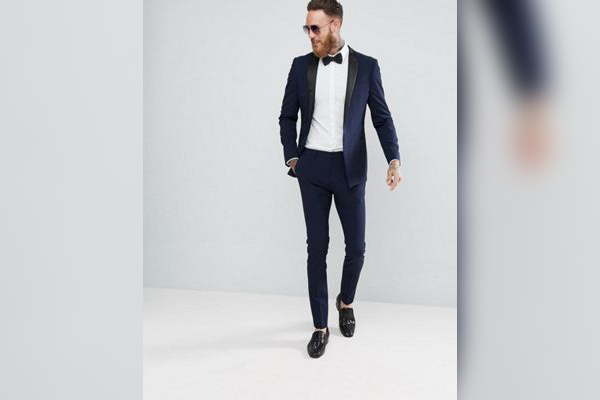 When in doubt, wear a suit. And if it's navy on a beach wedding party? Bonus points, for matching the ocean view. This sleek suit is sure to get you much well-deserved attention, where you can ditch the tie for cocktail attire or go for it for a formal look.
Sport Coat And Flat Front Pants in Natural Linen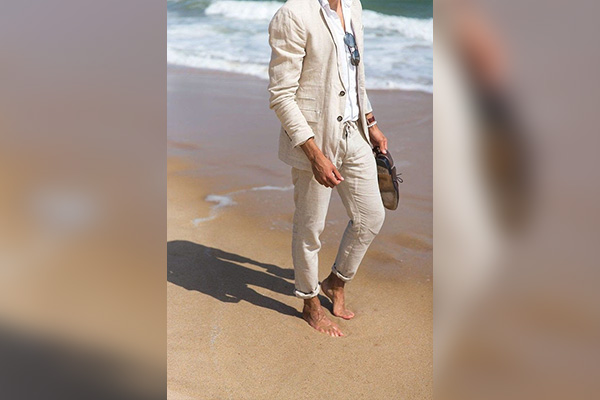 The idea of a linen suit might be tempting in the heat of the beach, and for all the right reasons too. Opt for a white button-up and boat shoes for your men's beach wedding attire. Wear a tie if you're going for a more formal look. 
Pineapple Print Shirt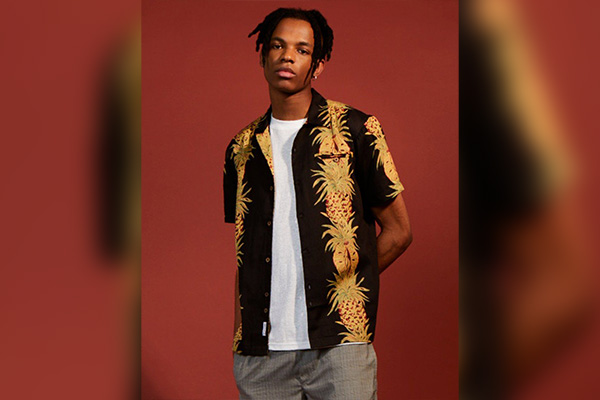 The pineapple print shirt captures the vibe of a beach wedding party, perfectly. You can wear it with chinos or khakis, and a nice pair of boat shoes to live up to your beach wedding outfit, men.
Silk Camp Shirt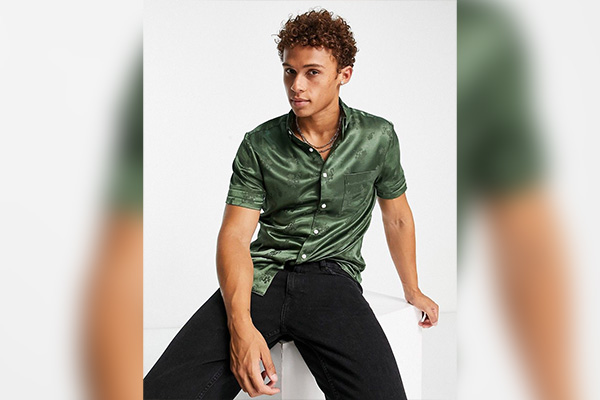 The loose-fitting and short-sleeved shirt is best suited to casual beach weddings. You can pair it with chinos, khakis, or shorts and look for bright colors and tropical prints when opting for a camp shirt.
Wrinkle-Resistant Linen Shirt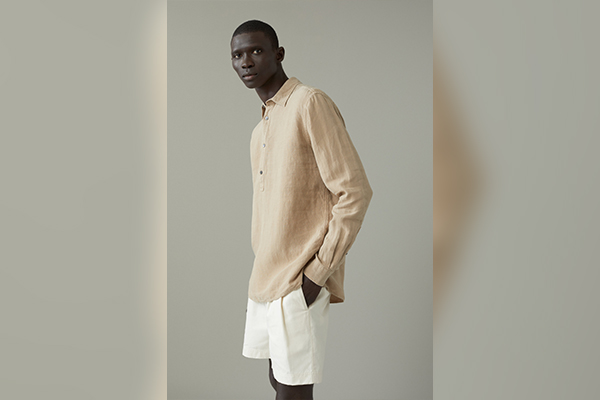 Linen is by far one of the best options for you to look for when buying or packing your beach wedding guest outfit. Linen normally doesn't need ironing, but if it really means that much to you, iron the fabric while it's still damp.
Look for colors like tan and sky blue button-ups, and full-sleeve shirts when choosing your wedding guest outfit. 
Pelle Suit Jacket And Short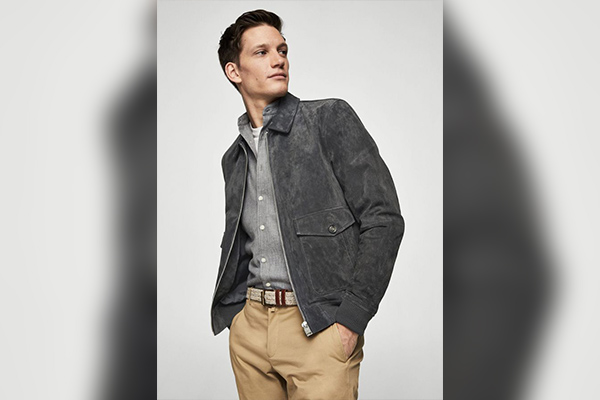 Beach wedding outfits are all about having fun, so don't be afraid to venture into unexplored territory. Go for a tropical beach wedding guest outfit with this number, it will not only keep you cool enough to ward off the heat but also help you make a statement in your men's beach wedding attire.
Wear it with a polo shirt and boat shoes and without socks and a belt for a laid-back, fun, classy look.
Stretch Washed Chino In Khaki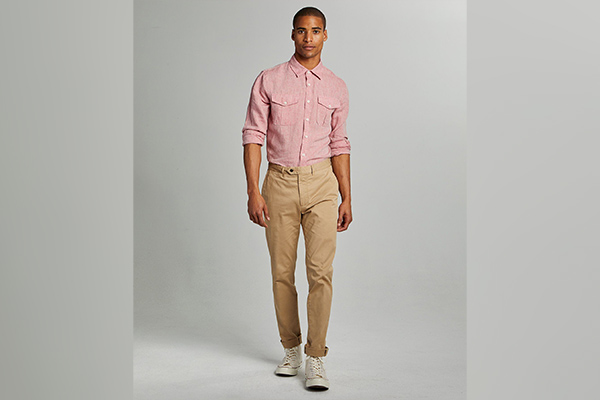 Want to attain the ultimate, irresistibly classy, beach wedding outfit for men that blend in perfectly with your setting? 
Then ditch your dress pants, and opt for a pair of chinos, preferably in khaki, or light neutral colors. Pair it with a light-colored button-up shirt and roll your sleeves up, for the ultimate wedding guest outfit. 
Flamingo Print Chambray Sport Coat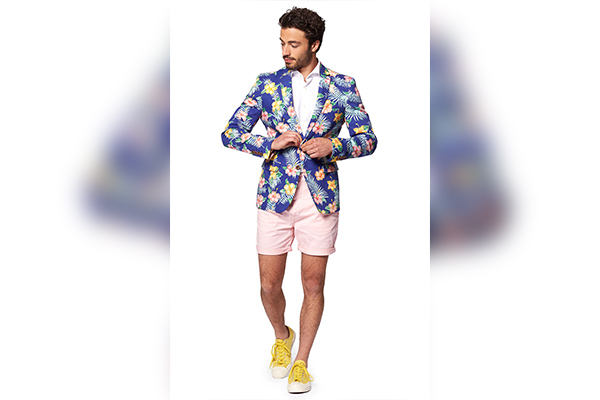 Yes, a simple three-piece button-up suit will get you through the wedding. No, it won't help you turn heads or make a statement. It's a beach wedding, my friend. 
Loosen up, will you? This exotic print sport coat will help you do just that, and much more as your beach wedding guest outfit. Pair it up with short, khaki chinos or flat-front pants, and go for a matching polo to highlight the suit.
Tan Suit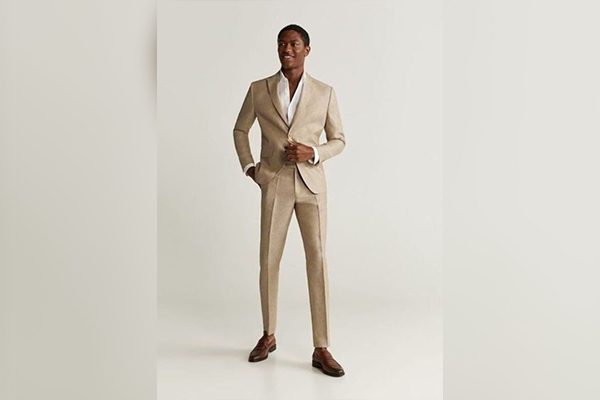 When going for a suit, please don't choose it in the color black until it's a nighttime wedding. Go for lighter colors and is there anything more graceful than a tan suit on a beach wedding?
Be the apple of the eye in this formal beach wedding attire and wear it with a white button-up. Deck it out with your resident tuxedo and slacks for an ultimately classy men's beach wedding attire.
Stretch Seersucker Suit Jacket And Suit Pant In Blue Seersucker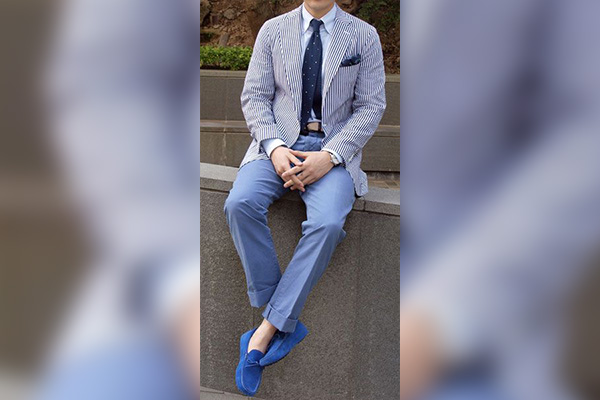 Did I mention how important fabrics are I'm choosing your beach wedding outfit? Yes. Well, I'm saying it again because this truly can be emphasized enough.
Seersucker is one of the best summer fabrics that helps your skin breathe and keeps you looking amazing throughout the day. And choosing the right color and prints is also quintessential for your men's beach wedding attire, so please pay attention to that.
FAQs – Beach Wedding Dresses
What do you wear to a beach wedding as a guest?
A beach wedding guest outfit is mostly laid back, however, casual t-shirts and jeans are not acceptable. You can go for tropical wedding guest dresses with exotic prints and bright colors. Men can opt for fun sports vests, and khaki shorts to incorporate a festive look. Dresses of all lengths are acceptable for a beach wedding guest outfit, where you can even opt for dressy separates and jumpsuits. Choose big fun accessories to add to your wedding guest outfit. 
What should an older woman wear to a beach wedding?
Opt for lighter tone colors when choosing a beach wedding dress guest but choose fun floral prints to capture the beach wedding vibe. Go for midi or maxi lengths when choosing a dress, or a nice blouse and skirt to wear as your wedding attire. Try to keep these rules in mind, but don't forget to have fun every once in a while. After all, that's what the beach wedding is all about, isn't it?
What colors should guests not wear at a wedding?
Solid black and white wedding guest outfits should be avoided at all costs. You can go for metallic colors but the same no solid rule applies to these outfits as well. Also, try not to wear colors that match the bridesmaid theme or the groom and bride's family colors. 
What to wear at a wedding if you're above 50?
A beach wedding generally has a relaxed dress code, which applies to all age groups. However, you could try going for longer lengths when choosing your summer wedding guest dresses and opt for lighter colors and prints. You could always opt for a nice blouse and skirt, instead. Try going for neutral shades when choosing men's beach wedding attire, however, you can experiment with your ties by going for brighter shades. 
What should I wear to a 2022 summer wedding?
Summer weddings are all about bright colors and exciting prints. However, it is important to consider the dress code at the wedding where you've gotta make sure your summer wedding guest dresses do not clash with the bride's maid theme or any of the bride or groom's family members. Check what the guests are asked to wear, whether it's tropical wedding guest dresses for a destination wedding, cocktail attire, or formal beach wedding guest dresses. Go for cute hairstyles and try to look up SHORT BEARD STYLES to match the tropical wedding theme and your 2022 summer wedding guest outfit.
Concluding Our Thoughts on Beach Wedding Dresses
So here's all you need to know about summer wedding guest dresses. You might be overwhelmed with all the information and the different wedding guest dress choices you have, although we assure you, you have nothing to worry about.
As you can see, most of the beach wedding guest dresses have a relaxed theme where you are allowed a lot of room to experiment with your wedding guest outfit.
The bright colors, the laid-back rules, exciting styles and cuts, and a mix and match of the various styles especially with the men's beach wedding attire. The sports vests create a festive look and keeping in mind a few ground rules, you can even wear shorts with a blazer.
For ladies, opt for midi-length dresses, dressy separates, or jumpsuits with classic jewelry. You can definitely go for more fun, tropical wedding guest dresses where you can opt for bold prints and bright colors along and fun jewelry to accessorize your wedding guest outfit.
However, if it bothers you so much, you can always play it safe with formal wedding guest dresses or cocktail attire where a suit is your best bet. Midi dresses with exciting designs, along with low heels and classic jewelry are always welcome at a beach wedding, an event that calls for a dress code that's both fun and formal.