Understanding the impact of footwear on your style is a key step in unlocking your fashion potential. The same can be said about learning how to style Chelsea Boots men as it opens a whole new world of style options.
The thing is, Chelsea boots don't fit the classic categorization of shoes and their intended styles. They aren't one of the many types of sneakers, but they aren't heavy-duty badass boots either.
They have the elegance and panache of shoes meant for formal three-piece suits yet they look just as immaculate below casual t-shirts and jeans.
So, what is the correct style for Chelsea boots? How can you integrate them into your casual outfit arsenal while maintaining their unique and eye-catching vibe?
We can answer these questions by analyzing some of the best outfits you can craft with these boots. Let's learn how to wear men's Chelsea boots the right way.
Chelsea Boots Business Casual Style
Thanks to their clean and relatively straightforward design, Chelsea boots offer a masterclass in business casual men's fashion. Here are a few noteworthy outfits that are the best demonstration of this sentiment.
Suit and Turtleneck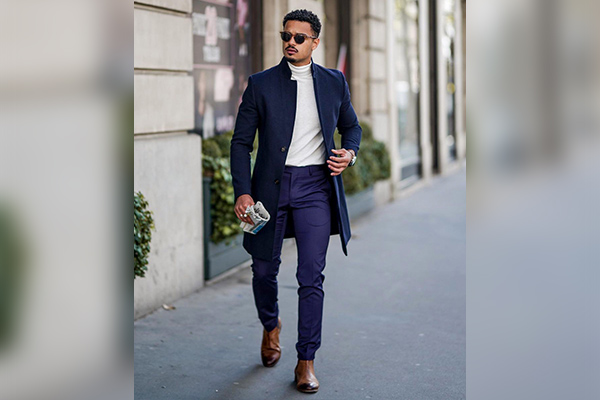 One of the simplest and most versatile business casual style with Chelsea boots involves nothing more than a two-piece suit and a turtleneck of your choice. That is all.
An excellent example of a brown Chelsea boots outfit in this style can include a gray pinstripe suit with a black turtleneck. The same goes for a brown suit and black turtleneck with black Chelsea boots.
You can also cuff your pants and include a matching leather belt to put further emphasis on the boots.
Jeans with Blazer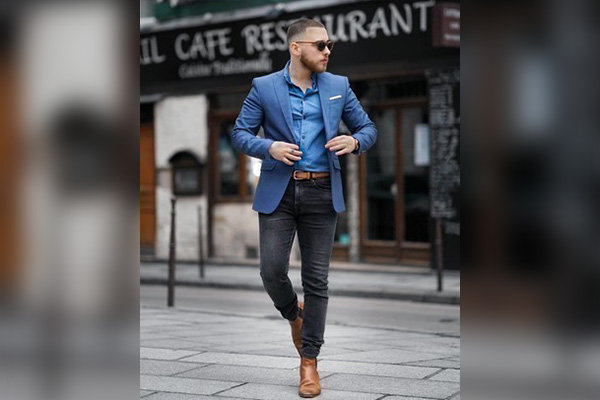 A classic white button-up with a pair of fresh blue jeans is a notable example of black Chelsea boots outfits. But it feels a bit uninspired and that's why you have to top it with a navy blue blazer to complete the look.
This combo of a dark blazer with a white button-up makes you look professional while the jeans and black Chelsea boots below add some casual vibes to your fit.
You can also make the outfit look more personal and well-thought-out by including accessories like a wristwatch and a pair of sunglasses.
The All-Black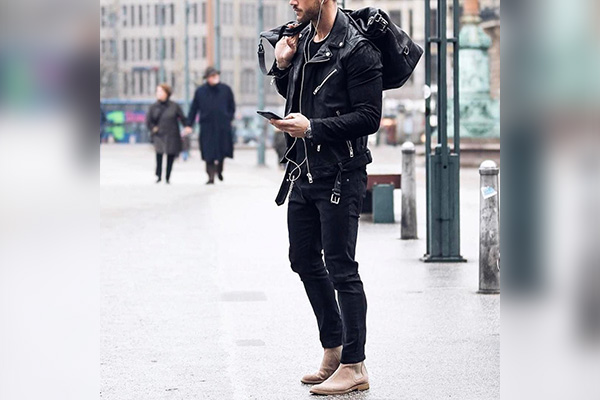 The right way to pull off a business casual all-black outfit is to make the silhouette memorable and unique.
Instead of wearing a classic button-up or t-shirt, go for a black well-fitting Henley. Rather than choosing the obvious black jeans, opt for a pair of black chinos.
In the same vein, instead of topping this outfit with a black blazer, go with a clean black wool overcoat. Finally, the last step in completing this polished look is to pick the right footwear.
Now, you can turn this into a black suede Chelsea boots men's outfit as the idea of wearing black head to toe is quite tempting. Or, you can add a personal casual flair by opting for dark brown leather Chelsea boots.
While we are recommending this look from a business casual standpoint, it works just as well as a fantastic everyday fit. Speaking of which:
Casual Everyday Ensemble with Chelsea Boots
Unlike opera pumps or similarly formal shoes that you have to reserve for formal occasions, Chelsea boots can be a part of your day-to-day look. Here are a few outfits to help you integrate these into your frequent fashion.
Upgraded Sweatshirt and Jeans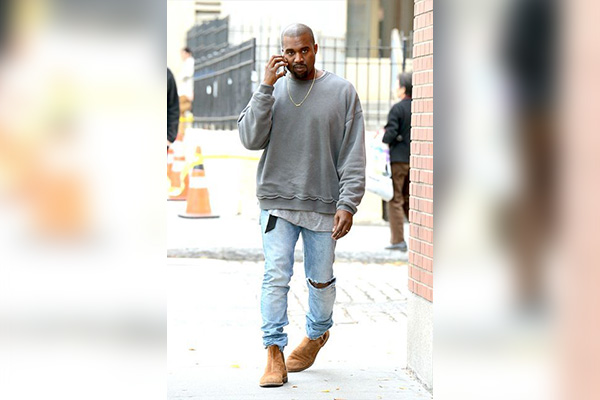 Take a khaki brown crewneck sweatshirt and a pair of navy blue jeans and wear them over brown suede Chelsea boots. Looks decent, right?
Let's upgrade it to the next level and all you need for the upgrade is a white button-up; not to replace the sweatshirt, but to rock under it. Here's what to do.
Wear the plain white button-up above the jeans and don't tuck it in. Now wear the sweatshirt on top of the button-up and let its collar and hem stick out. Lastly, accessorize with a matching brown wristwatch and you're done.
Rocking this outfit on a regular basis will make you look sleek and sophisticated while maintaining a smart casual vibe.
Blazer with V-neck
A blazer with a V-neck t-shirt is the quintessential "cool guy" outfit in media and celebrity culture. While its accessories like dog tags and fedoras are not in style anymore, the outfit itself is still fantastic.
All you need is a white or light-colored V-neck, a dark blazer, and a pair of black jeans. The ideal footwear to complete this look would be a pair of black suede Chelsea boots.
To say that this outfit is versatile would be an understatement. You can rock this look to a casual dinner out, a day of running errands, or a weekend outing with friends.
Also, this is perhaps the closest you can get to semi-formal attire for men with these boots as they don't fit well below a formal suit with a button and a tie.
Laidback Joggers
Rock your light brown Chelsea boots with a pair of joggers and a hooded sweatshirt. Yes, you read that correctly.
While joggers are one of the last types of pants you'll think of when figuring out how to style Chelsea boots for men, they are an undeniably brilliant choice.
First off, the joggers and sweatshirt combo is as comfy and cozy as it gets — making it a flawless option for everyday use. Secondly, it gives off a laid-back and casual vibe yet still looks more well-put-together than a random t-shirt and jeans outfit ever could.
The only thing to keep in mind with this look is that it does not work with every pair of joggers or sweatshirts. The most optimal choices are well-fitted neutral-color joggers and a solid-colored sweatshirt without any prints.
Also, the choice between a plain or a hooded sweatshirt is up to you.
While we're on the topic of hoodies and cozy joggers, what about Chelsea boots in winter?
Chelsea Boots & Casual Winter Outfits
The winter months are arguably the best time for men's fashion as they allow layering to the utmost degree. The outfits that best represent the impact of Chelsea boots on winter fashion are:
Jeans & Sweater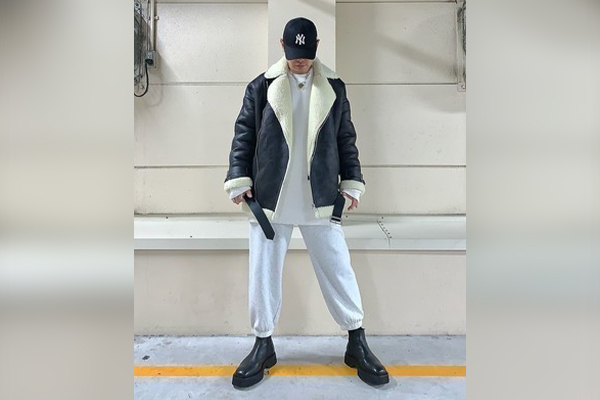 Let's start with a simple outfit that takes minutes to put together. All you need is a pair of slim-fit jeans with the knit crewneck sweater of your choice and a pair of dark brown suede Chelsea boots.
This is an exceptional casual look for daytime when it's still cold, but too cold due to the sun being out. If it is chillier than this two-piece outfit can handle, you can always add a puffer or a parka jacket on top.
That said, the best part of this outfit is its variety. The jeans of choice can be dark brown, blue, black, or even dark gray. And you can pair these jeans with almost every light-colored knit sweater you own without compromising style points.
Flannel with Puffer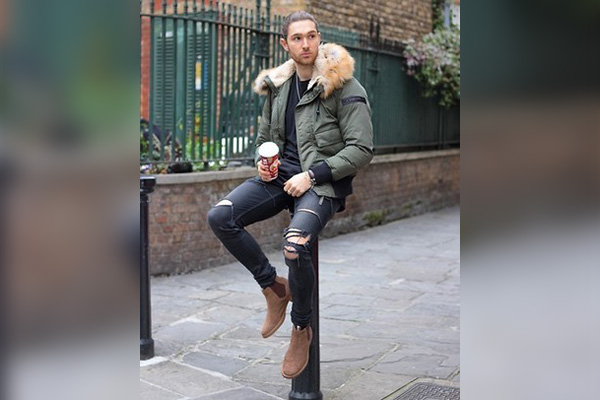 Looking for a winter Chelsea boots outfit that's a bit more attention-grabbing? How about rocking a colorful flannel with straight-cut jeans and a puffer on top?
While you can experiment with different colors for your jeans, puffer, flannel, and boots, the most stylish combination includes black jeans, maroon flannel, navy blue puffer, and brown leather Chelsea boots.
Not only does this look stand out from a crowd of basic winter outfits, but it's also plenty warm to keep you comfortable. Plus, you can always opt for fleece-lined flannel to make this ensemble warmer.
Another possible modification for this outfit is replacing the puffer jacket with a sleeveless puffer vest to make it suitable for late autumn and early spring.
With a Leather Jacket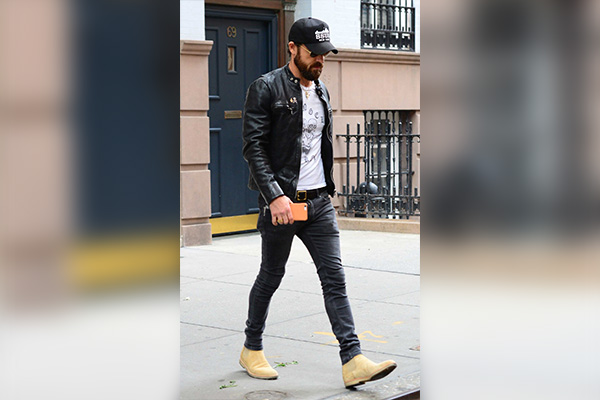 Leather is one of those materials that works exceptionally well with itself. For example, an outfit with leather Chelsea boots looks more coherent with a matching leather belt.
The same is true for a leather jacket but to a much wider degree. You can rock a warm leather jacket over almost every casual Chelsea boots outfit and it will elevate your look, even the outfit with joggers and sweatshirts.
That said, your choice of leather jacket matters.
If you need outerwear for a basic t-shirt and ripped jeans with black Chelsea boots outfits, a black biker jacket is the way to go. Its shiny finish and metallic details add a lot more interest and uniqueness to your look.
On the other hand, a brown bomber jacket with fur lining would look suave on an outfit with a sweater and button-up on top, and blue jeans plus brown suede Chelsea boots on the bottom.
Casual Chelsea Boots Summer Outfits
Yes, Chelsea boots can be worn all year round and that includes summer as well. The only exceptions to this are the extremely hot days in the middle of summer when only open sandals and flip-flops feel appropriate.
With that out of the way, here are a few casual summer Chelsea boots outfits you should know.
The Basic T-shirt Outfit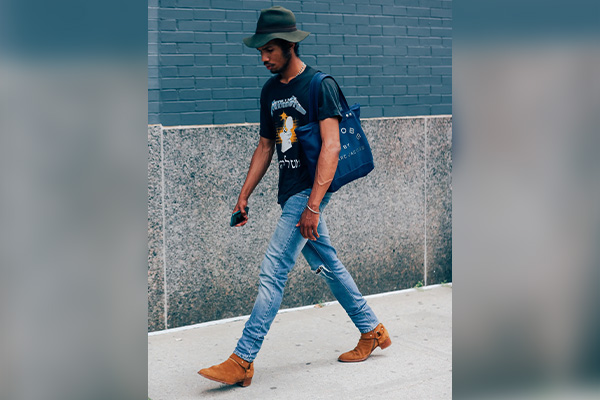 We cannot talk about how to style Chelsea boots for men in summer without mentioning the go-to men's summer combo of t-shirts and jeans.
This outfit is as simple and basic as it gets. While this is great for saving time and effort crafting new outfits, it can get a bit monotonous and overplayed. So, how about we spice it up a bit with fancy Chelsea boots and some accessories?
First off, you have two options for the t-shirt — plain or printed. Both fit flawlessly with Chelsea boots but there are a few differences to account for.
For example, an outfit with a plain khaki t-shirt ripped blue jeans, and brown suede Chelsea boots can be topped by a dark brown or a beige hat. But this look wouldn't work for a white t-shirt with a colorful print on the front.
Secondly, you can spice up this casual look and add some personal flair with accessories like wristwatches, belts, bracelets, sunglasses, and hats.
Printed Button-up & Jeans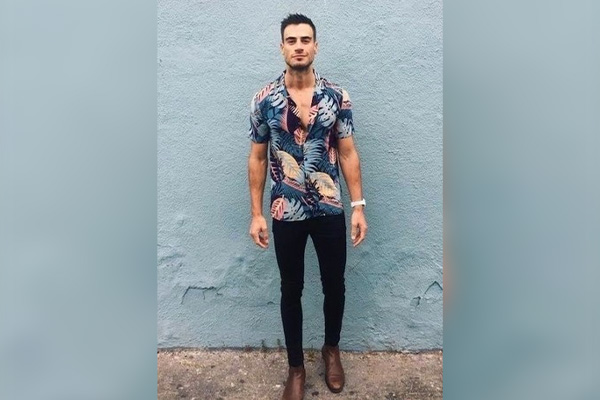 Let's get a bit fancier and take inspiration from the Hawaii style. While we cannot, in good conscience, recommend wearing Chelsea boots under shorts, we do suggest borrowing the other Hawaiian icon; the printed shirt.
What we mean by this is to rock a pair of dark slim-fit jeans below a full or short-sleeved button-up with a floral pattern. This pattern can be both bold & colorful or tiny and muted.
This ensemble works fine on its own or with most other casual footwear. But, equipping a pair of black leather Chelsea boots puts a clear endpoint to the style — making you look more presentable and debonair.
Denim on Denim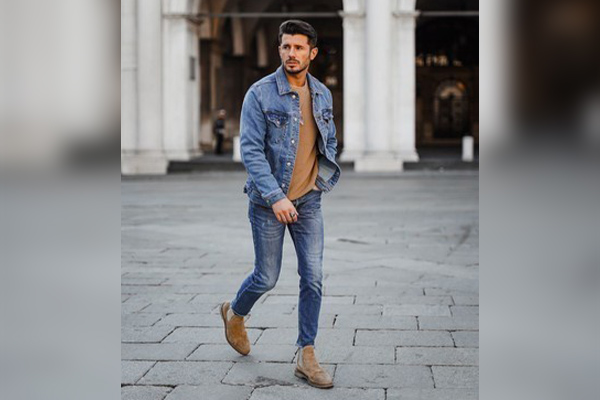 Denim is one of the most influential and versatile fabrics in men's fashion. So, why not take advantage of its broad versatility with a denim-on-denim Chelsea boots outfit?
The four components of these jean jacket outfits are jeans, brown Chelsea boots, plain white or black t-shirts, and light blue denim jackets.
Putting these together is completely effortless and there is almost zero room for error. That said, whatever you do, do not match your jeans' color with your denim jacket. It doesn't look that bad, but it doesn't look sleek either.
Instead, try going with a black and blue contrast with black jeans and a t-shirt with a blue denim jacket. Even navy blue or gray pants would look leagues better than matching blue ones.
Dos and Don'ts of Casual Chelsea Boots Styling
The outfits we discussed above provide a great learning experience of how to wear Chelsea boots with jeans, button-ups, t-shirts, and more. But they do not teach everything you need to know about how to style Chelsea boots for men.
Here are a few dos and don'ts of Chelsea boots styling to help you get a better understanding of the matter.
Do choose a pair of Chelsea boots in a classic color, such as black or brown, for maximum versatility
Don't wear Chelsea boots with overly baggy or loose-fitting clothes. The sleek silhouette of these boots works best with a slimmer fit
Do pair Chelsea boots with slim-fit or straight-cut jeans or trousers for a modern and cohesive look
Don't wear Chelsea boots with socks that show above the top of the boot, as this can ruin the clean lines of the boots
Do consider the occasion when choosing your outfit — Chelsea boots can be dressed up or down depending on the event
Don't wear Chelsea boots with formal attire since they are much better suited for casual situations like an outing with friends or a weekend walk to the supermarket
Do consider the finish and texture of your Chelsea boots when crafting new outfits with them
Don't forget to polish and maintain your Chelsea boots. Keeping them clean and well-maintained will help them last longer and look their best
FAQs – How to Style Chelsea Boots For Men
What Shirts Go With Chelsea Boots?
Some good shirt options to wear with Chelsea boots include fitted denim shirts, slim-fit dress shirts, chambray or linen shirts, crewneck or V-neck t-shirts, turtlenecks, and sweaters.
Are Chelsea Boots Formal?
Yes, and no. Chelsea boots look great in both casual and business casual settings, but their inclusion looks a bit odd below a full suit with a button-up and a tie. So, while Chelsea boots might work in formal settings, it's best to choose other options like oxfords or derby shoes.
What Is the Best Leather Finish for Chelsea Boots?
Both shiny aniline and matt suede finishes have their pros and cons and neither is just "better" than the other. The shiny aniline finish has a more proper and sophisticated look while the suede finish feels more laid back and casual.
What Pants Go With Chelsea Boots?
Chelsea boots can be worn with a variety of pants, including slim-fitting and straight-cut jeans, chinos, and corduroy pants. Though, the easiest-to-style option is definitely jeans.
Final Words
The key to learning how to style Chelsea boots for men is to experiment with different outfit combinations and choose pieces that reflect your personal style.
You can take the first step toward stylish Chelsea boots outfits by copying one of the casual outfits we recommended above. Or, you can take inspiration from them and create something of your own.
These boots are compatible with jeans, chinos, button-ups, t-shirts, sweatshirts, turtlenecks, and so much more. So, you should be able to create an arsenal of brilliant Chelsea boot outfits from what you already own.
Sure, not every combination you try will work as well, some might even look straight-up weird. But that is perfectly fine because it is all a part of this process.
At the end of the day, the most important thing is to find casual Chelsea boot outfits that work for you and make you feel comfortable and confident.