The term femboy refers to a cisgender male whose behavioral traits and appearance are considered conventionally feminine. In other words, someone who is biologically a male, but represents themselves femininely, especially in the way they dress.
The term originated in the 1990s, and it is a combination of 'fem' from feminine or female, and 'boy'. Initially, femboys and the whole femboy aesthetic were dismissed by others, but sometime during the year 2013, the term became increasingly popular, and recognizable, and started receiving a great deal of acceptance.
In today's time, femboy has successfully evolved into a growing trend, mainly owing to online social media platforms like TikTok and fashion labels that have been promoting the concept of gender fluidity and androgynous clothing.
If you are looking for fun and stylish femboy outfit ideas to rock this Fall, we have some great options for you!
Skirt and Socks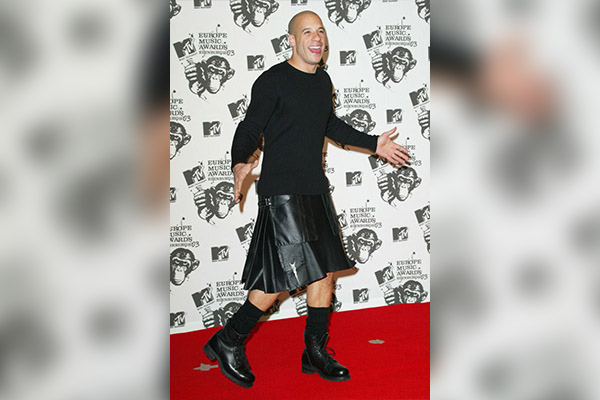 The skirt and socks combo is probably one of the most popular femboy outfits and is a quintessential look in femboy fashion. It's a take on the characteristic high school aesthetic that features long socks typically paired with a mini skirt.
This look is super easy to achieve and can be created with different colors, styles, designs, and clothing articles.
You simply need a plain black or a plaid mini skirt, a cute crop top or a buttoned-down shirt, and of course, a pair of thigh-high socks. You can also opt for ankle socks if you wish to show off your legs! For an extra feminine touch, go with some nice high heels that complement your ensemble.
The beauty of this outfit is you can dress it up or down, making your look as simple or fancy as you want, depending on the occasion.
Sheer Clothing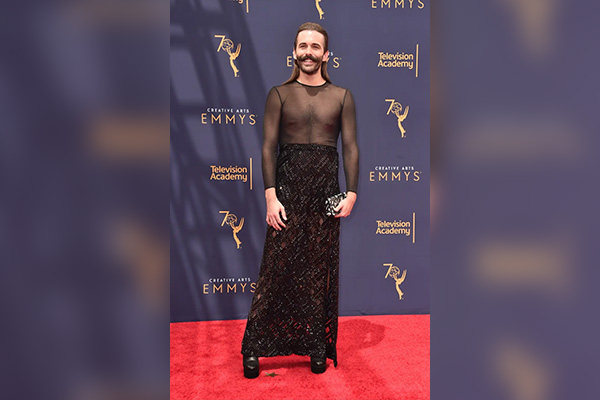 Also known as see-through clothing, this is another staple in femboy clothing and is ideal for those looking to curate and rock a sexy femboy outfit.
Sheer clothing definitely features a bougie vibe and offers a fun, easy way to show some skin through a mysterious silhouette without being too revealing. It also adds an element of surprise to your overall look and the best part is you can experiment with so many different looks and styles to create the perfect outfit.
Take a mesh top paired with your favorite jeans, for instance. Mesh tops offer just the right amount of sexy and this particular combination looks great with heeled boots, sandal heels, or even sneakers!
While a mesh top looks great on its own, you can also throw on a loose, unbuttoned denim jacket over it for a unique style statement.
Floral Tops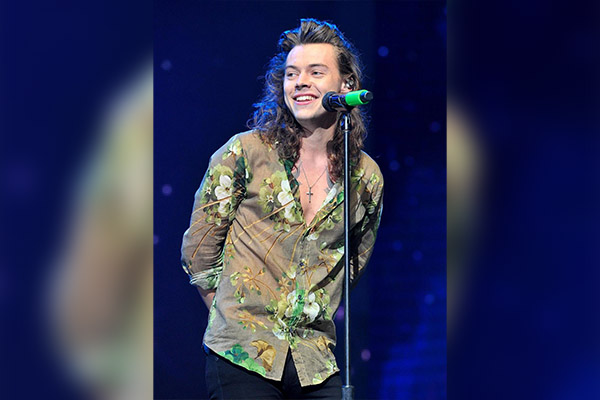 Featuring an obvious Hawaiian style and vibe, floral tops are an absolute must-have for aesthetic femboy outfits.
Anything with a floral design looks simply beautiful because it gives off such fun, colorful and positive vibes, but more than that, floral patterns are extremely pleasing to the eye.
Floral patterns are also a staple in fairycore outfits and are representative of a magical, fantasy world where everything is merry and bright!
So, to add a pop of color and excitement to your everyday fashion, get your hands on a few floral tops ranging from t-shirts to button-down styles! Floral tops can be paired with shorts, jeans, or plain straight pants, whichever you prefer.
Whether you are heading to the beach on a weekend, running some daily errands, or meeting friends for lunch, a floral printed top is a great option that's ideal for numerous occasions.
Cropped Vests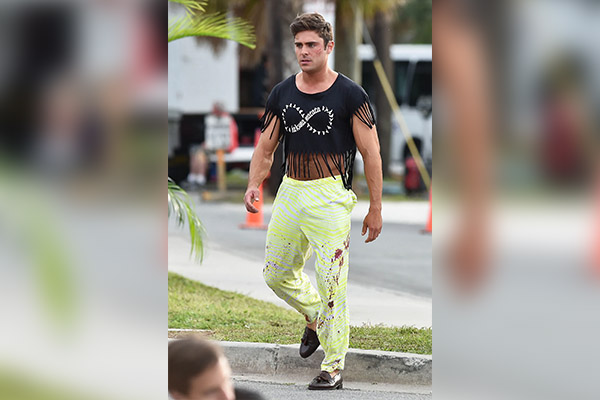 Cute femboy clothing doesn't get better than a cropped vest paired with a pair of loud, colorful pants, and funky men's hairstyles, such as the modern wolf cut, which is a creative blend of the shag and the mullet hairstyle.
Cropped sweater vests are a great option for those looking to show some skin and make a bold style statement. They are also an extremely versatile clothing item, featuring a unique kind of sartorial elegance that goes with so many options such as loose pants, jeans, skirts, and high-waisted shorts.
For a casual look, wear a cropped sweater vest with your favorite ripped jeans and sneakers. Throw on a pair of shades if you are heading out during the day and you'll be rocking this overall look! Loose pants and chunky boots paired with a mesh cropped sweater are another casual femboy outfit idea that you can rock with some jewelry if you like.
For a dressier and more formal look, opt for heeled boots and a pleated skirt, which, needless to say, is a look that never fails to impress!
Crop Top with Boyfriend Jeans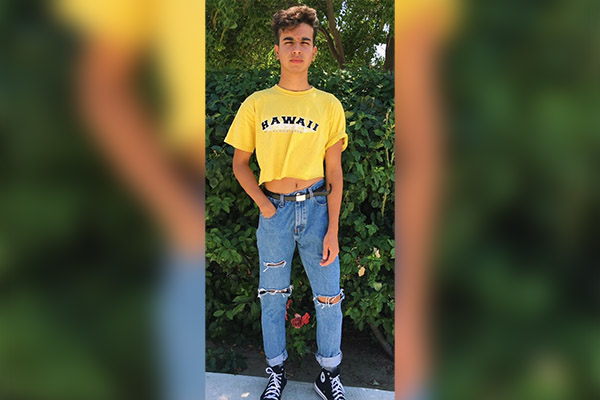 With a baggy silhouette and a relaxed, slouchy fit, boyfriend jeans are a must-have to create the cutest femboy outfits.
Boyfriend jeans look great with so many tops and shirt styles, but nothing beats the ultimate style and chic appeal that it offers when paired with a crop top! Crop tops, with their midriff-baring style and great versatility are a wardrobe must-have for literally everyone!
This is the ultimate femboy look that looks very stylish whether you pair it with your classic boyfriend jeans or some whitewashed vintage jeans. Complete the ensemble with clean white sneakers and there you have it, a super retro casual weekend look that you can also rock at a nighttime party, perhaps with a chunky gold chain, or even a chain belt.
Oversized Shirts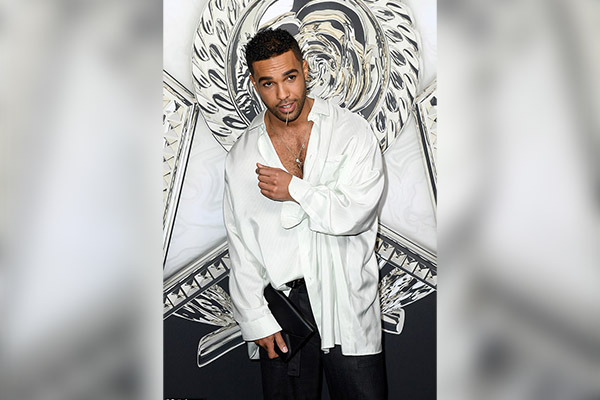 Fashion trends come and go, but if there's one that's here to stay, it's the 'oversized everything' trend.
Oversized shirts, for instance, have now become a staple in almost everyone's wardrobe, and for all the right reasons too. They are comfortable, casual, and easy to wear, and they allow a better movement of air, thereby creating a very easy-breeze outfit option.
But, more than that, oversized shirts offer a cross between a cute and a relaxed style and look absolutely stylish when done right.
There are many femboy clothes ideas featuring oversized shirts, each of which offers a unique style, and is suitable for specific occasions. If you are going for a look that is elegant yet casual, opt for a long, solid-colored oversized shirt and wear it with a pair of shiny loafers.
For a dressy vibe, throw on a pair of skinny jeans, ankle boots, and a bright-colored oversized shirt. Pick a nice slouchy sweater from your wardrobe and tie it around your waist, creating a cinched effect, which is a great way to don an oversized shirt!
Dungarees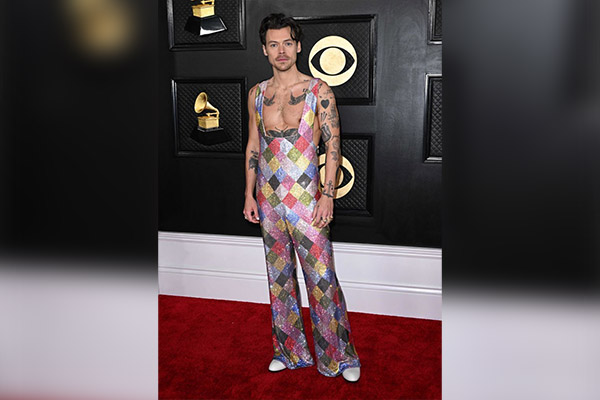 Dungarees aren't just chic and stylish, they are also the epitome of gender-neutral and androgynous clothing. Whether day or night, weekend or weekday, you can never go wrong with some nice denim overalls, paired with a cute bright top, sneakers, and even a cool hat if you like! If you are inspired by steampunk fashion, you might want to opt for a cool black top hat.
For days when you are feeling particularly festive and cheerful, you can opt for a multi-colored, striped, or patterned dungaree and go all out with a funky, unapologetically flashy number.
For a casual, lazy look, opt for an undone dark dungaree paired with a crop top and sneakers. For a fun, quirky, summery vibe, rock a floral or botanical patterned dungaree with a matching t-shirt and any nice flats that complement your ensemble.
If you are a fan of the double denim trend, also known as denim on denim, pair your dungaree with a classic white t-shirt and throw a denim jacket over your shoulders. This is an effortlessly stylish look that can be achieved easily without having to do much!
Dungarees often come off as uncomfortable to a lot of people, but truth be told, with the right size and the right fit, they can be one of the most comfortable clothing items that you can also wear all day long, whether you are home or out somewhere.
Mini Skirt and Casual T-Shirt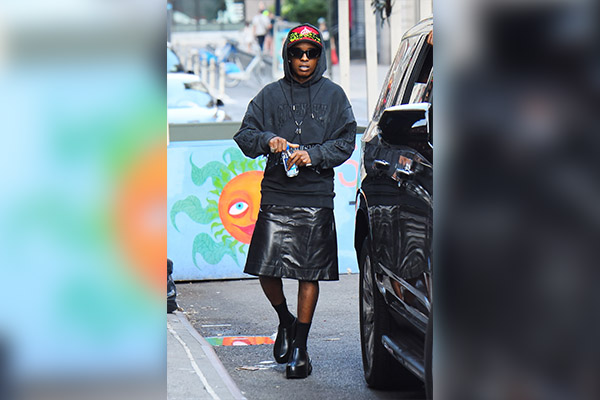 If you go through a femboy's wardrobe, you are likely going to find a skirt or two, a plaid one in particular, because skirts are an absolute classic in femboy fashion. A plaid mini skirt paired with a casual t-shirt in any color, style, or design is one of the go-to femboy looks mainly because of how cute, stylish, and chic it looks.
The best part about a mini skirt is that it leaves a lot of room for you to experiment with different types and styles of footwear. You can combine this super cute look with either your favorite sneakers, ankle boots, knee-high boots, heels, or even platform shoes for an added dramatic, theatrical touch.
If you aren't a fan of tees, you can go with a hoodie or a sweatshirt to pair with your mini-skirt. Just make sure to choose the right colors and you are all set to rock this femboy outfit!
Outfits with Dramatic Sleeves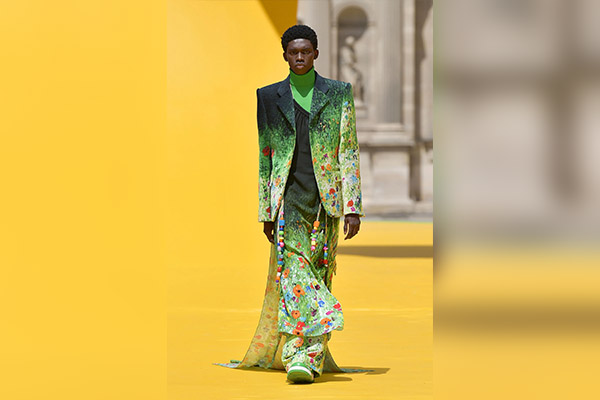 There was probably a time in the world of fashion when the sleeves of an outfit weren't really given much thought. Enter the 1400s, when the popular puff sleeves were undergoing an evolution, followed by the 1500s, a period when bell sleeves were being stylized and dramatized by the rich to increase their size and make them all the more dramatic.
Fast forward to the 80s, which, among many other things, is known for exaggerated and bold fashion trends, dramatic sleeves being one of them.
While outfits with elaborate sleeves have quite a feminine look and appeal to them, there's no denying the fact that they make a classic, statement Femboy look.
From shirts with puffy sleeves to short dresses with tumbler sleeves, for instance, you have a great many options to choose from here. If you opt for a top with dramatic sleeves, you can pair it with either boyfriend jeans, a cute A-line skirt, or a short pencil skirt for a little formal touch.
Complete the look with a pair of strappy heels which make the perfect and ideal addition to such a fancy outfit!
Jumpsuit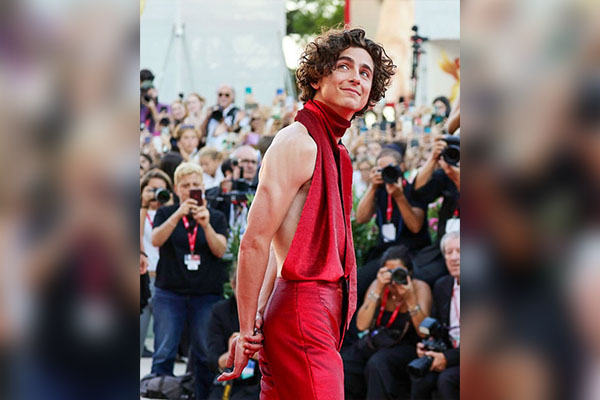 Like dungarees and overalls, jumpsuits are another type of classic gender-fluid, androgynous clothing option with an obvious chic appeal to it. And, not to mention, jumpsuits have been all the rage in the fashion world for a long time, so there's no reason why you shouldn't have a nice, classy jumpsuit in your femboy clothing collection!
Solid one-colored jumpsuits such as black, brown, white, and navy blue are some go-to options for many people, but that doesn't mean you can't experiment with your jumpsuit colors and patterns.
Channel your inner femboy with loud, colorful, and bright jumpsuits featuring floral, fruity, or abstract patterns that are likely to turn a few heads your way! Not just that, but you can also make a bold statement with quirky neckline designs such as halter, v-neck, square or asymmetric, and flowy, dramatic sleeve styles such as bishop, puff, bell, or tiered!
Complete your fancy jumpsuit look with a cool statement bag, a chunky choker, and some stylish shoes which could be anything from dress shoes to low heels to boots!
Cami Dress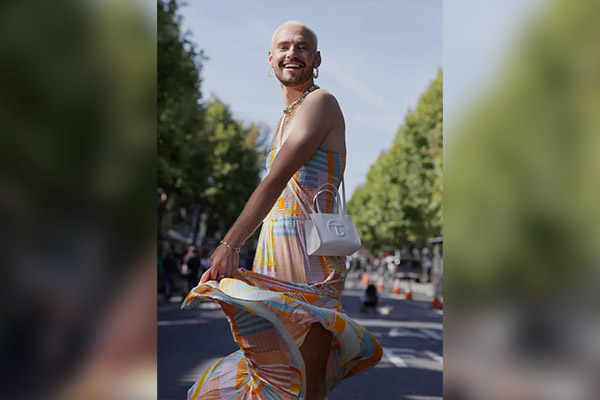 A cami dress looks like a camisole and is often worn under a sheer top or dress. However, with its sleek, figure-hugging silhouette and the classic v-neck design, it is now also worn on its own as a dress, paired with other different clothing items and fashion accessories.
Cami dresses are ideal for the summer season and are popular in femboy fashion as well. The sleekness and beauty of this dress are unparalleled, but the key to rocking a cami dress lies in how you wear it, style it, and complete the look with the right accessories because it can easily end up looking like a night dress that you wear before going to bed.
To rock a cami dress, you first need to choose a color that not only aligns with your personal style but also complements your skin tone perfectly. Then, choose a length that you think you'd be able to pull off effortlessly. Cami dresses are available in various lengths including mini, knee-length, and floor-length.
Ideally, a full-length cami dress looks absolutely stunning so you could simply opt for that. Wear pretty heels or flats with it, and adorn it with sparkly earrings, or a dainty necklace which is always a safe choice.
While cami dresses might give off an overly feminine appeal, they make wonderful femboy outfits so don't hesitate to wear one and rock it with style and confidence!
Bling and Sparkle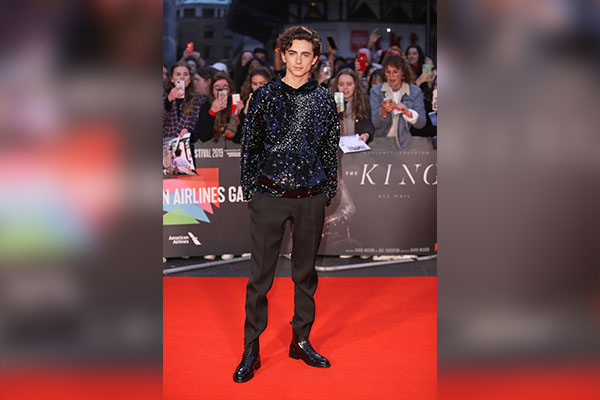 Channel your inner fashionista with a blingy, sparkly number that not only stands out from the crowd but also enhances your personal style! Don't ever shy away from wearing something sparkly because this is a very crucial aspect of the femboy aesthetic, and is required to rock the femboy look.
There are many ways to add a touch of sparkle and bling to your outfit which could either be in the form of dazzling 90s eye makeup, a shiny piece of jewelry that one can spot from afar, or a clothing item that shines away in all its glory! For instance, you could pair a silver sequined crop top with white pants and white sneakers.
Another option is a stone-adorned top paired with a cute mini skirt and heels which makes an ideal outfit for a night out with your femboy friends!
Dress and Boots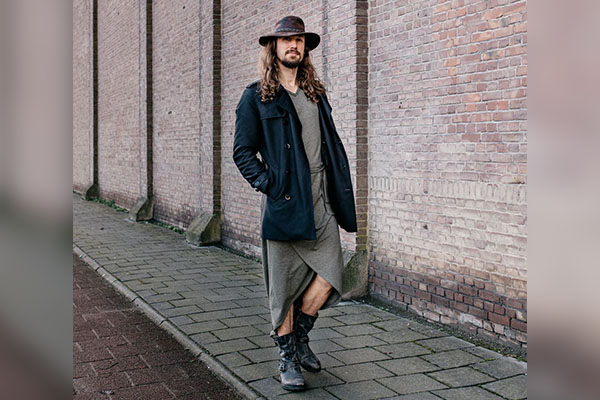 For a purely formal, stylish, party kind of look, go for a cool mini-party dress and pair it with chunky ankle boots. You can never go wrong with this look because boots are ideal to add an extra edge to your outfit, and a mini dress, well, is one of the most elegant and classy of all types of dresses!
If you wish to further enhance your ensemble, add some blingy jewelry to it, perhaps even a small handbag that would make the perfect addition to your outfit.
Tucked-In Shirt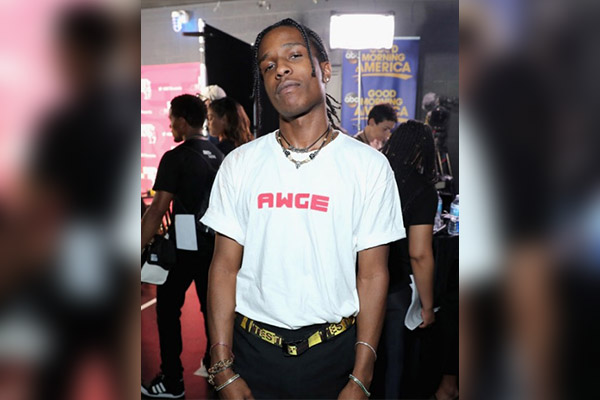 A t-shirt is probably one of the most casual types of clothing items, but you can still dress it up according to the occasion simply by tucking it in!
While a tee pairs best with different types of jeans, you will often find femboys in cute outfits rocking a tucked-in colorful t-shirt with a cute mini pleated skirt.
Again, the choice of footwear is endless in this case because whether you wear sneakers, flats, heels, or ankle boots with this look, it's going to look effortlessly stylish! When dressing up, a simple addition of ear studs or a neck chain also goes a long way so don't hesitate to play with different types of jewelry accessories.
Conclusion
These are some of the most classic and stylish femboy outfit ideas that you can experiment with, and add to your fashion arsenal!
The whole premise behind the femboy aesthetic is to break free from social constructs that dominate how a particular gender should act, talk, behave, and dress, so, it's perfectly okay to let your inner femboy shine and one shouldn't hesitate to express themselves however they want!