Add a touch of magic to your outfits in the upcoming fall season with the fairycore aesthetic and its enchanted creatures, whimsical imagery, and a little sprinkle of pixie dust!
True to its name, fairycore is literally all about fairies and everything related to fairies. It manifests an imaginative fantasy world, and has quite a unique vibe to it which makes it enchanting, alluring, and also impish to some extent.
Fairycore outfit ideas focus on the theme of magical visuals in nature that appear in the form of flowers, butterflies, gushing streams of water, soft adorable animals such as bunnies, ponds, forests, and the colors of springtime, among many others.
The color palette featured in this aesthetic is all about pastels, and more pastels. Fairycore outfits embrace the lighter shades and hues of the color spectrum that include pink, green, blue, green, lilac, cream, white, mint, and other soft colors like these.
Fairycore Outfit Ideas for the Upcoming Fall Season
Dreamy, fantastical, and bright, there's no better way to describe the fairycore aesthetic. Among all the other fashion aesthetics, fairycore has particularly been trending on social media this year and has evolved as an internet subculture over time, especially on TikTok. Fairycore enthusiasts look at it as a form of escapism considering the overall radiance, softness, and gentleness that it has to offer.
From ruffles to layers to pastels to sheer fabrics to floral patterns, these are some of the most popular and common elements in fairycore style. It is heavily inspired by the magical illustrations that you are likely to find in fairytales, with a little touch of glitter and pixie dust, creating some of the most ethereal aesthetic outfits. 
Some key elements to consider for your fairycore clothes include ethereal hair accessories, pastel glitter makeup, stoned jewelry, crystal bracelets, elf ears, flower hair crowns, sparkly heels, dainty slippers, wire-rimmed glass bows, open-toe shoes, long necklaces, and ribbons, to name a few.   
An extension of classic fairycore is grunge fairy, or grunge fairycore, which is a cross between two different aesthetics.
Grunge fairy clothing also includes nature-inspired elements and offers a wide range of styles, textures, and colors. The colors in this aesthetic have darker earthy tones and it incorporates visuals like forests, woods, stones, rocks, autumn leaves, night skies, and many more.
For this upcoming fall season, channel your inner fairy and bring in the magic in your everyday fashion with these fairycore outfits that will surely make a massive style statement!
Fairycore Outfit Ideas: Butterfly Skirt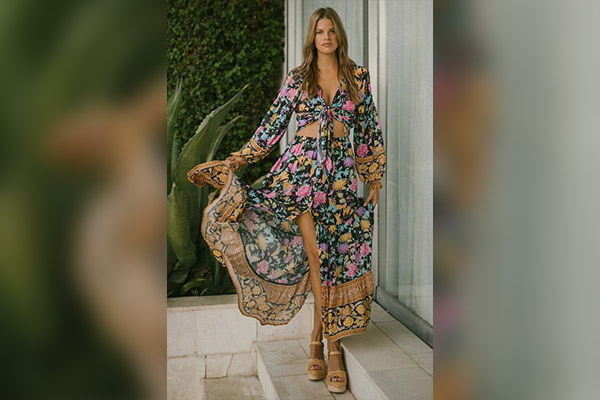 A cute butterfly skirt is an absolute must to create some of the most beautiful fairycore aesthetic outfits. From A-line to mermaid to mini to ruffled, a butterfly-themed skirt in any length or style is a perfect choice to add a touch of playfulness and whimsy to your fairycore outfit.
Look for soft, flowing fabrics with frilled hemlines, either shaped like a butterfly or one featuring dainty appliques such as in the shape of butterfly wings to give it that magical effect. Pair it with a pretty cropped sweater in the upcoming fall season, and you are good to go!
Fairycore Outfit Ideas: Floral-Printed Knitted Vest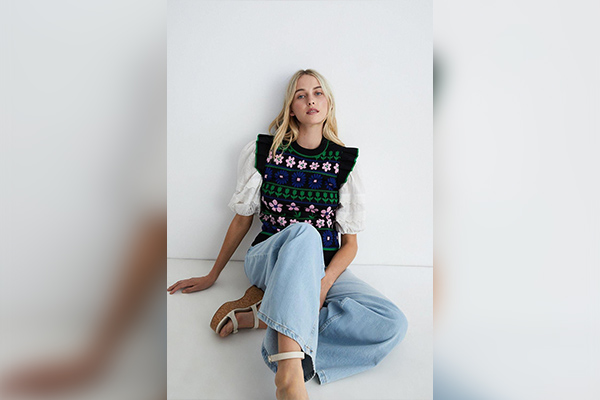 Flowers are a key element in this fantasy-themed fairycore aesthetic, so anything floral would be an excellent choice to transport yourself to a flower field!
Add a floral-printed knitted vest to your fairycore clothing arsenal for it's one of the most versatile items that you can pair with so many items. Vests are also key in androgynous clothing, making it one of the most popular essentials in androgynous clothing!
One outfit idea is to layer your floral vest over a sheer blouse with ruffles or lace, and wear it with your favorite pair of jeans, whether you are heading to brunch or running errands.
Fairycore Outfit Ideas: Floral Mini A-Line Dress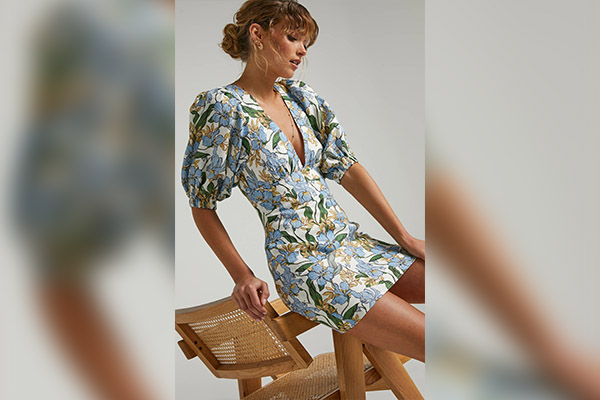 When heading to a Fall party, rock a floral mini A-line dress with long puffy sleeves, v-neckline, and lacy details that are characteristic of the fairycore style. 
Opt for soft, pastel colors such as light green, blue, pink, or subtle ivory shades, and further enhance your look with light makeup. You can either go for a dewy makeup look with rosy pink cheeks, or shimmery glittery eyes and nude lips. 
Pair your floral mini dress with some sparkly heels or flats, whichever you find most comfortable, and perhaps, complete the ensemble with cute dainty flower or pearl stud earrings.
Fairycore Outfit Ideas: Chiffon Patchwork Ruffled Blouse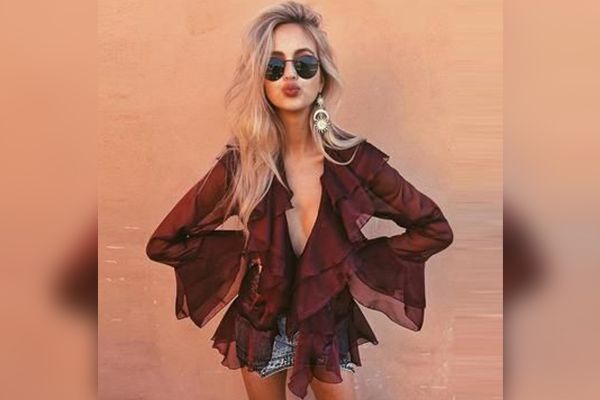 There's no such thing as too many ruffles when it comes to fairycore outfits!
A chiffon patchwork ruffled blouse is a must-have this Fall season to channel your inner fairy and create a style statement. Ruffle tops feature a flowing silhouette and a layered look, which is what makes them look so chic and trendy.
For a casual look, pair your ruffled blouse with slouchy jeans or pleated culottes, and throw on a small beaded purse for a cute finish. To achieve a more formal look, wear the top with a skater skirt, blingy jewelry, and open-toe high heels. 
Fairycore Outfit Ideas: Corset Camisole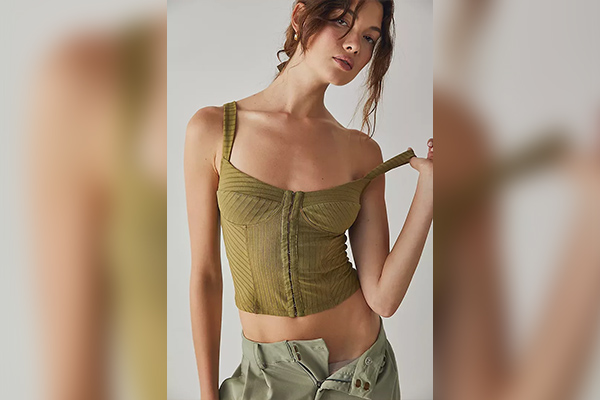 If you are more into grunge fairycore outfits, you might want to add a corset camisole to your list of outfits for the upcoming fall season. Corsets are popularly associated with steampunk fashion and fairy grunge clothing so it would be ideal to have a corset camisole sitting in your wardrobe!
One of the most ideal ways to style a corset camisole is to pair it with a matching skirt and footwear to create a coordinated look. For someone who isn't a fan of color coordination can simply pair it with leather pants.
When there's a chill in the air, throw a leather blazer over your corset camisole and complete the look with a pair of baggy jeans.
Fairycore Outfit Ideas: Bandage Crop Top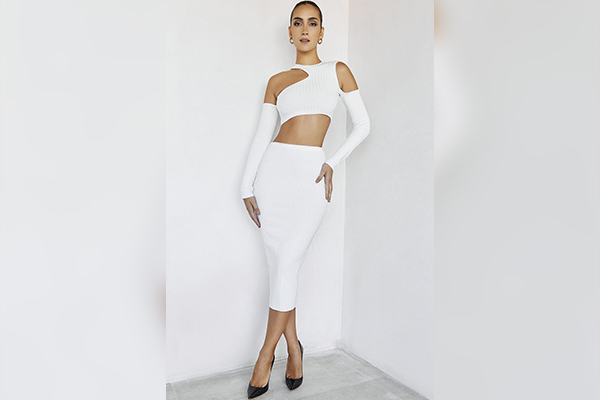 Crop tops are another must-have for fairycore outfits given their sleek silhouettes and just how pretty they look no matter how you style it!
Bandage crop tops, in particular, look absolutely striking with their figure-hugging cuts and other details that make them stand out from other types of crop tops.
A halter neck bandage crop top, for instance, looks super stylish either with a pair of mom jeans for a casual look, or a midi skirt and high heels, which creates a more formal look. Opt for a dark, bold color if you are big on the dark fairycore aesthetic.
Fairycore Outfit Ideas: Hooded Dress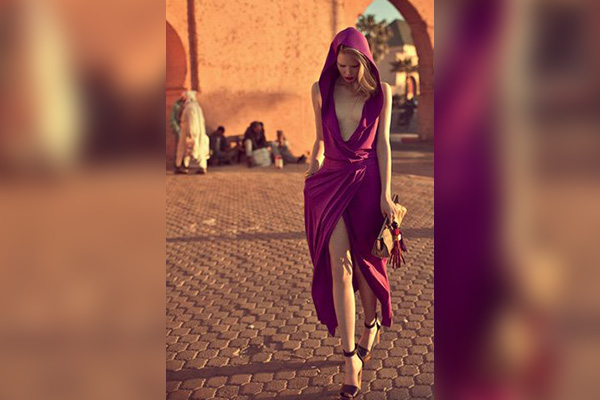 On low-key, casual days when you just want to be lazy and do nothing, but still wish to keep your fashion game in check, bring forth the earthy and undemanding side of the fairycore aesthetic where you simply can't go wrong with a full-sleeved hooded dress.
Opt for light, earthy hues such as soft brown or beige, and lounge away in the comfort, warmth, and coziness of this dress.
Even if you decide to head out to run errands or meet a friend for coffee, an earthy hooded dress would make a great option for cold evenings during the fall season.
Fairycore Outfit Ideas: High Waist Skirt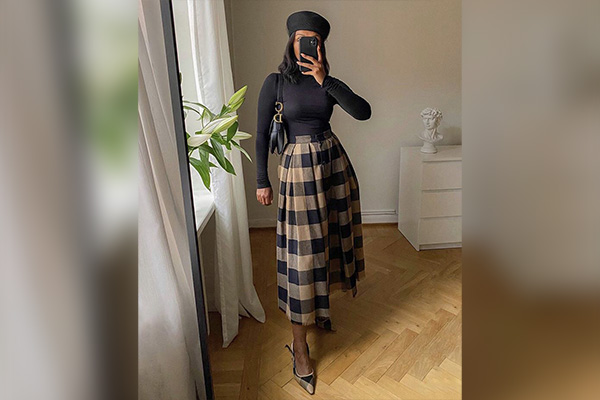 When it comes to fairycore aesthetic outfits, one can never have enough skirts! From mini skirts to long skirts to pleated, ruffled, and flared ones, simply adding a cute skirt to your ensemble can create the prettiest fairycore outfits.
A high-waist skirt is both chic and professional so whether you are heading to work or for drinks with friends in the evening, you can totally rock a high-waist skirt. Just make sure that it has those magical fairytale-inspired details such as flowers, leaves, butterflies, bows, ribbons, dragonflies, water, and just anything dreamy, natural, and soft on the eyes.
Fairycore Outfit Ideas: Oversized T-Shirts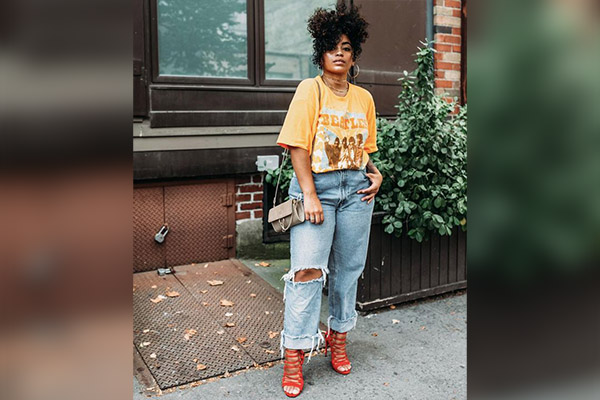 Everything oversized is the one fashion trend that never goes out of style. With its unfussy, loose silhouettes and better air circulation, oversized clothing is apparently the next big thing!
Oversized t-shirts, in particular, are often featured in grunge fairycore clothes with fairycore-like details such as flowers, meadows, and fairies, but with a dark, grunge aesthetic. 
Also, not to mention, oversized t-shirts are an ideal, and super versatile option for the fall season which you can pair with a blazer, flared jeans, shorts, overalls, and denim skirts, to name a few. Turn a long oversized t-shirt into a party outfit by cinching it at the waist with a corset belt, and pairing it with long knee-high boots.
Fairycore Outfit Ideas: Bow Tie Maxi Dress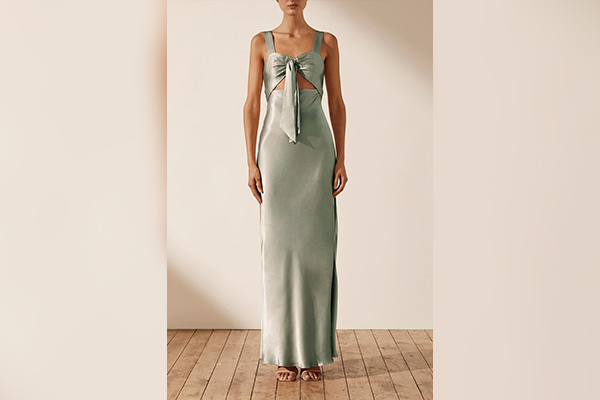 A bow-tie maxi dress is truly the epitome of feminine grace with sleek silhouettes and minimalist details that look effortlessly fashionable.
This dress comes in strapless and sleeved varieties, and features a big bow in the front, leaving a lot of room and space for jewelry, especially necklaces. From floral printed bow tie maxi dresses to plain pastel ones, you can choose either of these that resonate with your personal style.
When opting for a bow tie dress, make sure to embellish your look with nice dangling earrings and a chunky, sparkly necklace that beautifully rests on your beauty bone.
Fairycore Outfit Ideas: Sheer Blouse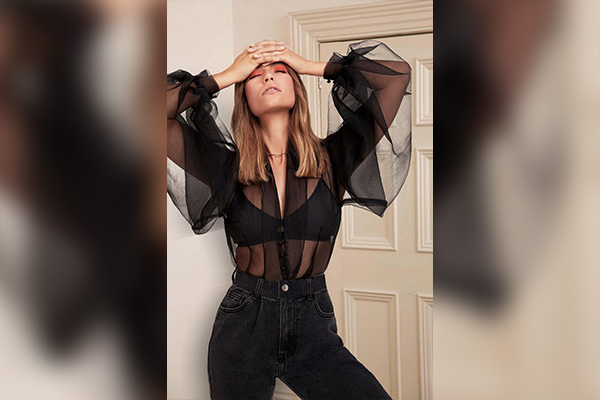 If you happen to be looking for femboy outfit ideas featuring fairycore aesthetic details, a sheer blouse is your best friend.
The sheer top trend has been picking up the pace lately, and needless to say, it sure does look absolutely stunning! In retrospect, it has always been a staple in the fashion world, but it all rests on how you really style a sheer top to make the most of what it has to offer.
A simple way to rock a sheer blouse is to wear it over a camisole and pair it with nice fitted pants. Another option is to wear it over a crop top, paired with high-waist jeans and wide-block heels. With the upcoming fall season in mind and the cold winds that it's likely to bring with it, you can opt for a sweater top with sheer sleeves which make an equally great style statement. 
Fairycore Outfit Ideas: Ruffled Dress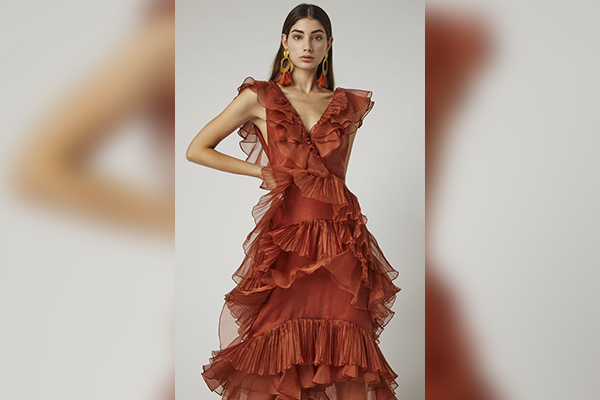 As mentioned earlier, ruffles are at the heart of the fairycore aesthetic, and you can never go wrong with anything that has ruffles!
Ruffled dresses are the epitome of sophistication and are the ideal outfit option for your parties this Fall season!
Thanks to the diversity of ruffled dresses ranging from simple and cute to fancy and elaborate, you can wear them during the day for a casual look as well as at night for a more elegant look.
Make sure to pair your ruffled dress with cute fairycore jewelry such as a butterfly pendant, beaded necklace, pearly bracelet, and dangling moon earrings, among many others. 
Fairycore Outfit Ideas: Kimono 
If you know what a kimono is, you are probably already familiar with the whole yukata vs Kimono debate! Super popular in Japanese culture, a kimono is like a wrapped garment that you wear in a loose fashion, and it features layers and intricate folds that are held together in place with a belt. Yukata, on the other hand, is a t-shaped loose long garment that looks like a cross between a kimono and a flowy summer dress.
Kimono is ideal for the fall season and is quite like wearable art given the range of patterns, designs, and materials available at your disposal.
You can look for a floral or a butterfly-themed kimono that depicts the fairycore aesthetic, and adorn it with some cute jewelry accessories.
Conclusion
If the fairycore aesthetic resonates with your personal style, you will love dressing up in these fairycore outfits in the upcoming fall season!
The beauty of this aesthetic lies in its flair for imagination, and the versatility that it has to offer in terms of outfits, accessories, details, colors, and styles. It also suggests specific types of hairstyles that you can make to go with your fairycore outfits such as loose messy curls, long natural waves, messy buns, loose french braids with flowers, side buns with butterfly clips, and many more!
Since it's all fairy-inspired, the objective of the fairycore aesthetic is to look like one, without magic and fairy wings. However, you could even add wings to your outfit if you truly want to embrace the fairy-like life!