If you are confused about what to wear to a 70s party and are unable to decide on the perfect outfit for it, stop right there – throw your confusion out of the door because the options are unlimited!
When you think about the 70s fashion, bell bottoms, flared jeans, fitted shirts, and platform shoes are the top things that come to mind. Truth be told, the decade has so much more to offer. Women's fashion in the 70s ranged from maxi dresses to peasant blouses to jumpsuits to jewelry made of wood and beads, and so much more.
Men's fashion, on the other hand, was full of textures, bright colors, colored three-piece suits, pleated pants, flannel shirts, and more.
The 70s also comprised numerous trends and cultures, the most predominant of which was the hipster trend that was quite prevalent till the mid-70smid 70s.
70s Theme Party Outfits
A 70s theme party outfit calls for a lot of vibrancy, color, bling, and most importantly, loud and big style statements!
We have rounded up some of the most popular 70s theme party outfits that will help pay tribute to the era of the disco craze, retro-futurist retro-futurist aesthetics, and everything glamorous!
Slip Dress with Boots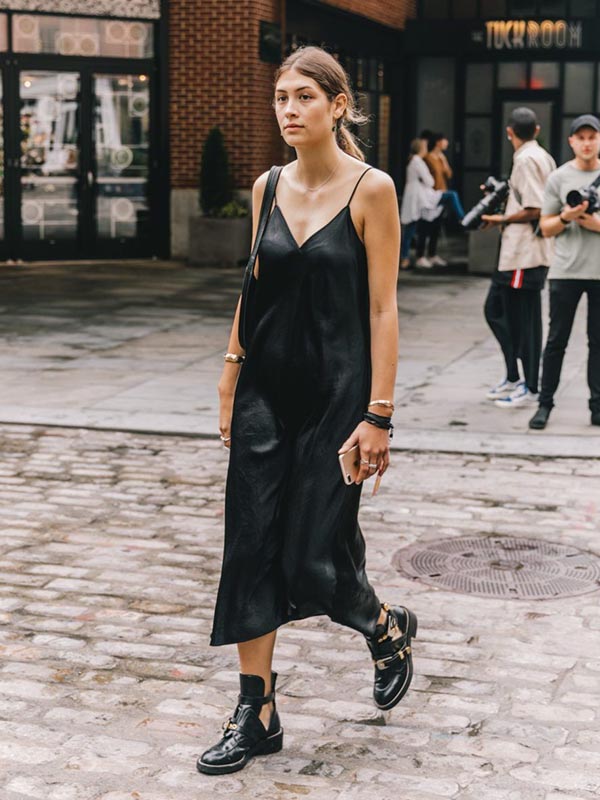 Silk and satin slip dresses were all the rage in the 70s, especially when paired with dressy boots, which made the ideal 70s party outfit for women.
The trendy boudoir-inspired slip dress was considered to be a more glamorous, delicate, and chic outfit option, and was found in a variety of materials such as charmeuse, polyester satins, and layered chiffon.
While boots were a more popular choice of footwear to compliment the slip dress, you can totally ditch them for a pair of slinky heels to add some bling and sparkle to your 70s-themed 70s themed party attire!
Shift Dress with Go Go Boots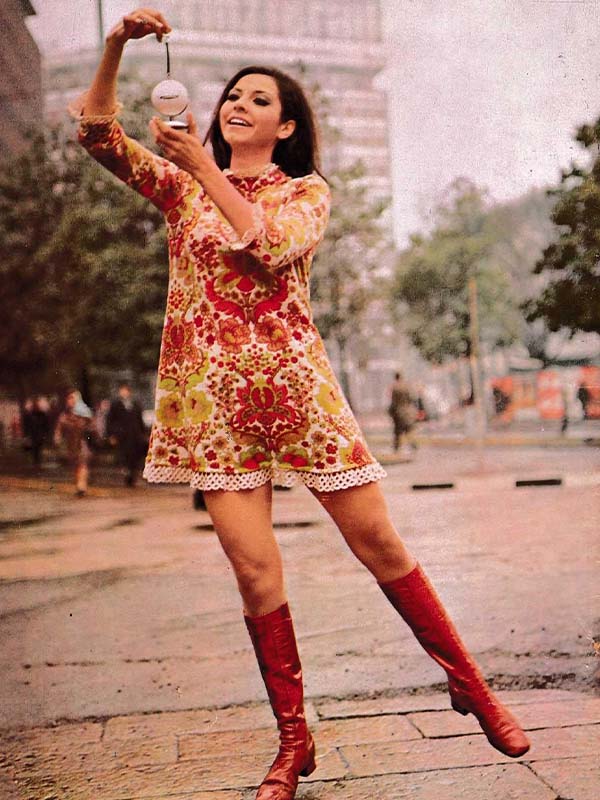 Go-go boots were a disco classic in the 70s and were often worn with short, printed shift dresses by women.
These iconic boots were introduced somewhere during the 60s, especially after the release of Nancy Sinatra's number one song called, "These Boots Are Made for Walkin', ultimately becoming a huge part of the 70s women's fashion.
Shift dresses also went through a major revival in the 60s fashion, and continued their popularity in the 70s.
For a 70s theme party, go for the classic white go-gogo go boots, and a nice printed mini-shift dress, and complete your party ensemble with oversized hoop earrings!
Suede Skirt with Cropped Knits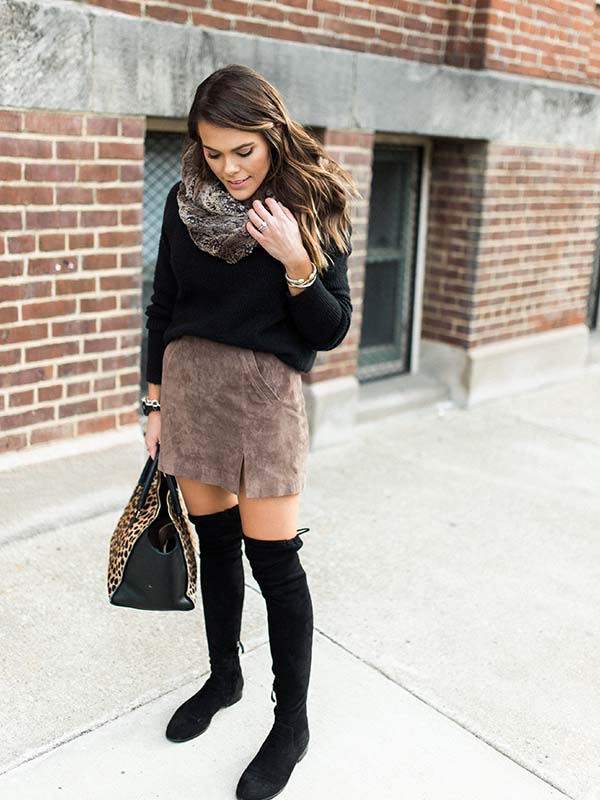 Suede has to be one of the most popular fabrics in the 70s given its ultimate comfort levels, smooth texture, and of course, the touch of elegance that it has to offer.
While suede jackets were a statement piece in the 70s, suede button-front skirts also made their way into 70s party outfits for ladies. From maxi to mini to midi, the decade saw all types and lengths of suede skirts which were often paired with cute cropped knits which made a great style statement.
Finish the look with patent leather heels and a touch of bling with a sparkly necklace neckpiece or chunky earrings and you are good to go!
Denim Dresses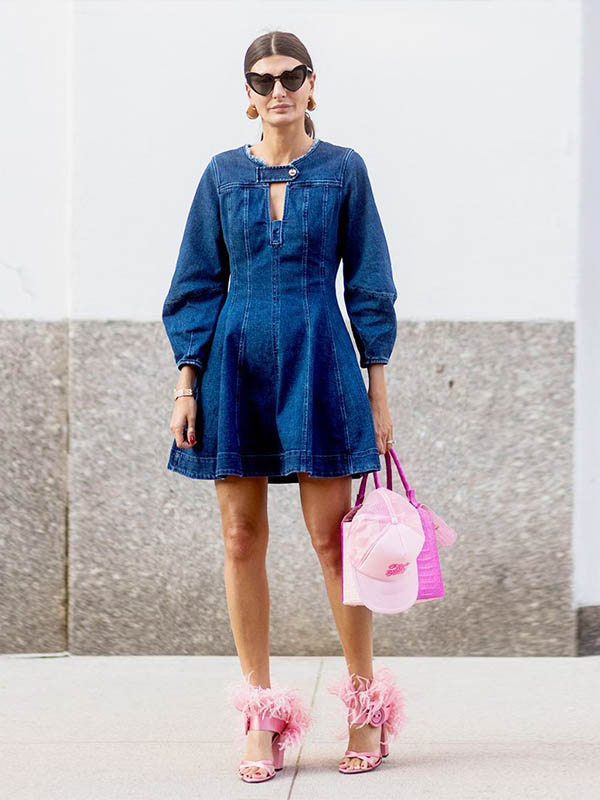 Alongside suede was denim, another very popular choice of fabric in the 70s, which doesn't really come as a surprise given how denim is an absolutely timeless and classic material.
Denim dresses, in particular, made the ultimate 70s attire for women, and almost every woman had a jean dress hanging in her wardrobe!
A mini, short-sleeve denim dress, paired with a classic black leather jacket and matching platform shoes makes an unbeatable disco outfit that you can sport to any party and dance the night away in style!
Flared Jeans with Crop Tops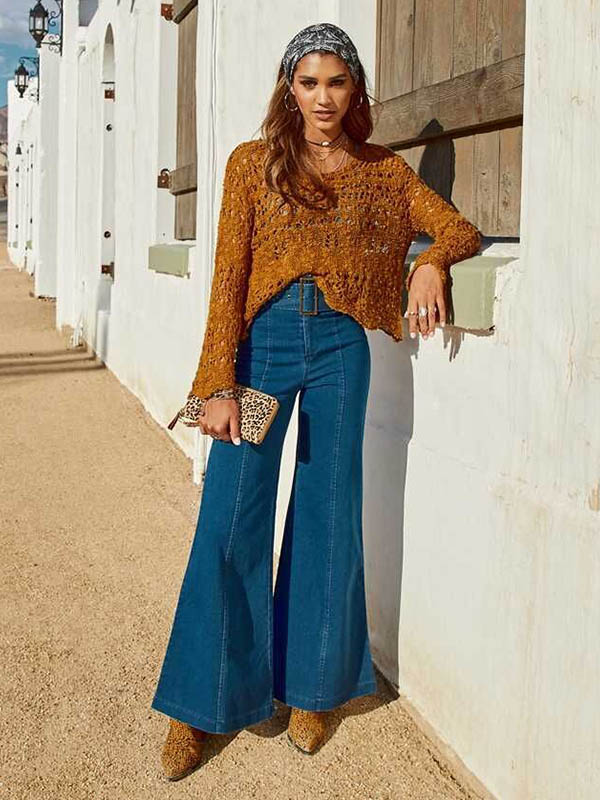 Flared jeans were the quintessential 70s dress code for not just parties, but also everyday wear and casual outfits.
The 70s were the heyday for these stylish wide-legged jeans and the best part is that they look super flattering on most body types. The beauty of flared jeans lies in the way they accentuate the waist, hug the waist, and give the illusion of longer legs.
With a high-waisted fit and full-length flare, you can rock these jeans at a party almost effortlessly! Pairs yours with a midriff-baring tied crop top featuring dramatic bell sleeves, and add chunky platform sandals to your outfit for added drama!
Paisley Top with Tall Boots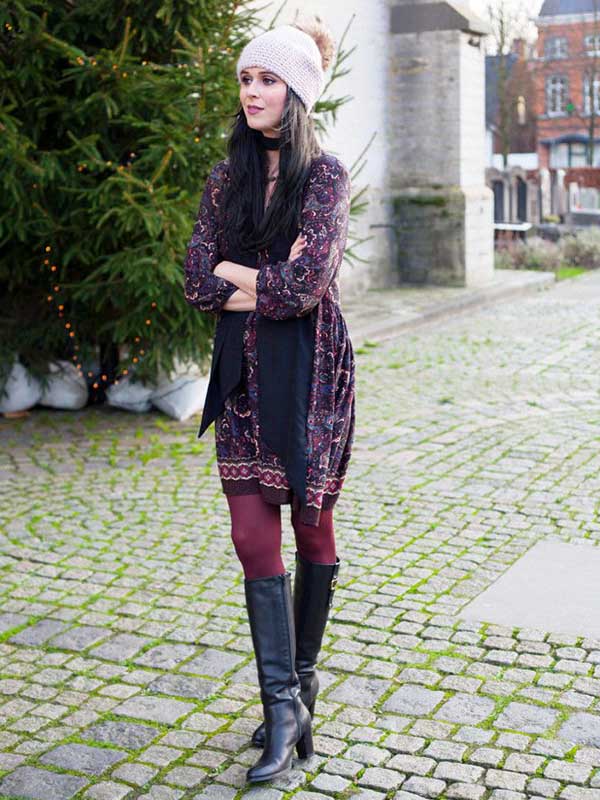 Paisley has long been dominating the fashion world, and it was everywhere during the 70s. Paisley tops beautifully represented the chic bohemian trend that was prevalent during the decade and also made the perfect party outfit!
For a 70s theme party, pair a fun, printed paisley top with hot pants, and tall leather boots to make the perfect party outfit.
You can even go for a short printed paisley dress to add a touch of groovy to your look and pair it with some slinky heels and blingy jewelry.
Metallic Dress with Heels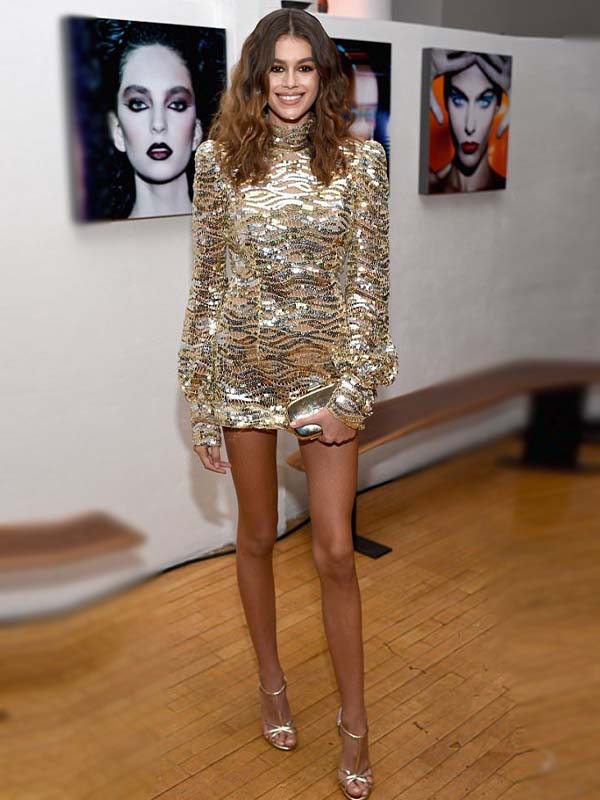 Nothing says 'party' or 'disco' louder and better than a shiny, sparkly metallic dress paired with platform heels, and perhaps, a faux fur stole for a theatrical element.
Metallic fashion was all the rage in the 70s and a short, figure-hugging metallic dress was the ultimate top choice for most women. If styled right, you are in for making a lasting impression and a unique style statement, marked with glitz and glamor.
Another way to showcase the metallic fashion is through a silver or gold metallic top paired with a snug skirt or leather pants, shimmering high heels, and of course, flashy jewelry!
Bell Sleeve Dresses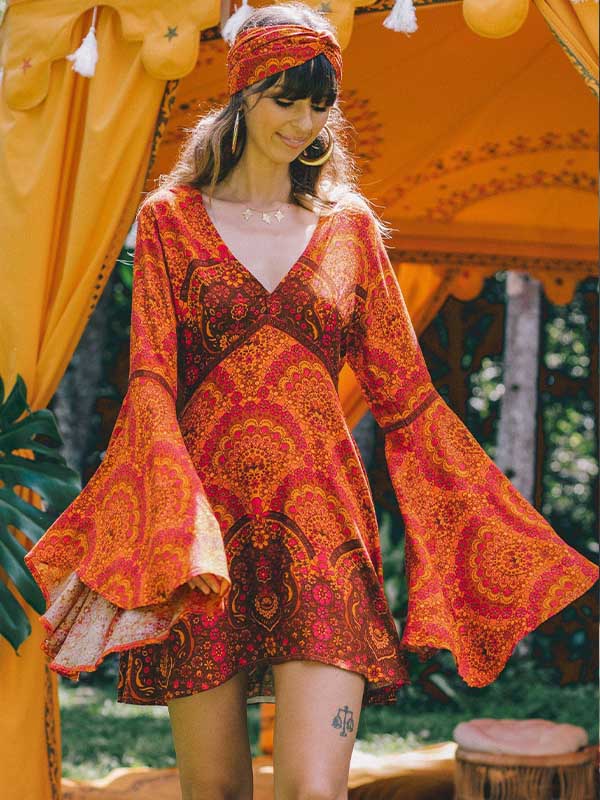 One of the most iconic and statement-making styles from the 70s is none other than long, dramatic, heavily flared, and flowy bell sleeve dresses that featured not only a theatrical touch but also sheer elegance.
The hanging sleeves, the wide silhouettes, the loose fit, and those embellishments in the form of lace, frills, and pleats are some major elements that made these dresses widely popular among women to wear to parties.
Complete this dramatic ensemble with buckled mary jane pumps, and long layered necklaces to take it to a whole other level.
Wrap Dresses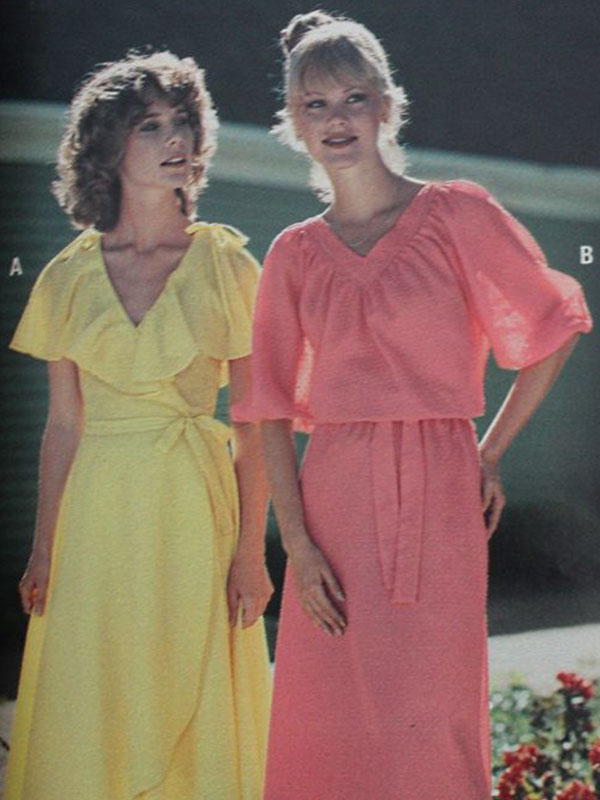 Featuring a figure-flattering silhouette and a versatile quality that allows you to dress it up and down, the wrap dress is another mainstay of the 70s fashion style.
The credit for this iconic dress goes to none other than the famous Belgian fashion designer Diane Von Furstenberg, who is actually known for creating this dress too. Worn by numerous socialites and stars back in the day and even today, the wrap dress is the perfect outfit option for a 70s party.
Pair it with some nice heels and jewelry to truly highlight its beauty and elegance.
Bell Bottoms with Sequined Tops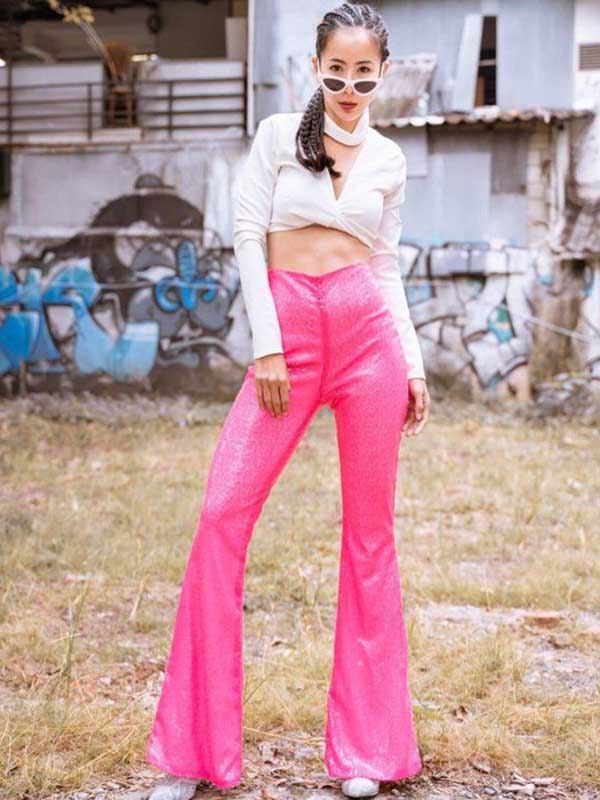 A sequined top was the go-to choice for many women in the 70s, especially for disco parties because it literally screams disco in every way!
Opt for a shiny, strappy butterfly crop top and pair it with either flared denim jeans or any other colored bell bottoms to make a loud, bold style statement. The perfect addition to this outfit is a pair of chunky platforms, but you can also opt for heels, stilettos, or ankle straps strap, whichever you prefer.
Groovy Jumpsuits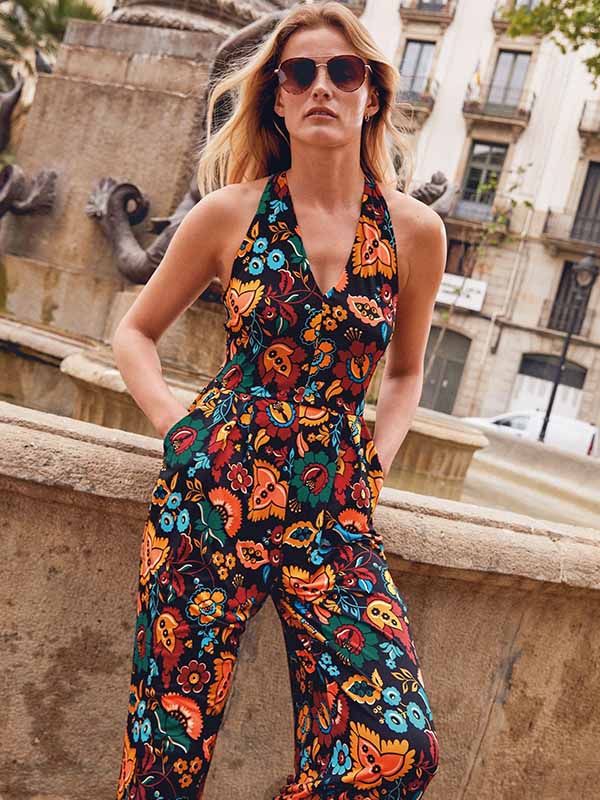 A timeless staple in the fashion world, jumpsuits were a disco favorite in the 70s, and for good reason, too.
The ideal choice back then was a groovy jumpsuit featuring dramatic wide-legged pants, fun and colorful print, and a halter top. Some women would also opt for sequined jumpsuits with shiny and sparkly details, complemented by matching heels and jewelry to really do justice to the whole party and disco theme.
For your 70s theme party, go for a metallic sleeveless jumpsuit with thin strappy heels and some elegant jewelry that sparkles from afar.
70s Club Fashion
Club fashion, in the 70s, was no different from the 70s theme party outfits mentioned above, however, these are a few particular types of outfits that scream 70s club fashion and were spotted at almost every clubbing scene back then.
Metallic Jumpsuit with Platform Sandals and Bangle Earrings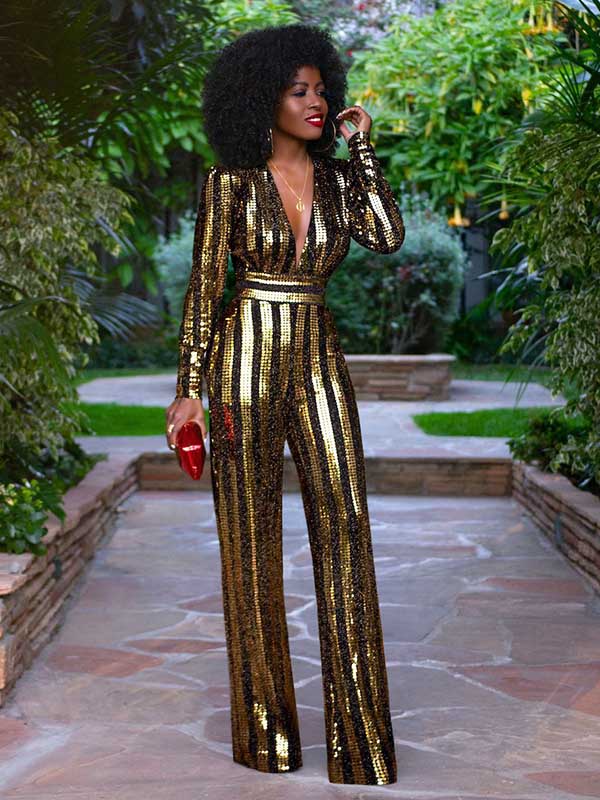 You can't go wrong with this ensemble at a club because it has everything that a club party requires – bling, drama, and maximum style!
A figure-hugging metallic jumpsuit with flared bottoms and a halter neck is a club fashion staple, and when paired with oversized bangle earrings, and sparkly platform sandals, it's a whole other fashion game.
You can also go for a polyester jumpsuit if metallic isn't really your style – either way, you'll be making a grand entrance and perhaps even turning turn a few heads your way!
Mini Dress with Tall Boots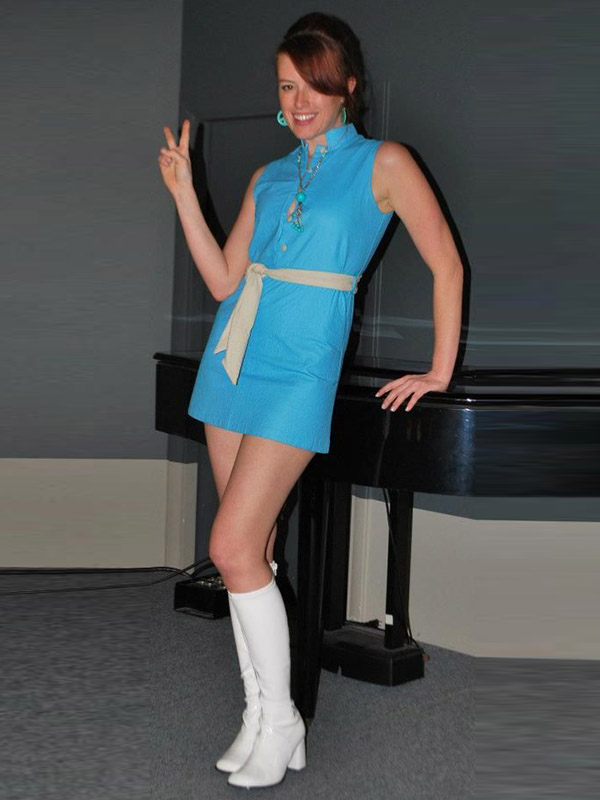 These two go hand in hand, and nothing beats this ideal clubbing ensemble.
The right way to go about this outfit is to pair a solid-colored solid colored mini dress or a mini skirt if you like, with a fringe vest, and very bold and loud tall leather boots!
Tall boots are perfect for making an effortless style statement without having to do anything because, well, they speak for themselves!
You can opt for a sleeveless mini dress or one with sleeves, a backless dress or one with spaghetti straps – it's really up to you. The beauty of mini dresses is that they look super chic and stylish no matter how you wear them.
Shiny Wrap Dress with Stiletto Heels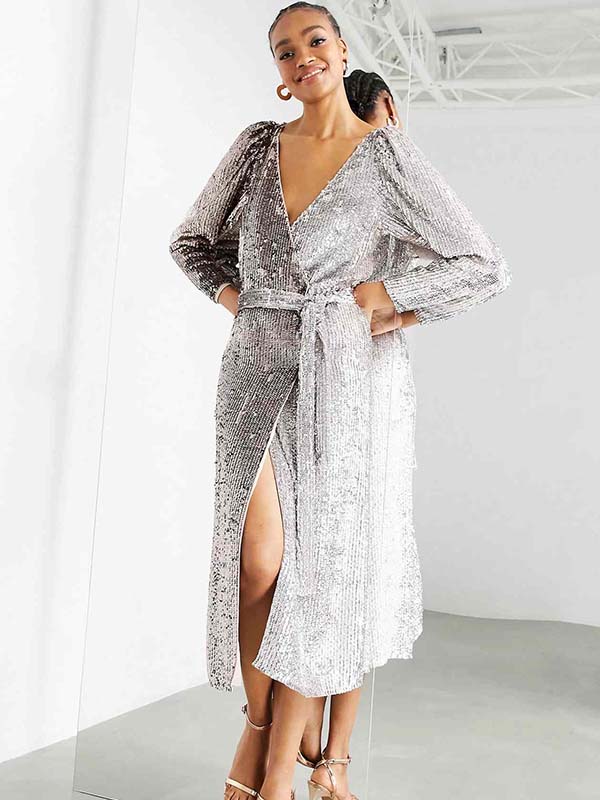 Another classic club fashion outfit, a shiny wrap dress just works in this setting without you having to do much. When paired with stiletto heels, and perhaps a piece of matching jewelry, you can trust your look to deliver at its best!
A wrap dress often features a cinched waist given how it has a front closure where one side is wrapped across the other side. That's the highlight or the main feature of this dress, hence the name.
The addition of sparkly stiletto heels will further enhance the look of your wrap dress and give it that added elegance.
Sequined Top with Flared Bottoms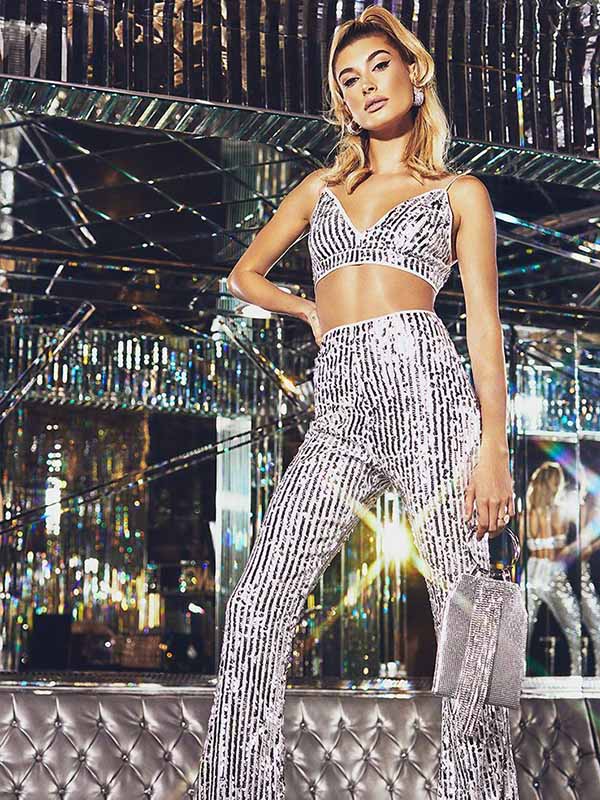 If you aren't big on dresses and are looking to dance the night away in style and comfort, this is the perfect club outfit for you to dress like the 70s woman.
A sleeveless sequined top brings the 'disco' element here, and the flared bottoms add a dramatic flair to the outfit. Complete the look with loud and colorful mid-high mid-high sandals, and dance away to your heart's content!
Flared Trousers with Ruffled Shirts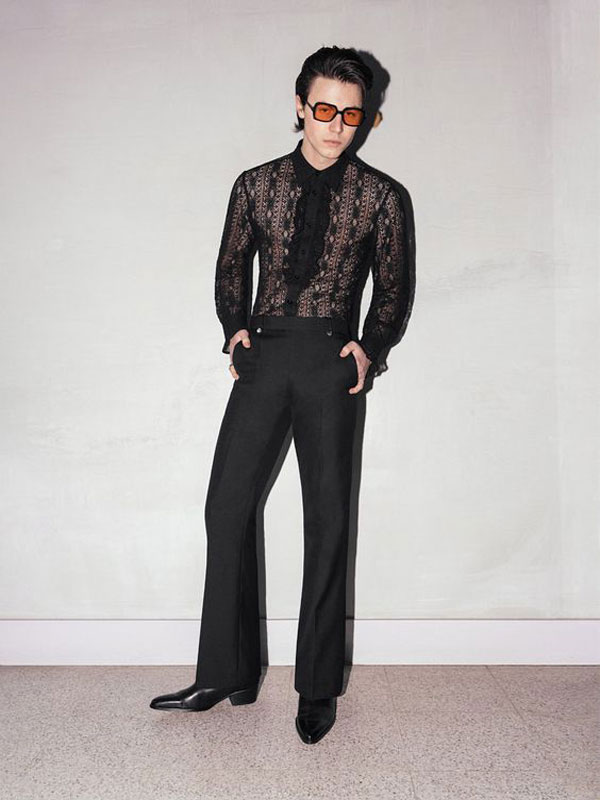 70s men's fashion was also quite elaborate and dramatic, and it also borrowed a few elements from women's fashion such as flared trousers.
Flared trousers were a wardrobe staple for men in the 70s, especially for disco, party, and club outfits which they ideally paired with ruffled shirts. This particular look was often complemented with gold jewelry, long hair, and platform boots.
Hawaiian Shirt with Pleated Pants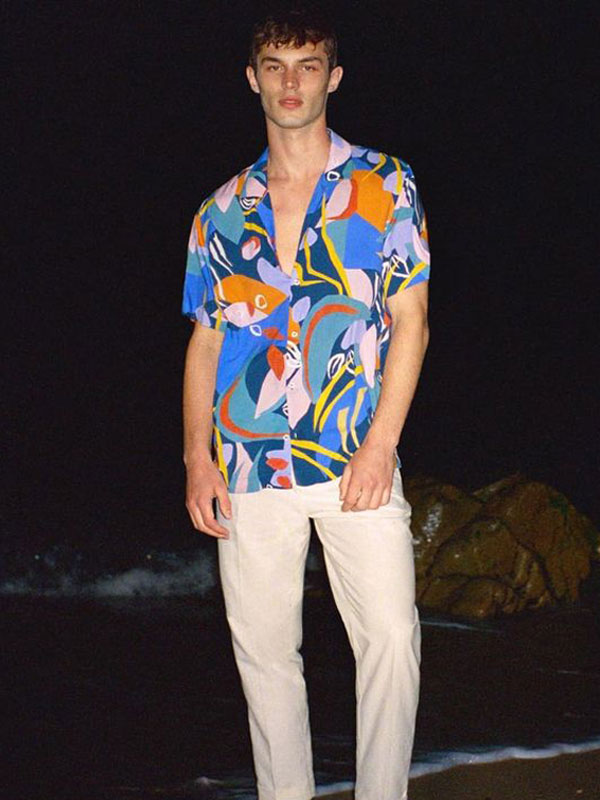 This is another popular and easy 70s outfit for guys that offered quite a retro groove and seamlessly blended in with the 70s club fashion.
Take a sheer Hawaiian shirt, pair it with vintage-style pleated pants, and top off the look with a pair of loafers. Simple yet stylish, there is no denying that this is an absolute winner of an outfit for a 70s party!
Hawaiian shirts were also a huge part of the 80s outfits and fashion scene, and their popularity continued in the future decades.
Metallic Jeans with Scoop Neck Tank Top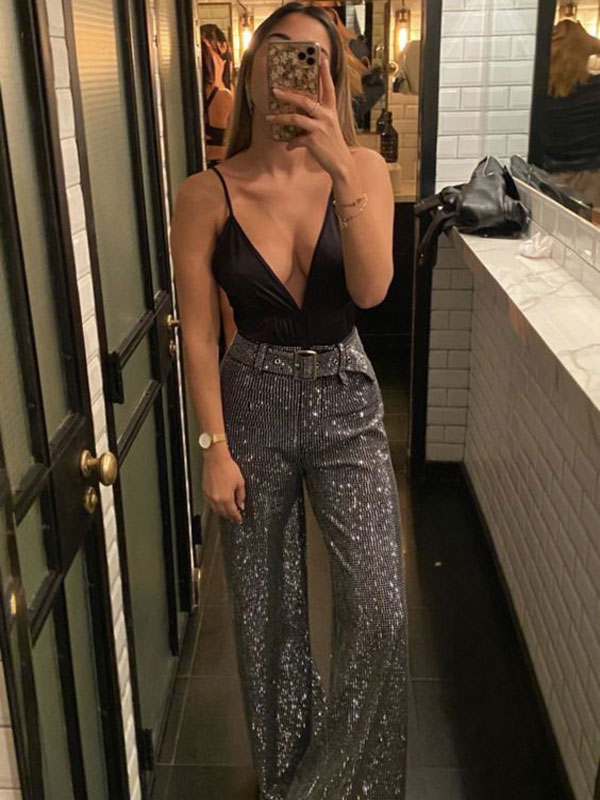 At a glance, this men's outfit from the 70s definitely sounds a little scandalous, but the truth is told, it was the ultimate disco outfit back in the day and clearly made a big, bold style statement!
Wear a pair of tight metallic jeans with a single-colored single colored scoop neck tank top
Casual 70s Outfits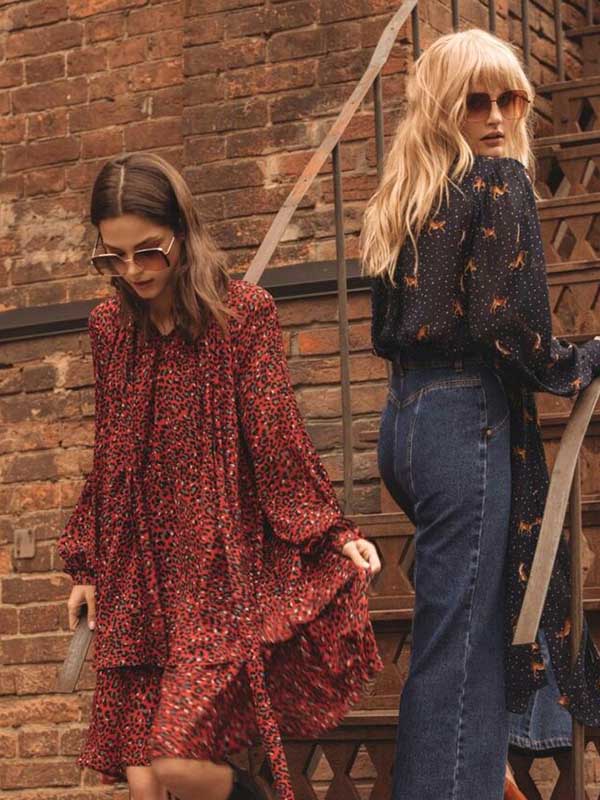 When people in the 70s weren't partying and clubbing, they were still making unique style statements even with their casual, daily wear outfits.
Take a look at some of the most popular casual 70s outfits that you can also include in your daily wear ensemble.
High-Waisted Denim Shorts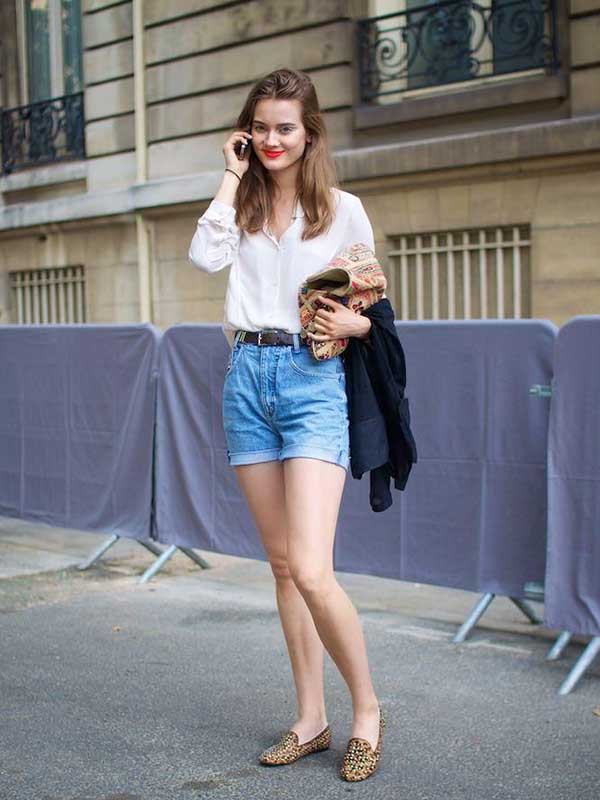 When it's too hot for flared jeans, ditch them high-waisted high-waisted denim shorts, which are your next best option for a casual 70s outfit.
The early to mid-70smid 70s witnessed a great number of these denim shorts, as well as the classic knit shorts, typically paired with a polo shirt, a striped tank top, or a crop top. One-piece zip-up rompers were also a popular option for casual daytime outfits that also looked quite stylish.
So, when heading out during the day, for instance, opt for high-waisted denim shorts, a crochet sleeveless top, a striped belt, and a pair of wedge sandals.
Kaftan Dresses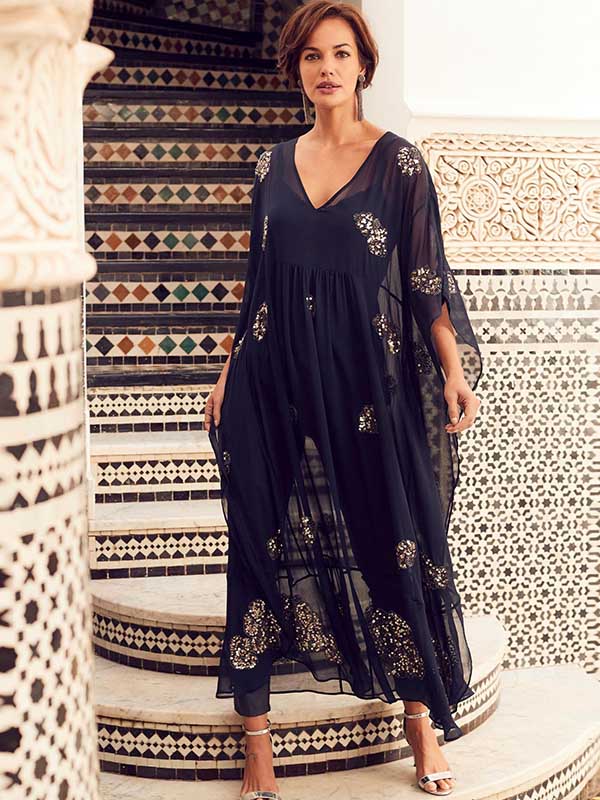 One of the most popular casual 70s outfits is none other than the kaftan, a long and loose dress or garment shaped like a nightgown that was often worn around the house during the day just for relaxation and fun.
The classic 70s kaftan dress came with an oversized silhouette, a deep V-neck, and a rectangular boxy kind of cut that made them ideal for the summer season.
Kaftan dresses were also seen at parties since some varieties also featured fancy details such as pair embellishments, psychedelic prints, and silk materials.
Pair a casual cotton kaftan with low-slipper low slipper flats, a chunky necklace, and oversized sunglasses, and you are all set to head out in style!
Crochet Dresses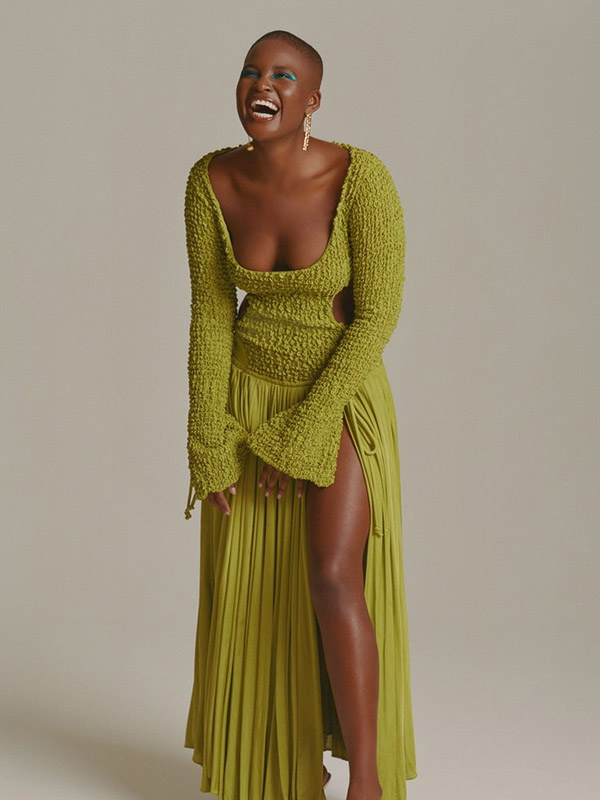 The crochet trend was one of the biggest highlights of the 70s fashion for women mainly because of the ultimate summery, feminine, and romantic feel and vibe that it had to offer.
While crocheting was initially only reserved for clothing articles like scarves and gloves, it quickly transitioned into a greater variety of items such as dresses, tops, and pants.
Crochet dresses look super cute and make the perfect casual outfit to wear during the day or night. You can opt for either a two-piece crochet dress featuring a top and pants or shorts, or a long, sleeveless long sleeveless crochet dress with flower patterns.
Hot Pants with Tank Tops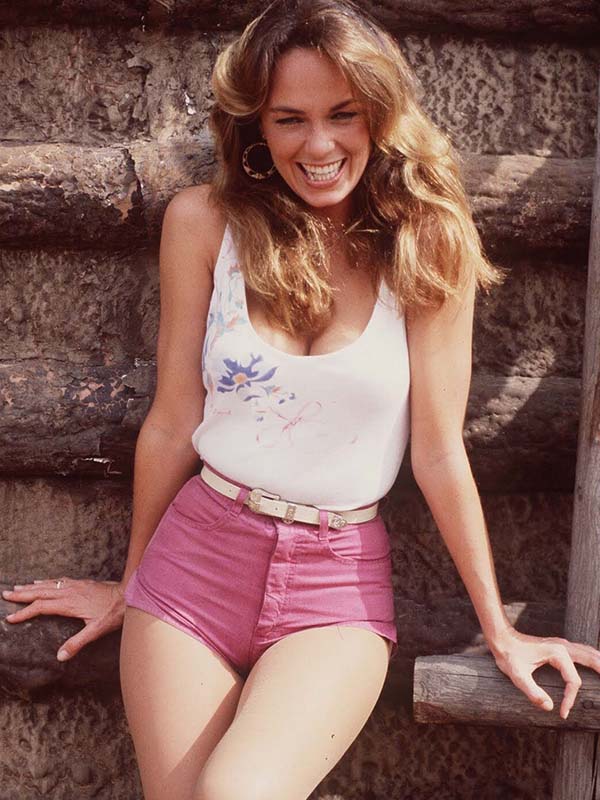 Greatly popularized in the early 70s, hot pants became a go-to clothing option for many women in the decade. They are basically tight-fitting shorts that are perfect for hot, sunny days and were ideally paired with tank tops back in the day to achieve a low-key, relaxed, casual vibe.
But, you can wear yours with any top of your choice such as a button-up blouse, a blazer, a full-sleeved full sleeve shirt, or even a tube blouse when the weather is too hot to handle.
Knit Dresses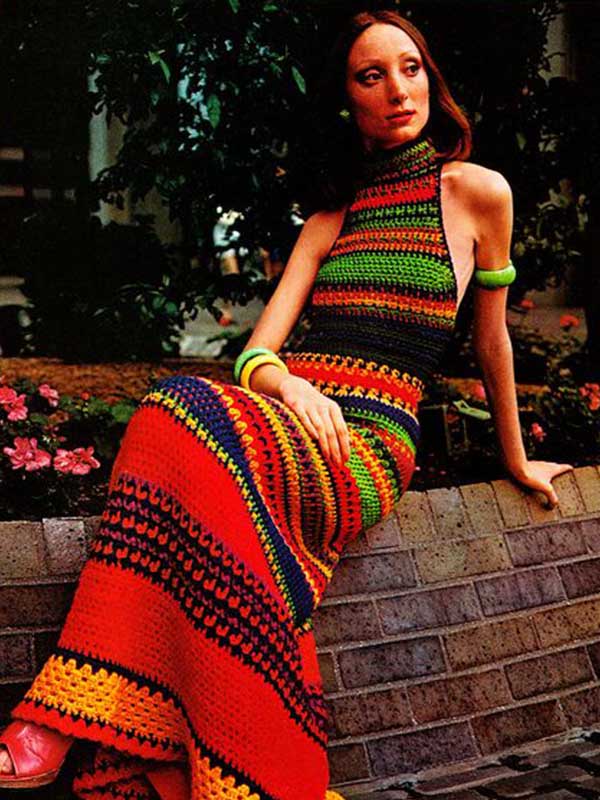 A great alternative to formal dresses in the 70s was were knit dresses, a super versatile piece of clothing that can easily be dressed up or down.
There were many different types of knit dresses worn during the decade, ranging from short to long, colorful to muted, and short sleeve to long sleeve.
These dresses can look as simple or fancy as you want, and that's one factor that made them so popular among women in the 70s.
Flared Jeans with Tops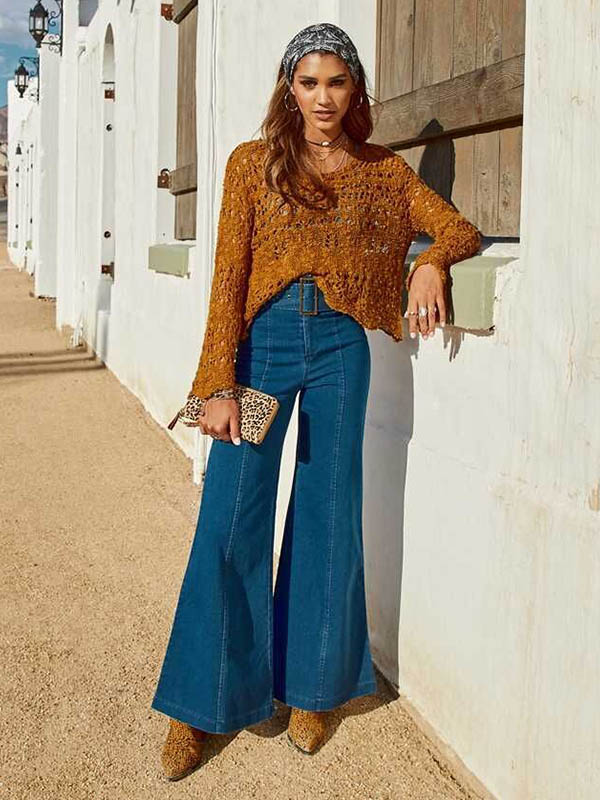 Wide-legged, flared jeans weren't just spotted at parties and discos, but also in casual, daily wear, and streetwear as well.
Think of the 70s as being marked by these flared jeans which experienced a strong surge in popularity that can be witnessed even today.
Flared jeans paired with different types of tops and blouses were the most popular casual choice of outfit for women and the best part is that it looks effortlessly stylish.
From home to the office to casual hangouts with friends, it was almost like everyone was wearing these trendy flared jeans everywhere! They look great with a variety of different tops such as cropped knits, crop tops, plain t-shirts, logo t-shirts, tube tops, collared shirts, and so many others.
Conclusion
Among many things, the 70s was true 'the' decade of self-expression, playful fashion, and experimental styles. Now that you know what to wear to a 70s party, make a stunning style statement with the above-mentioned popular outfits from that wonderful decade.
Channel your favorite 70s trends and icons through your choice of outfit and don't shy away from sporting a new, unique style!