With a focus on individuality and freedom of expression, the 70s fashion women can be best described as versatile, flamboyant, unique, and original, quite like the 90s fashion.
The seventies fashion brought us a bit of everything from bell sleeves and mini skirts to flared jeans and maxi dresses, easily making it one of the most stylish and avant-garde decades of the 20th century.
It was also considered to be a golden age for black women because the 70s fashion for black women gave them a chance to break free from traditional rules and prioritize their personal choices.
70s Fashion Women – What Was the 70s Glam Fashion Like?
The 70s were nothing short of whimsical and experimental. It was the 'me' decade where there were no rules in fashion and everyone did what felt right to them.
The glam fashion of that era saw a lot of glitters, sparkles, sequins, metallics, and neon colors, all of which offered a sense of luxury and extravagance. There was a great degree of experimentation and creativity with faux leather, feather boas, and polyester, one reason why the 70s are often referred to as 'the polyester decade'.
Backless suits, tight dresses, and super low cuts were a huge part of the 70s glam fashion!
70's Women's Fashion Trends – Popular 70s Clothes Worn by Women
When you think of 70s women's fashion trends, the first few things that come to mind are none other than bell bottoms and pantsuits. While these 70s outfits were a wardrobe staple back then, there's so much to the 70s style that many people don't know of!
From boho dresses and satin scarves to wrap dresses and platform shoes, the 70s clothes for women were an eclectic blend of glamor, innovation, and uniqueness.
Many fashion trends from the 70s have found their way into the current world of fashion and from the looks of it, they are here to stay.
The Wrap Dress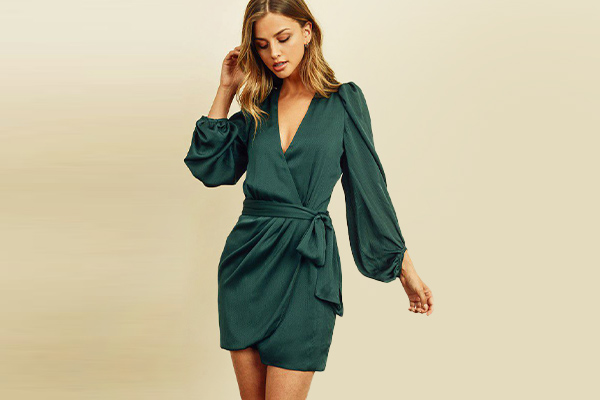 If there's one clothing item that has the 70s written all over it, it's the wrap dress. Quickly becoming a staple in almost every woman's wardrobe, the wrap dress is essentially a body-hugging dress where one side is wrapped across the other, creating a front closure.
It was a huge part of the 70s fashion for women's dresses. It also became a go-to outfit among women for nightclubs, bars, and dancing, and paved the way to the 70s disco fashion for women.
Flared Jeans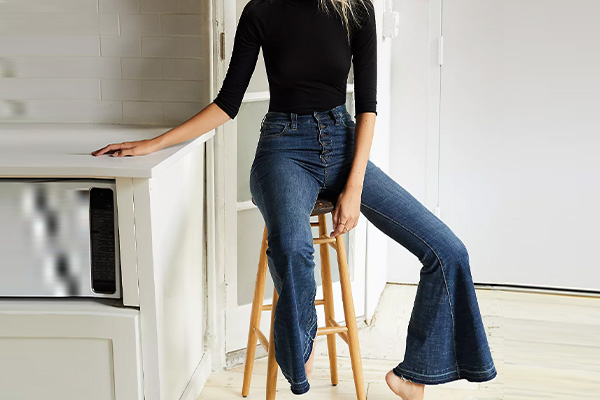 The disco era began in the 70s and with it came a massive surge in the popularity of flared jeans. High-waisted flares were all the rage and women typically paired them with high-heeled shoes and wide-collared shirts.
A few reasons why wide-legged jeans were and still are so popular are how they accentuate the waist, create an illusion of long legs, and look flattering on almost all body types.
Jumpsuits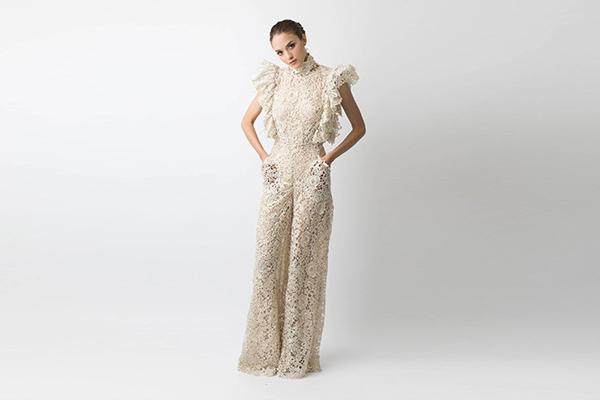 Another wardrobe staple of the disco era in the 70s, jumpsuits were an ideal disco party outfit for women.
Jumpsuits are simply glamorous and make such a big style statement without having to do much. This 70s wardrobe essential was also popular during the summers given how they allowed air to pass through and ensure maximum comfort.
Plain, geometric, and floral jumpsuits were ideal for a chic weekend summer look!
Platform Shoes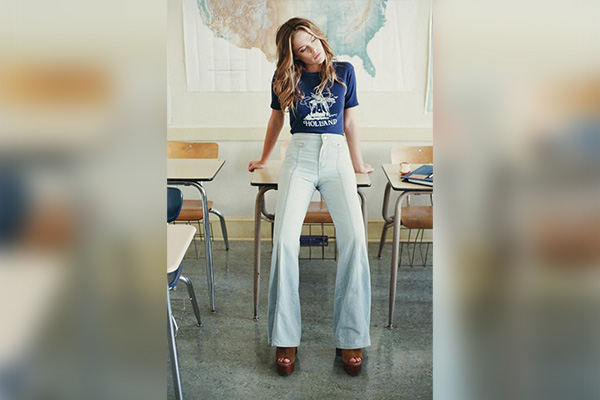 Featuring a little bit of drama and theatrics, platform shoes were an iconic style of the 70s decade fashion.
The motto for shoe trends back then was, the bigger, the better and platform shoes clearly lived up to it! These shoes featured thick soles, followed by variations like chunky heels and block heels. They made the wearer appear taller than they were, one of the many reasons for their popularity.
Clogs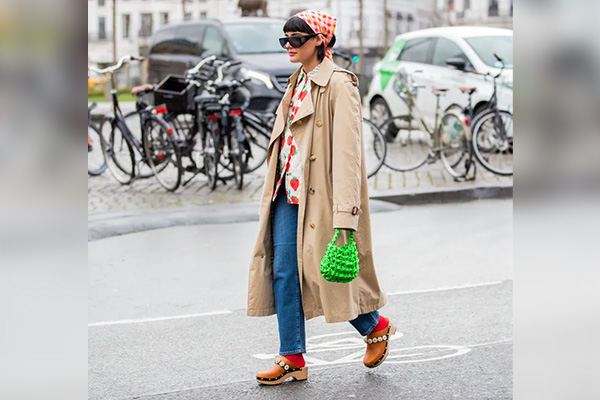 Best described as hippie, funky and edgy, clogs were another popular footwear in the 70s among both men and women.
Typically made of chunky wood and featuring a leather upper, clogs were most often worn with bell-bottom jeans or flared jeans. They were known to be the most flexible and versatile type of shoes that paired well with most clothing items, which is primarily what contributed to their ever-increasing popularity.
Bell-Bottoms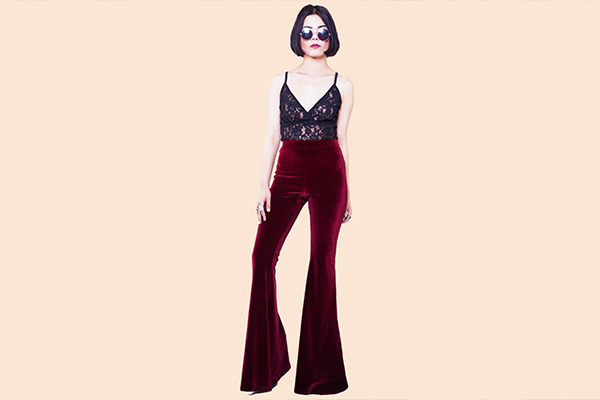 A style that is still popular and trending in today's fashion world, bell bottoms are one of those timeless pieces that just feel right.
These wide-legged bottoms, also known as flared and loons, followed a simple rule – the bigger the flare, the better! Pair your bell bottoms with a plain shirt, a graphic t-shirt, a tank top, or different types of jackets, they look super cool and trendy no matter how you style them!
Knee-High Boots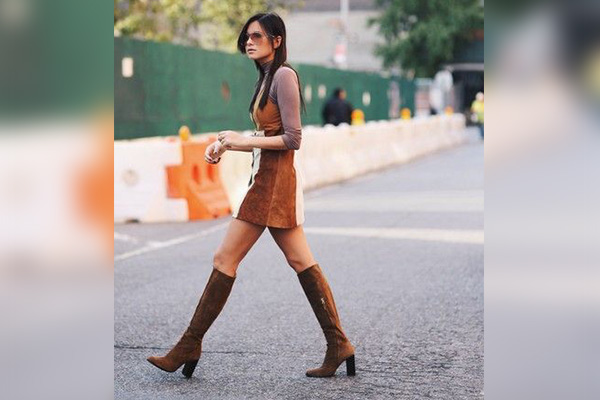 Short hemlines were all the rage in the 70s and were best paired with knee-high boots. This popular footwear made a wonderful duo with mini skirts and mini dresses.
Over-the-knee boots were another staple in women's closets and were also a part of the authentic 70s disco fashion trends.
From making an excellent style statement to keeping your legs warm, these boots were mainly popular for their comfort and versatility.
Boho Dresses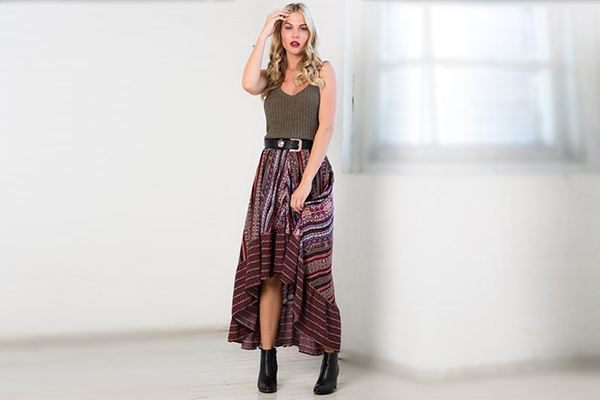 Boho is short for 'bohemian' and this particular fashion is all about free-flowing and baggy clothes that fostered a great degree of freedom of expression.
Boho dresses made the most popular 70s aesthetic outfits given their delicate and whimsical features such as floral prints, relaxed silhouettes, lace, and crochet finishes. From long-flowing maxi dresses to tiered skirts to peasant blouses, these were the classic boho-style dresses in the 70s.
Oversized Glasses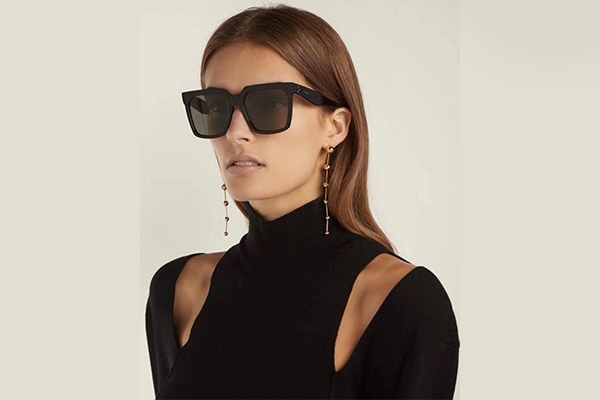 Oversized and larger-than-life sunglasses glasses with big frames were found in almost every woman's handbag in the 70s. Aviator, square, and rounded sunglasses were the most popular styles and were rocked by both men and women.
These sunglasses made a spectacular fashion statement and added the perfect final touch to one's outfit be it casual 70s outfits like jeans and a t-shirt or a fancy boho dress with chic boots!
Satin Scarves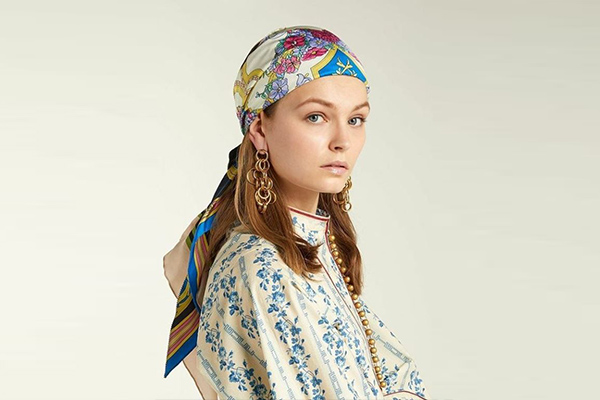 Touted as the 'accessory of the era', satin scarves gained significant popularity during the 70s and were a huge part of the 70s fashion for women.
Scarves were more of an accessory and women used to wear them as stylish headbands, around the neck, and sometimes even in a turban style. Needless to say, these satin scarves looked absolutely stunning and blended in so well with all kinds of outfits.
Basket Bags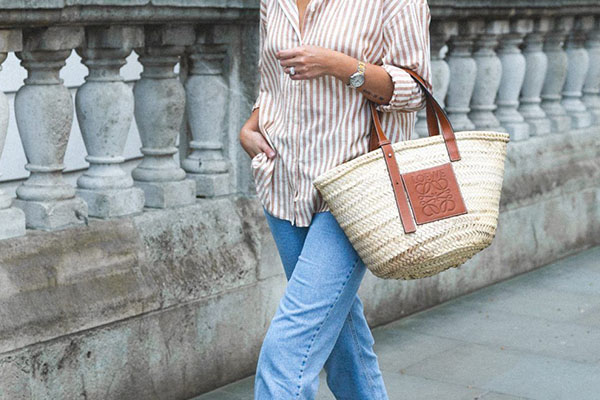 You can't talk about the 70s fashion without mentioning the basket bag trend that was so popular during that era, the credit for which mainly goes to Jane Birkin, the famous English-French singer, and actress.
Basket bags are also known as 'woven bags' and they swiftly made their way into 70s women's summer bag collections. They were the ideal 'beach' bag given their woven structure and sandy brown color.
Pearls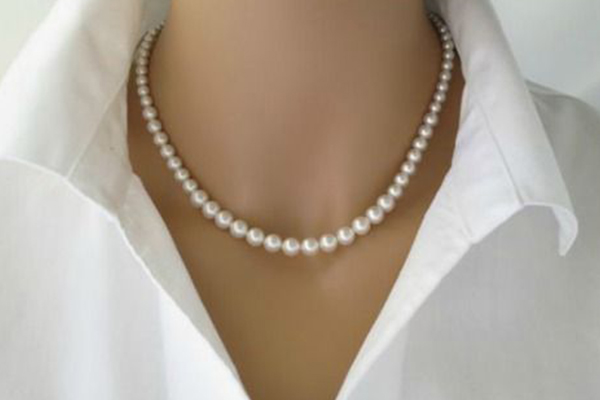 Delicate, stunning, and graceful, there are no surprises as to why pearls were such a huge part of the 70s fashion. Pearls have often been referred to as the most iconic fashion accessory not just for ears, but also the wrists and necklines!
Most women in the 70s used to wear layers of faux pearls strung together to create a long strand, and sometimes even in the form of chokers.
Chunky Jewelry
When it comes to jewelry trends in the 70s, chunky everything was quite the norm!
From chunky rings to necklaces to earrings to chokers, thick, big, and heavy jewelry accessories were favored by women over all other kinds. The main reason for the popularity of chunky jewelry was simply because of how unique it looked, not to mention how they would go with literally any outfit, casual or formal.
Vests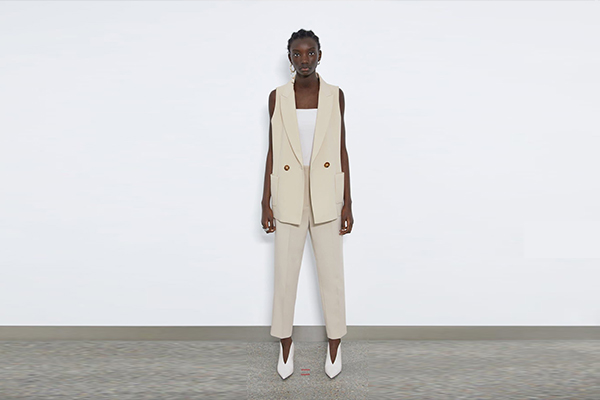 If you've seen Annie Hall, the popular American romantic comedy-drama film from 1977, you can probably understand why vests made it so big in the 70s. Diana Keaton's wardrobe in the film is all about a plain black vest paired with a wide polka-dot tie, a white men's shirt, and beige pants.
The 70s fashion for women included all kinds of vests ranging from plain to embroidered to checkered.
Pantsuits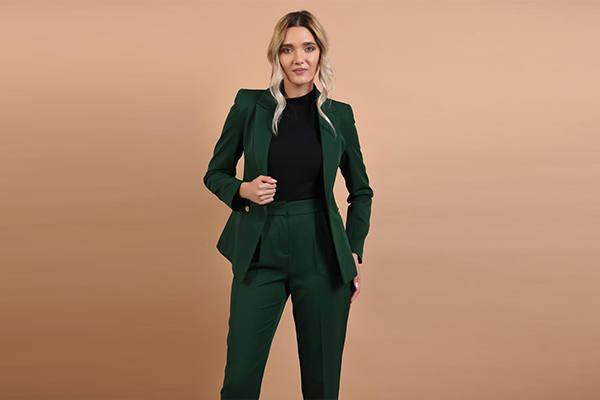 There was a time when pantsuits were only associated with menswear, but the 70s witnessed an era of women's pantsuits mainly as a symbol of personal expression, individuality, and freedom.
Pantsuits weren't only a representation of gender-blending roles, but also quickly became a fashion statement and were typically worn with loose bow ties, soft silk blouses, sunglasses, matching suit vests, button-down dress shirts, flat shoes, hats, and other accessories.
FAQs – 70s Fashion Women
How did women's fashion change in the 70s?
The 60s women's fashion was highly focused on revolutionary, rebellious trends while the 70s fashion transitioned into styles that allowed increased freedom of expression and personal style.
The 70s were void of fashion rules and one could wear whatever they found right and comfortable. Moreover, there was an obvious shift from custom-made clothing to ready-made outfits given how women's fashion became more accessible and readily available in fashion stores. 
One word to describe 70s fashion?
It's hard to capture the 70s fashion styles and 70s outfits for women in a single word or term, however, if we were to describe it in a single word, it would be 'inclusive.'
This choice of the word best represents what the 70s fashion was all about. It paved the way to freedom of style, self-expression, and individuality. It was also flamboyant in a sense given how it was the ultimate disco era.
What accessories were popular in the 70s?
The accessories worn during the 70s are best described as eclectic and whimsical. Some of the most popular 70s accessories include satin scarves, oversized sunglasses that would cover half the face, floppy hats, headbands, thick woven belts, wide ties, chunky jewelry, and faux pearls strung together.
In terms of jewelry trends, some go-to options for women were dramatic, long and dangling earrings, cocktail rings, chunky chokers, and heavy statement necklaces. 
Wrapping Up Our Thoughts on 70s Fashion Women
There's a reason why the 70s fashion for women, unlike the 60s fashion, is considered to be the most stylish and trendsetting decade of all time!
It has given us some of the most incredible fashion styles and trends, many of which are trending even in the current world of fashion. Some examples include satin scarves, flared jeans, bell bottoms, jumpsuits, chunky jewelry and oversized glasses, to name a few.
Designers today keep going back to the 70s fashion trends and styles for inspiration and needless to day, the 70s fashion really did break traditional rules and gave us some loud, bold outfits and looks!
Now that you know what was the style in the 70s, you can go to a 70s-themed party without any wardrobe-related concerns.