White and blue shoes look super chic with khaki pants, but orange shoes? Not so much! So, what color shoes to wear with khaki pants that not only make a style statement but also perfectly complement the pants?
Khaki pants, on their own, offer an ideal blend of style and comfort, but when it comes to footwear, it is important to give the color careful consideration because as the popular saying goes, shoes can make or break your outfit.
Khakis are one of those types of pants that don't go with all kinds of shoes and colors. To help you decide the right shoes to wear with khaki pants, we've rounded up the best colors to have in your shoe collection. 
White Shoes with Khaki Pants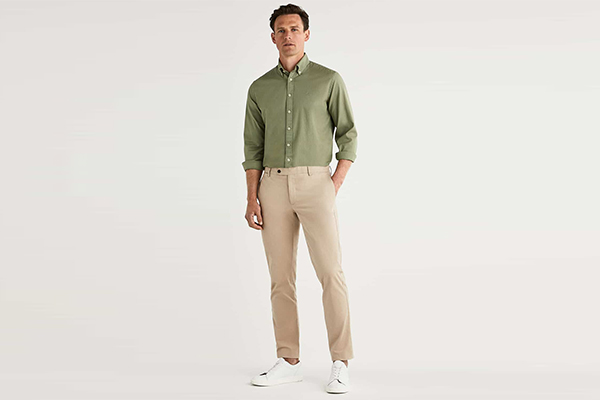 When in doubt, opt for white shoes to wear with khaki pants because white is one of those effortlessly stylish colors that just go with everything! That's the beauty of white – it's super versatile, cool, and helps enhance your overall outfit.
White shoes with khaki pants help make a great style statement by offering a relaxed, smart look.
Regardless of the shade of your khaki pants, white shoes make an excellent choice with all types of hues ranging from beige to tan.
Take a pair of white casual sneakers, for instance. They are the ideal choice of footwear to pair with khaki pants and can easily transform and dress down an outfit to something that's more casual and sporty.
If you are going for a casual weekend kind of look, pair your khaki pants with a long-sleeve plaid flannel shirt over a black crew neck t-shirt, and a black beanie. The addition of the white shoes will add a level of depth to this look.
For a smart casual vibe, go for tan pants with a black crew neck t-shirt, and an olive-colored Harrington jacket. Complete the look with white sneakers which will introduce a relaxed kind of aesthetic to your attire.
Brown Shoes with Khaki Pants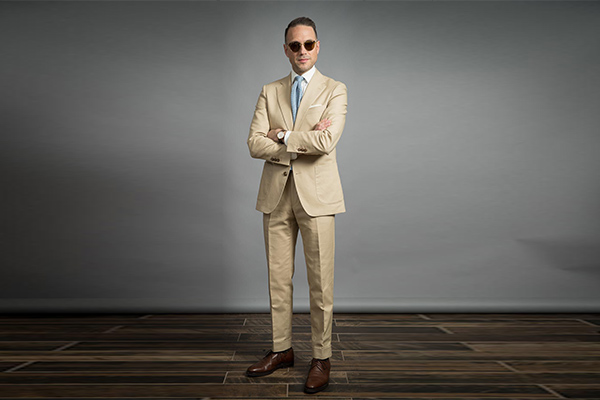 Pairing brown with khaki might come off as an odd color combination for some people, but truth be told, it actually works really well and looks quite stylish.
Brown shoes with khaki pants make a great combination for a business casual or smart casual dress code considering how both are stunning earthy tones and go with each other really well. Make sure to create some contrast in the shades of brown and khaki that you choose. For instance, with dark khaki pants, opt for light or warm brown shoes, and for lighter-colored khaki pants go with dark brown shoes.
There are so many different types of shoes that you can consider here such as sneakers, loafers, derbies, boat shoes, chukka boots, and so many others.
Brown suede loafers, for instance, are a classic option for khaki pants and you can never go wrong with this combination.
If you are heading somewhere that requires a formal look, opt for khaki dress pants, a navy blazer, a white dress shirt, dark brown dress shoes, and complete the ensemble with a tan polka dot tie.
For a more casual but fashionable spin, wear casual khakis with a dark brown crew-neck sweater and brown suede loafers.
Blue Shoes with Khaki Pants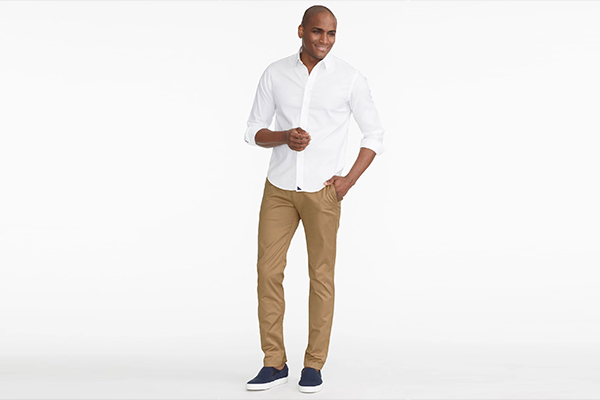 If you don't mind making a striking style statement with an experimental color combination, dark blue shoes with khaki pants are the one to beat! Blue with brown has long been a solid color combination, and if done right, it can look super chic and stylish.
While you can opt for whichever shade of blue you like, navy blue in particular looks absolutely chic when paired with light-colored khaki pants. It offers a touch of elegance while maintaining a casual vibe, making it an ideal choice of color for a weekend party or a casual lunch or dinner affair.
A great outfit option where you can sport this classic color combination is a pair of light-colored khaki dress pants with a black and white houndstooth blazer, a light blue dress shirt, and navy blue suede low-top sneakers. This look is perfect for smart casual events and you can dress it up or down according to the occasion however you like.
If you wish to give it a casual yet sophisticated spin, put together khaki linen dress pants, a navy blazer, a striped crew neck t-shirt, and navy suede loafers.
When opting for this color pairing, make sure to go with dark blue footwear and lighter pant shades to create a sharp contrast featuring a touch of modernity.
Gray Shoes with Khaki Pants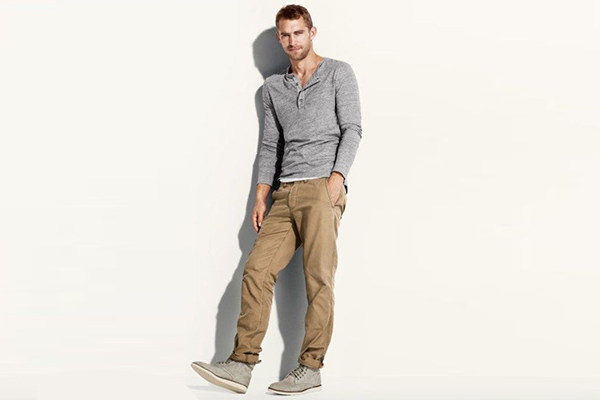 There is a long-standing debate on wearing gray with khaki, but if you choose and pair the right shades of both colors, you will find yourself making a great style statement.
Gray shoes might not be your first or even your second choice to wear with your khaki pants, however, the combination can end up looking really cool if you do it right.
The rule here is simple – avoid wearing similar tones. Wear darker shades of gray shoes with light-colored khaki pants and a lighter shade of gray with dark khaki pants.
A casual yet cool and stylish outfit option here is a pair of loose and relaxed light khaki pants paired with dark gray athletic shoes, a white crew neck t-shirt, and a light gray sweater. You can experiment with the choice of footwear here and can dress up or down depending on where you are going.
You can also introduce a touch of denim to your gray shoes and khaki pants outfit by wearing a deep blue denim jacket over a white t-shirt, and completing the ensemble with light khaki chinos and dark gray loafers.
Black Shoes with Khaki Pants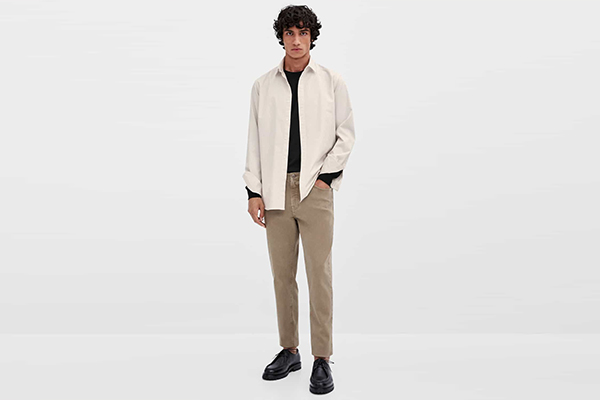 Like gray, black, and khaki are also considered to be a controversial pairing where some people are completely against it and others find it quite okay. One of the main reasons why this color combination stirs up an argument is because it is believed to create quite a sharp contrast.
However, there are no fixed rules here that say you can't wear black shoes with khaki pants at all. Black is a classic color when it comes to footwear and like white, it's also a super versatile and flexible option. When pairing it with khaki pants, you just need to be careful about wearing the right type of shoes with the right shade of khaki to make sure that it looks stylish.
Consider pairing relaxed dark khaki pants with a navy crew neck t-shirt, a dark-tailored olive blazer, and black canvas low-top sneakers. If this particular color combination doesn't suit your personal style, you can go for light-colored khaki pants, a white long-sleeve shirt, a light gray sweatshirt, and black leather derbies.
For an effortlessly stylish winter look, opt for black suede Chelsea boots, light khaki jeans, a black hoodie, and a warm charcoal overcoat.
A great thing about the black and khaki color combination is that it leaves great room for experimentation to see what works and what doesn't. Rest assured, black shoes look great with khaki pants and you shouldn't think twice about sporting it!
Sneakers with Khaki Pants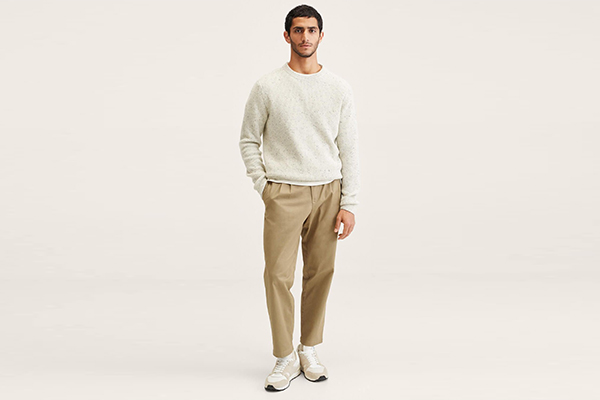 Khaki pants and sneakers are a classic combination, offering quite a relaxed yet stylish overall vibe. After all, sneakers are one of the most fashionable, timeless and not to mention, and comfortable types of footwear that almost every individual has in their wardrobe.
There are so many different types of sneakers to consider pairing with your khaki pants such as canvas sneakers, slip-on sneakers, plimsoll sneakers, suede sneakers, court sneakers, printed sneakers, athletic sneakers, knitted sneakers, denim sneakers, and so many others.
A classic outfit option is a pair of white low-top sneakers, khaki chinos, a white crew neck t-shirt, and a navy blazer. This is ideal for a casual evening affair or even a low-key dinner party. Another must-consider outfit is dark khakis paired with a blue denim shirt and white canvas sneakers.
The key to pulling off sneakers with khaki pants is to choose the right type of sneakers followed by the right color that matches the shade of your khaki pants. However, the versatility of sneakers allows it to go with literally anything so you've got nothing to worry about!
Dress Shoes With Khaki Pants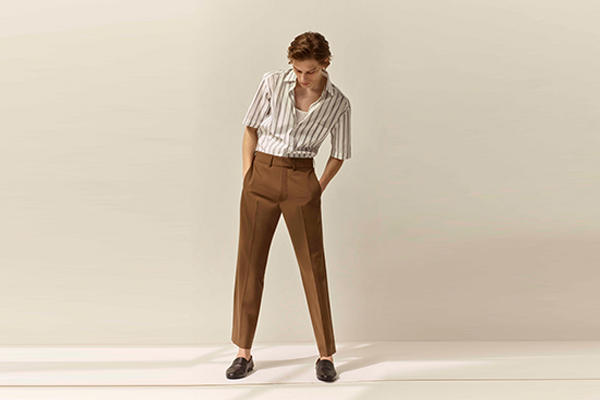 Khaki pants are typically considered to be quite casual, but they actually pair really well with semi-formal and smart casual attires, as long as they are properly ironed, wrinkle-free, have a streamlined fit, and have a crisp finish.
So, you can totally wear your khaki pants with a pair of dress shoes when heading to a formal lunch, dinner or any other kind of event. Even when dressing for a wedding, you can wear dress shoes with khaki pants if you are going with a smart casual kind of vibe.
There are different types of shoes that you can choose from such as the classic oxford shoes, derbies, loafers with tassels, monk shoes, and brogues, to name a few.
The color of the dress shoes depends on the colors of your overall attire. Ideally, you should be looking into classic neutral options like black and brown which go with all kinds of outfits and color palettes.
Air Force 1 Shoe with Khaki Pants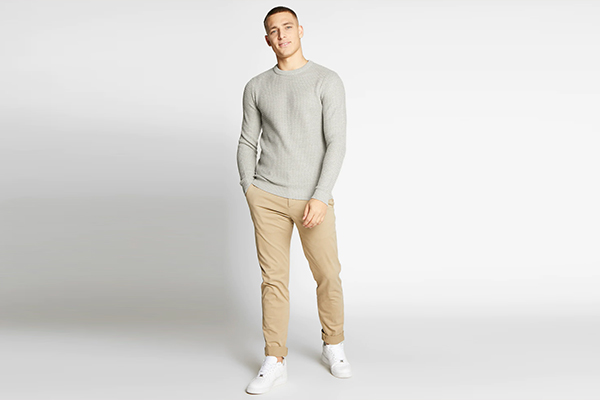 If you own a pair of Air Force 1 shoes, there's no reason why you shouldn't be wearing them with your khaki pants to make a unique style statement.
Air Force 1 shoes swiftly became a true fashion icon ever since they were released many years ago, given their versatile designs, distinctive shapes, and the top-notch comfort and durability that they had to offer.
Ideally meant for running, working out, and cross-training in the gym, Air Force 1 shoes are stylish enough to wear casually as you go about your day. While these shoes might appear to be a little dated in terms of aesthetics when compared to modern designs and varieties, they still have a striking appeal to them.
Consider wearing white air force 1 sneakers with khaki pants that are light in color, finished off with a dark-colored crew neck t-shirt with a casual yet smart everyday look.
Conclusion
Now that you know what color shoes to wear with khaki pants, you can make a great style statement by pairing the above-mentioned colors with your khakis.
After all, knowing how to dress well is also about mixing and matching colors that complement each other, and wearing the right shoes is an integral part of any outfit. It's also one of the many habits of a well-dressed man, so knowing what colors to wear with your khakis is very important!