Even the most fashion-savvy men sometimes cannot figure out the answer to this simple question of what to wear with white jeans mens. So, why do these relatively simple garments become such a hard task when it comes to styling?
White denim is a bold choice and requires a lot of confidence. A small mistake can make you end up in a fashion disaster. However, with proper styling knowledge, you can pull off a dapper look, leaving no room for blunders.
So, if you are also an amateur and do not know what to wear with white jeans men, this ultimate white jeans outfit for men guide is here to the rescue.
So, let's begin!
Casual Tips: How To Style Men's White Jeans?
Styling outfits with white jeans men is a hard task. Here are a few fashion tips which can make you ace this skill in no time.
Consider The Color
When wearing white jeans outfit, the tone of white is crucial. Always go for a bright crisp white pair of jeans for an aesthetic joyful vibe. Going for pale white shades will give out an untidy and dull appearance.
The Appropriate Cut
White jeans are available in a variety of different pant styles and cuts such as skinny jeans, straight-leg, flared, or boot cut. So, choose the correct jeans style, considering the shape of your body and the formality of your dress-up.
The Right Size
When pinning down your favorite white jeans, the size is important. Avoid going for oversized jeans as the excess fabric will form wrinkles and creases making you look untidy and nonserious.
On the other hand, undersized jeans, with uncomfortably tight fit are another extreme. So, the key is to try on different sizes to choose the one that fits the best.
Add Some Texture
Sometimes, your white jeans outfit may look bland, especially when you are wearing an all-white outfit. In such a situation adding texture can be a game-changer for your entire look.
The best way to do so is by layering it with denim, suede, or leather jackets and boots.
Add Contrast
Contrast is the secret to flawless white jeans styling. If you know nothing about fashion, you still can pull off an amazing white jeans outfit by only pairing it with a contrasting shirt and accessories and you are all set to sweep everyone off their feet with your styling game.
Casual Men's White Jeans Outfits
White jeans are a men's wardrobe essential that can instantly brighten up your whole look. Following is a list of outfits that you can wear with your white jeans for an absolute dapper vibe.
White Jeans Winter Outfit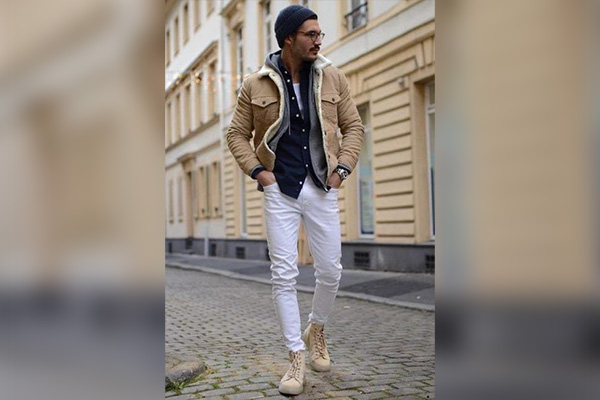 Although most men consider white jeans a summer ensemble, they can also be dressed up with winter outfits with an equally chic vibe.
In order to wear white jeans on chilly winter days, all you require is to pair them with dark winter colors. Black can be a decent color to pair with white jeans for achieving a high-fashion yet casual monochrome look.
For Instance, you can pair your white jeans with a turtleneck sweater, neck scarf, and a black leather jacket for an aesthetic dapper look.
However, make sure there is no rain or snow forecast for the day, as your white jeans can be ruined quickly, in case the weather takes a bad turn.
Summer White Jeans Outfit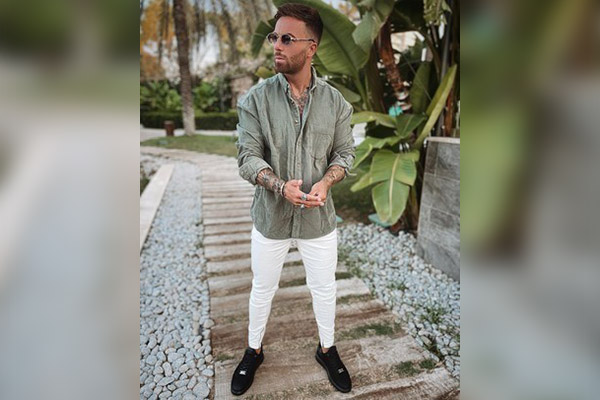 If you are looking for some alternatives to darker blue and black jeans for summer, white jeans certainly are a good option, especially for brightening your summer wardrobe.
For Instance, you can go with the classic summer t-shirt look with white jeans and sneakers for a fresh and stylish casual vibe to slay your summer days in style.
On the other hand, if you want an elevated summer look, wear a button-down shirt and white jeans with some accessories such as a wristwatch and stylish sunglasses for a sleek summer vibe.
All-White Outfits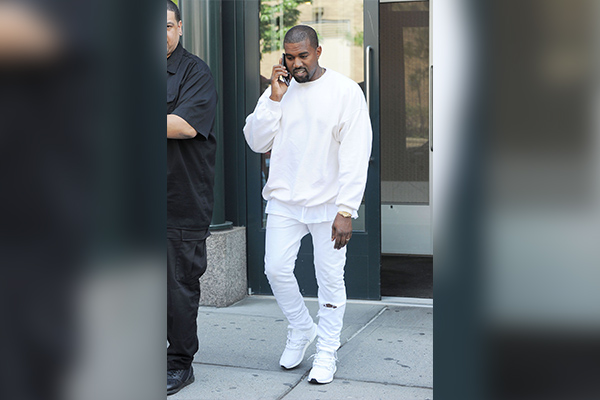 If you have a thing for bold outfits, you must try wearing an all-white. Although opting for an all-white look requires a lot of courage it is an ideal look to steal the show on certain semi-formal occasions.
For a perfect all-white look, always opt for a bright white pair of jeans. Wear the jeans with a matching dress shirt and a slightly-tone-up white jacket.
Lastly, finish off the look by adding some pop of color with black shoes and accessories to break the monotony.
White Jeans With Blazer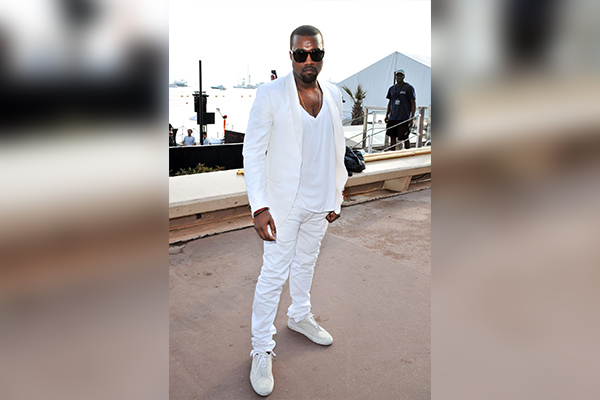 White jeans outfits are a perfect recipe for stylish business casual attire. The clean and sleek appearance of these trousers makes them easy to dress up with smart casual elements.
For example, you can pull off a sophisticated workwear look with your tailored blazer and casual white jeans outfits. However, make sure to go with a neutral color such as dark blue, black, or grey for a more put-together vibe.
Lastly, do not forget to complete this look with a pair of suede loafers for a laid-back yet elegant style.
What Shirt To Wear With White Jeans?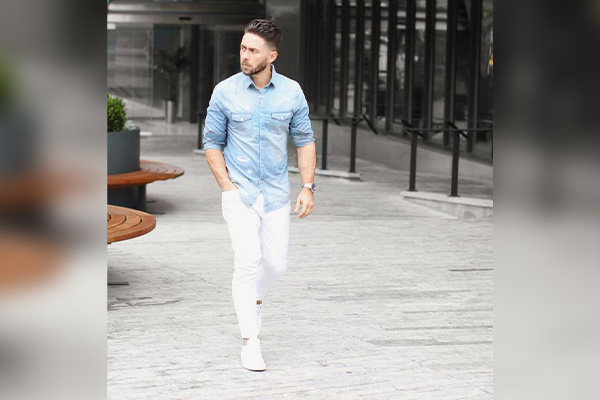 Pairing your white denim pants with different types of shirts is the easiest way to pull off a stylish casual look. Trust me, you can never go wrong with this relatively simple yet smart outfit combination.
For summer, you can go for t-shirts and button-down shirts. Although solid color t-shirts may look good adding some fun patterns and prints can be a clever move to dress down your summer white jeans outfits.
On the other hand, flannel button-down shirts and turtle neck sweaters with warm coats and jackets would work for winters.
Denim Over Denim Style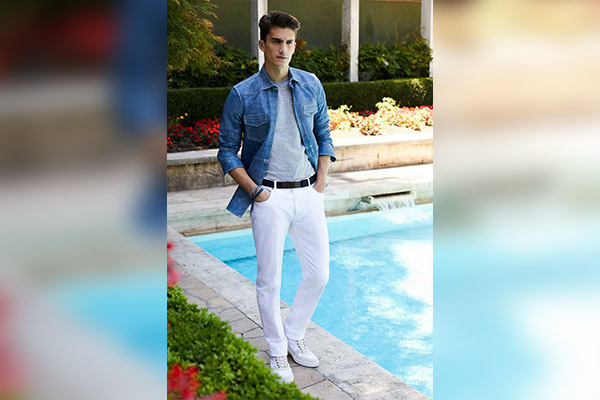 Double denim outfits are the easiest style moves that have the potential to instantly elevate your casual white jeans ensembles.
The only golden rule to follow while styling a denim over denim look is to consider the contrast. Wearing your jeans, jacket, and shirt in the same color can make you look bland and boring. A pair of white jeans can be your savior in such a situation.
Wearing white jeans with a white t-shirt and a blue denim jacket is a classic fall look that can take you a long way. The darker your denim jacket, the smarter you will look.
However, make sure your denim jacket does not bleed any color, otherwise, your outfit will be ruined in no time.
White Jeans With Earthly Tones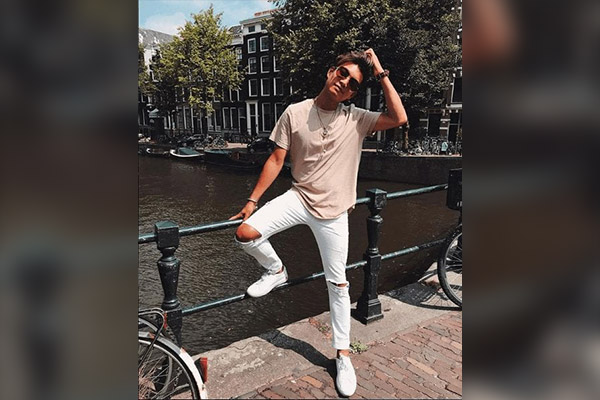 When in doubt, go for earthly tones. Take it as the tried and tested styling rule for white jeans. Whether it be green, brown, or gray each color of this palette can contrast perfectly with your white jeans outfits.
These colors are perfect for everyday casual outfits from all your grocery errands to your casual work days. All you have to do is put on your white jeans with a basic earth-tone shirt and shoes. For some added style try experimenting with different types of jackets and blazers.
Color Blocking Look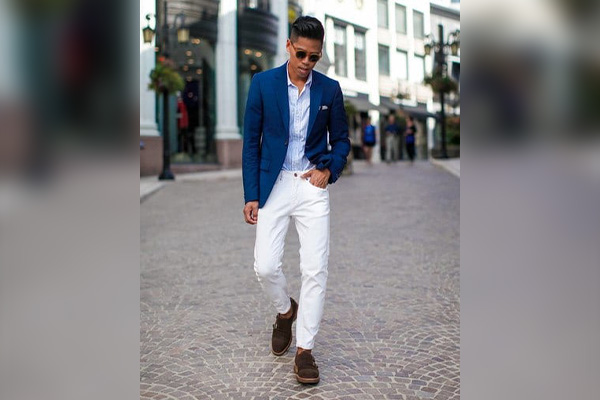 White jeans with stronger colors are a sure-shot formula for an eye-grabbing yet trendy look.
While wearing an all-white is all fun but pairing your white jeans with vibrant colors such as dark blue, burgundy, and a yellow button-down shirt is a brave style that can instantly elevate your fashion game if handled right.
Lastly, add some texture to your color-blocking look with some leather accessories such as dress shoes, belts, and wristwatches.
What Shoes To Wear With Casual White Jeans?
Now that you know what outfits to wear with white jeans, it's time to figure out what type of shoes complement most with white jeans men's outfits. So, let's figure it out.
Chukka Boots
Suede chukka boots with white jeans are all you need for sprinkling some vintage style into your casual look. For wearing classic chukka boots, age is just a number, from teenagers to people in their 40, everybody can pull off this look with equal style.
Chukkas are a versatile pair of boots, from formal blazer outfits to casual t-shirts you can rock these boots with all your white denim looks, without compromising on the formality of your outfit.
Chelsea Boots
If you are more into streetwear fashion and prefer a sleek look then you must try wearing Chelsea boots with your casual men's white jeans outfits.
Whether you wear them on hot summer days with a shirt or with your fall jacket outfits, these boots will never disappoint you.
For the choice of colors black and dark brown leather, Chelsea boots complement best with white jeans.
Loafers
If you are aiming for a semi-formal or smart casual workwear look with your dress shirt and white jeans, black suede loafers are the ultimate options to go about.
However, if you do not want to appear too formal, wearing your white jeans with leather loafers and casual shirts would be the perfect outfit combination.
Military Boots
If you are a fan of wearing big sole military boots, then white jeans outfits deserve a place in your wardrobe. With proper styling, white jeans and black military boots can make a great outfit.
However, styling white denim ensures the boots are the correct fit for you. You can either style your jeans by tucking them in or keep them as it is, depending upon your personality and style preference.
White Sneakers
Whether it's white jeans or classic blue denim, sneakers would always be a classic footwear choice. However, while styling your white sneakers make sure they complement well with your shirt.
Like Chelsea boots, sneakers can also be worn all year round, regardless of the weather, making them an absolute closet essential.
FAQs – What To Wear With White Jeans?
What Should You Not Wear With White Pants?
There are hardly any outfits that do not go well with white. White, being a neutral color makes a good contrast with most colors. It all depends upon the formality of your outfit. For Instance, if you are wearing white pants with semi-formal attire avoid wearing bright colors.
Are White Jeans Still In Style In 2023?
Yes, white jeans are a raging fashion in 2023. From teenagers to people in their forties, everyone is head over heels for this clothing trend.
Is It Ok To Wear White Jeans In The Winter?
Yes, white jeans paired with turtle necks and knitted scarves make a perfect winter outfit. You can also throw over another layer with a leather jacket and trench coat for some added style and warmth.
Why Are White Jeans Attractive?
White jeans give out a put-together and clean vibe and have a tendency to instantly grab attention, which makes them attractive outfits for both men and women.
Conclusion
White jeans outfits are an absolute wardrobe essential for both men and women. However, not many of us know what to wear with white jeans men to pull off a chic dapper look.
T-shirts, dress shirts, and blazers in neutral earthy tones are some of the best outfits to wear with white jeans for men. Make Sure the jeans are your size and fit perfectly on your body, otherwise, your whole outfit will be ruined.
For the choice of shoes wear chukka boots, sneakers, loafers, military boots, or Chelsea boots with your white jeans for a put-together vibe.