Once synonymous with combat and military uniforms, camo or camouflage pants swiftly made their way into the 90s hip-hop fashion and streetwear culture. But, what to wear with men's camo pants?
Camo pants have phased in and out of the fashion scene where one day, they are declared as a wardrobe must-have, and the next, you are wondering if you should get rid of them because they are no longer trending.
But, there's no denying that this statement piece has remained a coveted favorite among many, and has maintained its popularity in streetwear and urban fashion. The original camo print featured woodsy colors like the classic moss green and brown, but with time, the color palette extended into a variety of bright and loud colors.
The only catch with camo pants is finding the right pieces to wear with them that don't clash with their bold, complicated pattern!
Understanding Camo Pants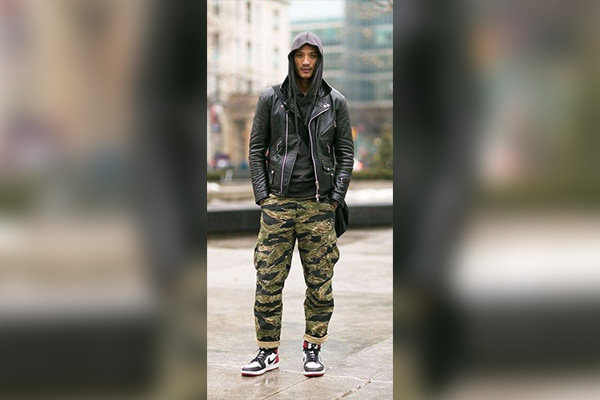 Camo pants typically feature a baggy silhouette, but you can find them in a variety of styles such as cargo pants, skinny-fit, and straight-leg. In terms of material, they are usually made from durable materials like polyester and cotton, making them ideal for casual attire.
Camo pants, as the name suggests, were initially introduced to provide camouflage to war soldiers so as to prevent them from being seen. But, with them, they were adopted by the fashion world more for their unique, sartorial appeal than their functionality.
Types of Camo Patterns
Interestingly, camo pants were once worn to be invisible and to hide from the viewers, but are now worn to stand out and make a loud style statement.
There are numerous types of camo patterns that continue to be used today in the world of fashion, giving you a plethora of options and ways to style them.
Woodland Camo
This is one of the most classic camo patterns that was used in the military as the default pattern. It features a blend of 4 different colors – dark green, black, dark brown, and dark gray.
The green and brown represent trees while the black and gray represent shadows, creating a palette exactly like the forest environment.
Desert Camo
Typically used for arid environments, desert camo features light colors that include beige and tan. The idea was to blend in with the rock and sandy landscapes found in desert environments, helping the wearer to conceal their outline and silhouette.
Snow Camo
Featuring blue, gray, and white colors, snow camo, as the name implies, was designed for snow regions and environments
Tiger Stripe Camo
Designed for dense jungle environments, tiger stripe camo comprises a unique pattern using different colors that include black green, and brown, which is why it's quite similar to woodland camo.
As the name suggests, this type of camo was inspired by the stripes found on a tiger's fur and was popularly sported by military personnel and hunters.
Digital Camo
This camo pattern features a digital, pixelated design that is created with the help of small pixels in different colors and shades. The end result is an abstract, complex design that sometimes also creates geometric patterns.
Outfit Ideas to Style with Men's Camo Pants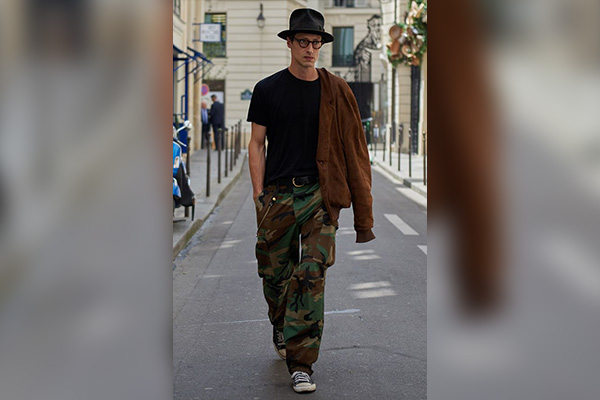 Take a look at some unique and fun outfit ideas to style with men's camo pants that you can wear to your next hangout!
Camo Pants with T-Shirt and Sneakers
One of the simplest and most casual camo outfits is wearing camo pants with a t-shirt and sneakers. This is a comfortable, relaxed look that you can wear on multiple occasions such as when running errands, hanging out with friends, or going to a low-key lunch or dinner.
The ideal camo pattern to choose here is woodland camo paired with a white, beige, tan, or any neutral-colored t-shirt, and your favorite pair of sneakers. If you'd rather go with something loud or bold, you can opt for a graphic tee.
There are different types of sneakers to consider here such as low-top, high-top, or slip-on sneakers which help offer a sporty touch to this casual and relaxed look.
Camo Pants with Crew-Neck Sweater and Leather Boots
For a more stylish, smart-casual kind of look, go for camo pants with a crew-neck sweater and leather boots. When paired with a solid-colored crew-neck sweater, it creates a stylish attire while also offering some warmth and comfort. This is ideal for colder days when there's a slight nip in the air.
Leather boots, on the other hand, will take your outfit to another level by adding a sophisticated touch to it, making this look perfect for more dressed-up occasions.
Consider pairing snow camo pants with a dark-colored crew-neck sweater, and black or brown leather ankle boots. You can also go with desert camo paired with a light-colored sweater and brown boots.
Camo Pants with Hoodie and High-Top Sneakers
Pairing camo pants with a hoodie and high-top sneakers is great for everyday wear when you are lounging on a weekend, going out to run errands, or even to the gym.
Hoodies are the epitome of comfort, cozy, and warmth which makes them ideal to wear literally all day long! One way to style a hoodie here is to pair it with tiger stripe or digital camo pants to the equation with high-top sneakers, and there you have it – the perfect outfit for a fun, casual day out!
This look is both comfortable and stylish where you can opt for a neutral hoodie or even a bold one, depending on the color of your sneakers and camo pants.
Camo Pants with Henley Shirt and Hiking Boots
If you are an outdoorsy kind of person or a hiking enthusiast, this outfit is perfect for you! It offers a practical, stylish, and chic look that's ideal for outfit adventures.
Camo pants with a henley shirt and hiking boots create a versatile attire that you can sport for a number of outdoor excursions such as hunting, hiking, biking, horseback riding, kayaking, and many others.
The right camo pattern to opt for here is desert or woodland since the colors of these pants will perfectly complement the terrains and landscapes during these activities. The addition of a henley shirt to this outfit will offer warmth and comfort, especially if the weather gets a little cold in the evening.
Camo Pants with Leather Jacket and Boots
Stylish, chic, and edgy, camo pants with a leather jacket and boots offer a versatile outfit that can be worn on a number of occasions.
For a casual chic look, opt for snow camo pants, a cool leather jacket, a white or black t-shirt, and ankle boots which is a great attire for a casual hangout with friends, or even running daily errands.
For an outdoor adventure, consider a flannel shirt, hiking boots, digital camo pants, and a leather jacket. For a night out with friends, go for a dark-colored t-shirt with ankle boots, a brown leather jacket, and tiger stripe camo pants.
The beauty of this look is it can be as dressed up or dressed down as you want to depending on where you are going.
Camo Pants with Button-Up Shirt and Loafers
Camo pants and button-up shirts might not be an ideal combination, and might even sound odd to some people, but when paired together, they look super chic and smart! Add a pair of suede or leather tassel loafers to the look and you are all set to head out to make a bold style statement!
If your office has a relaxed dress code, you can totally wear neutral-colored camo pants to work paired with a crisp white button-up shirt, and leather loafers. Add a matching leather belt to add some formality to your look.
For a summer daytime affair, go with a lightweight, button-up shirt with relaxed camo pants, suede loafers, and a pair of sunglasses to complete this casual yet stylish ensemble.
Accessories to Wear with Camo Pants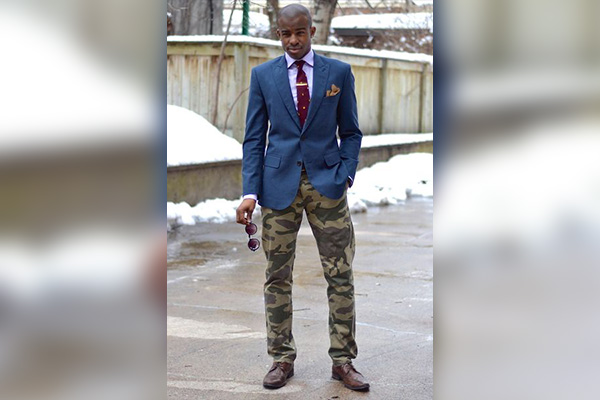 Accessories are always a plus no matter what you are wearing since they help elevate and enhance an outfit. Take a look at some great ways through which you can accessorize your camo pants outfit.
Sunglasses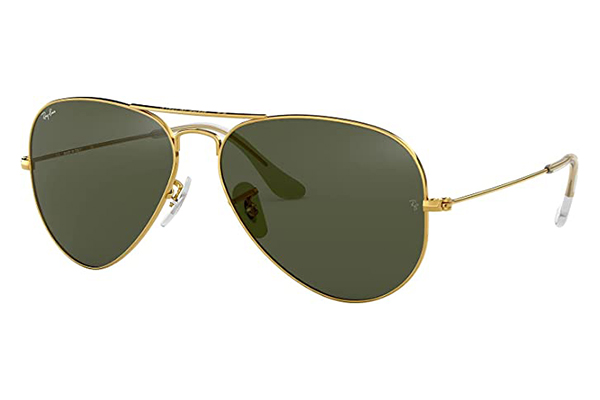 Given the retro, edgy look of camo pants, sunglasses make the perfect accessory to complete your ensemble. There are many different types and styles of sunglasses that you wear such as oversized sunglasses for a cool, trendy look, or aviator sunglasses to add a level of sophistication to your look.
You can also go for round sunglasses which, as always, are a timeless option. Wayfarer sunglasses are a great option too considering how they complement the unique look of camo pants.
The key to choosing the right sunglasses is to go for one that reflects your personal style. But, don't hesitate to experiment with different styles to find out what works best!
Hat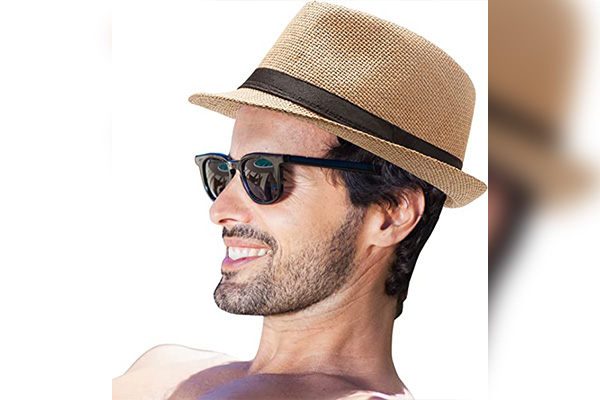 Hats are another excellent accessory to pair with camo pants and there are so many fun options that will help elevate your outfit.
For instance, consider a bucket hat that features a downward-sloping brim, which is what gives it a unique bucket-like look. You can also go for a neutral-colored fedora hat, another popular hat option among men.
For a cozy, casual look, a beanie would look great, and it will also help you keep warm, making it ideal for winter days.
Watch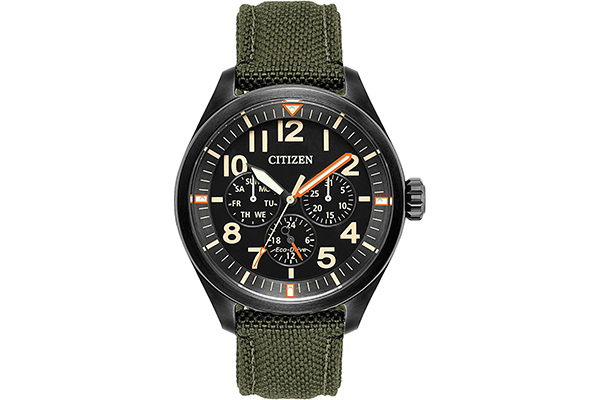 When it comes to accessories, a watch is a no-brainer. Most men don't leave the house without wearing one, and it goes equally well with camo pants!
If you are going for a sporty look, a digital watch featuring a nylon strap is a great option. For a more dressed-up look, a watch with a leather strap is the ideal choice.
Apart from the obvious functional or practical benefit, watches also offer a dash of sophistication that is just what you need to complete an outfit.
The rule is the same with watches – choose one that matches your personal style, but it's okay to experiment with different styles to see which one reflects your style.
Backpack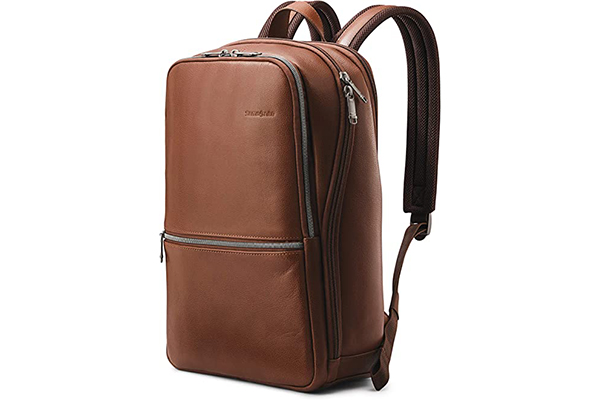 Most outdoor activities and excursions call for a backpack to carry your essentials, so there's no reason why you shouldn't carry one with your camo pants! Whether you are going hiking or camping, a nice sturdy backpack is a must-have accessory.
Even when running daily errands or going to a casual lunch, you can still carry a lightweight backpack. A leather backpack is an ideal candidate given its sleek and aesthetic appeal.
Tips for Pulling Off the Camo Pants Look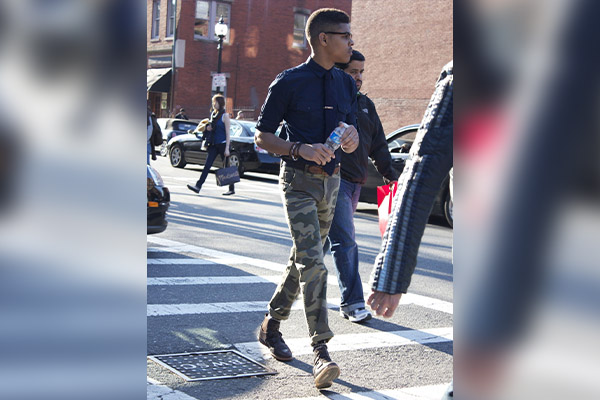 Camo pants might sound like they are out of your comfort zone, but if you take into account the following tips, you can pull them off with great ease and style.
Pay Attention to the Fit
Camo pants do feature a slightly loose silhouette, but you still need to pay attention to the fit. It shouldn't be extremely baggy or too tight either.
Make sure the pants are at the right length, whether you are going for ankle-length or a cropped style. The waist of your pants should fit comfortably without being too loose or tight.
Choose the Right Accessories
Since camo pants are inherently a little too bold and loud, choose neutral-colored accessories to balance the look, while also keeping the focus on the pants.
A light-colored hat, a brown or black belt, or a pair of sunglasses is ideal to wear with camo pants. The goal is to make sure that your accessories aren't flashy so that your camo pants still remain the highlight of the outfit.
Wear the Right Shoes
This can't be said enough – shoes can make or break your outfit so always choose wisely. From loafers to sneakers to boots, there are many options to consider here.
For instance, for a cool, chic look, you can style Chelsea boots with your camo pants, but make sure to go with a light color in order to prevent them from clashing with the pants.
Experiment with Different Styles
Camo pants are available in many different patterns and styles and can be dressed up or down so you can experiment with different styles to come up with unique outfits.
Consider different types of shirts such as t-shirts and button-down shirts, and outerwear options such as leather jackets or denim jackets.
Conclusion
Knowing what to wear with men's camo pants is very important to avoid clashing with the wrong colors or patterns so make sure that you choose the right outfits!
Camo pants tend to come off as too bold, but there's no denying the fact that they are a very stylish clothing item to wear, and can help add a unique toucan to your wardrobe.
If you've never worn camo pants before, now's the time to step out of your comfort zone and experiment with a pair.