One of the best things about being a mom is dressing up your little one in cute mommy and me outfits! It's a great way to show off your child's personality while feeling like a stylish mom.
This trend is taking over TikTok, Instagram, and everywhere else, with many people sharing their photos wearing mommy and me outfits. It gained popularity when celebrities like Kourtney Kardashian posted photos of themselves wearing mommy & me outfits.
There are endless possibilities when it comes to mommy and me outfit ideas. You can match your outfit to your child's or go for a more coordinated look. Either way, dressing up with your little one is fun to spend quality time together.
Whether going to a family event or a park for a casual walk, our mommy and me outfit ideas will surely put a smile on your face. From casual looks to more formal attire, we've got you covered.
Mommy and Me Outfits — Holiday Guide
The holidays are a particular time to spend with family and friends, and what better way to show your love than by matching mom and me outfits! Whether you're attending a holiday party or just getting together for a festive photo, mommy and me outfits are a great way to show off your holiday spirit.
Who doesn't love twinning with their kiddo? Here are some of our favorite types of dresses to get you started.
Mommy and me Christmas outfits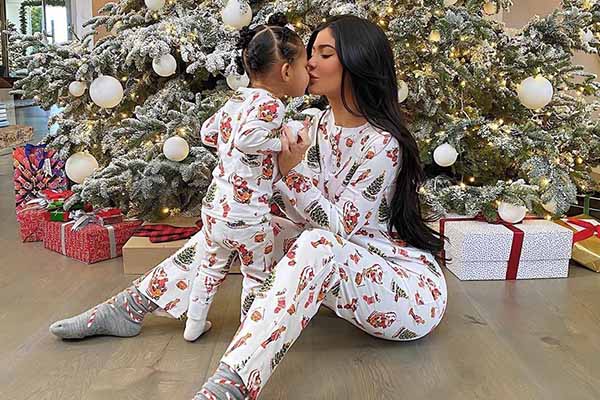 There are many ways to coordinate your looks, from traditional red and green ensembles to more modern takes on the Christmas theme. And don't forget about accessories! A coordinating scarf, hat, or pair of earrings can tie the whole Mommy and me Christmas outfit together.
Try matching red and green plaid shirts with jeans or leggings for a festive and fun look. Add a pair of coordinating sneakers (literally choose from the various types of sneakers) or boots to complete the outfit.
If you want something a little more glam, try a velvet dress for mom and a coordinating bow tie or suspenders for baby. Add some sparkling jewelry and heels for mom, and a cute pair of sandals for your mini-me.
You're all ready to celebrate in style.
Mommy and me easter outfits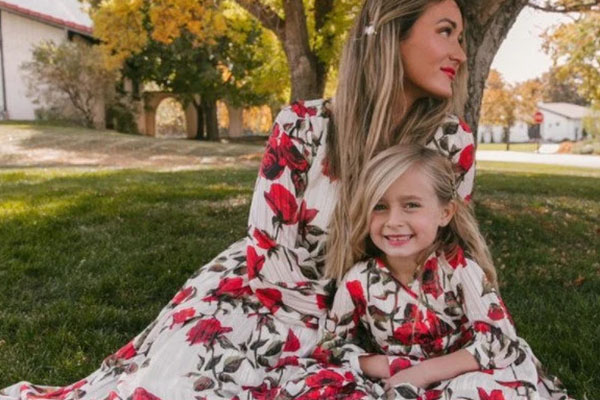 There's nothing cuter than seeing a mom and her little one matching in their Easter best!
For mommy and me easter outfits try matching your outfits to the Easter eggs! You can wear pastel colors and a matching long dress, or go for a more eggcellent look with brightly colored clothes. Either way, you'll be sure to stand out in the crowd.
Also, you can go for all white. Add some funky jewelry to the mom and bunny ears to your little one's cute outfit. Or, if you want to be a little more festive, a fluffy tail and some whiskers can work great.
Mommy and me valentine outfits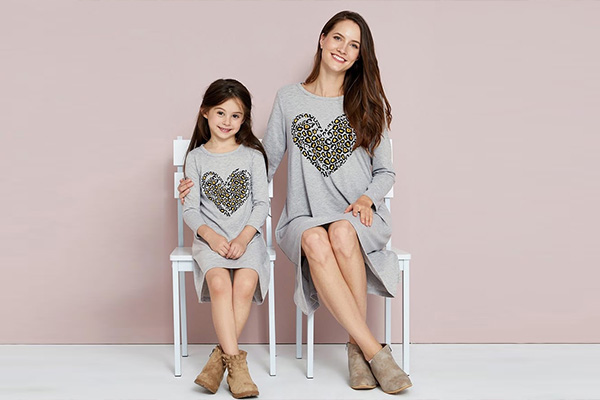 What could be more adorable than mommy and me valentine outfits?
For a matching mommy and me boy's outfit, consider a jumpsuit. This mom and son duo is rocking coordinating reds, but you could also go for classic black or white. Add fun accessories, like mommy's heart sunglasses or son's bowtie, to make the outfit pop.
Try a mommy and me tutu set for a mom and daughter matching outfit. These playful skirts are perfect for spinning and twirling around the living room – or wherever your valentine's day takes you. Also, wear a matching hair band to complete this mommy-daughter outfit.
Mommy and Me fourth of July Outfits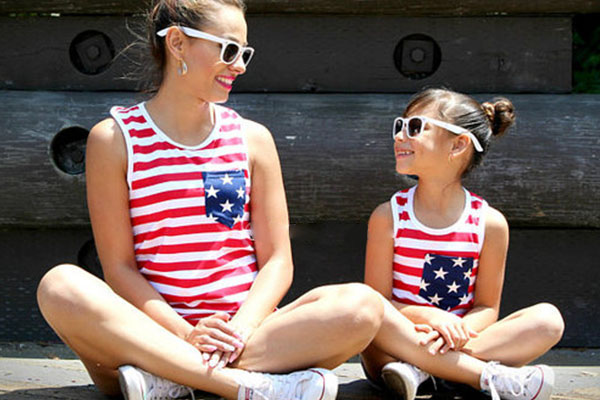 The '90s fashion is making a comeback with some modern twist. Try denim from the 90s fashion to rock mommy and me newborn outfits.
Pair a red and white gingham sundress with a denim jacket for mommy and a matching romper for baby.
Denim shorts are always a good choice if you're looking for something a little more casual. For mom, pair them with a white eyelet top and red accessories. Baby can match mom with denim shorts or a cute little sundress. Add some patriotic flair with star-spangled socks or shoes.
Mommy and me thanksgiving outfits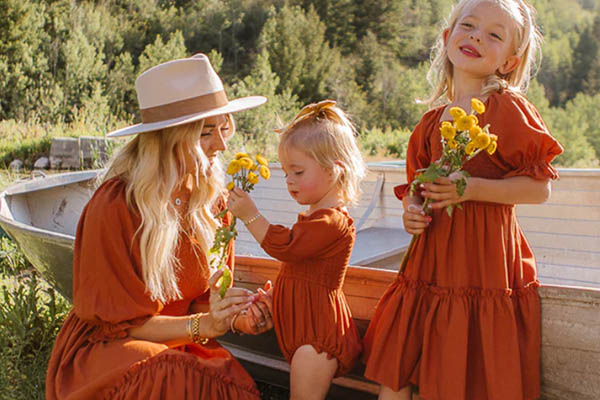 Try Mommy and me outfits for Thanksgiving this time. After all, you'll be spending the day cooking and eating! You don't have to be super matchy-matchy. You can coordinate colors, patterns, and materials instead.
Try an outfit in all black. You go for a denim skirt and chambray shirt for mom with a denim jumper for your mini-me.
For a more relaxed look, try mommy and me outfits in earth tones. A brown corduroy skirt looks great with a cream-colored sweater for mom. The little one can match in a brown corduroy jumper or pair a tan onesie with khaki pants.
Mommy and me new year's outfits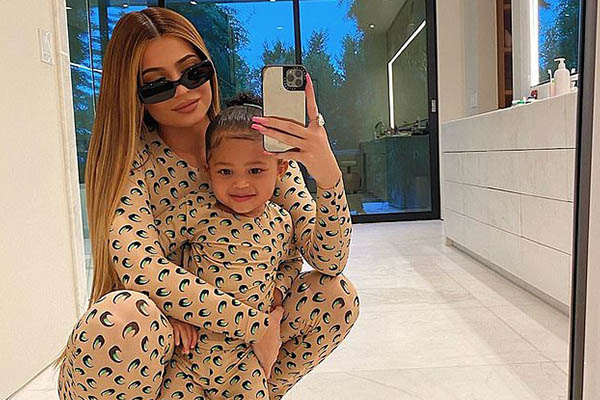 What are you doing for New Year's? You may want to lounge around in your pajamas all day if you're staying home. But going out, you'll need something a little more festive.
That's where mommy and me fashion comes in!
You can't go wrong with the 70s fashion of black and gold. For mom, try a black dress with some gold accessories. The little one can match a black onesie or leggings with a gold tutu.
Red is always a good choice if you want to add a pop of color. A red dress or skirt with a black top is perfect for mom. Mini-me can go for a red onesie or leggings with a black tutu.
Mommy and Me Matching Outfits — Seasonal Guide
As a mom, you want what's best for your child — making sure they're comfortable and stylish no matter the season. And while wearing mommy and me matching outfits can be super cute, finding clothing that works for you and your little one can also be challenging.
That's why we've put together this guide of our favorite mommy and me outfits for every season. These types of aesthetics are easy to carry in every season. Either it's a hot summer or cozy winter, mommy and me dresses won't disappoint you.
Mommy and me fall outfits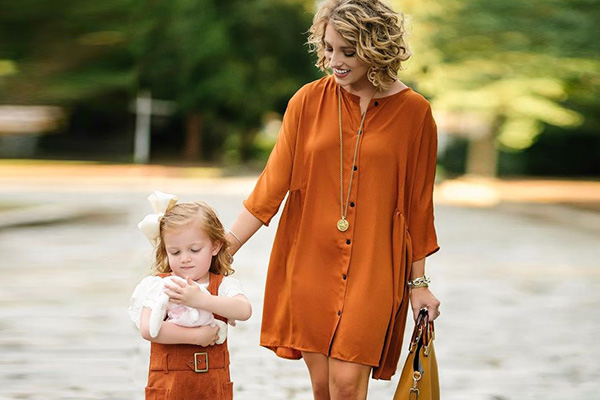 What's the best part about fall? The weather, of course! But dressing for the cooler temperatures can be challenging, especially if you have a little one to dress with.
Layer a vest over a long-sleeved shirt or turtleneck and pair it with some leggings. Your little one can wear a similar outfit, or even a vest over a shirt can work well.
Suppose you want to add a little style to your mommy and me outfits. Layer a scarf around your neck and pair them with cute boots. Your kiddo can do the same thing or wear a scarf as an accessory.
Mommy and me Winter outfits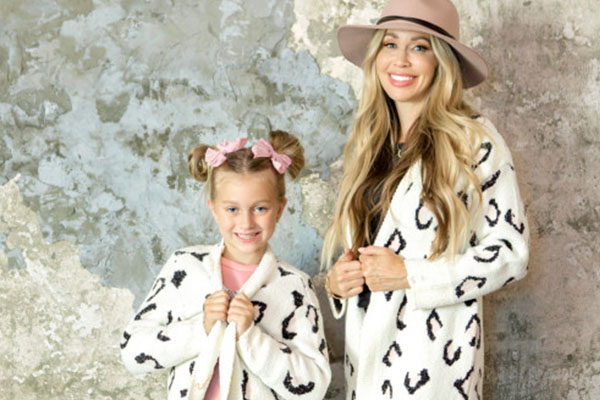 There's no need to suffer from the cold just because you want to look stylish!
Trench coats keep you warm while still looking chic. Get a matching set for you and your little one so you can both look stylish while staying warm.
Another excellent option for mommy and me outfits for winters is a sweater dress. These are perfect for keeping warm while still looking fashionable. Plus, they come in various styles so you can find the perfect one for each of you.
Make sure to accessorize accordingly, and you'll both look fashionable and feel warm all season long.
Mommy and me Summer outfits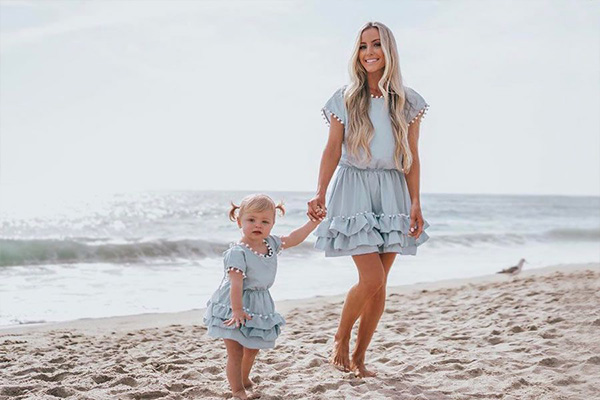 If you're looking for the perfect way to spend quality time with your kiddo this summer, why not match 90s outfits? Cute and stylish, cottagecore dresses are a great way to enjoy the warmer weather while spending time together. Plus, they come in various colors and styles. You can find the perfect look for you and your little one.
So what are you waiting for? Get matching cottagecore-inspired dresses for the ultimate mommy and me summer outfits, and enjoy the season in style!
Mommy and me Spring outfits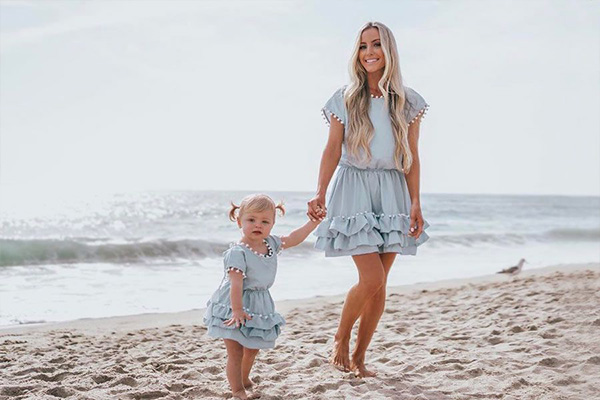 With Spring finally here, it's time to start thinking about refreshing your wardrobes. And what better way to do that than with cute and coordinating mommy and me outfits?
Start with a pair of cropped jeans or shorts yourself. Then, top it off with a printed tee or tank. Add a denim jacket for some extra layering (and style). And for your little one, a cute pair of shorts and a tee or tank are all you need. Finish off the look with sneakers or sandals, and you're good to go!
Concluding Our Thoughts on Mommy and Me Outfits
Whether you're looking for the perfect way to spend quality time together or just want to update your wardrobe for the new season, mommy and me outfits are a great option. You're sure to find the perfect match for you and your little one with so many different styles and looks. So get out there and enjoy quality time together in matching mommy and me outfits!