Classy, modern, versatile, and effortlessly stylish, a gray blazer has so much more to offer which makes it one of the most important and iconic men's wardrobe essentials. So, how to wear a grey blazer in a manner that doesn't take its beauty away, and does it do true justice in terms of style?
It's one of the most essential types of jackets for men that deserves a special place in every man's wardrobe. You can do so much with a gray blazer and make it appropriate for all kinds of dress codes ranging from casual and smart casual to semi-formal and formal.
Whether you are going to a wedding, a casual dinner, a cocktail party, or an office lunch, a gray blazer can be sported in so many different looks.
Take a look at some of the most stylish gray blazer outfits for men that you can flaunt with style and confidence at your next event!
Gray Blazer with Jeans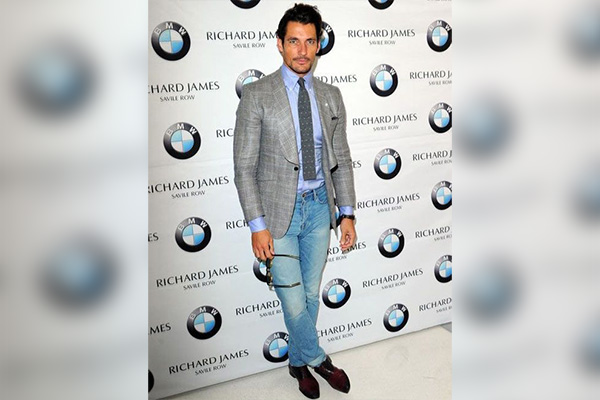 Nothing beats the classic jeans and gray blazer pairing for a casual yet smart and cool attire. If you are going to a fancy restaurant for dinner, , or heading to a friend's evening party, for instance, this look is ideal.
Style a light gray blazer with black or dark blue jeans and a pair of fine loafers. You can opt for either a plain t-shirt or a white shirt to wear under your blazer.
Add a statement wristwatch to your ensemble which will definitely help create an element of oomph to your overall look. In case there's a noticeable chill in the air, go for a brown scarf to spice up your outfit.
This is also one of the most versatile outfit options where you can experiment a great deal with different types of shirts, colors, and jeans styles!
Gray Blazer with Black Pants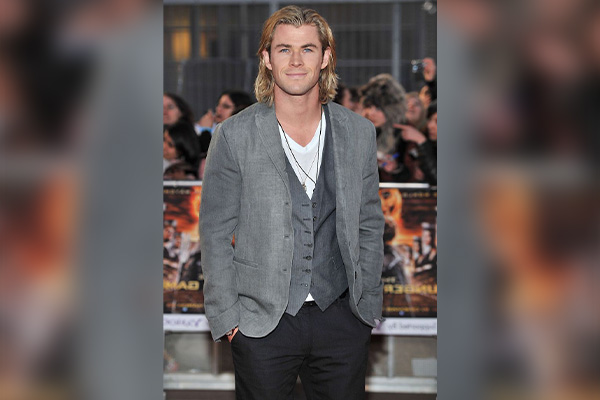 When heading somewhere formal but don't wish to wear a full suit, go for a gray blazer paired with classy black pants. This is another chic, evergreen look that always works!
Even if it's your friend's big day and you are wondering how to dress smart for a wedding, you can totally rock this look! Pair a light gray checkered blazer with black pants, and add matching black leather shoes and a nice black tie to it. This is quite a sophisticated, formal look for men looking to make a style statement.
For occasions that don't require a tie or anything too formal, ditch the tie, and go for an all-black look with black pants, a black shirt, and statement black loafers.
Gray Blazer with Blue Pants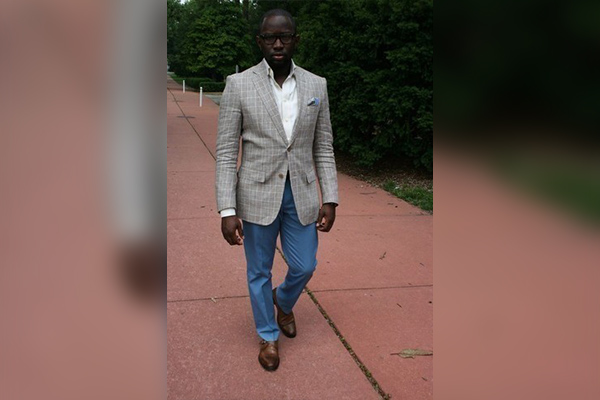 While black always goes with gray, another classic color option is none other than blue! This color combination is absolutely chic and offers a great way to add a touch of elegance to an outfit.
A super cool and casual outfit option here is navy blue pants with a gray blazer that is perfectly tailored according to your size. Wear a cream-colored shirt under the blazer, and up the look of this outfit with a pair of brown monk leather shoes.
If you wish to add a touch of formality, opt for a printed silk pocket square which is enough on its own to take your outfit from casual to formal! This also makes appropriate cocktail attire for men so if you have a cocktail party to attend any time soon, this outfit is perfect!
Another option is a light gray blazer with a crisp white shirt, light blue dress pants, and a pair of dark brown leather fringe loafers. Light blue pants might not be within everyone's comfort zone, but when paired together with this combination, you will see how stylish they really look!
Gray Blazer with White Shirt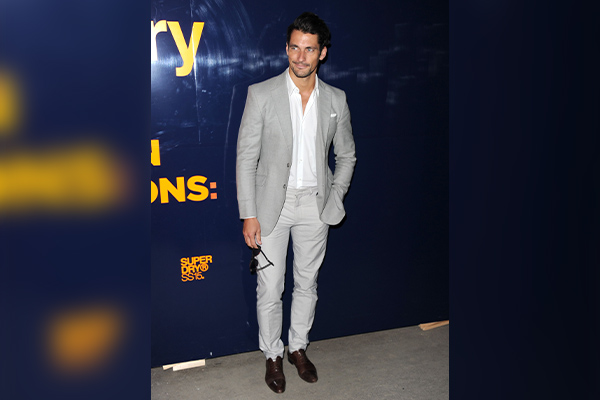 A gray blazer with a white shirt has to be one of the most popular combinations mainly because of how versatile it can be!
There are so many different ways to style a white shirt with a gray blazer and come up with fun and unique outfit options. If you are looking for a stylish summer look, you can't go wrong with a light or mid-gray blazer, a solid white shirt, white pants, brown leather shoes, and for the added wow factor, a navy waistcoat!
If you aren't too keen on white pants given how it can be a little tough to pull them off, you can simply go for slim-fit navy blue pants or chinos, a well-fitting dark gray blazer, and any formal shoes that you own. This dark gray blazer outfit is simple yet so fashion-forward at the same time.
For a super casual look, go with a gray blazer, navy jeans, a wide-striped t-shirt, and perfectly clean white sneakers.
Gray Blazer with Black Shirt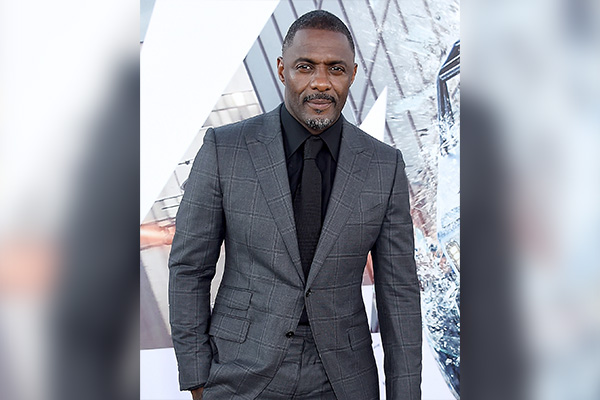 Elegant, aesthetic, and classy, this gray blazer with black shirt combination is surely going to turn a few heads your way!
Right off the bat, the quintessential outfit option here is an all-black attire featuring black pants, a black shirt, black leather shoes, and a mid-gray blazer to bring in a sharp contrast. If you wish to add more color to this look, replace the black shoes with brown leather oxford shoes.
For a more fun and creative look, introduce a pair of bold and loud pants such as burgundy chinos and brown leather derby shoes which will simply take your outfit to another level.
For a refined, modern look, match the color of your pants with the gray blazer, add a crisp white shirt to the equation and you are all set to make a cool style statement. If you are looking for ideas on how to dress in your 40s, this look might agree with you!
Gray Blazer with Chinos and Sweater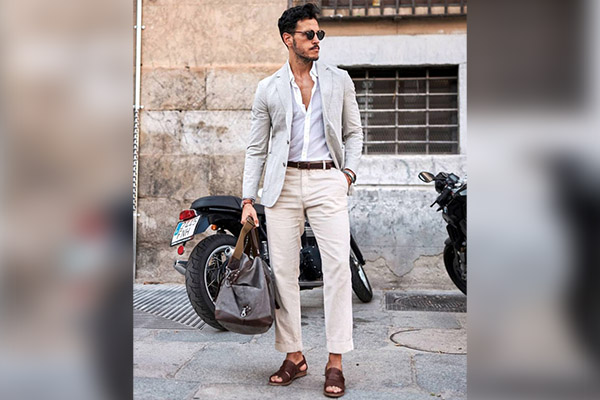 When the weather begins to take a turn and there's a nip in the air, it calls for a nice sweater to add to your gray blazer outfit!
A simple yet smart outfit option is a mid-gray blazer paired with a cool navy pullover round neck sweater, beige chinos, and white sneakers. This has to be one of the most effortless looks that you can pull off without having to overdo things. If you happen to sport this outfit during the daytime, level up your style game with a pair of chic sunglasses.
Got casual weekend plans with friends? Rock a dark gray blazer with a light-colored sweater, a pair of slim blue denim jeans, and brown suede loafers. Spin a fancy touch to the same look by adding a stylish wristwatch to it and replacing the loafers with brown leather Chelsea boots.
Gray Blazer with High Neck T-Shirt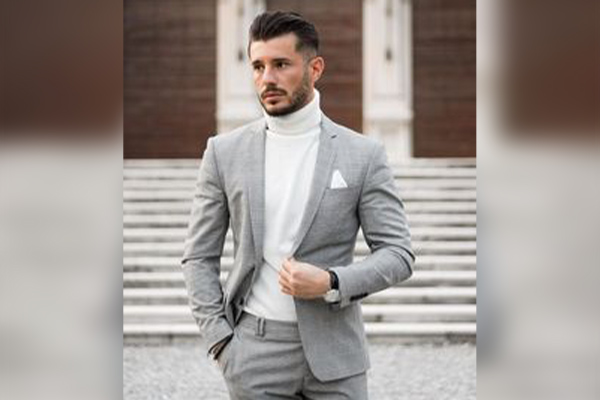 High neck t-shirts look great on their own, but ever worn with a tailored gray blazer? If not, now's the time to experience it and see how it looks!
Dress pants are ideal for this look, but if you are looking for something more casual, chinos and jeans also work. The key to pulling off this look is to opt for a neutral-colored high-neck shirt such as brown, beige, gray, cream, or black. 
Ideally, the color of your shirt should be lighter than that of your blazer so in this case, choose a dark gray blazer and a cream-colored high-neck shirt. If you choose to go with dress pants, make sure to tuck in your shirt to maintain the formality of the look, but if opt for jeans for a casual vibe, you can leave the shirt untucked.
Gray Blazer with Brown Trousers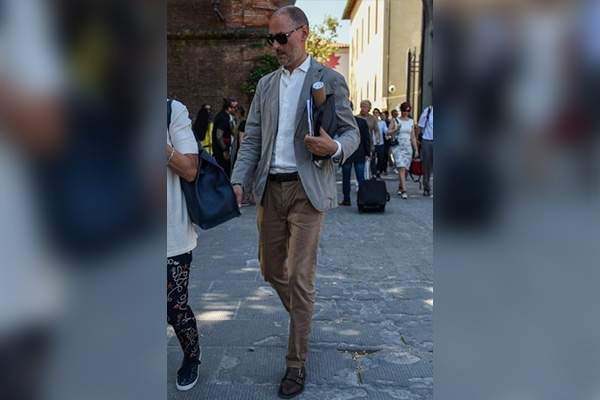 A chic casual weekend look is none other than a gray cloud blazer paired with a white v-neck t-shirt, brown trousers, a brown belt, and black leather shoes. While gray and brown might not be your go-to color combo for your outfits, give this one a shot for the end result is simply stylish!
If you wish to dress this look up a little, add a light blue shirt, dark brown pants, a striped tie, and a pair of brown suede loafers to it.
The key with this outfit pairing is to choose the right shade of gray for the blazer, and the right shade of brown for the pants. You want to make sure that you choose the ones that complement each other perfectly and don't end up creating an unappealing color combination.
Blazer with Patterned Pants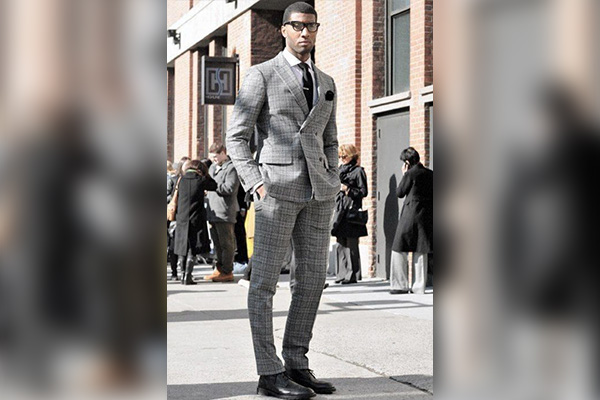 Switch things up a little, take a few steps outside your comfort zone, and go with patterned pants to pair with your gray blazer instead of the usual black and navy ones!
Opt for dark-colored patterned pants, a mid-gray blazer, and a dotted white shirt. Complete the ensemble with brown leather shoes and an accessory or two such as jewelry or a printed pocket square to add a pop of color to your look.
Patterned pants can take an otherwise simple outfit from zero to a hundred without you having to make any extra effort!
Take navy or black windowpane checkered pants, for instance, which have quite a strong, dramatic look to them and are super easy to pull off. Pair them with a mid-gray blazer, and brown leather shoes and you are good to go! 
Gray Blazer with Shorts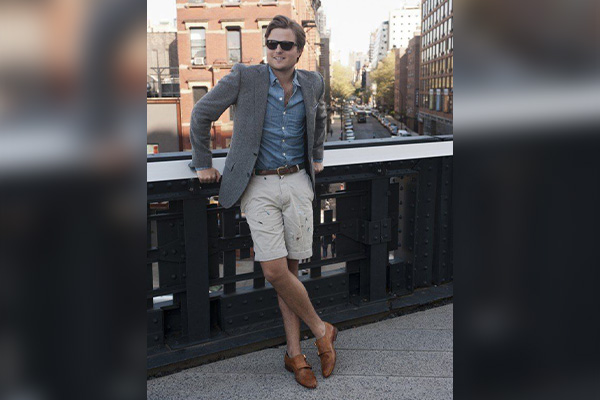 If you are someone who loves to make a unique and dramatic style statement through your fashion looks and outfits, perhaps, you would like to give this look a shot.
Consider a light gray blazer, or a charcoal gray or navy turtleneck sweater, and wear it over a pair of light gray shorts. This outfit option is ideal for days when the weather isn't too hot for a sweater or too cold for shorts.
It's also a super fun and creative look where you can go as loud or subdued as you want in terms of the colors you choose. For instance, if you wish to make a colorful statement, why not go for bright yellow or pink shorts? While this is definitely quite an 'out there' kind of a look, it's perfect for a casual day out with friends or any informal occasion where there aren't any dress codes or rules in place!
Gray Wool Blazer with Scarf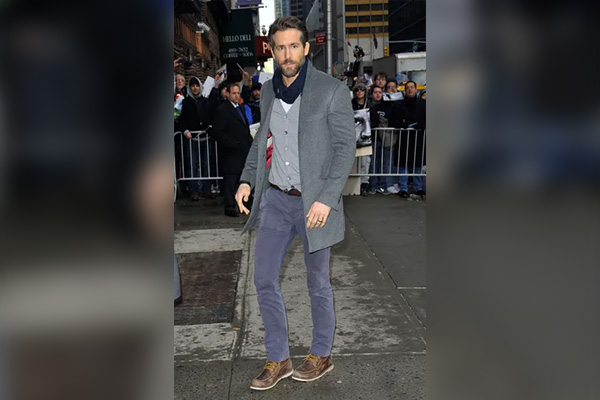 Learn how to dress nice this winter season which calls for warm and comfortable clothing that is not just functional, but also stylish at the same time. Stand out from the crowd with a refined gray wool blazer and jazz it up with a bold winter scarf.
You can pair any type of pants with this outfit such as jeans, chinos, or even cargo pants for low-key, casual, and informal occasions. For more formal events, go with classy dress pants and leather shoes. 
In terms of shirts, again, there are lots of stylish options to choose from such as polo shirts, simple t-shirts, dress shirts, turtleneck sweaters, flannel shirts, and more!
Since the highlight of this look is the scarf, make sure you choose a loud, vibrant color to add some zing to your outfit.
Gray Tweed Blazer with Denim Shirt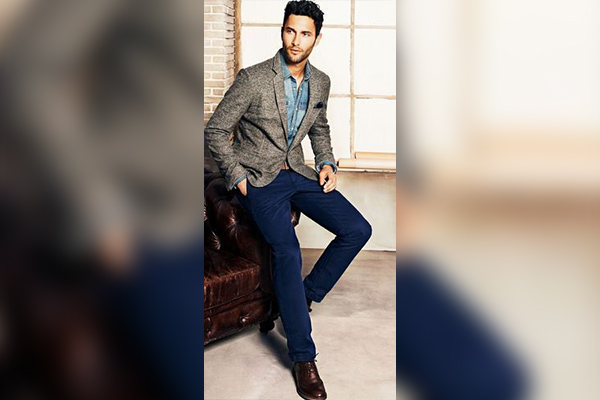 When worn individually, denim shirts and tweed blazers look super chic and make an attractive style statement. But, when paired together, it's a whole new ball game!
The nice blue color of the denim shirt perfectly complements the gray color of the tweed blazer in this particular look. Tie the outfit together with a pair of brown leather shoes and black or navy blue pants. You can choose to wear your favorite jeans here, but they will look best with chinos or any other smart casual type of pants.
Gray Blazer with Trench Coat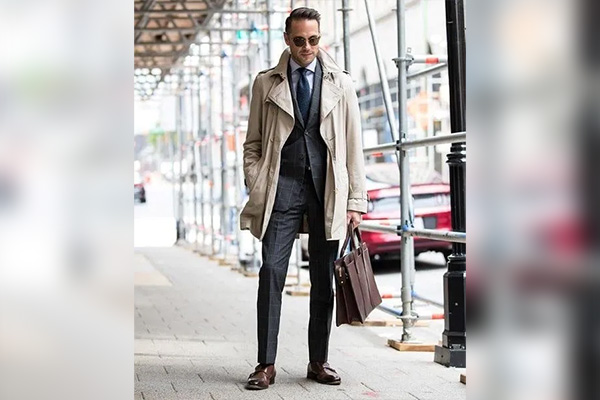 If you've never worn a blazer with a tailored trench coat, it's time you did because this is one of the most stylish combinations of all time and always makes a solid style statement.
Consider a light gray blazer, a sleek pair of black pants, a black button shirt, black leather shoes, and a cool black trench coat thrown over the shoulder. If you are heading out wearing this outfit during the day, add a pair of trendy sunglasses to the look and you'll be turning a few heads your way for sure!
Another classic pairing option is a crisp white button-down shirt, slim blue jeans, and brown suede shoes paired with the same blazer and trench coat.
This look can be worn as both smart casual and formal and looks absolutely dapper which is why you should always have a gray blazer and a trench coat in your wardrobe!
Gray Blazer with Overcoat 
Don't let the cold weather take away your style game – sometimes, the winter season offers the perfect opportunity to really put your creativity in fashion to good use!
When there's a strong chill in the air and you have an important event to attend, consider a light gray blazer outfit and head out in style with a light gray blazer, a black crew neck t-shirt, a pair of black chinos, a warm black overcoat, black leather Chelsea boots, and a gray winter scarf.
This is one of those timeless looks that offer an ideal blend of chic, practical, and avant-garde fashion. It's also one of the most popular styles for older men where you can experiment with different colors, pant styles, and shirts to create unique looks using the same blazer and overcoat which also makes it quite a versatile outfit option.
Gray Blazer with Printed Shirt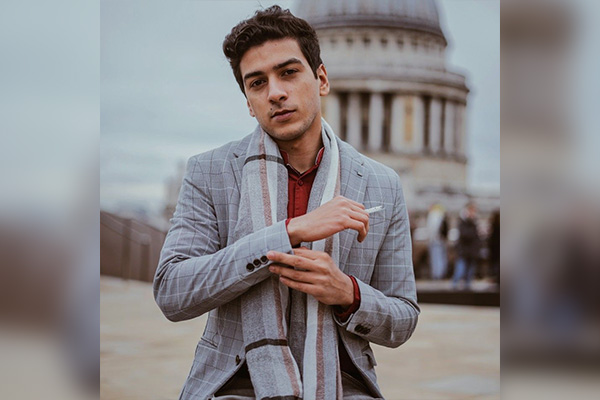 Wearing a gray blazer doesn't mean you have to stick to an overall muted or neutral color palette. You can add pops of colors in different ways such as with a bright printed shirt.
This is a great casual look for the summer where you pair a gray blazer with a blue printed camp collar shirt, for instance, a pair of beige chinos, and of course, white sneakers which are an absolute gift for casual attire.
You can transform this casual look into a semi-formal, party look by wearing a gray linen blazer, a pair of matching gray pants, a floral-printed shirt, and white sneakers.
FAQs – How to Wear A Gray Blazer
Do blazers make you look older?
An ill-fitting blazer that's too loose or baggy can definitely make you look older, but otherwise, not at all! Blazers have to be one of the most fashionable clothing items one can have in their wardrobe. The key is to make sure that your blazer has a tailored fitting because shapeless blazers can really kill your look and style.
Can I wear a gray blazer to a wedding?
Yes, for sure. Gray blazers are a classic wardrobe staple for weddings, alongside black, navy, and dark brown, unless it has a black tie dress code, in which case a tuxedo is your only option. Again, make sure to wear a well-fitting blazer with either dress pants or chinos, a neutral-colored dress shirt under the blazer, and formal leather shoes. Make your outfit look dressier and classier with the addition of a bold pocket square or a tie which are ideal for weddings. 
Can you wear a gray blazer to a funeral?
Yes, you can wear a gray blazer to a funeral considering that it's highly appropriate for the occasion. Pair your blazer with tailored pants and avoid wearing any loud or colorful accessory with it.
Conclusion
The versatility of a gray blazer can't be emphasized enough – a simple, single clothing item can offer you so many unique looks and styles! Now that you know how to wear a gray blazer, make sure to have one in your wardrobe at all times!