With Halloween just around the corner, it's time to start brainstorming about your Halloween costume ideas! This is the perfect time to step out of your comfort zone and make a style statement with a unique Halloween look. 
We have rounded up some of the best Halloween costumes and outfits that you can use for inspiration to become the best dressed this year!
Fred Flintstone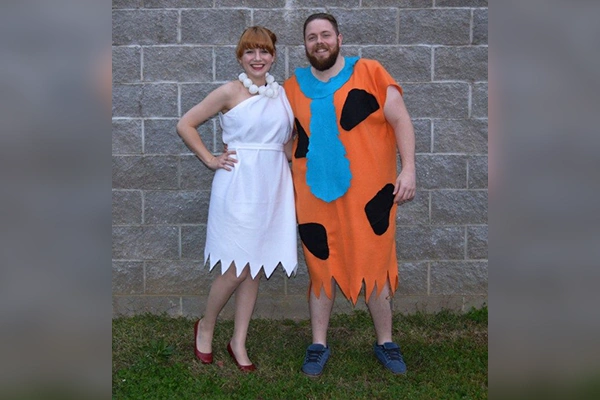 Most of us have spent hours of our lives glued to the television, watching the ever-popular American animated sitcom, The Flintstones. If that's one of your favorite things to watch, perhaps, you can take inspiration from it for Halloween costume ideas this year.
One of the easiest characters to imitate from The Flintstones is none other than Fred Flintstone. All you need is either an oversized orange tunic with black dots or a cheetah print dress, paired with bone-shaped dangling earrings, and a blue tie.
If you remember Bella Hadid's outfit from 2019 Halloween, she brought a more glamorous version of Fred Flinstone to life with her orange two-piece dress and a thin ribbon around her neck!
Harley Quinn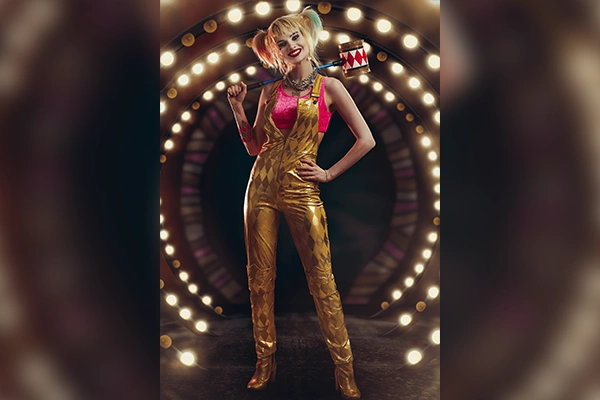 Known for her hardcore aesthetic, Harley Quinn is a great character choice to dress up as this Halloween. Get your hands on her signature 'daddy's little monster' t-shirt, pull your hair into two high ponytails, and if you can, dye the ends of your hair temporarily in blue and red hair dye or paint.
The Handmaid's Tale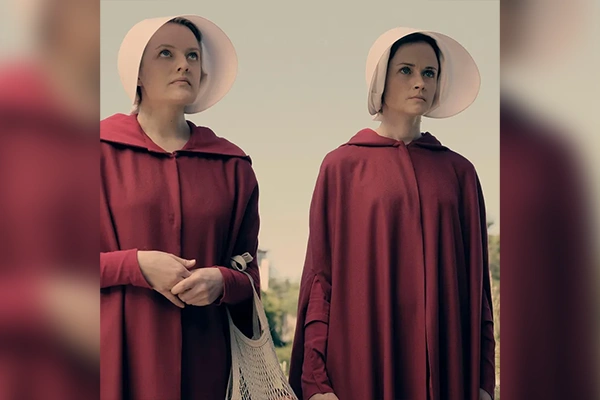 One of the best Halloween costume ideas for women has to be inspired by The Handmaid's Tale, the famous American dystopian television series.
Dress like Offred from The Handmaid's Tale this Halloween for which you will need a long deep-red vintage maxi dress, a matching cape and scarf, a colonial-style white bonnet, brown ankle boots, and a white canvas tote bag.
This might come off as a simple Halloween costume, but it's impactful and is quite a unique Halloween costume idea. 
Shrek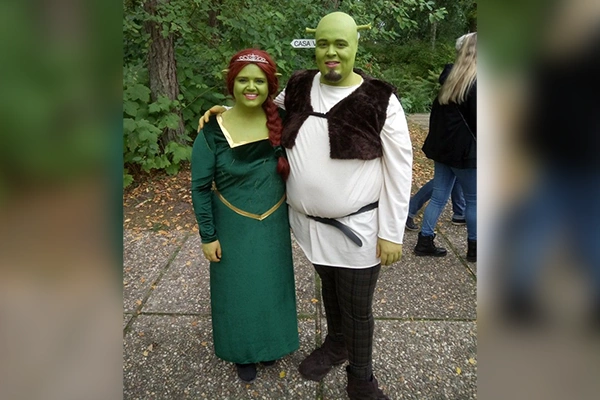 If you are looking for fun Halloween costume ideas, it doesn't get better than the fictional ogre character Shrek from the 2001 American animated comedy of the same name.
To dress like Shrek this Halloween, you need a long white shirt, a brown vest, a brown belt, brown shoes, and brown tights. But, that's not it! You will need some green face paint or green face makeup to get that characteristic green look, and of course, matching green Shrek ears that you can either find online or make your own with a spare headband, some green felt, glue, scissors, and a marker!
Pacman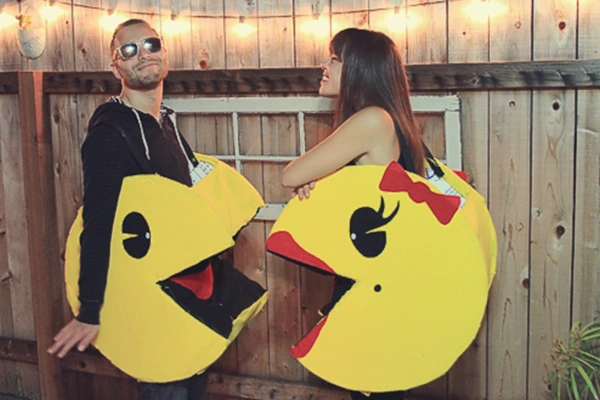 From a Pacman printed t-shirt to an actual cardboard cutout of Pacman, this is a great option for all those who've spent a few good hours playing this game.
Daphne from Scooby Doo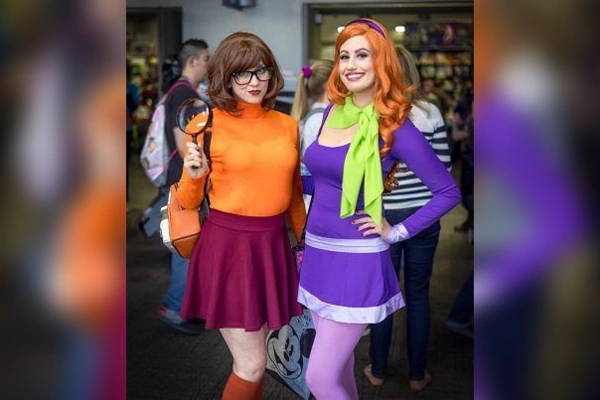 It's almost as if Halloween and the wacky Scooby Doo gang go hand in hand, given the multiple Halloween outfit ideas that this animated television series has to offer.
One of these is none other than Daphne from Scooby Doo, the feisty orange-haired woman with a savvy fashion sense. She is most known for her purple attire which comprises a purple mini dress with matching shoes and headband, pink tights, and a green scarf.
If time and budget allow, you can complete the look with a bright orange hair wig that you will find online or in any shop for hair accessories. It's an interesting way to look rich.
For those who haven't given their Halloween outfit much thought, this could be your last-minute Halloween costume as well, considering how you are likely going to find most elements in your wardrobe.
Kimmy Schmidt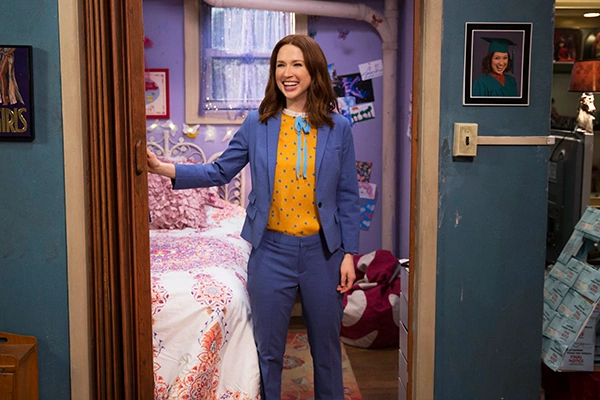 If you have a penchant for bright and loud colors, dress up as Kimmy Schmidt in bright pink pants, a yellow cardigan, and a polka dot black and white collared shirt.
Alice and the Mad Hatter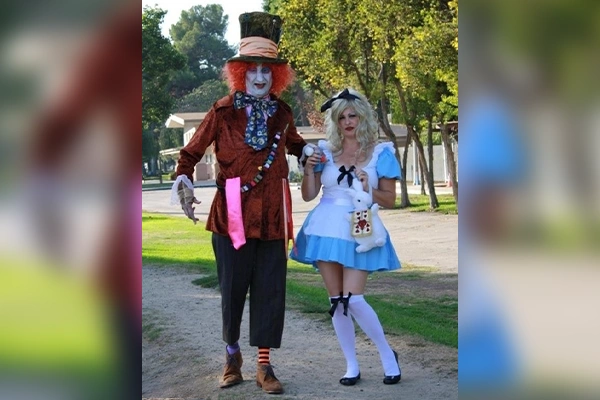 When it comes to couples' outfits for Halloween, Alice, and the Mad Hatter is worth considering. Take inspiration from this iconic duo from the American fantasy film, Alice In Wonderland, and take a trip down the rabbit hole!
To dress like Alice, all you need is a simple blue knee-length dress, paired with a white pinafore which is to be worn over the dress. You can also make do with a plain white kitchen apron if you are unable to find the exact thing.
Complete this look with a pair of black Mary Jane shoes, a blue or black bow for your hair, and black-white striped long socks or tights.
To dress like the Mad Hatter, you can be as crazy and elaborate as you like in terms of the elements and accessories you choose for this look. Begin with plain or striped wide baggy pants, an old-fashioned vintage jacket, a loud, colorful, and oversized bow tie, and a pair of vibrant socks. The key requirement here is to mix different patterns, colors, and accessories, and put your creativity to good use. 
However, this look is incomplete without the bright orange hair wig and the iconic top hat which will take your Halloween costume to a whole new level!
Ray of Sunshine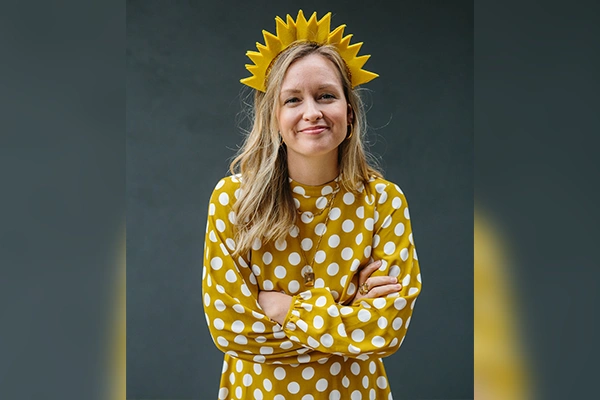 With sun earrings, a sunflower crown, and a bright sunny long dress, make your way to this year's Halloween party like the first ray of sunshine that hits our windows during the early morning hours!  
Karen Smith from Mean Girls 
Channel your inner innocent Karen from Mean Girls in a black short dress, silver boots, and a mouse ears headband because 'you are a mouse, duh!'
All-Black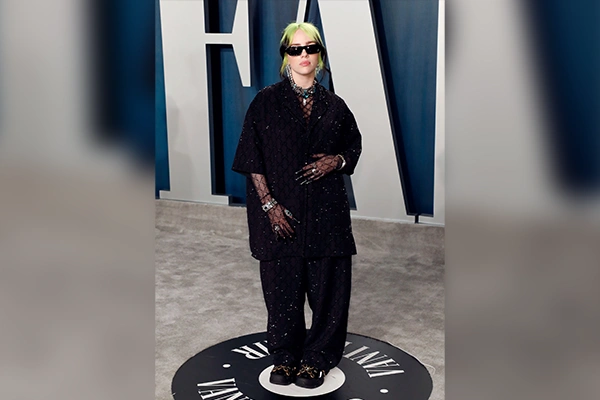 Halloween calls for spooky, and there's nothing spookier than an all-black Halloween costume!
Remember Kendall Jenner's outfit from 2018 Halloween where she dressed up head-to-toe in black as a witch? She wore a silky black slip dress and paired it with elbow-length sheer gloves, and a feathery pointed witch hat and finished the look with bold brows and pink lip color.
The beauty of going all-black is that you can come up with so many DIY Halloween costume ideas where you can mix and match different black elements from your wardrobe and create the perfect Halloween outfit!
Tinker Bell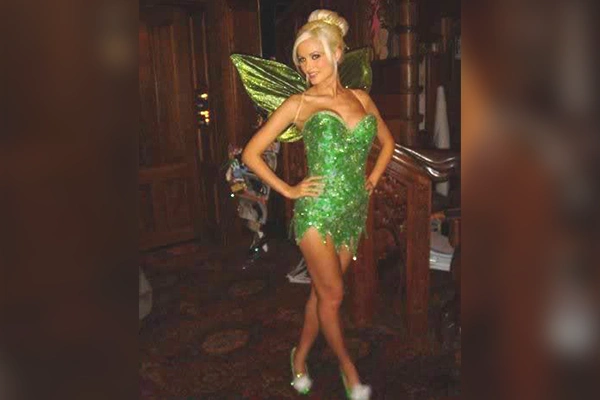 For this pretty Halloween look, all you need is a green tutu, a wand, wings, and pom-pom shoes.
Buzz Lightyear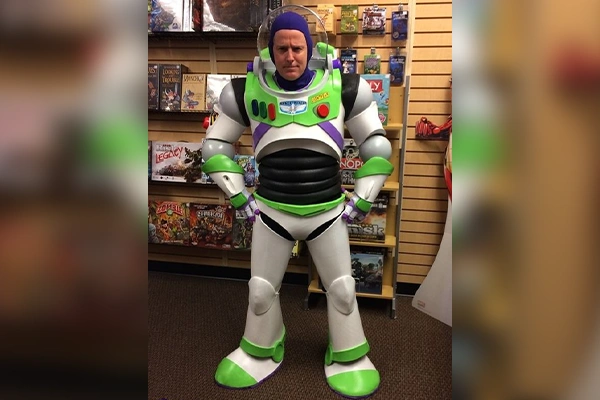 If you are a fan of Toy Story, this one's for you!
Buzz Lightyear, the famous toy spaceman from the movie was featured in a solo movie released in June 2022 called Lightyear, wearing an elaborate costume that includes a jumpsuit with graphic details, a jetpack with glow sticks, and a detachable hood.
This is quite a creative Halloween costume, and you will easily find the key elements required for this look online. However, if not, you can also look for DIY ideas and capture the essence of the character in a homemade Halloween costume. 
Elle Woods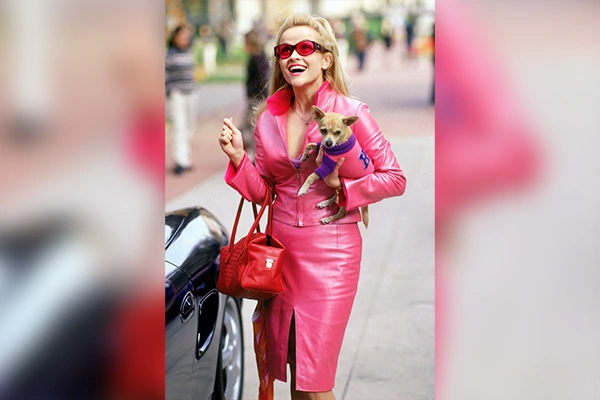 This one's for all the Legally Blonde fans out there who aren't afraid of wearing too much pink!
Dress up like Elle Woods, the fabulous, glamorous lawyer from the movie whose characteristic look is a head-to-pink attire which will surely turn a few heads your way.
Begin with an all-pink dress which could be anything from a halter-neck dress to a midi bodycon dress with a deep neckline to a blazer mini dress. Pair it with a heart necklace, matching pink statement heels, sandals or ankle boots, rose-tinted glasses, and a tote bag.
In the end, don't forget that pink fuzzy pen to complete your Elle Woods-inspired ensemble!
Giant Pom-Pom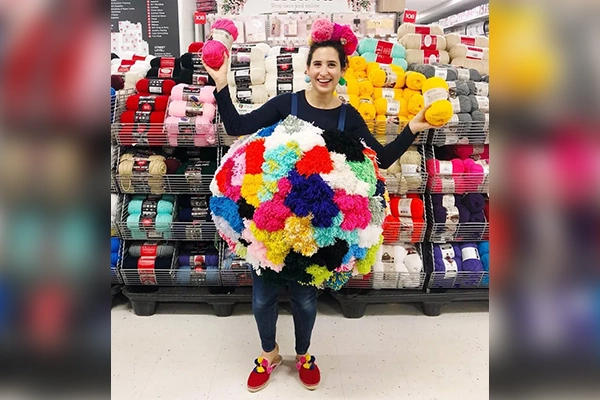 If you are feeling crafty and wish to put your creativity to good use, go for a giant DIY pom-pom costume with just a bunch of colorful yarn and scissors!
Baby Yoda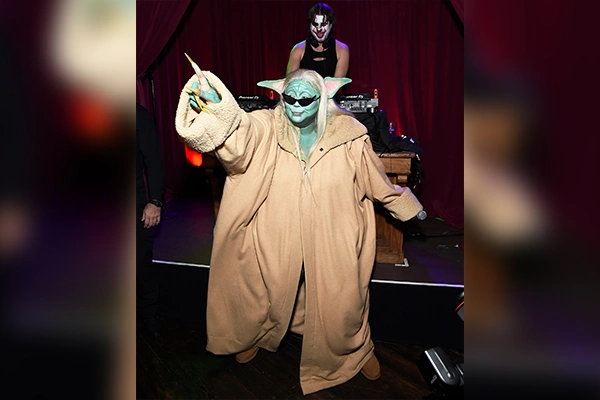 Also known as Grogu, this character from the television series The Mandalorian doesn't come with an age limit! From youngsters to adults alike, anyone can dress up as Baby Yoda this Halloween which is also one of the easiest Halloween costumes to attain.
A tan sweater or coat, green face paint, and Yoda ears are all you need to recreate this look. You can even opt for a plush tan robe, which, when paired with the Yoda ears, will bring Grogu to life!
There are so many different types of Yoda ears as well as adult Baby Yoda hoods that you are likely going to find online. If you have the time and creativity, you might even want to make your ears. 
Strawberry Costume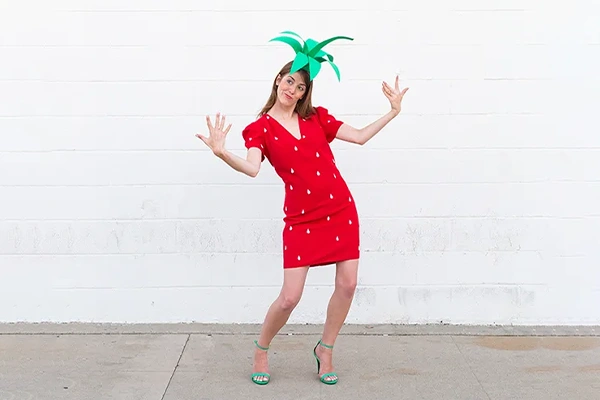 If you love eating strawberries, might even dress up as one for Halloween! With a red and white dress, red flats, and leafy green headwear, you'll look berry cute!
Edward Scissorhands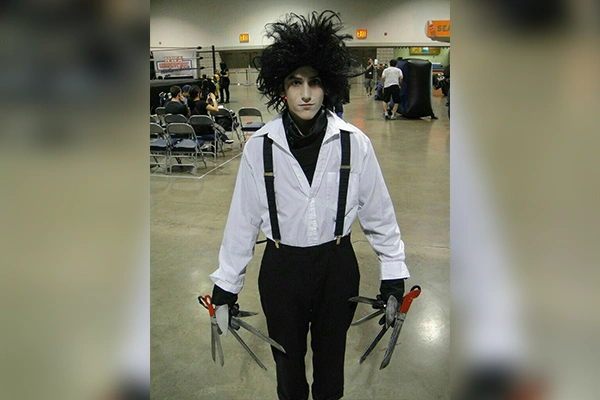 Scissor blades for fingers? Yes, please!
Transform yourself into Edward Scissorhands at this year's Halloween party in a black leather gothic jumpsuit, pale makeup, and of course, the scissor hands which you can either DIY or get from any fancy costume store near you.
Holly Golightly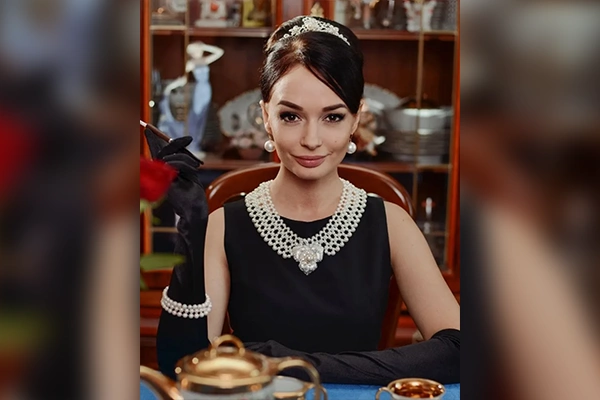 If you are looking for sexy Halloween costume ideas, go back to 1961's Breakfast at Tiffany's where the character Holly Golightly looked stunning in a black midi bodycon dress paired with matching black satin gloves and a sparkly tiara for some added oomph.
Add your unique touch to this look with your choice of black dress which can be a maxi dress with a large slit, a one-shoulder dress, or even a cut-out floor-length gown. Add some chunky, pearly jewelry to it and you are all set to go to your Halloween party!
Milk and Cookies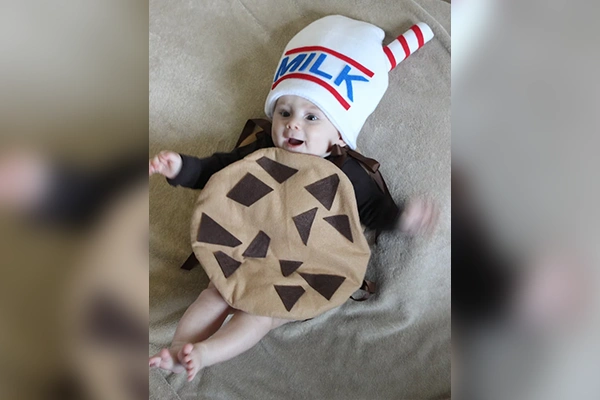 For the couple who's so in love and goes together like milk and cookies, make a cute statement with a milk and cookies DIY Halloween costume!
With a few different tools and accessories such as a pair of scissors, cardboard, some paints, glue, and a whole lot of creativity, be the walking milk and cookies at this year's Halloween party! If time and creativity aren't your friends this time around, you can easily look up customized costumes online where you will surely find a few great options.
Mei from Turning Red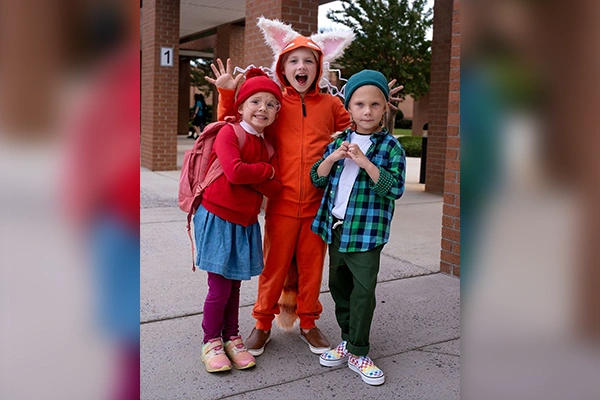 Turning Red, a 2022 American computer-animated fantasy comedy film brings you Mei Lee, a character you can dress up as with great ease. You need a red sweater, plum-colored tights, a purple mini skirt that goes over the tights, different types of sneakers, wire-rim glasses, a red beanie, and Tamagotchi.
Oversized Candy Necklace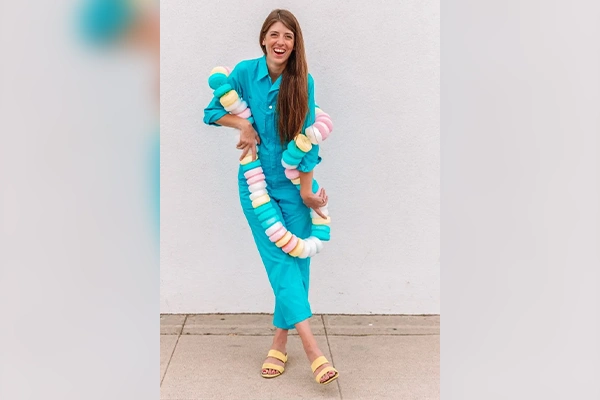 Don't feel like going over the top with your Halloween costume this year? Dress up as candy with an oversized candy necklace and you are good to go! This is an easy Halloween costume idea for those who aren't too excited or don't feel like dressing up, but still wish to do something low-key creative.
You can easily make the candy necklace at home for which you will need a bunch of pool noodles, a box cutter, spray paint, scissors, and a rope or a thick sturdy string. Pair the candy necklace with a bright, single-colored outfit which could be a long dress, a top with matching pants, a top with a pleated skirt, or anything you like.
Disco Ball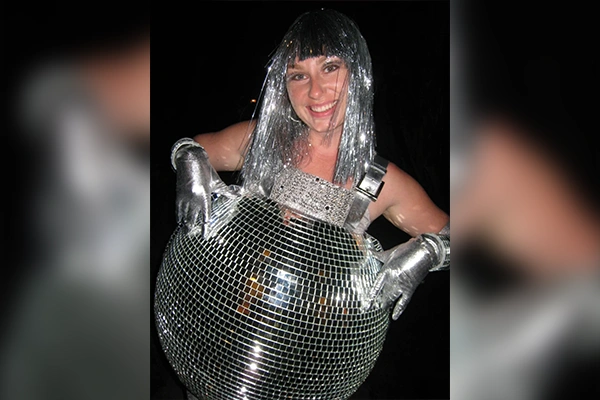 Get ready to get your bling on this Halloween is a disco-ball-inspired outfit comprising a sparkly silver sequin dress, blingy heels and long dangling earrings.
Where's Waldo?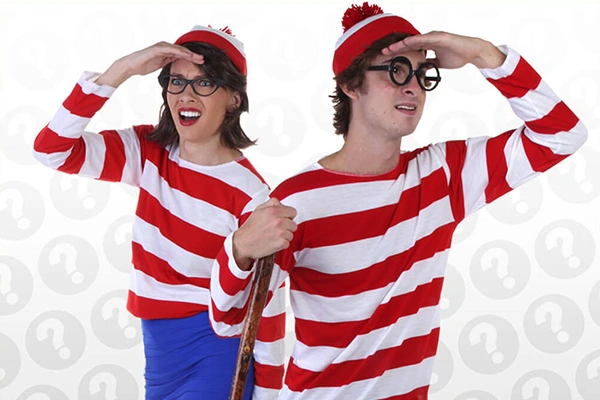 Bring some color to your Halloween ensemble by dressing up as the iconic and super popular Waldo character from Where's Waldo, the American animated children's television series.
This is one of the cutest men's Halloween costumes which will certainly stand out from the crowd, and the best part is it's super easy to recreate. If you are lucky, you might even be able to find several accessories in your very own wardrobe.
To dress like Waldo, you need a pair of blue jeans, any brown closed-toe shoes, a long-sleeved t-shirt with red and white stripes, a red and white pom knit cap, round eyeglasses, and a walking cane featuring a curved handle, which is completely optional.
Minnie Mouse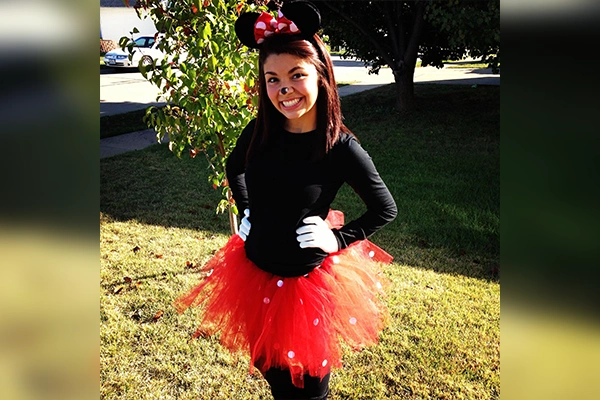 Another Halloween classic, a Minnie Mouse costume is still relevant and ideal for Halloween this year to bring the Disney craze and nostalgia back to the surface once again.
Emoji Costume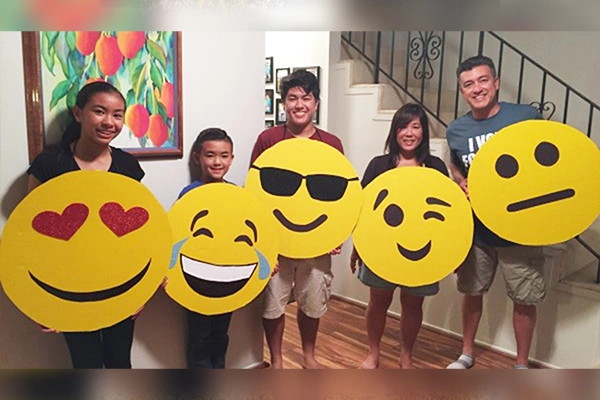 When running out of Halloween costume ideas, simply use the emoji keyboard on your phone for inspiration! From different food emojis to dancing ones to dollar bill signs to any emoji that you use habitually, dress up as one for this year's Halloween!
Nathan Fielder from The Rehearsal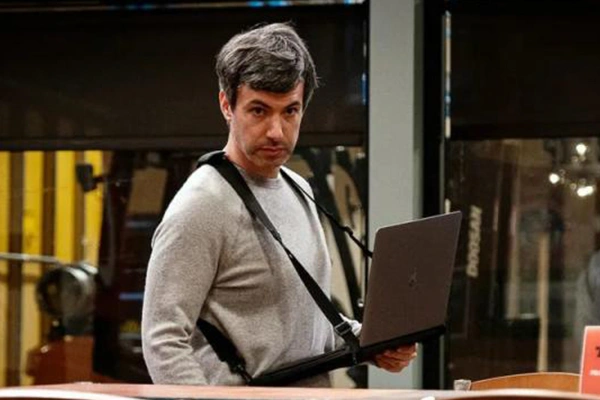 Starring Nathan Fielder, The Rehearsal is an American docu-comedy television series, that presents you with an excellent last-minute costume idea for Halloween.
Recreate Nathan Fielder's look with a simple white or gray crew neck sweatshirt, black jeans or any pants, and a laptop harness, an accessory most notably associated with this very character.
Super Mario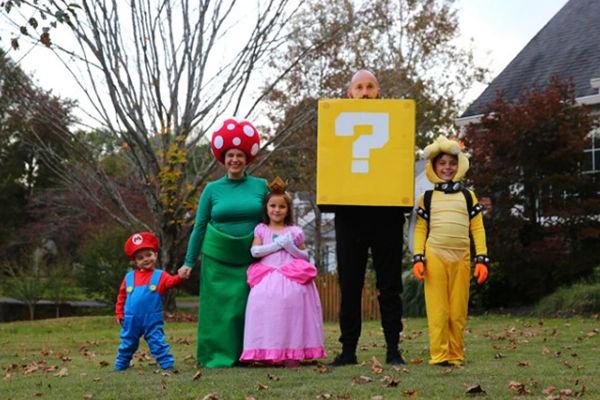 This is another super cute Halloween costume idea for men which won't require a lot of time or energy to put together.
Recreating Super Mario's look for a Halloween party can also be a great last-minute Halloween costume considering how you might find the outfit essentials in your very own wardrobe, and even if not, all it needs is a trip to the nearby thrift store!
Dress like Mario with blue overalls, a long-sleeved red t-shirt, white gloves, a fake mustache, brown shoes, and a bright red cap. It would be like the perfect finish to your outfit if you could stick a white circle on the cap sporting a red capital 'M', just like Mario's, but even if you aren't able to do that, people would still be able to tell your character from afar!
Princess Elsa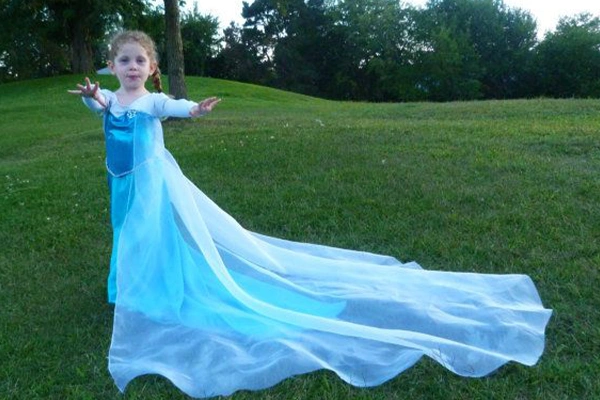 Frozen might just be one of our favorite fantasy films and what better way to celebrate Halloween than dressing up as the beautiful and bold, Princess Elsa!
With a sparkling blue long dress, a blonde braid, a snowflake necklace, snowflake hair clips, and a little bit of frosted makeup, you can live your princess fantasy in this gorgeous princess attire!
Bert & Ernie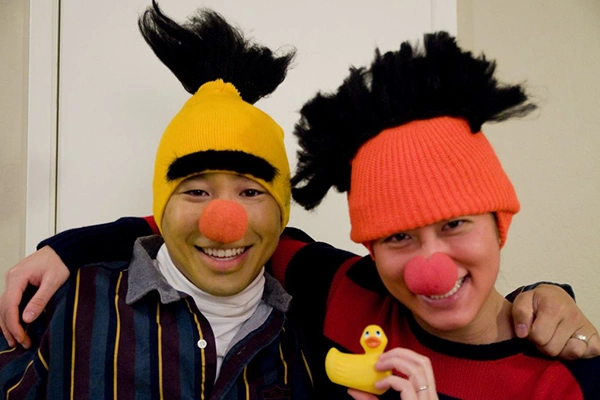 This legendary duo from Sesame Street certainly deserves a mention when talking about Halloween costume ideas. Bert & Ernie are an iconic duo and these characters can easily be recreated for this year's Halloween party.
From finding customized readily available outfits online to making them on your own, it's totally up to you how you want to go about it. But, to give you some perspective, Bert wears olive-colored trousers paired with a long-sleeved vertical striped blue, green, and red t-shirt, a white high-neck shirt, and blue and white sneaker shoes. Ernie, on the other hand, wears blue trousers, paired with a long-sleeved horizontal striped blue, red and white t-shirt with yellow collar and cuffs, and brown sneaker shoes.
Top it off with yellow and orange face paint, and orange and red puppet noses, respectively to look like Bert and Ernie!
Squid Game Doll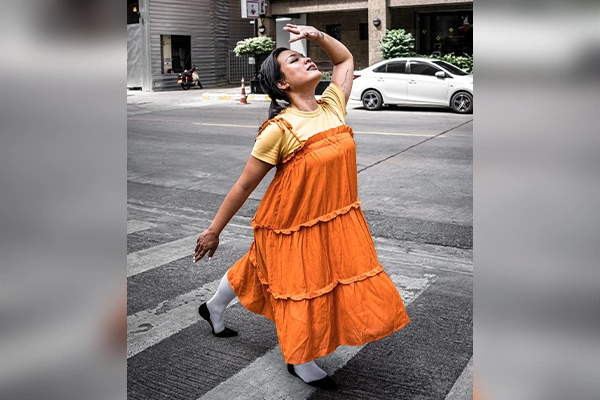 Squid Game, undoubtedly one of the most popular and most-streamed shows on Netflix, isn't just about the thrilling and nerve-wracking storyline and action but is also an ideal choice for Halloween costume ideas.
Squid Game's costumes are also likely going to be a hit at this year's Halloween parties so why not jump on the bandwagon?
From the Front Man to the VIPs to contestants to staffers, there are so many amazing costumes to recreate from this show, but the one look that's the easiest to achieve while also being extremely sinister is the doll.
To dress like the Squid game doll, all you need is a knee-length coral dress, a short-sleeved mustard yellow polo t-shirt, long white socks, and black shoes.
Complete the look by styling your hair into ponytails with a one-length fringe haircut and you are all set to look like a cute yet spooky doll!
If you are looking for group costume ideas for Halloween, you can recreate other characters from this very show and walk into the Halloween Party as the infamous Squid Game gang!
Minion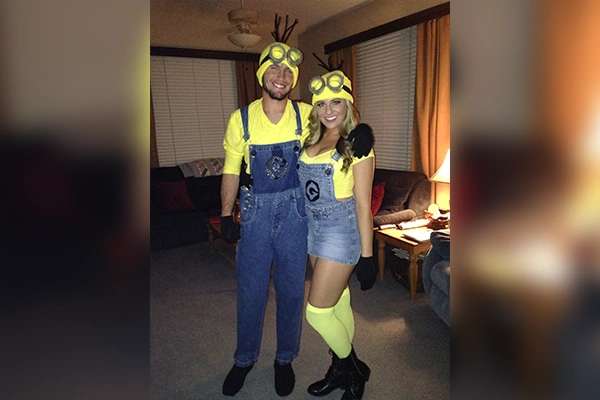 For all Despicable Me fans out there, you must dress up as a minion this Halloween! For an easy, no-hassle look, all you need is a bright yellow crew neck sweatshirt, faded blue denim overalls, and the sparkly minion goggles that you can easily find online or even make your own.
Add a pair of black slip-on shoes and black wool liner gloves to complete your cute minion ensemble!
Moira Rose from Schitt's Creek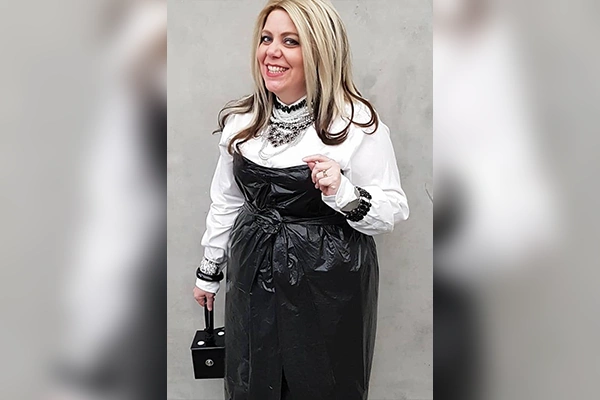 This amazingly humorous and fun sitcom from 2015 may have long ended, but that doesn't mean you can't bring one of its most iconic characters to life, which is none other than the ever-glamorous Moira Rose.
If you've seen Schitt's Creek, you'll know that this character's wardrobe mostly consisted of a black-and-white color palette, but her outfits were still ever-so eccentric. So, opt for anything in black or white or both, and you can also go for striped or polka-dotted patterns. 
Give your ensemble the classic Moira Rose touch with a whole of accessories ranging from statement necklaces, cuff bracelets, feathered headbands, embellished purses, and furry hats, to name a few. Top it off with a funky, statement-making wig because wigs are a huge and very important part of the character's outfits and personality. 
Fifty Shades of Grey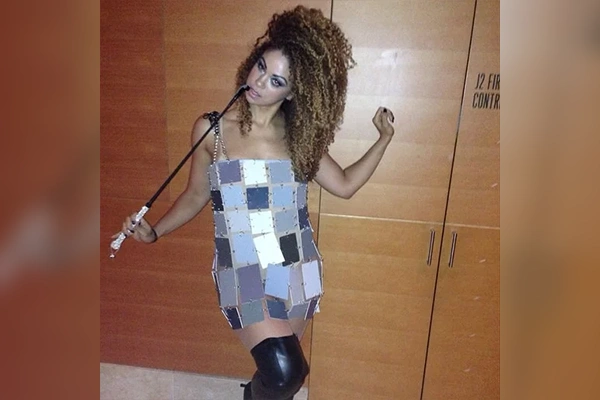 For a quirky and funny Halloween outfit, give the 'fifty shades of gray' trilogy a humorous spin. Pull out any black t-shirt you own from your wardrobe and pair it with your favorite jeans or pants.
Get your hands on a whole lot of gray watches from a local Home Depot, stick to them your shirt and you are done! Chances are that you'll have people rolling with laughter if they catch your drift!
Money Heist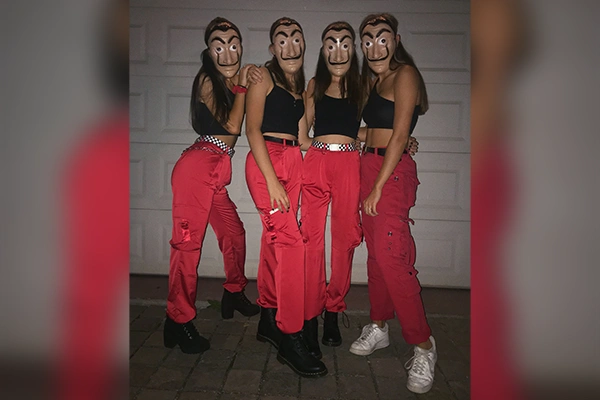 The whole Money Heist craze has been going on ever since the show released its first episode, but from the looks of it, it isn't going to die down any time soon!
The iconic red jumpsuit is one of the quintessential staples of the show, paired with the creepy yet striking Salvador dali masks. The jumpsuits quickly evolved as a fashion statement not just at Halloween parties, cosplay events, and other themed events.
Find yourself a full body, hooded red jumpsuit, and the dali mask, both of which you will easily find online as well as at a costume wear store near you. This is one of the easiest looks you can pull together for this year's Halloween party without having to do much.
Jon Snow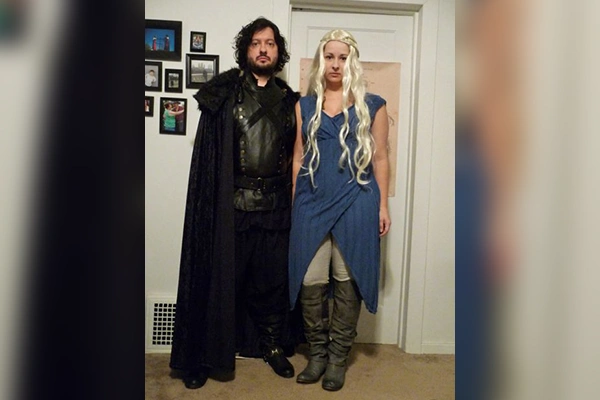 Often referred to as the 'beating heart' of the show Game of Thrones, Jon Snow is one of the most widely known characters of all time, and there's no reason why you can dress like him this Halloween.
While the character has worn several different outfits throughout the series, there's one that particularly stood out – it consists of black pants paired with a leather skirt and a matching leather top. The look is completed with a black coat featuring black fur on the shoulder area, a black belt, and matching black gloves. 
Add a sword, black boots, and a wig and it'll be like Jon Snow making his way into the Halloween party!
Cotton Candy 
It's trick-or-treating season, after all!
Go for a customized candy pink tutu or mini dress with cotton details attached to it, and finish the look with actual cotton candy in your hands!
Dog and Owner Fairy Costume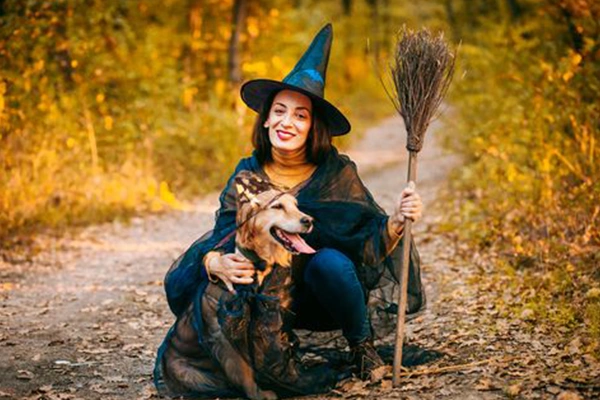 Been invited to a pet-friendly Halloween party? Well, there's no better news than that for a pet parent, is there? Time to explore dog Halloween costume ideas to glam up your pet!
Enter the world of make-believe with your little furry friend with blingy tiaras for the both of you, a bright sparkly tutu for you, and butterfly wings for your pet.
While your furry buddy might make a face at having to wear a tiara and wings, it all be forgotten once you enter the party with all the other pets and their parents rocking their Halloween outfits!
Superman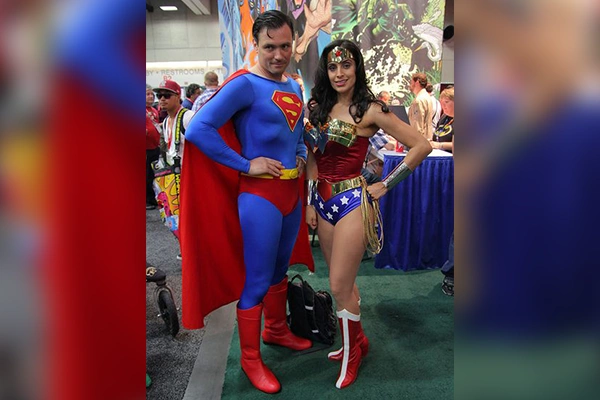 When it comes to dressing up as a character for a costume-themed party, the superheroes from the DC Universe come to mind, and one of the most popular of them is superman. You will easily find the superman costume at any online store or even a local thrift store for your Halloween ensemble.
You can also make one on your own with the help of a full blue costume, red trunks, a long red cape, and red boots.
For an added touch of oomph to your Halloween outfit, go for the iconic Henry Cavill mustache, fake or real if you can grow one in time!
Princess Peach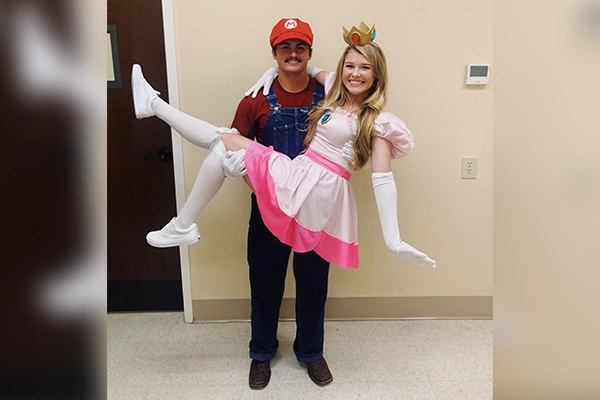 If you've spent hours of your childhood playing the Mario Kart game, you must dress up as Princess Peach for Halloween this year!
This is one of the easiest costume ideas for women and chances are that you might be able to recreate the character's look with items from your wardrobe.
To dress up as Princess Peach, all you need is a floor-length pink gown or long maxi dress with puffy sleeves, white elbow-length gloves, a small crown, and big blue earrings.
Princess Peach has yellow hair so if you could arrange a yellow hair wig or paint your hair yellow with a temporary hair color spray, this will be perfect for your Princess Peach Halloween ensemble!
Willy Wonka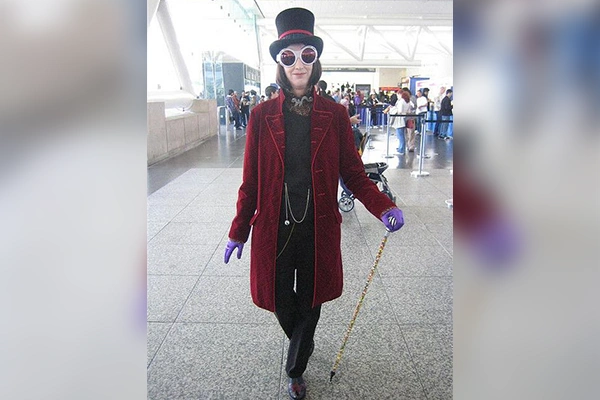 Halloween isn't just for kids, it's for adults, too, and there's no reason why you cannot go all out with your Halloween outfit!
Speaking of adult Halloween costumes, why not dress up as the legendary chocoholic, the most famous chocolatier from Hollywood, Willy Wonka?
Dress up like Willy Wonka in a black top, matching black pants, and a bright plum-colored knee-length tailcoat with wide lapels. Complete the ensemble with a black top hat and a gold-topped cane to carry in one hand.
Pig In A Blanket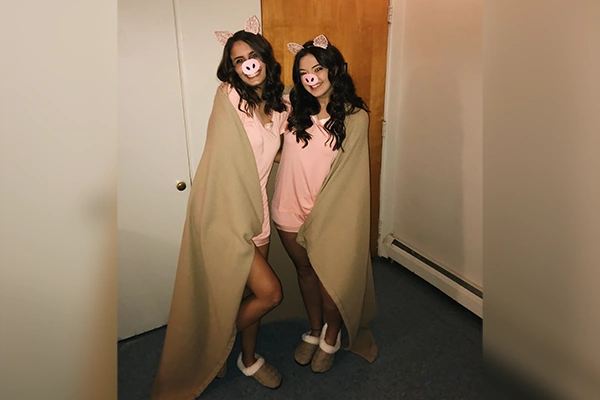 Halloween might be all about tricks and treats, and everything spooky and scary, but it's not necessary to take that route when it comes to choosing the perfect Halloween costume.
You can still dress up and have fun with some unconventional, punny, and clever Halloween costumes, such as a pig in a blanket. All you need is a warm, cozy blanket and an oversized pig-ears headband which would be super funny and ironic at the same time!
Mary Poppins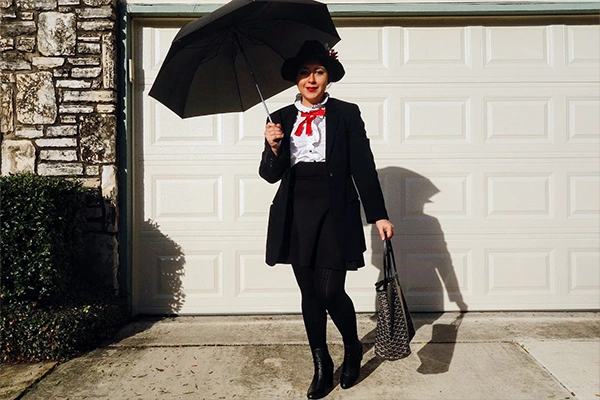 Halloween is the perfect time to dress up as Mary Poppins, the efficient and smart nanny with magical powers, and hum along to "Supercalifragilisticexpialidocious!"
Quirky, unique, and lovable, it is ideal to dress up like this character at a party where there are going to be children as well, considering how popular Mary Poppins is among the kids!
You need a ruffled white shirt, a black blazer, a red bowtie, a long black maxi skirt, a fedora hat, black boots, and gloves to perfectly recreate this Halloween outfit. However, the look is incomplete without the character's endless purse which is referred to as a magic carpet bag, and her trademark umbrella. Get your hands on either of the two accessories and you'll be ready to rock this character's look at this year's Halloween party!
Evil Queen from Snow White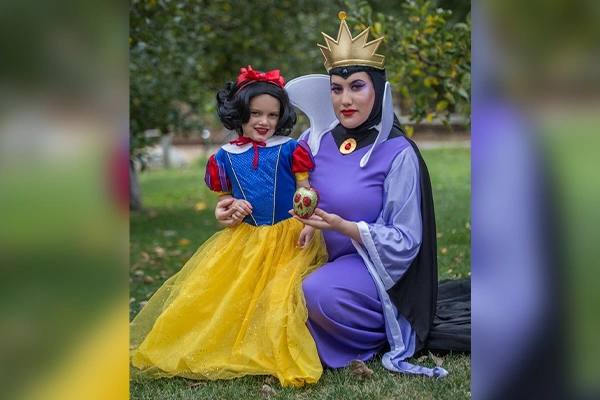 Bring out your inner evil self by dressing up as the Evil Queen from the ever-classic film, Snow White and the Seven Dwarfs.
While this is a surprisingly simple look to achieve, it is quite dramatic and impactful given the story behind the character.
Dress like the Evil Queen in a floor-length purple gown with wide bell sleeves, a golden crown, a black cape, bold red lips, and the characteristic black stretch hood. For an added evil effect, carry a small handheld mirror featuring a picture of Snow White!
Skeleton Costume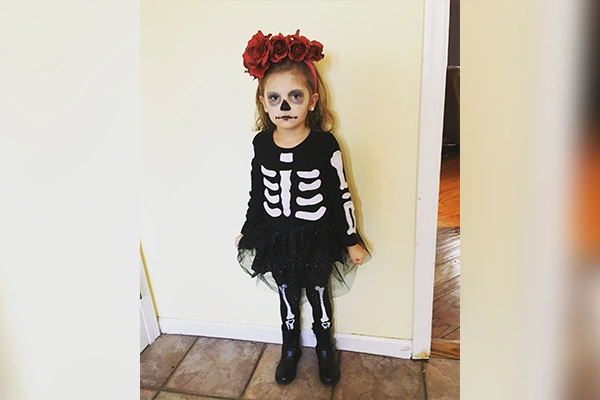 A skeleton costume is a no-brainer when it comes to Halloween considering how both are on the same levels of spooky.
There are many versions of a skeleton outfit that you can make on your own or get from a local costume store.
Skeleton makeup is an absolute must for this look so bring out your A-game here!
Men In Black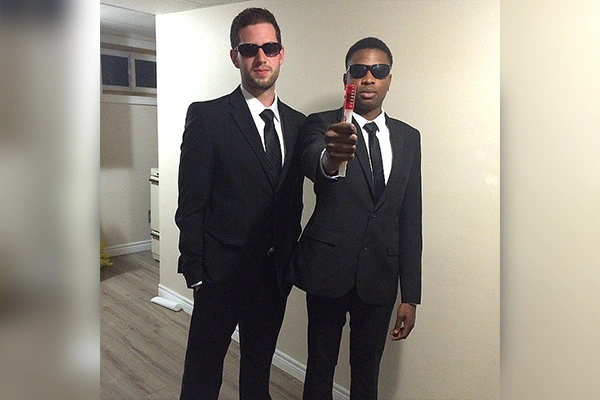 If you are a group of men looking for easy yet classic group costume ideas for Halloween, men in Black is the one to beat.
All you need to pull off this look effortlessly is a nice basic black suit and matching black shades, of course.
If either of you is a parent to a cute little pug, that would be the perfect addition to your Men In Black Halloween costume!
Maleficent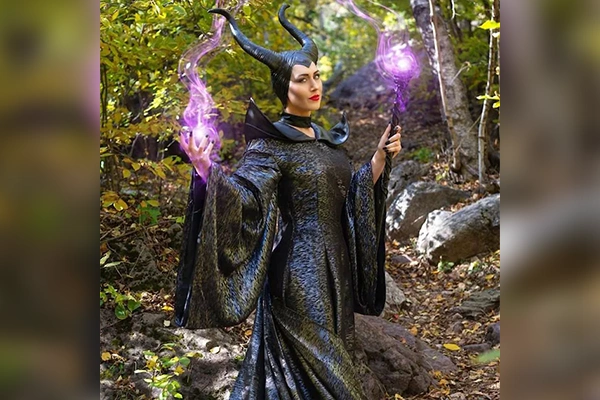 Ever since this American fantasy film was released in 2014 followed by its sequel in 2019, Maleficent's costume has become highly sought-after, making it a great choice for your Halloween outfit this year.
The best thing about this outfit is you can DIY every element from things that you have in your wardrobe!
You will need black pants, a black top, a black cloak with fur on the shoulders, black boots, and a chunky black belt to secure the cloak around the waist. One of the key elements of the Maleficent costume is the black horns which you easily find online or DIY if you have the time.
Carmy Berzatto from The Bear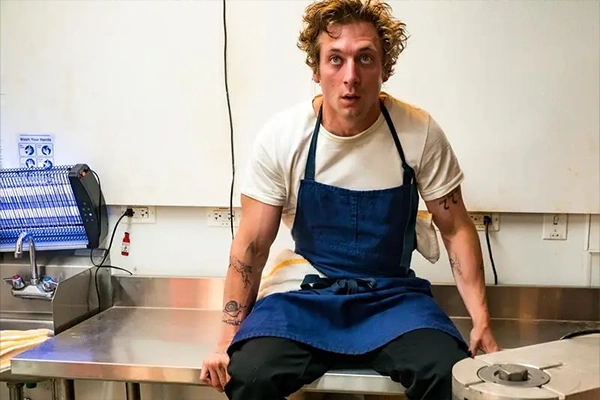 If you are looking to exude a sexy yet simple, charming but sad vibe, Carmy Berzatto from the American comedy-drama television series, The Bear is the one to recreate.
He is one of the most drooled-over characters this year so might as well dress up like him this Halloween in a fitted white t-shirt, black trousers, a pair of black slingback shoes that come with an ankle strap, and of course, a bright royal blue chef's apron.
It would help enhance the overall look if you use a little hair gel to create a nice, gelled-back yet messy kind of curly look.
Angela from Stranger Things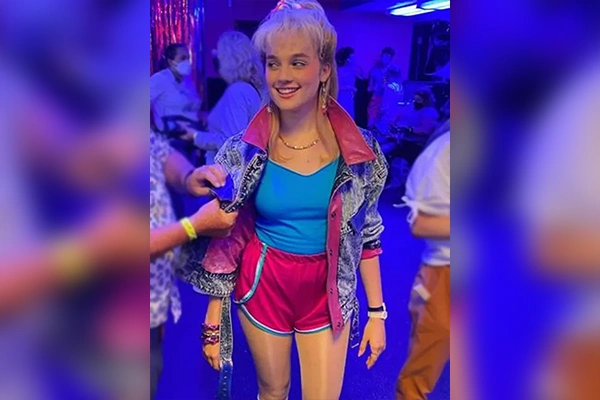 Halloween is simply incomplete without taking inspiration from Stranger Things for your Halloween outfits this year. It's one of the best 80s fashion, to be honest.
This fiction television series has so many characters that you can use as inspiration, but if you are looking for an easy outfit idea, Angela is a great one.
Angela's outfits scream the 80s style and channel the decades' 'power dressing' aesthetic. One of her most popular outfits is the one with a fluorescent blue bodysuit paired with hot pink shorts, an acid wash denim jacket, and a pair of roller skates.
Complete the look with a shimmery hair bow, dangling star earrings, a gold chain, and wrist accessories.
Crazy Cat Lady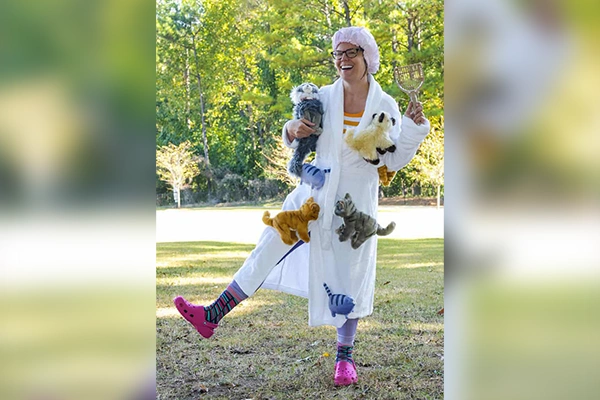 If your pet cats are your whole life, perhaps, honor your furry friends this Halloween by dressing up as the crazy cat lady, which also makes a super adorable costume.
The best option to create the crazy cat lady look is a plush robe with lots of kitties stuffed animals attached all over it, cat slippers, a cat ears headband, and of course, car earrings!
Winx Club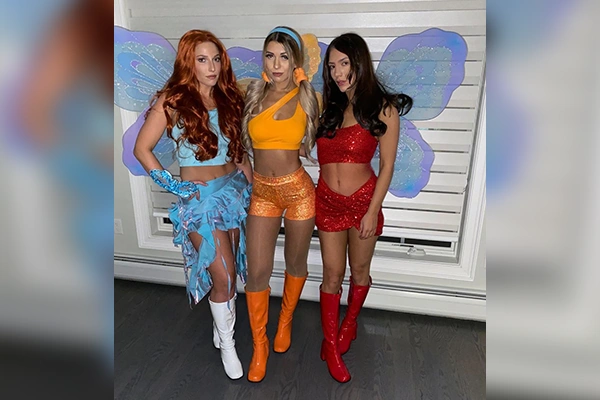 With gossamer fairy wings and short shimmery fairy-like dresses, enter a magical world with Halloween costume ideas from Winx Club, an animated modern fantasy saga that is based on the lives and adventures of six fairies.
Each fairy brings with her several diverse outfit choices such as Bloom with her stunning teal blue number that perfectly complements her fiery, bold red hair. Then, there's Stella, who is all about orange and green hues and is best known for her olive green cropped top paired with an orange mini skirt.
Flora, on the other hand, has a flirtatious personality and reflects the same aesthetic through a pretty purple short dress, matching purple heels, and green fairy wings.
The Winx Club outfits are ideal for a group of people so if you happen to be looking for group costume ideas, this is a great option.
Three Blind Mice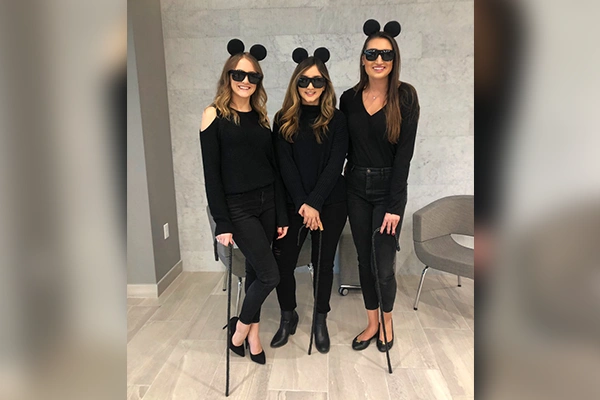 This Halloween, bring this age-old children's nursery rhyme to life sung by Disneyland Children's Sing-Along Chorus and Larry Groce.
Three Blind Mice offers a cute Halloween costume in which you simply need a plain black tank top or t-shirt, black leggings, sunglasses, and of course, an oversized mouse ears headband to give this look the ultimate finishing touch it requires.
Take your Three Blind Mice ensemble to another level with a wooden walking stick in your hand!
Catwoman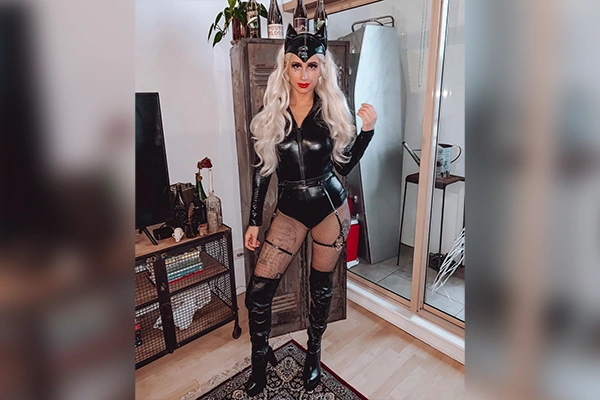 No surprises here, Catwoman is one of the most popular fictional characters that a lot of people use for inspiration for their Halloween outfits.
Recreate Catwomen with a shiny black PVC jumpsuit that features long sleeves, a zipper down the front, and a high neckline. Pair it with knee-high leather boots, and black clawed gloves. Top it with black cat ears and a matching eye mask, which are two of the most integral pieces to create the classic Catwoman look. 
Cheetah Girls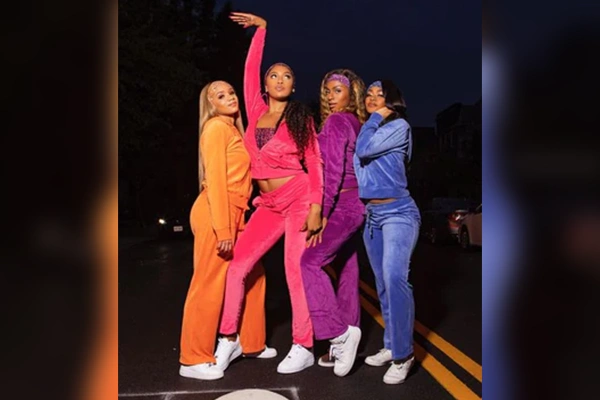 If you are looking for costume ideas for a women's Halloween party, take your pick from Cheetah Girls, a popular 2003 American musical television film that is based on the book series of the same name.
There is such a plethora of outfits to take inspiration from, the most popular of which are shiny neon-colored tracksuits in colors like pink, blue and yellow, paired with cheetah headbands and sneakers. 
Cheetah Girls is ideal for girl gangs who wish to celebrate Halloween this year in matching outfits following the same theme.
Sriracha Bottle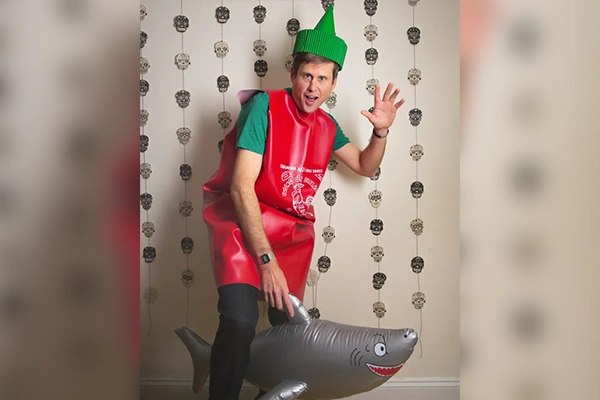 Who doesn't love sriracha sauce, right? It's spicy, it's zesty and it just makes everything taste better!
Express your love for sriracha and spice things up this Halloween by dressing up as your favorite sriracha bottle! You need an all-red attire, preferably a red tee with matching pants and shoes, and a green beanie to complete the look.
If you want, you can get the t-shirt customized and add white text on the front, just like we see on any sriracha sauce bottle.
The Classic Scarecrow
There are a few traditional Halloween costumes that will probably remain timeless for years to come, one of which is the classic scarecrow which has been a go-to outfit choice for Halloween for a long, long time.
If you do a quick search online, you will find so many different variations of the scarecrow costume, but if you wish to go for a simple, easy look, all you need is a pair of jeans or denim overalls, a plaid shirt with patches here and there, a straw hat, and a pair of boots.
Tuck in bits of raffia or straw in random places for that added scarecrow effect. Speaking of scarecrows, you can even take inspiration from the American musical fantasy film, The Wizard of Oz, and channel the scarecrow from that film.
Winnie the Pooh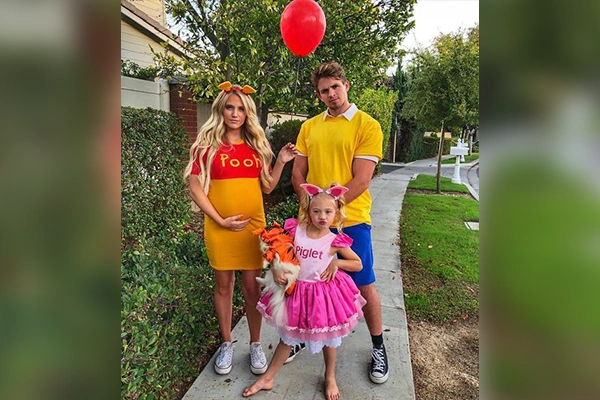 One of the most globally-loved honey-loving, yellow-furred teddy bears, Winnie the Pooh has been winning the hearts of both children and adults alike since the 1920s.
For all the expecting mamas out there, this is one of the best pregnant halloween costume ideas for you not only because it's a beloved character from everyone's childhood, but also because his little round tummy makes it an adorable maternity costume. 
You need a mustard yellow full-sleeved top, matching pants, and a red crop top or t-shirt that goes on top, followed by a bear ears headband and matching yellow flat shoes.
Chucky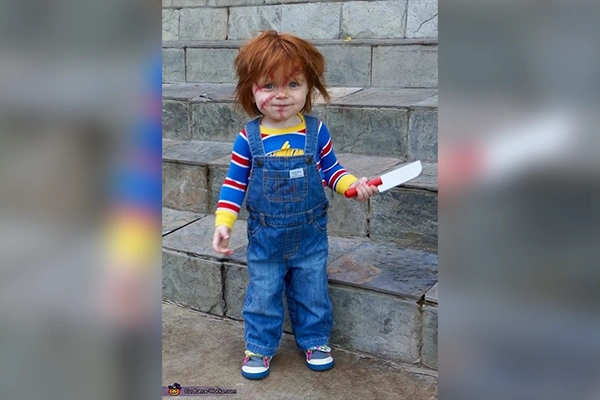 We all remember Charles Lee "Chucky" Ray, the creepy serial killer from Child's Play, a popular American horror film that made most of our nights sleepless!
Perhaps, it's time to bring Chucky to life this Halloween and relive the doll-haunting nightmare!
While Chucky's outfit is quite simple and easy to recreate, the key is in all the other details. For the outfit, you need a colorful striped long-sleeved shirt, denim overalls, and a pair of red sneakers. To incorporate that pure horror effect into your Halloween costume, it is best to get a Chucky latex face mask along with a fake knife dripping with fake blood to complete your scary look.
However, if you are good with makeup, you can look up a tutorial online and recreate Chucky's butchered look by putting your makeup skills to good use.
Care Bears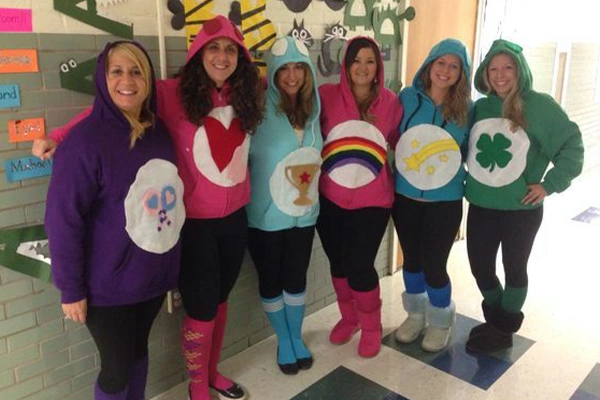 For those who are big on Halloween and wearing costumes, but not so keen on spooky outfits, you can consider cute Halloween costumes such as the Care Bears. These are a collection of cute little multi-colored bears that were originally designed to be featured on greeting cards from American Greetings.
You can now find Care Bears not just on greeting cards, but also on t-shirts, plush toys, collectibles, hoodies, bags and so much more.
From getting ready-to-wear outfits online or in any costume shop to creating them on your own with monochromatic dresses, bear ears, and other accessories, you can pick either option. This is an ideal group costume idea where each person can pick a bear and dress up accordingly.
Unicorn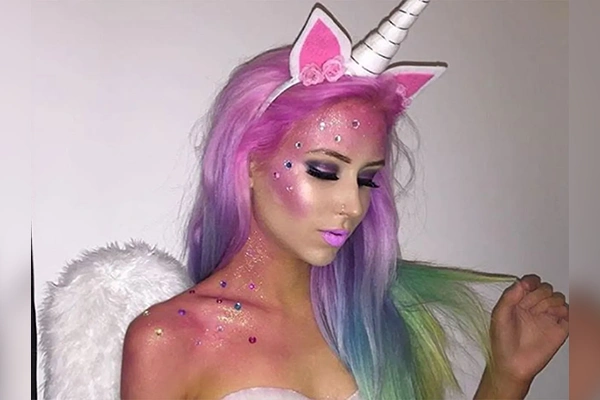 Glitter horns and rainbow tails, what's not to love about a unicorn costume, right?
Dress up as a cute little unicorn this Halloween wearing a pink adult tutu with an attached rainbow tail. Make your unicorn horns or find a pair online and you are all done!
In case you don't want to wear a tutu, you can opt for a white or light pink flowy dress, and jazz it up with some accessories along with a unicorn horn headband.
Jack Sparrow from Pirates of The Caribbean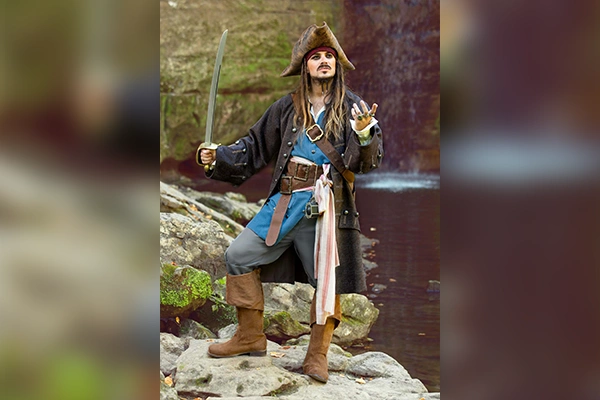 "Nobody moves! I dropped my brain!"
Jack Sparrow, the main protagonist in the Pirates of the Caribbean film series, is an iconic fictional character and if you loved these movie series, there's no better character to recreate than this nifty pirate!
You will need a loose white t-shirt with long sleeves, a dark blue or black vest, black boots, brown pants, a striped fabric sash, a chunky leather belt, a compass that doesn't work, chunky vintage rings, a dreadlock wig, and a fake beard, goatee, and mustache. You might also need to do a little makeup to create the perfect Jack Sparrow look-alike.
Note here that if you happen to be looking for plus-size halloween clothing ideas, you can rock this one!
The Addams Family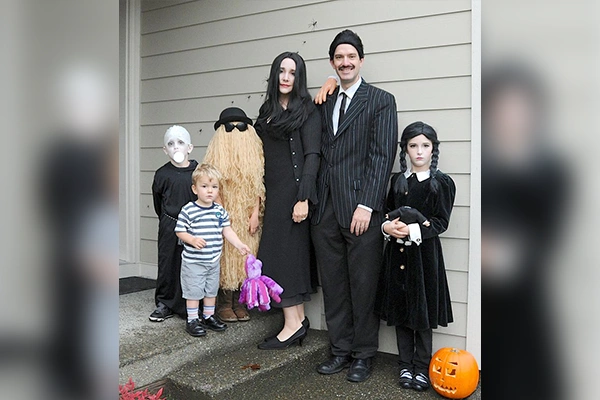 When it comes to family Halloween costume ideas, it doesn't get better than The Addams Family, an eccentrically macabre fictional group of characters, representing a satirical inversion of the 20th-century American family.
There are many interesting and unique character looks for you to recreate such as Wednesday Addams, the youngest member in the Addams family,  for which you will need a black peter pan collar dress with short sleeves, coupled with two long braids, a pair of dark shoes, and a bold, dark colored lip.
There's also Morticia Addams, the mother figure in the family, known for her dark, gothic look and outfits. To recreate this character, you will need a long black dress, a pair of black pumps, and a straight black wig. Enhance the look with white face makeup, a bright red lip, and some rings like Morticia's which include a green stone, a gothic cross, and a wedding band.  
Marvel Women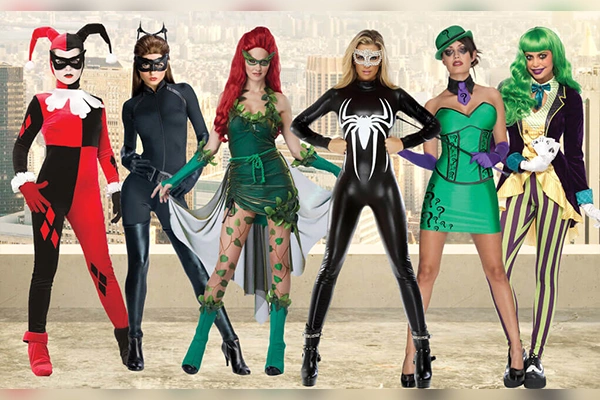 Let that girl power shine through as you and your gal pals take on the Marvel women group costumes for Halloween this year that include so many popular characters such as Black Widow, Captain Marvel, Scarlet Witch, Maria Hill, Nebula, Gamora, Mockingbird, Jean Grey, and many others.
Each of you can pick your favorite Marvel female character and bring it to life at this year's Halloween party!
Anime Costumes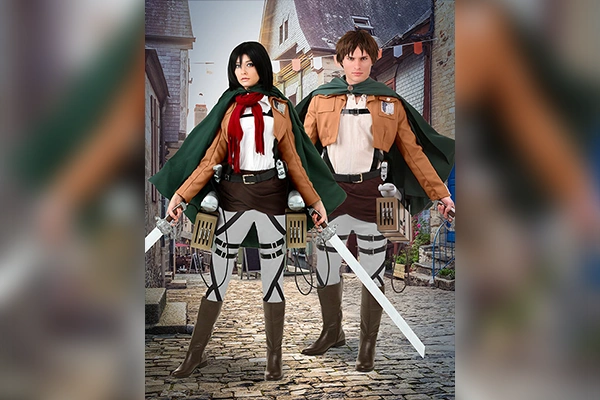 If you identify as an otaku and are obsessed with anime, Halloween is the right time to dress up as your favorite anime character and display your passion and love for the anime world.
There is a plethora of anime outfits to choose from, and each character has a unique look to offer.
Take Anya Forger, for instance. She is the deuteragonist of the SPY x FAMILY series and she wears a simple black dress, a white tie, black shoes, and white folded socks. She also has light pink shoulder-length hair so if you can get your hands on a wig, it would be the ideal addition to your anime costume.
BTS – Bangtan Boys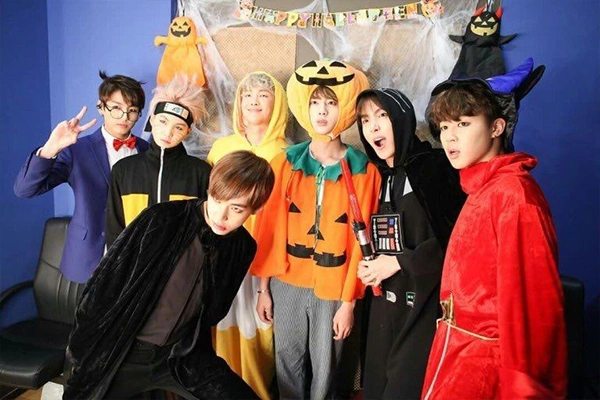 This South Korean boy band has been dominating our music playlists for a while now, and for all the right reasons too!
BTS presents a group costume inspiration for Halloween where you can choose any of their looks from their music videos or live events, and recreate it.  Each member has a unique look and style so pick your favorite one and give it a go!
Top Gun
Looking to rock those aviators and exhibit the Maverick charm this Halloween? Whether you are a fan of the original Top Gun, or the sequel Top Gun: Maverick, the outfits in both are quite similar.
All you need is a flight suit, aviator sunglasses, and a fake mustache if you don't have one, and then simply dress up your outfit with accessories and other details depending on your chosen character.
Rue from Euphoria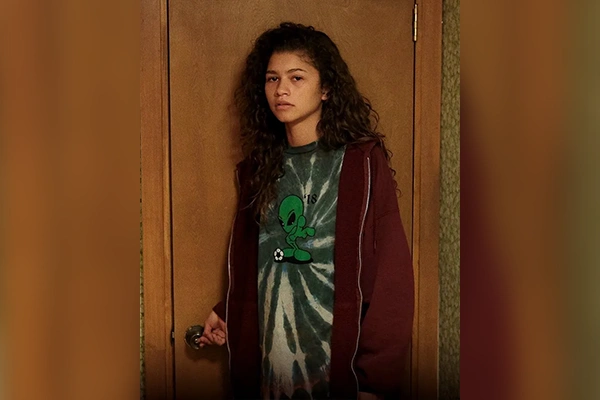 HBO's Euphoria seems to have captivated everyone with its brilliance, the intensity of the story, and of course, the super iconic outfits of all time!
If you are a fan too, dress up like Rue from this drama series, whose personal style is characterized by ease and comfort, and typically comprises everything oversized, sweatshirt, graphic print t-shirts, and her Converse Chuck Taylor All-Star sneakers. 
To recreate her classic look, you need a maroon plain hoodie, biker shorts, a pair of sneakers, and an oversized tie-dye t-shirt.
Fezco from Euphoria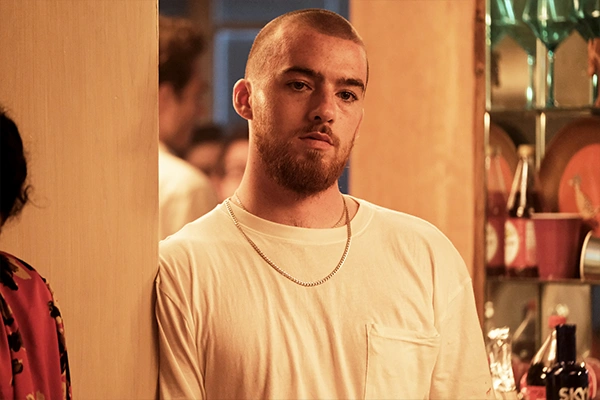 HBO's Euphoria doesn't only have a range of female outfit inspirations to offer, but male outfits as well. Fezco is one of the most popular male characters in the series, with a cool demeanor and a dapper wardrobe.  
His wardrobe mostly consists of traditional streetwear and edgy skater styles, often featuring a blend of opposite styles that somehow always end up going together really well.
One of his looks that you can recreate includes a graphic polo t-shirt, paired with double-knee pants, a cuban ring, and a big gold chain.
Dr. Ellie Sattler from Jurassic Park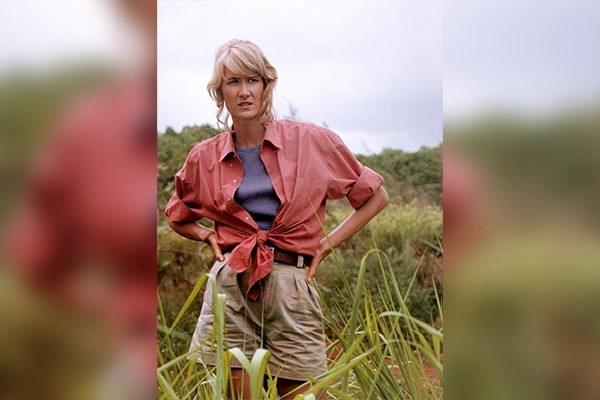 With her iconic khaki shorts, a pink button-down shirt, black boots, and a blue undershirt, Dr.Ellie Sattler from Jurassic Park offers a super easy, DIY halloween costume for those who don't have the energy or the excitement to dress up for Halloween this year.
Add a Jurassic Park ID badge to your outfit to give it an authentic look!
Anna Delvey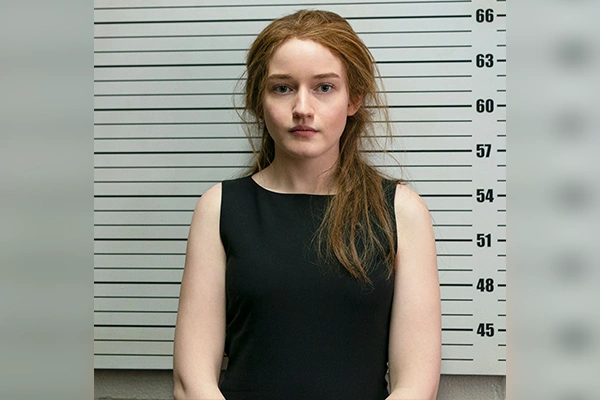 If fraudster and con artist is the look that you are going for Halloween this year, perhaps take a leaf out of Anna Delvey's book, the fake German heiress from Inventing Anna.
This is an easy character look to recreate and only requires a plain black dress, big oversized black-rimmed glasses, black flats, and a choker necklace. If you can somehow imitate Anna's weirdly nasal, yet fascinating accent from the show, it would be like the cherry on the cake!
Garden Gnome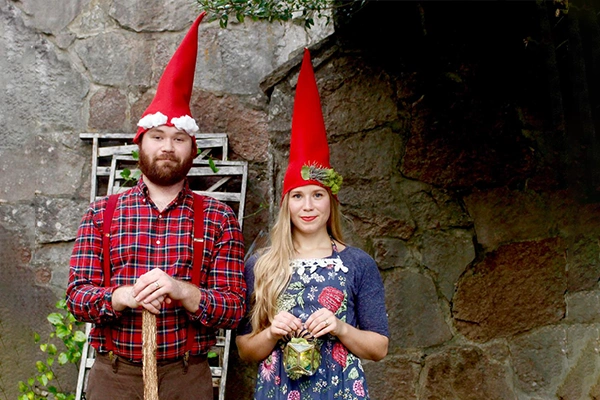 Bring a fun element to your Halloween costume by dressing up as a garden gnome.
Pair a chambray shirt with your favorite jeans, a thick black belt, black knee-high boots, a red pointed hat, and of course, a fake long white beard to complete the gnome look!
Cereal Killer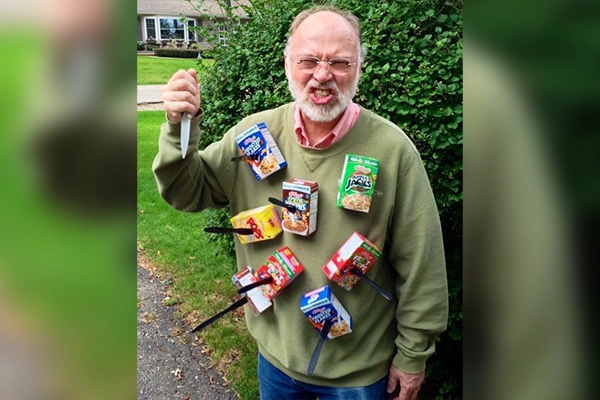 No rule says your Halloween outfits and costumes have to be spooky or scary. So, this year, take a punny turn and wear something funny that also makes a great pun!
A classic example is a cereal killer costume where you wear a casual t-shirt and a pair of jeans. Get some empty cereal boxes, and stick them to your shirt along with a few plastic forks and drops of fake blood which is necessary!
Carry two plastic knives in both your hands and there you have it, a cereal killer on the loose!
Beer Pong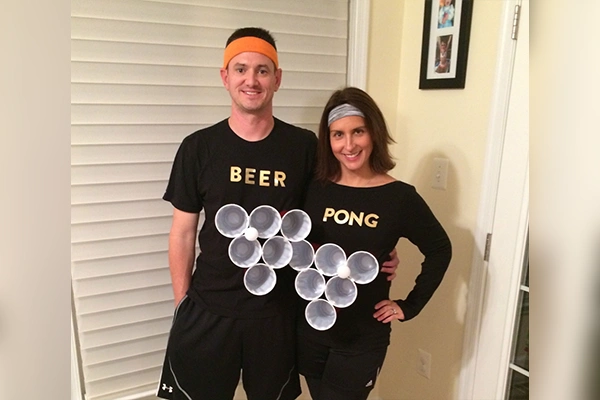 Be the life of the Halloween party in a beer pong costume that you can create literally within minutes!
Throw on a pair of black jeans and a black t-shirt, take a few plastic beer cups, and glue them either to your shirt or to a piece of cardboard that you hang around your neck. Fill the cups with ping pong falls and that's just about it.
Neo from The Matrix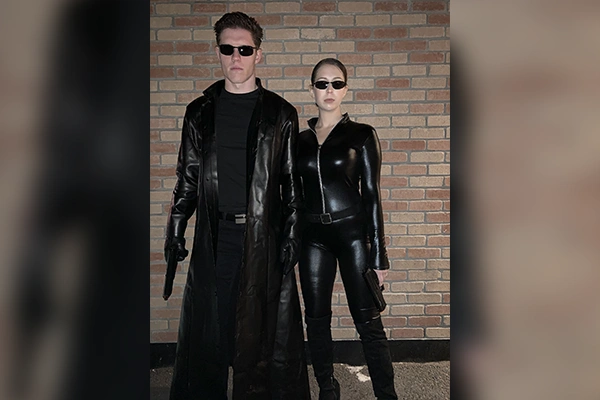 Neo is a computer programmer and a cybercriminal in The Matrix franchise and is a character that you can easily recreate for this year's Halloween party.
You will need a swooping leather trench coat, supersized combat boots, a charcoal black t-shirt, black pants, a leather belt, and a pair of sci-fi sunglasses which are integral for this outfit.
This all-black look is ideal for Halloween and looks super dapper if you think about it!
Freddie Mercury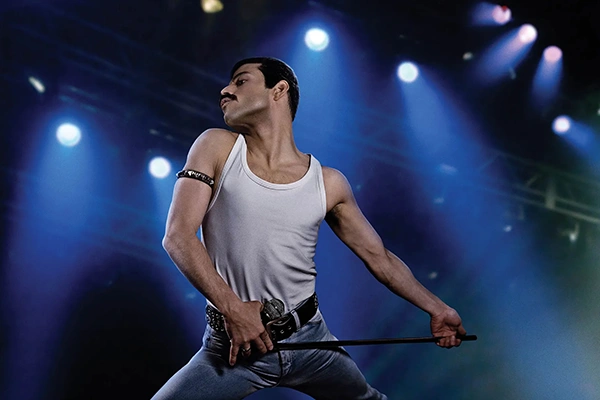 Best known for his best-selling rock single, Bohemian Rhapsody, Freddie Mercury is undoubtedly one of the greatest and the biggest rock items of all time.
Pay tribute to Freddie this Halloween in his characteristic look which comprises a white tank top, light wash faded jeans, a pair of white sneakers, and a black studded belt. If you don't have a mustache, get a fake one for this look as it's simply incomplete without Freddie's chevron mustache.
Jessie from Toy Story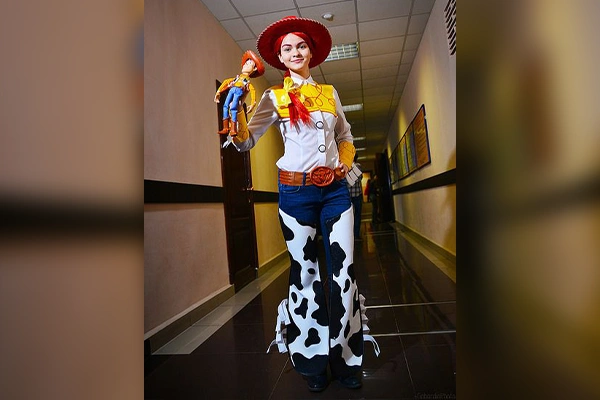 Bring your childhood nostalgia to the front by dressing as Jessi, the fictional cowgirl rag doll from Toy Story.
For this look, you will need cow print high-rise pants, a white button-down shirt, a yellow hair bow, brown cowgirl boots, and a cowboy hat.
Queen of Hearts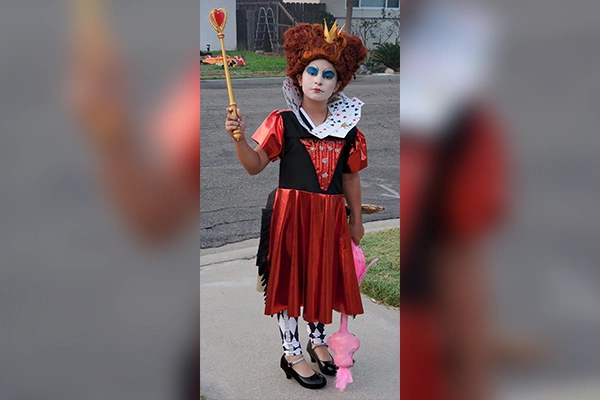 If you are feeling particularly tyrannical, the Queen of Hearts from Alice In Wonderland might just be the perfect character to recreate this Halloween.
With a black and red hearts gown, a golden crown, scary makeup, and that iconic beehive-inspired hairstyle, it's time to bring out your inner Queen of terror!
Velma from Scooby Doo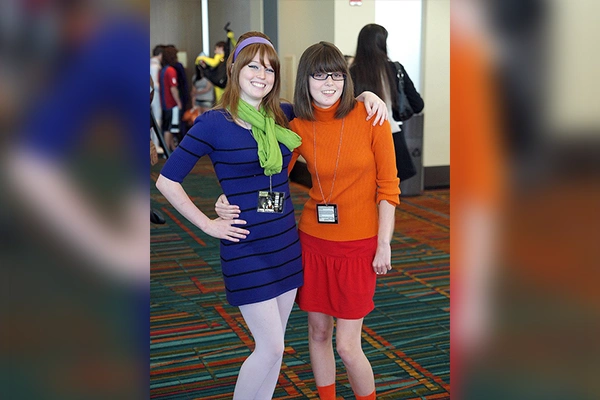 With an orange turtleneck and matching socks, paired with a red pleated skirt and matching red Mary Jane shoes, Velma is one of the easiest characters to dress up as at this year's Halloween party. You will also need a short bob wig to recreate Velma's pageboy hairstyle, as well as those square-shaped glasses that the character wears.
Tomas Shelby from Peaky Blinders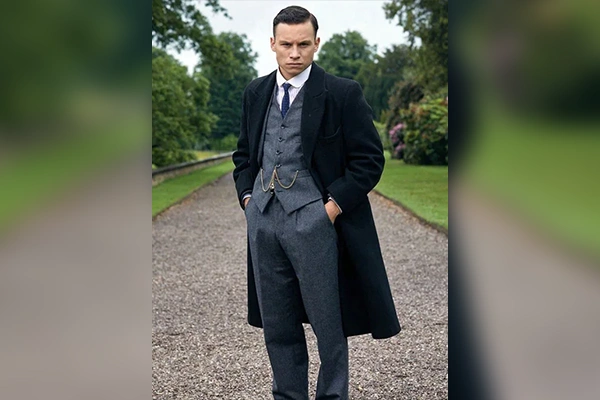 This one doesn't need any introduction for Tomas Shelby has to be one of the most popular and iconic male characters ever since the first episode of Peaky Blinders hit our television screens.
Get Tomas Shelby's recognizable look for Halloween this year with a three-piece suit, a heavy overcoat, Oxford-laced boots, a detachable collar shirt, and a newsboy cap. 
Beetlejuice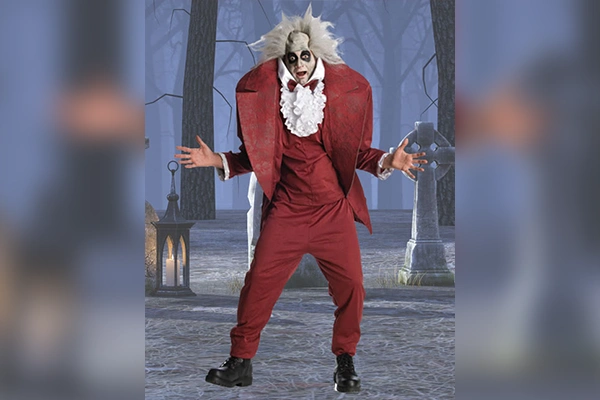 One of the most iconic men's Halloween costumes, Beetlejuice is an ideal option for you if you wish for something classic. You will need white face paint, a white hair wig, black ankle boots, and black and white striped matching separates. 
Conclusion
The beauty of Halloween is no matter which character you recreate or whatever you decide to wear, it will look festive and blend in with the overall vibe.
But, with these amazingly unique and diverse Halloween costume ideas, you will stand out from the crowd!