Casual, laidback, and easygoing, the 90s fashion men were heavily focused on self-expression while offering a great degree of comfort and style.
The everyday 90s fashion had taken a lot of inspiration from grunge and hip-hop music, and this influence was quite evident in the fashion trends and styles that were popular in those days.
Let's take a look!
What Was The Everyday 90s Fashion Men Like?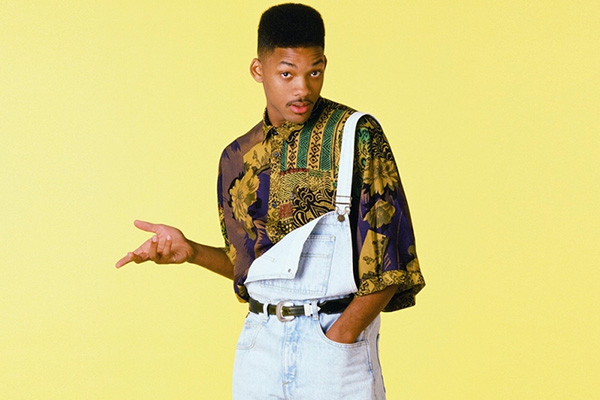 The everyday 90s style for men included a number of wardrobe essentials ranging from ripped jeans, snapback hats, white t-shirts, and bandanas to colorful windbreakers, turtlenecks, biker jackets, and cargo pants.
It was all about creating a casual street-style vibe that was also edgy, retro, and cool. The best part about the 90s fashion for men is that it had a little something for everyone.
A basic white t-shirt with a biker jacket and ripped jeans for someone who's into simple styles, but a neon windbreaker, bandana, and cargo pants for those who prefer something that's quite out there!
Aesthetic 90s Outfit – The Checklist for 90s Fashion Men
Whether you are looking to recreate classic 90s outfits or are wondering how to dress up for a 90s-themed party, consider this checklist for some of the most aesthetic 90s outfits.
Overall with strap down
Leather biker jacket
Bucket hat
Turtleneck sweater
Basic white tee
Chunk boots
Snapback hat
Baggy jeans
Ripped jeans
Bandana
Windbreaker
Graphic tees
Oversized flannel
Denim
These are some of the most popular essentials of the 90s fashion that almost every man had in his wardrobe. These items have inspired fashion designers worldwide then and now, and some are trending even today!
Replicate the 90s Style of Men
The transition from the 80s to the 90s has been quite an eye-opener in fashion terms considering how the former is regarded as one of the boldest and most lauded decades in the fashion industry.
The 90s style of men's fashion, on the other hand, had a very minimalistic and casual, but stylish and retro approach towards fashion styles.
Let's go back a few years and witness a day in the life of a 90s man's closet to help you replicate some of the best 90s-themed outfits. From oversized clothing to funky headwear, here is everything from the 90s!
Snapback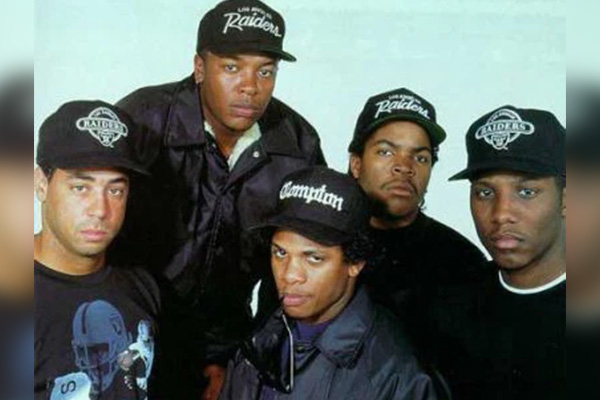 The 90s men's fashion was greatly inspired by the music culture of that era, and that inspiration took several forms including the classic retro piece, the snapback hat.
It's a flat-brimmed type of baseball cap, which typically features different kinds of statements and logos on it.
The hat gained massive popularity back in the day and was the epitome of the 90s hip hop fashion for men, especially among rappers.
Biker Jackets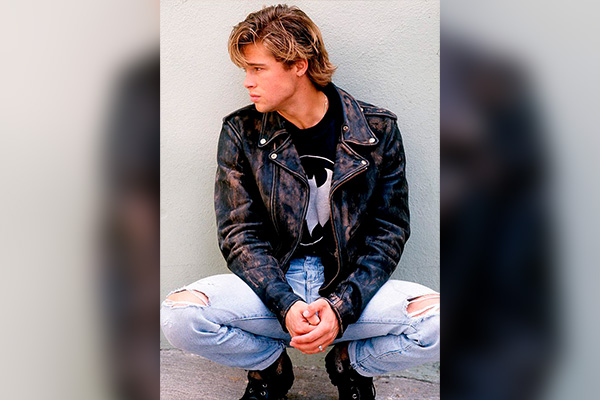 The 90s grunge fashion for men doesn't get better than the quintessential leather biker jacket which was all the rage then, and even in today's time!
Whether you owned a motorbike or not, the biker jacket was a wardrobe staple in the men's wardrobes with quite an obvious obsession attached to it.
Interestingly, a leather biker jacket was seen as a reflection of the 'bad boy' demeanor in those days!
Baggy Jeans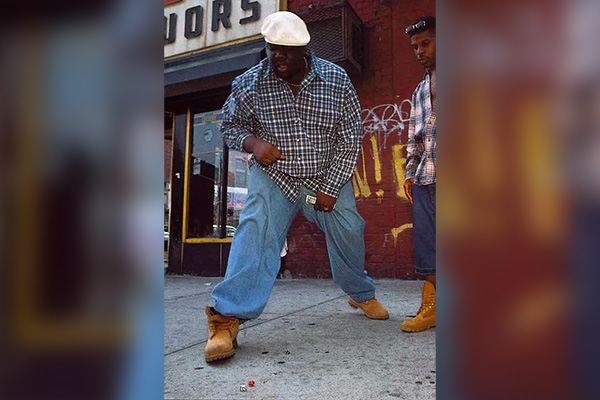 A hallmark of streetwear and everyday 90s fashion for men, baggy jeans were the in thing back then. Apparently, if you didn't own at least one pair of baggy jeans in the 90s, you weren't cool enough!
Men's jeans in the 90s had one simple rule: the baggier, the more oversized, the better. They were typically worn a little lower on the hip and paired with t-shirts and tank tops.
Windbreakers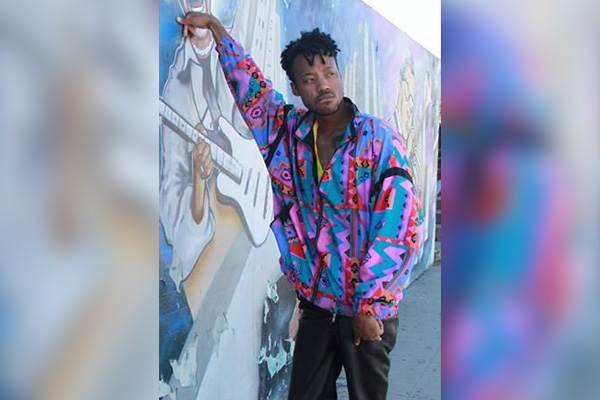 Day or night, gloomy or sunny, neon windbreakers were a classic representation of the retro 90s fashion for men.
Light, casual and stylish, windbreakers weren't just meant for chilly days, but also to display sporty and cool vibes. The everyday windbreakers in the 90s were all about colorful patterns and bold, block colors.
They were typically paired with denim to create an archetypal aesthetic, a look that's still relevant today!
Overalls with the Strap Down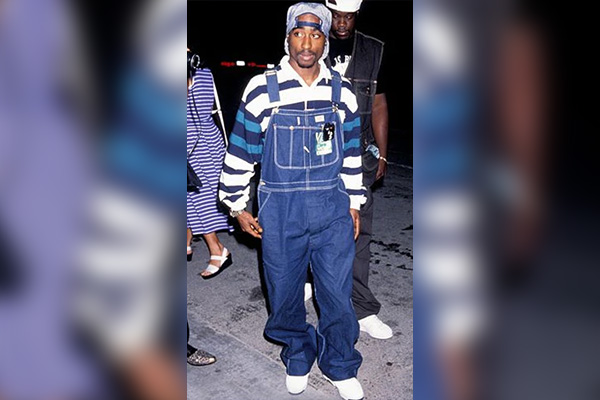 Nothing screams comfort and ease better than overalls, another staple from the 90s outfits for men. However, overalls in the 90s were worn with one strap down and hanging loose just for that added touch of style.
Will Smith absolutely rocked his denim overalls with the strap down in the popular sitcom, The Fresh Prince of Bel-Air in the 90s.
If you are an edgy dresser, this one's for you!
Ripped Jeans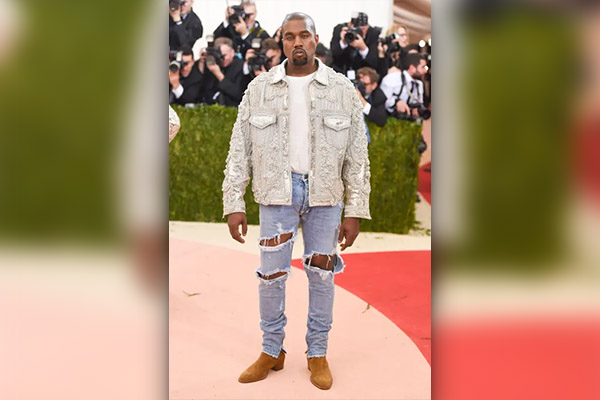 Grunge and the 90s go hand in hand, and if there's one piece of clothing that truly represents the 90s grunge fashion, it's ripped jeans.
Every man owned at least one pair of the ever-rebellious ripped jeans which were often worn to create a sense of self-expression. Ripped jeans were a powerful wardrobe essential back then and were sported as a symbol of going against the culture and the system!
Bandanas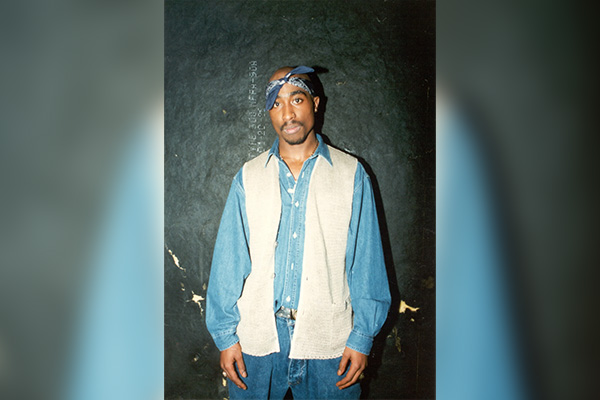 The credit for the popularity of bandanas in the 90s goes to none other than the grunge musicians, hip-hop artists, and rappers of that era.
The bandana became a summer staple and was quickly popularized among the masses for its sheer versatility and the funky vibe that it had to offer.
There were many style variations of this accessory such as around the head, arm, and even the neck.
Cargo Pants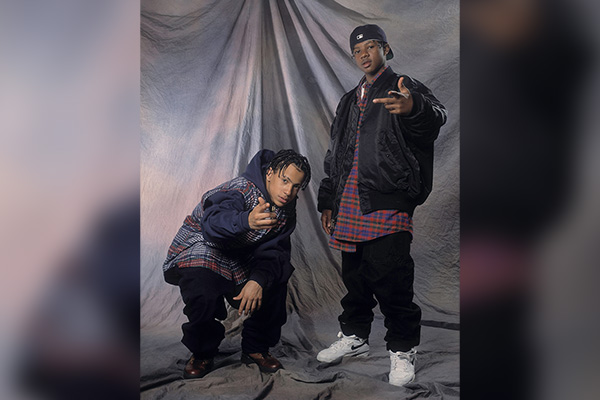 Baggy and oversized cargo pants with extra pockets were another staple in a 90s man's closet. These loose-fitting trousers enjoyed quite a long period of calm in the 90s and made a unique style statement.
With all those additional pockets, men could easily carry their wallets, keys, and other such accessories, making it an amazingly practical fashion item.
Cargo pants are trending even today and for all the right reasons!
Oversized Flannel Shirts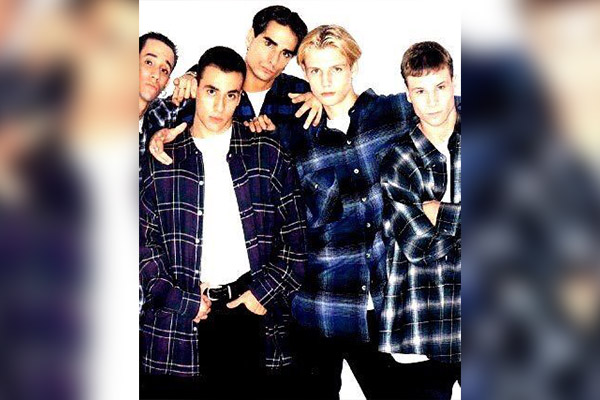 There's one reason why oversized flannel shirts were such a huge part of most 90s men's closets – Kurt Cobain. He was the lead artist of the popular 90s grunge band called 'Nirvana' and he majorly popularized oversized flannel shirts.
This piece of clothing had quite a cool, bold vibe to it and was typically paired with ripped jeans, and worn open with a shirt underneath or tied around the waist.
Sweaters Around the Waist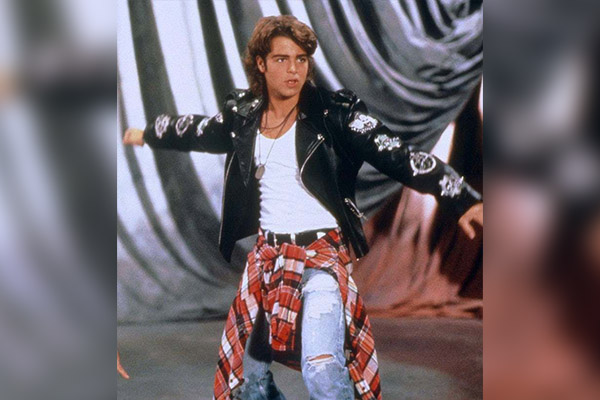 Sweaters are a timeless, iconic wardrobe essential, but what separated the sweaters of the 90s is the way men wore them back in the day – around the waist.
The 90s witnessed a whole new around-the-waist style of wearing sweaters, often paired with ripped or baggy jeans, graphic tees, and even flannel shirts.
The intended purpose of this knitted garment was long forgotten which transformed into more of a fashion statement.
What to wear to a male 90s party?
If you are wondering what to wear to a 90s male party, consider something laidback, relaxing, and comfortable. Some classic options include baggy jeans, ripped jeans, oversized windbreakers, graphic tees, sneakers, and perhaps a bandana for that funky vibe! You can even opt for a leather biker jacket with a white t-shirt, a snapback hat, and a pair of nice combat boots if it's a more formal kind of party. 
What did males wear in the 90s?
The 90s style for men wasn't just about ease and comfort, but also about displaying aggression and rebellion against the system. This is one of the reasons why grunge fashion was so prevalent in the 90s and males would generally resort to wearing ripped jeans, biker jackets, bandanas, and striped shirts in that era. For a more relaxed style, they would wear windbreakers, baggy jeans, sneakers, cargo pants, and denim overalls.
What should a guy wear to a 90s theme party?
A 90s-themed party calls for 90s decade-day outfits that truly represent the fashion and trending styles of that time.
Some classic outfit ideas for men include a pair of oversized baggy jeans or ripped jeans, paired with either a biker jacket or a logo t-shirt. Finish the look with your favorite sneakers or combat boots, slick back your hair for a clean gelled look, and off you go!
Is double denim 90s?
The emergence of double denim is often associated with the 90s and while it definitely gained significant popularity during that time, it's actually a product of the 80s. The 70s and 80s are when double denim experienced an ever-increasing trend that continued for years later. Rick Astley, an English singer-songwriter is supposedly the one who created double denim in his popular music video called "Never Gonna Give You Up."
What 90s styles are coming back?
There are so many 90s-inspired outfits, trends, and styles that are making a massive comeback in 2022 such as leather biker jackets, windbreakers, flannel patterned shirts, oval and round sunglasses, everything oversized, baggy jeans, ripped jeans, combat boots, to name a few. Some of the quintessential 90s outfits have stepped into this age with a unique twist and have greatly inspired the current 2000s fashion for men.
Concluding Our Thoughts About 90s Fashion for Men
The 90s fashion for men is about an easygoing and relaxed style with hints of minimalism and rebellion. The period also witnessed a significant rise in streetwear, grunge fashion, and oversized silhouettes.
There's nothing to not love about the 90s fashion – every item had its place in the men's wardrobe and just made sense.
The best part about 90s fashion is that so much of it is still relevant and trending in today's time. If you happen to have a 90s-themed party to attend, chances are you will find something 90s in your wardrobe to wear!