Grey dress shoes are a true wardrobe staple for men, and there are no two ways about it. But, it is important to know what to wear with grey dress shoes in order to do true justice to their beauty and versatility.
The best part about them is they can be paired with a variety of different outfits, both formal and casual, and can help dress up or down an outfit.
In case you are wondering, grey dress shoes go with everything, helping you look super stylish and totally on-trend!
Grey Dress Shoe Outfit Ideas for Men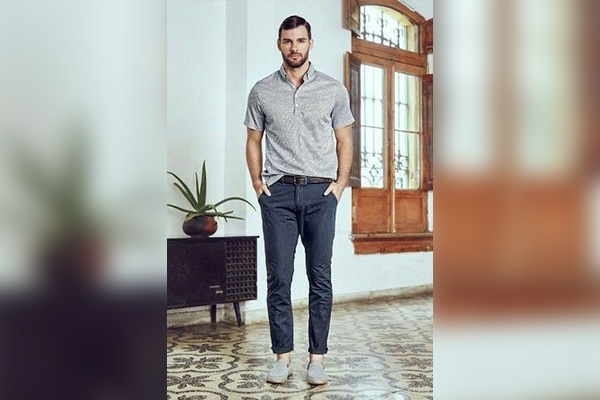 Take a look at some of the best outfit ideas for grey shoes where you can experiment with different colors, and curate a range of casual, smart-casual, and formal attires.
Grey Dress Shoes with Formal Outfits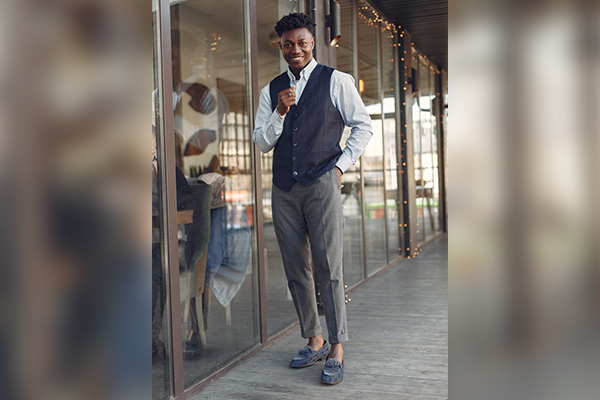 If your workplace calls for a formal dress code and requires you to wear suits at all times, grey dress shoes are the perfect choice of footwear here!
You can create a number of grey dress shoes and outfits for work, perhaps one for each day of the week. For instance, a classic outfit pairing here is a navy blue suit with light grey dress shoes. If you don't wish to wear shiny leather shoes to work, you can opt for suede ones to bring in a textural element to your outfit.
Other classic suit color options include black and charcoal grey, both of which are ideal candidates that go really well with grey dress shoes.
The same applies to weddings, fancy dinners, and other formal events as well. When dressing for a wedding, you can totally ditch the suits and replace them with other modern formal outfits for men such as dress shirts, dress pants, vests, jackets, and tailored blazers.
Grey Dress Shoes with Dress Pants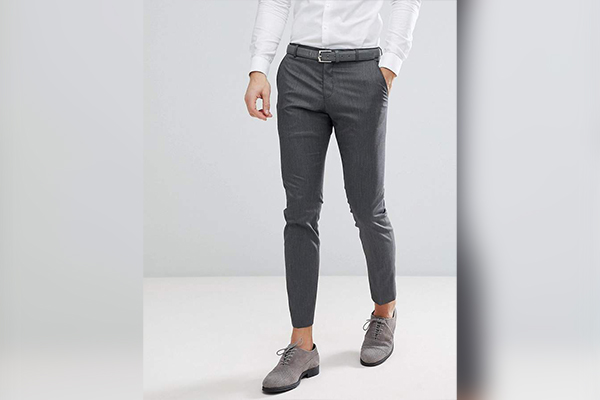 Dress pants are an absolute staple in any well-dressed man's wardrobe given how versatile they are. They offer a mix of casual and formal as they are fancier than denim jeans but less stiff than a full suit.
Dress pants are ideal for any event that calls for a smart casual dress code for men, or even for business casual corporate environments.
While you can pair your grey dress shoes with any color you like, it pairs best with black, navy, and charcoal grey. Black and grey is a classic, evergreen color combination, and there's no denying the fact that you can never go wrong with it.
However, if you want to add a pop of color to your look, consider navy dress pants that offer a stunning contrast against grey shoes.
You can also opt for a monochrome grey outfit, but make sure that the shade of your dress pants is darker than that of your shoes. Again, this will help create a nice contrast and highlight different shades of grey.
Grey Dress Shoes with Casual Outfits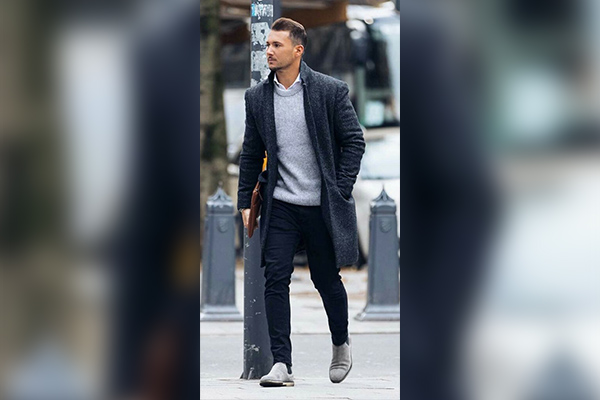 Dress shoes aren't just meant for formal outfits, but you can also wear them casually!
One of the easiest casual outfits with grey shoes that you can sport to a casual lunch or dinner is a pair of dark jeans, and a nice warm sweater, and you are good to go! If you wish to dress down this particular look even further, switch to lighter-colored jeans since the former is a tad dressier.
Another option here is grey leather brogues paired with white chinos, a grey cardigan, and a dark wool brown blazer.
For a more laid-back, funky vibe, go with olive chinos, a floral long-sleeved shirt in any dark color such as navy, an olive wool hat, a brown leather belt, and of course, grey suede derby shoes.
Grey Dress Shoes with Jeans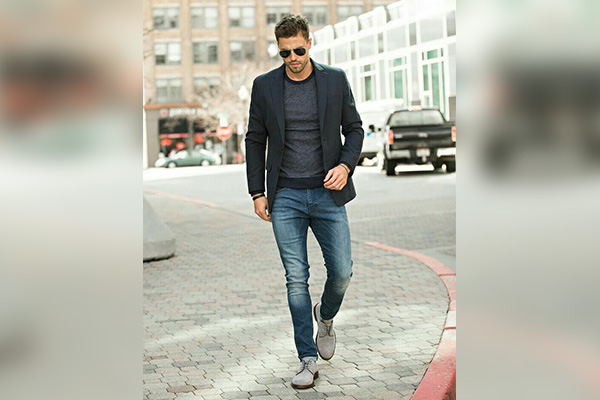 Mix formal with casual by pairing your grey dress shoes with jeans, and create an on-trend, simple yet practical outfit that works for numerous occasions.
Consider a nice green polo shirt, a pair of navy jeans, and grey leather loafers. This is an ideal option for a casual work meeting, lunch, dinner, or even a party.
For a more relaxed combo, opt for a pair of dark-washed jeans, a light-colored sweatshirt, and grey suede loafers. If you are heading to a birthday or any other fun event, add a splash of color to your outfit with an orange corduroy shirt jacket – keep the buttons open and wear a grey crew neck under it.
Grey Dress Shoes with Chinos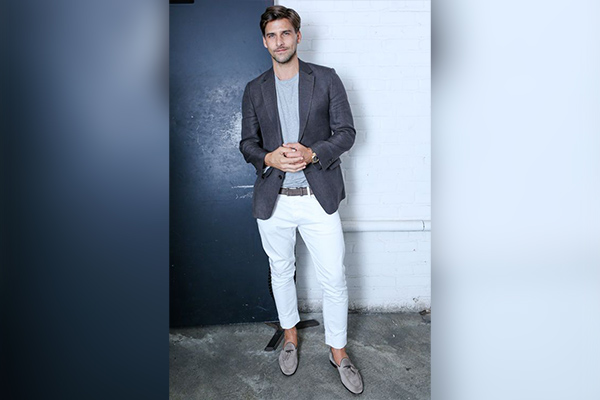 For semi-formal events, look no further than your favorite chinos paired with grey dress shoes, another classic combination that just always works.
For instance, you can make a cool style statement and let everyone know that you know how to dress well in olive chinos, gray suede loafers, a grey turtleneck, an olive Harrington jacket, and perhaps a pair of sunglasses if you are heading out during the day.
If you are into neutral, muted color palettes, nothing beats white chinos paired with a gray cable sweater and a gray double-breasted cardigan. While grey-on-grey might not appeal to you at first, it actually looks really sophisticated!
Another super stylish option that you can sport to a dinner party without having to rummage through your wardrobe is light grey chinos, a light blue long-sleeved shirt, a cool watch, and a pair of grey suede tassel loafers. You can also replace the loafers with brogues, oxfords, derbies, or monk straps.
The beauty of chinos and dress shoes put together is increased versatility which allows you to come up with multiple outfits, each offering a unique look and vibe.
Color Combinations with Grey Dress Shoes
Explore some great, classic color combinations with grey dress shoes that will help you make unique and appealing style statements.
Black
As mentioned earlier, grey and black make a classic color combination. Choose the right shade of grey dress shoes to go with your black outfit, and you will find yourself making an absolutely chic style statement!
For instance, a pair of black dress pants paired with a white button-down shirt, and grey dress shoes is simply flawless.
White
There's no denying the fact that white literally goes with everything, but when paired with a warm grey hue, it makes quite an elegant color combination.
Not to mention, grey and white offer the perfect summer palette, and the combination looks super stylish during the daytime. But, there are no limitations here – you can sport it during night-time too and make an equally stunning style statement.
Take a pair of white jeans, grey suede loafers, and a dark-colored polo shirt – it screams style and fashion!
Beige
Grey and beige are both muted or light colors and one might hesitate to pair the two together, but they actually create one of the best color combinations of all time!
Beige offers warmth while grey offers a cool vibe, and together they create the perfect contrast.
An ideal outfit option to consider here is striped short-sleeved dark-colored shirt grey loafers, and beige linen chinos.
Red
For those who are big on experimenting with different colors and love stepping out of their comfort zones, this is the one for you.
Red with grey dress shoes definitely comes off as quite a bold and loud color combination, but if done right, it can end up looking simply wonderful! Since red is a very vibrant color on its own, the key to going about this the right way is to introduce it in a manner that doesn't appear too loud, but instead makes a subtle striking statement, which particularly applies to formal outfits.
For instance, a grey suit paired with grey dress shoes finished off with a deep red tie. If not a tie, a red pocket square would look equally amazing!
However, you can also clean up well with a red polo, a pair of dark jeans, and grey loafers or even boots if you like!
Green
Green might not be a popular color in men's wardrobes, but it's yet another stunning color that absolutely deserves a spot in every man's wardrobe! It's one of those underrated colors that are super versatile and can be dressed up or down however you want.
Pair your grey dress shoes with a dark green shirt jacket, a green crew-neck shirt, and khaki chinos, and you are all set to head out in style.!
For an off-duty, stylish look, consider a pair of dark green chinos, a white long-sleeve shirt, a dark brown woven leather belt, and grey suede tassel loafers.
If you've never paired grey with green before, you will surely be surprised at how incredible these colors look together, offering a super-blended and harmonious look.
Blue
Perfect for offices, weddings, dinners, and parties, you can never go wrong with a grey and blue color palette.
Black and white, navy and teal, green and yellow, and blue and grey offer the ideal color combination.
Whether you are pairing your grey dress shoes with a blue shirt, blue trousers, or a blue jacket, you can expect the end result to look absolutely stylish. Just make sure to pair the right shades of each color, thereby creating the right contrast and vibe.
For instance, light grey oxford shoes with a sky blue shirt, or dark grey loafers with a navy blue blazer are two great, effortlessly stylish outfit pairings.
Accessorizing Grey Dress Shoes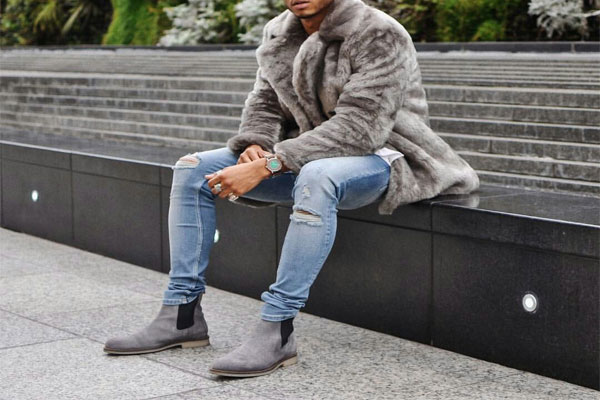 Accessories are the perfect add-ons for outfits that require that extra oomph, and also for expressing your individual personal style.
For accessorizing grey dress shoes, consider the following men's accessories that will truly transform your outfit without you having to try really hard!
Leather Belts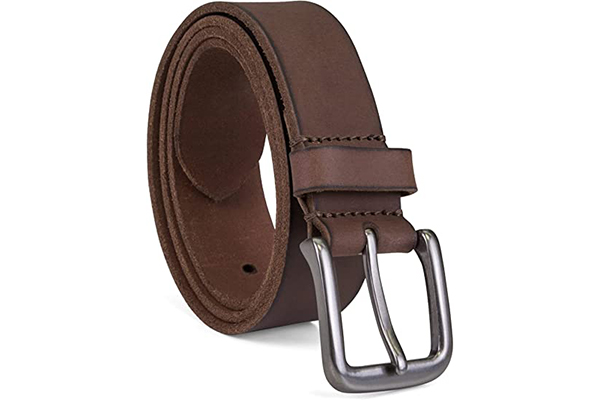 Belts are the ideal accessory to add to an outfit without having to do much or give it much thought. They are like the go-to men's accessory considering how they are so versatile, and how they accentuate the waist while enhancing your outfit.
When it comes to belts, leather is the most obvious choice, not only for its durability but also for the refined, polished look that it has to offer. Leather belts have quite an elegant, sleek touch to them, and they can instantly uplift your attire.
With grey dress shoes, it is ideal to wear a matching grey leather belt since matching the color of your belt to your shoes is generally preferred for formal outfits. However, you can make do with other options too such as black which, again, looks great with grey.
Canvas Belts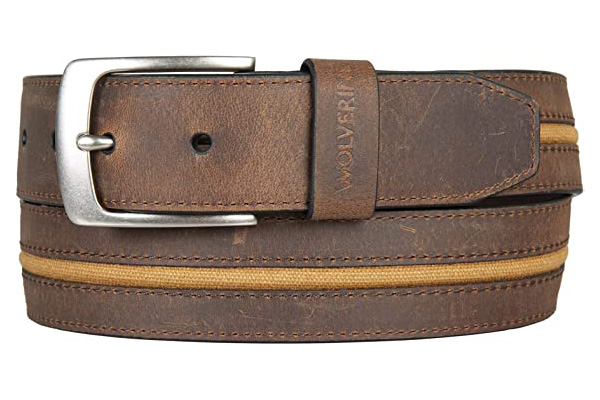 For casual or informal events where you don't necessarily wish to sport a leather belt, opt for canvas belts!
Made from canvas which is a plain-woven fabric typically made of cotton, canvas belts have a nice, unique texture to them.
Black canvas belts paired with khaki chinos offer a stylish outfit option, further accentuated with the help of grey suede loafers.
Metal Cufflinks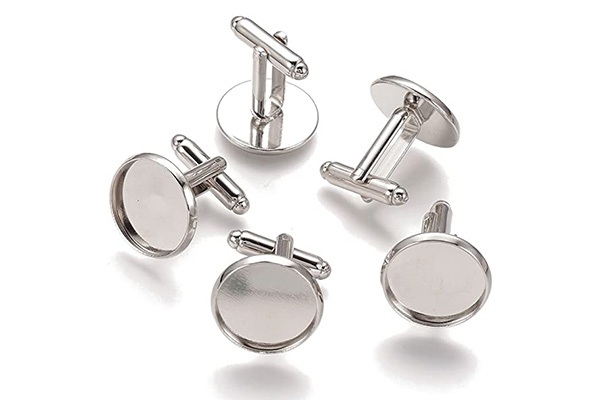 Cufflinks are a must-wear accessory with suits or with outfits that include a dress shirt and a blazer. Metal cufflinks, in particular, take the lead here given their polished and sleek appearance.
Some of the most popular metal-based materials for cufflinks that you should consider include stainless steel, platinum, titanium, and sterling silver. These are ideal to wear with your formal outfits, and you should definitely have a pair or two in your wardrobe.
Patterned Cufflinks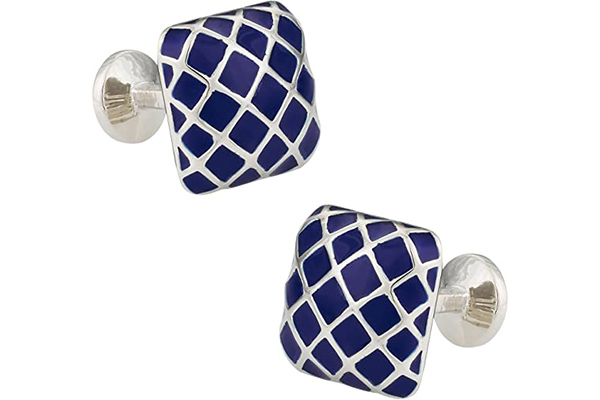 Add a stylish touch to your formal outfits with patterned cufflinks instead of plain ones. You will find a variety of cufflinks featuring designs and patterns, in different colors and textures which you can choose from according to the outfit you are wearing.
Bold Pocket Squares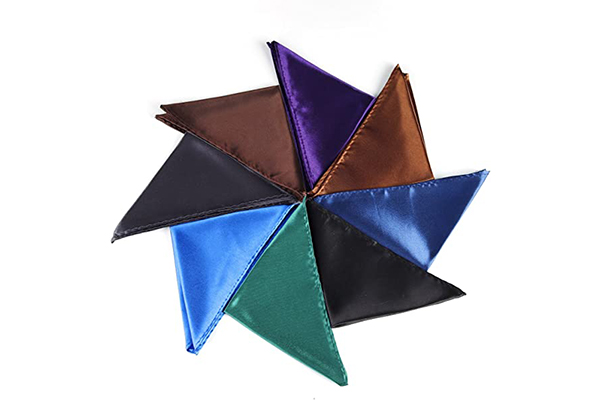 When wearing plain, solid-colored suits with grey dress shoes, adding a bold pocket square will instantly enhance your outfit by adding a pop of vibrancy to it.
For instance, when wearing a dark grey suit and grey leather dress shoes, consider a maroon or burgundy pocket square to add to your outfit. It's the perfect addition that will act as a highlight, but without taking anything away from your overall attire.
Neutral Pocket Squares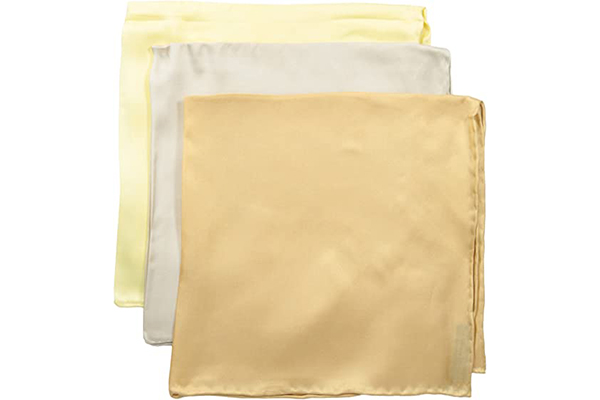 If you aren't big on loud colors, opt for neutral-colored pocket squares to go with your suits, such as cream, beige, light pink, light blue, and all other kinds of light hues.
Conclusion
Knowing what to wear with grey dress shoes and how to wear them is imperative in order to really bring out the cool factor of this color.
If you don't already own a pair of grey shoes, now's the time to get your hands on one because they will be the perfect addition to your wardrobe, and will help you curate so many different outfits and color combinations!