The right footwear can make or break your outfit and has the power to impact the overall look of your attire. When it comes to dressing formally, you should know what to wear with brown shoes considering how brown is an essential color to have in your wardrobe.
Dress shoes for men come in a variety of styles such as oxfords, brogues, monk straps, derbies, and loafers, to name a few. While you probably already own dress shoes in black, which is one of the most classic colors of all time, you should also have different shades of brown in your footwear collection!
Pairing your brown shoes with the right outfit and colors will also go to show that you know how to dress well!
Brown Dress Shoe Outfit Ideas for Men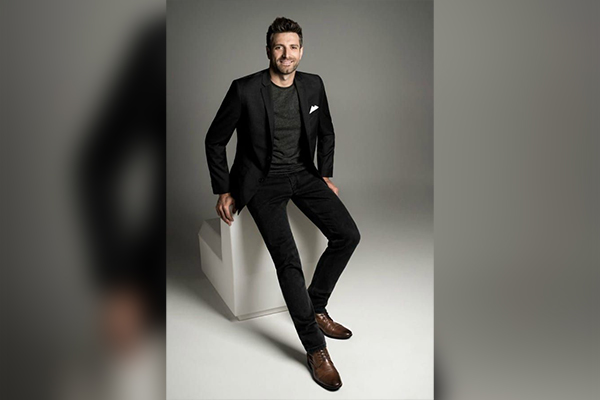 Brown dress shoes can be paired with a number of outfits to create a unique look and feel, according to different occasions.
We've outlined some of the best outfit ideas for brown dress shoes that you can wear, and dress up or down while making a style statement.
Formal Outfits with Brown Dress Shoes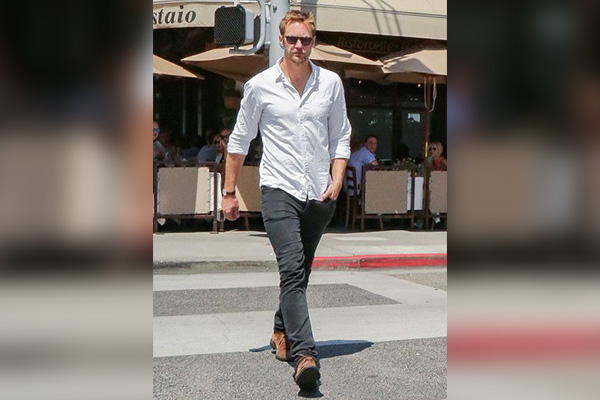 This is a classic combination that allows you to dress up for numerous occasions such as weddings, job interviews, work meetings, and fancy dinners.
Brown dress shoes are a versatile, stylish option that can be paired with a variety of formal outfits. Take slacks and a blazer, for instance. Tan or gray slacks with a navy blazer and brown leather oxfords is a great formal outfit for any event that calls for a formal or a smart casual dress code for men.
For a less formal event, you can opt for a nice, light-colored dress shirt with trousers and brown suede dress shoes.
Brown Dress Shoes with a Suit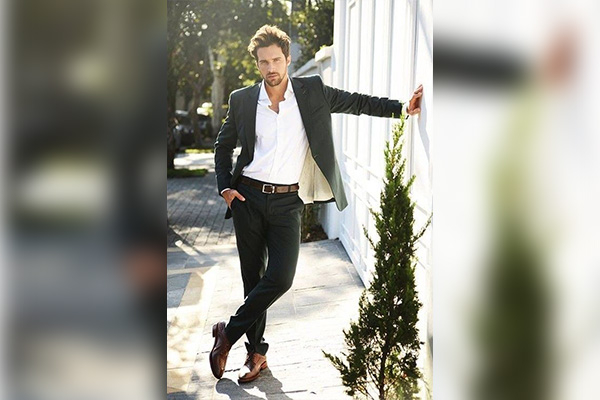 A timeless modern formal dress for men is none other than a tailored suit that can easily be dressed up or down depending on the occasion.
When it comes to suits, brown dress shoes are an absolute must-have considering how versatile they are, and come in so many unique shades of brown that you can pair them with different suit colors.
The key here is to choose the right shade of brown dress shoes – there are darker shades like oxblood or mocha, and lighter ones like cognac or tan. Then, make sure you choose a suit color that compliments your shoes. While black, gray, and navy are ideal choices here, there's no reason why you can't experiment with other colors such as burgundy and olive green.
Brown Dress Shoes with Dress Pants
Dress pants, when paired with a blazer or a sport coat, creates a stylish, sophisticated outfit that you can sport to a number of occasions such as a wedding, a business meeting, or a semi-formal dinner, for instance.
Introduce brown leather brogues or derbies to this look, and you are good to go!
In order to pull off dress pants effortlessly, make sure that you choose the right fit featuring a tapered leg and a comfortable waistband. Consider the fabric here as well depending on the formality of the occasion.
For a casual setting, linen or cotton dress pants are ideal as they are lighter in weight and have a relaxed look to them. For more formal settings, go with wool dress pants and a light-colored shirt which makes the ideal men's outfit for a wedding.
Again, it is important to ensure that the color of your dress pants complements the shade of your brown dress shoes.
Casual Outfits with Brown Dress Shoes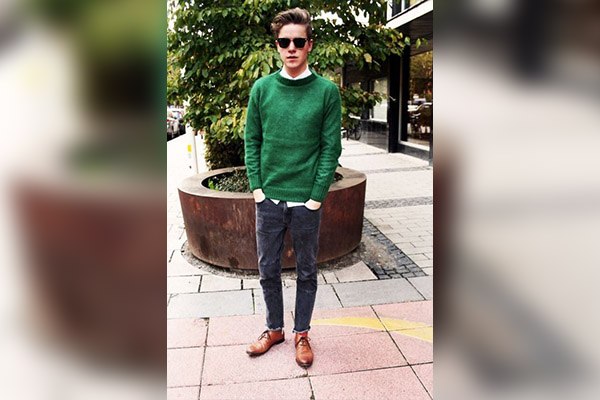 The versatility of brown dress shoes isn't just limited to formal outfits but extends beyond that to casual outfits as well.
You can come up with a number of unique and laid-back casual outfits with brown dress shoes to add more variety and diversity to your wardrobe.
From heading out during the night to brunching on a Sunday, you can use your brown dress shoes to add a touch of elegance to an otherwise casual look.
Take a pair of chinos and a button-down shirt, for instance. On its own, it's quite an informal outfit, but when you pair it with, say, nice brown suede tassel loafers or leather brogues, you can create a stylish, put-together look that's ideal for any occasion.
Brown Dress Shoes with Jeans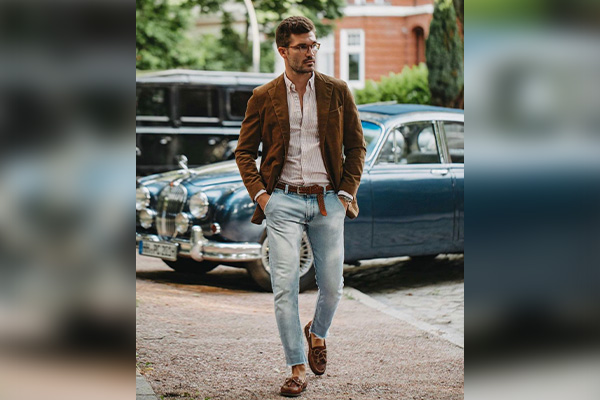 A well-fitting pair of jeans with brown dress shoes is another stylish combination that you can wear with confidence to a wedding, a fancy dinner, a casual lunch, or even a work meeting.
Jeans are a super versatile clothing item that you can wear in so many ways, for both casual and formal occasions.
A classic casual look is jeans paired with a white t-shirt, a cool denim jacket, and brown leather loafers. Take it up a notch by replacing the white t-shirt with a crisp, white dress shirt, and complete this smart casual ensemble with a navy-tailored blazer. This can also work as a business casual look so if you are off to a meeting, you can totally go for it.
Brown Dress Shoes with Chinos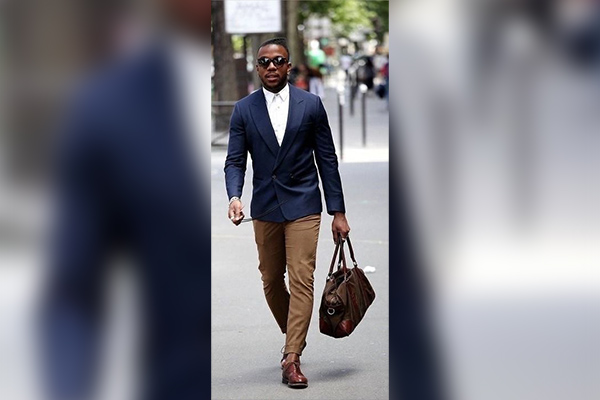 If you are looking for a middle ground between casual and formal, chinos are your friend!
Chinos are a super stylish type of pants that offer a more streamlined, tailored look compared to other options. They pair best with suede or leather loafers which are one of the most popular brown dress shoe styles for men. However, you can also wear chinos with sneakers, brogues, and derbies, to name a few.
For a smart casual look, you can pair beige chinos with a light blue dress shirt, a navy blazer, and brown tassel loafers. For a preppy look, opt for a pastel-colored dress shirt tucked in a pair of khaki chinos, and complete this ensemble with a nice cardigan, a patterned tie, and brown leather monk straps.
Color Combinations with Brown Dress Shoes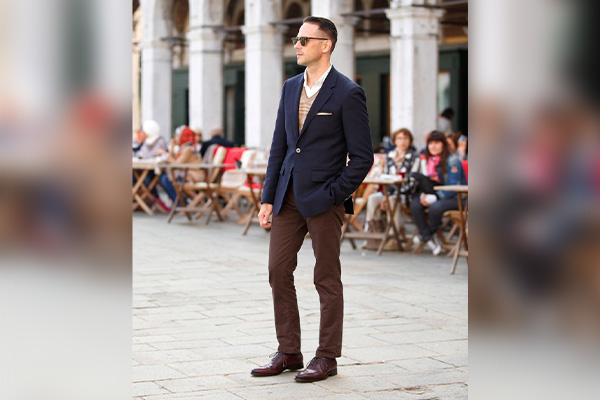 As mentioned earlier, brown is a wonderful, versatile color that looks great with so many other colors. Take a look at some of the most ideal, classic brown dress shoe color combinations that you can sport for your next occasion!
Black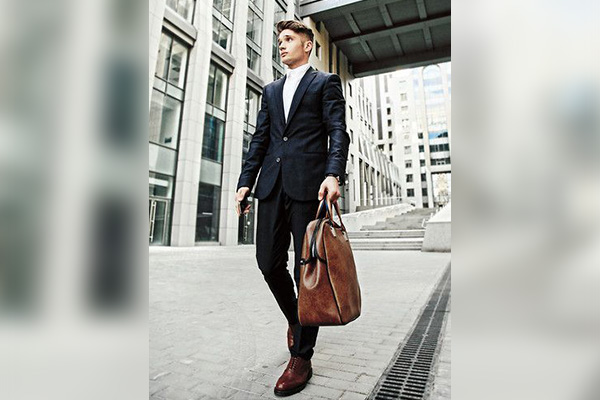 Black and brown have to be one of the most popular and commonly worn color combinations given how they perfectly complement each other. It also makes for a sophisticated color pairing so if you are ever confused about what color to wear with brown dress shoes, black is an ideal choice.
From a classic black suit to black dress pants to black jeans, brown dress shoes go with numerous options, offering you a variety of outfits for different occasions. For a casual, laid-back style, go for black jeans, a black sweater, and brown suede loafers.
For a smart-casual or semi-formal look, black dress pants, a light gray button-down shirt, and brown leather oxford shoes would look great. This is also a great brown dress shoe outfit for work if your workplace has a relaxed dress code in place.
White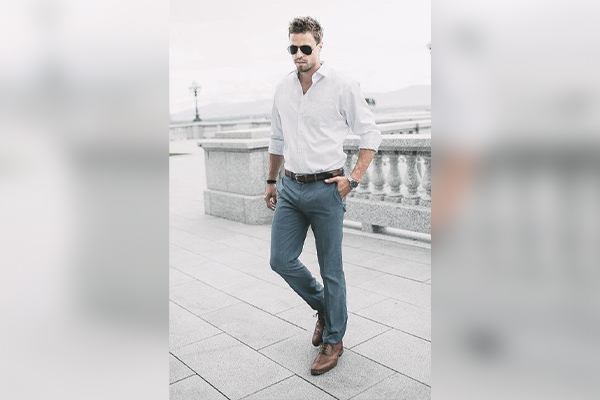 For a clean, fresh summer look, there's no going wrong with a white linen suit paired with polished, sleek brown leather dress shoes. This makes the perfect outfit for a beach summer wedding where the white and brown would look amazing against the brown sand, and the blue waters.
Another way to go about this is to wear white jeans with a colored polo shirt, and brown suede loafers.
Beige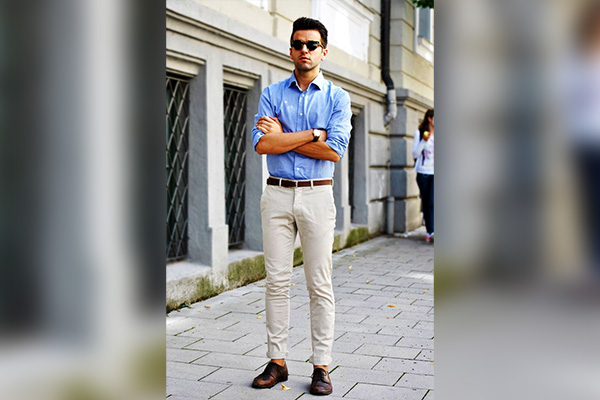 Brown and beige are both neutral colors that complement each other beautifully, creating a cohesive, put-together look.
There are many ways you can introduce the color beige in your outfit with brown dress shoes such as with a pair of beige chinos, a beige sweater, or a beige blazer. If you wish to add a touch of color or some kind of visual appeal to an otherwise muted look, you can do so by wearing a patterned tie, a striped shirt, or a herringbone blazer.
You can also wear a nice leather belt that matches your brown dress shoes, which is one of the simplest yet stylish of all men's accessories to help elevate an outfit.
Blue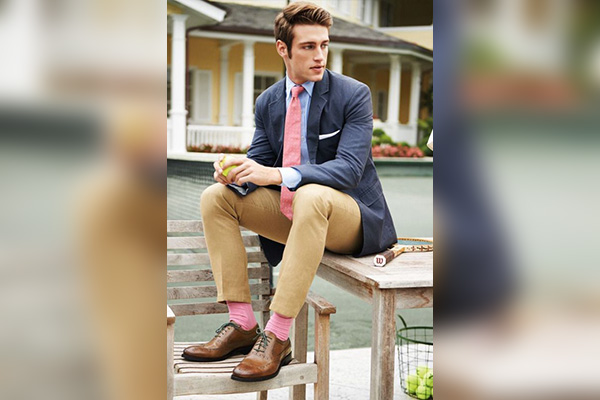 Nothing beats a blue blazer paired with brown leather dress shoes, a look that's ideal for weddings, dinners, work meetings, or even casual hangouts with friends.
You can also add blue to an outfit in the form of navy dress pants, a light blue polo shirt, a cobalt blue dress shirt, or any other shade of blue that you particularly like.
The beauty of the color blue is that most of its shades, if not all, go really well with brown, allowing you to wear this color combination in many different unique looks and styles.
Accessorizing Brown Dress Shoes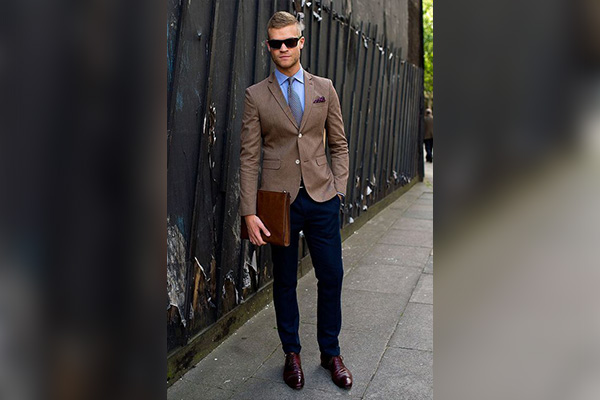 From belts to cufflinks to pocket squares, men's accessories feature a large variety, giving you a multitude of options and ways to elevate an outfit and add a touch of style to it. Not to mention, knowing how to accessorize is one of the many habits of a well-dressed man!
When accessorizing brown dress shoes, the following options are a must-have.
Leather Belts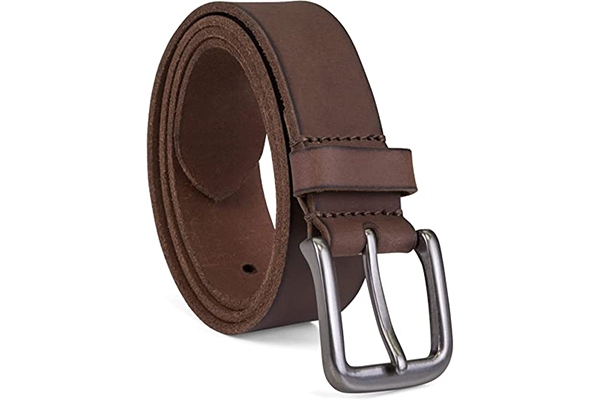 A leather belt is a timeless accessory that you can match with your choice of brown dress shoes. When it comes to belts, make sure to choose one that's made of high-quality leather. If you are going for a refined, simple look, opt for a plain belt, and avoid anything with flashy details or colorful patterns.
The idea here is to create a sophisticated look that enhances your outfit instead of detracting from its polished appearance.
Canvas Belts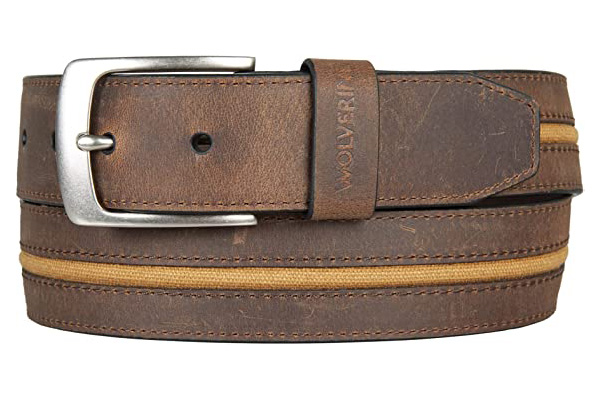 If you are sporting casual attire and don't wish to wear a formal leather belt, a canvas belt is the next best alternative.
Canvas belts come in a range of colors and styles, and offer a great way to add a touch of color and texture to your outfit.
Again, make sure to opt for one that has clean designs that go well with your brown dress shoes and don't end up looking too much.
Metal Cufflinks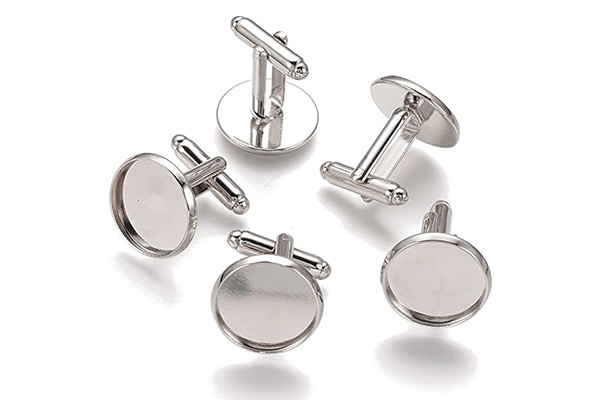 Functional and stylish, metal cufflinks can instantly boost your outfit by adding a touch of elegance to it. These are ideal for business settings or even formal occasions such as weddings and office dinners.
The ideal choices here are black, silver, and gold given how timeless they are, and can look with literally anything.
Metal cufflinks may be small and subtle, but the impact and style statement they make is quite the opposite. They help reflect your personal style and can accessorize your outfit effortlessly.
Patterned Cufflinks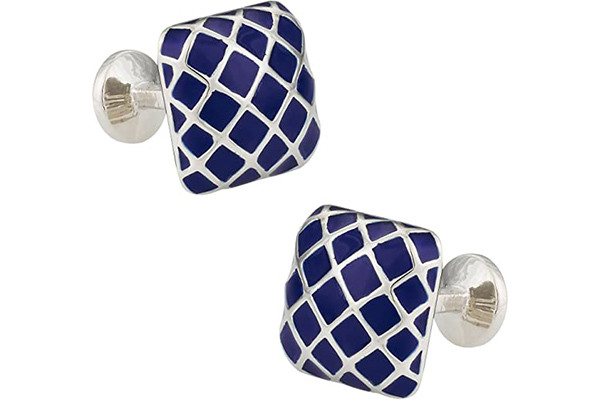 If you'd rather go for a more colorful or playful look, opt for patterned cufflinks as they offer a fun touch to your outfit. Moreover, they can also help you make a loud, bold statement, and a simple outfit to another level.
Bold Pocket Squares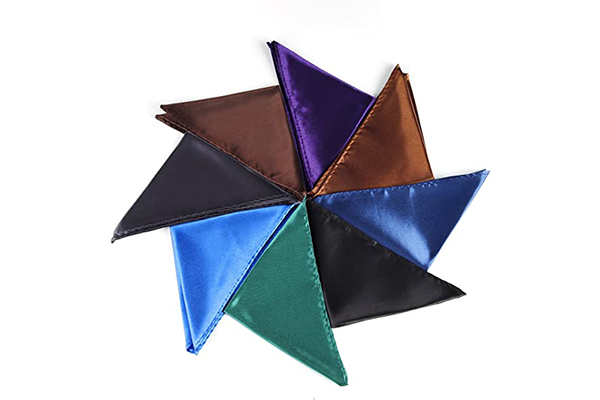 Small but impactful, a pocket square is another must-have men's accessory that can highlight your personal style, and add a pop of color to an otherwise simple outfit.
If you are wearing a gray suit, for instance, you can add a vibrant pocket square to it such as blue or maroon. Make sure that the color of your pocket square complements the shade of your brown dress shoes as well as your suit.
Neutral Pocket Squares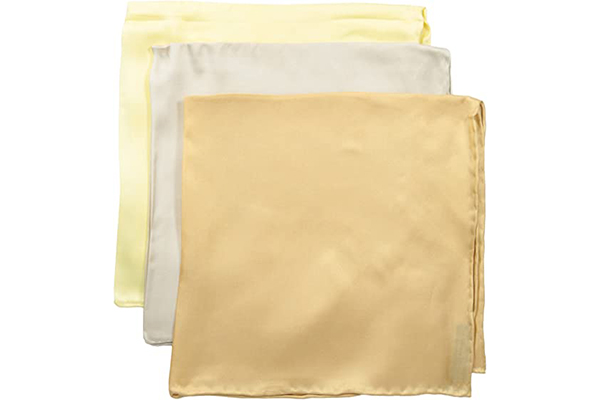 Consider a neutral pocket square in a muted, light color if you are going for an understated look. White, light gray, powder blue, and beige are some great options for a sophisticated touch to your outfit.
Go for a silk pocket square because silk features a luxurious look and feel, and a natural sheen that offers a great deal of finesse and refinement. Moreover, silk is super durable and worth the investment so don't hesitate to get your hands on a quality silk pocket square!
Conclusion
Brown dress shoes are indeed a wardrobe must-have, and now that you know what to wear with brown dress shoes, you can make them your go-to footwear choice!
When paired with the right outfit, brown dress shoes can really amp up the look of it in an effortless manner, and also elevate your personal style.