Black jeans are versatile men's clothing that everyone should have in their wardrobe. But do you know what to wear with black jeans men for a dapper
vibe? If not, you are probably at the right place.
These simple yet stylish pants types cover you for the most casual and semi-formal occasions without compromising on your style. Whether you dress them up with a button-down shirt or keep it low-key with a t-shirt for a laidback weekend look, black jeans will never disappoint in any situation.
However, before going for a chic black jeans outfit for men, it is essential to have some prior knowledge. So, if you are also uncertain about what to wear with black jeans men. Don't worry, we will answer all your questions in this ultimate black jeans outfit for men guide.
Let's start!
Tips: How To Style Black Jeans Men?
The color black has an intense aura with a slimming vibe associated with them, making them a perfect color for menswear.
So, if you want to pull off a minimalist look with a touch of sophistication, black jeans men's outfits are all you need. Here are some styling tips you need to know for proper styling.
Contrast
Although you can style your black jeans with most outfits, adding the right contrast to complement your black jeans outfit is crucial.
While dark tones such as burgundy, maroon, and dark blue go well with black jeans, going for lighter tones like white, beige, and gray are a good choice for effortless summer styling.
The Right Fit
Unlike blue, for black jeans, you do not have to worry about the correct shade for proper styling. This means, now you have plenty of room to pay attention to the fit. Whether you go for simple straight jeans, a slim fitting, or a relaxed fit, each one of them has its unique vibe and style.
Keep It Simple
The golden rule for styling black jeans outfits is to keep it simple and minimal. Adding too many colors and accessories can work otherwise for your basic jeans look. Putting on a few accessories like a wristwatch and a pair of sunglasses is enough to pull together a sophisticated look.
The Cuffs
If your pants have some extra fabric at the end, instead of letting them lay loose, covering your shoes, try cuffing them over. This simple thing can add structure and balance to your entire look, with minimal effort. This trick works wonders, especially with baggy and wide-leg fit.
Shirt To Wear With Black Jeans
Black jeans, when paired with the correct type of shirt can create a perfect casual look. Whether you go to a club or a casual lunch with friends, a black jeans outfit keeps you covered for every occasion, regardless of the weather and dress code.
Following are some basic shirts you can always style with black jeans.
Dress Shirts 
Button-down dress shirts with black jeans are a sure-shot formula for a sophisticated yet casual look. Whether you go for plaids, stripes, or solids, these simple shirt and pants combo will never disappoint you.
If you want to go for an elevated dress shirt outfit, just put on a contrasting blazer with dress shoes and you are all set. However, for dressing down, simply swap the dress shoes with boots or sneakers and a blazer with a denim jacket.
T-shirt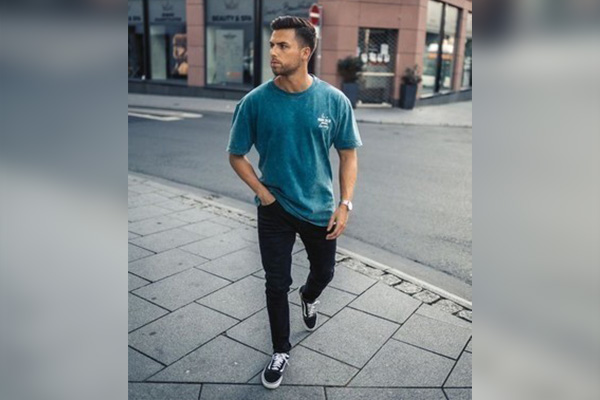 If you are looking for a trendy yet laid-back shirt to wear with black jeans, t-shirts are the one for you. White, navy blue, and gray shirts with black jeans are some of the basic yet trendy outfits to wear on any casual summer day.
However, make sure the shirt is stitched to your size, wearing an oversized t-shirt would ruin the entire vibe of your outfit.
Black Jeans Outfit Men
If black jeans are your favorite pair of pants and you are looking for outfit ideas and shoes to wear with black jeans. So, look no further, as we have created this amazing list of outfit ideas for you to slay your black jeans ensembles in all seasons.
All Black Outfit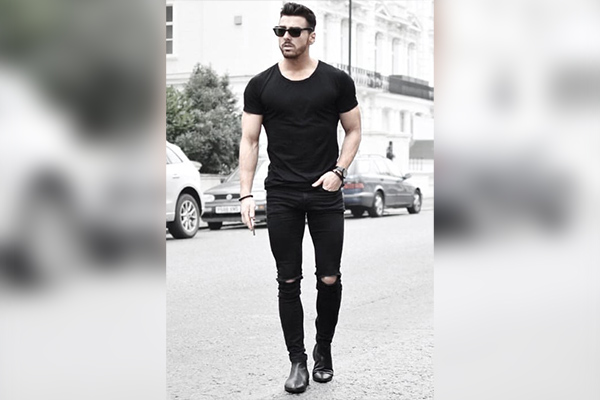 Out of all the other colors, a black shirt certainly makes the best pair with black jeans. It requires a lot of confidence to pull off such an intense look but surely is hard to ignore. An all-black look is a no-brainer for all occasions because of the classy masculine vibe.
Whether you go for laid-back ripped jeans with a graphic black t-shirt and sneakers for casual days or a sophisticated button-down with dress shoes and a blazer for a sharp semi-formal look, this look always is a win-win deal to make a style statement with minimal effort.
The Monochrome Look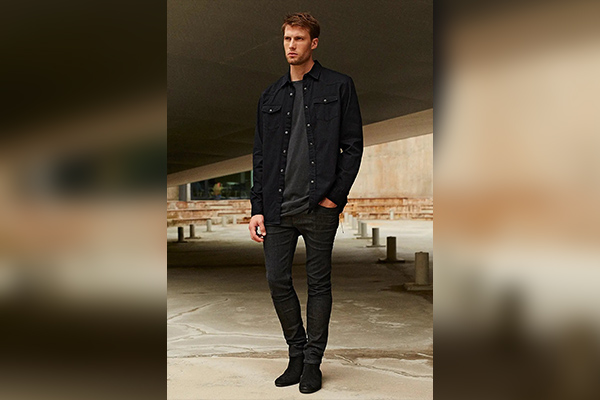 If you want to pull off a high-fashion look while keeping it low-key, a monochrome look is a way to go. Heading to a casual holiday dinner with family or to a formal date night at a fancy restaurant, a button-down white shirt with black jeans and sneakers is a perfect outfit for every situation.
For chilly winter nights, you can always swap your white button-down with white turtle neck sweatshirts and sneakers with black lace-up boots for a cool winter look. Lastly, finish off the entire look by wrapping a warm scarf around your neck.
Double Denim Outfit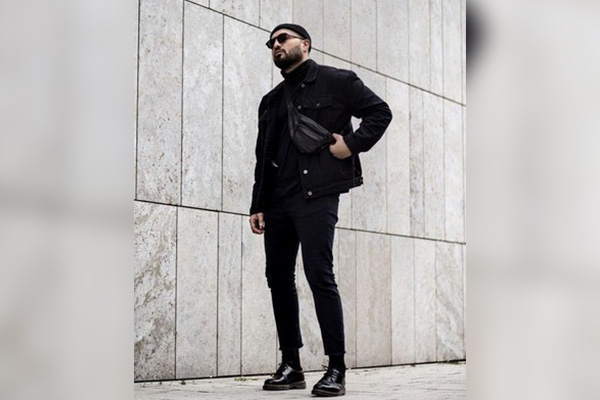 If you are a fan of the double denim look, you may be wondering what type of jeans jacket outfits would complement best with black denim pants.
The golden rule is to skip the lighter tones and opt for dark denim hues. While black denim jackets may work with black jeans but going for a dark blue trucker jacket is a way better option to add some texture and contrast to your entire look.
Lastly, pair your double denim outfit with stylish sunglasses and sneakers for a put-together look. Whether you are a teenager or a forty-year-old, this outfit combination suits everyone and anyone.
Summer Prints With Black Jean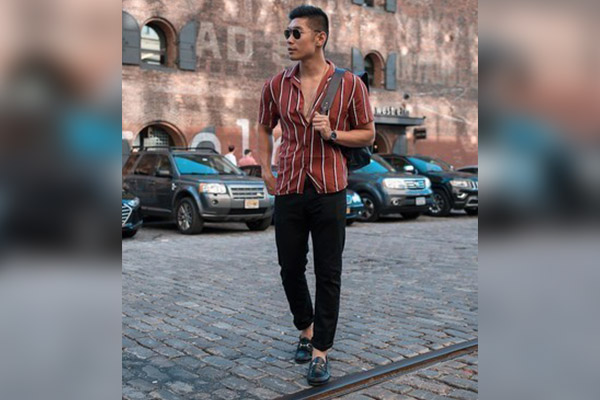 If you are tired of wearing that same old t-shirt over the summer and wanted to play with colors and prints. Try wearing some tropical and floral printed shirts with casual black jeans and sneakers.
This outfit combination is a perfect formula to create a casual style statement with your summer outfits. Wear them for all your weekend hangouts at the beach and resort holidays and stand out of the crowd with your fashion game in check.
Lastly, you can try putting on a few casual accessories like a p-cap or bracelets to add some fun vibe to your entire look.
Leather Jacket Look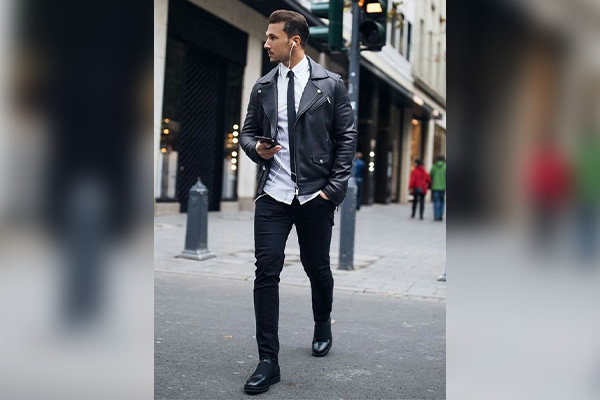 Want to pull off a sturdy polished look with minimal effort? Just put on a black or tan leather jacket with black jeans and a white sweatshirt. For the choice of footwear, a pair of crisp white sneakers or black lace-up boots will do the work.
Top up this look with a stylish pair of sunglasses and a leather belt matching the color of the shoes. In order to add a laid-back, stylish touch roll over jeans to show off your ankle or socks. This little trick will elevate your casual look beyond measure.
Smart Casual Outfit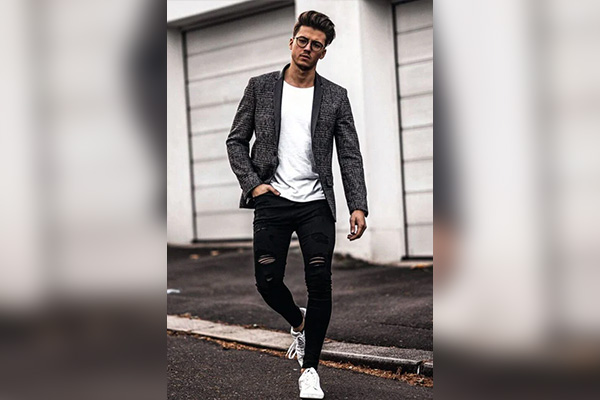 Are you bored of wearing that conventional outfit to your office every day? Well, try wearing smart casual attire to break the monotony. 
You can effortlessly pull off a stylish business casual look by putting on a basic button-down shirt and black jeans. You can also try wearing a warm sweater to add some. Putting on a basic pair of sneakers is a smart move to create a balance between all the clothing elements.
Semi-formal Attire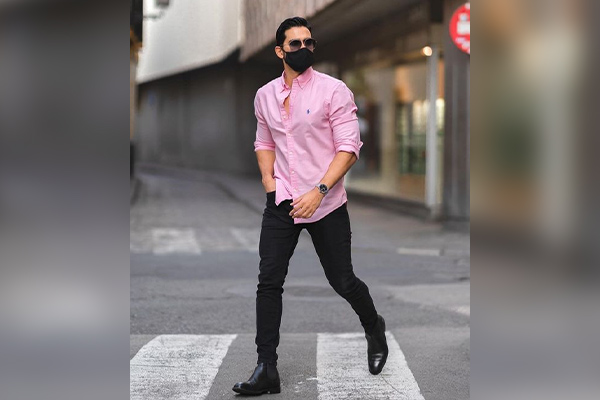 If you think you cannot wear a jeans outfit to a semi-formal event, think again. Black jeans with a dress shirt and blazer make a perfect semi-formal outfit that you can wear to a cocktail party, a business meeting, or a casual day wedding.
Do not forget to finish off this look with a decent pair of dress shoes and some complementary accessories such as a tie, wristwatch, and belt.
Add Some Plaid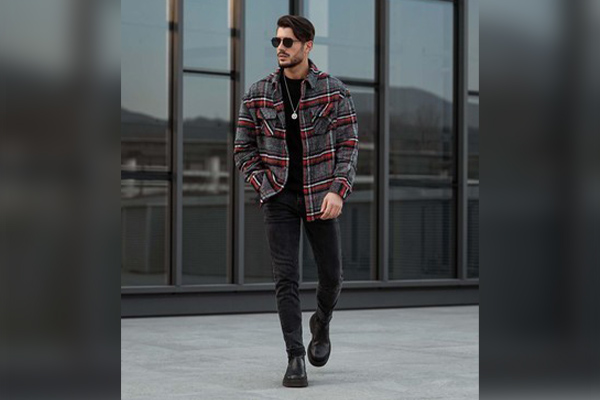 If there is one thing you can never go wrong with while styling black jeans outfits, they are plaids.
Whether you go for a basic plaid button-down shirt outfit or choose to wear them as shackets over your t-shirt and jeans look, these simple yet trendy patterns will never disappoint you.
Wearing sneakers or boots is a decent choice to complement black jeans and plaid outfits.
Swag Black Jeans Outfit Men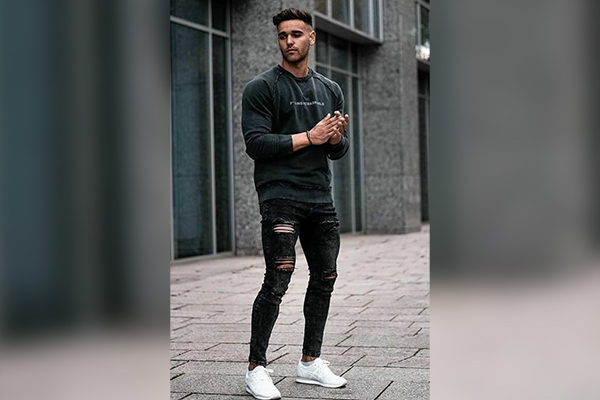 Looking for some high fashion black jeans outfits to wear on casual winter days. Here is the deal for you. Wear your basic sweatshirt with black jeans and top it up with an intense black long coat and you are all set to turn some eyes wherever you go.
Do not forget to add some aesthetic accessories such as a wristwatch, a belt, and a pair of sunglasses. Lastly, finish off this look with a pair of leather boots.
FAQs – What To Wear With Black Jeans?
What Color Shirts Go With Black Jeans?
Black is a versatile color and goes well with most other shades. However, white, burgundy, gray, beige, navy blue, and brown shirts complement best with a black jeans outfit.
Is It Ok To Wear Brown Shoes With Black Jeans?
Although, wearing brown shoes with black pants is against the formal dress code. However, you can always wear brown shoes with black jeans for a more relaxed and casual look.
Can I Wear A Brown Belt With Black Pants?
Yes, the brown belts are a perfect accessory, if you are wearing the same color brown shoes with black pants. The color of your belt must match the color of your shoes.
Does Tan Go With Black Jeans?
Tan is a good option to wear with black as it adds the right contrast to balance out your intense black jeans vibe. So, you can always pair your tan shirt and boots with your black jeans outfits for an effortlessly casual look.
Conclusion
Black jeans are versatile pants. However, figuring out what to wear with black jeans men is not as easy as it sounds. While styling black jeans outfits, the right contrast and fitting are crucial.
Dress shirts, t-shirts, black leather jackets, denim trucker jackets, winter coats, plaid shirts, and blazers are some of the most appropriate outfits to wear with black jeans. For the choice of footwear, go for sneakers, dress shoes, and lace-up boots.