Your wedding is such an important, special and big day of your life. It's the start of a new journey, a new chapter of your life where everything has to be perfect!
From decor to backdrop to colors to the overall look and feel of the affair, it's only natural to wish for every single thing to be exactly how you want it.
For brides-to-be, their dress, or the wedding attire in particular is one of their biggest concerns. Your wedding dress is like a reminder of this particular day and each time you look at it, it's going to bring back happy memories of the big day. So, the wedding attire has to be perfect and simply beautiful. 
If you are a bride-to-be who's looking to have a themed wedding, but you aren't sure about the dress, we've some great ideas for you.
Beach Wedding Attire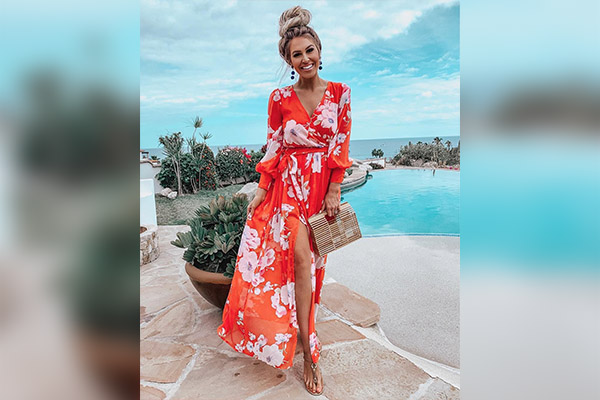 Nothing screams romance and elegance more than a beach wedding. Saying your vows amidst nature with the sound of the waves crashing against the shore and the sun setting in the background, offering the perfect backdrop for your seaside nuptials, it's absolutely dreamy.
This calls for the perfect beach wedding attire which isn't just comfortable to wear but also blends with the beautiful beach scenery. A flowing white bohemian wedding gown with a flattering mermaid silhouette and a lace-up back is ideal for a beach wedding. 
You can also opt for a crepe maxi dress featuring a pleated bodice, a long slit along the leg, and a low back with intricate lace details.
When it comes to beach wedding attire for men, a classic option is a formal three-piece suit in a nice, solid color. For a less formal look, a combination of a white shirt, vest, and loafers makes a great semi-formal groom beach wedding attire.
Bohemian Wedding Attire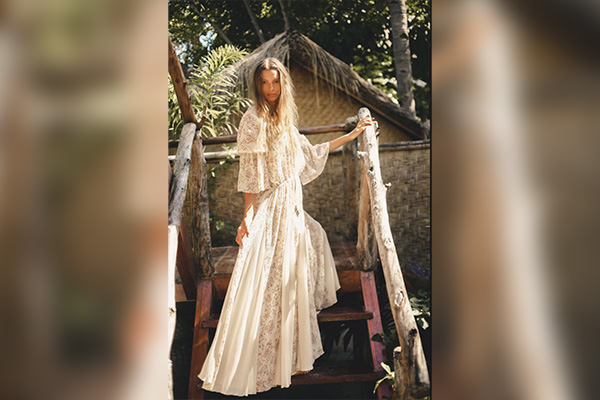 Featuring a fun, eclectic mix of rustic and vintage, a bohemian wedding is all about letting nature do its job and creating the right setting for your wedding.
It calls for an outdoor wedding where Mother Nature does its wonders and one that features lots of earthy details and greenery.
For a timeless bohemian wedding attire, anything with a loose-fitting silhouette, delicate sleeves, and light laces would be perfect for a bride. An ideal option to consider is a two-piece maxi dress that comprises an airy, flowy maxi skirt, and a crop top with a laced bodice and short sleeves.
If you wish to add a traditional touch to your boho-themed wedding dress, you can go for a classic floor-length wedding gown that's entirely made of lace and has long, loose, inspired by 70s disco fashion, and bell sleeves. A dress like this would greatly complement the natural surroundings and look absolutely surreal.
For the groom, a light-colored shirt with a bowtie, contrasting pants, and suspenders makes a wonderful bohemian wedding attire. 
Casual Wedding Attire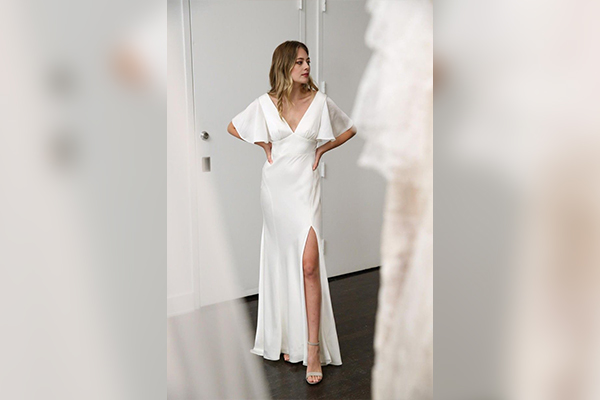 A casual wedding is best described as a laid-back, relaxed affair that is held outdoors and doesn't call for particularly formal attire. Casual wedding attire refers to anything that's informal and super comfortable, but also stylish at the same time. Think along the lines of smart casual where you are dressed low-key, but also make an attractive statement. 
Casual wedding attire for women can include anything from plain and simple dresses to jumpsuits and separates. For instance, brides can consider wearing an A-line wedding dress that doesn't have any lace or other details but features a pleated skirt, a high neckline, and short sleeves.
A knee-length wedding dress with an asymmetrical skirt and long sleeves also sounds wonderful for a casual wedding. If you don't wish to wear a dress, a great option is a white jumpsuit with bell pants, bell sleeves, and a draped bodice.  
Similarly, casual wedding attire for men offers a lot of flexibility as well in terms of what grooms can wear to a casual-themed wedding. A dress shirt with suspenders, paired with chinos and a few accessories can look great.
Barn Wedding Attire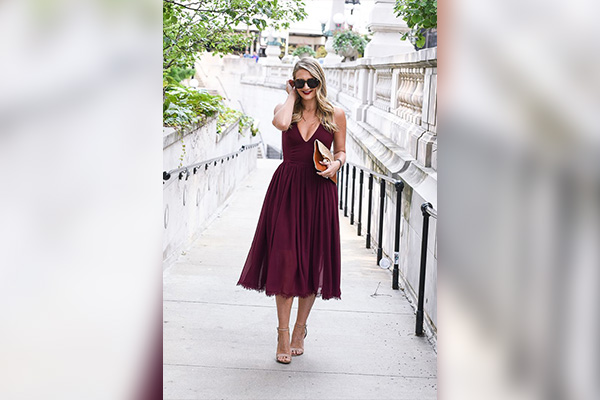 A barn wedding is best described as 'rustic chic'. Such an event would ideally be a wonderful mix of casual and elegant elements with exposed wood, candlelights, mason jars, and hanging lanterns, among many other things.
A barn wedding also offers a blank canvas where you can mix and match a variety of elements and accessories to create a rustic, whimsical look and feel.
But, what do you wear to a barn wedding?
There's no limitation when it comes to barn wedding attire and there are so many options to choose from for both the bride and groom. From modern and chic to rustic country style and wanderlust, there's a great variety!
Brides can wear a nice pastel-colored wedding dress, either knee-length or floor-length with floral details to complement the barn backdrop. An all-over lace gown with a v-neckline and dramatic long sleeves would also make a wonderful option.
Grooms, on the other hand, can opt for tweed suits, anything with suspenders or a waistcoat and they are good to go. This is an ideal semi-formal attire for men that looks both casual and formal at the same time, which is perfect for barn weddings.
Semi-formal wedding attire simply refers to attire that's more relaxed and comfortable as compared to what you would ideally wear to a black tie formal event.
Modern Wedding Attire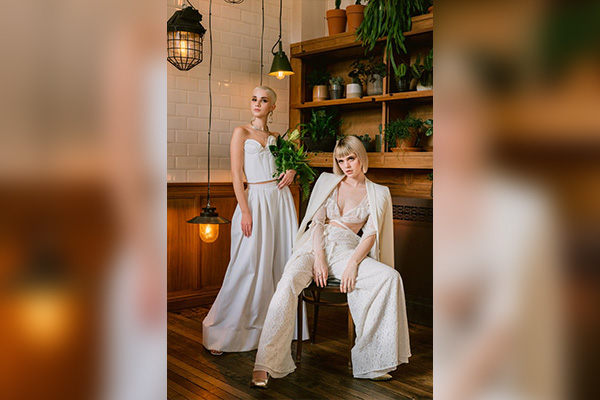 Sophisticated, elegant, and refined, a modern wedding offers a fresh take on weddings and features quite a fashion-forward aesthetic. Some popular features of a modern wedding include monochromatic color palettes, pared-down decor, simple backdrops, and an emphasis on minimalism.
The same goes with modern wedding attire where the idea is to make a statement and wear something stylish, but also maintain a unique minimalist approach to it.  
For brides, a classic modern wedding attire is a nice white top and a matching maxi skirt. While the outfit would be plain and simple, the added touch of glamor would come in the form of rich jewelry such as a diamond necklace or fancy dangling earrings.
Another great option to consider for a modern wedding is a silk satin gown that is inspired by a cape so you can expect the sleeves to be loose with fabric gathered towards the shoulders.
For brides who are extremely big on modern wedding attires, a must-consider option is a one-shoulder silk knee-length dress with feather details and trimmings on the sleeve.  
Cocktail Wedding Attire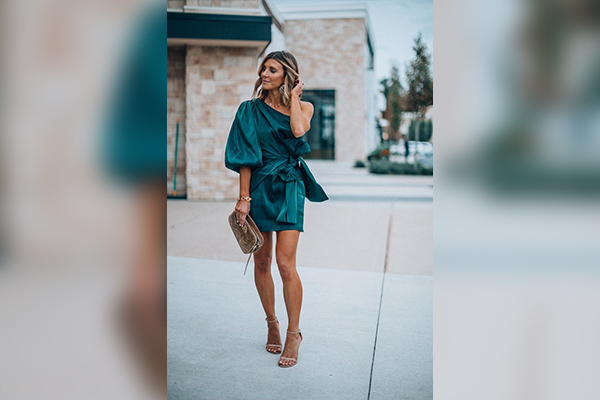 Elegant but comfortable, casual but formal, one can think of a cocktail wedding as the 'best of both worlds'. While it does require brides to dress up and wear the wedding dress of their dreams, it doesn't particularly require the traditional wedding gown that trails in your wake.
If you'd rather wear something funky and chic, the best cocktail wedding attire for you is a multi-floral one-shoulder midi dress. With a puffed-up sleeve and details on the bodice, this would make a really cool outfit for your wedding. Puff sleeves were also popular back in the 90s and are one of the many 90s fashion trends that are coming back!
For those who would still like to maintain a traditional touch can go for a white knee-length wedding dress with a little detailing on the sleeves or the bodice. Whatever you choose to wear to your cocktail-themed wedding, the goal is to keep it simple yet stylish, trendy yet comfortable.
Cocktail attire for men is also quite laid back and flexible where grooms can either wear a formal suit and tie or keep it simple with a dress shirt and a pair of casual pants to go with it. 
Summer Wedding Attire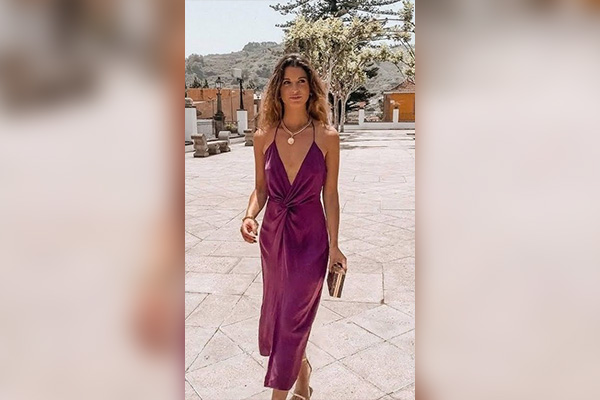 What's not to love about a summer wedding? From having a variety of beautiful flower options to sun-kissed outdoor venues to bright color palettes, summer weddings are simply mesmerizing.
More than that, brides and grooms can experiment with so many different outfit options to make a unique statement while also ensuring that they are dressed comfortably, according to the weather and how hot it is.
A summer formal wedding attire for brides can mean anything from a long silk white gown with a slit at the bottom, a plunging neckline, and little intricate details on the back to a long-sleeved boho wedding dress with lace appliques and layers of tulle that create a flowing silhouette.
Summer weddings can also mean adding a timeless, classic touch to your bridal dress which you can achieve with the help of a beautiful ball gown silhouette that is paired with a deep V-neckline, sheer cutouts, and swirling lace patterns for the added oomph factor.
Men's summer wedding attire calls for a classic, solid-colored suit, but if it's too hot, it's best to opt for a pastel-colored suit such as mint green, powder blue, cream, or beige to stay cool and comfortable. You should also consider short beard styles to go with your summer wedding suits, the two of which would perfectly complement each other. 
Indian Wedding Attire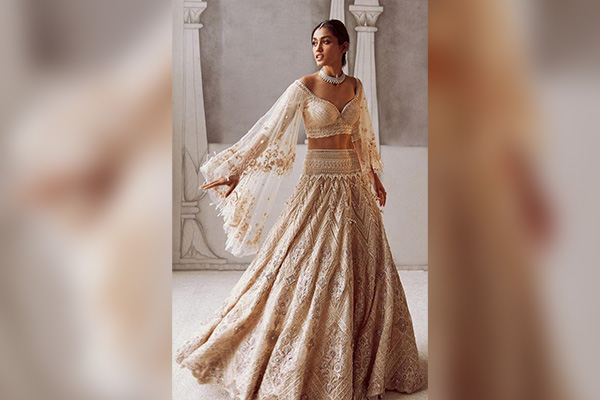 A traditional Indian wedding is full of colors, and festivities and is typically a multi-day affair. One of the major highlights of an Indian wedding is the groom's procession where he usually arrives on a decorated horse and all the family members and other guests dance around to the beat of an Indian drum called a dhol.
Typical Indian wedding attire for brides is a three-piece traditional outfit called lehenga choli which consists of a long, flowy skirt, a short top, and a dupatta, which is basically a very long scarf that is draped over the shoulders and pinned on the top of the head. 
Indian bridal dresses are absolutely beautiful and regal, they have lots of color and embroidery going on all over the front and back, and they are often paired with heavy jewelry as well.
However, you can also wear a saree or sari, which is also traditionally worn in India. It comprises a short blouse showing the midriff, a petticoat extending from the waist all the way down to the ankles, and a long piece of unstitched woven fabric that is worn like a robe where one end is tied on the waist and the other hand is thrown gently over one shoulder in a way that it reaches one's feet at the back.
Garden Wedding Attire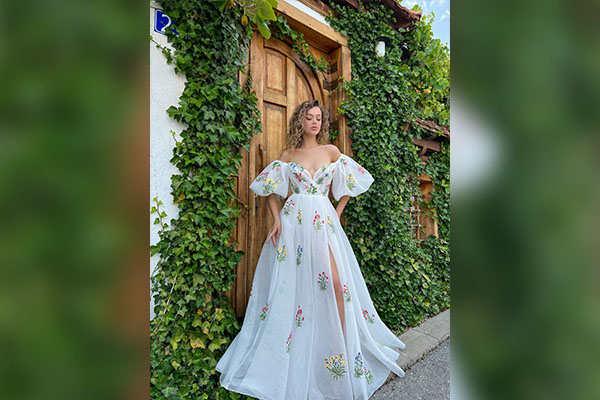 Garden weddings offer an ideal opportunity to use elements of nature as the perfect backdrop for your nuptials, but more than that, you can get super creative with your bridal dress.
The ideal garden wedding attire features a beautiful wedding gown, plain or embellished, paired with dainty jewelry and a striking pair of heels.
Consider a sleeveless peekaboo lace gown with intricate embroidery all over it and a few motifs here and there. If you are not a fan of floor-length dresses, you can consider a vintage-inspired knee-length dress featuring a high ruffled neckline, and paired with heirloom accessories.
For a more garden and nature-inspired or a Cottagecore dress, consider a long flowing gown with tulle layers and printed florals, featuring an off-the-shoulder style and a sweetheart neckline.
The thing with garden weddings is that no matter what you wear, it's likely going to stand out and look absolutely stunning because that's the beauty of an outdoor wedding.
Fairytale Wedding Attire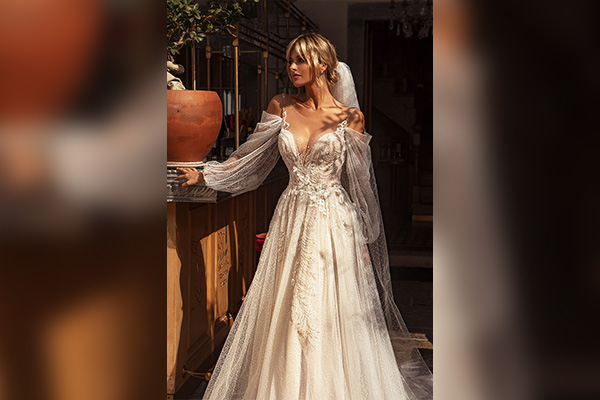 A fairytale wedding is exactly how it sounds – dreamy, mesmerizing, and scintillating. From ornate decor pieces to crystal chandeliers to large floral arrangements to a cinderella-inspired bridal gown, it doesn't get any dreamier than this!
This calls for a long, flowy, dramatic kind of wedding attire with lots of ruffles, lace details, layers, and maybe even a long trail. 
One of the many options to consider is a satin and crepe princess gown that has a modest neckline, a low back, and button details. To add a touch of sparkle, you can get a belt-like applique on your waist, giving it a cinched appearance.  
Another classic fairytale wedding attire is a pleated long gown with an off-the-shoulder style, a signature side bow, and some details on the side of the skirt. 
Cowboy Wedding Attire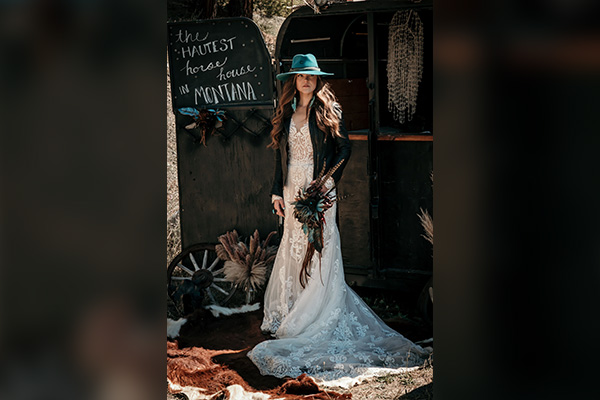 With an alluring mix of country charm and romance, a cowboy wedding is another type of rustic affair that features the classic country-chic feel and look.
Cowboy wedding attire for brides calls for cowboy girl boots to go with your wedding dress to really add that rustic, country charm to it. All you need is a white, lace wedding dress which can be as fancy or simple as you want. With the addition of cowboy boots, your attire will beautifully complement the theme of the wedding.
Guests can also wear something rustic to fit in the cowboy-themed wedding guest dresses and make a statement!
The wedding guest attire for women here could be tea-length dresses with boots or statement jewelry and men could go with either a suit or a dress shirt paired with a vest and pants. 
Black Tie Wedding Attire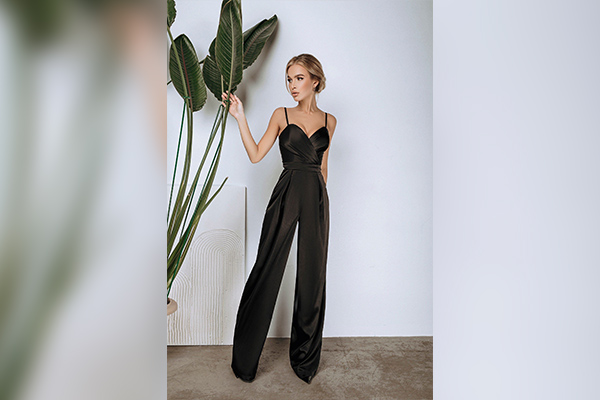 This calls for formal clothing, but people often wonder, what does formal attire mean for a wedding?
It refers to anything that's more refined and ideal for the occasion. 
For a formal, evening wedding affair, a tux for men and floor-length gowns for women are perfect! This also constitutes black tie wedding attire which ideally features a strict dress code for the attendees as well.
So, the beach wedding attire for women are their long, beautiful dresses.
What is the proper attire for a wedding?
Typically, floor-length gowns for women and tuxedos or suits for men work best for all kinds of weddings. This is considered a standard wedding attire for women and men that you can wear to any wedding affair. However, it all comes down to the specific theme, if any, or if a wedding has a strict dress code.
What colors should you not wear to a wedding?
As a guest, it is best to avoid wearing the following colors to a wedding: white, off-white, heavy metallic, and overly sparkly or glittery, to name a few. 
What is dressy casual attire?
Also referred to as smart casual, dressy casual attire is a combination of comfortable and relaxed, but also refined and stylish pieces. Think along the lines of dress pants, dress shirts, blouses, skirts, button-downs, and formal shoes.  
Can a woman wear pants to a wedding?
Yes, women can wear pants to a wedding, but make sure that they are dressy enough according to the occasion. 
Does wearing red to a wedding mean you slept with the groom?
While the color red typically symbolizes passion and love, wearing red to a wedding is considered a silent message that you slept with the groom.  
Concluding Our Thoughts on Wedding Attire
You can now heave a sigh of relief now that you have a ton of amazing wedding attire ideas for your big day!
There's an endless variety of choices for brides-to-be from wedding gowns to maxi skirts too so much more. All you need to do is pick a theme for the wedding, list down the things you would like to see in your dream wedding dress, and explore away!