Keeping your fashion game in check during the summer can be quite a challenge, but there's no reason why you can't create a blend of comfort and style! There are countless summer styles for men that are both comfortable and chic and can be worn with great ease.
We have rounded up the top 11 summer style trends for men in 2023, featuring a few men's wardrobe staples that have remained truly classic and timeless in the fashion world.
So, beat the heat and head out in style this summer season with the following summer trends for men!
Pastel Linen Suits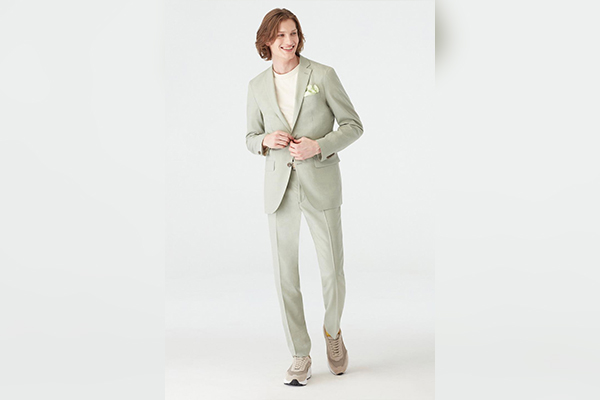 When it comes to the hot and humid summer season where the temperatures continue to rise, and the sweltering heat makes fashion a bit of a challenge, the goal is to stick to lightweight, breathable, comfortable, and moisture-wicking fabrics.
The obvious option here that comes to mind is none other than linen which successfully ticks all the boxes. While linen may be heavily prone to creasing and wrinkling, which is undoubtedly one of its biggest downsides, there's no denying the fact that it's one of the most ideal fabrics for your summer wardrobe.
If you have a summer beach wedding to attend this summer season and are absolutely dreading it because of the weather, look no further than a nice pastel-colored linen suit, a popular summer style trend for men in 2023! Embrace those natural wrinkles on your linen suit, sport it to a wedding or any outdoor event, and be unbothered by the heat!
Linen suits offer a great way to look effortlessly cool and stylish and can be dressed up or down according to the occasion. Opt for a warm, pastel color such as beige, cream, white, powder blue, light pink, or pale yellow as these are perfect for the summer season.
For a formal look, pair your linen suit with a crisp dress shirt, a tie, and leather dress shoes. For a more casual, relaxed look, opt for a t-shirt and a pair of sneakers.
Shorts with Hawaiian Shirt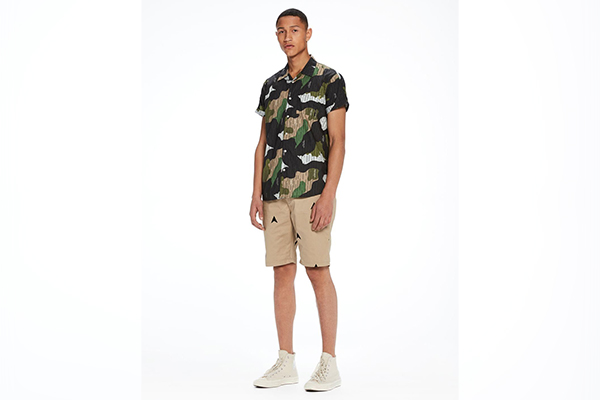 Bring a touch of Hawaii to your summer wardrobe with a colorful, short-sleeve, Hawaiian shirt, also known as the aloha shirt, and a pair of lightweight, breathable shorts!
This has to be one of the most classic and timeless summer trends for men given its summery feel, versatility, comfort levels, and of course, the way it helps you stay cool during the hot season.
Whether you are heading to the beach for a relaxing, fun-filled day, lounging by the pool at home, doing a backyard barbecue, or simply running some daytime errands, you can totally wear shorts with a Hawaiian shirt.
Opt for a shirt with a loud, vibrant print or one with a subtle pattern, it's up to you. It's best to go with khaki or white shorts, but if you don't mind making a loud statement, there's no reason why your shorts can't be as bold as your Hawaiian shirt! Complete this Hawaiian-style outfit with an appropriate choice of footwear such as sandals, loafers, or flip-flops, and you are good to go!
Light-Wash Denim with White T-Shirt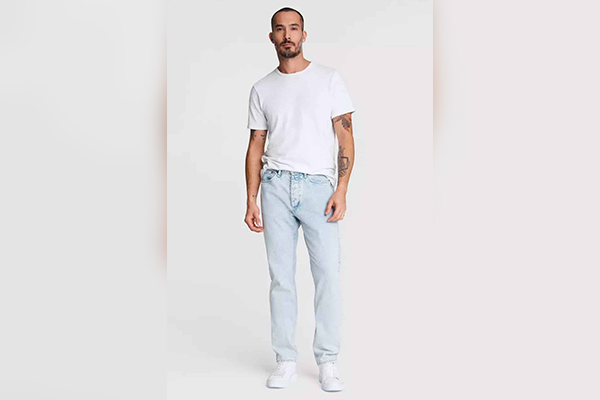 Another popular summer trend for men in 2023 is wearing light-wash denim with a white t-shirt, which is quite a minimalist and simple look, but still so chic and stylish. It's perfect for the hot summer days when you want to wear something fuss-free and make a style statement at the same time.
White-wash denim is ideally the best choice for overall lighter outfits, but can also be used to create a nice balance against a darker top, for instance.
Given its faded aesthetic, it pairs best with a simple white t-shirt, creating a timeless outfit that you can wear all day long. Add white sneakers to this look or in any other neutral color, and head out in style.
Neutral-Colored Cargo Shorts with A Basic T-Shirt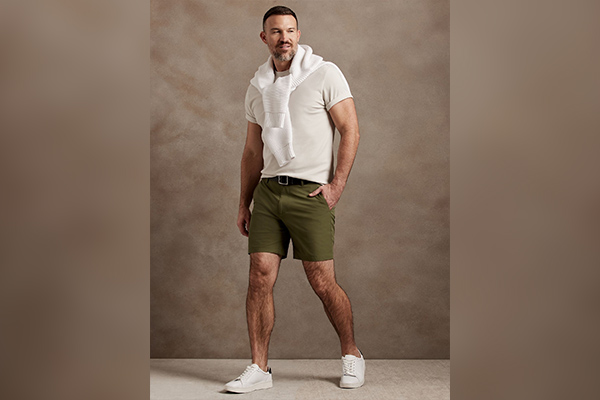 Made from breathable and durable materials such as polyester and cotton, cargo shorts are also a strong contender for hot summer days. These shorts feature cargo pockets on the side that can be used to carry your belongings such as phones and wallets.
Consider beige, white, light gray, or any other neutral-colored cargo shorts with a basic t-shirt in a color that complements your shorts. For example, white cargo shorts with a black t-shirt, khaki cargo shorts with a light blue t-shirt, or beige shorts with a maroon t-shirt, to name a few combos.
This pairing screams comfort, and is perfect for running errands, hanging out with friends, lounging at home, or even the beach!
Linen Shirt with Shorts and Suede Sandals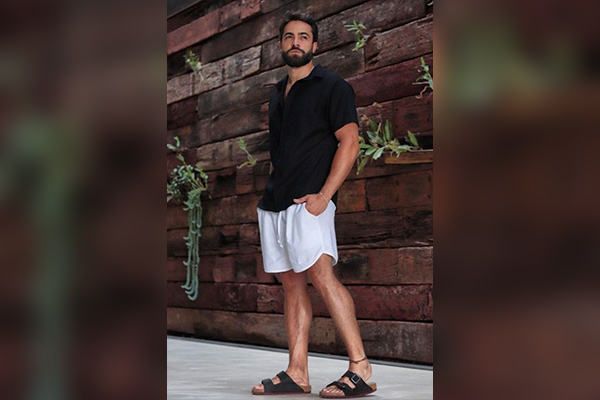 Stylish, chic, and laid-back, this has to be one of the most appealing summer style trends for men this year. It's super simple to pull off, offers maximum comfort, and helps keep you cool despite the heat.
Linen, as mentioned earlier, is 'the' fabric for summer, considering how breathable and lightweight it is. A casual button-down linen shirt with shorts and suede sandals creates the perfect summer look that you can wear on a day out in the sun. This outfit also calls for summer-appropriate accessories such as a straw hat, big sunglasses, and a canvas bracelet, to name a few.
Suede sandals are the right shoes to wear with men's shorts, and they will help add a textural element to your outfit while offering maximum comfort and style to complement your overall look.
Patterned Short-Sleeve Shirt with Chinos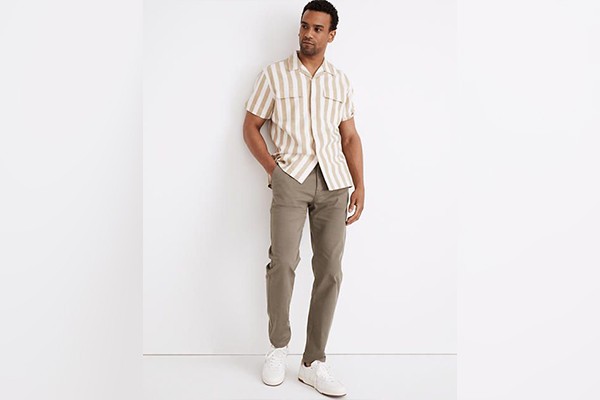 If an occasion calls for a smart casual dress code for men, there's no going wrong with a pair of tailored chinos. Chinos are typically made of 100 % cotton, making them a timeless piece of clothing not just for your summer wardrobe, but for other times of the year as well. These pants have a cool, comfortable feel to them, and will provide you great ease even on the hottest of days.
There are many different shirt options and styles that you can wear with chinos, one of which is a patterned short-sleeve shirt. A patterned shirt will add a vibrant, colorful touch to your look, offering a nice contrast against light-colored chinos such as tan or khaki.
If you are going for a casual, weekend look, opt for a loud pattern and complete the ensemble with a pair of white sneakers. For a smart casual, polished look, wear tailored and well-fitting chinos with a short-sleeve shirt featuring a subtle pattern, leather loafers, which are the ideal types of shoes to wear with chinos, and perhaps a tailored blazer to add a sophisticated vibe to your outfit.
Linen Pants with Crisp White Shirt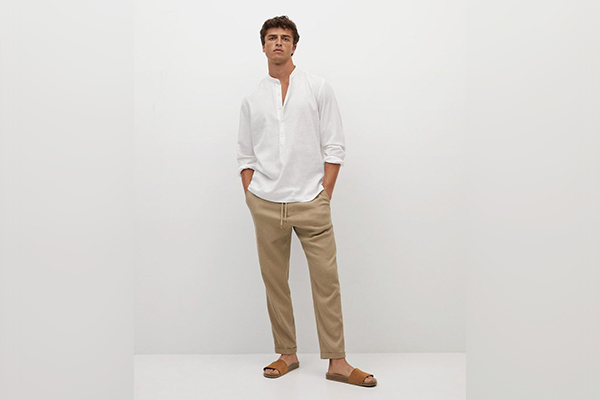 There's no better outfit to welcome the summer season than white linen pants with a crisp white shirt! White on white offers a clean, classic, minimalist, and super chic look that you can sport on numerous occasions such as a beach wedding, a fun beach day, or when casually hanging out with friends.
There are different types of shirts to consider here such as a white button-down shirt, a white polo shirt, or a plain white t-shirt. Your choice of shirt depends on the occasion at hand, which will allow you to create a number of unique looks and outfits.
For a super casual look, you can pair your linen pants with a white t-shirt, and white sneakers. For a smart casual look, you can dress up your linen pants with a crisp white button-down shirt, a solid tailored blazer or even a sports coat, and leather or suede loafers.
Bucket Hat with T-Shirt
Bucket hats are a popular summer staple for men given how they pair so well with casual summer outfits. One of the simplest ways to style a bucket hat is with a t-shirt and shorts, but there are many different ways to go about this summer style trend for men this year.
When wearing a bucket hat, make sure to choose the right one in terms of fit so that it isn't too loose or too tight on your head. Another important factor to consider is pairing it with the right colors.
Take a solid-colored bucket, for instance, where the three most popular choices are brown, gray, and black. Go with a solid-colored t-shirt to create a timeless look, but if you wish to add some color, opt for a striped t-shirt which is a great way to enhance the look of an outfit.
For a casual, relaxed summer vibe, wear a black bucket hat with a white t-shirt and a pair of denim shorts. If you are going for a sporty look, swap the denim shorts with athletic ones, and add a pair of running shoes. This look is ideal for playing sports or even for a day of running errands.
For a more retro, stylish outfit, look into high-rise printed shorts, a vintage band t-shirt, and a colorful bucket hat. If you are heading out during the day, make sure to add some sneakers and sunglasses to your look!
Button-Up Shirt with Denim Shorts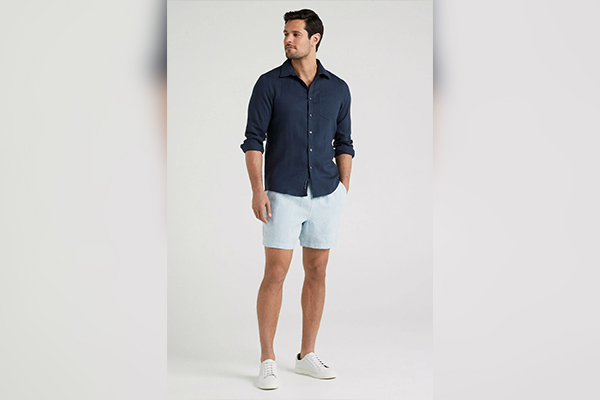 A button-up shirt with denim shorts screams sartorial elegance and offers an effortlessly stylish, cool, and chic way to head out in style this summer season.
A classic, unbeatable pairing here is none other than a crisp white button-up shirt with light blue denim shorts and white sneakers. Loafers are also an excellent choice of footwear here, and you can totally opt for them instead of loafers.
If you are into monochromatic outfits, opt for black denim shorts and a black button-up shirt. You can add some color to this monochromatic look with the help of a fun vibrant hat or colorful sneakers.
Since it's the summer season and if you happen to be heading to the beach, go for a bright, beachy outfit with a patterned button-up shirt, dark-wash denim shorts, and sturdy flip-flops. Complete the ensemble with a straw hat or a bucket hat and you are all set to head out!
Cropped Pants with Tank Top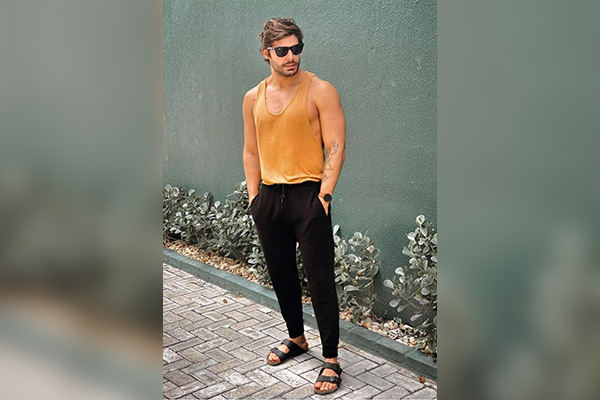 When the heat is too unbearable, there's absolutely no going wrong with a breezy tank top paired with lightweight, soft, and breathable cropped pants. This is a simple yet stylish look that's ideal for the beach, running daytime errands, meeting friends over coffee, or simply lounging by the pool.
Cropped pants with a tank top is also a versatile look that you can wear in so many different fun ways. For instance, consider a bright purple or orange tank top paired with black cropped pants. Another way to introduce a pop of color to this super casual and laid-back is with a vibrant tropical print tank top worn with light-colored beige or tan cropped pants.
In terms of footwear, you can choose from loafers, flip-flops, sandals, or sneakers, depending on where you are going.
Denim Jeans with Short-Sleeve Button-Down Shirt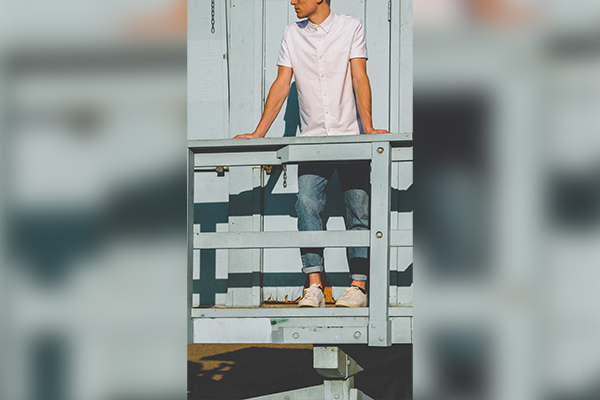 This is a classic summer evening look for men, not to mention, one of the most timeless summer trends that will probably continue to be popular every summer season.
It offers great versatility where you can pair different types of denim jeans with plain or patterned, loud or subtle, floral or abstract short-sleeve button-down shirts. You can leave the shirt tucked or untucked according to your personal style and preference. In the former case, make sure to add a nice leather or canvas belt to the look to give it a nice, elegant finish.
A classic casual look here is light blue denim jeans with a cream, white, or pale pink short-sleeve button-down shirt, and brown suede loafers.
Conclusion
From linen suits to cargo shorts to Hawaiian shirts to short-sleeve button-down shirts, these are some of the best and effortlessly sophisticated summer styles for men that you ought to have in your wardrobe at all times.
Don't let the summer heat stop you from experimenting with different outfits and making big style statements. While staying cool and comfortable is the top concern during the summer, that doesn't mean you can't do so while looking stylish at the same time!