Chinos provide a sleek alternative to jeans as they're just as stylish yet have a completely different look and feel to them.
If you're planning on giving them a try, learn what shoes to wear with chinos. This is because chinos are usually plain with uniform colors — directing more focus toward your footwear.
However, choosing the right shoes to wear with chinos can be a bit of a challenge. Do you go for a formal look with dress shoes or opt for a more casual vibe with sneakers?
That's where this article comes in. In this guide, we'll show you eight different footwear options that will perfectly complement your chinos.
Whether you're heading to work, a wedding, or a night out with friends, we've got you covered with these stylish and versatile shoe options. Here are our top eight picks:
Sneakers With Khakis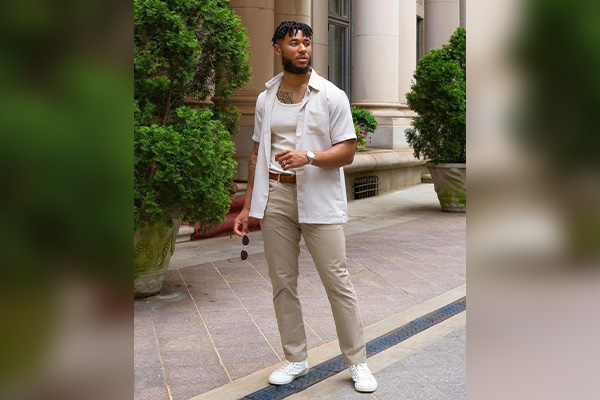 Let's start with a pairing of classic khaki chinos and sneakers; one of the most popular casual shoes for men.
When it comes to style, the combination of sneakers and khakis is a no-brainer, whether you're running errands or headed to the office.
This pairing is both comfortable and polished. And with so many different sneaker and khaki options to choose from, it's easy to create a look that's uniquely your own.
For a casual daytime look, try pairing a pair of classic white sneakers with a pair of relaxed-fit khaki chinos. Add a simple t-shirt and a denim jacket for a laid-back, yet put-together outfit.
If you're looking to dress things up a bit, opt for a pair of sleek, hi-top black sneakers and rock them with a pair of slim-fit khaki chinos. Add a button-up shirt and a sport coat for a more formal, yet still stylish, look.
No matter which types of sneakers and khakis you choose, be sure to accessorize with a belt and a well-fitting shirt to complete the look. A crisp, white dress shirt or a tailored polo shirt, both work well with this ensemble.
Chelsea Boots With Chinos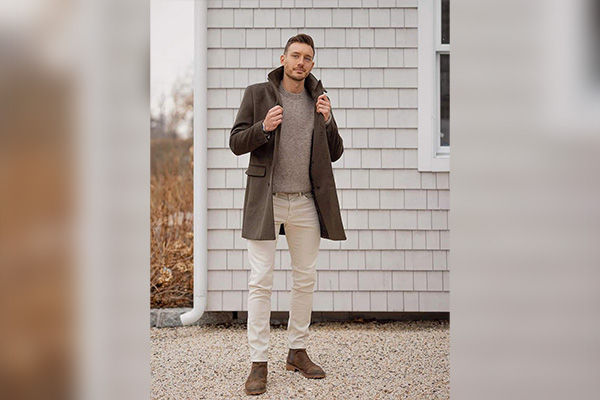 If you're looking for footwear that complements the sleek vibe of chinos without steering them too far toward formal clothing, Chelsea boots are the ones for you.
Chelsea boots for men and chinos are a near-flawless combination that's more versatile than you might think.
Wear them with a crisp white shirt and a blazer and you have a smart, formal look. Pair them with a t-shirt and a denim jacket with crème-colored chinos for a more laid-back, casual style.
You can also rock the same pair of Chelsea boots in a number of different situations. Whether you're heading to the office, a fancy dinner, or a casual outing with friends, you can rely on your Chelsea boots to fit the occasion.
It's not just about the aesthetic appeal of these boots, either. Chelsea boots are also practical and comfortable to wear. Their slip-on design allows you to put them on and take them off in seconds — making them excellent for day-to-day use.
Chinos with Derby Shoes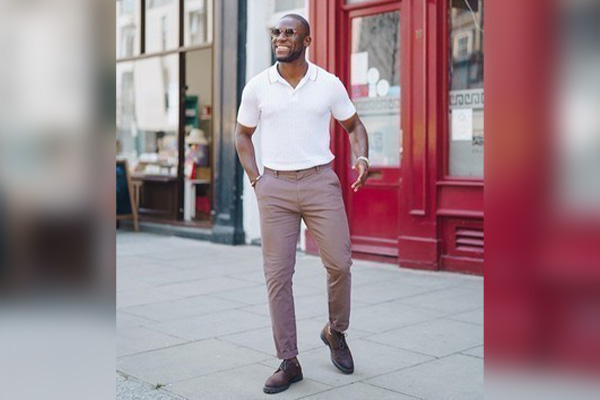 Derby shoes are at the pinnacle of men's formal fashion. So, what better shoes to craft semi-formal/professional outfits with chinos than a pair of brown shiny derby shoes?
One of the key advantages of wearing Derby shoes with chinos is that they support a timeless and elegant aesthetic. The shoes' open lacing system and sleek silhouette give them a refined look that pairs perfectly with the chinos' tailored fit and crisp, clean lines.
Depending on the occasion, you can wear this combo with a button-up and a suit jacket for a business casual look, or pair it with a sweater and a casual leather jacket for a laid-back, weekend look.
Even something as simple as adding a checkered gray blazer atop the sweater will land you into the smart casual territory.
Besides, you can also wear the same pair of derby shoes with suits for most formal events.
Chino With Loafers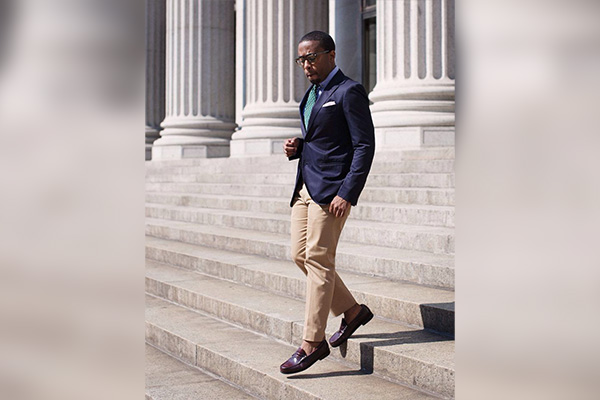 What shoes to wear with chinos when you want comfort and the slim form factor of sneakers but in something a bit more formal?
Say hello to loafers, the middle ground between casual & formal, and one of the most versatile footwear men can own.
This unique placement of loafers between the realms of casual and formal makes them one of the most interesting shoes to wear with chinos. Here's an example to help you understand the possibilities with this combo.
Let's say you're invited to a wedding reception during summer without any specific dress code.
A smart way to dress for the occasion would be to pair brown leather loafers with gray chinos. You can top this with a light blue button-up and a navy vest for a stylish and put-together look.
Now, all you have to do is replace the vest with a dark blazer and add a tie to craft a killer business casual look. Or, ditch the formal clothing entirely for a polo shirt outfit for the weekend.
With the right hooded sweatshirt, this loafer with chinos combo can even transform into a memorable casual outfit suitable for day-to-day use.
Brogues & Chino Pants
Brogues are both similar and distinct from derby shoes. In that, they're both dress shoes suitable for suits and formal occasions, but brogues offer more decorative and fancier ways of styling chino pants.
That said, the biggest strength of brogue shoes lies in their ability to add a level of classiness to your look.
This stays true no matter if the outfit in question is as simple as a knit turtleneck with a pair of crème-colored chinos, or includes multiple layers with a button-up, a sweater, and a blazer.
Plus, you can rock the same pair of brown brogues with other types of pants as well, with similar effects.
Chinos with Desert Boots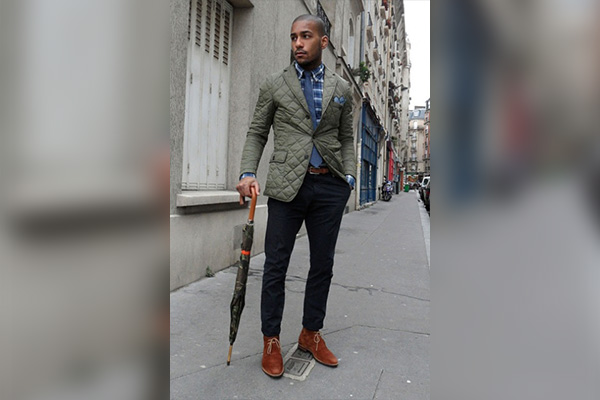 If we were to rank the shoes on this list based on how well they match with chinos, desert boots will certainly top the charts.
These suede boots in earthy tones have the same minimal yet effective tone as chinos and you can utilize this to great effects. All you have to do is pair chinos with desert boots of similar color and you're set.
Now you can top this combo with a flannel, a plain button-up with a sweater, or a dark hooded sweatshirt; every outfit would look equally well-put-together.
This is an efficient way to dress like preppy guys without spending a lot of time crafting new outfits. But that is not all.
You see desert boots are also available in some unconventional colors like mustard and or different shades of blue.
Investing in one of these colors gives you all of the general style benefits of desert boots. But you also get to craft unique ensembles with matchups like beige chinos and navy shoes, or blue chinos with mustard desert boots.
Sandals & Chinos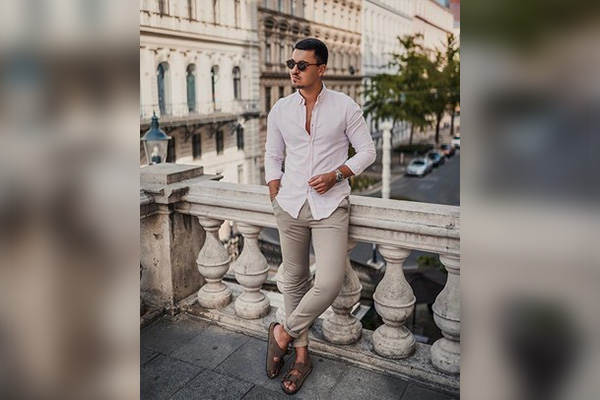 Chinos are often hailed as the ideal pair of pants for summer due to their airy design and lightweight fabric. So, why not continue this legacy in your footwear choices with a pair of leather strap sandals?
Just like chinos, sandals are the definitive shoes of summer with an open-toe design that keeps your feet cool and prevents excess sweating during summer. So, it makes perfect logical sense to pair them together.
The best part about this combo is that it allows you to wear outfits with chinos that are usually reserved for shorts like Hawaii-style shirts and lightweight Cuban collar shirts.
Not only do these types of shirts look fantastic with light-colored chinos, but the resulting outfits are also a great fit for summer activities like going to the beach.
Chino Pants With Espadrilles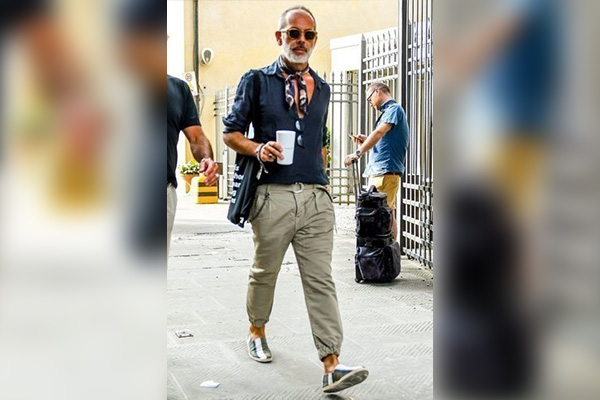 Sandals are a one-of-a-kind footwear choice for chinos in summer, but they aren't for everyone. For example, if you live in a super-hot climate, the summer sun can give your feet sunburn through the open sandals.
So, what are your other options? Is there a type of shoe that's just as lightweight, breathable, and convenient as sandals but with closed-toe designs? Fortunately, there is and it's the mighty Espadrilles.
Comparison with sandals aside, Espadrilles are one of those styles of shoes that goes with chinos so well, they might as well be renamed to chinos shoes.
Whether you're just hanging around with friends, visiting the beach, or running errands on a weekend, a chinos and Espadrilles combo will fit the situation without any hiccups.
Not to mention the sheer variety of color options you get with these shoes.
You can rely on the neutral earthy tones and white options for reliably good-looking matchups with most chino outfits. Or, you can get experimental with colorful Espadrilles like maroon, mustard, or navy to craft truly unique and personal ensembles.
That concludes our recommendations for the most fitting shoes for chinos. But, it's possible to still be confused about what shoes to wear with chinos.
To rectify this confusion, here are a few effective ways to narrow down your options.
Choosing Shoes for Chinos Based on Occasion
Think about where and when you'll wear these shoes with your chino pants. This will help you eliminate options that don't fit the tone or dress code of that occasion — making the final decision easier. For instance:
Business Casual Chino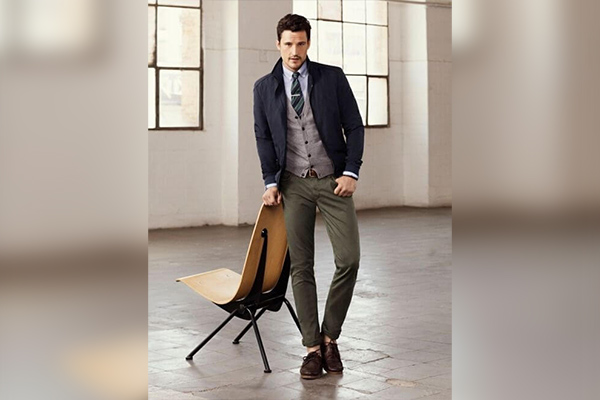 If you need footwear for casual Fridays at your office. In other words, you need shoes that work well with chinos in business casual men's outfits.
The aesthetic of business casual is similar to formal which makes formal footwear options like derby shoes and brogues viable options.
But business casual is not formal and has elements of laid-back casual clothing in it — giving options like loafers, Chelsea boots, and boat shoes a pass since they startle the line between professional and casual.
By the same logic, options like sneakers and sandals are not the right choices for your situation since they aren't professional or formal in the slightest.
Now, you can apply similar logic to other situations.
Summer Outing With Chinos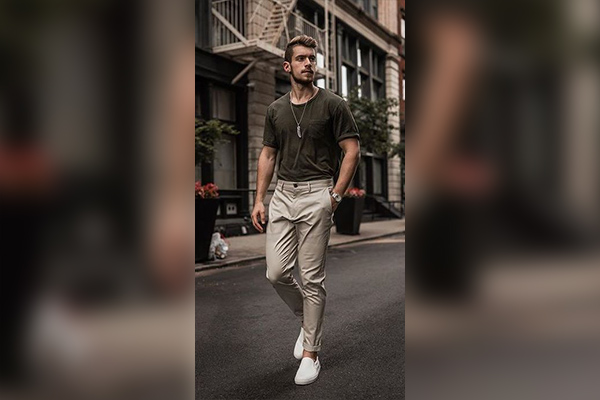 If you're in need of footwear that'll help you rock chinos during summer activities like going to the beach, start looking for something lightweight and sleek.
This puts sandals and Espadrilles on top of your "options to consider" list. But, when you think about it, loafers and boat shoes also have similar low-top silhouettes with convenient slip-on designs, so you can add them to your list as well.
Everyday Casual Use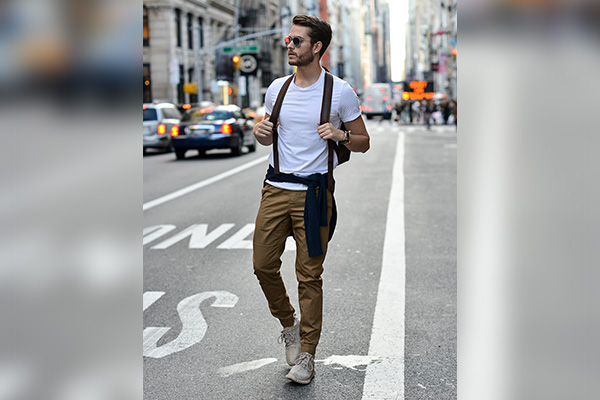 Say you're interested in rocking chinos full-time like jeans. For this task, you need shoes that are comfortable, durable, and compatible with a large number of outfits.
So, the shoes that fill these criteria include sneakers, desert boots, and Chelsea boots.
Here you can also consider external factors like the compatibility of boots with jeans for men, or the cast design options in sneakers.
Shoes for Chinos in a Specific Style
All you have to do is think about the style you want to recreate and then narrow down the available options based on that. For example:
Chinos Dress Shoes
Chinos with dress shoes like oxfords and derby shoes work great for business casual styles, semi-formal attire, and smart casual with the right outfits.
But these shoes won't be a good choice if you want to get experimental or practice urban street style with your different types of jackets and layered outfits.
Chinos With Boots
Boots are sturdy, reliable, and extremely comfortable. Many of them are also fairly warm — cementing them as a great choice for colder climates and winter outfits.
By the same token, boots are subpar for extremely hot areas with decidedly summer outfits featuring Hawaiian shirts and loose-fit Cuban collar button-ups.
Choosing Shoes for Chinos With Color
The answer to "What shoes to wear with chinos?" can come from a number of places. But, it can also be just as simple as matching the right color. Here's what to consider.
Black Shoes With Chinos
Black shoes are the safest choice for chinos or any type of pants, really. They work with almost every outfit without any hiccups. Sure, not all chinos outfits with black shoes would look fanatic, but none would look bad either.
The only issue with choosing black shoes is that they can be a bit too safe. They draw little to no attention towards themselves — leaving you zero option to add flair to your footwear.
Brown Shoes With Chinos
Brown shoes are an inspired balance between the universal compatibility of black and the visual interest of footwear that's a little more colorful.
Considering most chinos are in neutral colors like khaki, beige, white, and gray; you shouldn't have any issues pairing them with brown shoes. Even darker colors for chino pants like navy blue are ideal matches for brown as well.
White Shoes With Chinos
On the surface, white shoes share a lot of similarities with black. After all, they're also compatible with almost every color or type of chinos and the outfits you can craft with them.
But, the primary difference between the two is that rocking white shoes below chinos makes your outfits feel brighter and well-put-together. Instead of just supporting the final look, white shoes take an active part in it.
Other Color Options
While black, brown, and white are the most common options, they are far from the only ones. Depending on the type of shoes, you can get everything from mustard and maroon to olive green and drab blue.
First off, none of these color options are inherently "wrong" for chinos outfits. It's all about how you style them. So, if you want to go for a more unconventional color, make sure you're ready to put in the required styling effort.
FAQs – What Shoes To Wear With Chinos
What to Pair up With Chinos?
You can pair chinos with everything from tailored & polo shirts to turtlenecks & hooded sweatshirts. In terms of outerwear, the most fitting choices are leather jackets, winter coats, and blazers.
Do Chinos Go With Shoes?
Yes, chinos can be worn with a variety of shoe styles, including sneakers, loafers, oxfords, and boots. The key is to choose a shoe that complements the overall look and feel of chinos, as well as the occasion.
How Should Chinos Fit on Shoes?
Chinos should fit smoothly over the feet and ankles, with a slight break at the top of the shoe where the pant leg falls. It should be long enough to cover the laces of the shoe, but not so long that it bunches or pools at the feet.
Final Words
Given the sheer variety of options, choosing what shoes to wear with chinos can feel like a daunting task. But, once you start actually analyzing options, you realize that it's just a game of elimination.
If a certain type of shoe catches your attention, you have to consider if it fits your use case, matches your existing wardrobe, or replicates the style you want.
If the answer to all of this is yes, you've found the right pair of shoes for your chino outfits. But, if the answer is no, you have plenty more options to go through.