Jeans are a constant in men's fashion and mostly due to their unmatched versatility and near-universal compatibility. So, when it comes to finding the perfect pair of shoes to wear with jeans men's options can feel endless.
Do you go for something classic and timeless, or make a statement with a bold and trendy pair?
If you're feeling overwhelmed by the choices, don't worry – we've got you covered. In this guide, we've rounded up 10 of our favorite shoe options to wear with jeans, giving you plenty of inspiration for your next outfit.
From dressy loafers to casual sneakers, we've got a variety of styles for everyday use, something special like a date night, and everything in between.
Top 10 Casual Shoes To Wear With Jeans
There are very few shoe designs in men's fashion that don't look good below a pair of jeans. But, listing them all won't solve the issue of having too many options.
So, here's our recommendation for the top 10 casual shoes to wear with jeans for men:
Sneakers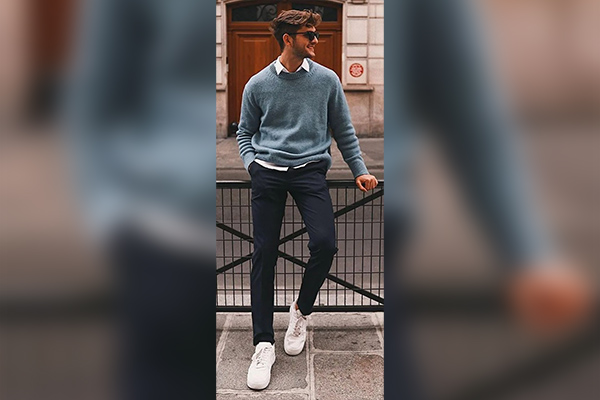 The connection between sneakers and jeans is like peanut butter & jam or fish & chips. Food analogies aside, there is no denying that sneakers and jeans are a timeless combination that has remained popular for decades.
Sneakers and jeans are a staple in many people's wardrobes, and it's easy to see why — they are comfortable, practical, and always in style.
You can pair almost any pair of sneakers with your jeans and it would work like a charm. What's even more impressive is that sneakers also fit frequent shirts in jeans outfits like button-ups, t-shirts, and turtlenecks.
There are also so many different types of sneakers available on the market that everyone gets a chance to add some personal flair to their casual everyday look.
Another aspect of sneakers that isn't talked about as much is their price, especially compared to other quality shoes. Most can easily get two or even three unique pairs to really step up their jeans outfits.
Loafers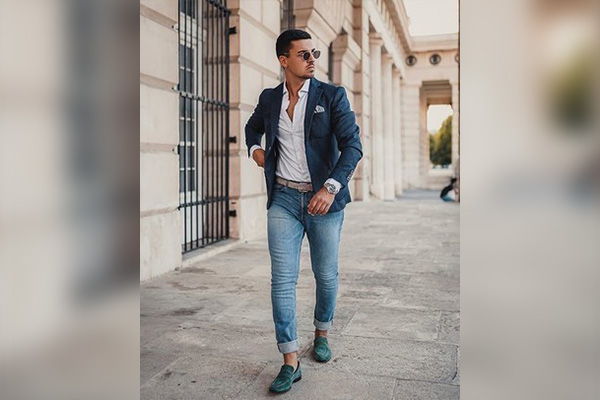 Loafers and sneakers occupy the same general area of easy-to-style shoes that go with jeans. But the impact of these shoes is quite different from one another.
While sneakers complement the casual vibe of jeans, the dressy nature of loafers elevates jeans outfits into something a bit more sophisticated and well-thought-out.
This is also why loafers are a key part of outfits geared toward the vibe of business casual for men.
Consider an outfit with a polo shirt and blue jeans. At first glance, it's a fun casual outfit for summer. But wear brown penny loafers below and this ensemble will instantly transform it into something you can wear on casual Fridays to your office job.
One aspect of loafers that is similar to sneakers is the outstanding amount of design variety at your disposal. You can choose between a myriad of different colors, styles, and even materials to introduce more personal style in your casual jeans outfits.
Plus, loafers work well with many different types of pants other than jeans — making them an excellent value for your investment.
Espadrilles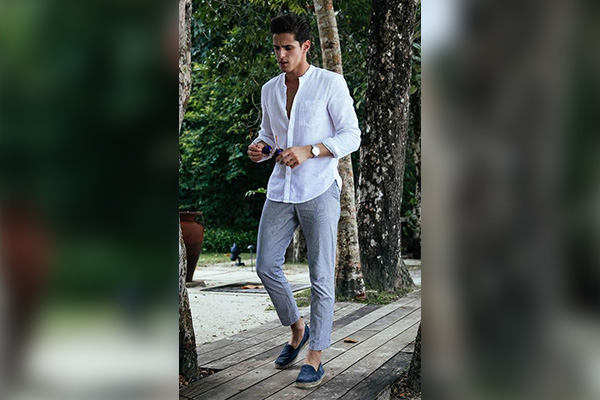 Espadrilles are often categorized as the ultimate summer shoes for men and it's easy to see why. They're comfortable, super lightweight, and encompass the laid-back summer vibe flawlessly.
Design-wise, think of espadrilles as a loose hybrid between low-top sneakers and loafers without any laces or elastic sections.
Since both loafers and sneakers work well with jeans, this description also leaves no doubt about why espadrilles fit so expertly in casual summer outfits with jeans and jeans shorts.
As for styling, you can wear these with your jeans at any time and they look robust. But these shoes become the best shoes to wear with jeans for men when going to the beach or some other summer-related activity.
This is also why these are such a good match for Hawaii style casual jeans outfits with short-sleeved button-ups with bold floral patterns.
Oxford Shoes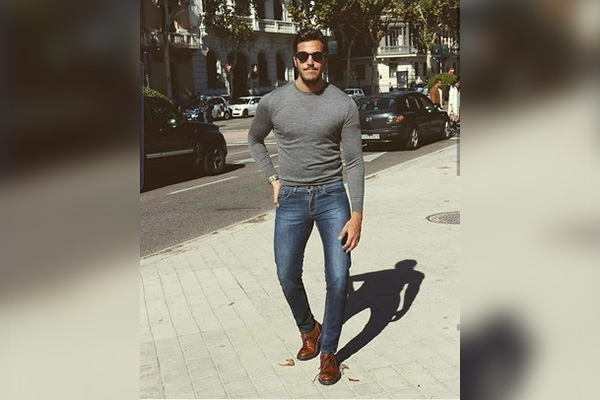 Oxford shoes are one of the most popular footwear options for semi-formal attire for men. But, did you know that they look fantastic below a pair of jeans as well?
If you're in search of a pair of shoes that would allow you to dress up your jeans for various occasions, these would be it. Pair brown oxford shoes with jeans, a white button-up, and a navy blazer and you have a well-thought-out business casual outfit.
Need something a bit lighter but with similar vibes? How about rocking shiny brown oxfords with blue jeans and a cream polo shirt on top?
The point is if you want to transform your casual jeans fashion from laid back and effortless to sophisticated and posh, adding a pair of brown or black oxfords to your wardrobe is a must.
Besides, you can also wear a pair of quality oxford shoes to almost every formal event with black suits, khaki dress pants & blue button-ups, and everything in between.
Monk Straps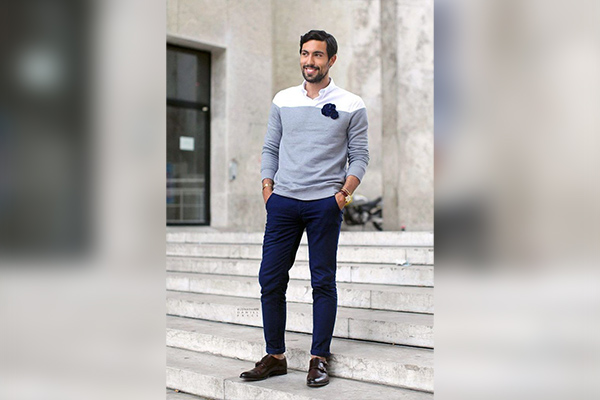 Monk straps serve a similar purpose to oxfords, but with a design that's more memorable and stands out from a crowd of other formal/semi-formal dress shoes. Think of them as a bit more edgy, fashion-forward twist on the classic oxford shoe.
On one hand, you can utilize these are your ticket to the world of smart casual fashion when paired with dark-colored jeans, button-ups, and blazers.
On the other hand, the same shoes can be utilized as an experimental piece to unique casual fashion with printed t-shirts, slim-fit jeans, and accessories like hats, suspenders, and unique shades.
The only trend/style you should actively avoid with these shoes is wearing ripped jeans. They don't look terrible with monk straps, but they don't look good either. Best stick to clean and intact jeans to get the most out of these shoes.
Boat Shoes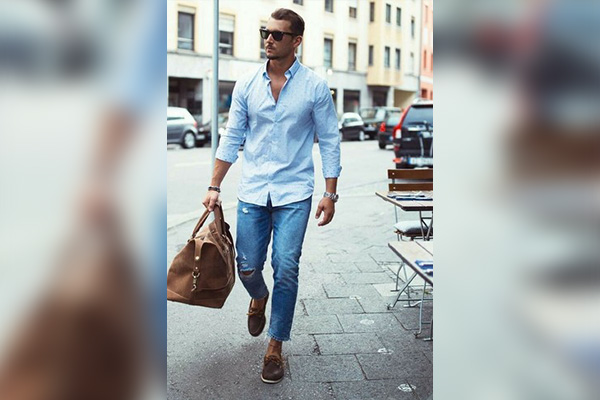 Boat shoes might look similar to loafers at first glance, which is true. However, there are also some key differences to guide your preference between the two.
Loafers can flip-flop between casual and professional attire. Boat shoes, on the other hand, have a much heavier emphasis on outdoorsy casual clothing — making them an excellent choice for your day-to-day casual jeans outfits.
Let's say you want a pair of slip-on shoes you can wear outside on a regular basis, that are not sneakers. Viola — the boat shoes are for you.
The most impressive aspect of boat shoes, however, is their wide-ranging design variety.
So, you don't like the look of leather. How about denim or canvas? Getting tired of classic shoe colors like black and brown? Get your hands on blue, white, and maroon boat shoes.
Desert Boots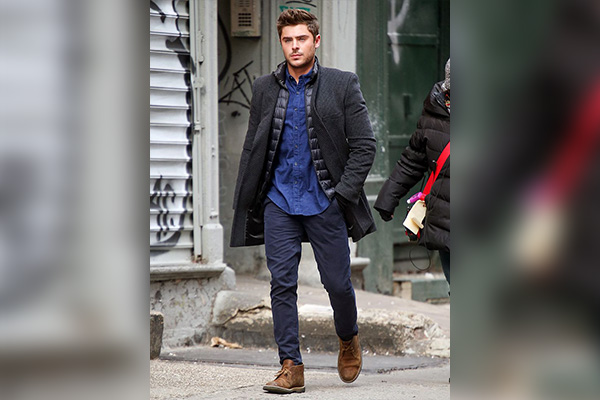 If you like the lightweight and breathable nature of Espadrilles but want something a bit more secure and sharp, desert boots might be your cup of tea.
These were originally designed for soldiers serving in hot desert areas, hence their name. But they've since found a comfortable spot in men's casual fashion thanks to their ideal balance of simplicity and uniqueness.
To say that these shoes work well with classic blue jeans would be an understatement and the reason for it comes down to their color which is usually a shade of brown.
A fun way to wear desert boots is to build an alternating contrast. For example, rock a pair of khaki desert boots with navy blue jeans and a light blue shirt, and top it all off with a cream or light brown knit sweater for an elegant fall outfit.
Hiking Boots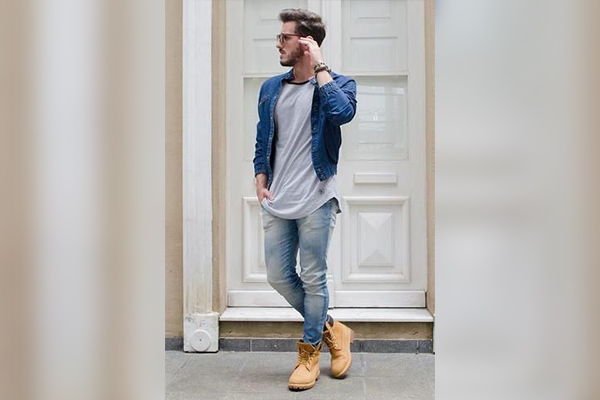 Hiking boots might look like it from the outside, but they are one of the comfiest shoes on this list and it's all thanks to their intended purpose.
As their name suggests, hiking boots are for hiking up mountains. They have tough soles so you can walk on almost any type of terrain without any discomfort. They also have soft padding on the inside to prevent your feet from getting hurt, even after long hikes.
That is good and all, but what does this have to do with men's casual fashion and jeans specifically? Well, there are two reasons why these boots are on this list.
First, hiking boots are a fantastic daily-use footwear option for winter. They keep your feet warm and cozy while the tough outer sole prevents you from slipping on icy surfaces.
Secondly, they are super eye-catching and have a lot of unrealized potentials. Even the most mundane casual jeans outfit becomes interesting just by wearing a pair of black hiking boots under it.
Cowboy Boots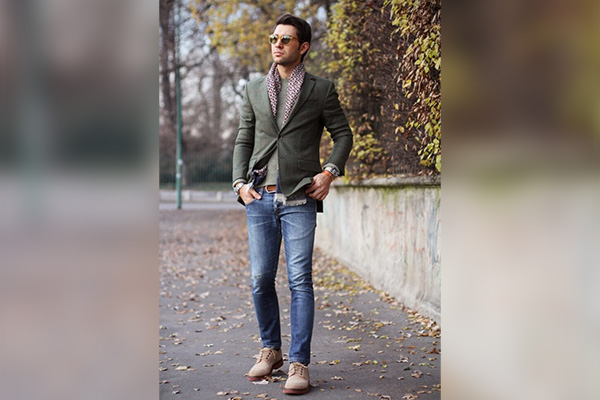 While we're on the topic of interesting and eye-catching, cowboy boots blow every other footwear option out of the water. Everything from their mid-calf height to the embroidery on their side, are conversation starters.
Now, you might think that cowboy boots aren't the right answer to the question of "what shoes to wear with jeans?" which is understandable. After all, how can boots this flamboyant mesh well with plain old jeans?
Well, the beauty of this combo lies in this contrast. Let's assume you're wearing an outfit with black jeans and a black button-up, and that's it. It's a standard all-black outfit that's not bad but not super interesting either.
Now rock a pair of brown leather cowboy boots underneath with a matching leather belt and you have an outfit that's an attention magnet. The same goes for most jean jacket outfits; from normal to extravagant.
Besides, remember that jeans have been an avid part of cowboy fashion for decades.
Chelsea Boots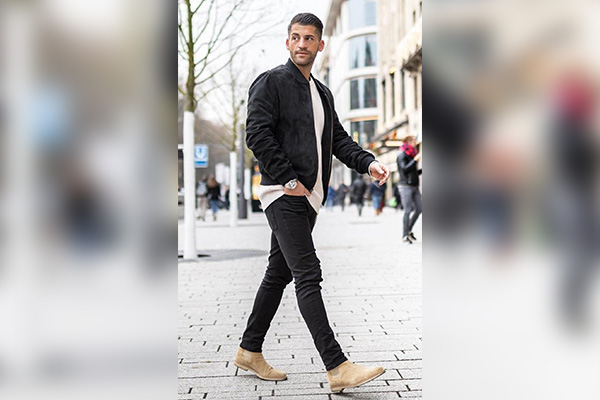 Chelsea boots are the one-stop-shop of jeans fashion for men. If we had to recommend only one pair from this list, these would be the one thanks to their effortless styling and design that's simple yet memorable.
With the right jeans outfits, you can rock Chelsea boots in everyday casual, smart casual, business casual, and preppy styles. And this is just scratching the surface of what's possible with these.
Not to mention the variety of options at your disposal between the color black and several shades of brown, as well as between shiny or suede finishes.
You can even get fur-lined Chelsea boots for cold snowy winters.
Casual Dress Shoes for Jeans
Casual dress shoes are one of the more interesting footwear choices. They're designed to be worn in a more relaxed or informal setting, but still, have a degree of formality and style.
Footwear that falls into this category includes things like loafers, Chelsea boots, desert boots, and dress boots. Though this classification is a bit vague and what is or isn't a casual dress shoe can come down to personal preference.
That said, almost every type of casual dress shoe is an excellent choice for jeans outfits. They allow you to dress up your look enough that it's sharper and more put-together, but enough that you start peering into the smart casual territory.
As for styling, you can take two routes. You can either wear your blue jeans with polo shirts and turtlenecks to complement the shoes, or you can rock hooded sweatshirts and printed t-shirts to create an inspired contrast.
Formal Shoes With Jeans
Taking a step up from casual dress shoes, we have actual formal shoes like oxfords, monk straps, and derby shoes.
As we demonstrated by including oxfords and monk straps in our list of shoes to wear with jeans, wearing formal shoes with jeans is perfectly viable. So, what's the issue here?
Well, you have to be a bit more methodical about your choices if you're planning to rock formal shoes under casual jeans outfits. For instance, it'd look really odd if you matched derby shoes with jeans and a plain crew neck t-shirt.
The outfit is fine and the shoes are fine, but they look weird when put together.
So, if you want to include formal shoes into your casual jeans fashion, you have to rely on stuff like button-ups, turtlenecks, polo shirts, blazers, and overcoats.
How To Wear Sneaker Boots With Jeans
First things first, what even are sneaker boots?
As their name would imply, sneaker boots are shoes with the design characteristic so sneakers with the shape and silhouette of boots. They're often at least ankle high and have thicker soles than normal hi-top sneakers.
So, do you style them like boots or sneakers? Well, a little bit of both.
These will fit flawlessly into any ensemble intended for footwear like Chelsea boots, low-top sneakers, and desert boots. This compatibility also extends to jeans, as well as other types of men's casual pants like chinos.
The only thing you have to actively think about is what to do with your jeans' cuffs. Do you roll them, tuck them inside the boots, or put them on top — covering the ankle area of the boots?
Sadly, we cannot give you a comprehensive answer here as it all depends on the specific outfit. That said, none of these options is "better" than the other, and neither is irrefutably wrong.
The simplest way to get around this issue is to try all three options when you don a new outfit and see which one looks & feels correct and go with that.
FAQs – Shoes To Wear With Jeans For Men
What Goes With Blue Jeans for Guys?
To put it simply, almost everything. Jeans are incredibly versatile and can work with almost every shirt, pair of shoes, and piece of outerwear in your closet.
What Shoes Style Goes With Dark Jeans?
Dark jeans look immaculate with high-top shoes like Chelsea boots or hi-top sneakers and formal leather footwear like oxfords or derby shoes.
What Shoes Fit With Slim-fit Jeans?
The ideal shoes for slim-fit jeans also have a clean and slim silhouette. These include oxfords, Chelsea boots, penny loafers, and low-top sneakers.
Can I Wear Oxford Shoes With Jeans to Work?
Yes, but only if your workplace's dress code allows it. If the dress code demands semi-formal clothing, jeans would not work; even if you pair them with formal shoes.
Final Words
Jeans are common in men's fashion. So common that they might start feeling bland and uninspired. How do you make them interesting again? Well, you find new and exciting shoes to wear with jeans for men.
You can dress up your casual jeans outfits with formal shoes like oxfords, derby, and monk straps. Or, you can play to jeans' strengths with sneakers, Chelsea boots, or loafers.
There is also a third, more exciting option with experimental and unique outfits featuring denim boat shoes, flamboyant cowboy boots, and rugged hiking boots.
Whatever shoe you choose for your jeans, remember that this choice is only the beginning. There is so much more depth and nuance to these shoes' interaction with jeans that only gets apparent once you start integrating them into your fashion arsenal.
So, if you want to look your best, make a choice and then spend some time going through your wardrobe, figuring out what works and what doesn't.