You might have heard the saying, "whenever in doubt, wear black,' and rightfully so. It is easily the safest color for men to wear, with a knack for being sexy and giving you the illusion of being slim.
The classy effect of the color on your personality is clearly unparalleled when compared to any other color. Since it is literally the emptiness of color, there is a lot of room for experimentation in your outfits.
It can also prove to be quite useful in handling any wardrobe malfunctions or fashion fallacies you are bound to make every once in a while.
Men wearing black can be the epitome of class, no matter how casual or formal their outfit is, it will always bring out the best in their personality. However, there's always a certain level of risk involved
So, how do you put up an all-black outfit?
Men's Fashion All Black
When we talk about black outfits for men, there are some things that you need to consider. First of all, the fitting and size need to be perfect.
Get it tailored if you have to, since a baggy black outfit can take out all the magic an all-black outfit for men should have, and make you look sloppy.
The next thing you need to take care of in your all-black wardrobe is the fabrics you are using to put together your outfit.
Never wear two pieces of the same material in black color. It creates a bland look, just like the Canadian tuxedo you should never risk.
Mix materials in a way that complements the texture of the other. Because there is no range of shades in the color black, the best you can do is vary the materials to add some dimension to your outfit.
Some of the combinations include wool with corduroy, jeans with leather, and cashmere with cotton. You can always keep experimenting to spice up your all-black wardrobe.
Black Outfits For Men
There are many black outfits for men that you can try and add to your all-black wardrobe. Just because they are all black doesn't mean you can't add variety to them.
Black is quite a dynamic color and can do wonders when added to your wardrobe. All you need to do is grab a hold of some essentials and know how to play them right, and voila!
Here are a few black outfits for men that you can add to your all-black wardrobe and give you a head start in the men all black fashion game.
Leather Jacket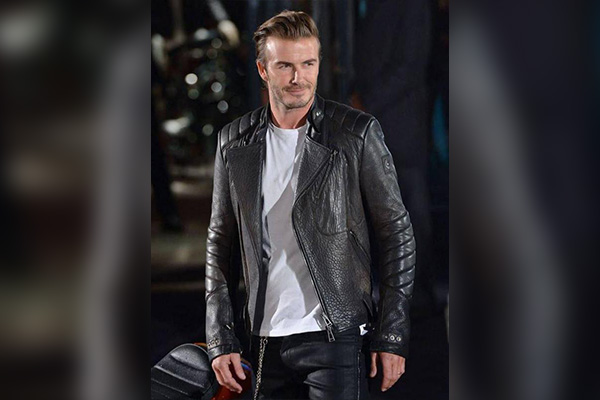 A leather jacket is a staple that should be found in every man's wardrobe. An infinitely cool item that will turn heads on any occasion, a leather jacket can be dressed in a variety of ways.
Dress it up with a pair of cords and a button-up shirt for an outfit, or tone it down with a pair of jeans, a t-shirt, and sneakers for a bad boy look.
Denim Casual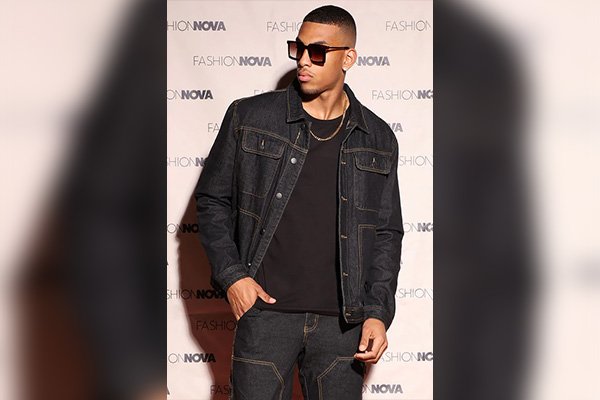 Men wearing all black can alter their outfits using different types of jackets for a unique look every day while enjoying their favorite color.
Black jean jacket outfits are a surefire way to create an endlessly cool outfit, where they can be used to create smart casual looks for men without too much effort.
Long Outerwear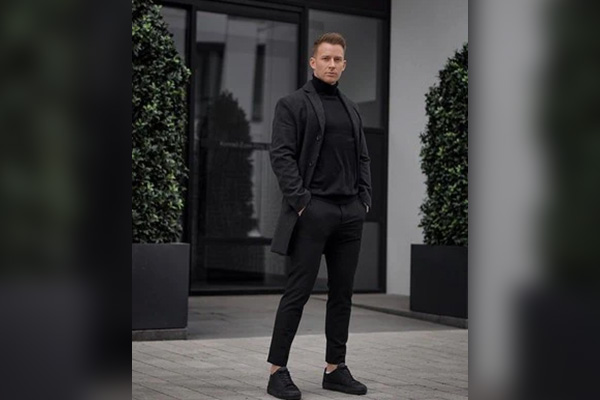 Long overcoats like trench coats, polo coats, or chesterfields are a great way to oomph up your winter wardrobe, especially when draped across the shoulders when taking a walk outside.
With a little bit of creativity and a bigger size, you can give a dark academic vibe with the right trousers, which include cropped woolen or cotton trousers. When wearing all black, one should keep in mind the proportions of their garment and the textures they are combining to slay an all-black look.
All Black Formal Wear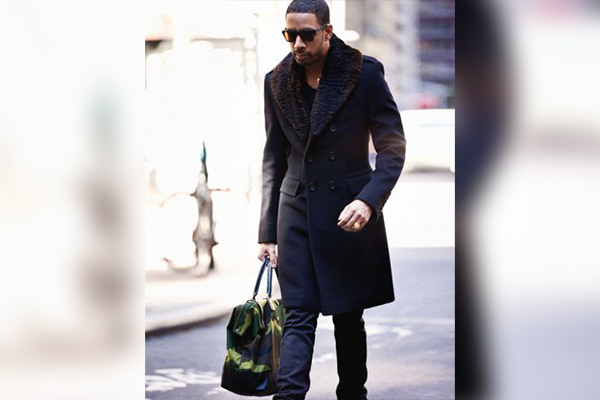 Black tie dress code is something that requires a tuxedo and is incomplete without a black suit. Even though all-black formal wear can be a bit risky, you can be the star of the night if you're wearing it properly.
Experiment with different types of shirts, for example wearing a turtleneck or black tee for business casual men, or a black button-up with a black tie for complete, all-black formal wear.
Key All Black Outfit Pieces
You're in for a lifetime supply of suave, classic outfits for men because black can never actually be boring. Its mute nature is louder than any other color you can think of.
Just add these few staple pieces into your wardrobe that will prove to be the key to men's all-black fashion and help you create regal looks one after the other, only by adding these to your outfits.
So, shall we carry on?
Black Sneakers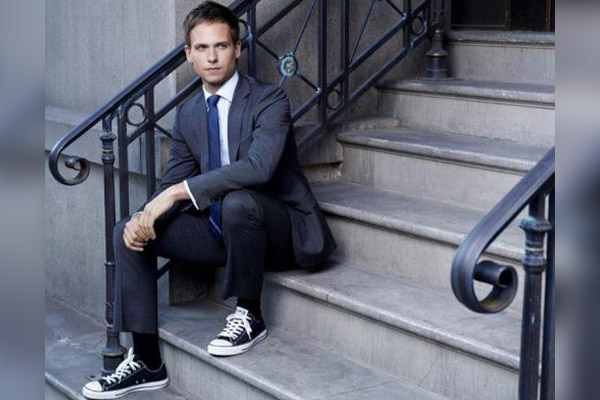 A simple yet important addition to your wardrobe, black sneakers allow you to move around without fear and add a dash of very much-needed danger to your outfit.
The shoes will work with practically anything, whether it be formal or casual, and especially an all-black outfit, which will take your men's fashion all-black game to the next level.
A Black Watch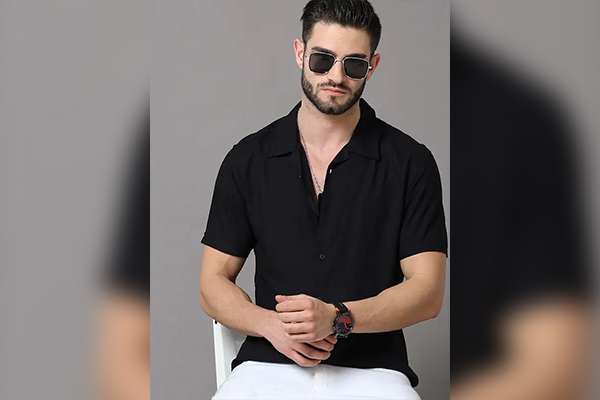 The magic lies in the details, you might have heard of that. So it wouldn't hurt to put a little extra effort into your outfit and add a black swiss watch to your list and strap it onto your wrist as the final touches to your look.
Not only is it effortlessly cool, but a wristwatch can add a touch of luxury to your outfit and make you look more proficient than you actually are.
Black Socks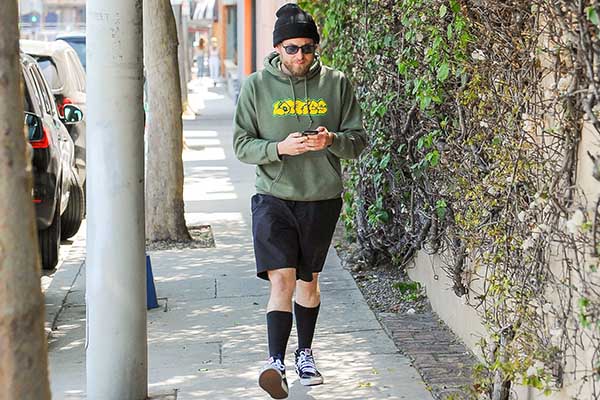 Something that really destroys your all-black outfit is the scrawny white or printed socks peeking above your ankles and killing the whole look.
If you are wearing an all-black outfit then it is best if you add a pair or two of plain black socks to your wardrobe to save you from these sorts of malfunctions.
Black Overcoat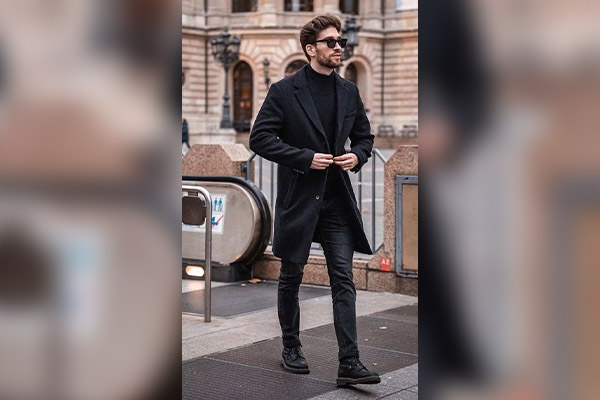 Just like any other coat, a black overcoat is quintessential to your winter wardrobe, as it adds that extra dose of swag to black outfits for men. They are perfect for going out, no matter the time of the day where you can wear them with your everyday casual wear or an all-black outfit.
Wear them a bit more elegantly during the night, especially if it's a date with your favorite girl. Contrast it with a white tee underneath or a maroon pullover to create stylish black outfits for men.
A Black Backpack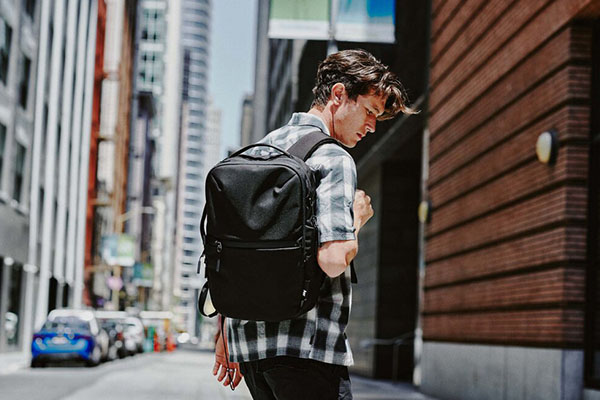 Apart from holding all your stuff together and keeping your life from falling apart, a black backpack proves to be quite a cool addition to men wearing all black. It all depends on the choice you are making considering your backpack.
A backpack can be worn every day without the fear of being boring, and it is much less prone to being dirty and is more durable than other colorful options available. All it takes is a one-time investment to add to your all-black wardrobe.
Smart Shoes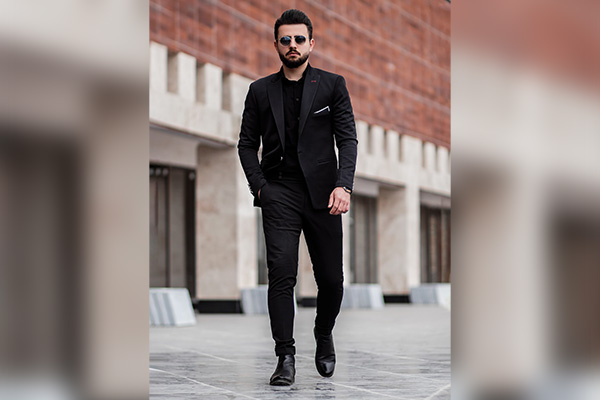 Every man should own a pair of dress shoes since you never know when you might need them. Whether it be a derby, brogue, oxford, or monk strap shoe, make sure to add one to your wardrobe while wearing all black.
Bomber Jacket
Some of the other types of jackets you can add to your all-black wardrobe are bomber jackets that were previously used in the US army. It now forms a stylish outerwear donned by almost every man, all over the world.
It is a short-style jacket with a zipper lining the front, (alternatively, it can also be a button-up) with a cuffed hem and a sleek overall look. However, it is important to pick one that is true to your size and a design that brings out your personality.
Black Hat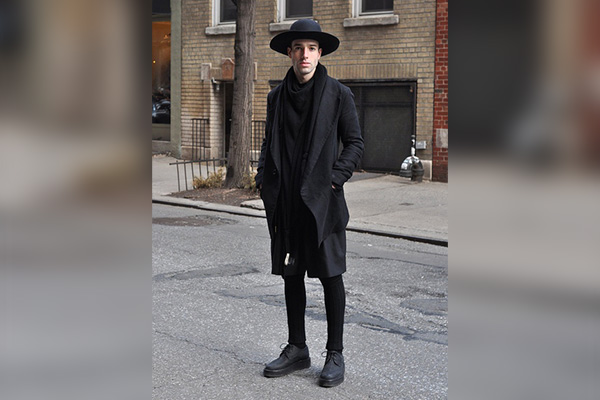 Men wearing all black often underestimate what good headwear can do to your outfit and that's precisely what you need to change about your perception. Opt for a cool bucket hat with a subtle brim, or a checkered beret to give Thomas Shelby vibes with an overcoat and a pair of suave derbies.
How To Wear A Black Shirt
An integral part of wearing all black is picking out a shirt to wear with the outfit, and more importantly how to wear it. However, it isn't really all that hard once you get the hang of it.
This includes the perfect size, the type of shirt you are choosing to go with your outfit as well as whether or not it complements the rest of your outfit including the outerwear and the type of pants you are wearing it with.
It is safest to wear a black shirt with an all-black outfit, matching pants, and outerwear, however, don't forget to add a healthy contrast of texture to your outfit. Other than that, there are several shades that you can make your black shirt work with.
These include burgundy and shades of maroon and specifically gray. Black shirts also look great with chinos and cords, whereas black shoes go best with the rest of your outfit.
However, you can also wear brown shoes, but the shade must be picked out carefully since that decides the level of formality of your outfit.
How To Wear Black In Summer
Black in summer might seem like a risky option, where it not only absorbs a lot of heat and makes you feel hotter (literally, not figuratively) but might also make you feel out of place.
But you must remember, the change of season doesn't necessarily have an effect on the versatility of the color, and goes well with most other colors whenever you feel in doubt.
Men can still wear black during summer, and look great while doing so. All that matters is the color that you are wearing it with as well as the proportion of your outfit.
Pair a black t-shirt with a white overshirt, or the other way around where you want the black shirt to be a little oversized to keep your skin cool and help you fit into the summer vibe. The same goes for trousers, where black denim or trousers are a good option along with a pair of nice sneakers.
It all depends on the level of formality you are going for with your outfit. If it's smart casual, then you're going to need a slimmer fit and something more upscale than a crew neck tee.
Think black button-up with a pair of chinos and derbies, with accessories to add to the outfit.
FAQs – Men Wearing All Black
How To Wear All Black Without Looking Boring, Men?
A contrast of texture is necessary to avoid your all-black outfit from looking bland. Wool with corduroy and cashmere with cotton are popular combinations of fabric when putting together an outfit.
Is Black On Black Too Much?
Not at all! In fact, the best color that goes with black is black. Black button-ups and woolen pants, along with black dress shoes is a great combo for sleek professional wear. All-black formal wear is a surefire way to turn heads at any black tie event and is a highly encouraged look if you know how to pull it off.
Does Black Make You Look More Attractive?
 The color makes you look more attractive and suits almost everybody. Its slimming nature makes it one of the most preferred colors among men and women.
Do Guys Look Good In Black?
Black is for men as red is for women. Gives you an advantage over the opposite gender, black is perceived as one of the most attractive colors on guys, and rightfully so. 
Conclusion
Men wearing all black might create a mute image in the minds of many, and even scare one of the malfunctions that come with it. However, those who know what magic an all-black outfit can induce will know its worth and won't be afraid to try it out.
There are so many different looks you can create with an all-black wardrobe, including formal, casual, and business casual. Not only is it versatile, but also proves to be lighter on your budget.
You can keep playing around with the essentials to switch up your looks since black can never be boring.
Apart from that, the role of accessories should never be underestimated or compromised, where a touch of black, is enough to spice up your look.
Whenever you are thinking about stepping into men's fashion, a black world, just make sure you know the nature of the outfit you are going for. Even though an all-black outfit is pretty easy to put up, there are still many places you can go wrong.