If you are a fan of the popular 1994 sitcom Friends, you've probably found yourself swooning over iconic Rachel Green's outfits more than once!
Rachel Green, the undisputed queen of fashion, was brought to life by the gorgeous Jennifer Aniston, and has served us some of the best, most stylish and fashionable looks of all time.
Her outfits may have been inspired by the 90s fashion, but truth be told, most of them are relevant even today, and they have successfully stood the test of time.
From mini skirts to knee high boots to printed coats to faded mom jeans and so much more, there's no denying the fact that Rachel Green wore some of the most iconic outfits in Friends, most of which have found their way back into our wardrobes.
While there are hundreds of Rachel Green's dresses to talk about, we've listed our top 15 favorite ones below.
Plaid Skirt with White Top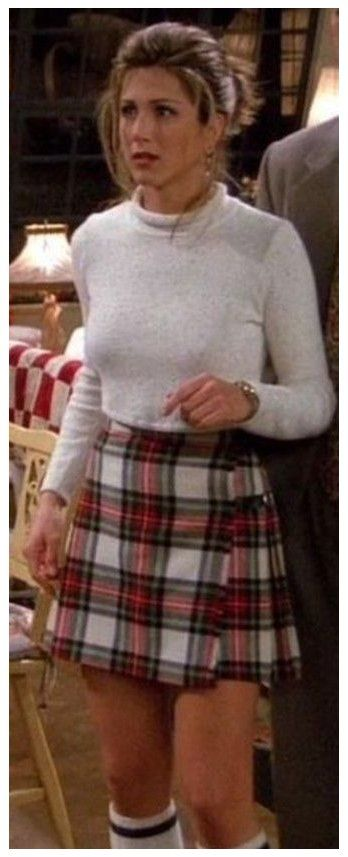 This has to be one of the most memorable and iconic 90's Rachel Green outfits where she wore a plaid mini skirt with a full-sleeved white sweater and absolutely rocked the ensemble. She paired this with knee-high socks that created a cute school girl vibe, but looked super chic at the same time.
Plaid was all the rage back in the 90s where we saw a whole array of plaid clothing options ranging from plaid flannel shirts to plaid skirts to plaid dresses.
T-Shirt and Denim Overalls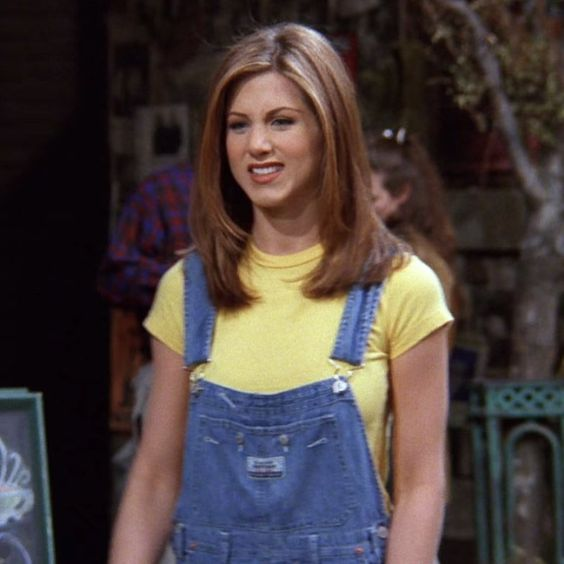 This is one of those casual Rachel Green outfits that brought back the 80s fashion trend of denim overalls, but with added style and grace. Overalls might have a juvenile look to them, but when done right, they can look as stylish and chic as you like.
It's all about how you style denim overalls, and Rachel Green surely gave us a few tips! She paired denim overalls with a plain, vibrant t-shirt, which is an ideal attire option if you are looking for something simple, easy and fun to wear.
Mint Green Pastel Dress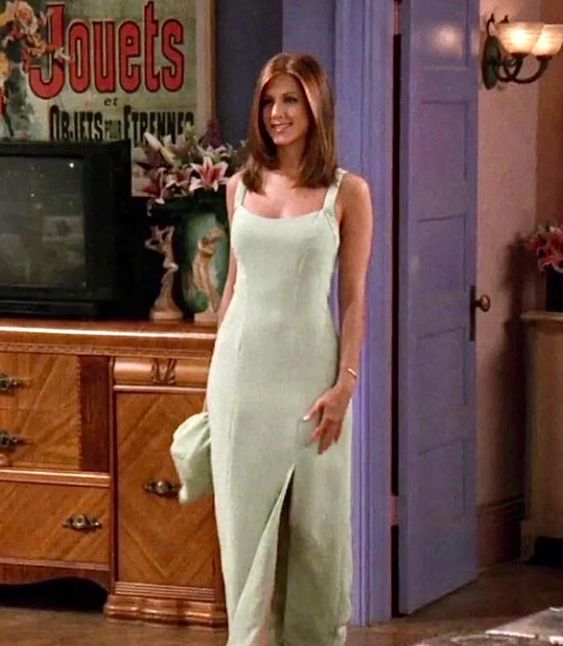 If there is one Rachel Green outfit that checked all boxes and completely blew us away, it's her mint green floor-length dress from the episode, The One Where No One's Ready.
This is one of the most iconic Rachel Green outfits that looked absolutely stunning given the way it created such a flattering silhouette and complemented her hair, and the subtle makeup look with perfection.
She paired this dress with strappy heels and carried a matching cardigan with it in the same dreamy mint green color. The dress also featured a high slit, a detail which added so much glamor and appeal to this ensemble.
Leopard Blazer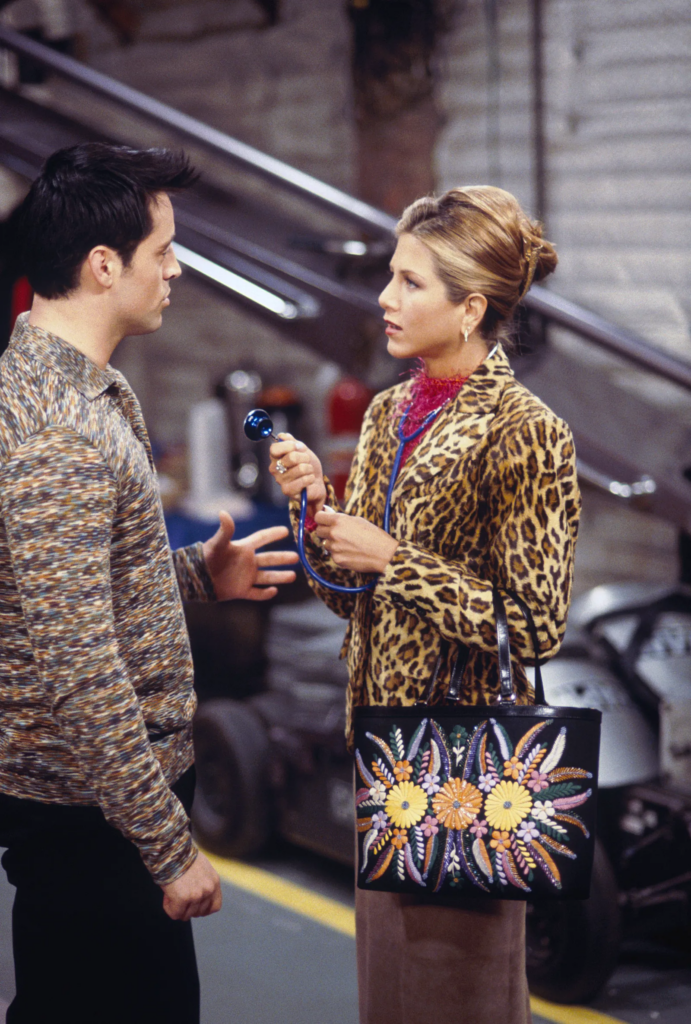 You may have a love-hate relationship with animal prints, but Rachel Green surely made us fall in love with her fierce leopard blazer that served some major style goals!
Rachel Green's style, more often than not, was casual and minimalist, but this particular look was something super unique and different from what she normally wore. She did great justice to this leopard-print structured blazer which she paired with a fluffy dark pink sweater.
This a true 90's Rachel Green outfit, a time when leopard print was all the rage and was literally everywhere from dresses to coats to blazers to hats.
Sheer Black Blouse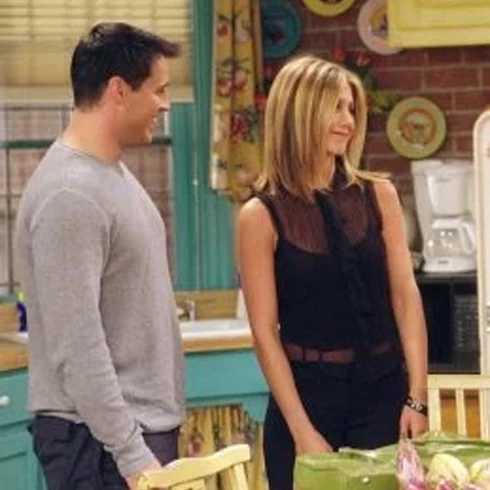 For an effortlessly chic look, this head to toe black ensemble featuring a sheer black blouse with ruffle details, paired with plain black pants is the one to beat. This Rachel Green outfit is simply sophisticated, and with the addition of a simple bracelet accessory, it went to a whole other level.
The sheer black blouse is ideal for anything from a dinner date to a night out with friends or even a party. Pair sparkly stilettos and statement jewelry with it, and you are good to go!
Kimono Dress with Vibrant Wedges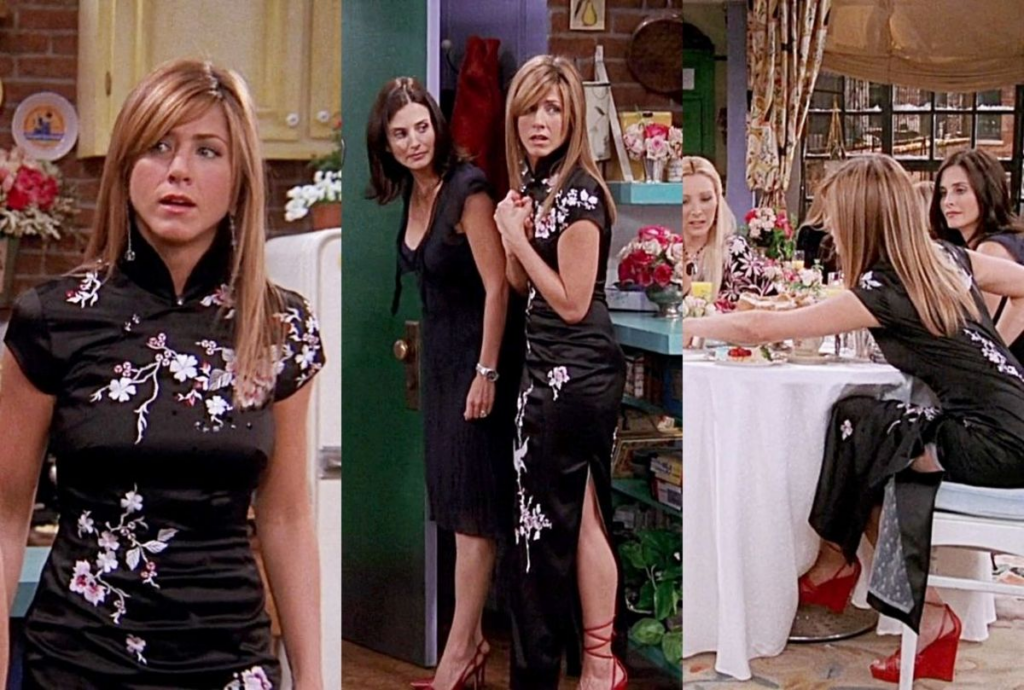 With each season of Friends, Rachel Green continued to up her fashion game, leaving us with some of the best Rachel Green outfits of all time!
One such outfit is a beautiful black kimono dress that had stunning white and pink flower accents and details all over it. It was a figure-hugging ensemble that created a beautiful silhouette.
It featured a high-neck, and a high slit that went all the way up to her mid-thigh. Needless to say, this outfit was a whole new fashion territory, which she enhanced further with strappy vibrant red wedges and dangling earrings that added the perfect finish to her overall look.
Double Breasted Gray Suit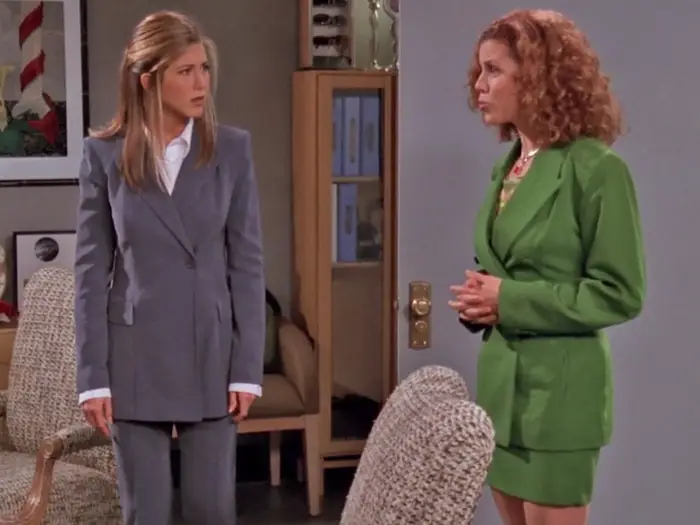 Who says suits have to be dull and boring? Certainly not Rachel Green!
Rachel Green's work outfits were always on point, and had a unique touch of style and chic, one of which is her double breasted gray suit that she paired over a crisp white blouse.
She totally rocked this work look and had a neat half-up and half-down hairdo that went so well with her overall look.
Cropped Cardigan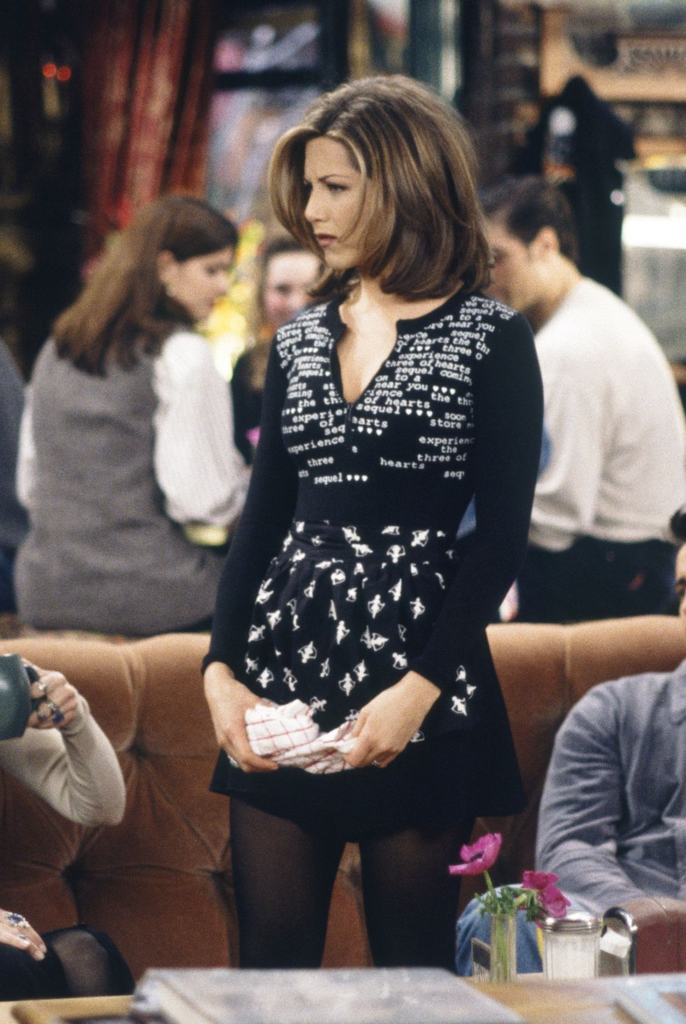 Cropped cardigans never seem to go out of style, and for all the right reasons, too. They are cute, stylish, and look great no matter how you style them.
Rachel Green's fashion game really took another leap forward with her cropped cardigan outfit where she paired a cute black cropped cardigan featuring white text written on it with a matching mini skirt, which she pulled off so effortlessly. She completed the look with sheer footed-leggings that tied the whole look and brought it together.
Black Halloween Dress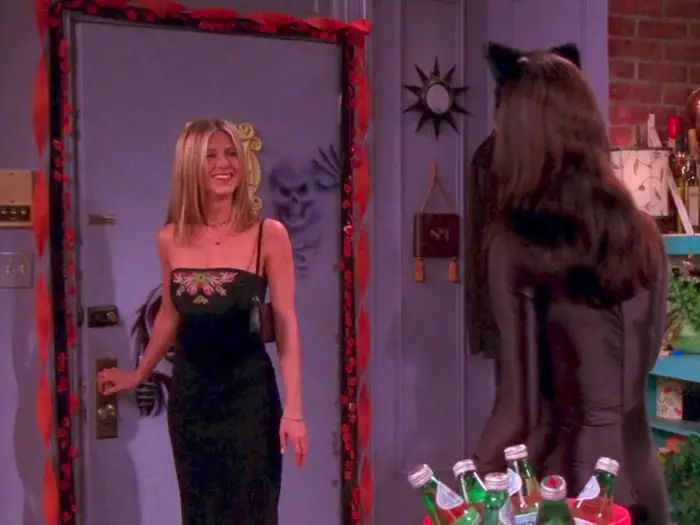 Halloween parties are a great excuse for dressing up and wearing elaborate, dramatic costumes, but Rachel Green's halloween costume certainly had something else to offer!
She shows up at Monica and Chandler's Halloween party wearing a simple yet stunning strapless black dress with a few colorful work details on the chest. In her words, she was dressed as "a woman who spent a lot of money on a dress and she wants to wear because soon she won't be able to fit into it."
This was classic Rachel Green and while she didn't go for a themed costume, her black dress still made a great fashion statement.
Denim Vest and Mini Skirt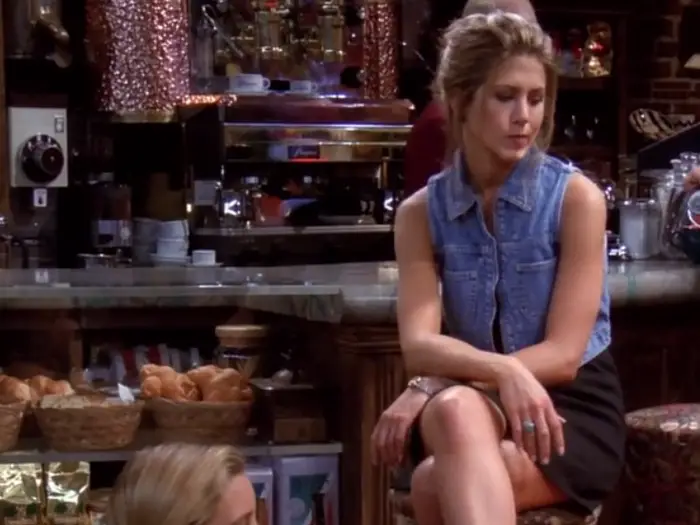 When talking about Friends' outfit inspo, you can't overlook Rachel Green's waitress outfits. After all, it's only her who can make work ensembles look so stylish and chic!
One of her most popular work outfits is none other than her cropped denim vest paired with a short black mini skirt. She had a cute, low-key messy hair situation going on that actually ended up complimenting the overall look.
Mini Skirt with Knee-High Boots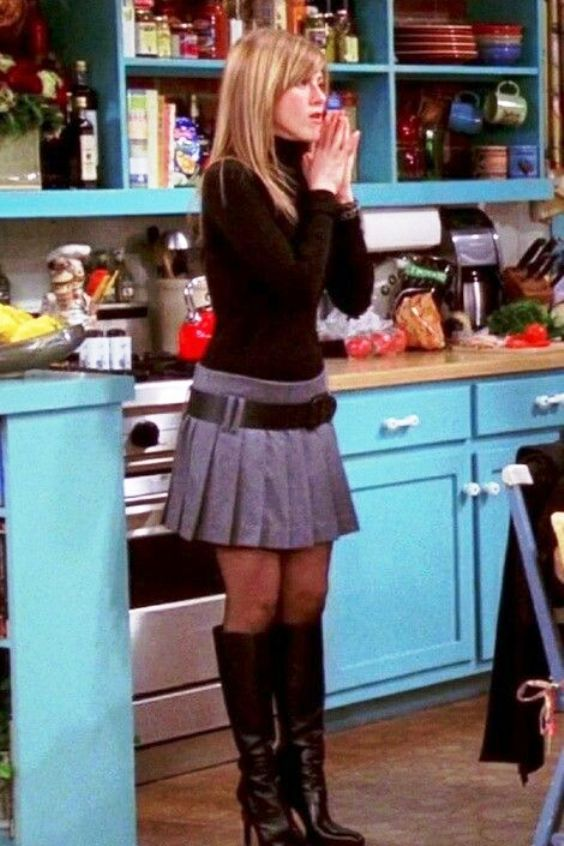 Most of Jennifer Aniston's outfits in Friends were quite unique and different from each other, however, there was one accessory that became a wardrobe staple for her on the show which is a pair of knee-high boots.
We got to see different types of boots throughout the course of the show worn by different characters, but truth be told, no one wore them as well as Rachel did.
Her characteristic look is the one where she wore knee-high leather boots, and paired them with a chic dark gray mini skirt, a black top, and completed the ensemble with a chunky leather belt around the waist.
Her sleek and straight shoulder-length hair with short side bangs was a great addition to her overall look. Among all the outfits, this is easily one of the most stylish Rachel's Green's skirt outfits in the show.
Puff-Sleeve Top with Blue Jeans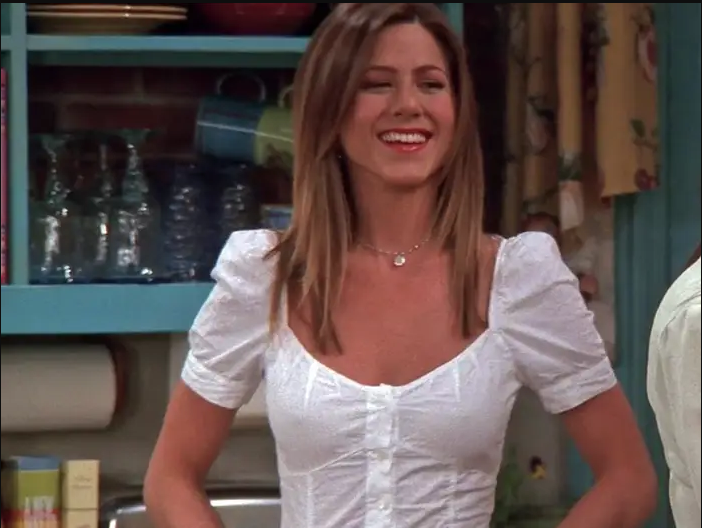 Jeans are a timeless wardrobe staple so there are no surprises as to the number of outfits we see throughout the show. But, even with something as basic and simple as a pair of blue jeans, Rachel Green manages to serve a unique style inspiration!
The most stylish of all Rachel Green's jeans outfits is the one where she wears a fitted white crop top with puffy sleeves and a deep neckline, and she pairs it with medium-wash blue jeans, a small cute pendant necklace and hoop earrings.
Think of it as a dressy version of a basic white top-blue jeans combination, with added style and appeal.
Red Slip Dress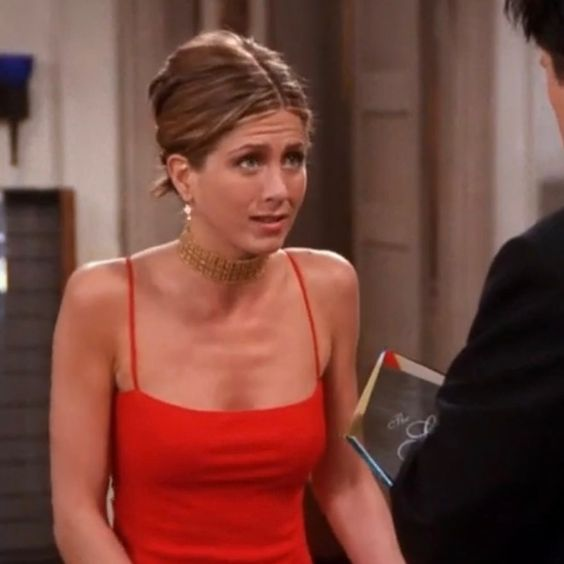 Rachel Green's outfits in Friends are truly class apart, but the one that can be called the epitome of style, grace and elegance is none other than her floor-length red slip dress. It's a little different from the classic slip dress, and featured straps on the back and a cute little keyhole detail.
She wore it with a subtle gold choker and small dangling gold earrings. She tied her hair up in a nice, sleek bun with a middle parting which tied the whole look beautifully.
Needless to say, this is one of the most beautiful Rachel Green outfits we've seen in this show, and it simply shows us how a plain, minimalist look can make such a huge, striking style statement.
The Airport Outfit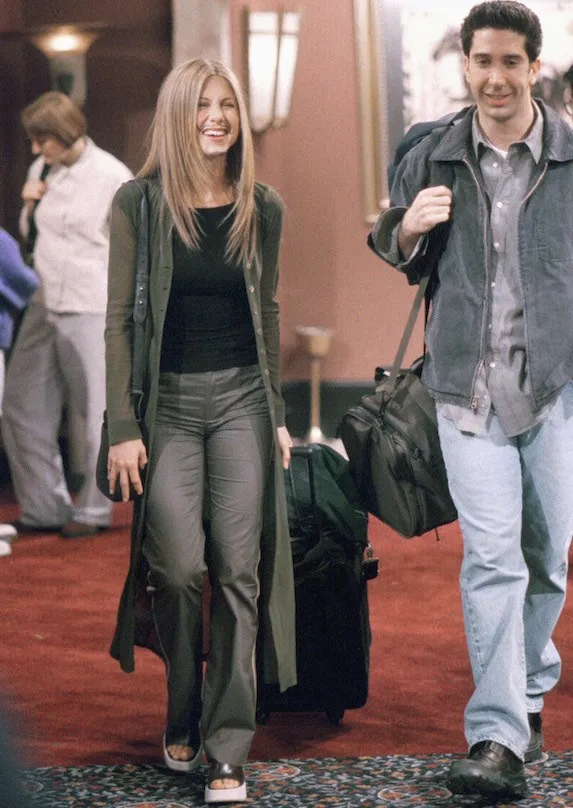 Travel in style, just like Rachel Green!
Her airport looks in Friends deserve a special mention just because of how stylish and fashionable they were! One of her best airport outfits comprised a plain black top, gray pants, and a long front open cardigan which she paired with black and white wedges.
She absolutely nailed this look which didn't just look chic, but also super comfortable and easy to carry at the same time.
Floral Halter Dress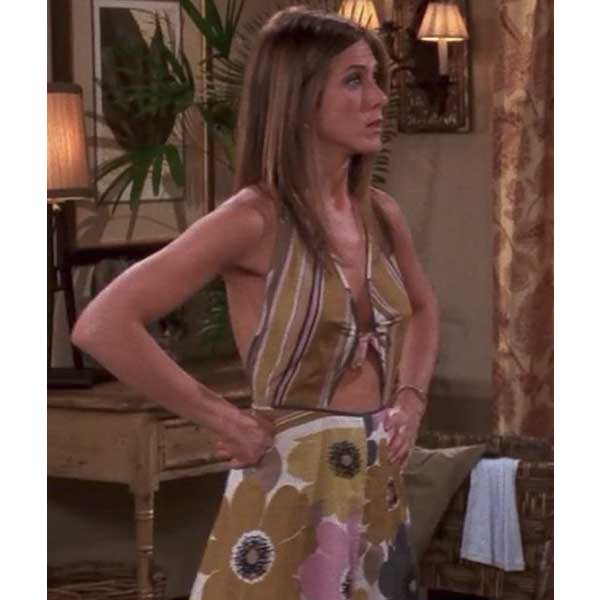 The late 90's was dominated by numerous fashion trends and staples, one of which was the stunning halter top. It was at the peak of its popularity during this time given the dramatic neckline with straps that go behind the neck.
In the episode called The One In Barbados, she wears a patterned halter dress that has a cut out in the front and an open back. There's a busy floral pattern going on all over the dress with big flowers at the bottom and matching stripes on the top.
The pattern blends well with the neutral tones of the dress, which, again, made a huge statement and one can't deny that it looked like she pulled off the dress without even trying!
FAQ – Iconic Rachel Green Outfits
How do you dress up as Rachel Green?
If you wish to dress like Rachel Green, you need to go back to the fashion in the 90s and choose some of Rachel's favorites such as plaid mini skirts, crop tops, cropped cardigans, flared jeans, sheer blouses, knee-high boots, slip dresses, denim vests and so much more!
What is Rachel Green's style called?
Rachel Green's style can be best described as fashionable, unique, iconic and diverse. She has been described as the 90s fashion icon, and rightly so. Every single outfit that she wore on the show was trendy, chic, and the best part is she pulled off all them with perfection. 
How many outfits does Rachel Green wear?
Rachel Green is believed to have worn more than 700 outfits in the show Friends. There were some outfits that shared common elements in terms of materials and colors, and others were completely unique and stood out from the lot.
What was 90s fashion like?
Known as the golden decade of fashion, the 90s fashion was a blend of many things – casual clothing, minimalism, vintage vibes, form-fitting styles and more. It was quite a contrast to the 80s fashion which was flashier and more elaborate in comparison to the 90s.
Conclusion
From making a grand, dramatic entrance on the very first episode of Friends in a pouffy, off-the-shoulder wedding dress, to making the perfect sartorial ending in a pair of flared jeans with a strappy sleeveless top, Rachel Green continued to wow us with her fashion and style game.
Not just her clothes, but her jewelry and hair was also always on point, which effortlessly complemented her outfits.
Take inspiration from these top Rachel Green outfits to take your fashion game to a whole other level!