How to wear boots with jeans men? The answers to this question can seem endless given the exceptional versatility and outfit compatibility of both jeans and most types of boots.
If you find yourself in a similar predicament, worry not. With the right outfit and a little bit of confidence, you can rock this timeless look and make a statement wherever you go.
What are the right outfits you ask? Well, it depends on a number of factors like the type of boots, their color, and the jeans you choose. Let's discuss these factors in detail to find the best boots to wear with jeans and ways to style them.
Here's what you need to know!
5 Popular Ways To Wear Boots With Jeans
Before we get into the nitty-gritty of this combination, let's take a step back and analyze a few of the most stylish outfits you can craft with jeans and boots. You can recreate them one-to-one or get inspiration from them to create something of your own.
Most importantly, these will give you a decent idea of what's possible with jeans and boots. Our top five picks include:
Simple & Effective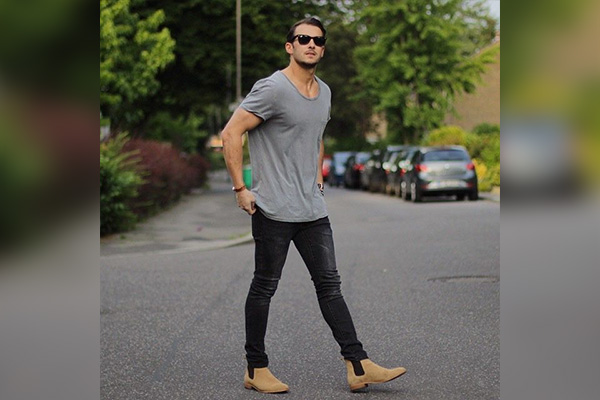 A white crewneck t-shirt, worn over a pair of clean navy blue jeans and brown suede Chelsea boots. It doesn't get simpler than this. But you might think that an outfit this minimalistic might get boring.
This might be the case if we look at the jeans and t-shirts pairing on their own, or with the simpler types of sneakers. But, the inclusion of brown suede Chelsea boots elevates this plain ensemble into something thoughtful and interesting. 
This minimalism also works in its favor — allowing you to rock this look in almost any casual situation.
Every-day Casual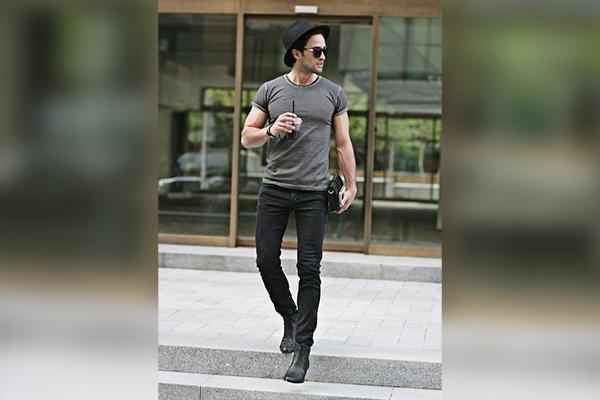 Speaking of outfits that you can wear regularly, how about equipping a pair of distressed jeans with black combat boots and topping it with a Henley? A solid look that you can rock on any day of the summer.
When autumn rolls around, all you have to do is wear a brown bomber leather jacket on top and you're good to go. Similarly, the only change necessary for winter is swapping the leather jacket for a proper winter coat.
Side note; you can attain similar results with other types of pants like chinos as well.
All-Black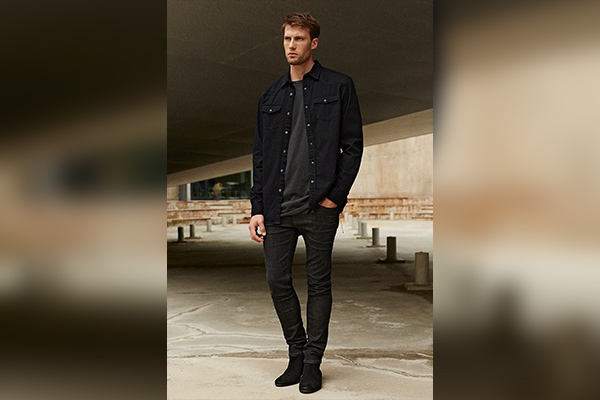 Ah, the classic all-black outfit, a must-have in every man's closet. The thing is, just relying on the black color won't do you any good if the outfit itself is uninspired and bland.
What you have to do instead, is spice up your black button-up and black jeans ensemble with a pair of black wingtip boots and a shiny black biker jacket.
This creates a memorable contrast between the straightforward shirt and jeans with the attention-grabbing boots and jacket. Plus, you can also turn this into a jean jacket outfit with a slightly loose-fitting black denim jacket.
Elevated Yet Comfortable
Boots are just as viable for situations that aren't formal but not fully casual either, like a family get-together, or date.
The outfit that best exemplifies this features a pair of clean dark blue jeans, a white button-up with a navy sweater, and finally, a gray pinstripe check blazer. The ideal footwear for this look is a pair of formal brown boots like Balmorals. 
If the button and sweater combo isn't your thing, you can swap them both for a knit turtleneck for a different but equally brilliant smart casual look.
Casual Street Style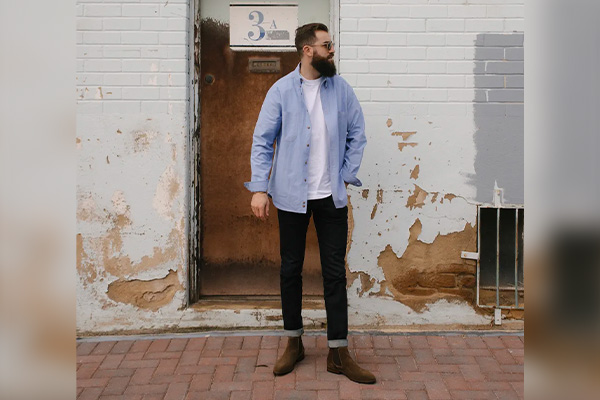 Want to get a little creative with your casual jeans and boots outfits? Start by locating a pair of ripped jeans with an authentic weathered look and pairing it with khaki suede chukkas.
Now you have a wide variety of options for the top. You can go with a hooded sweatshirt for a simple yet effective look, layer up with a maroon flannel under a sleeveless puffer, or try everything in between.
The point of this outfit is to add plenty of personal flair to your look with the type of shirt you wear, the outerwear you layer it with, and what accessories you brandish amidst these.
Men's Casual Boots To Wear With Jeans
Now that you've seen a few of the most impactful outfits and styles of how to wear boots with jeans for men, it's time to dive deeper.
The first order of business is to identify the types of boots that provide the most varied and interesting outfitting options with jeans. The ones that fulfill these criteria include:
Chelsea Boots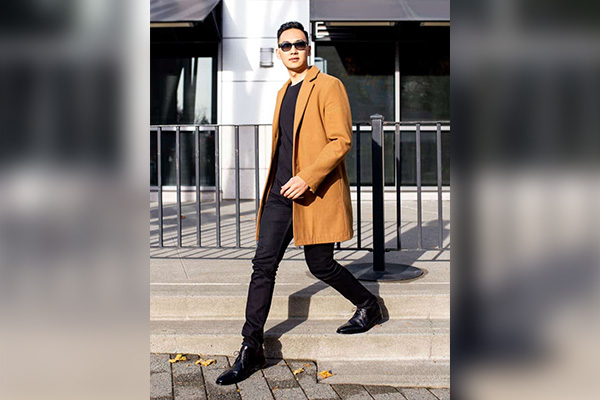 Chelsea boots are the personification of minimalism when it comes to casual boots and jeans fashion. They do not have laces or any similar design features, just a plain top with elastic bands on the sides.
This design makes them highly compatible with almost every type of jeans outfit and situation. You can rock the same pair of Chelsea boots with the basic t-shirt and jeans every day ensemble, or a business casual men's attire with a fancy blazer. 
Also, don't let their lack of eye-catching features distract you from the variety of options at your disposal. From shiny black leather Chelsea boots to ones made from brown suede, you can find a pair that matches your existing wardrobe.
Leather Chukkas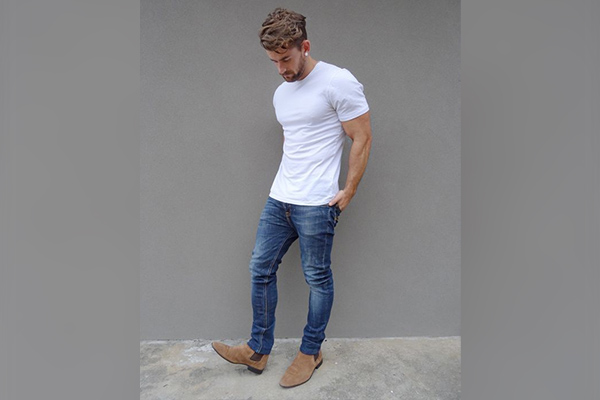 Leather Chukka boots also fall towards the simpler side of the shoe design graph but for a good reason. The core appeal of these boots is that they complement almost every casual jeans outfit in your arsenal.
For instance, take brown suede leather Chukkas. They fit just as well below a basic V-neck and navy jeans outfit, as they would with a multilayered ensemble of a button-up, sweater, and leather jacket.
This adds a level of reliability to your boots that can save a lot of time in day-to-day outfitting scenarios.
Combat Boots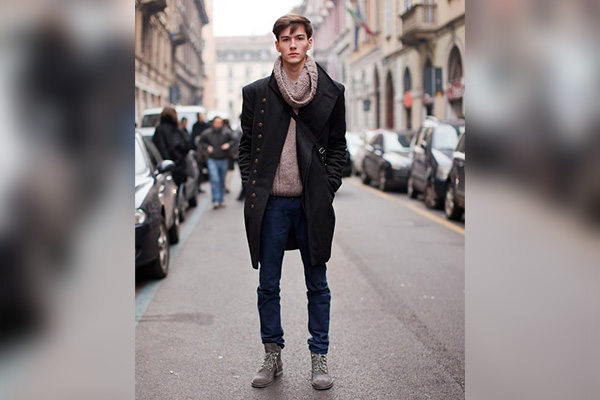 Combat boots are badass men's footwear, or so their reputation suggests in broader men's fashion. To be fair, it is easy to see why combat boots hold this position. They have a large silhouette with hefty soles and laces for days. 
Look past their stature as military-style boots and you'll find them surprisingly cooperative with casual jeans fashion. This is especially true for winter fashion with overcoats, winter coats, and layered clothing.
A side benefit of combat boots is their comfort. Their thick soles and cozy top allows you to wear them for hours on end without any discomfort or pain.
Dress Boots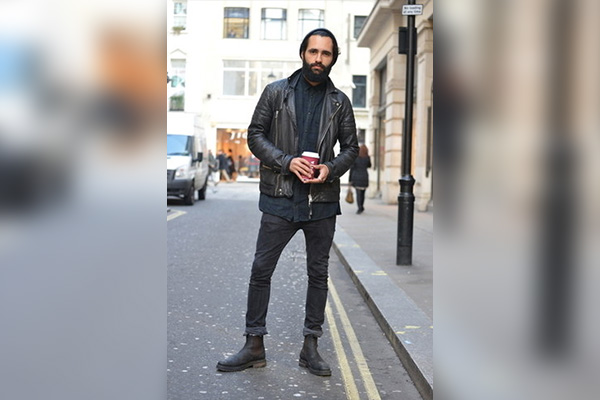 Just as their name suggests, dress boots have the sleek and sophisticated design of dress shoes but with the boots' form factor. If we were to rank footwear on how formal it is, dress boots will be somewhere between combat boots and formal shoes.
This makes them a less ideal option for something like a black suit, but a brilliant option to dress up an outfit with black jeans and a button-up shirt.
The key purpose of wearing men's dress boots with jeans is to elevate the feel of an otherwise normal casual outfit to something more put-together.
Denim Boots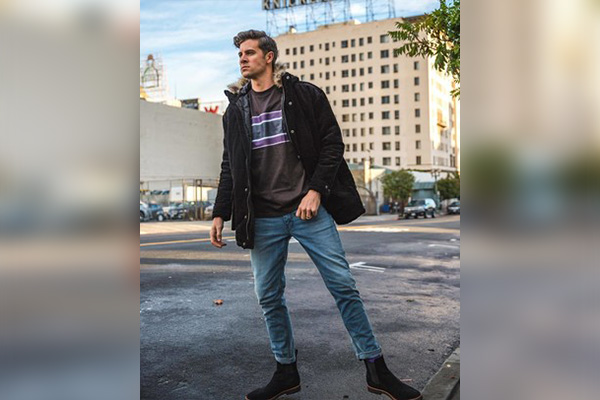 Men's denim boots are as casual as it gets though with a few caveats. For starters, a pair of blue denim boots is not suited for blue jeans, no matter if they have a different shade.
Secondly, these are strictly casual and don't work well with items like blazers or even plain button-ups to some extent.
With that out of the way, denim boots give you the opportunity to get a little experimental with your look. A great example of this would be an outfit with blue denim boots, white jeans, a charcoal crewneck, and a brown suede bomber on top.
Another outfit you can try involves the same blue denim boots and white jeans. But, instead of the t-shirt & leather jacket combo, you wear a short-sleeved button-up with floral patterns — similar to Hawaii-style shirts.
Brogue Boots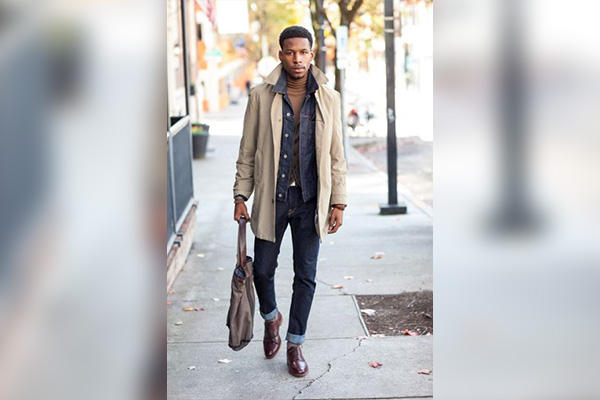 Brogue boots are the perfect tool to add some flair and personality to your casual weekend outfits with jeans.
The unique design features of these boots might make them look difficult to style, but that is not the case. You can comfortably rock these below almost every jeans outfit that works with Chelsea boots of the same color.
The big difference between the two is that while Chelsea boots complement an ensemble, brogue boots upgrade it while focusing attention on themselves.  
Monk Strap – Single / Double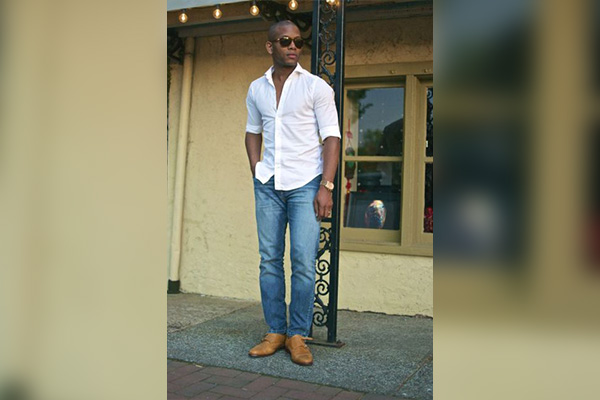 If you're wondering how to wear boots with jeans for men in an office or semi-formal environment, meet monk strap boots.
As the name implies, these are classic monk-strap formal shoes in the shape of boots. But, unlike other shoe-to-boot transformations, these retain their original formal vibe — allowing you to wear them with business casual clothing. 
Should you wear them with semi-formal attire for men with suits and ties? Yes, and no. The thing is, while these do work well with semi-formal suits in an office environment, not every suit is going to fit equally well.
For example, a pair of brown double monk strap boots fit well with a gray pinstripe suit, but the same pair looks odd below a fully black or navy suit.
That said, you can rock these under business casual clothing with jeans, blazers, and plain button-ups without any resistance.
Boots and Jeans Outfits for Different Occasions
Now that we have a list of boots that work well with jeans, the next step is figuring out how to wear boots with jeans for men in different scenarios. Boots and outfits that are suitable for casual day-to-day activities, won't fit a date, and so on.
Let's get started.
Casual Everyday Fit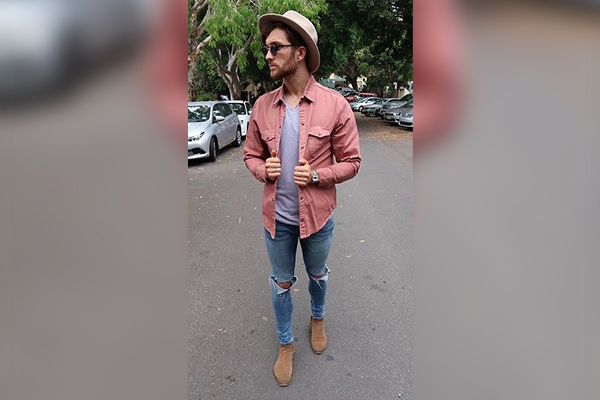 Technically speaking, almost every type of boots can become your daily go-to pair. Though, the choice comes down to factors like your sense of style, existing outfits, and your focus on looks and comfort.
For example, let's say most of the shirts you own are polos, button-ups, and turtlenecks. In other words, a sleek and sophisticated lineup. For these, no pair fits their vibe better than a pair of suede Chelsea boots.
Similarly, if you want your footwear to be as comfortable as it gets, combat boots are the way to go. Or, if you want to elevate your simple t-shirt and jeans outfits into something more eye-catching, how about a pair of brown brogues?
Date or Friends Night Out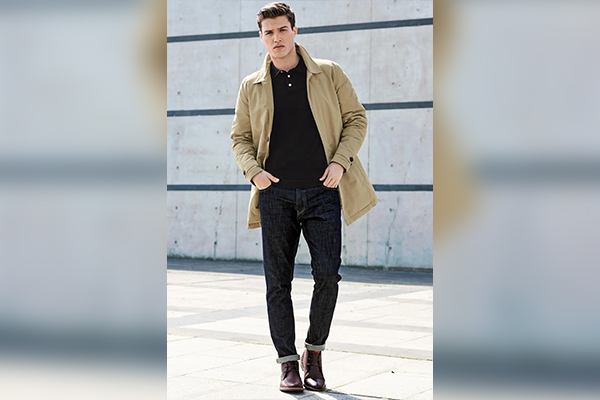 For occasions like dates or outings with friends, you want your outfit to represent a level of polish and confidence. So, what better pair to achieve this, than leather chukkas?
Think about it this way. An outfit with a gray V-neck, black jeans, and a navy denim jacket would look fine with fancy sneakers. But, replace the sneakers with brown suede chukkas and you have a preppy look that's casual yet obviously well-put-together.
Casual Fridays at the Office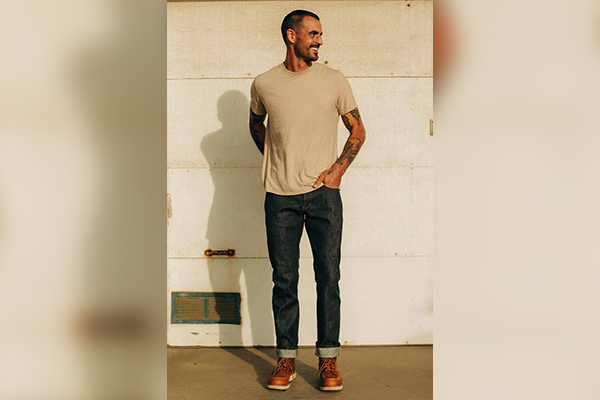 Before you even think about rocking a pair of boots to the office, make sure that they are allowed in the dress code. If they are, you get to choose between classic dress boots, attention-grabbing brogues, and posh monk strap boots.
Each of these has its pros and cons for business casual and the decision comes down to the style you're going for. Classic dress boots are a safe option. They work flawlessly with almost every business casual outfit with little to no exceptions. Brogues are a fine way of spicing up otherwise plain-looking business casual attire featuring button-ups, V-neck sweaters, and blazers.
Finally, monk straps are black boots with jeans for men looking to maintain a professional vibe amidst the levity of a business casual outfit.
Intense Activity Days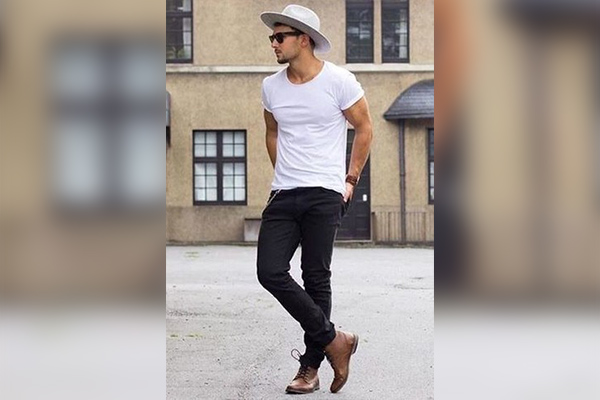 If you know that you're going to be standing around or walking a lot, no pair will keep your feet comfier than combat boots. This is especially true for the colder days of the year with snow and chilling wind.
This is not to say that every other type of boot isn't comfortable, far from it. In fact, one of the major selling points of any pair of boots is that it is more comfortable than its counterpart.
The Right Colors for Casual Boots & Jeans Outfits
While we did mention the specific color of boots occasionally, our main focus has been on how to wear boots with jeans for men. But, color plays just as important a role in your style as everything else we've talked about so far.
With that in mind, here's how to choose the right color.
Boots
If you're going with boots made from leather, black and brown will be your strongest options. This remains true no matter the type of boots you're considering.
Not only are these two the most popular colors with leather goods, but they're also exceptionally universal. You'll be hard-pressed to find a color of jeans that looks straight-up ugly over black or brown boots.
However, these color options expand a little if you're going for a suede finish. Now, you can also go for many lighter shades of brown, including khaki. These are excellent for creating a contrast with dark outfits.
Alternatively, if you're interested in boots with a canvas or fabric construction — like denim boots — the choices are endless. A dark shade of blue can be a safe option, but you can go with everything from mustard to dark olive and have just as much success.
Jeans
Choosing the right color of boots is the direct approach, but you can also consider the boots you have when buying new jeans. So, what are your options?
Well, jeans in black or almost every shade of blue look immaculate alongside brown or black boots.
Aside from these obvious options, both dark and light gray jeans are a great matchup for black boots. Similarly, the levels of class in the white jeans and brown boots combo are difficult to replicate with anything else.
FAQs – How To Wear Boots With Jeans For Men
Can Guys Wear Boots Over Jeans?
Not for fashion. Boots over jeans only work for things like intensive activities like work or hiking. Otherwise tucking your jeans inside the boots just look odd.
How Should Boots Fit With Jeans?
The ideal length for jeans when wearing boots is to have them long enough to cover the shaft of the boots, but not so long that they drag under your heels. You can also cuff the jeans for an equally viable style.
Should You Wear Boots Tight or Loose?
The fit of your boots should be snug, but not too tight or too loose. They should not be so loose that your feet move around inside when you walk, and they should not be so tight that they cause discomfort. It is important to find a balance between a secure fit and comfort.
Final Words
Learning how to wear boots with jeans for men is not as complicated as you might initially believe, but it isn't a cakewalk either.
The important thing is to understand your personal sense of style and existing wardrobe to find the right type of boots.
If you already own both boots and matching jeans, you should take some time to go through your wardrobe and craft outfits specifically for the boots.