When it comes to putting together the perfect casual summer outfit, it's crucial to choose the best shoes to wear with shorts men.
Some might even argue that picking the right footwear for shorts is even more important than for regular outfits with jeans, chinos, and sweatpants. The reasoning behind this argument is also quite sound.
Since shorts don't go below the knees, they create a separation between the shoes and the rest of the outfit. This separation is then responsible for drawing more attention to your footwear choices.
Whether this is true or not is a discussion for another time.
For now, here are our recommendations for the ten best shoes to wear with shorts for men. Whether you're hitting the beach, going for a hike, or just running errands around town, these shoes will keep you comfortable and stylish all day long.
Let's get started!
Sneakers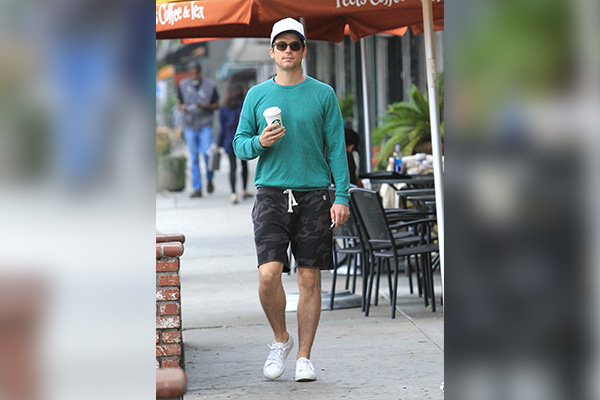 Sneakers are as essential to men's fashion as the foundation is to a house. So, it is a surprise to no one they work flawlessly with shorts as well. But what you might not realize at first is how versatile this connection is.
For example, if you don't want to spend any time styling your footwear; get a pair of low-top white sneakers. They are one of the best sneakers with shorts as they fit almost every pair of shorts you own or will buy in the future.
The same can be said about plain high-top black sneakers. They are the neutral ground of men's fashion with shorts. No matter the casual outfit you're crafting, black high-tops and white low-tops will go with anything.
Alternatively, if you're looking for something a bit flashier and more eye-catching, how about a pair of red and white biking sneakers? Or some light yellow Velcro sneakers?
There are just so many different types of sneakers available on the market that there is at least one perfect pair for almost everyone.
Design or aesthetics aside, sneakers are also extremely comfortable. They also stay comfy even after wearing them for hours on end.
Loafers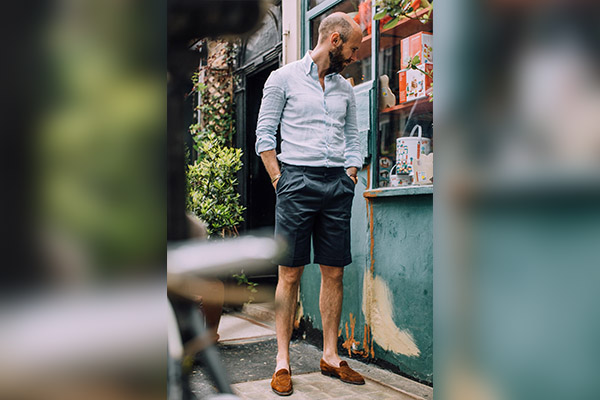 If you're looking for shoes that have the charm, versatility, and comfort of sneakers but in a completely different package, loafers might be the closest you'll get.
They're the option you choose when you want your outfits to look a bit more sophisticated and put-together without losing the casual summer charm.
This allows you to elevate the look of your Hawaii-style shirt and khaki shorts beach outfit to a whole new level, while still looking like you're on your way to the beach.
Loafers are also slip-on, meaning you can take them off or put them back on in seconds and often without using your hands. This might sound like a small feature, but it makes a world of difference during day-to-day use in summer.
What's even more impressive is that their compatibility with shorts is only one of the many styles they work with. You can rock the same pair of penny loafers below a beach outfit and an outfit in the business casual for men style.
Canvas Shoes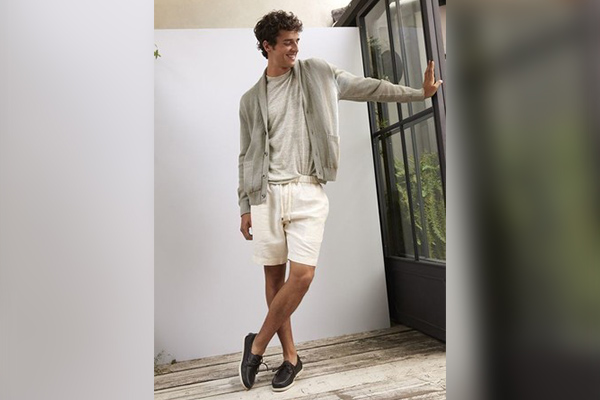 Canvas shoes share a lot of similarities with low-top sneakers. That said, the design of canvas shoes is iconic and ingrained in fashion to the utmost degree. But what makes them flawless casual men's shoes with shorts is their construction.
Canvas shoes are light, comfortable, and most importantly, breathable — making them an excellent choice for the hot weather. This is especially apparent for folks with high precipitation levels.
Getting back to their iconic design, canvas shoes give you a plethora of styling options.
For example, you can opt for plain black and white canvas shoes with near-universal compatibility with most casual shorts outfits or even other types of pants.
On the other hand, canvas shoes are available in almost every popular color. You can use these colorful options to craft outfits with matching hues or use them as contrasting pieces in otherwise neutral ensembles.
Flip-Flops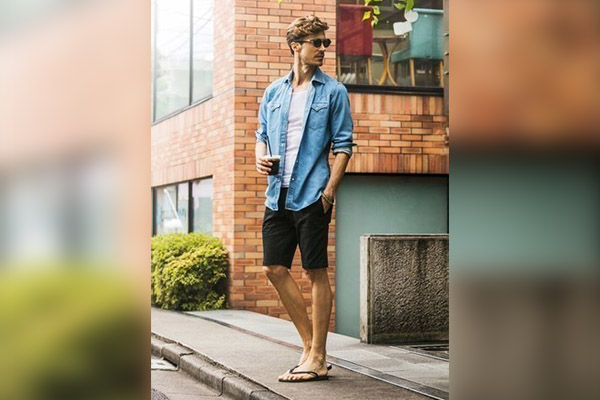 When people think about footwear for summer, flip-flops are the first name that comes to mind, and for obvious reasons. They are the most freeing and open shoes of them all, covering only a tiny sliver of your instep.
This unmatched correlation with summer and summer-related activities is also well deserved. These shoes are exceptionally easy to take off or put back on, super airy and comfortable, and easy to clean when they inevitably get dirty on the beach.
As for their combination with shorts, that can be described by an easy thought experiment. So, think about a classic Hawaiian beach outfit. What does this ensemble include?
Starting from the top, most people will imagine a Papale-style hat, a short-sleeved shirt with colorful patterns, and a pair of khaki shorts. The final item that brings it all together is the footwear; a pair of flip-flops.
Though it is important to keep in mind that, unlike the shoes we've talked about so far, flip-flops are strictly for summer only.
Sandals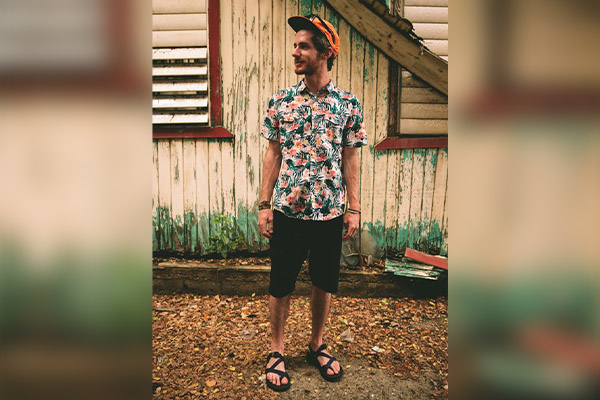 Sandals are a welcome hybrid that offers the openness of flip-flops alongside the security of fully enclosed shoes. It's their inherent summer vibe that makes them a brilliant choice for casual shorts outfits.
Staying on the topic of styles, men also have the option to choose between two different types of sandals.
On one side, they have sophisticated European-style sandals made from strips of high-quality leather. These look immaculate below the classic khaki shorts with a polo shirt and other similar outfits.
On the other end of the spectrum are sporty sandals with Velcro straps instead of metal buckles and thick rubber soles. While the main appeal of these is their comfort, they are also just as capable in summer fashion, especially with jean jacket outfits.
Whatever side you lean on, the fact remains that sandals are one of the best shoes to wear with shorts for men during summer.
Espadrilles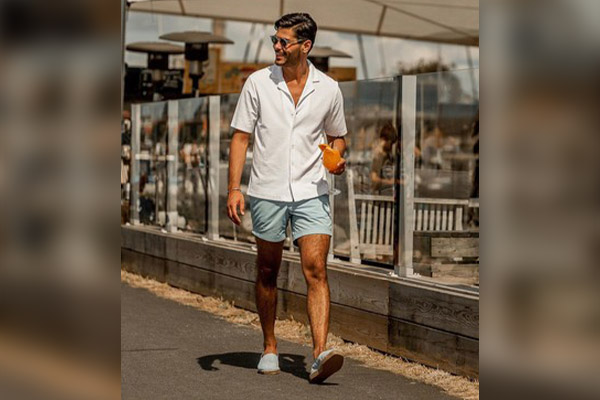 Espadrilles are the ideal option for men who want similar lightweight comfort and breathability to flip-flops but in a more refined enclosed package.
These are a type of casual slip-ons that are traditionally made with a canvas or cotton upper, a jute or hemp sole, and a rubber outsole. This construction keeps air circulating around your feet while also shielding them from the sun.
What makes them an excellent matchup for shorts is their often plain and mono-tone design. It perfectly complements the clean look of most khaki, white, or cream-colored shorts men wear in summer.
Wearing these with your casual shorts outfits also allows you to put more emphasis on your shirt and accessories. They also fit nicely with both t-shirts & polo shirts, as well as short-sleeved button-ups and Hawaiian shirts.
One attribute to note about these shoes is that they are not very comfortable for walking a lot due to their slim outsole and non-existent insole padding.
Desert Boots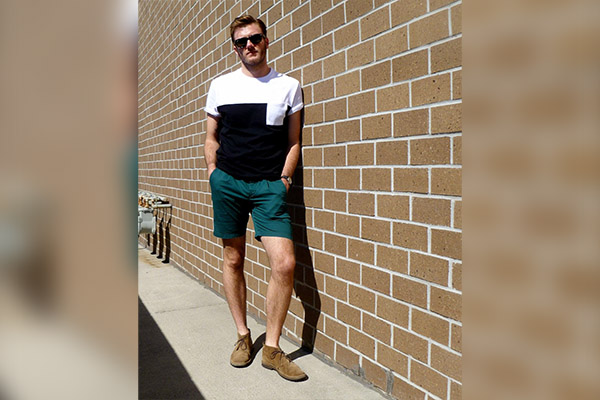 Now that we've discussed the common "summery" shoes, it's time to get a bit proper, and what better way to start than with classy desert boots?
These are the shoes you want to bring out when you want to transcend your summer fashion to new heights. The suede texture of these boots combined with their color, which is usually a shade of brown, augments your looks drastically.
These are honestly one of the few types of shoes that you can rock under chino shorts and a button-up outfit while maintaining the smart casual vibe.
Other than that, you can also use these boots as a finishing touch to many experimental or a bit unique outfits with shorts.
For example, say you're wearing an ensemble featuring gray chinos with a tucked-in cream-tailored shirt, and a brown leather belt. It's a unique combo that looks okay. Now, add in dark brown desert boots and suddenly this ensemble feels a lot more complete.
Brogues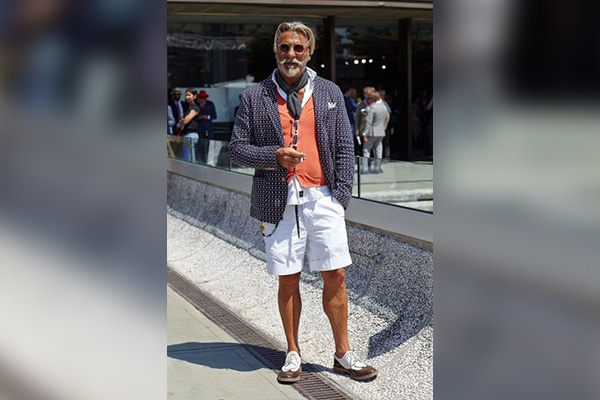 Brogues might sound like an odd choice for casual shorts outfits. After all, these are usually paired with semi-formal attire for men with navy, gray, and black suits. How can you wear dress shoes with shorts?
Well, not only do these work well with shorts, it won't be a stretch to say that they are one of the best shoes to wear with shorts for men. The reason for that comes down to one word — contrast.
Rocking a pair of dress brogue shoes under a casual shorts outfit creates a memorable contrast that's difficult to replicate with any other types of shoes in this list.
For example, think of the simplest shorts outfit there is; white shorts with a white tailored shirt. An okay, albeit bland, outfit on it now.
Now add a pair of shiny brown brogues into the mix and you've got a posh summer outfit on your hand. It's even good enough to be worthy of traveling with you on your summer vacation.
Besides, you also get an excellent semi-formal pair of shoes by investing in a pair of brogues to wear under everything from suits to blue and black jeans.
Running Shoes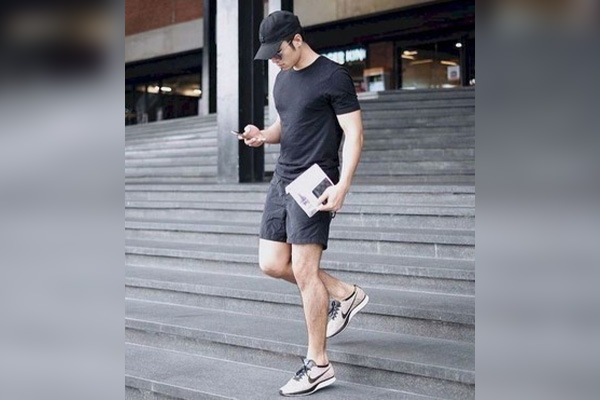 If we take a step back from summer festivity with beaches and vacation, what is the most practical pair of shoes for day-to-day use in casual shorts outfits? For many, the answer to this is running shoes, and for clear reasons.
Running shoes are designed from the ground up to keep you on your feet without any discomfort. As long as you're wearing the right size, this unmatched comfort stays true even if you wear running shoes all day, every day.
That is good and all, but how do they look with shorts? If we're talking about everyday shorts outfits with t-shirts and sweatshirts, running shoes fit right in without a single hitch.
You also have the option to choose from a number of different designs and color combinations — allowing you to make your look more personal.
Hiking Shoes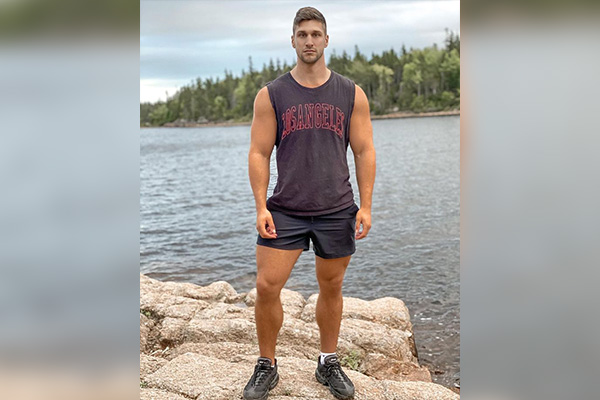 If you love trekking the wilderness in summer either by camping, hiking, or hunting, hiking shoes are the number one choice for you.
These shoes are built to take a beating from rocky ground, mud, and uneven terrain while keeping your feet as cozy as possible. So, it's a surprise to no one that these are just as comfortable in normal daily use.
Though admittedly, hiking shoes are not the best-looking option at your disposal, not by a long shot. They are big & heavy and usually come in standard military brown colors — leaving you very few options for styling.
One way to successfully integrate them in your style, without resorting to cargo shorts and camo Henley, is to create a contrast. You can pair hiking boots with colorful and well-fitting casual shorts outfits for a striking and eye-catching silhouette.
Ways To Choose the Right Shoes for Shorts
Hopefully, our picks of top-tier shoes for shorts gave you a good idea of what you want to wear next summer. If you're still a bit confused about what shoes to pick, don't worry.
Here is a complete guide to help you find the right shoes to wear with shorts. Keep in mind, however, that none of the shoes are inherently better or "more right" than the others as it is all a matter of circumstances.
With that out of the way, here are the key factors you have to.
Where You Live
First things first, consider where you live and how hot summers get in your area.
If the summer season isn't as hot and barely reaches room temperature, you can easily get away with wearing enclosed shoes like desert boots and brogues.
But, if the summer season does get hot, choosing open shoes like flip-flops and sandals might be a more logical choice.
Finally, if it gets super-hot in your region, your feet might get sunburned if you wear open shoes. So now the situation flips back around and you have to choose lightweight enclosed options like canvas shoes or Espadrilles.
Shorts You Own
Before you invest in a new pair of shoes for your casual shorts outfits, look through your wardrobe and note down the types of shorts you own.
This is important because different types of shoes work better with different types of shorts. For instance, short skirts favor flip-flops and loafers, while longer shorts will look better with desert boots and dress shoes.
Similarly, the design of the shorts matters as well. Chino shorts look better with dressy footwear like boat shoes, while casual tennis shorts outfits fit better with running shoes or tennis sneakers.
Your Intended Use
Think about where you are planning on going with your shorts outfits. Are you going on vacation? Visiting the local beach? Or just need a pair of shoes for regular day-to-day use during summer?
The answers to these and other similar questions could play a massive part in your decision. Think about it.
If you're going on a vacation, you'd need something that looks fancy but is also comfortable for extended periods of time. If you'll just be visiting the local beach, lightweight options like flip-flops, sandals, and espadrilles become a lot more viable.
In a similar vein, the ideal option for regular use is the one that's comfortable and fits better with everyday casual clothing like printed t-shirts and sweatshirts.
Sense of Style
The final, and arguably the most important, factor to consider when looking for the best shoes for shorts is your personal sense of style.
Give heed to the type of outfits you like to wear, what style they follow, and what you want your shorts outfits to represent.
If you find it difficult to make a choice due to the large variety of shoes at your disposal, utilize the previous three considerations to narrow down your options.
FAQs – Best Shoes To Wear With Shorts For Men
Should You Wear Socks With Shorts?
Depends heavily on the type of shoes and the shorts outfit above. As a general rule of thumb, always wear short ankle socks under your shoes, unless they're a part of the style.
What Shoes Are Not a Good Match for Shorts?
The only definite no for casual shorts outfits is super formal shoes like oxfords and derby shoes.
What Shoes Work Well With Denim Shorts?
Almost any type of shoe can work well with denim shorts, as long as it is a good fit and style for the occasion. Some popular choices include sneakers, sandals, flip-flops, and boat shoes.
Final Words
When it comes to the best shoes to wear with shorts for men, there are many stylish options.
Whether you prefer the casual cool of sneakers, the sophistication of brogues, the laid-back vibe of flip-flops, or the versatility of loafers, there's a shoe style out there that will suit your personal style and the occasion.
If you're still unable to make a choice, step back and think about your existing wardrobe, your plans for summer, and what style you want to adopt.
In the end, the best shoes with shorts for men are those that make you feel comfortable, confident, and stylish. So don't be afraid to experiment with different options and find the shoes that work best for you.