We've curated a list of great anniversary gifts for him that he will truly love and hold on to for the rest of his life with you.
Whether you and your partner have been together for 2 years or 25 years, an anniversary is undoubtedly one of the most significant days of both your lives and is a beautiful occasion that's worth celebrating.
An anniversary also presents the perfect opportunity to go down memory lane, recalling all the lovely memories you've had together, and look forward to creating new ones.
One of the many ways to celebrate this important day is through a thoughtful gift that would make your partner smile, and remind him of your love. When looking for anniversary gifts for him, it is always a good idea to put some thought into it so that you can come up with the perfect gift to make his day.
Anniversary Gifts For Him: Romantic Dinner for Two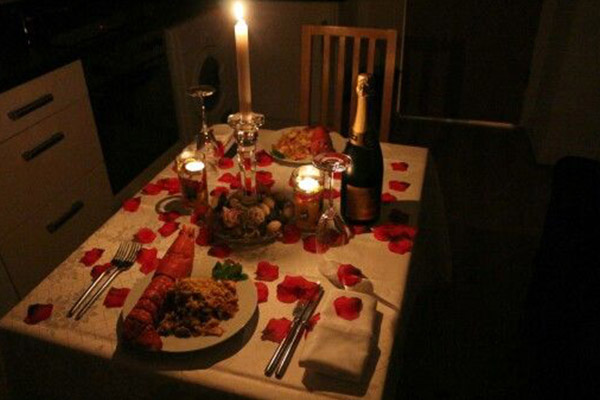 Nothing beats a romantic dinner on one of the most special days of your life. Experience gifts are nothing but memorable, and can be a beautiful way to enjoy a good dinner, and go down memory lane as well.
You can either take him to his favorite restaurant or treat him to a nice, home-cooked meal, consisting of all his best-loved foods. With a little decor of flowers and candles, you can easily arrange a romantic dinner at home which also makes quite a thoughtful 1st-anniversary gift for him.
Anniversary Gifts For Him: Personalized Leather Bracelet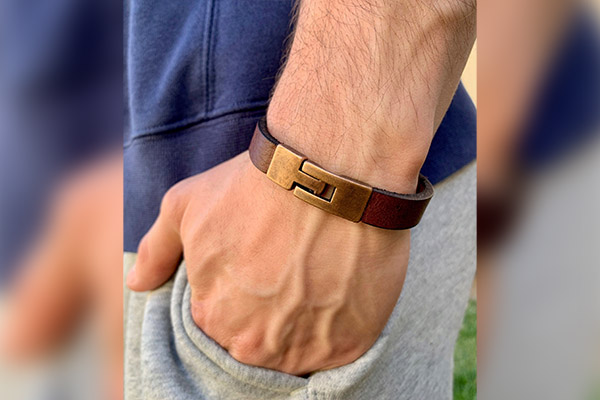 If your man is big on leather accessories, a personalized leather bracelet is one of the most ideal leather anniversary gifts for him. Of course, you will consider this only if he doesn't already have an immaculate leather jacket.
You can place a cute little message on the inside of the bracelet which could be anything from a lyric from a song that you both love to a lovey-dovey quote or simply what you feel for him summarized in a few words.
This bracelet wouldn't just serve as a daily-wear fashion accessory, but would also act as a reminder for him of the love that the two of you share. After all, personalized gifts always have a unique touch to them given how they depict the personal connection that you have with the other person.
Anniversary Gifts For Him: Cooling Weighted Blanket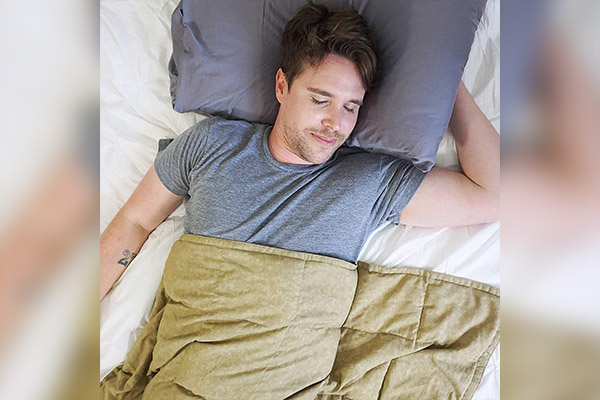 While this might sound like quite an unconventional gift, a cooling weighted blanket is a great gift idea for the partner who cherishes a good night's sleep and loves being cozy in bed.
If your partner tends to feel really hot at night, especially when they are sleeping, they would really appreciate a cooling weighted blanket that has all the features to help promote a cooling, more comfortable night's sleep.
More than that, it's super soft and cozy which would help them sleep better at night.
Anniversary Gifts For Him: Coffee Machine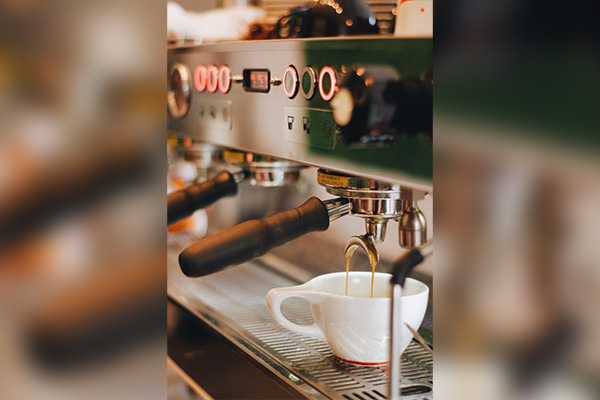 Most people look forward to that cup of hot, steaming coffee in the morning, and if your partner is also a coffee enthusiast, a coffee machine is a wonderful anniversary gift for him.
Giving a coffee machine or a coffee maker to a true coffee lover would add so much value to their life. Firstly, they wouldn't have to run to a cafe or a coffee shop every morning to get their hands on their favorite beverage – they could make one right at home! Not only will this help save them a lot of money, but there's nothing more soothing than a cup of freshly brewed coffee with all that rich aroma wafting around you.
Secondly, your partner will be able to experiment with different coffee blends and types of coffee, which is nothing but an absolute treat for coffee aficionados.
Anniversary Gifts For Him: Fully-Sponsored Spa Day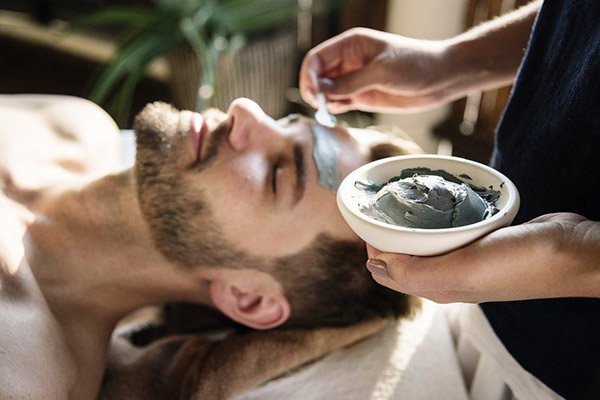 Pamper your man to a day of utmost relaxation and comfort with a fully-sponsored spa day.
From massages to facials to manicures and pedicures, you can treat your partner to a range of spa treatments where they can de-stress, relax, and get pampered all day.
You can also opt for a couple's spa package where both you and your partner can enjoy a few hours of peace and unwinding to the best. Throw in a haircut and beard-styling deal for him, and he'll be as happy as anything!
Anniversary Gifts For Him: Customized Photo Album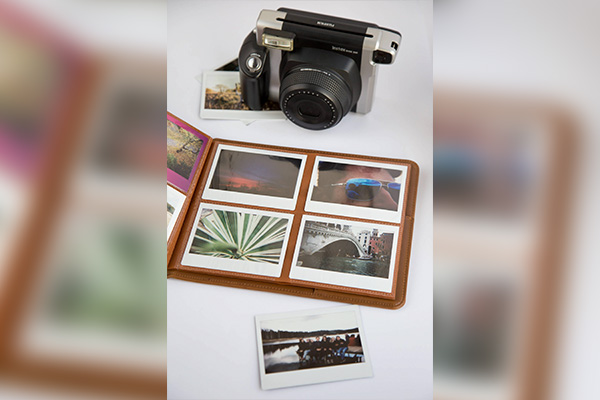 If you are looking for 2-year anniversary gifts for him, a customized photo album sounds amazing. You can curate a beautiful photo album with all your pictures from the years that you've been together, and turn it into a heartwarming memory lane in the form of an album.
Not just pictures, but you can also throw in written messages with each picture, perhaps highlighting when and where the picture was taken, or simply a heartfelt message that best describes the picture.
Custom photo albums make the best personalized anniversary gifts for him without a doubt, and it's also something that your partner can go back to every time he misses you or just wants to take a trip down memory lane.
Anniversary Gifts For Him: Mini Projector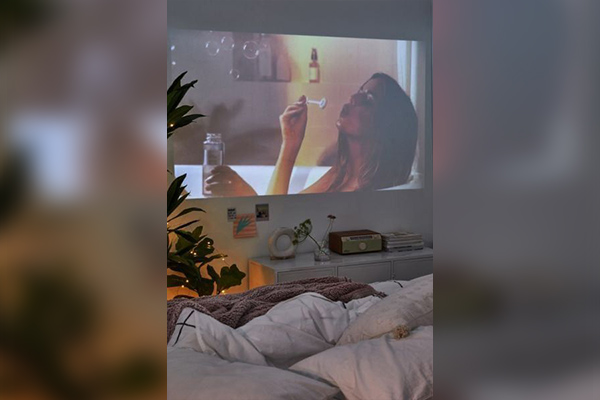 Turn your room into a movie theater with a mini projector where you and your partner can watch all your favorite movies whenever you want. A mini projector is an ideal anniversary gift for the partner who is a true film buff and loves watching movies on the weekend, but hates going to an actual cinema.
From watching movies to TV shows to documentaries, a mini projector would come in really handy, especially on days when you both are tuckered out, but still, wish to do something fun together.
All you need is a clear, blank wall, a functional laptop or smartphone, and a stable Wi-Fi connection, and you are all set to enjoy a weekend movie night! This would work even if you are not big on concerts; wear your favorite concert outfits and play out your favorite live concerts on the mini projector.
Anniversary Gifts For Him: A Basket of Sweet Treats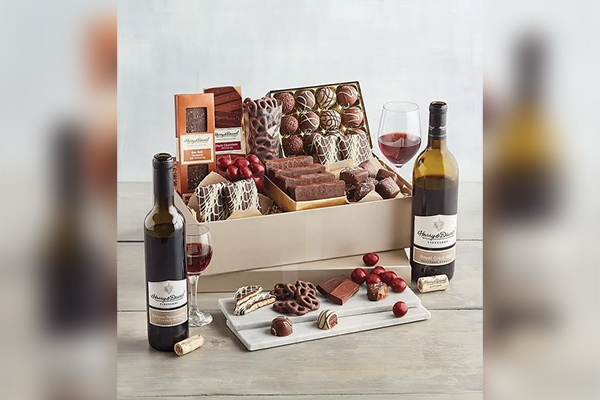 If he has a huge sweet tooth and his day doesn't get by without devouring a sweet treat or two, gift him a big basket of all his favorite candies, chocolates, and jellies, and him over with the never-ending sweetness!
This is one of the best anniversary gifts for men who take their love for sweet things very seriously and thoroughly enjoy indulging in chocolate or candy after a meal.
Anniversary Gifts For Him: Portable Soft Cooler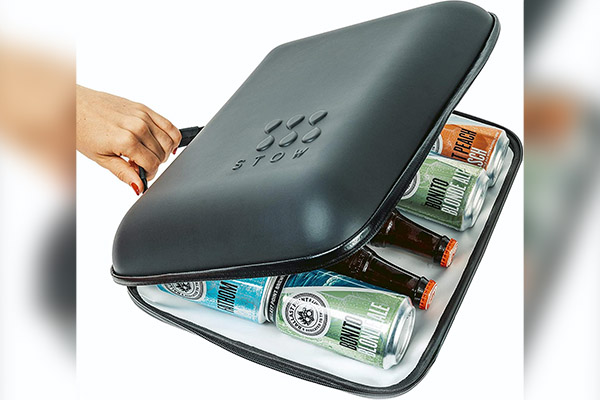 If your man loves camping, fishing, or spending the weekends at the beach, a portable soft cooler would make an ideal companion to help keep all his drinks and snacks perfectly cold on such adventures.
This is a great men's anniversary gift for adventure lovers and seekers who also take their beer very seriously every time they go camping, hiking, rafting, or any other outdoor activity.
Anniversary Gifts For Him: Wireless Bluetooth Portable Speaker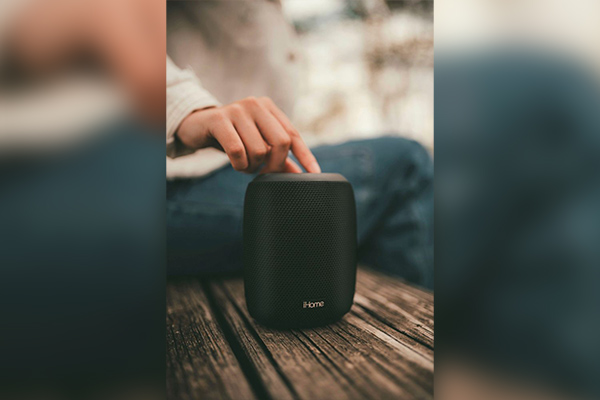 Is your partner an absolute music junkie who is always listening to music wherever they go? If yes, a wireless bluetooth portable speaker would make a great anniversary gift for him.
Designed to be on the move and follow you everywhere, such a speaker would help your partner to listen to all their favorite songs whether they are in the car, at work, in the shower, or simply at home when they feel like relaxing and listening to loud soulful music.
Anniversary Gifts For Him: Couple Pillows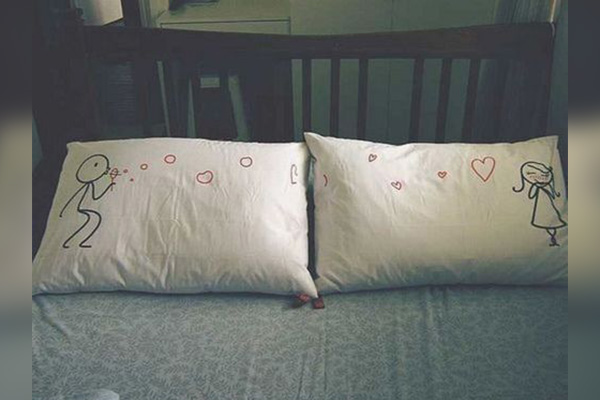 If you are looking for cute anniversary gifts for him, nothing beats customized couple pillows with heartfelt messages written on them.
You can get the pillows in either the same color or two different colors and get the customized text of your choice printed on them. It could be anything from cute nicknames you have for each other to song lyrics or even funny quotes, to name a few.
Anniversary Gifts For Him: Nail Care Kit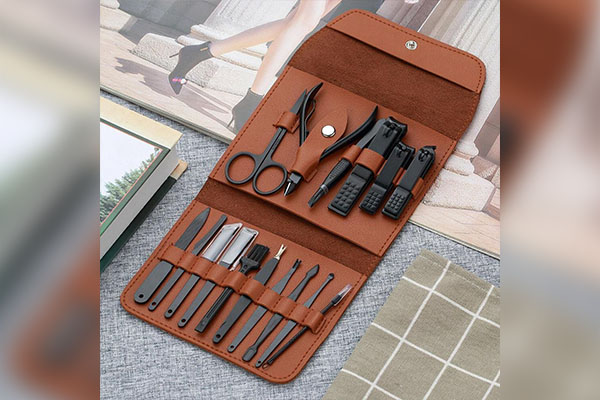 For the partner who is big on nail care and takes it very seriously, a nail care kit is something they would love to get as an anniversary gift.
There are many different types of nail care and manicure kits that you will find both online and at numerous beauty stores. There are small and compact kits that are perfect for traveling, and there are also proper, full kits that have all the essentials one would require to give their nails a transformation.
Find the best one for your partner, depending on which type they are likely going to enjoy the most.
Anniversary Gifts For Him: A Bottle of His Favorite Wine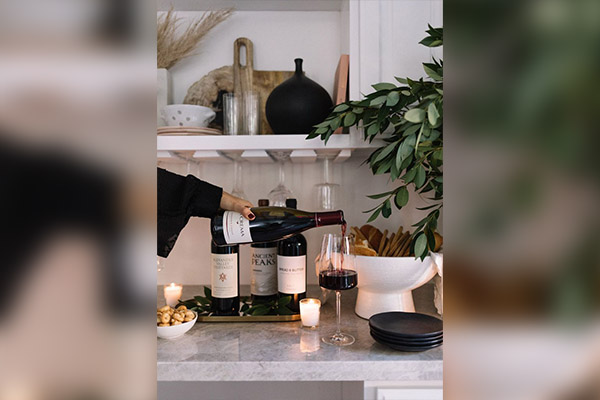 Anniversary around the corner and you forgot to get a nice anniversary gift for your partner? Fret now!
One of the best last-minute anniversary gifts for him, not to mention also the quickest and easiest, is none other than a bottle of his favorite wine. To take this simple yet meaningful present up a notch, you can look for a wooden bottle box to put the wine bottle in, which isn't only creative, but it could also serve as a nice memento that your partner could hold on to for years to come.
At the end of the day, you can enjoy that bottle of wine together, listen to some music and reminisce about the times that the two of you have shared together.
Anniversary Gifts For Him: Leather Strap Watch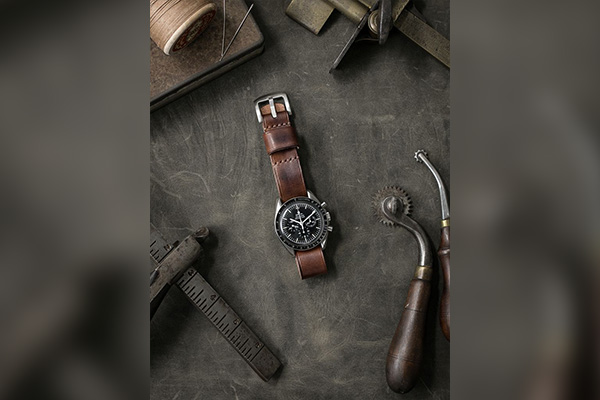 Fashionable, functional, and an absolute classic, a leather strap watch is undoubtedly one of the most timeless and the best anniversary gifts for him. In fact, if you're wondering what styles are in right now for watches, leather straps are huge!
Most men are big on watches, and if your partner is the same, don't think twice about getting him a new watch on your anniversary.
You will find a plethora of different types and varieties of leather strap watches in different colors, designs, and styles. Take your time in finding the right one for your partner that matches his style and overall personality.
Anniversary Gifts For Him: Flowers and Chocolates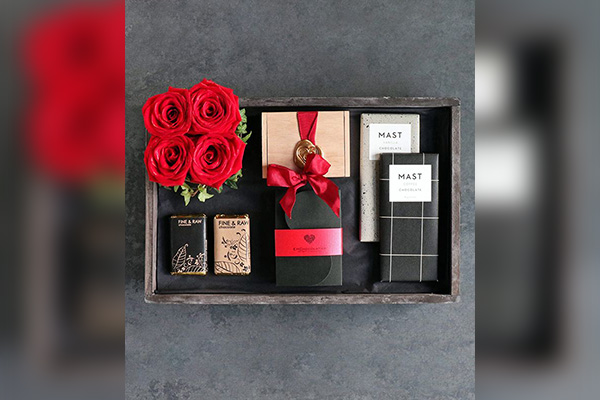 The beauty of wedding anniversary gifts for him is that you don't necessarily have to go big or get an expensive present for your partner. Something as basic and simple as a bouquet of flowers and a box of chocolates is still enough to remind him of your love and make him feel special on this important occasion.
Interestingly, anniversary flowers have been categorized according to the anniversary year that you are celebrating. For instance, if you are celebrating twenty-five years of togetherness, Blue Iris makes the perfect 25th-anniversary gift for him. This flower represents royalty, faith, courage, hope, and admiration, which is simply a way to convey all these sentiments to your partner.
And well, who doesn't like chocolates, right? Get your partner's favorite chocolates to go with the flower bouquet, and you are all set to surprise him!
Anniversary Gifts For Him: New Clothes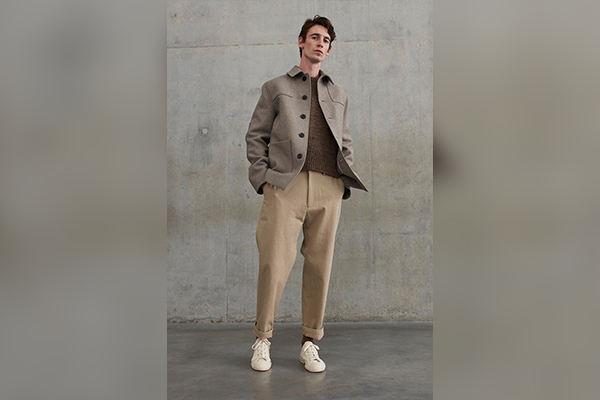 It's almost as if one can never have enough clothes, no?
New clothes for an anniversary present is a great idea, especially if you are at a loss for what to get your partner on this special occasion. The best thing here is there are so many options to choose from such as different types of shirts, jackets, vests, sweaters, pants, jeans, scarves, shorts, and so much more!
All you need to do is take a quick look at your partner's wardrobe and find out what clothing items he needs the most. Once you have a list, check out his favorite clothing brands and stores, and shop away!
Anniversary Gifts For Him: Customized Love Coupon Book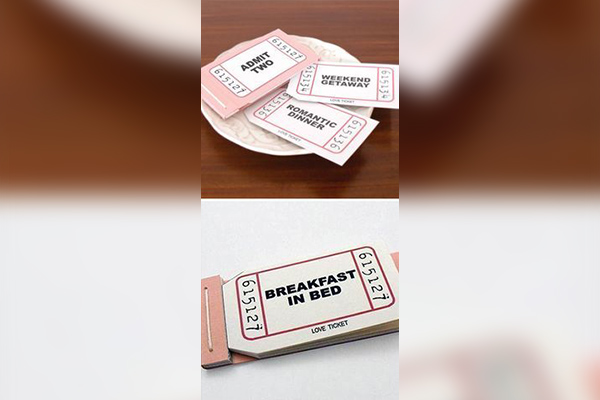 If you are looking for creative and out-of-the-box DIY anniversary gift ideas for your partner, you might want to consider making a customized love coupon book. This has to be one of the most unique anniversary gifts for him which isn't just super fun, but also very meaningful and will make your partner feel totally loved.
A love coupon book typically comprises a list of coupons that mention different things you would do for your partner whenever they need something, as well as different activities that you two are likely to enjoy doing together. The idea here is that the recipient gets to use a coupon at a time and whatever they choose, the coupon must be fulfilled.
For instance, one of the coupons could say, a pampering spa day at home, which would require you to prepare a home spa session for your partner. Another example is 'go to a movie together' where you and your partner go to the movie theater and watch a movie together.
The number of coupons that you put in the love coupon book is completely up to you, and it can be as elaborate or simple as you want. Regardless of what the coupons say, there's no denying the fact that your partner will absolutely love this creative and cute anniversary gift!
Anniversary Gifts For Him: Messages In A Jar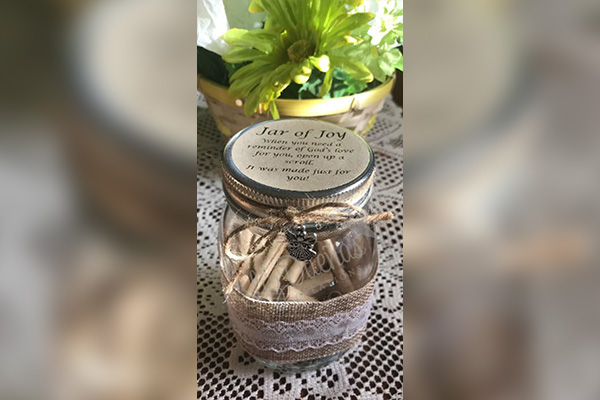 This is another DIY anniversary gift idea for your partner where you can put your creativity to good use.
Messages in a jar are exactly what it suggests – you get a nice glass jar, write some thirty or forty messages on little pieces of paper, fold or roll them, and you put them inside the jar. It can be anything from inspirational messages to daily motivational quotes to cute little love notes, or simply a mix of all three!
The idea here is that your partner has to open one message every day which not only brings in an element of surprise, but every time he opens a message, it will definitely bring a smile to his face.
You can make the jar and the messages as fancy or simple as you want. If you feel like taking the gift up a notch, you can get a good quality paper, get the text printed on it, roll each message individually, and in the end, tie every message with a string of rustic twine.
Anniversary Gifts For Him: Custom Timeline Poster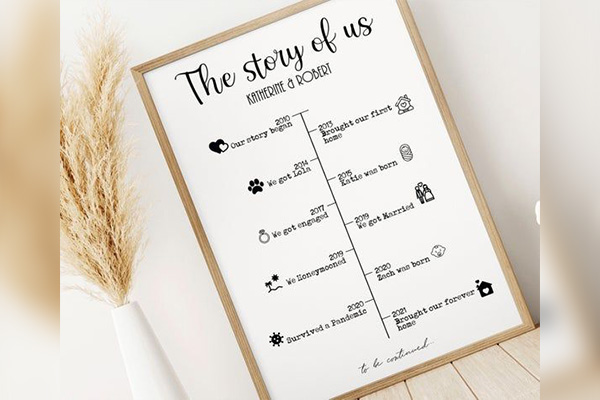 Has it been one year already since the day you said 'yes' to your partner and exchanged heartfelt vows with him? Time certainly flies, doesn't it?
One of the ideal one-year anniversary gifts for him is a custom timeline poster that celebrates all the memories and highlights of your big moments so far including your first kiss, the first day, the first time you said 'I love you' to one another, and many others like it.
Capture all these moments on a custom poster that mentions the date and the moment, and you could also add a little personalized message with each insertion.
Anniversary Gifts For Him: Collectibles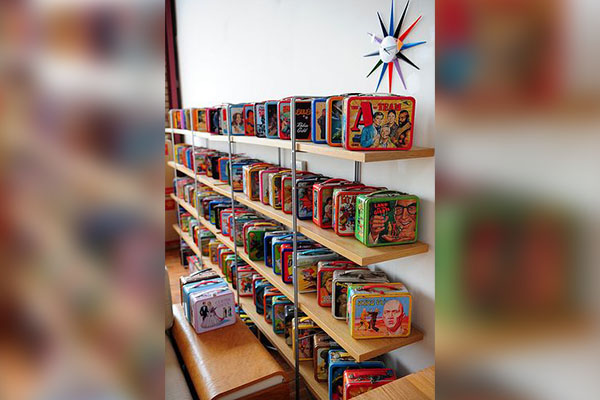 If your partner has a separate storage area in his wardrobe or elsewhere that is specifically reserved for valuable items like comic books, toy figurines, stamps, or currencies, to name a few, you know exactly what to give him on your anniversary day – collectibles!
There are many people in this world who absolutely love collecting these and other similar items, and if your husband is one of these people, nothing is going to blow him away more than a box of fun collectibles!
Different people love collecting different types of collectibles so depending on what you find in your partner's box of treasure, or if there's a particular type of item that you know he will totally love to own as a collector's item, start collecting!
Anniversary Gifts For Him: Customized Cufflinks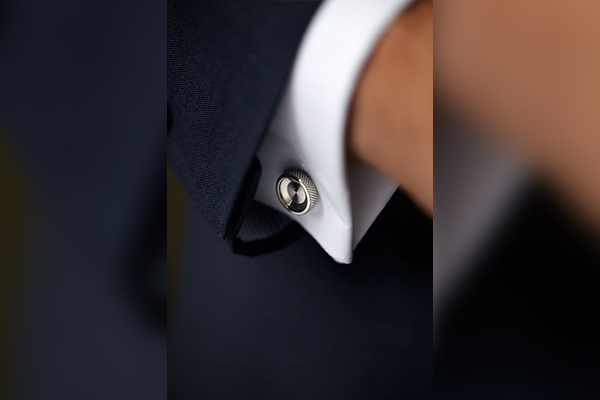 This might sound like a simple or basic anniversary gift for him, but sometimes, the simplicity of a thing is what makes it so meaningful.
Customized cufflinks feature a personal touch, but more than that, they can elevate one's outfit almost effortlessly and add a whole new level of style and class.
From customizing the color of the cufflinks to add your choice of text to it such as a word that you both love saying, the date when you first met, your wedding date, or simply your partner's initials. It could be anything you like, as long as it is something meaningful.
Anniversary Gifts For Him: Books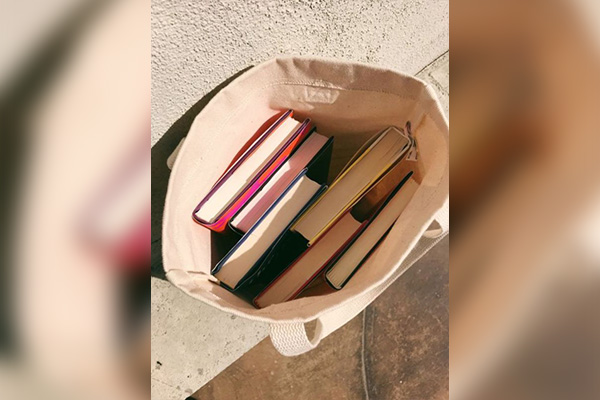 For the partner who is a keen bibliophile and always has a book in his hand, a collection of new books and novels as an anniversary gift would simply leave them at a loss for words.
Book lovers are very serious about their love for books and reading, and are always looking for excuses to drop by the bookstore. So, for an absolutely meaningful anniversary gift for him, make a list of your partner's favorite authors, and perhaps even try to get your hands on their wish list for books so that you can get him exactly the books that he's been wanting to read.
It is a good idea to throw in a couple of customized bookmarks with his favorite quotes or personalized messages which would take this anniversary present to a whole other level.
Anniversary Gifts For Him: Sneakers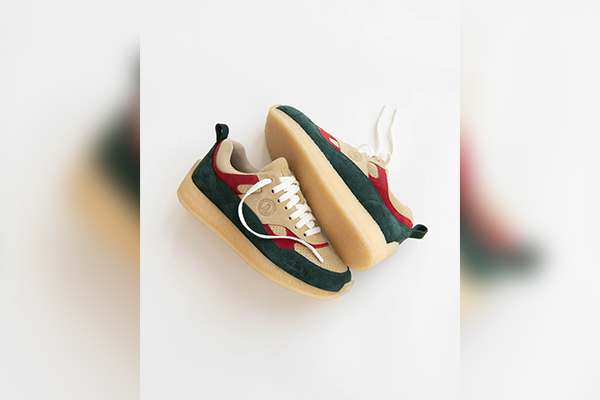 Among the many things that a man can't stop appreciating are brand new shoes, and what better to gift to your partner on your anniversary than a pair of brand new sneakers! And the good news is that there are so many types of sneakers to choose from.
He may already own a few good sneakers, but chances are that he probably has his eyes set on the new Adidas or Nike sneakers that have hit the market and is saving up to get his hands on them.
So, if you are feeling a little extra generous and extravagant, beat him to it and surprise him with new sneakers!
Anniversary Gifts For Him: A Set of Ceramic Cookware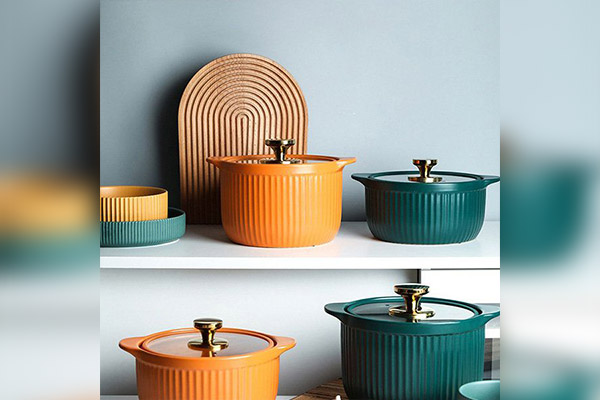 If you've got yourself a partner who absolutely loves to cook and takes it upon himself to cook dinner every day, he will love nothing more than a shiny new set of ceramic cookware to add to his cooking arsenal.
Chances are that he might even shed a tear or two because, for a cooking enthusiast, nothing is more precious than new tools and utensils to play and experiment with during the daily cooking adventures.
Find the best cookware set on the market and let your partner know how much you love his food, and how much you appreciate his passion for cooking.
Anniversary Gifts For Him: Personalized Star Map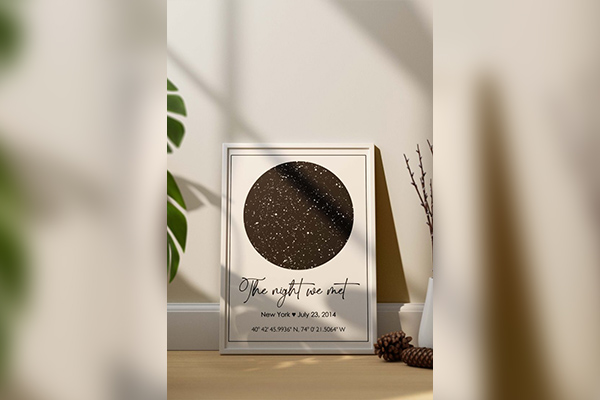 When it comes to thoughtful, meaningful, and romantic anniversary gifts for him, a personalized star map ticks all the right boxes.
If you and your partner share a beautiful, unique love story where you met each other, fell in love, and believe that you two were meant to be as destined by the stars, a star map is a wonderful way to capture that love story onto a frame.
A star map, in this case, would make use of information such as the date, time, and place when you and your partner met, and simply calculate how the stars and the heavens were aligned at the exact moment you met each other.
This is more than just a gift; it's a tribute to a memorable event that changed both your lives and how the stars were shining on your love. Whether you are looking for a 6-month anniversary gift for him or a 2-year anniversary gift for him, a personalized star map sounds like an ideal option.
Anniversary Gifts For Him: Smart Moon Lamp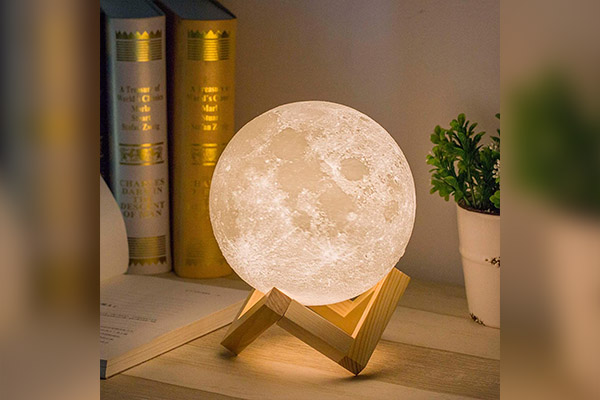 While you can't give your partner the real moon to show how much you love him, a smart moon lamp pretty much offers the same sentiments.
This is a gravity-defying 3D moon-shaped lamp that floats or hangs in the air over a wooden base. Once you set it up, it rotates and swings back and forth, similar to how the actual moon orbits the earth.
The moon lamp is designed in a way that it resembles the moon, and also has a light feature that makes it light up. The smart moon lamp might be an illusion, but it's a beautiful way to let your partner know how much he lights up your world. The lamp would also act as a constant reminder of your love for him, which he can either place on his nightstand or his office desk.
Anniversary Gifts For Him: A Weekend Staycation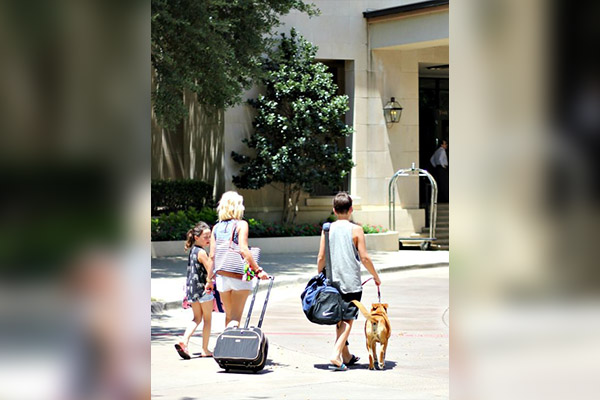 Has your partner been swamped at work lately and has been showing signs of burnout? Or, is there someplace nearby that he has been wanting to visit for a long time?
If the answer is yes to either of the two questions, a weekend staycation is your solution! A staycation won't require you to travel anywhere far. You can just stay in your city, plan activities that are nearby, and have an absolute blast.
Regardless of the reason, a weekend staycation is a great way to take some time off from daily routines, unwind and relax, and spend some quality time with your partner where you can just be yourself, eat a lot of food, take pictures, and create some fun memories.
Conclusion
No matter which anniversary year you are celebrating, and regardless of what anniversary gift you get for your partner, at the end of the day, it's all about the gesture of love that you make, and the time you spend with each other.
Choosing anniversary gifts for him might sound overwhelming because you want it to be perfect and you don't want to end up getting him the wrong thing, but even if it's something as basic as a scented candle, for instance, the idea here is to cherish the moment and celebrate it with a thoughtful gift.
However, it's human nature to go a little extra on these important occasions and come up with just the right gift for their partner. So, take inspiration from our list of favorite anniversary gifts for him that will surely bring a smile to your partner's face and will make him emotional!