Whether they were polo shirts and the excessive use of polyester, sunglasses, bow ties, or fun patterns, 50s fashion men gave a new meaning to what it meant to own your look.
There was a lot going on when it came to the 50s fashion male. The world was still recovering from the World War, and things were gradually going back to normal.
People were paying attention to what they should wear, and truly enjoyed fashion for once.
Since people were now taking it as leisure rather than a dress code they should follow, they had begun experimenting with different styles and designs. This was supported with the aid of designers and pop and rock stars of the time. 
Let's have a look at the different trends of 1950s men's fashion, and the features that helped them create the 50s men attire.
What Men Really Wore In The 1950s
Hats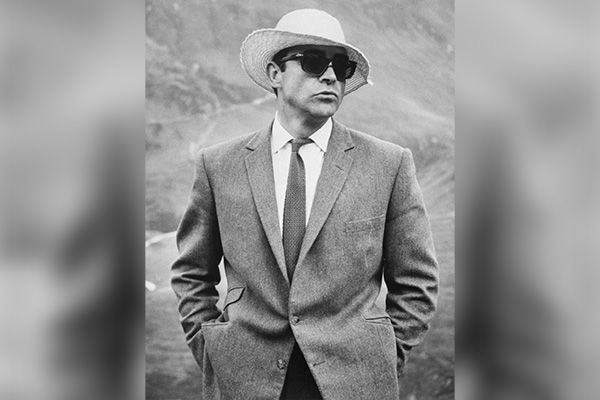 An important part of 50s outfits, men, was headwear. The decade saw a revival in the types of hats that were worn, with more variety to choose from than was ever available. 
There was a shift away from military hats but people still wore them along with a variety of other hats including boaters, straw hats, and Panama hats, and their uniqueness was amplified with the help of varying their designs. 
This included ruffles or adding embellishments to your headband to customize your headwear according to your vibe.
There were also flat caps that were usually worn with sporty clothing or with casual 1950s wear.
You could find the hats in more shades than was previously possible, in varying shades of neutrals that would go easily with your 1950s men's outfit.
Hair And Facial Hair
Hair wax was introduced and men used it to create voluminous hairstyles like the pompadours. A more exaggerated version is the jelly roll which was created using a rod, curling the hair along the sides all the way up to the middle front to create a sort of beak in the front.
This trend was started by the Teddy Boys and sported by many men in the decade, along with slick backs and other complex hairstyles signature of the century.
The hairstyles were paid a lot of attention and a lot of effort was put into creating the hairstyle, which led to a sophisticated and brushed-up appearance in the 50s style men. 
Even simple hairstyles were touched up with a bit of pomade, 50s fashion men grease, and quite a popular hair product in the era, to perfect the hairstyle.
Most men preferred to let go of their facial hair in order to maintain a clean, youthful appearance. However, the stubble of the James Dean daydream look was gaining popularity and men incorporated the look in hopes of achieving the same results. 
Beards and mustaches were still grown, particularly by middle-aged men, however to a much lesser extent.
Eyewear (Eyeglasses And Sunglasses)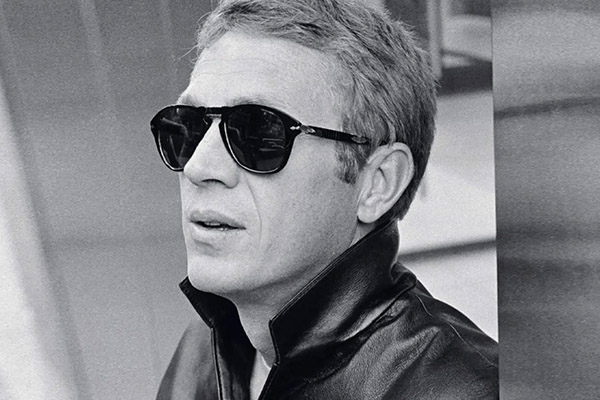 Eyewear became a quintessential accessory to 50s men attire as part of the Hollywood culture and allowed men to battle the harsh sunlight in style. 
Many brands started manufacturing them as part of the rising trend and their sales grew as people started incorporating them into their attires as part of men's fashion in the 1950s.
For eyesight, the glasses were in browline shape, the rim of which is thick and bold on the upper part closer to the brows. They also came in interesting colors and patterns allowing you to revamp your look in 50s fashion men.
Waistcoats (Vests)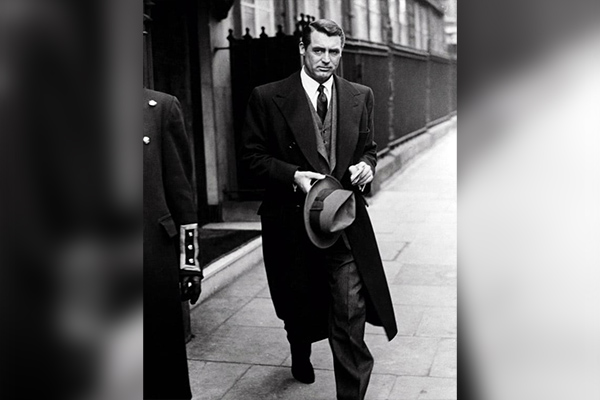 Waistcoats weren't as important in the 50s men fashion as they were in the previous decades. Many men continued to wear them, however, no objections could be laid upon those who chose not to wear them.
A difference was also observed among waistcoats worn with three-piece suits, where men opted for a different material and pattern to go with their three-piece suits. 
Wearing a jacket on top wasn't necessary, and the garment could be sported individually with your shirt and pants. The waistcoat could come with lapels or without them, with no strict rules defining its shape and style.
Shirts And Collars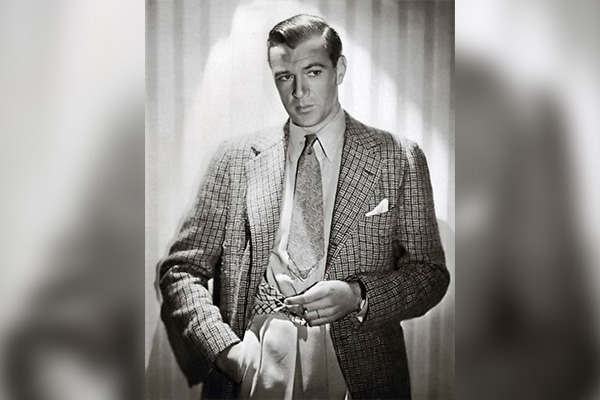 Collars shifted away from being detachable and were sewn on shirts instead. Detachable collars were still available but fewer men opted for them, saving them for formal black-tie and white-tie events. 
You also didn't need to button your shirt all the way up to the top unless you were wearing a bow tie. Cufflinks could still be worn but due to the popularity of barrel cuffs, their use wasn't really necessary and relatively minimized over time.
The shirts were brighter and more colorful in the former part of the decade than during the latter. The collars set upon them were shorter and more rounded, often called the club collar that was specific to the 50s.
The collars were available in different shapes as well, including the spear point and ones with shorter sides.
Since the collars were now rounder and relatively harder to stabilize around the neck, a collar pin was usually required to hold it in place for a more graceful arc around the neck with a tie.
The ties also gradually got more colorful and bright, corresponding to the dulling of colors among shirts to softer pastel hues so that they may shine brighter. 
A bowtie wasn't always required and 50s men attire would be perfectly acceptable to wear a collared shirt without a tie, as it would be while wearing it.
Casual Clothing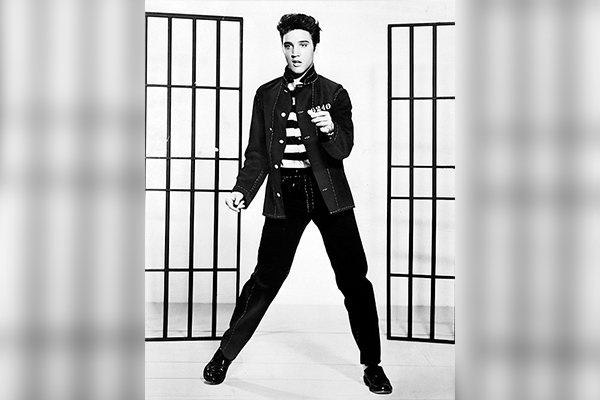 Casual clothing had quite a different meaning back in 1950s fashion for men than it has in the present day. T-shirts were worn as undershirts and it was quite controversial to be wearing them out in the open. 
Casual 50s outfit men, included different types of shirts like Hawaii and gaucho shirts that were open collar pullovers made from polyester, and camp collar shirts that could be left out but would be a better option to tuck it in if going for a semi formal attire. They also included colors and geometrical patterns to go with your trousers and liven up your appearance.
50s men's attire held a lot of variety because the clothing was relatively cheaper back in the day due to the use of polyester which made clothes cheaper to manufacture. This made buying clothes affordable for more people, hence everyone could be part of the 50s fashion men trends raging over that period.
Ties And Bow Ties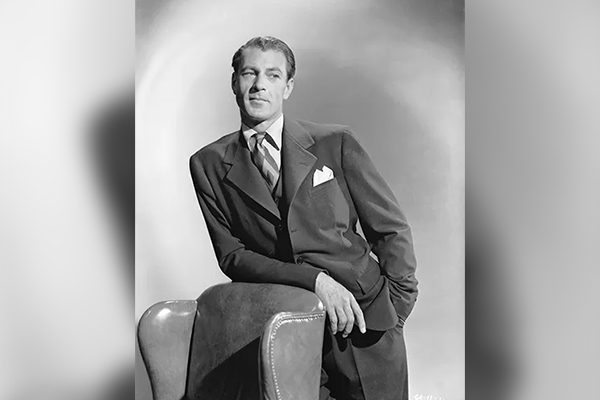 Ties were available in a variety of materials including cotton and silk, and knitted varieties were also available. The colors and patterns chosen were bold, some of the prints being precisely shaped and centered, others more abstract and artful. 
The geometrical patterns and colors chosen tamed through the decade, like the color and style of shirts, but still remained bright enough to be eye-catching and the center of attention on your shirt.
You could easily wear your shirt without the tie, but opting for it was still a trend where men opted for it to look professional and sophisticated, at their workplace or even as an everyday 1950s mens outfit.
Most of the ties were tipped and the width of which was chosen according to the width of your collar. Ties without tips were still available from the 1930s but most men were vying for the tipped ones since it was new and complemented their shirts better.
Bow ties were also part of the 1950s men's fashion, although they had slightly altered in shape since the 1940s when they were shorter and broader. 
The mechanism of putting on the bow tie also changed a bit, where they were available with elastic straps or a buckle so you didn't have to go through the hassle of tying the perfect knot. Most men preferred these prepared neckties even though self-ties were still available.
Bow ties had also widened in their color spectrum and patterns, spreading beyond the black and white and self-material to other versatile and fun options like polka, stripes, and ochre. 
You could still opt for the neutral options but the 1950s men's fashion was all about experimenting and the men were readily trying out these new options.
Suits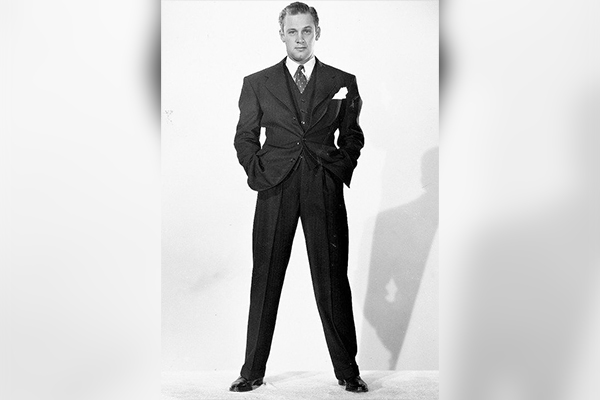 The suit worn in the 1950s fashion era was quite different from the suit you would witness today in a black tie event. 
Unlike the perfectly tailored seams, the suit was baggier and now called the American sack suit where the top button on the suit was found lower on the jacket, and the second button was in line with the pockets.
The shoulder pads were less volumized and the lapels on them were also quite narrow than what you would find today in a suit. A single-breasted jacket was more popular than a double-breasted one, although the option was still available. 
The lapels used on double-breasted jackets were a bit wider than the ones used on single-breasted jackets. The suits were available in mostly neutral colors like shades of gray, brown, black, and blue and the material used was mainly wool or flannels. 
A new, more sophisticated style emerged in the late 50s with more finesse, which was called the Roman style, by the brand Brioni. 
This was more closely fitted and had jetted pockets that were sewn on the insides of the jackets rather than outside. It also incorporated side vents rather than the center vent found on the American sack suit and shared much of the aspects of today's traditional black tie attire.
Sport Coats And Leisure Jackets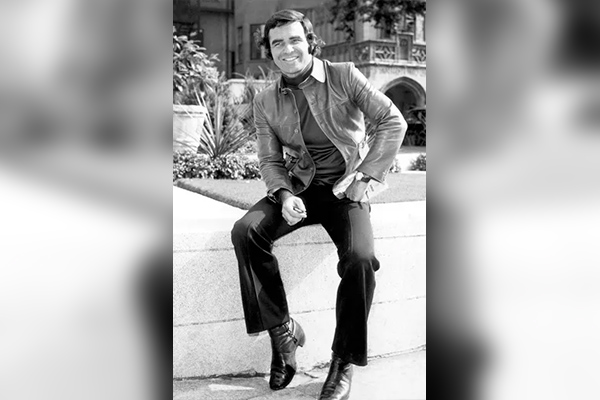 The 50s witnessed different types of jackets that included sport coats and leisure jackets that men preferred to wear out of office hours. 
The color palette they were found in was large and multitudinous, with fun patterns and stripes. Some would even throw on a knitted jumper when things got a little boring.
Sport coats were often worn to formal events outside of their office, the color and design of which was much brighter than a normal suit jacket.
It would usually adhere to a button or two down the middle and a side pocket and was available in bright plaid patterns to make sure you grab the much-deserved attention in any event you walk into.
Trousers And Shorts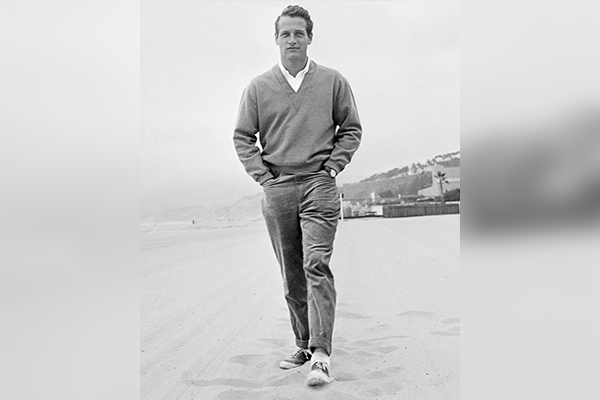 There wasn't much difference in the style of pants worn in the 1940s than in 50s men's fashion. They were long and baggy, whereas cuffed trousers were more popular among 50s men attire but uncuffed trousers were worn as well. 
Sports trousers were more colorful than the ones worn with the suit available in plaids, and checkered patterns. They could be pleated 
An interesting addition to 1950s men's fashion was the colorful shorts that were worn with knee-high socks. Most of the time they resembled the 50s men's style trousers with the added pleats and the same baggy style but were available in more colorful options.
Shoes (Formal And Casual)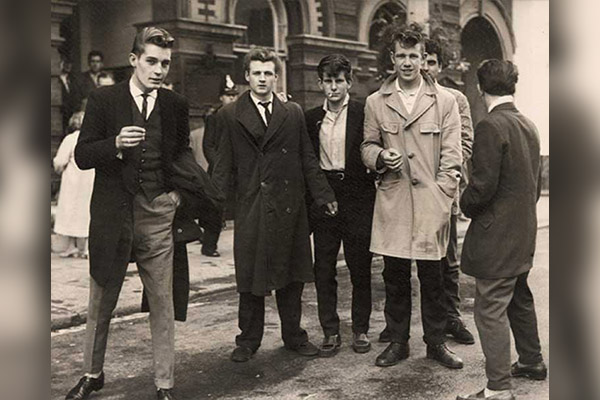 Oxfords and brogues were a popular option in 50s style men, as well as blue suedes that were a signature move of Elvis Presley in his concert and music videos. Even though it isn't a very popular trend today, wearing blue suedes could instantly uplift you into the ultra-cool category of 50s men fashion. 
The 50s men fashion also set a rather bizarre trend for shoes like the winkle picker with a sharply pointed toe. The trend was however short-lived and died down quickly in the decade. 
One of the 50s men's style shoes that have survived over the decade and continue to survive to this day is the chukka boots. These are ankle-high boots and have an open lace style made from suede or leather, and continue to be a popular category among shoes to this day. 
Overcoats
Overcoats were another signature apparel in 50s fashion men, where they proved to be a practical option both in terms of protecting you from the cold as well as adding dimension to your 1950s men outfit. 
One of the best things about wearing an overcoat was that it could make your attire look more put together.
This was due to the different colors of threads added in its weave that would complement the different elements of your outfits including the hat and suit, even though the colors palette the overcoats were available in, was darker. 
Both double-breasted and single-breasted options were available in overcoats. Although the double-breasted was more popular, single-breasted coats were more widely worn.
Accessories (Belts, Scarves, And More)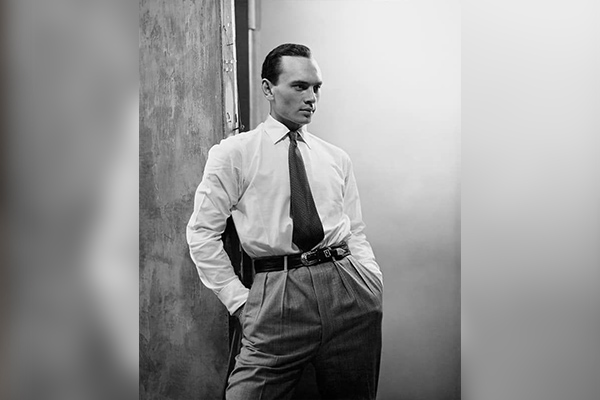 We all know how important quintessential accessories are in putting together an outfit where they behave as final touches that make or break your look. Well, the same was the case with 50s men attire where special attention was paid to such items as belts, scarves, and gloves.
Scarves were often wrapped around the neck in a tie-like manner, especially when outdoors along with an overcoat, and was a popular 50s style among men. Leather belts with intricate designs and bold emblems were worn vigorously and gloves and socks were paid no less attention as they also contributed to the look.
All in all, 50s men fashion was the first step to a daring approach to fashion and proved to be the stepping stone for the rest of the decades to follow. 
50s Teenage Male Fashion
50s teenage male fashion was rebellious, and deliberately contrasted the idea of the otherwise sophisticated 50s fashion male and made their own rules for fashion.
There were several categories of 50s teenage male fashion that reigned over the decade. Let's have a closer look at the trends that reigned over the age and how the youth willingly followed them.
Jocks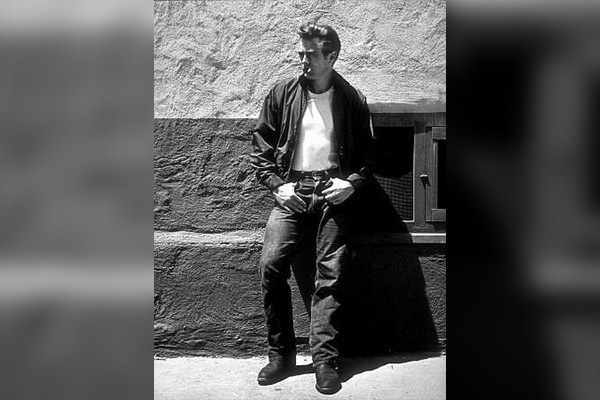 The jocks were typically the athletes of the high school, channeling their school spirit through their varsity jackets and athletic wear. 
The varsity jacket had a woolen body and leather sleeves, with a large school emblem or team logo on the front to show their status as a team member and their achievements as a sportsman.
Greasers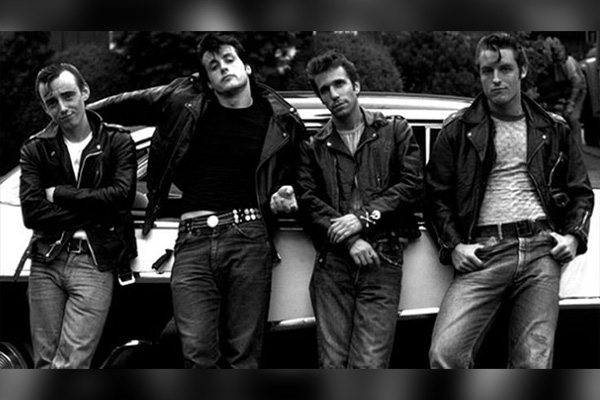 Greasers were a group mainly consisting of the rebellious young adults of the 50s, starting a subculture that represented the lower middle class and the working class of the United States. 
They took the derogatory term Greasers and turned it into a cause where their attire played a major role. 
This included leather jackets, combat boots or sneakers, and slicked-back hairstyles using 50s fashion men grease. Goatee styles were also adopted as a defiance against the closely shaved beards as part of 50s style men. 
Actors like James Dean and Marlon Brando had a major role to play in the promotion of Greaser fashion through their roles and style statements on the screen.
Teddy Boys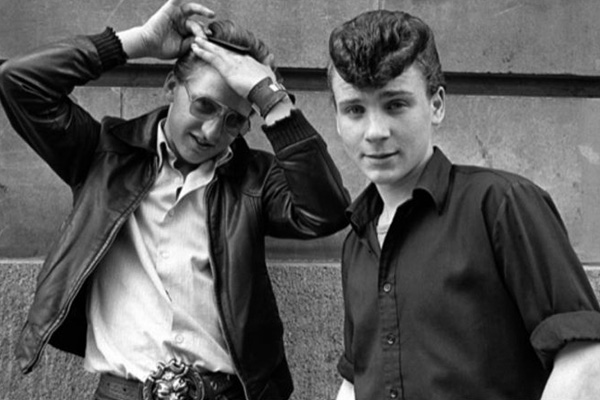 Another rebellious group was the Teddy Boys who sported exquisite hairstyles, long frock coats, and tapered trousers,  signature clothes of the working class that were having a hard time being sold in post-war Britain as an after-effect. 
The Teddy Boys represented the working class and started the trend once again, becoming part of 50s fashion men. This continued over to the 60s and 70s fashion as part of the subculture where people still closely followed the gang.
What Did Men In The 50s Wear?
50s men attire consisted of baggy suits, sports coats, trousers, leisure jackets as well as shorts, consisting of geometrical shapes and patterns. Accessories and overcoats were also paid attention to and there was a certain lust for trying something different that translated to 50s style men.
How Should Men Dress Cool In The 50s?
Put effort in creating your hairstyle, keep it polished, and pay attention to your footwear. Otherwise, you could always throw the rule book out of the window and adopt a rebellious 50s teenage male fashion and become part of the subculture.
How Did Men Wear Their Hair In The 1950s?
Pomade, a popular 50s fashion men grease and hair product was used to keep the hair in shape and make it shine. The Edgar cut was quite popular, along with pompadour hairstyles emphasized by celebrities like Elvis Presley and rebellious groups like the Teddy Boys.
What Type Of Accessories Were Popular In The 1950s?
Scarves, belts, ties, and hats were all used to create a cool 50s men attire. Even socks were paid attention to, especially when under shorts where they were worn above calves and flaunted in all their Bermuda-style glory.
Conclusion
50s fashion men were quite a dynamic period in fashion, where a transition was observed across the decade in terms of detail and design. New things were being tried out every day which led to some trends surviving to this day, and others passing out quickly into memory.
It was post-war period and people were finally taking a lighter note on fashion, where they got to enjoy it for once. 
This is why trends changed rapidly across the decade and part of it was the cheap prices at which the clothes were sold that made them available for everyone.
From the baggy, oversized style of clothes, a trend that was also part of 90s fashion to the funky pattern in more leisure clothes, the introduction of shorts, and the overall development in these styles we witnessed the revival of the world from a war it had just suffered. 
We learned for the first time what it meant to try out new things and actually have fun dressing up.