When it comes to fashion, there are few items as bold and daring as a pink shirt. Whether it's a pale, rosy hue or a bright, fuchsia shade, a pink shirt can be a statement-making addition to any man's wardrobe.
But the question remains: what to wear with a pink shirt?
Don't worry, we've got you covered. With a few simple style tips, you'll be able to rock your pink shirt with confidence and flair.
From pairing with neutral colors to embracing bold patterns, there are endless options for making your pink shirt a stylish and fashionable choice.
So, don't be afraid to take a risk and add a little pink to your wardrobe — with the right outfit, you'll be turning heads and making a fashion statement in no time.
If you're ready to take the pink shirt plunge, read on to find the styles and combinations we recommend.
What Color Pants Go With Pink Shirt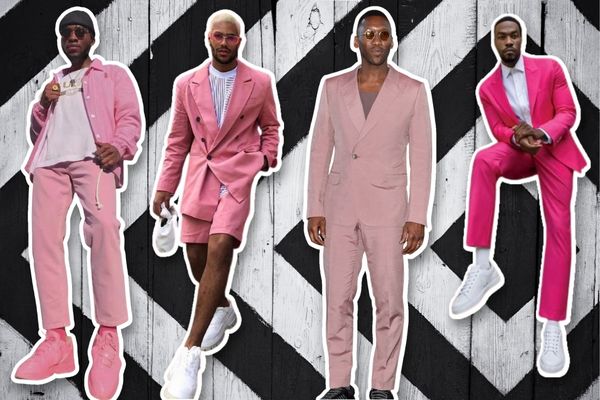 Let's start with, arguably, the most crucial choice when learning what to wear with a pink shirt and that being the color of your pants. We'll get into specific colors in a bit. But first, here are the types of colors that are worth your consideration:
Neutral colors: Neutral-colored pants, such as black, grey, or beige, can provide a clean and classic look when paired with a pink shirt.
Complementary colors: If you want to add a pop of color to your outfit, you could try pairing the pink shirt with pants in a complementary color. For example, olive green pants would elevate the impact of a pink shirt nicely.
Pastel colors: Pastel-colored pants, such as light blue or lilac, can add a soft and well-crafted touch when worn with a pink shirt.
Dark colors: Wearing your pink shirt with pants in a dominant dark color like navy blue will put provide a brilliant contrasted look that's can be both casual or semi-formal, depending on the rest of the outfit.
Now that you have an overarching understanding of the different colors suitable for pink shirts, let's look at a few specific examples. These are a few of the most interesting and fitting pants choices at your disposal:
Blue Pants Pink Shirt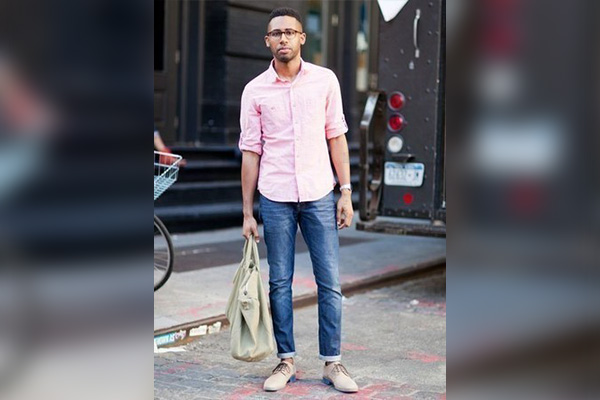 By virtue of jeans, blue pants are pretty much a default in men's fashion. Almost every man owns at least one pair of blue jeans and that pair would work exceptionally with a pink shirt.
While blue isn't counted among the traditional neutral colors, it serves a similar purpose when paired with a pink shirt. When worn together, blue and pink can create a harmonious and stylish look. This also remains true for most shades of these colors.
Think of blue pants as an upgrade for pink shirts. Outfits with this combo look and feel a lot more well-planned and structured than they really are — allowing you to dress like preppy guys with minimal effort.
Another great aspect of rocking a pink shirt combination with jeans is the natural denim fade as it makes even a basic outfit with a plain monotone pink shirt look a lot livelier.
Are Jeans the Only Good Option?
No, they're not by a long shot. Jeans dominate discussions about blue pants because they're the most common type of pants for men. But this does not mean that other pants aren't just as noteworthy.
For instance, consider the pairing between light blue chinos and a flamingo pink polo shirt. This simple combo works just as well for day-to-day activities like grocery shopping on the weekend, as it does for special occasions like an outing with friends.
You can also wear a well-fitted pink button with a pair of blue dress pants and a brown leather belt for a memorable outfit in business casual men's style.
Pink Shirt With Grey Pants
Gray pants are quite possibly the safest and most laid-back option for pink shirts. This stands true even for different types of shirts from t-shirts and sweatshirts to button-ups and polo shirts. But, what does "safest" even mean?
In other words, a pair of gray chinos can be your go-to default option for pink shirts. If you're ever confused about what to wear with a pink shirt, you can just choose the trusty gray pants because they'll always work.
Reading this, you might think that gray pants serve the same purpose as blue pants, but that is not true.
A pink shirt outfit with blue has a distinct contrast that only blue can provide. Gray pants on the other hand act as a neutral filler and allow you to style a pink shirt without siphoning any attention away from it.
This also explains why many only wear pink shirts when they're paired with gray clothing. Because when someone is rocking an unusual color like pink, they want to show it off without the pants clouding the aesthetic.
Pink Shirt Navy Pants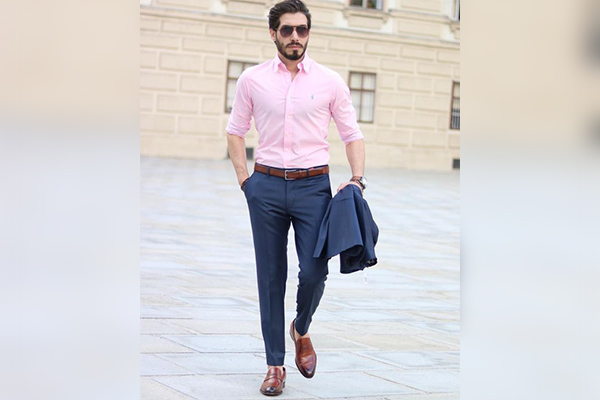 Yes, navy is a dark shade of blue, but its combo with pink deserves its own section due to the sheer scale and importance of its impact.
Let's say you own a pair of clean navy blue pants and a rose pink button-up. Here's how much you can do with just these two.
The simplest outfit you can craft with these is by tucking the shirt inside the pants and completing the look with matching leather dress shoes and a belt. This ensemble is appropriate for almost every semi-professional setting.
Now keep the same look but add a tie and gray blazer, and you're ready to be the center of attention on the next casual Friday at the office.
You can also forgo the blazer and tie, and just top your pink button-up with a crème sweater for a snug and well-put-together ensemble.
All these different looks with the same pants and button-up combo. Now imagine what's possible with navy jeans and chinos with pink t-shirts, hooded sweatshirts, and polo shirts.
Khaki Pants With Pink Shirt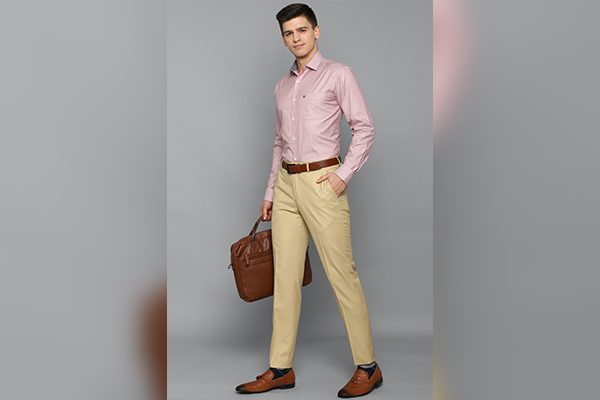 The neutral color of the khaki pants also helps balance out the boldness of the pink shirt, and can easily be dressed up or down depending on the occasion.
Professional Attire
On one hand, you have the world of smart casual and semi-professional attire and this combo excels at it. This is because a khaki and pink outfit work well with almost every dark-colored blazer and suit jacket.
A prime example of this would be an outfit featuring khaki chinos and a lemonade pink tailored shirt with a navy blue blazer and a shiny, striped blue tie.
You can also make this outfit even sharper by wearing matching brown leather boots and a belt, as well as a pink pocket square.
Casual Clothing
On the other hand, you have the casual side of pink shirt outfits for men and khaki pants offer similar style potential here as well.
This casual approach can be subtle and laid back, like a pink polo with khaki chinos for a weekend outfit. Or, you can add some flair by topping khaki pants with a hooded pink sweatshirt and a blue denim jacket.
In fact, you can augment this casual look with many different types of jackets depending on the occasion, from brown leather bombers to black winter overcoats.
What Color Shorts Go With Pink Shirt
While we are on the topic of men's legwear, let's also address the involvement of pink shirts in summer shorts outfits.
In summary, light shades of pink are a flawless choice for summer outfits. And since shorts are a major component of men's summer-time fashion as well, it's only logical to pair these two with each other.
That said, the "shorts" can mean many different styles and colors. Which one of these is the right option for pink shirts?
Well, for a stylish and sophisticated look, try pairing your pink shirt with black or navy blue shorts. This creates a strong contrast that fits most summer activities.
If you want to add a pop of color, try pairing your pink shirt with a pair of green or orange shorts. These bold shades will help to brighten up your outfit and add a playful touch.
For a more casual, laid-back look, consider pairing your pink shirt with a pair of beige or khaki shorts. These earthy tones will help to tone down the bright color of the shirt, making for a more relaxed and easygoing vibe.
You can also try some experimental options like a cohesive, monochromatic look, by pairing your pink shirt with a pair of shorts in a similar shade. Or, how about a pair of multi-colored striped shorts?
Finally, the most effective everyday casual option features a pair of light blue denim shorts. They fit well with both pink t-shirts/sweatshirts and button-ups, and this combo suits most day-to-day activities during summer.
What Color Shoes With Pink Shirt
Unlike pants or shorts that have a direct correlation with the shirt, shoes link to every piece of your ensemble. This makes it difficult to recommend shoes that work well with pink shirt outfits.
That said, here are a few of the most fitting shoe examples to give you a better understanding of footwear fashion with pink shirts for men.
Black Boots
Black boots are a classic choice that can add a sophisticated and stylish touch to any outfit. They work particularly well with a pink shirt because the strong contrast between the two colors creates a bold and eye-catching look.
White Sneakers
White Sneakers can help to brighten up a pink shirt and add a fresh and modern vibe to the outfit. They create a clean and cohesive look that's perfect for casual or smart casual occasions.
Brown Dress Shoes
Brown dress shoes, especially in shades like beige or tan, can make your pink shirt outfits more structured and formal. These are an excellent choice when wearing a formal suit with a pink shirt or even with business casual clothing.
Red Canvas Shoes
Red canvas shoes can add a pop of color to a pink shirt and create a playful and energetic look. They work well because the two colors complement each other and add a fun and vibrant aesthetic to your outfits.
What Color Outerwear Works With Pink Shirts
Layering is a fundamental part of men's fashion and pink shirts aren't excluded from it. In fact, many of the top-tier outfits with pink shirts come from the right application of the styling principle.
But, just like every other piece surrounding pink shirts, you have to be mindful of the color you're surrounding these shirts with. Here are our top recommendations.
Navy Blue
As we discussed in the section about pants, navy blue is a premium choice for pink shirts, and this includes outerwear as well.
The best examples of this connection are navy blue blazers. They both contain and balance out the unique pink hue, while also putting more focus on it through an eye-catching contrast.
Navy blue is also a choice for fabric overcoats and zip-up hoodies.
Black
Black is a universal color and this statement is true for outerwear as well. Everything from black leather jackets and winter overcoats to black blazers and cardigans is an effortless pairing with pink shirts.
The best part about choosing black is the sheer range of its compatibility because black outerwear works just as well with different types and shades of pink shirts.
Brown
Brown is the most fitting option if you're a fan of leather jackets and leather winter coats. The contrast of a rich brown leather jacket with a rose pink shirt is as polished as it gets.
It also gets even better if you include a brown leather belt and shoes in the ensemble.
What Sweatshirt To Wear Under a Pink Shirt
While we're on the topic of outerwear, did you know that you can use your pink button-up as an outer layer as well? All you have to do is wear the right sweatshirt underneath and leave the shirt unbuttoned.
The only requirement to pull this off correctly is choosing an appropriate color for the sweatshirt. So, what are your options?
For starters, stick to colors that are a similar shade or lighter than your pink shirt. The contrast created by dark options like black or navy is a bit too harsh for this style.
This leaves you with most of the pastel colors, and neutral options like white, gray, and cream.
You can also try a multi-colored sweatshirt with diagonal stripes or some other interesting pattern for a more experimental and unique look.
Light Pink Shirt Combination
Here are a few top-notch examples of what to wear with a pink shirt if you own it in lighter shades like blush, flamingo, and lemonade.
Light pink tailored shirt with dark blue jeans and brown penny loafers for a smart casual look
Khaki chinos with a light pink polo and white sneakers for a comfortable weekend ensemble
Flamingo pink button-up with black dress pants and black dress shoes for a minimalistic business casual outfit
Blush pink hooded sweatshirt, grey jeans, and black Chelsea boots to create a modern urban style outfit
A short-sleeved light pink button-up with white shorts and brown leather sandals for the ultimate summer ensemble
What Color Matches With Pink
To summarize, there are three main types of colors that match pink in men's fashion. These include:
Neutrals
Neutral colors include hues like white, crème, beige, gray, and khaki. These perfectly fit pink shirts without attracting any attention towards themselves.
Upgrades
Upgrades are colors that complement pink and make it look even better. The key players in this category are the pastel colors like baby blue, peach, lavender, mauve, and mint green.
Contrasts
Contrasting colors clash with pink and make it look even more vibrant than it already is. Hues like navy blue, turquoise, and black fall into this category
FAQs – What To Wear With A Pink Shirt
When To Wear a Pink Shirt?
Men can wear pink shirts for both casual and formal occasions. Learning how to style a polo and sweatshirt in pink opens the gates to numerous everyday outfits, while tailored pink shirts are a fantastic choice for gray and navy suits.
Which Color Tie To Wear With a Pink Shirt?
Some options for ties to wear with a pink shirt include neutral colors such as white, black, and grey, as well as shades of blue, green, purple, and orange. The best color tie will depend on the specific shade of pink and the desired aesthetic.
How To Wear Pink in Menswear?
To wear pink in menswear, choose shades of pink that are more subdued or muted, such as rose or dusty pink. Pair it with colors like white, black, beige, or grey, and accessorize with metallic pieces. Keep the rest of the outfit simple to let the pink stand out.
Final Words
The first step to understanding what to wear with a pink shirt is to not fear this unconventional color.
Once that hurdle is cleared, it becomes obvious that pink shirts work with the same type of pants, shoes, and outerwear as the other shirts in your wardrobe.
As long as you stick to colors that suit pink hues like gray, white, khaki, brown, and blue, styling pink shirts will quickly become a part of your fashion arsenal.