Throwback to the 2000s when the internet was still a new thing, its popularity was high on the rise, and nobody took it for granted. It was often taken as the first resort to information, what was new and trending and fashion is no exception.
That is where the role of aesthetics came into form; where particular styles were sorted out into categories. Grunge, soft girl outfits, cottagecore, and our personal favorite, emo outfits were the only aesthetic that truly expressed what a person was feeling. 
It was raw, unapologetic, and unique in so many ways, and the emo fashion began to gain a number of followers due to the rebellious notion it foretold. 
True emos might have never left the aesthetic, but might get a little excited at the news that emo fashion is back with a twist and seems like it's here to stay.
Here are all the trends that you might want to be aware of in emo style 2022 that you might want to be aware of, as well as some cute emo outfit ideas to incorporate into your wardrobe.
Whether you're a newbie or a rebellious and loyal follower of emo aesthetic, it will never disappoint you.
Emo Style: Black Is The Color Palette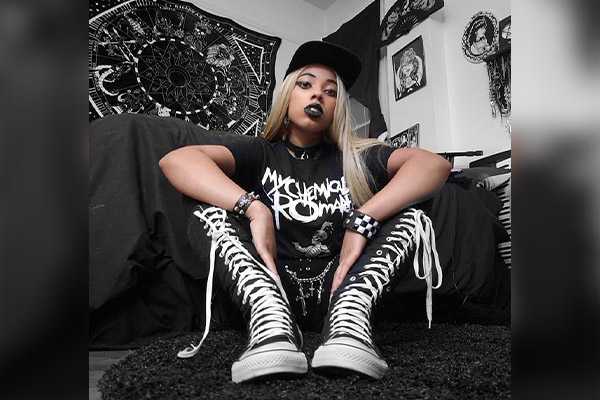 No matter how many trends are incorporated into the aesthetic, and changes are made, black is the color that will always stay true to emo fashion.
No other color becomes the fashion, so make sure to add a few (or all) pieces into your wardrobe, because when it comes to emo fashion you can never go wrong with black.
Emo Style: Leather Outerwear Is Essential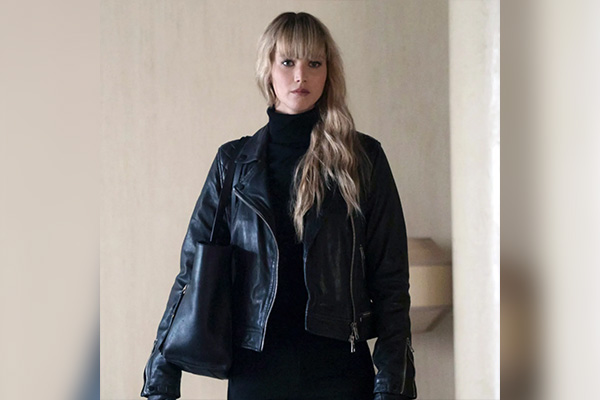 When you are talking emo, is the conversation really complete if there isn't any leather? Leather outerwear just adds the edge that you're looking for in an emo outfit male or female. 
Since there is a wide variety of leather outerwear available, including blazer styles, coats, and jackets where there are oversized options available, choose one that appeals to you and suits your body shape. 
You can obviously opt for more than one to switch them when needed, according to your outfit, but leather jackets are generally versatile, and will complement any emo outfit that you are wearing.
Emo Style: Pop Of Color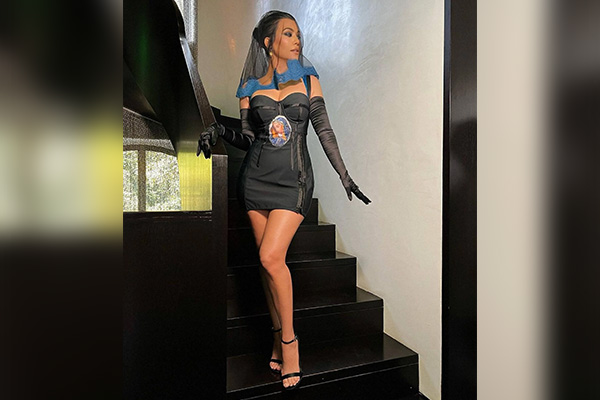 This is perhaps the newest edition to the aesthetic, where many celebrities are embracing the emo trend with a twist. Vintage prints were always a part of emo fashion, including gingham and plaid where the grunge and soft girl fashion and emo outfits crossover.
Add a pop of color to your emo outfit with the help of bright-colored pants or a t-shirt and keep everything else black for a true emo style in 2022.
Emo Style: Oversized Vest On Oversized Shirt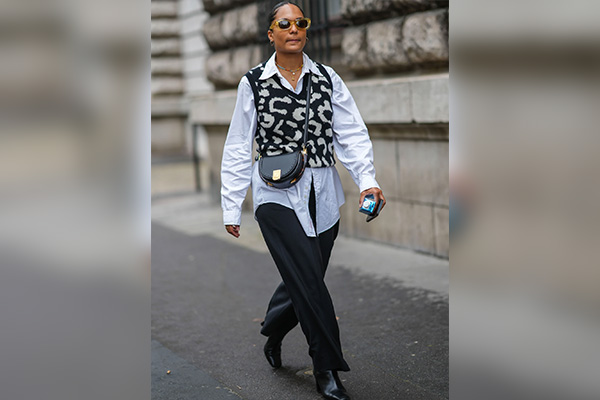 Oversized clothing, part of the grunge aesthetic, and opted with the careless attitude toward fashion also form part of emo style 2022, where ratios have a major role to play in your emo outfits. So make sure you play your cards right when putting up your emo aesthetic outfit. 
Pair your oversized tee with skinny jeans or a mini skirt, along with chunky boots and there's no need to tuck your shirt in because when did emos ever care about fitting in or looking preppy?
These are emo outfits for guys as well as girls so add them to your cart whenever you're shopping for emo clothes.
Emo Style: Wrap Top And Mom Jeans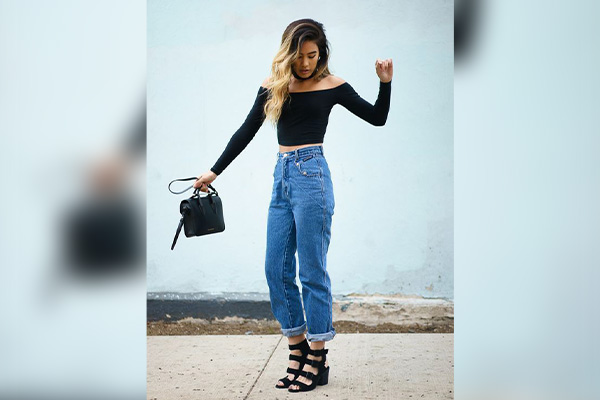 Yet another one of our favorite cute emo outfits, this one is sure to make waves wherever you go. Most emo outfits are loose fitting to create carefreely, I don't give a damn about look or rule out proportions. 
However, this particular emo outfit for a female allows you to live the sexier side of emo where they are not afraid to show a bit (or a whole lot) of their skin. You could opt for pastel colors in your wrap top, to create pastel emo outfits, however, you could always opt for black.
Emo Style: Wide Leg Skull Pants With Oversized Sweats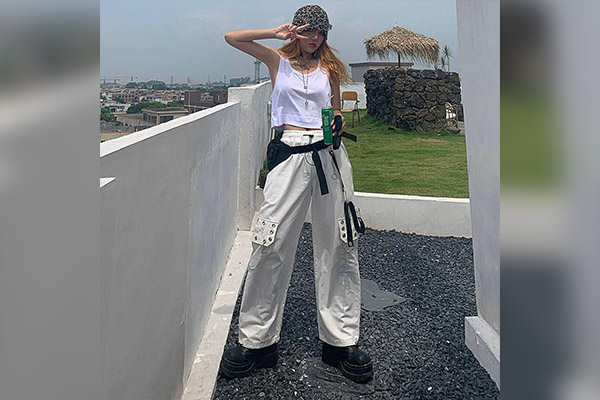 Wide leg pants have taken up the fashion world by storm, where skinny jeans are slowly slipping out of view and emo aesthetic outfits have not only adopted the trend but owned it completely.
Added to them are the skull embellishments that have always been part of the emo aesthetic, along with oversized sweats, this duo embodies the emo aesthetic completely and can be sported by emo guys and girls alike.
Emo Style: Chunky Sandals With Leg Warmers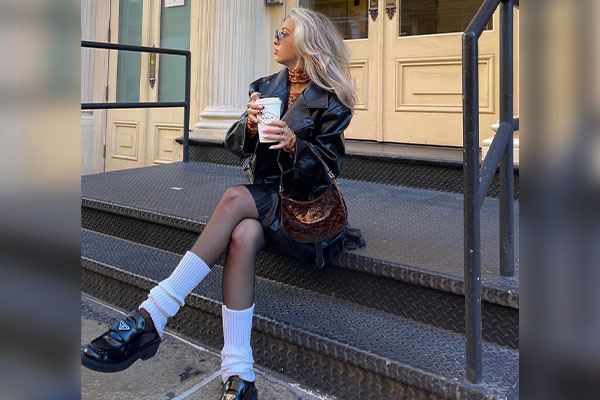 Emo aesthetic always had a flair for breaking conventional fashion rules like pairing socks with sandals, like this pair here that pairs sandals with 80s leg warmers.
Shoes have a major part to play in emo aesthetics so make sure you pick the right ones for your emo outfits.
Emo Style: Bubblegum Pink Cargo pants With Combat Boots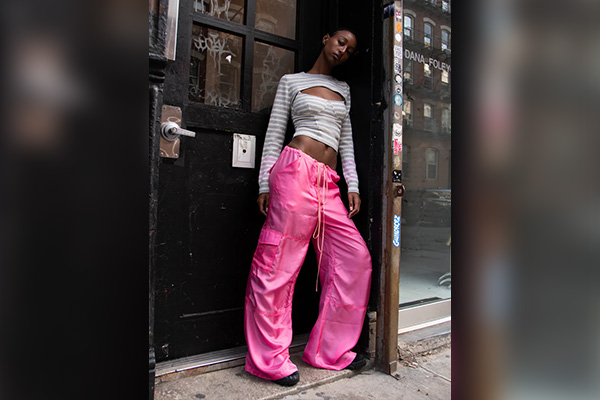 Cargo pants are a must-have in emo style 2022 wardrobe whether you are a guy or a gal. Paired with combat boots it will make perfect Roblox emo outfits and further add the edge to your emo outfits. 
If you're a gal, cargo pants in bubblegum pink will be a great addition to your emo outfits and will add the pop of color that you might be missing in emo style 2022.
Emo Style: Chain Belt With Crop Top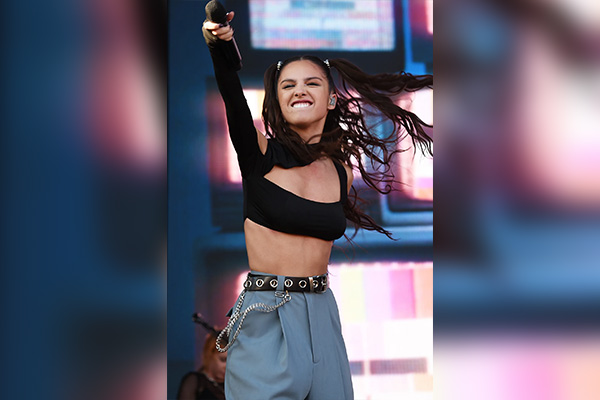 An outfit with added details, this emo outfit, female is sure to turn heads wherever you go. The chain belt is typically worn over the waistband, on the stomach to highlight the belt. Opt for a crop top with band graphics in dark or pastel colors to bring out a statement look.
Emo Style: Skull All Over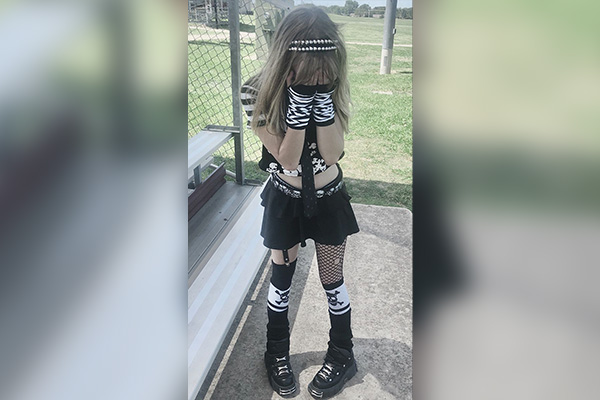 Skull print and add-ons have been a consistent part of the emo aesthetic. 
Whether it be t-shirts, trousers, or all-overs, the print is all incorporated into most emo-inspired outfits in a variety of ways and never disappoints you when putting together an emo outfit.
Pair your skull tracksuit with different types of sneakers or combat boots and go for a size bigger than your original. This emo outfit is applicable for both guys and girls so don't forget to add a skull tracksuit to your cart the next time you go shopping.
Emo Style: Wide Leg Jeans With Buckles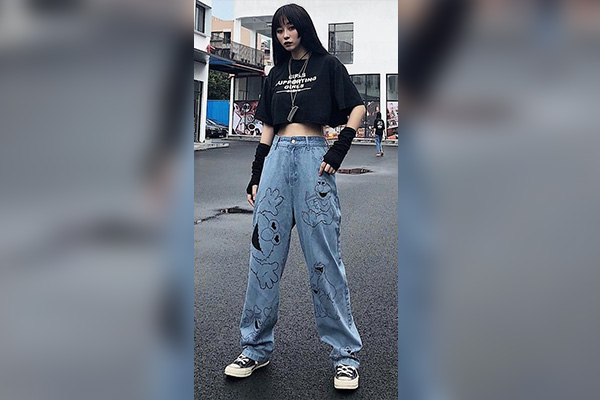 Emos have a love for wide-leg pants and adding metal embellishments to articles of clothing to stay true to the emo style has always been part of the aesthetic. 
Wide-leg jeans with buckles are a definite way to upgrade your emo look. You can either buy them with already added embellishments or add them yourself and create the look at home with the help of old belt buckles that you don't need anymore. 
Emo Style: Oversized Sweater With Ring Necklaces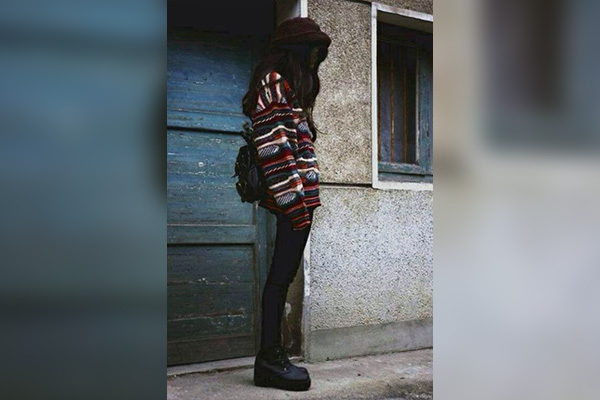 Ring necklaces have always been a part of the emo aesthetic, whether they went seen or unseen didn't matter. You could add one, two, or three-ring necklaces depending upon your mood and wear them over an oversized sweater. 
Opt for a black oversized sweater to create a classic emo look or create a roblox emo outfit with a pastel-colored sweater with emo symbols like skulls or broken hearts to add to the mood of the outfit.
Emo Style: Denim Skirt With Fitted Top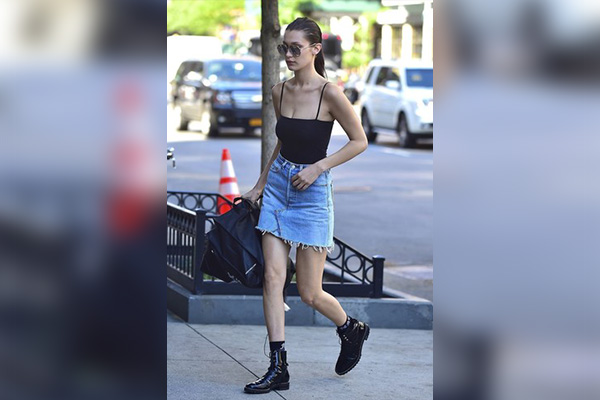 One of my favorite emo-inspired outfits, pick this one out for a cute emo outfit, that is edgy and feminine and perfect for an emo date outfit.
Create an all-black ensemble but don't forget to spice it up with the help of emo accessories, including studded belts, sneakers, or chunky sandals, and soft makeup to enhance your emo look.
What do you wear for emo?
Bring out all the black that you have, but don't be afraid to play around with colors from time to time. Shoes are a big part of the aesthetic so make sure you choose them carefully. These include sneakers, combat boots and chunky sandals, and heels with leg warmers. Some of the patterns frequently adopted in the aesthetic outfits are skulls as well as vintage prints including gingham and plaids, which they cross over with grunge and soft girl fashion.
Is Billie Eilish emo?
Her style is definitely goth enough to be emo. She once mentioned in an interview that she likes to freak people out. However, the teenage star has definitely evolved through the years of her musical journey, and mentioned being happy once, but employs the emo style, nonetheless, which is also translated into her music.
How can a girl dress emo?
When choosing an emo outfit, a female, an all-black ensemble is always encouraged. Think about balancing out your aesthetic outfits in proportion. For example pairing an oversized sweater with a mini plaid or denim skirt, or grunge, corset top with cargo, wide flare pants. You could also throw this rule book out the window and go for plus-size skeleton tracksuits with sneakers or a skimpy emo outfit with a crop top and mini skirt. Incorporate a cute emo hairstyle into your look and emo makeup with dark kohl-rimmed eyes and keep the blush to a minimum. 
What is another name for emo?
The word emo is actually coined from emotional and hardcore, and is in many ways similar to its predecessor "grunge" in the 90s, coming out as a more sleek and polished version of the aesthetic. Emo aesthetics merge with other aesthetics like punk, and grunge where various genres of music come into play and they're often mistaken for the one and the same thing. However, one should be careful when referring to these aesthetic outfits as they are all unique in their own ways and have their own identities in the aesthetic realm.
Conclusion
Emo aesthetic outfits are more than just a way of dressing. It's a whole mood and personality that an individual likes to identify themselves with.
The main purpose is to create an outfit that adds to the dark and solemn mood emo is identified with, which is also reflected in their music taste, like punk rock, grunge, and metal, in which these aesthetics cross and merge with one another.
Emo outfits can be worn by both guys and girls, in which the aesthetic holds much unisex and androgynous clothing. Makeup is also worn by both sexes, with similar chunky hairstyles to enhance the emo look. 
Whether you're a true emo or want to embrace the aesthetic because it appeals to you and wants to try something different, you might want to upgrade your emo style in 2023, taking in the latest editions into your emo outfits.