60s fashion for men is known for its sartorial innovations that led to a series of bold and unique styles. From the characteristic free-spirited bohemian vibe to tailored mod fashion, 1960s men's fashion had a little something for everyone, thereby catering to different preferences and personalities.
1960s fashion was all about creativity, versatility, and the ability to express one's individual freedom through style and fashion.
Men's fashion in the 60s also became more colorful and casual throughout the years which led to a series of new and unique style inspirations for men who were really big on making a statement through their clothes.
Main Styles and Subcultures in 60s Men's Fashion
Men's 60s fashion gave birth to many styles and subcultures that continued to inspire men's clothing throughout the decade.
There was a whole new generation of young men during the 60s who rebelled against the formal styles and trends of the previous decades and adopted a more relaxed, carefree, and informal fashion vibe.
As the 60s continued to progress, men's fashion also became more nonchalant and experimental, giving rise to psychedelic prints, tight-fitting clothes, and bolder colors. Mod fashion in the 60s particularly gained momentum when mods or modernists (young, working-class men) embraced a more stylish, smart, sophisticated, and sharp approach to fashion and wore button-down shirts, narrow pants, and perfectly tailored suits.
60s Mod Fashion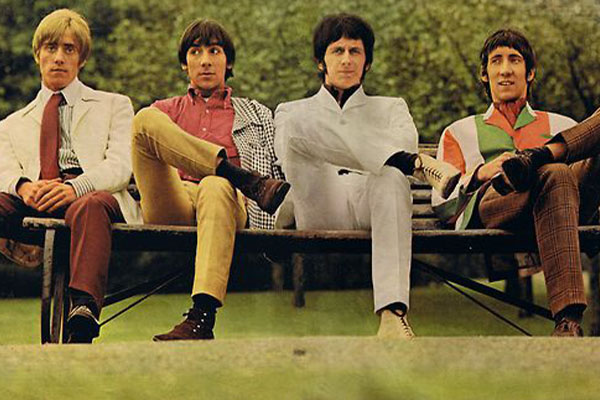 You can't talk about this particular decade without mentioning the mod fashion in the 60s which is known to be one of the most significant fashion looks and styles of that time.
Mod fashion was super creative, bold, and sophisticated, and was ideally used to describe anything that was believed by people to be popular, modern, or fashionable.
The popular 60s rock band called The Beatles was the icon of the youth-driven mod movement because whatever they wore back then ultimately became popular among their fans and the general public.
Mod fashion for men primarily featured streamlined silhouettes, flat-front slim pants, cable knit sweaters, wayfarer sunglasses, polo shirts, Harrington jackets, and mac raincoats, to name a few.
60s Hippie Style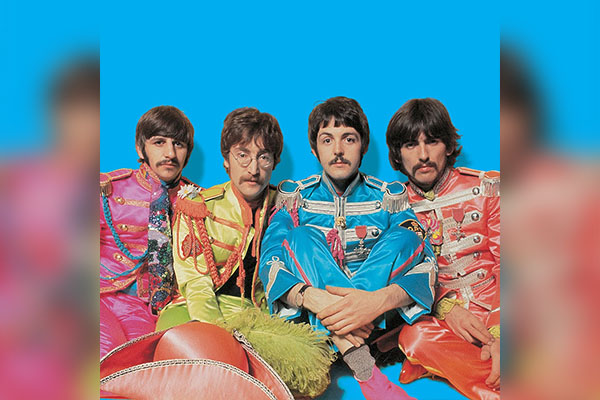 With flamboyant accessories, a multitude of colors and patterns, and experiments, the 60s hippie subculture eventually made its way into men's wardrobes and everyday fashion.
The Beatles, again, are believed to have promoted the 60s hippie men's fashion since the band was constantly evolving and bringing forth new and unique style statements. But, more than that, the credit goes to their popular, sensational masterpiece called Sergeant Pepper's Lonely Hearts Club Band.
Suede vests, paisley shirts, fringe jackets, flared pants with flower prints, ethnic print shirts, and jackets were some of the most popular elements of the 60s hippie fashion movement.
60s Bohemian Style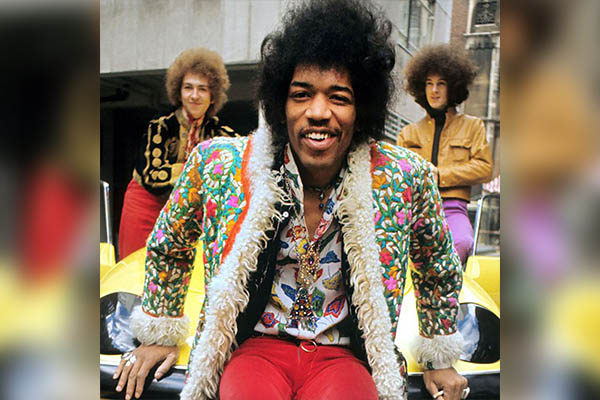 Artistic, creative, free-spirited, nonconforming, and carefree are a few of the many ways to describe the 60s bohemian style which was particularly made famous by iconic music figures such as Jim Morrison and Jimi Hendrix.
Also known as the boho style, this 60s fashion subculture emerged sometime between 1967 and 1969 and it greatly influenced the way men used to dress in that decade.
Some of the key features of the bohemian style were patterned shirts including paisley, animal and floral, suede jackets, and bell-bottom pants, to name a few.
60s Beatnik Style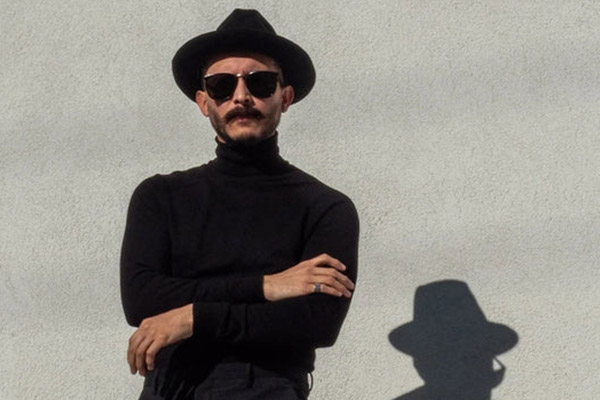 This was another popular 60s youth subculture that was particularly sought-after by creative-minded individuals such as musicians, artists, poets, writers, and intellectuals.
The beatnik style was quite simple and understated but obviously had a charming quality to it which is what made it such a significant part of fashion for men in the 60s. 
Beatniks had a special kind of love and preference for stripes and black-and-white color palettes over colorful and bold choices. 
The trademark beatnik look comprised a plain black turtleneck coupled with narrow pants or straight-leg trousers, sunglasses, black shoes, and a beret hat for that added oomph factor.  
60s Psychedelic Movement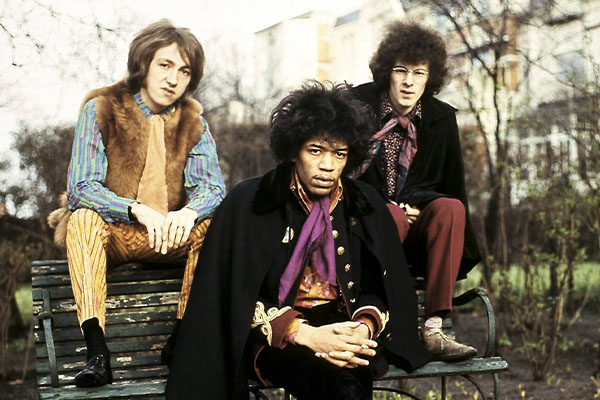 Bold colors, organic shapes, clean lines, big patterns, sinuous lines, wide-lapelled colorful jackets, silk neckerchiefs, and ruffled shirts were the key elements of the psychedelic movement which also laid down the foundation for the 60s hippie style.
The psychedelic movement was full of experimentation and it had filtered into almost every man's wardrobe in the 60s. The most important part about this 60s fashion subculture was the fact that it was centered on individualism and self-expression which allowed men to dress however they wanted while staying true to their unique selves and choices.
60s Biker Style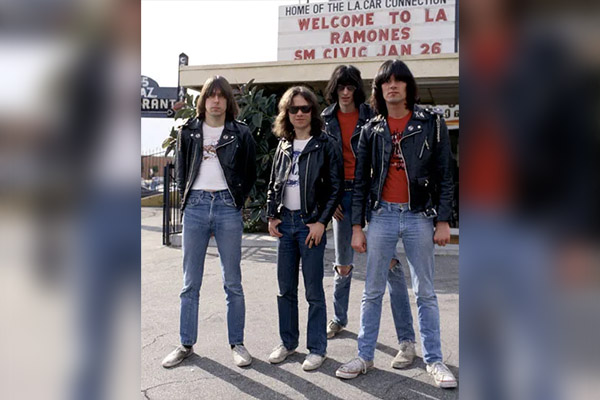 The biker style, also known as the racer moto style was one of the most prominent looks in the 60s fashion for men. It was influenced by the 50s rock 'n' roll culture and was quite big on leather jackets, heavy-duty boots, t-shirts, and tight pants.
As the name suggests, the 60s biker style came off as quite rebellious and edgy and was worlds apart from the mod and bohemian aesthetics.
Owing to its simplicity, the biker style is still popular today among most men and the classic leather jacket is a wardrobe staple for them.
60s Fashion for Men – Key Pieces and Elements
If you wish to take a trip down the fashion lane and curate your wardrobe influenced by the 60s men's fashion, take a look at some of the key pieces and elements that were a big part of that decade's fashion.
Suits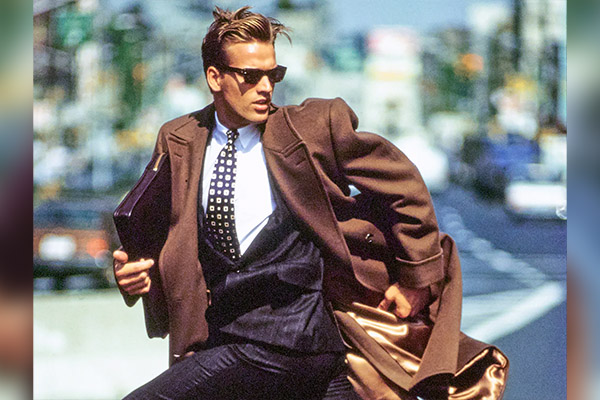 Men's 60s fashion in the early days was fairly reserved considering how the 50s fashion was quite conservative, to say the least. So, it wasn't a surprise to see that men's suits in the 60s had a dull, lifeless touch to them and were mostly sported in brown and gray color palettes.
Men were often seen wearing double-breasted suits, also referred to as a four-button suits which, despite the overall flexibility and casualness of the decade, came off as too stiff and conservative. 
However, by the mid-1960s, men's suits in the 60s began to undergo changes in the form of brighter colors and patterns, and they began to incorporate bold and daring elements such as slim-fitting trousers, collarless jackets, and heeled boots!
Sport Coats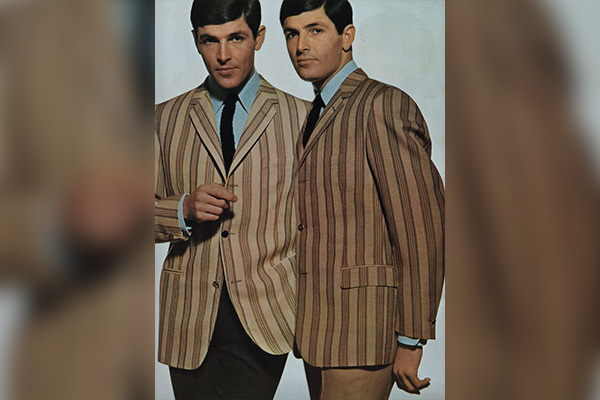 As the decade progressed, casual 60s men's fashion witnessed a growing trend of sport coats that men started wearing in contrasting colors and bold patterns. The sport coat became a key wardrobe staple in semi-casual attires for men outside the office and during business hours. However, soon enough, colorful, patterned, and printed sports coats ultimately made their way to office attire as more and more young graduates started entering different workplaces.
Men began wearing sports coats and different types of jackets in a variety of patterns such as plaid, vertical stripes, checks, and colors like green, mustard, pink, and more.
Pullovers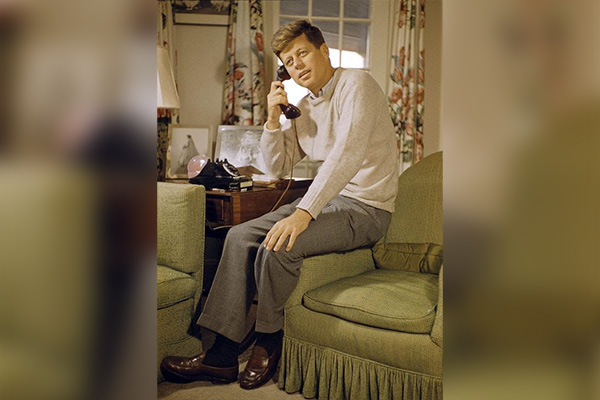 Featuring a prominent 'Ivy League Style' look, pullovers were a popular element in many 60s outfits for men such as cable knit sweaters which were typically paired with chinos and loafers, among other things.
Pullovers experienced a 'high fashion' status in the 60s fashion for men following the introduction of unique knitting techniques and innovative designs by knitwear makers.
From color-blocked patterns to geometric tile designs to an array of colors and stripes, sweaters started to be seen as a replacement for sport coats by many men in the 60s, leading to a great sweater revival which was most prominently picked up by Ivy Leaguers.
Casual Shirts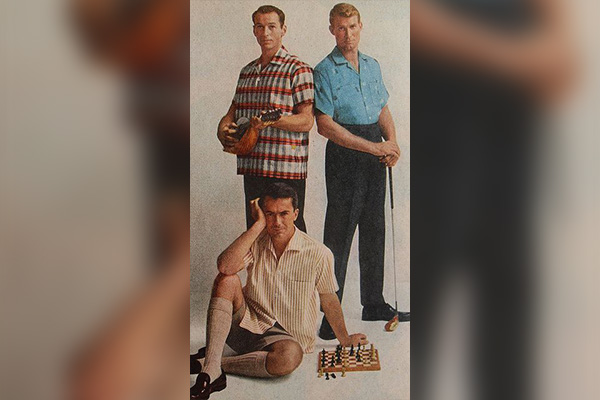 60s style men's clothing saw a lot of casual shirts which created the characteristic country club or golf look consisting of polo shirts paired with flat-front trousers and skinny belts. Polo shirts featured printed designs, some had contrasting stripes or two-tone color blocks, and some varieties also had zip-up collars in place of buttons.
Alongside polo shirts, men's button-down shirts also remained a quintessential wardrobe element for most men, typically in prints, plaid, and stripes.
This classic casual look was also sported by conservative men given the influx of multi-color plaids, bold color combinations and eye-catching stripes.
Pants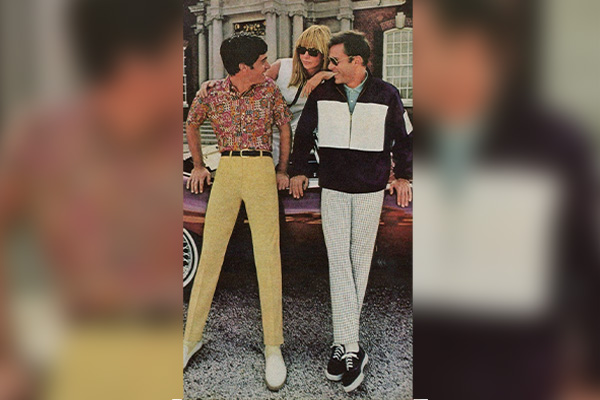 Tight-fitting trousers were a big part of the 60s men's fashion which bid a swift goodbye to pleated pants. Tailored pants in the 60s were particularly fitted from the upper thigh and hip region since fittedness was a key element in this decade's fashion.
Somewhere towards the middle and the end, however, with the advent of 70s fashion, jeans, bell-bottom pants, and flared trousers became widely popular in men's fashion. Another key feature of men's pants and trousers in the 60s was that they were quite lowered in terms of where they rested on the body.
Instead of the natural waist, these trousers sat at the hips, which is believed to have been inspired by counter-culture movements.  
Jackets and Overcoats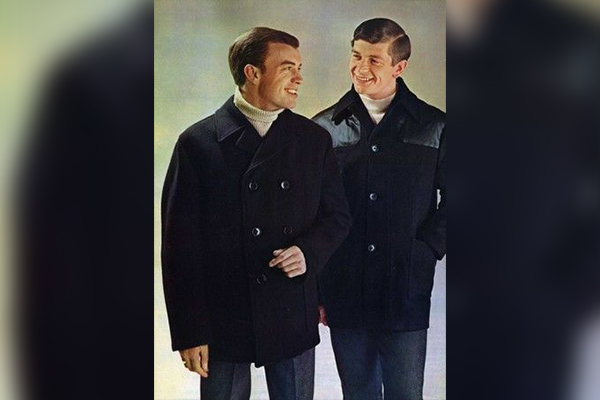 Another wardrobe staple for most 60s men was a variety of jackets and overcoats that were a part of both casual and formal attires.
During the early 60s, overcoats and knee-length car coats were worn over business suits which formed the typical formal look. For a more casual look, men would resort to jackets such as the puffer quilted jacket or the sherpa-lined suede coat. During springtime, the Harrington jacket became the leading fashion trend for both young and old men, and ultimately became a casual favorite for all kinds of age groups.  
Slip-On Shoes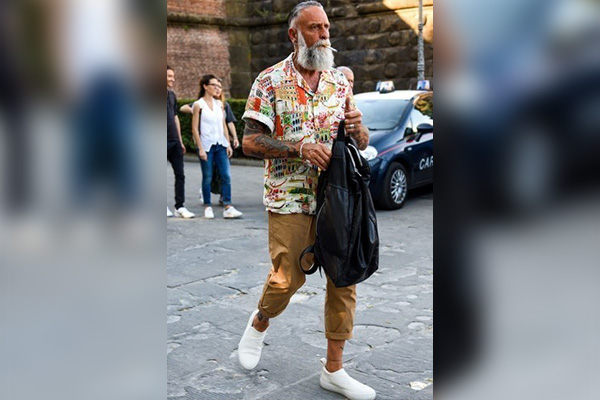 While Oxfords are a forever favorite among men even today, 60s fashion for men was quite big on slip-on loafers. The most important reason behind this was the ease of simply slipping into these loafers without the hassle of dealing with laces, a feature that even conservative men seemed to enjoy a lot.
With minimal embellishments and smooth, clean designs, slip-on shoes became another mainstay throughout the 60s.
Other popular types of footwear in the 60s were Chukka boots which were ideal for pulling off a casual look while maintaining an air of sophistication at the same time.
Hats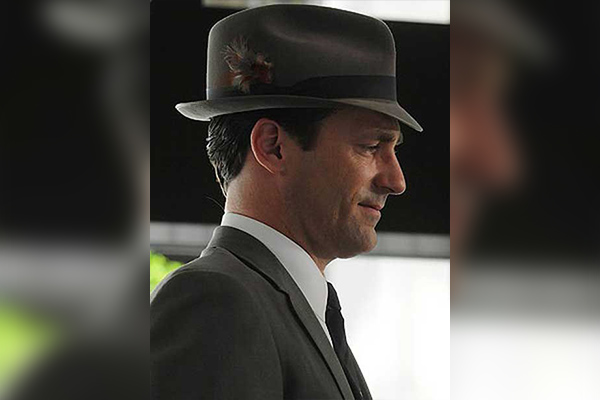 While hats weren't particularly popular during the 1960s, some men still resorted to wearing them and wouldn't leave the house without one. Two of the most dominant hat styles were fedoras and trilby which featured narrower brims and were smaller in size than usual.
The younger generations who preferred going hatless were keen on perfectly styled and combed hair, and often flaunted unique, fun hairstyles such as the popular Peaky Blinders haircut known as the undercut look, among many others.
For these people, hair was a form of self-expression where they experimented with different styles and cuts, thereby displaying their personality and individuality.
Ties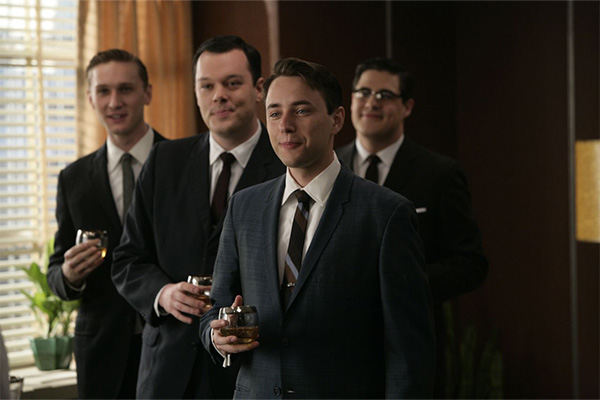 The narrow striped ties from the 50s continued to the early 60s and the beginning of the decade saw very skinny ties to complement narrow shirt collars and thin lapel coats. By the mid 60, these skinny ties gradually became wider as suit lapels also began to achieve a more classic width.
The late 60s, on the other hand, brought in an alternative for ties – the neckerchief.
The neckerchief is typically a square of cloth that is worn around the neck and was ideally worn with sports coats and shirts. The younger generation of men in the 60s found the neckerchief to be more liberating than neckties which, among other reasons is what led to its popularity.
FAQs – 60s fashion for men
What did men wear in the 60s?
Suits, sport coats, suede vests, jackets, overcoats, pullovers, knit shirts, flared leg pants, narrow tailored pants, turtlenecks, polo shirts, stripes, geometric patterns, slip-on shoes, and Chelsea boots are a few of the many things that men used to wear in the 60s.
How should men dress in the 60s?
A typical 60s look for men includes slim-fit trousers, a patterned sport coat, and either a polo shirt or button-down shirt. You can also opt for tailored pieces such as suits which were also popular men's clothing choices in the 60s.
What were the 3 big fashion ideas of the 1960s?
The three main fashion ideas of the 1960s for men included business suits, flared pants, and bright colors and patterns. There were many styles and trends that dominated the 60s men's fashion as well, but these were seen almost everywhere.
What do I wear to a '60s-themed party?
When dressing up for a 60s-themed party, you can look into suede vests, slim-cut suits, floral button-up shirts, leather jackets, Chelsea boots, corduroy bell bottoms, and polo shirts, to name a few. You should ideally begin by choosing a theme first so that you can pick an outfit that exhibits the same vibe. 
What color was popular in the 60s?
There wasn't a single color that was popular in the 60s because 1960s fashion was all about colors and everything colorful! From green to yellow to pink to orange and more, the 60s color palette was quite vibrant and diverse.
Conclusion
60s fashion for men definitely witnessed an explosion of fashion styles, trends, and subcultures, creating a turning point for the world of fashion in so many ways. It wasn't just women's fashion that underwent a revolution, men's fashion also received a great overhaul.
From patterned sport coats to slim-fit trousers to polo shirts to so much more, 60s men's fashion had a little something to offer to every individual that suited their personality and preferences.
Where there was an obvious contrast in the early 60s between the conservatives and the Ivys in terms of their fashion choices, the former category of men eventually started wearing brighter colors and also experimented a little with their outfits.
Interestingly, some elements of the 60s fashion are still relevant today and they continue to inspire and influence men in today's time.