New York Fashion Week 2022 is upon us where some of the biggest fashion brands and houses will exhibit their Spring/Summer 2023 collections. The Council of Fashion Designers of America (CFDA), in partnership with IMG, has released the official NYFW schedule which will run from September 9 to September 14. 
There are a whole lot of incredibly talented black designers on the upcoming schedule for NYC Fashion Week who will be showcasing their collections this season.
Discover which black designers will be showing and when at the NYFW 2022 so you can mark your calendars!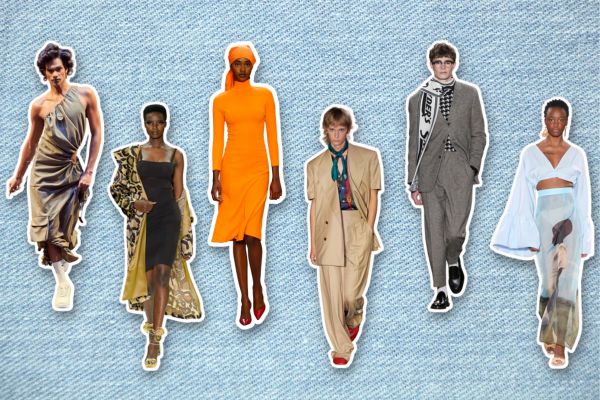 No Sesso
All set to kick off the upcoming fashion week on the very first day with a fashion show, No Sesso is back on the runway!
No Sesso is a Los Angeles-based fashion label that was launched in 2015 and was designed by Pierre Davis and Autumn Randolph. It's described as an 'art brand' and creates non-conformist designs that are meant for everyone and every occasion. 
This fashion brand is big on gender fluidity and unparalleled creativity which they will also showcase at NYFW 2022.
Fe Noel
This is a Brooklyn-based, womenswear brand, designed and launched by Grenadian fashion designer, Felisha Noel. 
The brand's philosophy is, "Eat well, travel often, and dress to inspire!" It aims to help women embrace their femininity and showcases a fusion of sensual, sensible fashion with culture and glamor.
Fe Noel will host a fashion show on September 9 at New York Fashion Week.
Todd Patrick
Atlanta, Georgia-based luxury menswear brand, Todd Patrick will be making its NYFW 2022 debut on September 9 at New York Menswear Fashion Week.
The brand has quite a modern take and approach toward future trends and specializes in creating a variety of high-end streetwear. 
AnOnlyChild
Maxwell Osborne's AnOnlyChild is a newly launched luxury brand that made its runway show debut in September 2021 in Mount Vernon, New York with an off-site fashion show. His Jamaican heritage-inspired label will be showing for the second time at NYFW on September 10.
Victor Glemaud
Often referred to as the 'king of knitwear', Victor Glemaud is returning to New York Fashion Week to host a fashion show for the brand on September 10.
This brand is an eponymous collection of unique, statement knitwear, designed for everyone, regardless of gender, race, size, or personality. 
Sergio Hudson
Another eponymous fashion label, Sergio Hudson will also be returning to the upcoming season of NYFW 2022 and will host a fashion show on September 10.
The label is all about glamorous ready-to-wear clothing for women and is completely designed and produced in Los Angeles and New York.  
Studio 189
This is an artisan-produced and Africa-based fashion lifestyle brand that makes African and African-inspired clothing.  
Studio 189 is co-founded by Rosario Dawson and Abrima Erwiah, and it will return to Fashion Week NYC 2022 to host a fashion show on September 10.
Who Decides War
A popular name in the contemporary design scene, Who Decides War is a streetwear brand that has managed to achieve an intrinsic understanding of the world and its people.
The founders and designers of this brand are Ev Bravado and Téla D'Amore who will be returning to the fashion week in New York and will host a fashion show on September 11.
Connor McKnight
This eponymous label was established during the pandemic and is all set to make its runway show debut at NYFW on September 11.
Connon McKnight is a Brooklyn-based designer who started with a unisex line with no intention of launching a full-on brand but ended up doing just that. 
June79
Luxury menswear brand, June79 was founded by Shawn Pean, the brand's creative designer and chief architect, and will be hosting a fashion show at New York Fashion Week on September 11.
The brand describes itself as inclusionary and accentuates the uniqueness of one's individuality.
ASHYA
Launched in 2017 by Ashley Cimone and Moya Annece, ASHYA is a luxury accessory design label that will host an NYFW presentation on September 11 which can be viewed by appointment.
The brand has its roots set in cultural awareness, travel, and the fusion of utility and style.
Dur Doux
Mother-daughter duo Cynthia and Najla Burt will be returning to NYFW with their brand, Dur Doux to host a fashion show where they will be showcasing a brand-new womenswear collection on September 12. 
Dur Doux is a Washington DC-based design house that was launched in 2013 and it takes inspiration from different cultures across the globe. 
Laquan Smith
Having made NYFW history when it hosted its first fashion show on the top of the Empire State Building, Laquan Smith, a luxury fashion designer for womenswear clothing is back to host a fashion show at the fashion week on September 12.
Black Boy Knits
This is an independent design studio that has adopted quite a global perspective through which it highlights queer, black, and immigrant narratives.
Black Boy Knits is a conceptual knitwear brand founded in 2022 by Jacques Agbobly and it will showcase its new collection at the fashion week which can be viewed by appointment on September 12. 
Sukeina
Known as the ultra-luxury womenswear brand, Sukeina will return to NYFW and will be hosting a presentation on September 13.
Omer Salaam is the founder of Sukeina, which means 'bright light' and it greatly emphasizes innovation in its vision.
Kenneth Nicholson
To liberate the boundaries of menswear, Kenneth Nicholson, another eponymous label will be making a comeback at NYFW to host a fashion show on September 14. 
Theophilio
This Brooklyn-based contemporary clothing brand will also return to the upcoming fashion week to host a fashion show on September 14.
Theophilio was established in 2016 by Edward Thompson, a Jamaican-American designer who was declared Emerging Designer of the Year by CFDA in 2021.
Bed On Water
Shanel Campbell, the founder, and designer of Bed On Water is returning to NYFW and will host a presentation on September 14 which can be viewed by appointment. 
Apart from fashion collections, the brand also produces art media and objects.