For the first time in three years, Tommy Hilfiger, an absolute powerhouse and the heavyweight of the fashion industry is all set to make a comeback to the New York Fashion Week 2022.
After a three-year hiatus, the American brand is returning to the NYFW 2022, kickstarting its return with an 'experiential runway' event where it will showcase its latest Fall 2022 collection called "See Now, Buy Now".
According to the NYFW schedule, there are many other designers who are returning this season other than Tommy Hilfiger such as Area, Kate Spade, and Puma.
About the Event
The heavily-anticipated event will take place at the Skyline Drive-In, located in Brooklyn's Greenpoint September 11, Sunday, at 7 p.m. featuring an interactive experience as well as a live runway show, the audience will get to immerse into a physical and a digital brand world, which will allow them to purchase both digital and physical items.
The event will be live-streamed on Roblox, the popular multiverse gaming platform with which the brand entered a partnership in December 2021. In the platform's virtual New York setting, in-game avatars will be seen sporting digital iterations of the brand's collection for the NYC Fashion Week.
All the products from the collection unveiled on the physical show will be available to purchase immediately, and Roblox users will also be able to get their hands on digital exclusives for their digital avatars while witnessing a one-of-a-kind designer runway show. 
Tommy Factory – An Inspired Work of Art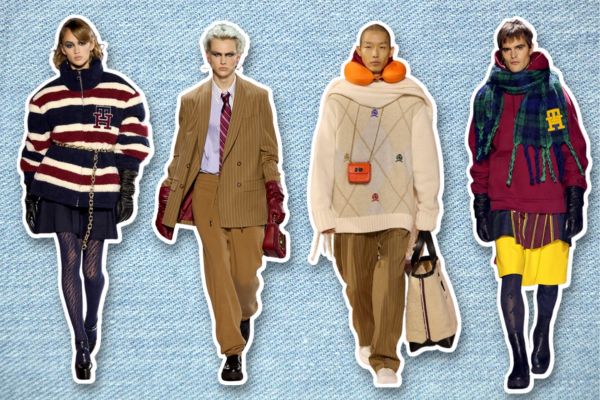 Tommy Hilfiger's Fall collection for Fashion Week NYC 2022 is called 'Tommy Factory', an inspiration from Andy Warhol's studio in New York called The Factory. Andy Warhol was an iconic American visual artist, and a leading figure in pop art, the 1950s visual art movement. His factory has long been NYC's pop culture legacy which will be reinvented by Tommy Hilfiger's campaign as an artistic avenue to promote a celebration of self-expression and creativity.
The designer describes Tommy Factory as a state of mind that extends beyond the physical space. He speaks heartily about his inspiration Andy Warhol and how his attraction to pop culture has caught the spirit of American society.
He is also inspired by Andy's ability to create a connection with the relevance of things at any given moment, and the incredible ways in which he brought together music, fashion, art, and entertainment.
In the designer's own words, "With the Factory concept as inspiration, I set out to build a new creative experience where cross-generational communities can come together and connect in fresh ways. It's experiential. It's real. It's a tribute to one of the most influential artists of my lifetime."
He also said, "The Factory was the place to be. And today, it is still his approach that drives me to engage with the cutting-edge communities building new creative experiences."
Tommy Factory will come to life at the New York Fashion Week, through the brand's star-studded Fall campaign where cross-generational future makers such as Travis Barker, Kate Moss and her daughter Lila Moss, Anthony Ramos, Lady Bunny, Jon Batiste, and tattoo artist Steve Wiebe will join hands to merge tradition with innovation. 
The fashion week's highly-awaited show is worth all the hype and wait for it will be a truly inspirational and interactive experience where the audience will witness a marriage between creativity and style, people and subcultures, tradition and the avant-garde.
With Tommy Hilfiger's return to the runway in NYFW 2022, the brand aims to create a unique experience while seeking inspiration from where it all began – New York City. This inspiration has been combined with metaverse activations to create what it refers to as an experiential 'phygital' event.
The show has placed a lot of emphasis on stepping out of one's comfort zone and using a blend of creative self-expression and style to be able to do that.
Tommy Hilfiger had a few words to say about his campaign and collection, "My heart immediately went to New York's iconic creative culture when I thought about where to launch our return to fashion week," said Tommy Hilfiger. "This is where fashion, art, music and entertainment were all coming together when I first started in the industry. And today, it is still this approach that inspires me to engage with cutting-edge communities building new creative experiences. This season is all about the collision of my favorite archival inspirations with new live event concepts and virtual worlds. It's the perfect expression of what we stand for as we pay homage to our roots with a return to NYFW."
Tommy Hilfiger's campaign at the New York Fashion Week can be best described as a representation of the encounter between past and future cultures, which is likely going to create an energy so exciting and lasting that it will set the Tommy Factory collection ablaze with the same zeal and enthusiasm.