With workplaces leaning towards a business casual dress code and the corporate environment becoming increasingly nuanced, business attire for women has now become more relaxed than ever. Enter modern trendy corporate attire – a contemporary take on business professional attire that aims to strike the right balance between style and professionalism.
Gone are the days when women had to stick to rigid workplace dress codes that didn't leave any room for change or experimentation.
Modern trendy corporate attire for women, on the other hand, allows them to take a step down from the traditional three-piece suit and opt for a more relaxed aesthetic which features a mix of sophistication and an air of professionalism that is required in a workplace setting.
The Right Approach to Modern Trendy Corporate Attire for Women
Business dress codes may have eased a little and while that has definitely made things easier in terms of choosing different work-appropriate outfits, you still have to take care of a few rules.
We've rounded up a few useful tips that will help you adopt the right approach to modern trendy corporate attire while maintaining your personal style and striking the perfect balance between professional demeanor and style aesthetics.
Choose clothes that make you feel comfortable, especially if you have a 9-5 job because comfort is the absolute key in that case. You want to be at ease while you are working without feeling out of place.
When wearing skirts, length plays a very important role. Ideally, your choice of the skirt should reach your knees or below.
Colors hold great importance in business casual clothes for women because your choice of colors can make or break your outfit. It's always best and safe to stick to a neutral color palette that includes brown, white, beige, gray, and navy. Add a few pastel colors to your wardrobe as well such as mauve, pink, baby blue, peach, and mint green, to name a few.
You should generally avoid wearing loud patterns and textures to work, but if you wish to include some in your work outfit, make sure that you opt for moderate and subtle textures and patterns.
Invest in a few business formal options as well for days when you have an important meeting or a formal work event, for instance.
Depending on the nature of your workplace, it might be okay to opt for refined and neat-looking women's streetwear outfits.
If you are big on accessories and jewelry, go for dainty and cute ones instead of blingy, over-the-top varieties.
When it comes to footwear, keep your choices professional and work-appropriate. Pumps, flats, high heels, and kitten heels are the ideal types of footwear for women's business outfits.  
Modern Trendy Business Outfits for Women
Cardigan with Skirt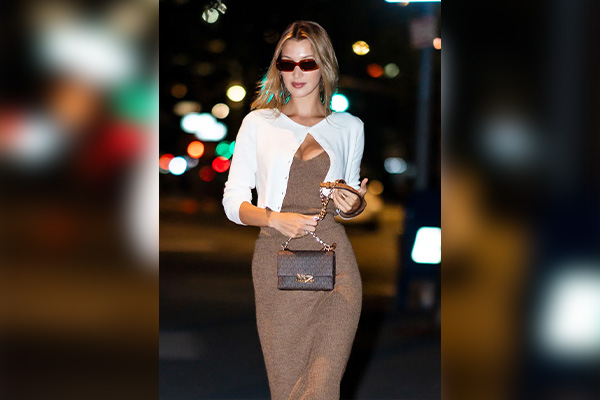 Classy business outfits for women don't get better than a cardigan paired with an A-line skirt, pumps, and a shell top. Shell tops are a type of collarless and sleeveless blouse that is available in a variety of fabrics including silk, polyester, cotton, and wool.
A silk shell top, for instance, offers an ideal formal, stylish look, and together with a structured A-line skirt and the addition of pumps, you can take this office attire to another level.
Patterned Button Down with Trousers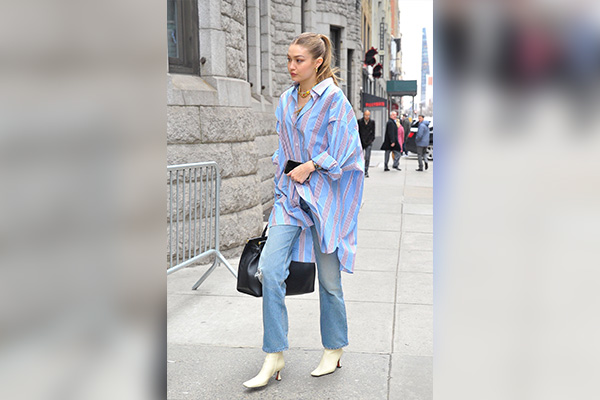 If your office has a particularly casual dress code in place, you can opt for a patterned button-down shirt with a pair of solid-colored trousers, a belt, and pumps. This is an excellent modern smart casual women's outfit that is both stylish and appropriate enough for a business environment. 
This is a kind of neutral professional outfit option where you can play with different patterns, colors, and textures. A button-down is one of the most popular women's business casual tops which you can style in many different fun ways!
Blouse with Pencil Skirt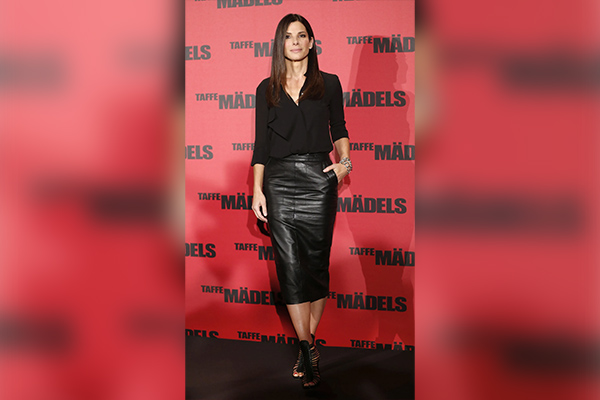 The skirt and blouse combination is one of the most timeless business outfits for women and you can never go wrong with it!
A white full-sleeved blouse, in particular, paired with a black pencil skirt offers a neat, stylish, formal look all at the same time, and is an ideal outfit to wear to work. 
On days when you can't decide what to wear or are running late in the morning, this is the outfit for you.
Dress with Jacket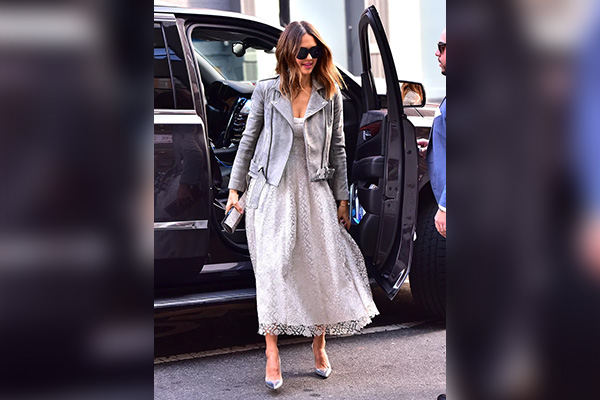 When it comes to fashionable women's business attire options, a flare dress with a stylish jacket makes the perfect outfit.
Flare dresses have an elegant look to them and they are quite flattering which is what makes them ideal for women's trendy business casual dress code.
Opt for a dark-colored dress and wear a matching but patterned jacket with a pair of stilettos or pumps. Finish the look with a dainty necklace or some nice earrings for an added touch of bling. 
If you happen to be heading to a concert right after work and are looking for concert outfit ideas, this might just do the trick!
Blazer with Dress Pants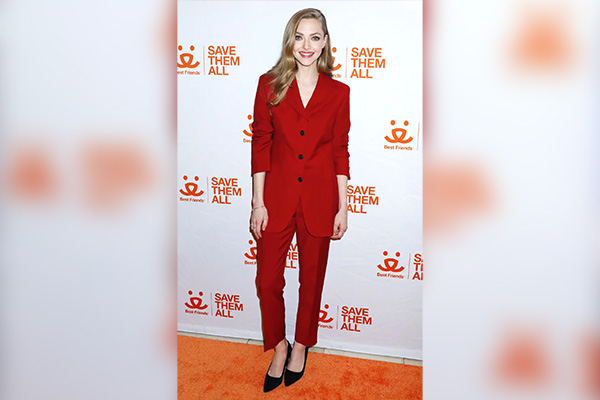 This is easily one of the most classic business outfits for women that works for both business formal and business casual dress codes.
There's no going wrong with this look and it's ideal for those who don't wish to spend too much time on deciding what to wear every morning.
A black blazer paired with black dress pants looks super classy and stylish. During the winter season, wear a colored turtleneck under the blazer, and during warmer months, you can simply tie the look with a solid-colored shirt.
FAQs – Modern Trendy Corporate Attire
What are the 4 basic types of workplace attire?
The four basic workplace dress codes are business professional, business casual, smart casual, or casual.
How do you dress for corporate attire?
You wear what makes you feel comfortable, choose work-appropriate clothes, stick to neutral and pastel colors, and avoid revealing outfits, to name a few. Stick to brown; learn what goes with brown because it's the safest color.
What is considered corporate attire?
The standard professional business women's dress code for a business formal environment is a suit including a jacket and a dress skirt or dress pants. For a business casual environment, a non-collared blouse, knee-length dress, slim-fitting dark wash jeans, formal stylish tops, slacks, and jackets are considered appropriate for corporate attire. 
What should you not wear in the office?
Leggings, bright patterns, loud colors, graphic t-shirts, low-cut shirts, sweatpants, shorts, flip flops, types of sandals, sports apparel, blingy jewelry, and anything inspired by cowgirl outfit ideas are some of the things that you should avoid wearing in the office.
Conclusion
Now that you know what is modern trendy corporate attire and what styles are in right now, you will have no trouble deciding what to wear to work each morning!
While it's not limited to these options and you can always experiment with different outfits, just make sure that your choice of clothing offers a stylish yet formal look and is appropriate for the workplace environment.