When it comes to men's haircuts, the options, styles, and varieties are literally endless! There's a unique haircut for every face cut, every hair type, as well as for different hair lengths!
However, there are also many types of haircuts that are quite similar to each other, yet so different. If you are bored with your current hairstyle, you are looking to give your hair a much-needed transformation, and you've recently typed in men's haircuts near me into your online search feed, look into these popular and classic men's haircuts that will instantly elevate your entire look.
From buzz cuts to fringes to fade haircuts to pompadours, pick your favorite from our top picks.
Buzz Cut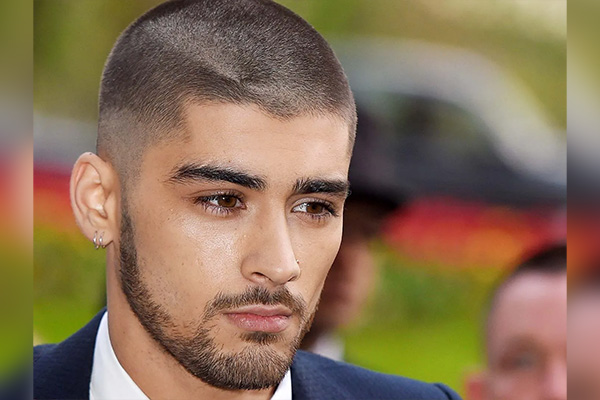 The buzz cut is one of the most popular and common short haircut styles for men which is known for its ultra-short length. The hair is clipped or cuts close to the head with the help of hair clippers.
The best thing about the buzz cut is that it's super easy to maintain and doesn't require extensive styling which is why most men tend to opt for this particular haircut.
Caesar Cut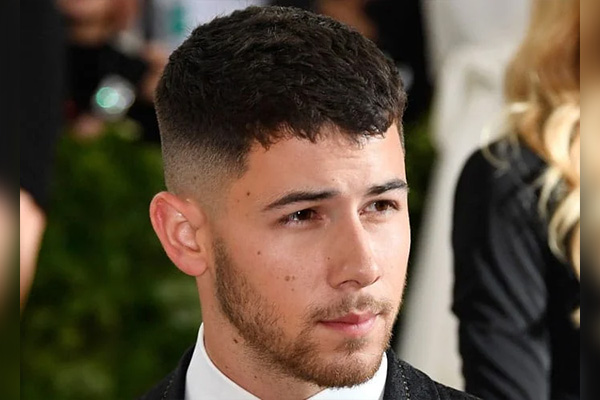 As the name already gives it away, the Caesar cut is named after the Roman Emperor Tiberius Caesar Augustus.
The most prominent or distinctive of this haircut is the horizontal straight-cut bang that covers the forehead. Like the buzz cut, it's also low-maintenance and short in length.
What's attractive about the Caesar cut is how versatile it is – regardless of your hair type, be it straight, wavy, or curly, it looks great!
French Crop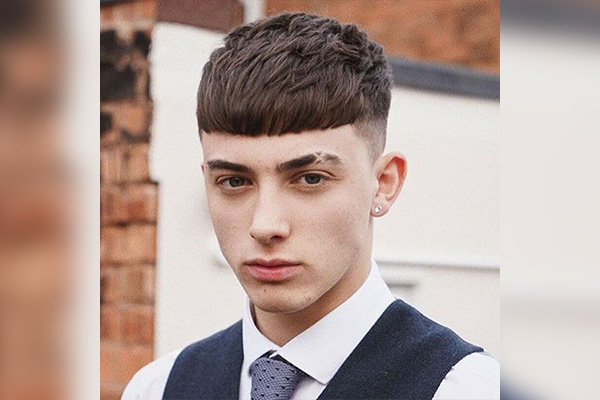 The French Crop is one of those classic men's hairstyles that has a certain appeal to it. It is often confused with the iconic Caesar haircut since both are quite similar in appearance, but the main difference between them is that a French Crop has longer hair through the top followed by short length on the sides and back.
It's a minimalist type of hairstyle for men that focuses on the top and comprises a small fringe along the hairline.
Mohawk Haircut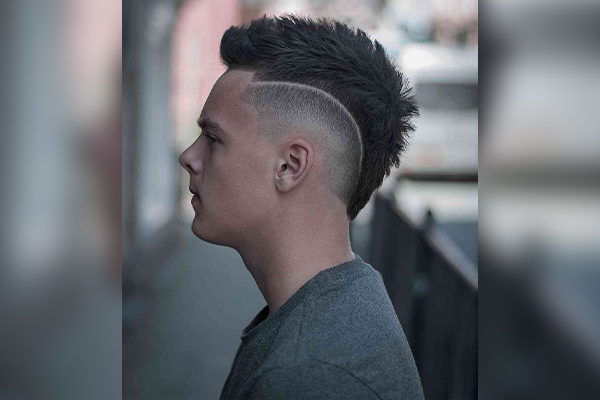 The mohawk haircut has to be one of the most iconic, edgy, and bold types of men's haircuts which is certainly not for everyone!
It's a heavily punk-inspired haircut for guys that typically features super short or completely bald sides with a strip of hair that runs from the hairline all the way to the back of the head.
While a traditional mohawk cut features long spikes, you can style it in any way to give it a more modern touch.
Wavy Spiky Cut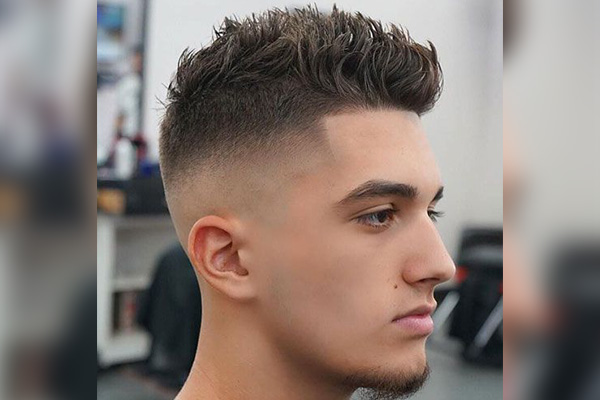 If you are looking for men's wavy haircuts and if you are also big on spikes, the wavy spiky cut is for you!
This men's haircut features faded sides and thicker, longer inches of hair running from the front to the back.
It looks super attractive and you can also style it in many different ways which is what makes it such a wonderfully versatile haircut.
Mullet Cut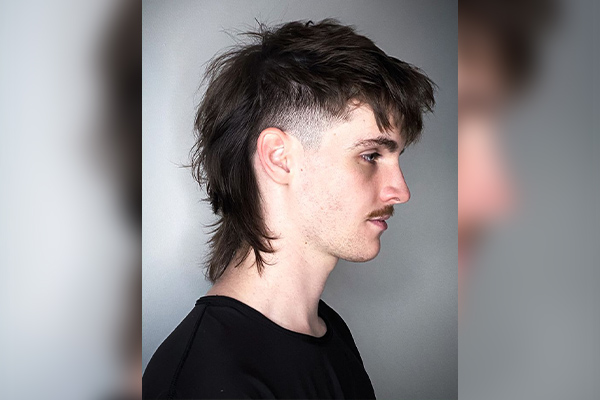 This 80s hairstyle might have met a bit of controversy back in the day, but it has made quite a comeback with a modern, unique twist.
A modern mullet haircut comprises an ample amount of hair on the top followed by shorter hair in the back and faded or tapered sides.
The mullet cut is definitely a fashionable, edgy men's haircut and while not everyone might like it, one can't deny its distinctive appeal.
Blowout Haircut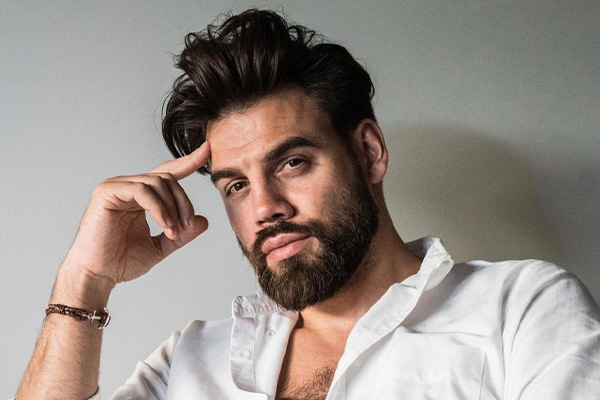 With hair that looks light, it's being swept away with the wind, the blowout haircut is surely one to beat.
While it may feature a disheveled, bead-head kind of look, it's still effortlessly polished and stylish at the same time. A classic blowout haircut has long, voluminous hair at the top that eases into short hair towards the back and sides.
It's one of the most attractive men's curly haircuts so if you have curly hair, this one's for you!
Bowl Haircut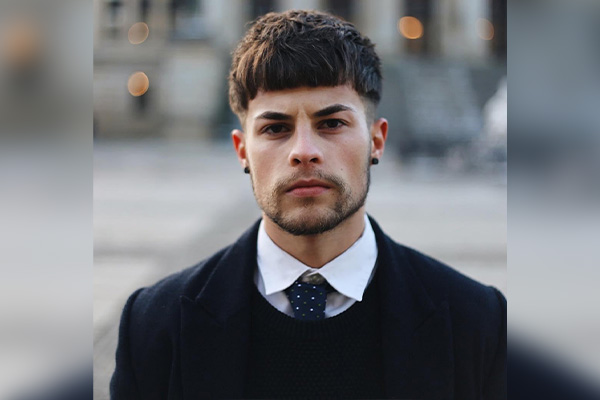 When it comes to old-school men's haircuts, it doesn't get better than the classic bowl haircut from the 1960s!
While the traditional bowl cut might be a little too old school, the modern version features a messier look with textured blunt bangs with faded sides that help amp up the overall look and appeal.
Crew Cut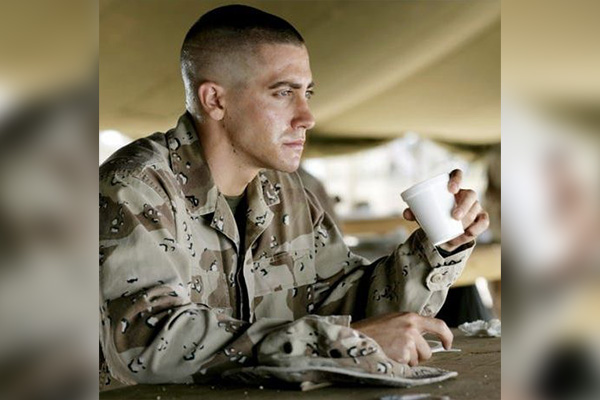 For those who don't wish to be bothered with elaborate hair styling, the crew cut is one of the best low-maintenance men's haircuts for them.
This is a cropped type of men's haircut where the hair on top of the head is cut super short, almost giving it a spiky look with super faded sides that help give it a neat appearance.
The crew cut is quite similar to the buzz cut in terms of their looks, except that in the former, the back is shaved off and so are the sides sometimes.
Curtain Haircut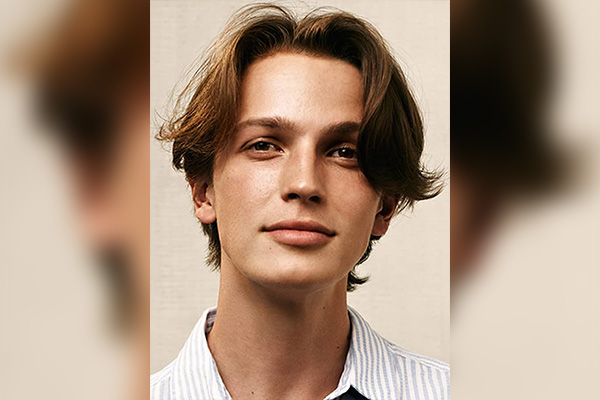 Featuring a 90s grunge aesthetic, the curtain haircut is another old-school type of haircut that has made a comeback with a modern iteration.
The modern take on this men's long haircut is more textured and variable in terms of length. However, the main characteristic feature, the middle parting, is still very much a part of it.
Some men also opt for side parting which gives it that new, improvised look and appearance.
Taper Fade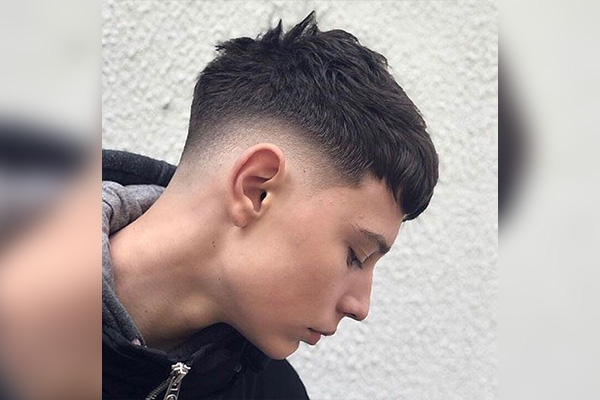 Also known as a taper, the taper fade haircut for men is a short hairstyle that comprises a prominent tapered look where the hair is slightly longer at the top and it fades into the skin on the sides and the back.
Disconnected Undercut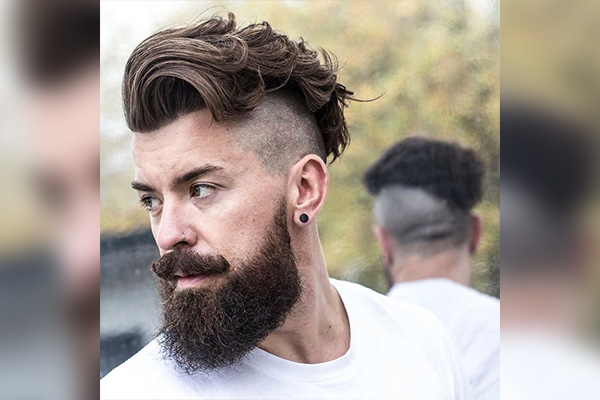 If you love experimenting with your hair and are looking for daring kinds of men's haircuts, the disconnected undercut might be right up your alley.
This haircut has longer hair at the top and shaved sides and back. What sets the disconnected undercut apart from other haircuts is that it features a bold, sharp contrast between the top of the head and the sides.
Mid-Fade Haircut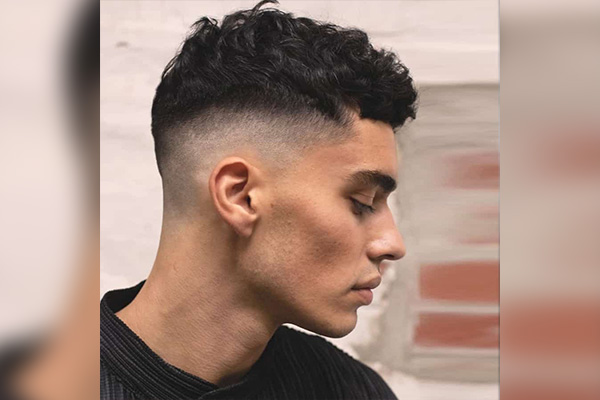 This is a type of fade haircut that lies between a low fade and a high fade.
The mid-fade haircut, like most other men's haircuts, also has long hair at the top that gradually fades at the bottom, but the only difference here is that it fades and ends between the ears and the temples.
Needless to say, this haircut is super flattering, versatile, and easy to maintain.
Long Fringe Haircut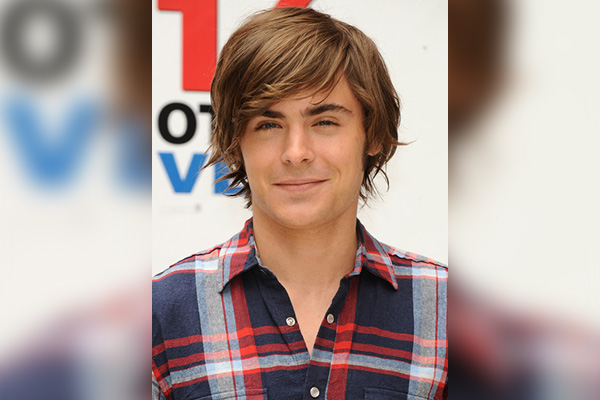 With short sides and a long fringe in the front that covers most of the forehead, the long fringe haircut is a super cool, edgy hairstyle for men.
A great thing about this haircut is that it looks amazing no matter what hair type you have, be it wavy, curly, or straight. Each hair type, it offers a unique look and allows you to style the fringe however you want!
Classic Fade Haircut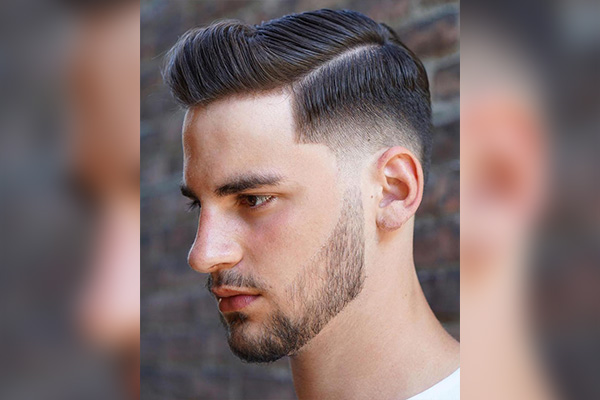 The classic fade haircut is exactly what the name suggests – classic.
It features longer hair at the top which progresses into shorter lengths on the sides and back, giving it a tapered look that seamlessly blends into the skin.
This is definitely one of those smart casual haircuts for men that they can easily pull off without having to do much.
Spiky Hair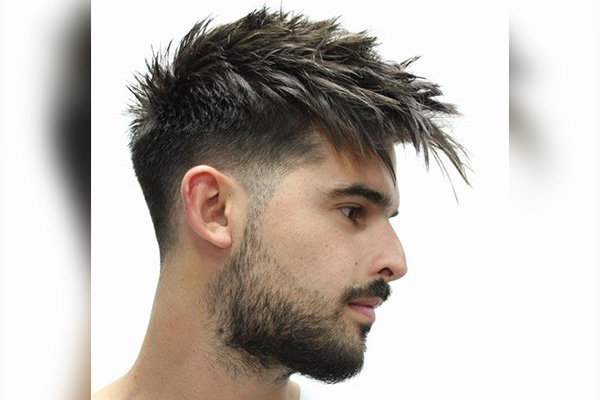 This might be considered one of those old, boyish male hairstyles from the 90s, but the truth is that spiky hair is still trending and it looks great on most if not all men!
It's a classic medium-length men's haircut so in order to create the perfect spiky hairstyle, you need to cut your hair medium length so that you are able to style this look by working hair wax or hair gel through your hair.
Slicked Back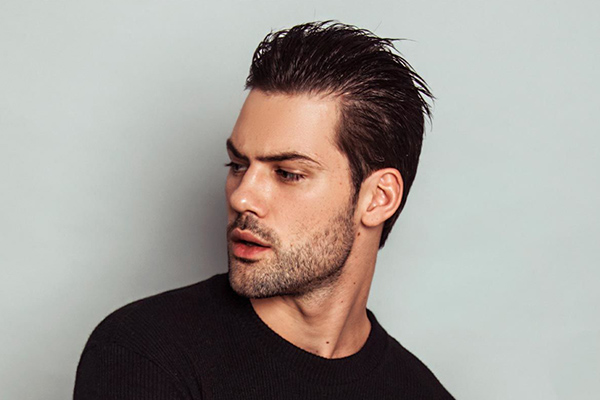 If you often find yourself wondering what hairstyle to wear to a wedding, consider the iconic slicked-back look.
This is generally believed to be more of a business hairstyle for men, but it works great for weddings as well given how sophisticated and sharp it is in terms of appearance.
All you need to do is comb all your hair backward and use a generous amount of styling gel to keep it in place. A slicked-back look ideally works best with medium to long hair.
Side Part
For a neat, polished, and smart look, the side part hairstyle is your best bet. The hair is neatly parted off into a single side, either right or left, which creates quite a sleek look.
If you wish to create a more modern style and appearance and make it a less structured slicked-back look, you can create some texture and volume.
Two Block Haircut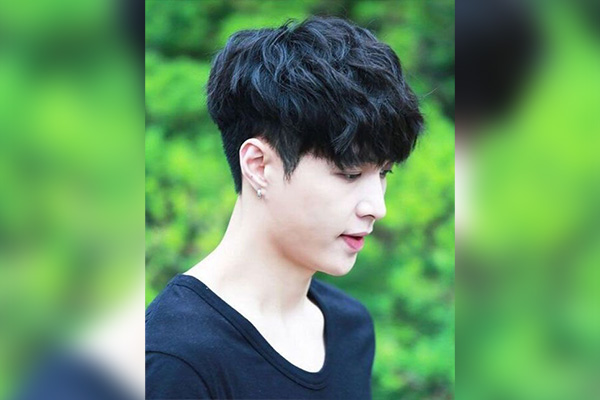 The two-block haircut has an edgy, sharp appeal to it which is what makes it a popular type of haircut among men.
As the name implies, it comprises two different hair lengths where the top of the head has long, loosely styled hair, and the back and sides have a trimmed look.
The varying hair lengths create a sort of block or contrast which gives it a modern, unique appearance.
Layered Fringe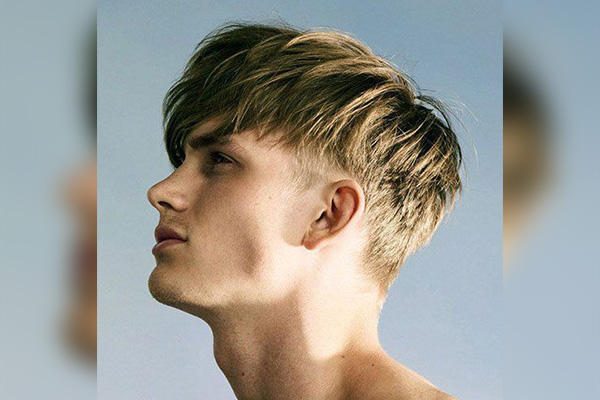 Layered fringes have generally always been in style and are likely to never go out of style either.
A layered fringe haircut is a great way to create some texture and volume in your hair considering how it has layers of fringes covering some part of your forehead. It's one of the most versatile types of haircuts since you can style the fringe in so many different ways with just a bit of hair gel or wax.
Tapered Haircut with Long Fringe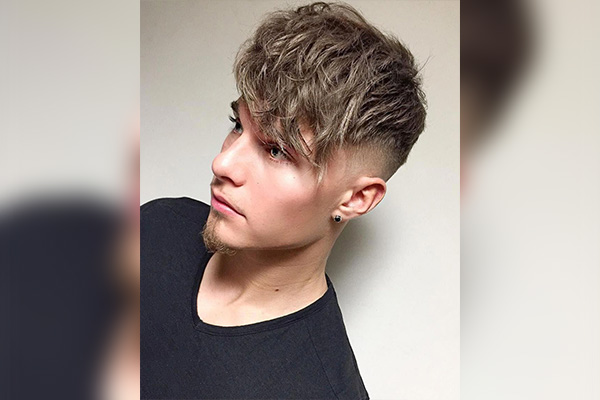 To take your long fringe to a whole other level, consider getting a tapered haircut that will compliment it perfectly.
Think long, wavy, styled fringes parted off on a side, followed by a taper haircut with short, neat sides and back.
This is one of the best men's haircuts for those looking to give their hair a quick, attractive transformation without having to do extensive styling.
Quiff Haircut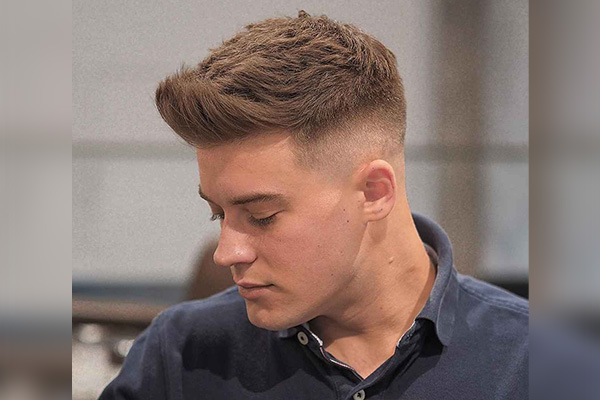 Another very popular men's haircut style is the quiff haircut, mainly because of its timeless, edgy appeal.
A classic quiff has more bulk and volume towards the front with a shorter back and sides. You can either wear it messy, or you can keep it smooth and sleek. The best part is it looks super stylish regardless of how you style it.
Short Spiky Quiff with A Fade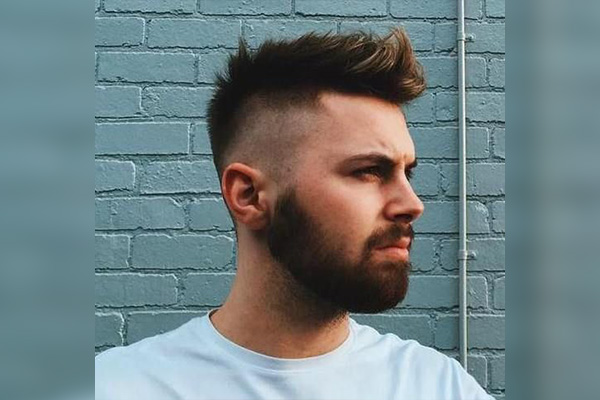 While a quiff is generally longer towards the top, you can add a modern spin to it by getting a short spiky quiff haircut coupled with a fade on the sides and back.
Since it's on the shorter side, it has lots of textures on the top which is what gives it that prominent spiky appearance.
Medium Length Haircut with A High Fade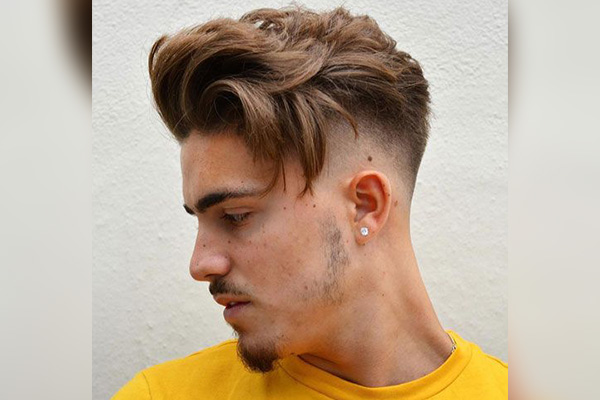 Versatile and easy to style, a medium-length haircut with a high fade is one of the ideal men's mid-length haircuts. The greatest thing about this haircut is you can style it in so many different, fun ways.
You can either just let your hair dry and wear it natural, make a side parting, or slick it all back and keep it in place with some pomade. If you wish to give it a wavy, messy kind of look, you can blow dry it a little and create a slight wave with your brush.
Crew Cut Fade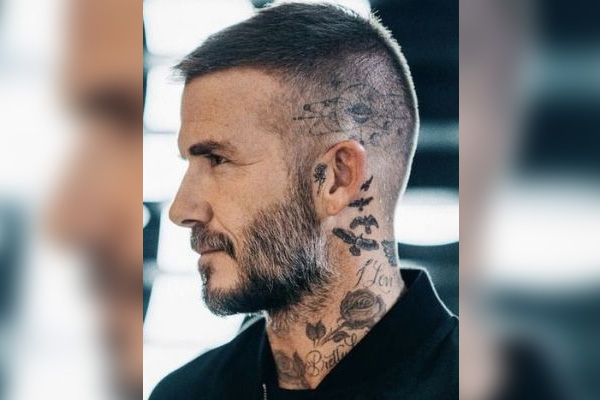 The crew cut doesn't need any introduction for it has long been one of the most popular and trending men's haircuts for years.
This is primarily a cropped haircut that's longer along the forehead and shorter towards the back of the head. The hair on the sides and back are cut short in a fade, all the way down.
In this crew cut fade haircut, you can style it in many ways such as you can slick it back or give it a spiky look, depending on how long or short you keep the hair at the top.
Undercut Fade with A Side Part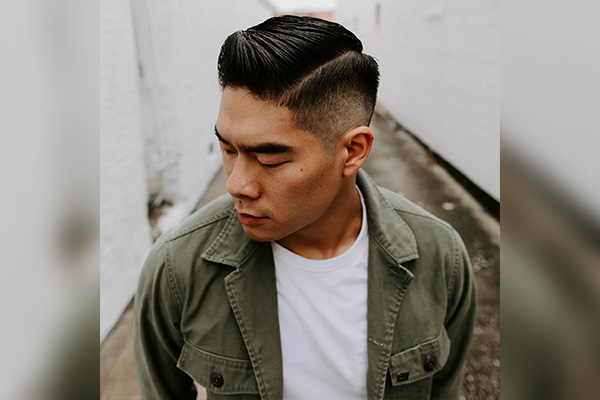 A striking undercut fade coupled with a side part is another unique hairstyle for those who are looking for a polished yet stylish look.
Undercut fade with a side part also allows one to experiment and work with extra length and volume to create different looks for different occasions.
Curly Quiff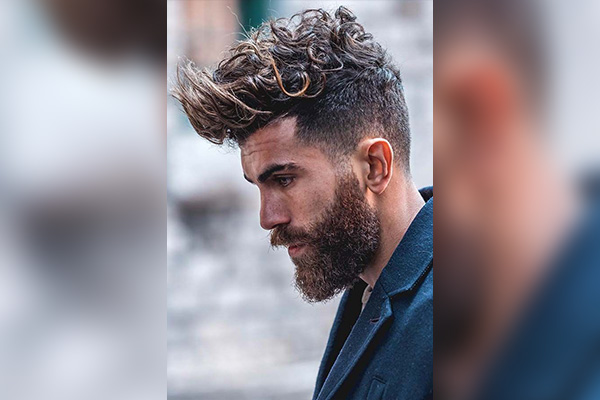 Lying somewhere between a mohawk and the 1950s pompadour hairstyle, the quiff is another classic best haircut for men with trimmed sides and back, and long hair at the top.
Take this classic look up a notch with a curly quiff where you have lots of voluminous curls towards the top which you can style in fun ways.
Brushed Up Tapered Haircut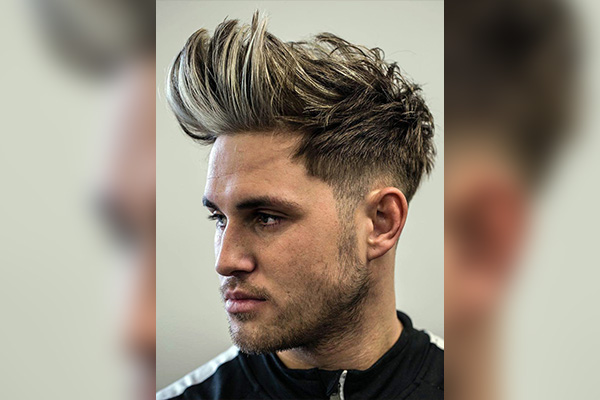 A brushed-up hairstyle always looks stylish, but when paired with a tapered haircut, it can easily take the whole look to another level.
This brushed-up tapered haircut can be done in different ways – you can either opt for a lower taper for a subtle look or a high taper haircut for a sharper appearance.
This particular haircut would also go well with different goatee styles so if you have a goatee or looking to get one, consider the brushed-up tapered haircut!
Asymmetrical Layered Haircut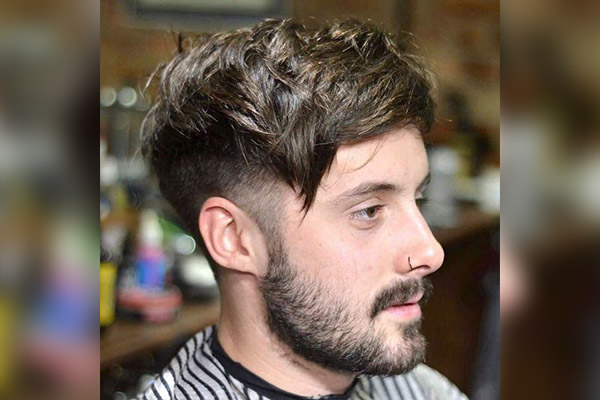 If you have thin hair, this asymmetrical layered haircut is a great option for you. Cutting men's hair into asymmetrical layers provides more volume, and definition, and gives a fuller look.
Even men with thick hair can go for this haircut where the asymmetrical layers will create an even more voluminous appearance and will give you a nice, full hairstyle.
Gentleman's Haircut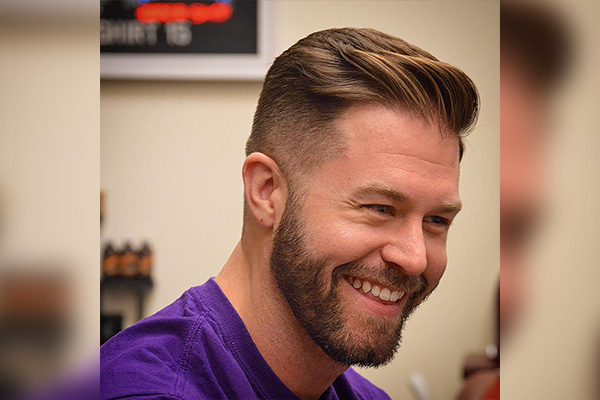 From casual to formal, the gentleman's haircut is just right and ideal for all kinds of occasions. It does lean more towards elegance and sophistication but also looks super stylish and attractive at the same time.
This haircut has one short side which is neatly cropped, and the other side is a bit longer in most cases, it also comprises a combover.
The gentleman's haircut is stunning and can easily be achieved in medium to long lengths of hair.
High Top Fade Haircut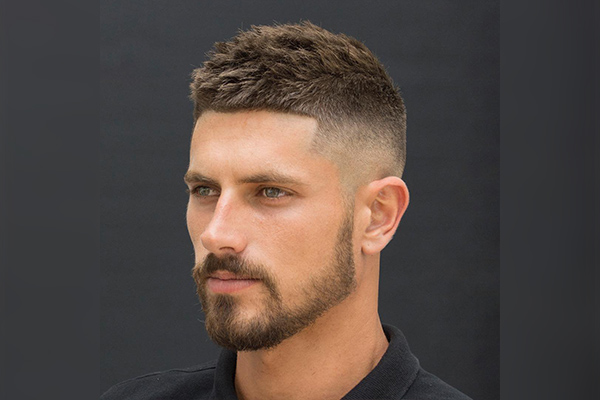 Also known as a hi-top fade, this haircut has long been popular as black men's haircut that features a clean-cut look with a long afro on the top of the head in a flat shape that transitions into a fade on the sides.
This haircut helps make the face look longer and also highlights your facial features since the top is higher than other types of fade haircuts.
It's often considered to be a bold hairstyle, but as long as you are confident, you can pull it off effortlessly!
Brushed Back Disconnected Haircut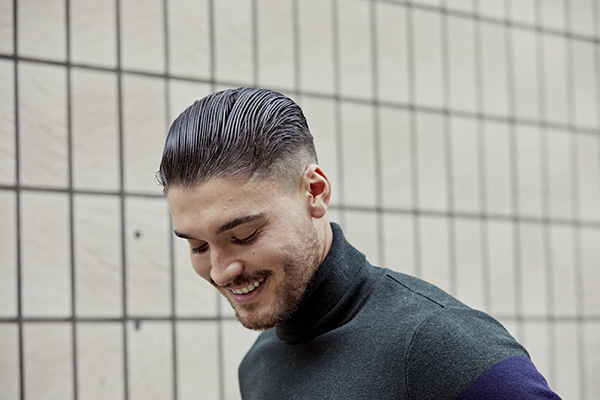 Cool and a classic, a disconnected haircut is exactly what the name suggests – it features two different lengths of hair that have a prominent disconnection and don't seem to blend at all.
Different sections of hair are cut into varying lengths which is great for adding more texture to the hair and creating an overall more voluminous, messy, bold look.
A brushed-back disconnected haircut, in particular, gives off a more neat, balanced look since all the hair at the top is nicely brushed back, and kept in shape with some hairspray or gel.
Curls with Middle Parting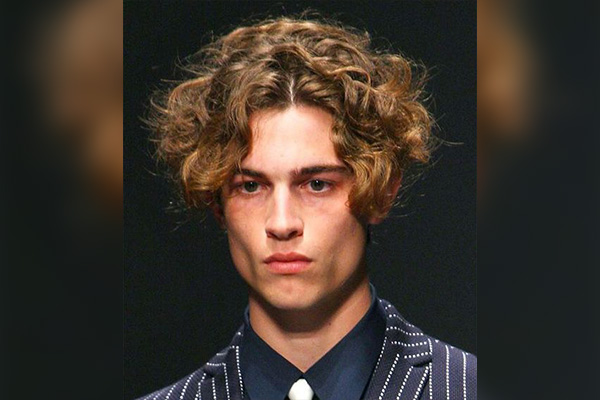 There's no better way to embrace your natural curls than with a medium-length messy haircut featuring a middle parting.
This is one of the best men's hairstyles for men with thick, long curls since it further enhances their natural curls and the middle part gives it more definition.
When in doubt or for times when you don't know how to handle your curls, this haircut is for you!
Butch Haircut
For those who are big on experimenting with their hair and aren't afraid to opt for extremely short, bold, and out-there kinds of haircuts and hairstyles, the butch haircut is right up their alley!
This haircut requires you to trim all your hair along the contour of your head, till it's very short. The hair all over the head including the top, the back, and both sides is cut in the same length, which typically lies between 6-13 mm.
High Fade Curly Haircut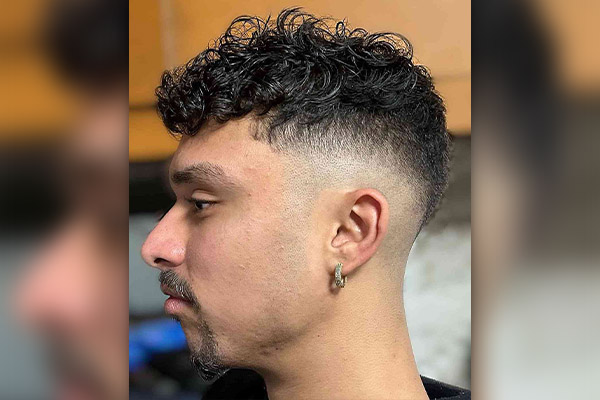 The classic high fade looks great as it is without a doubt, but when combined with some voluminous curls, you can elevate your entire look!
This look works best for those who have naturally curly hair, but even if you don't, you can achieve it with the help of some hair tools, products, and some great styling skills!
To get it right, you need to employ the right fade technique here so make sure to visit a competent hair stylist.
Rockabilly Haircut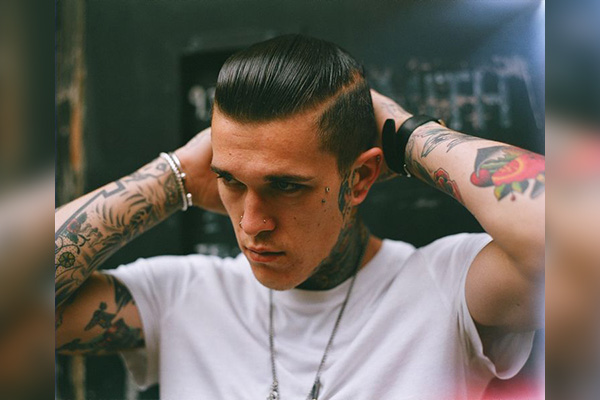 Also known as the greaser look or greaser's hair, the rockabilly haircut is heavily inspired by rock and roll music legends such as the famous Elvis Presley, and it has several different variations in terms of style.
The classic rockabilly hairstyle has short sides and voluminous hair on the top which is slicked or brushed back with some pomade.
Pompadour with Mid Fade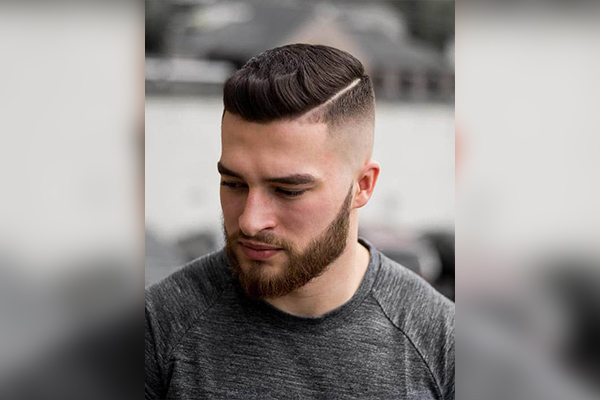 Nothing beats a classic pompadour, but if you pair it with a mid-fade haircut, you get a whole new different style of hair altogether!
It looks edgy, cool, and very modern, and the best part is it's quite low maintenance so there's not much you need to do to rock the mid-fade pompadour!
Clean Shave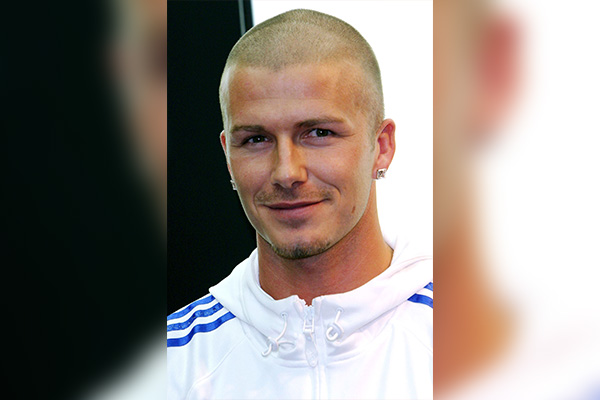 As the saying goes, the shorter the hair, the easier it is to maintain!
And, it doesn't get any simpler or easier than a clean shave. No hair, no maintenance, and zero effort!
Close Cropped Fade Haircut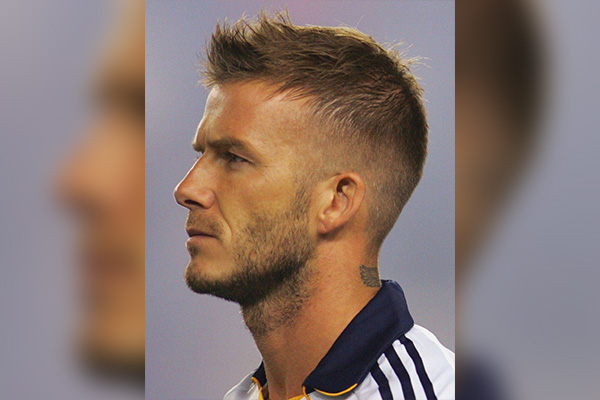 When it comes to men's short haircuts, a close-cropped fade haircut is a great option to consider.
It's short, easy to maintain, and super stylish, to say the least. For this haircut, you need a crop which is a textured short haircut, and then blend it with a fade on both the sides and the back.
If you have a trimmed beard, you are in great luck because the close-cropped fade haircut complements it well.
It is often paired with a blunt fringe as well right along the hairline, or a long fringe that goes down the forehead.
Razor Fade Haircut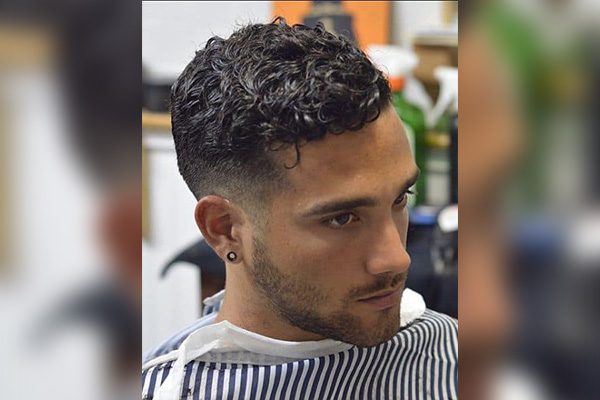 Also referred to as straight razor fade, the razor fades haircut features shaved sides and back with some volume at the top.
It is quite similar to an undercut, except that it comprises fully shaved sides instead of a gradient.
You can do a combover hairstyle here, a slicked-back look, or even a messy look, according to the occasion or the ambiance that you are going for.
Line Up Buzz Cut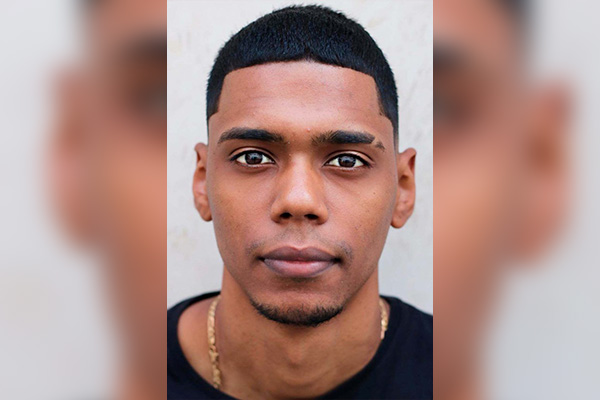 Once upon a time, buzz cuts may have been predominantly described as one of those practical men's haircuts that are rather utilitarian, but this particular has evolved so much over the years, transforming into something super stylish and attractive.
Faded haircuts for men have gained significant popularity and with that, they have given lots of variations and styles.
One of these is a lineup buzz cut which is a classic buzz cut, but with a clear, prominent lineup that outlines the cut.
This kind of buzz cut has a sharper, edgier look, and it helps create a contrast in the overall look.
Razor Cut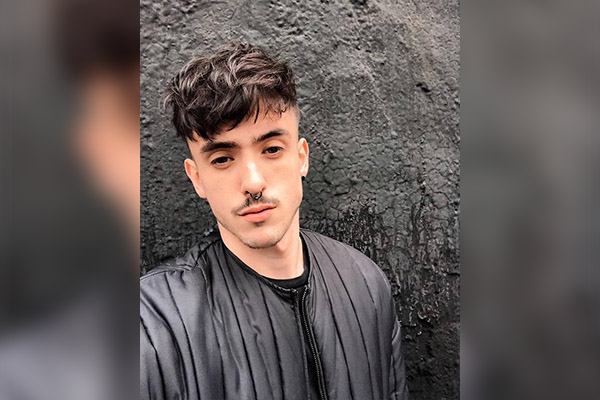 As the name suggests, this cut is achieved with a razor and is cut very short. It has a neat, polished look and can be done in different styles such as a high razor fade, low razor fade, mid razor fade, and many others.
The razor cut has to be of the simplest and most low-maintenance men's haircuts that works best for people who want to spend too much time or energy styling their hair every day.
Short Fringe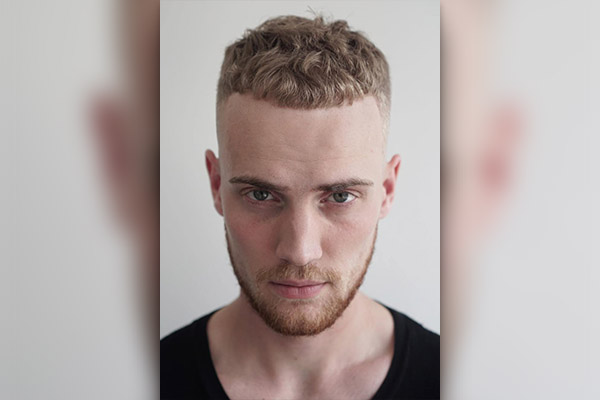 For those who are always struggling to keep their hair out of their eyes, a short fringe haircut is a considerable option.
It features short fringes that are just an inch or two below the hairline. To give your short fringe look an edgy appeal, you can opt for an undercut or taper the sides.
Angular Fringe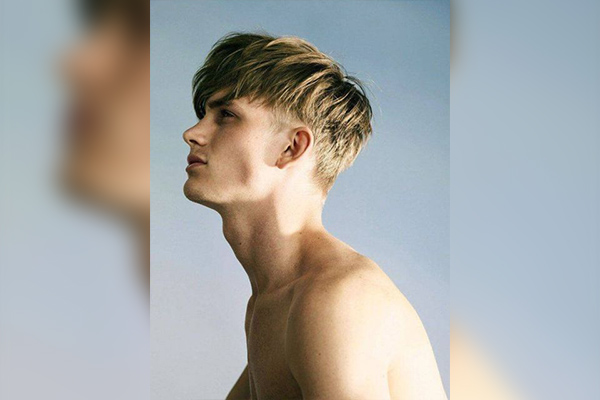 If you wish to frame your face with your hair, you can easily do that with the angular fringe haircut. This cut covers one side of the forehead with shorter sides.
It has quite a choppy appearance which is also stylish at the same time. It's a great haircut option for those who have thin hair since it greatly helps add texture and volume to the hair.
Pompadour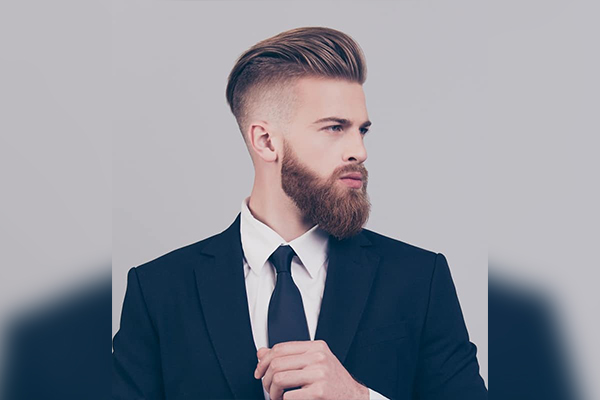 Named after Madame de Pompadour, a mistress of King Louis XV of France, the pompadour haircut is another very popular men's haircut that looks stunning, especially on those with a prominent chiseled jawline.
The classic pompadour has long hair at the top that is swept back, creating a good amount of volume toward the top. The sides are kept shorter which almost resembles a fade. 
The most prominent feature of the pompadour cut is that the hair at the front of the hairline is the most voluminous.
Man Bun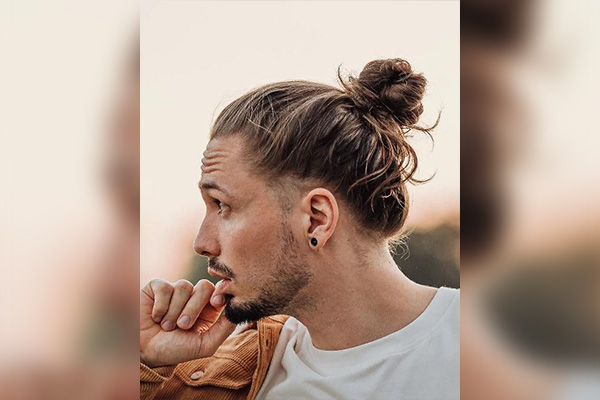 This is more of a hairstyle than a haircut, but to make the best man bun, you need to have a long haircut.
A classic man bun features a ponytail which is then bundled towards the top of the head in a bun or knot.
There are many other variations of the man bun, one of which is with an undercut where the sides and the back are shaved and the remaining hair is gathered in a bun at the top or the middle of the head.
Takuache Cut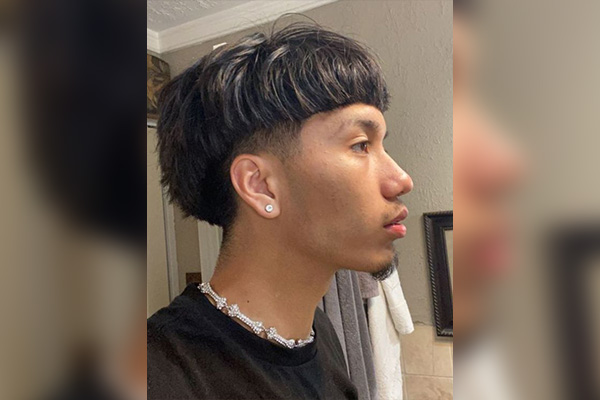 Known as the classic Edgar haircut, this look features a cropped top that almost resembles a bowl cut, defined by a straight line that goes around the head. The sides consist of a high fade whose main purpose is to offer contrast.
You can then style the hair at the top however you want such as you can keep it sleek, creating a wavy messy look, or add texture.
Shag Haircut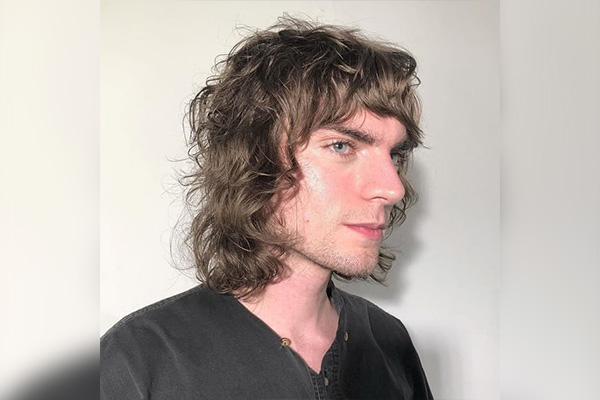 This is a shaped men's haircut that typically features waves, curls, bangs, or long hair at the neck.
The shag haircut was most popular during the 70s fashion and 80s and was even sported by many music stars.
The top of the head has a layered or feathered look which results in a full crown of messy, casual-looking hair.
The best part about this haircut is that it can be short or even as long as touching the shoulders, depending on how you want to cut and style it.
Layered Shag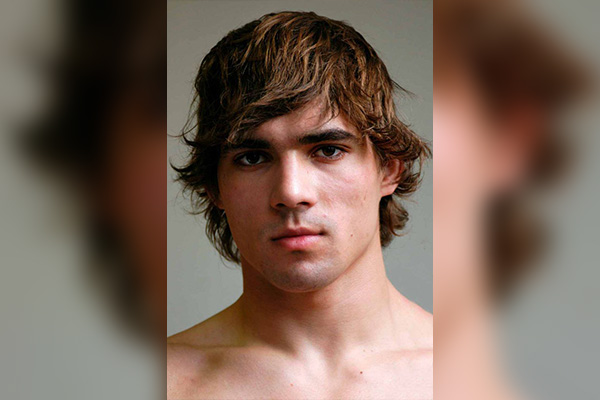 The layered shag is a type of the above-mentioned shag haircut that often comprises blunt bangs at the hairline.
As the name suggests, it has lots of layers that create a textured look and gives the illusion of fuller, thicker, and voluminous hair.
You can get a short layered shag that ends at the nape of your neck, or you can opt for a longer version that reaches the shoulders, making it an ideal haircut style for men with long hair. Either way, it looks very cool and stylish and you can experiment with it in different ways.
Shag Bob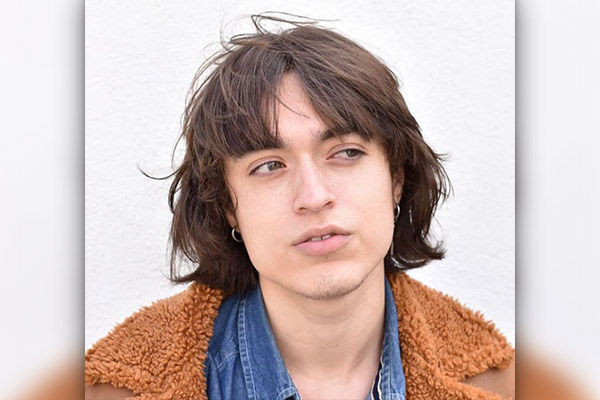 If you like to cut your hair that is longer than the standard length but still short, you can go for the shag bob.
This is a trending layered bob where the hair is chin-length and consists of lots of layers. It works best for all types of hair straight, curly, and wavy.
With a shag bob, you can experiment to the fullest such as you can do a side part, a middle part, or even pushing all the hair back to create a sleek look.
The prominent aspect of the shag bob is that it has a very defined layered look that gives a good amount of volume to the hair, which is a huge advantage for men with thin hair.
Dramatic Bangs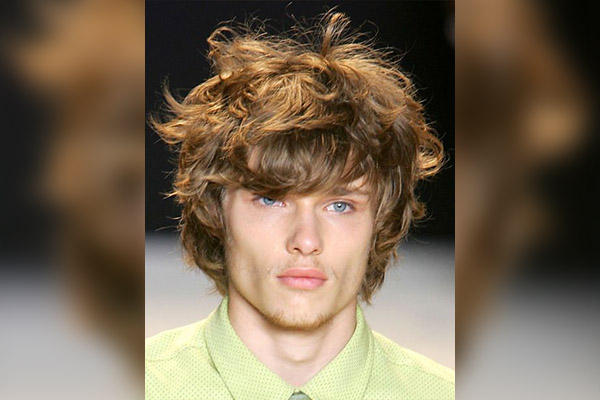 Bangs are truly one of those classic haircuts for men given their timeless appeal, but if you wish to take the look to a new, funky level, go for dramatic bangs!
Dramatic bangs are simply the coolest type of cut for men that not only create a voluminous look but also enhance your facial features.
Men with prominent jawlines can rock dramatic bangs, coupled with textured and wavy hair all over the head! 
Temple Shave (The Viking Haircut)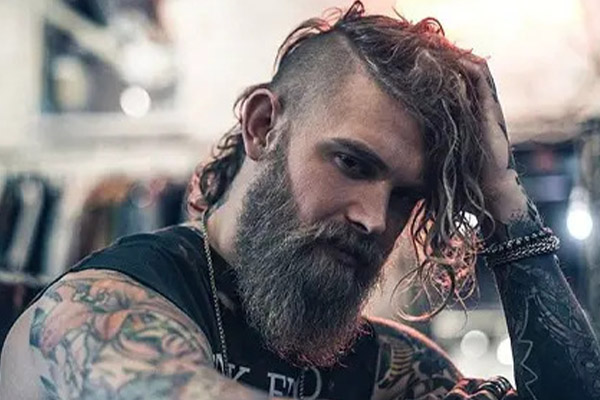 If you are deeply inspired by Viking hairstyles, the temple shave haircut is for you!
It's also called the Viking haircut and features long, thick hair followed by shaved sides and back. While this may seem quite similar to other types of men's haircuts, the main difference is that the temple shave cut has very long and thick hair on the top that often falls back, right above the shaved section.
The final look is a very authentic Viking hairstyle that represents a blend of modern, retro, and edgy.
Harvard Clip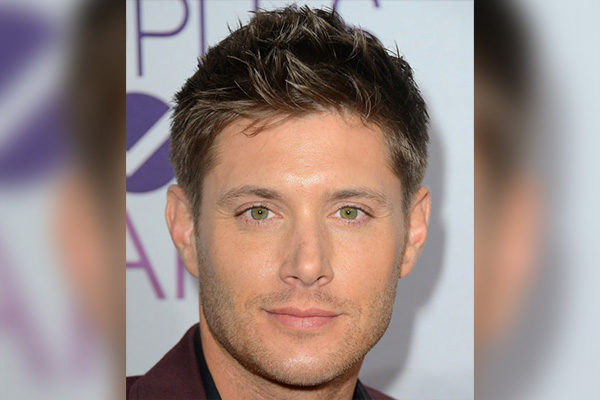 More commonly known as the Ivy League haircut, this is a type of crew cut where the crown of the head is short, and the top front part has hair that's long enough for you to be able to style it nicely.
Ideally, it is done with a side part that looks very stylish, neat, and proper.
As the name implies, the Harvard clip haircut originated from Harvard and is an ideal haircut option for all those people who prefer to have low-maintenance cuts that don't need a lot of extensive styling.
Square Cut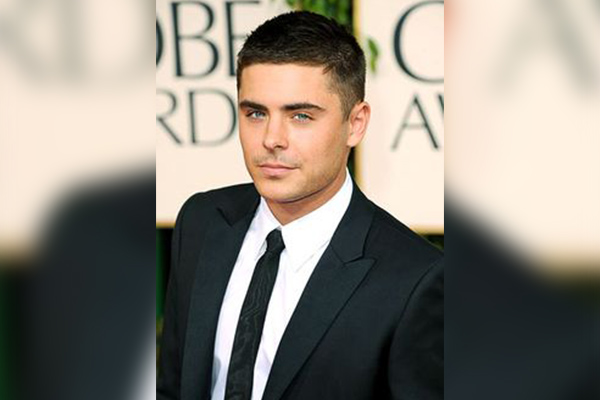 This is a clean-cut, sleek kind of haircut for men that comprises a prominent line across an individual's sideburns, hairline, and neckline.
The square cut, as the name suggests, has a very uniform look given the fact that the hair is cut in the same length, however, modern variations of this haircut tend to feature longer hair at the top.
The increased length allows one to create volume, and texture and style the hair in different ways.
Hockey Cut (Bro Flow Cut)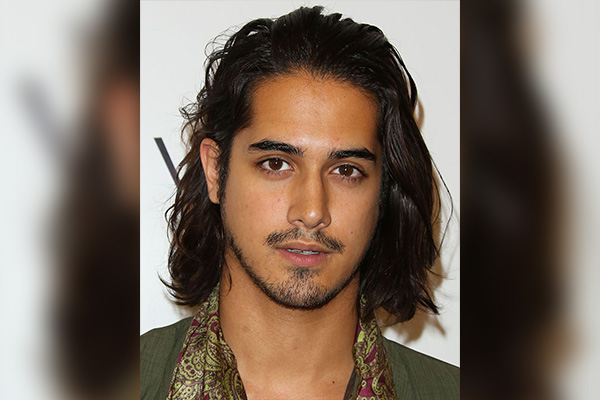 The hockey haircut is also known as the brow flow cut, flow hairstyle, and wings haircut, and it is most popular among sports figures such as baseball players, surfers, hockey players, and skateboarders, to name a few.
The haircut consists of medium to long locks of hair that are cut in a way that they freely flow in the wind.
In simple words, the haircut is all about medium to long hair that is styled in a wavy manner where the front is pushed back a little to make it look as if it was blown toward the back by the wind.
Asymmetrical Fringe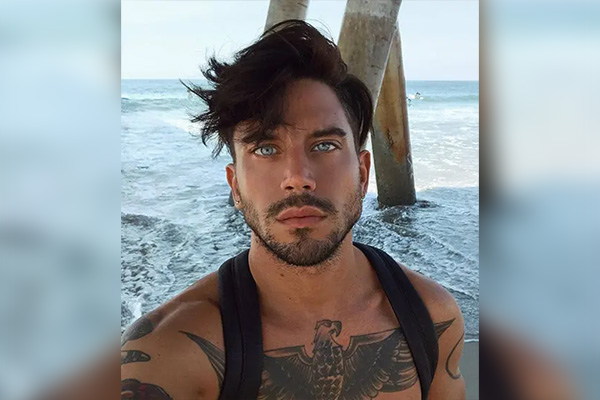 The asymmetrical fringe is an edgy, eccentric, and unique version of the classic fringe. It adds lots of layers and volume to your hair and covers one side of the forehead.
Mop Top Haircut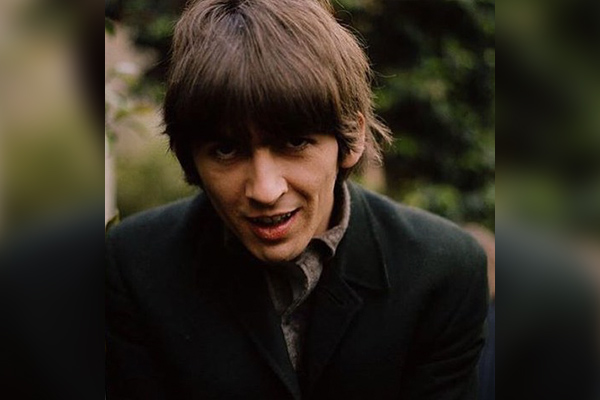 Referred to as the distant cousin of the classic and popular undercut, the mop-top haircut is a boyish type of hairstyle that has shorter hair at the bottom and long hair on the top that ends right above the eyebrows.
Top Knot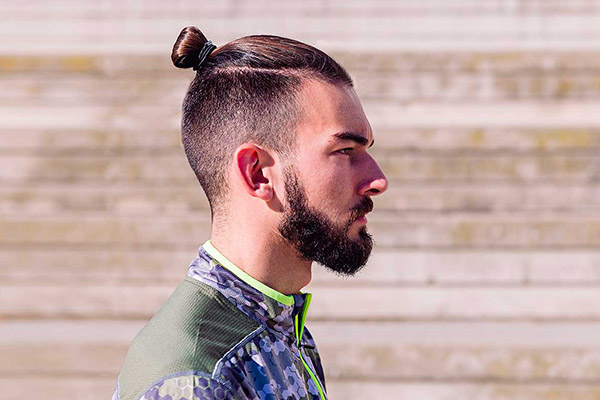 Similar to the man bun, the top knot consists of a ponytail gathered together in a knot that is formed at exactly the top of the head.
It is often paired with faded sides and back to elevate the final look.
Upswept Mohawk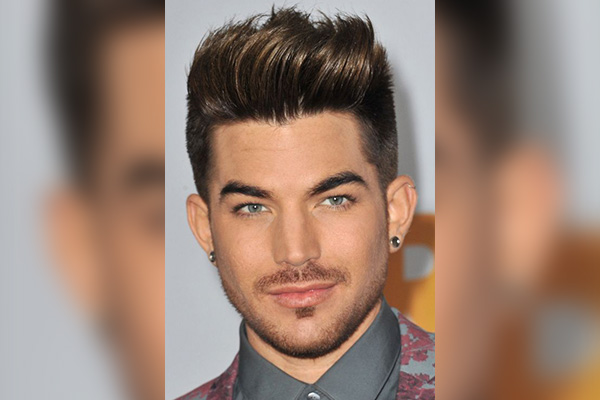 This haircut is a fancier version of the traditional mohawk where both sides are shaved and the center of the head is left with long strips of hair styled in a sweeping manner towards the back.
Hard Part with Fade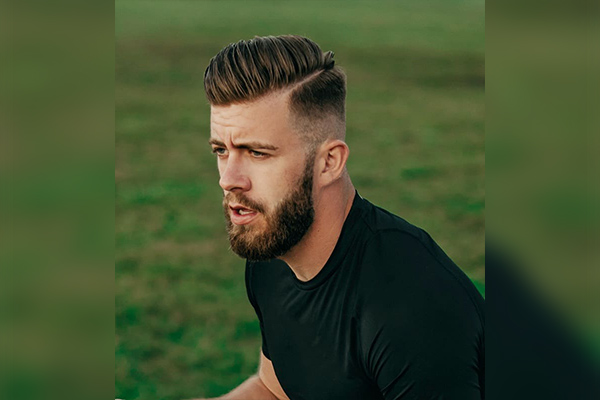 A classic fade, but with a hard part, this super unique men's haircut looks amazing! 
Thin Hard Part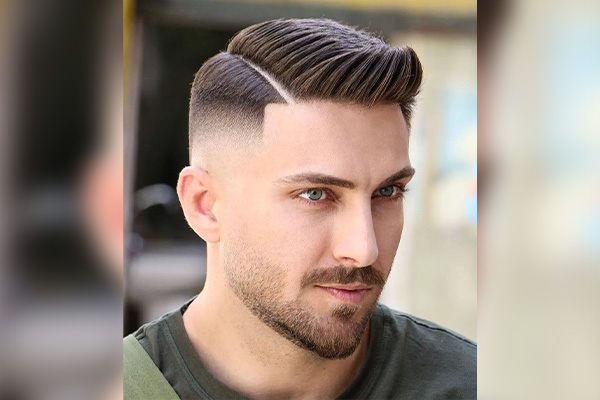 If you are big on the hard part hair trend but find it too harsh for your liking, go for a haircut with a thin hard part. This is more subtle, has a thin shaved line that still creates great definition while still maintaining aspects of the classic hard part.
Duck Tail Hair Cut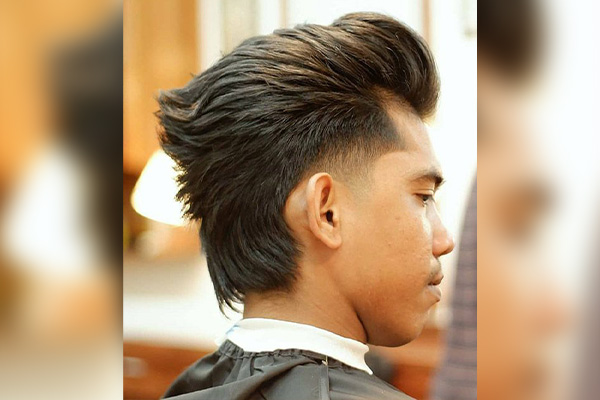 Although originally popular in the 1950s, this particular hairstyle is still considered iconic, which was donned by the likes of American singer Elvis Presley and Indian actor Shammi Kapoor.
The cut incorporates a unique technique where instead of being part on the top front, it is cut in a way that it parts at the back side instead, paired with a slick back to the front.
Flat Top Cut
This military commando-style inspired men's haircut brings the professional in macho. It starts much like a crew cut, except that the hair on the top of one's head stands a little taller and straighter, at a level, to form a straight flat deck. 
You can custom many of the kinks in this cut, including the sides of the flat top which can have straight or rounded edges. All in all, it's a look that exudes confidence.
Elephant Trunk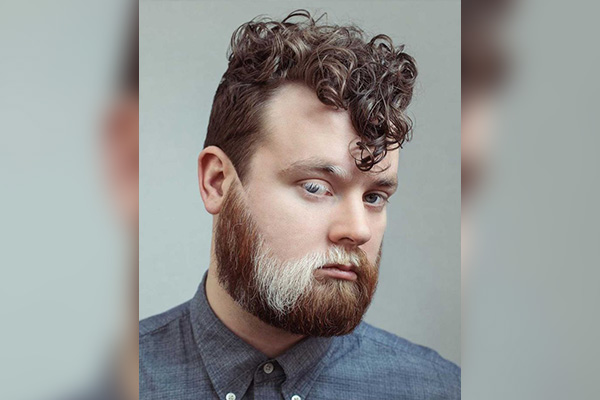 If you have the time to maintain a certain look every day and add products to your hair regimen, then the elephant trunk look is worth looking into! It is a literal twist on the classic pompadour, where voluminous hair on the top instead of being mounted high is twisted and made to fall on the forehead, whilst the sides are kept short and slicked back.
If you were ever inspired by Danny Zuko's iconic look in Grease, then the elephant trunk is one to opt for.
The Gumby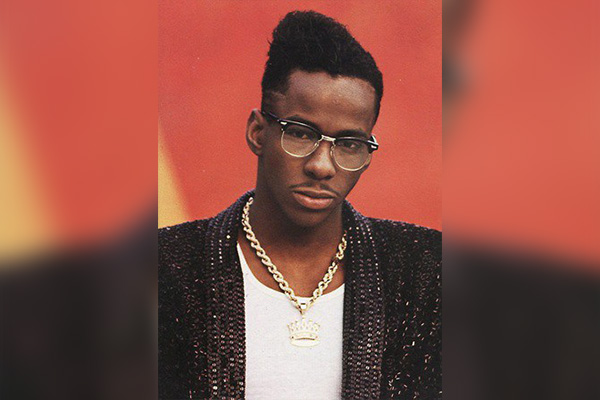 Much like the leaning tower of Pisa, this particular haircut is bound to turn a few heads, mostly because of how unique of a twist it brings to the original flat top cut. 
Essentially, it starts as a High Top Cut with a fade, however, Gumby takes it further by creating a slope or slant to the top of the hair, so it shows as an iconic slanted cut.
The Southside Fade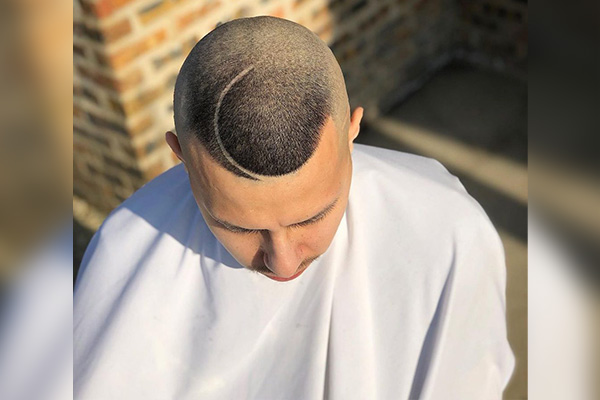 You may have heard of the High skin fade, but the southside fades does things a little differently. It takes the fade right to the crown, where it reaches out halfway through the top of the head.
It originates from the Southside of Houston, Texas, and is a very neat and low-maintenance look to go for, especially when trying to go for a military-type look or dealing with concerns of baldness.
Burst Fade
Instead of featuring on the hairline for a fade, the burst fade is centered around the curvature of the ear, tapering the hair in that area as it creates a smooth transition the farther up towards the crown it goes. The hair is also kept long at the nape, resembling a subtle mullet.
It's a neat little twist on the fade and helps you stand out in a crowd, whilst keeping things minimalist and professional.
Fohawk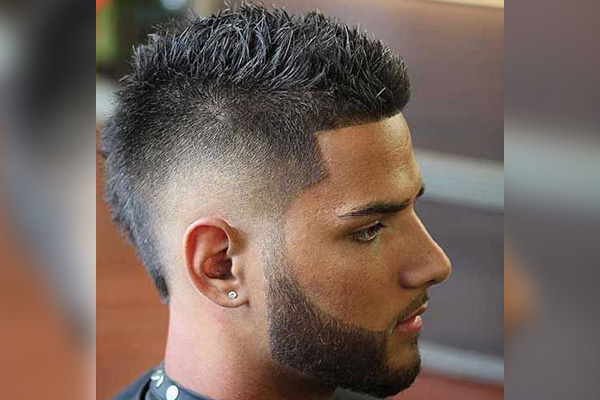 For those who don't want the intense look of a classic mohawk but still crave it nonetheless, they could venture a little safer and opt for a fohawk.
Originating from the French term faux, which means false, the name suggests exactly what this men's haircut entails. The attribute of a mohawk with a heavy midline is kept intact, but instead of shaving the rest of the hair off, the sides are instead trimmed to a degree of your choice.
The Two Block Haircut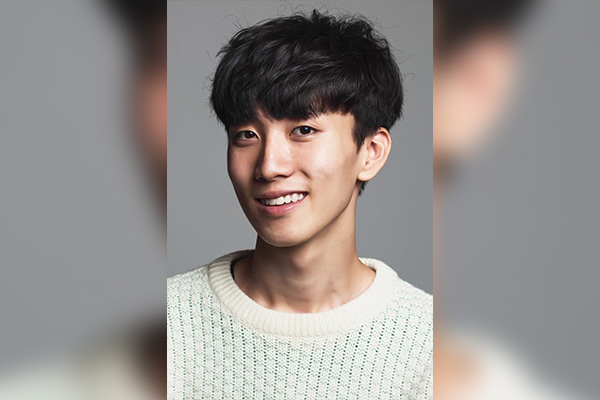 Extremely trendy in Korean and K-pop aesthetics, this particular haircut features two different lengths. The name suggests how it is cut, where the barber may cut your hair in two separate sections. In the same cut, where the bottom part is kept relatively short, and the top part long.
The cut can feature a clean and crisp look, or even a messy and laid-back vibe, but it is not so easy to maintain and will need consistent trimming sessions.
Boogie haircut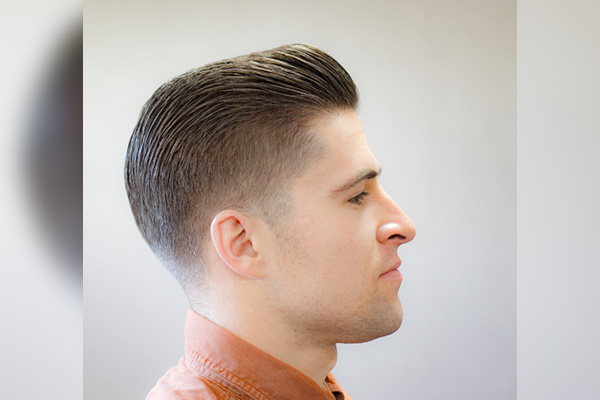 If you want to look like a person straight out of a Gatsby-like Golden age period, the boogie haircut is the one for you.
It features an exclusive marriage between a Flat top and a Pompadour look, where the sides feature nice short hair that evolves into a slanted fade towards the front side separated from the top with a hard part, while the top features slightly longer hair that is styled into a subtle wave.
Spikey Mullet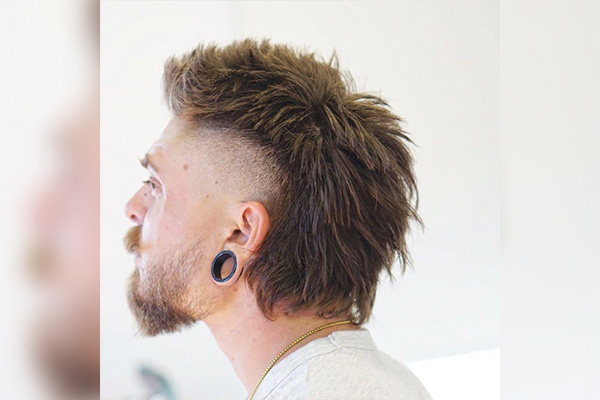 The Spikey Mullet Men's haircut puts the trendy and rocker vibe in the classic mullet look. It follows the traditional long hair along the midline up to the nape look whilst the sides are kept short or faded, but the hair on the top and the crown is cut layered and jaggedy, and the same technique follows to the back. 
It brings a very edgy vibe to your look but is often difficult to maintain and needs a bit of hair gel to keep that spikey look up, especially for those with thin hair.
Choppy Haircut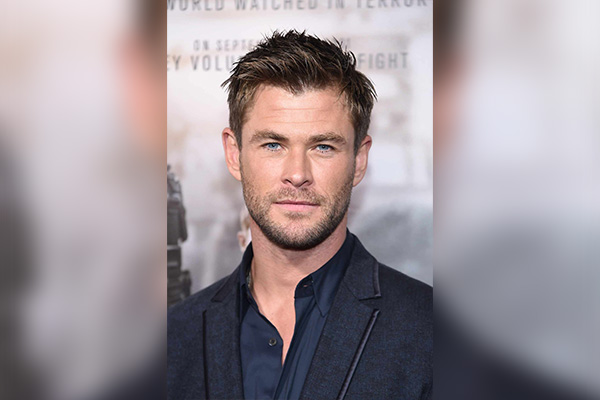 As the name suggests, this is a messy, choppy type of haircut that features many layers and textures, resulting in asymmetrical and uneven proportions.  The result is a bold, edgy, blunt look that does require styling to some extent to maintain the disheveled aspect.
Volumized Brush-Back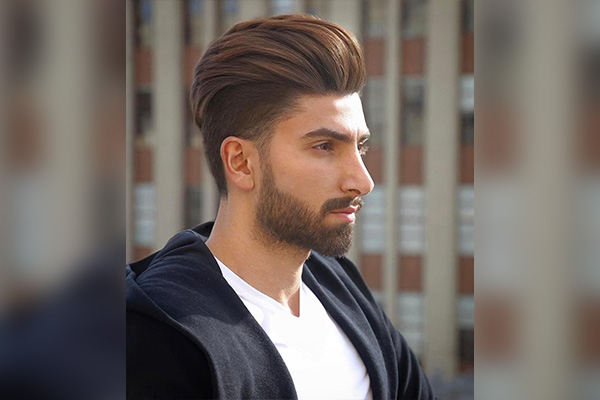 Brushed-back looks are classic, and with a little volume on the top, you can swiftly add a great deal of style and dimension to the overall look.
Curly Curtain Cut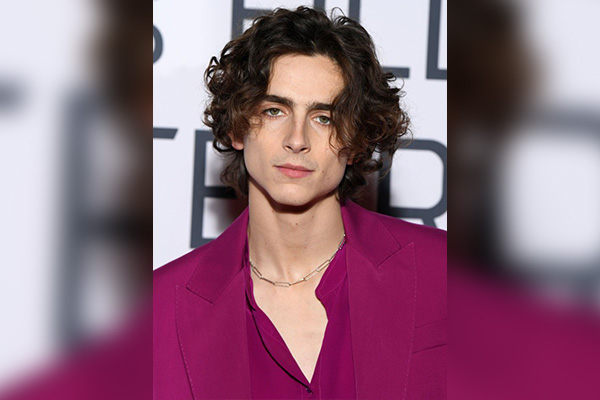 The traditional curtain cut features straight hair, but when done with curly hair, it looks even better!
For those who have naturally curly hair, this is a classic option to consider.
Low Temple Fade
The low temple fades haircut is an ideal type of medium-length men's haircut, which is best described as the most subtle, lowkey version of the classic temple fade.
In this particular look, the sideburns' highest point blends into the skin, making it just slightly visible.
It's another low-maintenance men's haircut that doesn't need a lot of styling and looks great on most, if not all types of face cuts.
Rounded Haircut with A Low Fade and A Hard Part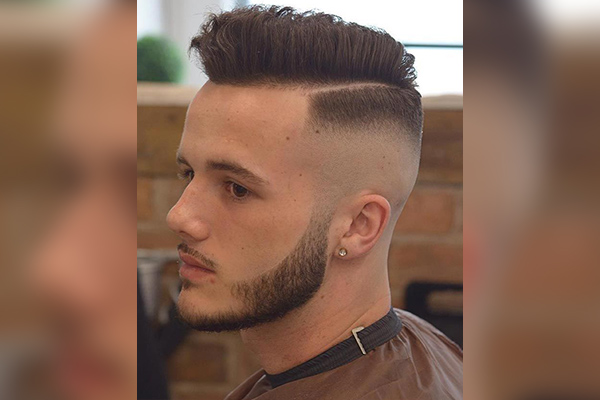 This haircut has a prominent rounded look, but it comes with a low fade as well as a hard part, all at the same time.
The hairline is kept very clean which extends into a hard part that separates the hair at the top from the low fade right below the shaved line.
The haircut works well for all types of hair textures, but particularly wavy and curly since they help accentuate that rounded look and effect.
Short Combover Haircut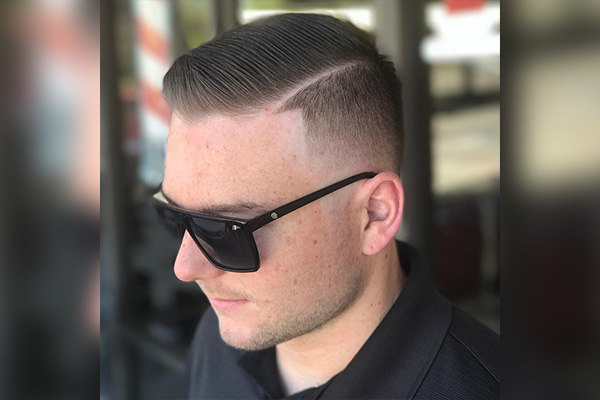 One of the best short men's haircuts is none other than the short combover cut where the hair is simply combed over to one side, creating a side parting.
There's some amount of volume on the top where you comb the hair over to one side while the back and the sides are shorter, sometimes even featuring a low fade.
High Fade + Slick Back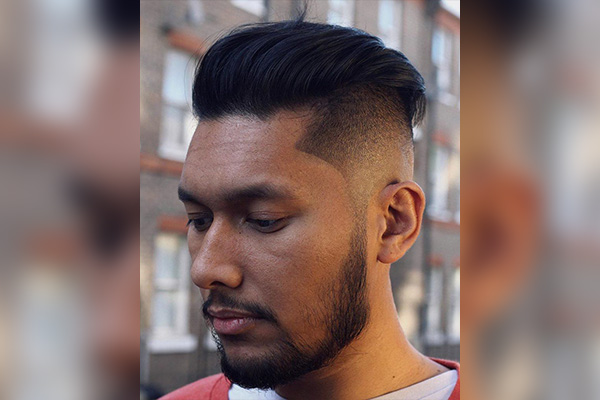 From boardrooms to bars, this slicked-back high fade haircut is super versatile and is ideal for different types of occasions.
It's a timeless type of haircut for men where the hair on the top is slicked back neatly followed by a high fade that elevates the whole look and gives it that added touch of stylish edge.
High Fade + Skin Shave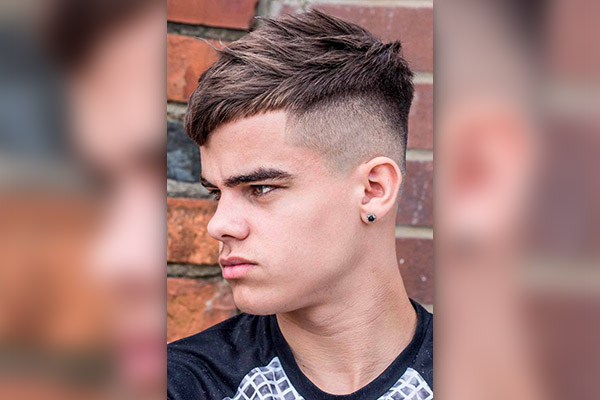 This is one of those low-maintenance, modern men's haircuts where you can experiment with your on top.
It's a clean, sleek, crisp haircut where a high fade is created with a skin shave where the hair underneath the fade is shaved off completely.
Textured Fringe
There's no reason why you can't experiment with the classic fringe and create a fun, messy hairstyle!
The textured fringe haircut, as the name suggests, features layered and textured fringes that cover more than half the forehead.
You can either keep the hair at the back sides long and voluminous, or you can go for a faded look.
The best thing about the textured fringe is you can style it in many ways such as you can do a side-swept look or even create a French crop.
Undercut with Fringe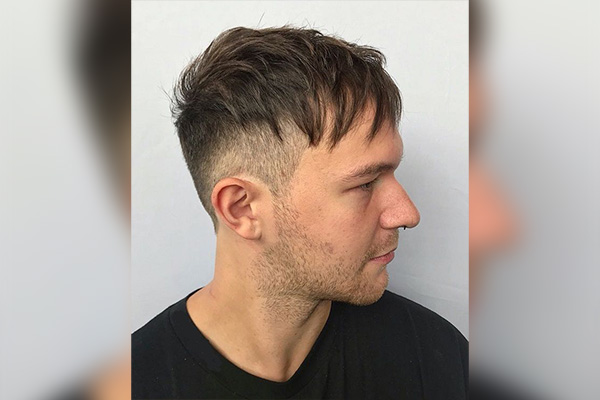 If you have an angular jaw and you are looking to enhance it with the right type of haircut, this undercut with fringe look is the one for you.
Think neatly buzzed back and sides, and long fringes or bangs at the front creating a nice contrast. The fringe can be as short or long as you want, and you can style it however you want.
Fringe with Long Curls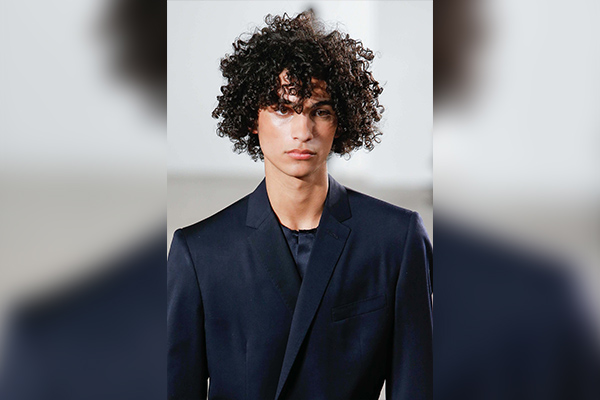 For this particular look, curly hair is a must.
This haircut is all about those thick, natural curls that not only offer a great deal of volume but create a classic retro vibe together with the help of the front fringe.
It can be best described as cool, modern, and funky, especially when you keep it as long as shoulder length!
Fade with Wavy Fringe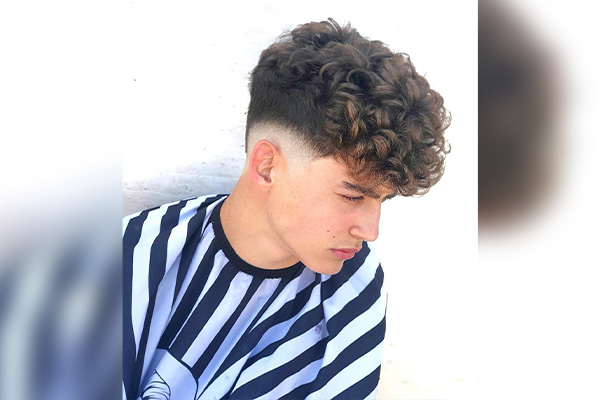 This sporty, sophisticated, and stylish haircut is surely a head-turner!
The fade gives it that characteristic sporty look, while the wavy fringe adds a bit of volume, texture, and drama to the overall style.
The length of the wavy fringe on the top is up to you, but the look works best if your hair is long to create texture.
Side Swayed Top + Neat Temple Fade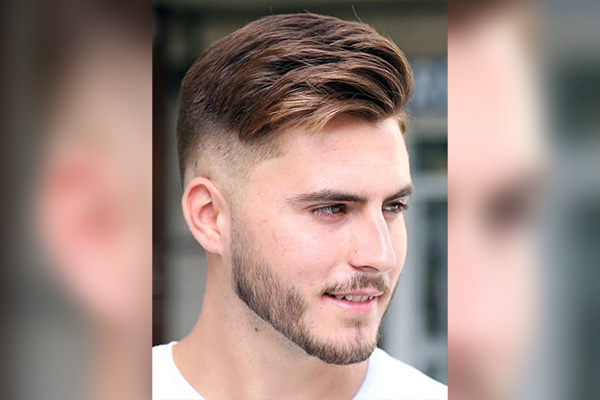 If you are a rockabilly fan, you will love this side-swayed top with a neat temple fade haircut.
A temple fade, also known as a low fade or Brooklyn fade is a type of short haircut for men where the hair tapers from the skin starting at the temples. The hair is longer at the top and super close-cut at the back and sides.
The side-swayed top takes it to another level and gives it a cool, stylish look.
Shaved Sides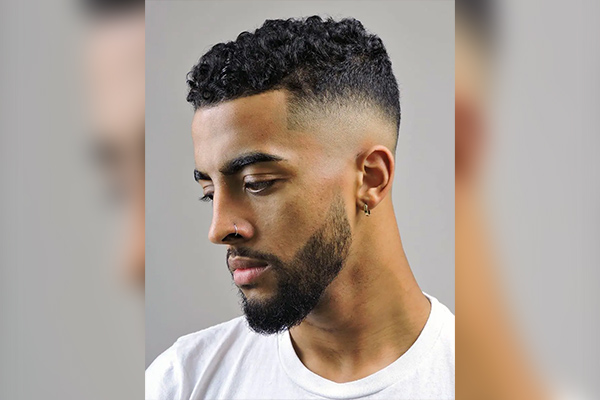 Most types of trendy men's haircuts feature short or shaved sides so there's no reason why shaved sides shouldn't be considered a separate haircut altogether!
This is one of the simplest and most low-maintenance haircuts that you can rock effortlessly with a short crop on the top for a subdued style, or with a longer length on the top to create a sharp contrast.
Regulation Cut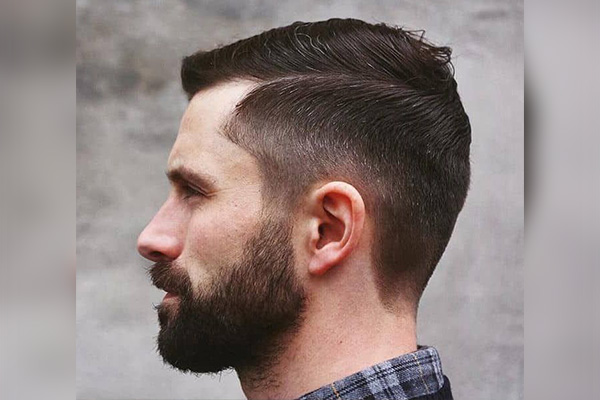 This haircut is like an extension or the longer version of the army cut where the hair on the top is trimmed down and the sides are completely tapered off.
In this look, it's up to you how much of the skin on the sides you want to be visible, leaving more room for experimentation with different hair lengths.
This regulation cut is very low maintenance, a highly practical option for daily wear, and looks great too.
Induction Haircut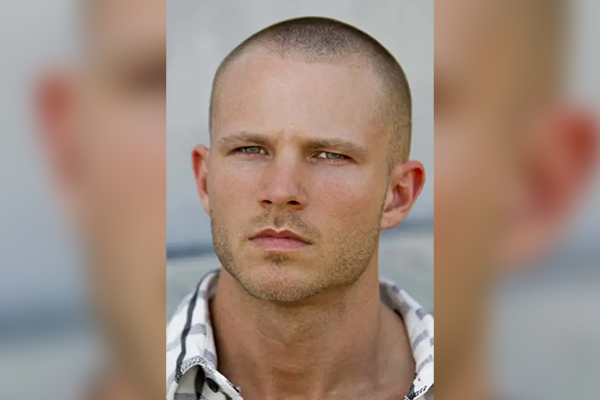 If there's a type of shortest possible haircut that can be achieved without having to shave your head with a razor, it's the induction haircut.
The haircut is so named because, in many armed forces in the world, male recruits are traditionally given the induction haircut during their initial entry.
While this men's haircut might not particularly catch your eye, there's no denying the fact that it's one of the best low-maintenance haircuts that require zero styling or care whatsoever!
Burr Cut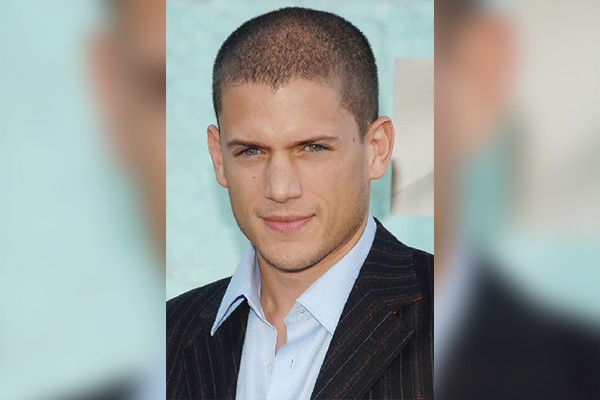 This simple, easy, straightforward haircut is military-inspired that has short, shaved hair all over the head, with a very prominent line outlining the hairline.
It's one of the most popular men's short haircuts simply because of how easy it is to maintain, and how it doesn't require any kind of styling or effort.
High and Tight Haircut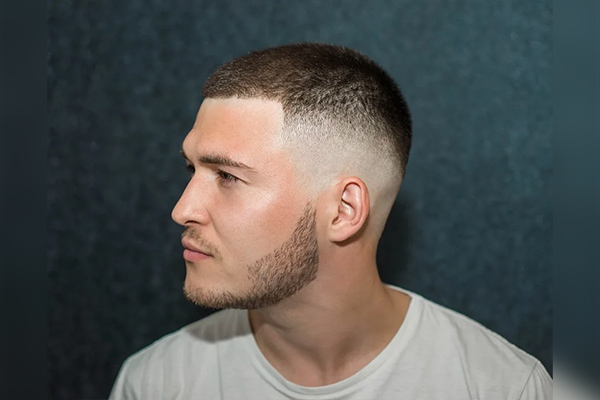 This is the crew cut's military version and is characterized by a very short hairstyle where both the sides and the back are shaved into the skin.
The top of the head has slightly longer hair that fades or blends in gradually with the sides.
It's also a low-maintenance men's haircut that doesn't require extensive styling.
Short Skater Haircut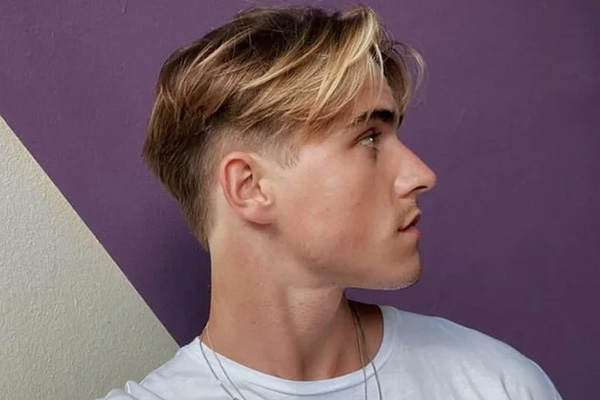 With a short textured fringe above the eyebrows, the short skater haircut is ideal for those who don't want a high-maintenance haircut, but would still like to have a little zest or edge in their hairstyle.
It's a low-key messy, cute, and casual type of haircut that looks great on all types of haircuts.
Spiky Skater Haircut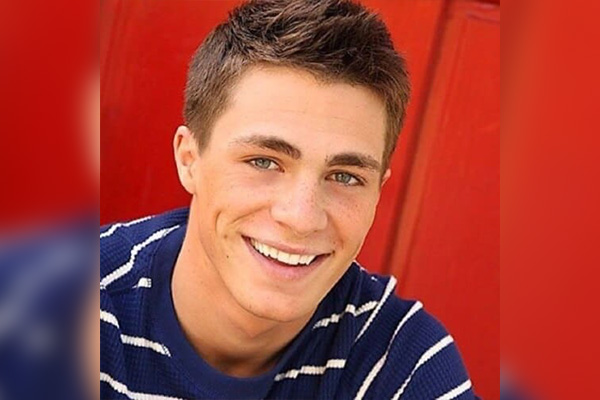 Spiky hair never goes out of style, and a spiky skater haircut is a must-consider option for skaters.
This haircut features subtle spiked bangs that don't look very sharp and have quite a natural touch to them, but that also depends on the texture of your hair and the amount of hair styling products you use.
Either way, a spiky skater haircut looks very cool and is an easy hairstyle to carry as well.
Long Skater Cut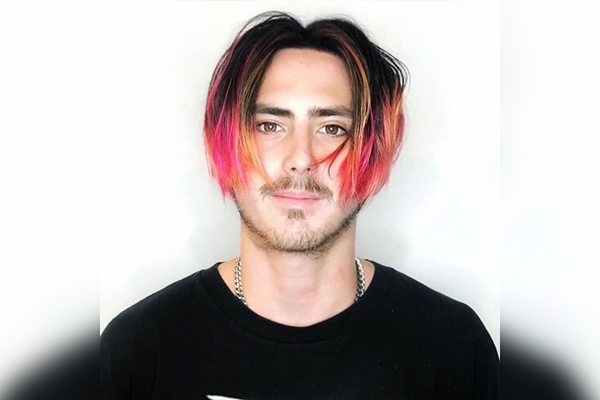 If you are into long shoulder-length haircuts, the long skater cut is worth your attention.
This cut is best for those with long, thick hair as it requires the hair to hang all the way down on your shoulders with a little wave in the hair on the front of the forehead.
You can do a middle part as well as a side part, whichever you prefer.
Layered Haircut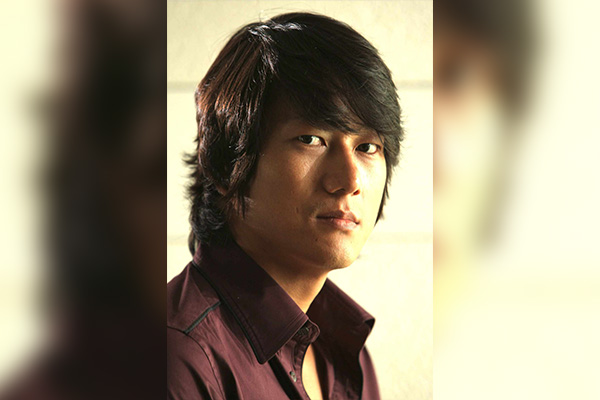 There's nothing worse than thin, dull hair, but there's nothing that a layered haircut can't fix!
This haircut is best for those struggling with thin hair issues since it features so many layers and textures and gives the illusion of thicker, more voluminous hair.
Punk Skater Haircut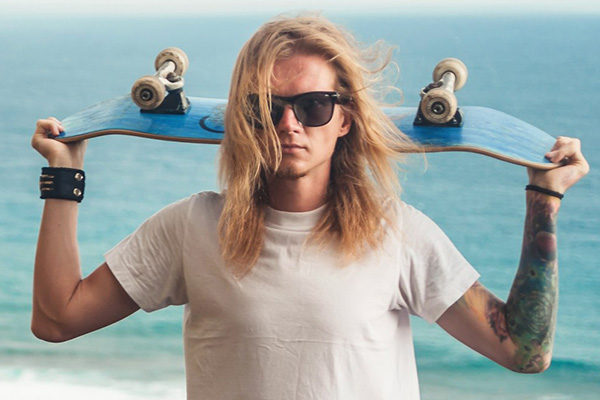 Inspired by the 70s punk undercut hairstyles and punk mohawk, the punk skater haircut is a great way to give your hair a unique transformation. It works best on medium-length hair where it comprises asymmetrical bangs with trimmed sides to give it a finished look.
However, note that the punk skater haircut is a little high maintenance considering the fact you need to use some hair product to keep the long bangs in shape.
Neat Fringe
Fringes are generally casual, messy, and fully layered, but this neat fringe haircut, as the name implies, is more towards the neat, sleek side.
The sides are shorter, and the hair on the top of the head extends over one side of the forehead in a nice, smooth fringe.
This haircut is ideal for men with straight hair, but you would still have to use hair pomade to smooth down the fringe.
Tousled Undercut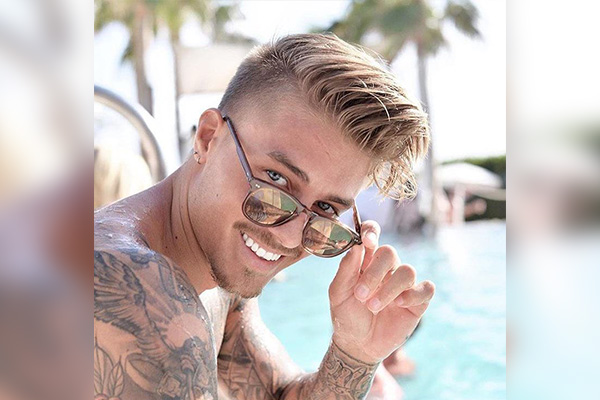 The undercut is generally considered to be a clean, short haircut, but the tousled version is the complete opposite! The messy undercut is best suited for medium to long-length hair with shaved sides and long, messy hair on the top.
Pixie Cut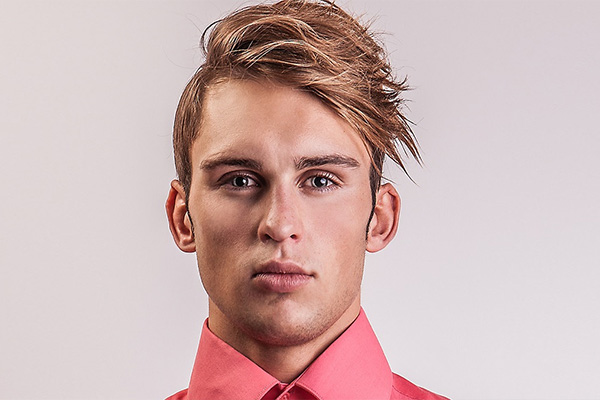 The pixie cut may have been popular as a women's haircut back in the day, but it gradually transformed into a haircut for men, too.
It's typically short on the sides with layered hair on the top, which gives it that cool, funky feature.
Textured Top Haircut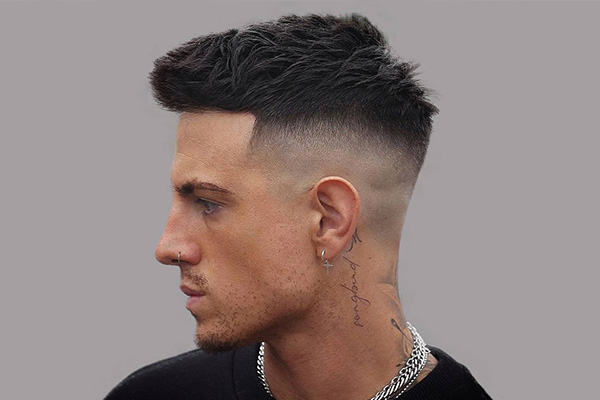 This is a versatile type of haircut for men with a choppy texture, lots of layers, and added volume. It works really well with all hair types from straight to curly, short to long.
Mini Pompadour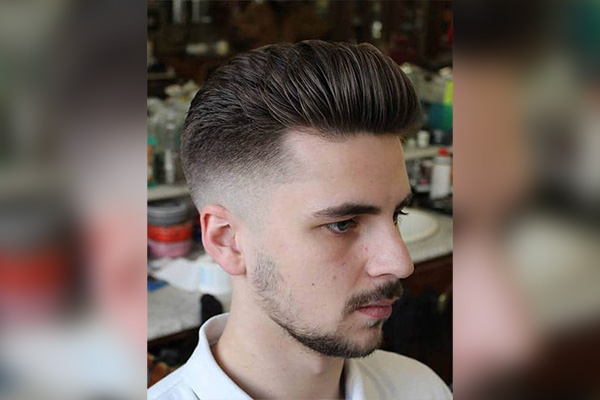 The classic pompadour is known for a very prominent front high mound, but this mini pompadour haircut comprises a smaller version of it. It has short hair on top, coupled with slightly longer sections of hair that are styled to one side.
Surfer Cut Hairstyle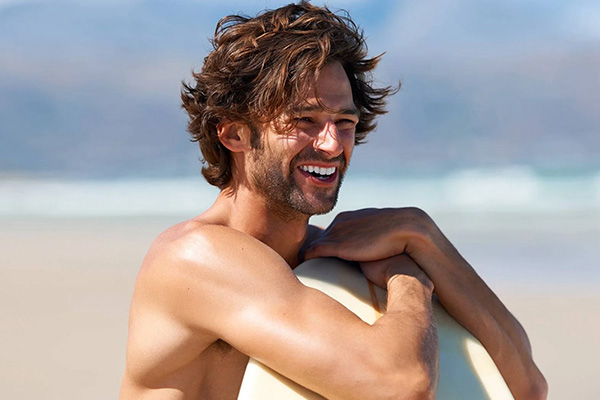 Purposefully disheveled and messy, the surfer cut is one of those tousled, laid-back hairstyles for men that completes a surfer's ensemble. It takes after a surfer's usual look that typically features wavy, sun-kissed beachy hair that has been soaked in the seawater.
It's usually chin-length and comprises untidy waves or curls that require very little care and maintenance.
Concluding Our Thoughts on Men's Haircuts
These are just a few of the many other different types of men's haircuts that are absolutely amazing and unique in their own ways.
There's an abundance of trending haircuts for men these days, so choosing one for yourself should be a breeze. In case you are confused as to what type of haircut you should get done next, it is best to consult a skilled and competent hair stylist who can give your hair exactly the kind of change it needs!