Timothée Chalamet, the popular Call Me By Your Name actor doesn't only know how to act, but he surely knows how to rock his glorious locks, too!
If you've seen Dune, the 2021 American epic science fiction film, you probably found yourself wondering, how to get hair like timothee chalamet at least once while watching this film.
Those perfectly free-flowing, voluminous, luscious locks of hair have been the talk of the town and rightly so. While Timothée Chalamet's hair has that obvious 'i-just-woke-up-like-this' look, it manages to maintain such great shape and texture which is what makes it a universal hair goal!
The addition of that chiseled jawline and sharp cheekbones takes his look to a whole other level and while not everyone has been blessed with that stunning bone structure, there's no reason why you can't recreate the infamous Chamelet hair and give your hair a much needed chic transformation!
The Timothée Chalamet Haircut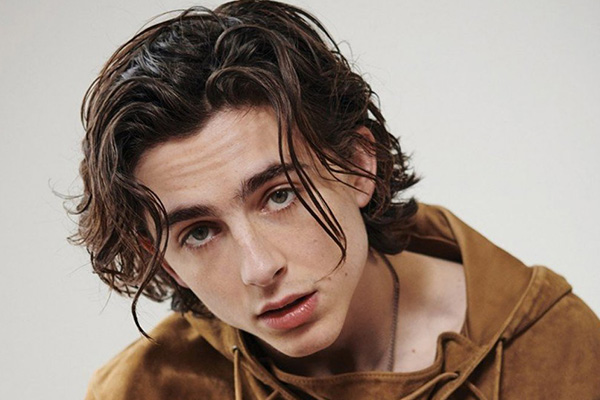 Timothée Chalamet's hair in Dune definitely isn't just about using the right products, it's also about getting the right haircut.
First things first, before you go to your hairstylist with a picture of Timothée Chalamet's hair on your phone, make sure that your hair is long enough for it to reach the collar after the cut. Medium to long hair length is absolutely crucial for this look since it involves lots of layers and volume. 
This particular haircut is often referred to as the 'non-haircut' by professionals because it doesn't require cutting the ends straight across with a pair of scissors, but is instead achieved by point-cutting the hair. This is done to prevent the ends from being too blunt.
The idea here is for the hair to look like it was cut a few weeks back instead of a fresh cut, but without looking messy or unkempt. The top and the sides feature a shaggy cut, followed by lots of layers in the middle and the back where the hair sits right above the collar.
In the end, all it needs is a soft side parting, push the hair back a little away from the face and you are all done!
The Timothée Chalamet Hairstyle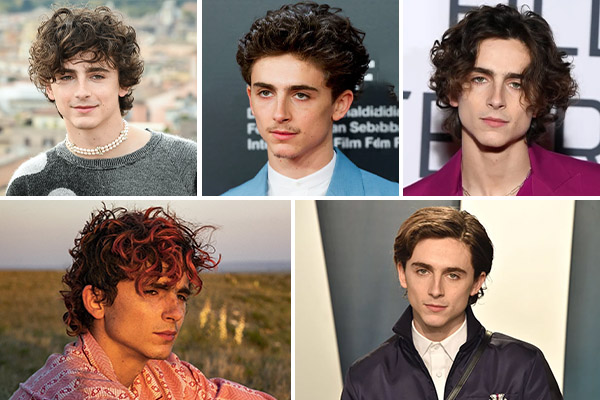 Once you manage to get the Timothée Chalamet haircut, the next step is to style your hair like he does to get those beautiful thick wavy locks!
It all comes down to whether you have naturally straight or wavy or curly hair. With different hair types, the styling method will also be different considering how straight hair in particular will require extra work and styling effort to get the infamous Timothée Chalamet hairstyle.
For Curly Hair
If you have naturally curly hair like Timothée Chalamet with those soft waves and curls, recreating this style will be a breeze for you!
Begin by washing your bleached hair with a nice sulfate-free shampoo followed by a conditioner no more than twice a week because over-washing can dry your hair out. Allow your hair to dry naturally because that's what will give it the characteristic wavy, curly appearance like Timothée Chalamet's hair.
When your hair is about 70% dry, take a curl-defining cream and apply a pea-sized amount. The cream will allow you to shape your hair and give it a flexible yet firm hold. Hair creams are also great for taming those annoying flyaways and because they are light, they don't end up weighing the hair down.
Create a side part and work the product through the waves and curls gently. If you feel like your hair looks a little flat, you can scrunch up the ends to give it some volume.
With naturally curly or wavy hair, you probably won't need to use a heat styling product, but in case you aren't able to recreate the exact look, you can surely apply some heat for the best effect.
For Straight Hair
For those with straight hair, achieving Timothée Chalamet's long hair with those perfect curls might be challenging, but it's certainly not impossible.
In this case, too, wash your hair with a sulfate-free shampoo followed by the right conditioner according to your hair type. Towel dry your hair gently until it is slightly damp but make sure that it's not dripping with water. For added texture and volume, a sea salt spray is your best friend which is ideal for those with thin or straight hair. It offers a voluminous, texturized boost to the hair and works as a pre-styling aid.
Apply three to five spritzes of the spray to your hair and work the product in with the help of your fingers.
Now, take a nice hair styling cream or mousse and again work it through the hair with your fingers. Make sure to keep scrunching the ends of your hair as go because, with straight hair, you need all the extra volume and texture that you can get.
At this point, you need to give your hair some heat in order to get that curly definition. Put your hair dryer on a medium setting and blow dry your hair, pushing your hair back away from the face. The use of heat will lock those curled ends in place and allow you to style your hair as needed.
However, note here that if you have super fine, thin, and straight hair, you might not be able to recreate Timothée Chalamet's hair because you need a lot of volume, texture, and layers for that look.  
Conclusion
Timothée Chalamet's hair is truly a character on its own and glorious enough to make one want to do their hair the same way! After the haircut step, it's pretty much all about how you style it and maintain the look with the right styling products and methods.
If you've been growing your hair out and were considering changing your standard look, perhaps, this is the best time to experiment with it and give the famous Timothée Chalamet's haircut and hairstyle a go! And once you're done, do take a look at the controversy as a result of Henry Cavill mustache.