The popular 90s hairstyle made a major comeback in 2022 and is being adopted by men all over the world. In all its glory, mullet hairstyles for men give the person a strong, edgy look but can be taken down a notch for a subtle multi-layered hairstyle, that is just as versatile and gives you the class you are looking for.
Sportsmen and celebrities were at first a bit resistant to the hairstyle but are now sporting it with pride and adding their own personal touch to the hairstyle. The mullet hairstyle variations in 2022 all over are given a modern twist to make them more suited to the needs of the present time, where each man can find a style suited to their preference, and personal style.
So what exactly is the mullet? And why has it been making waves since the 90s and no hairstyle has been able to put a damper on its reputation?
Well, let's find out.
Why Is It Called A Mullet Haircut?
The origins are still yet to be found behind the raging mullet but what we can pick up from the scraps of rock and roll history is that the mullet was supported by the band Beastie boys, during their song "mullet heads".
The word Mullet literally means 'mull" i.e., to ponder, and "et" the short form of "eternal" in polish, implying someone who is constantly thinking. It adopts a more literal meaning in Herald, with a reference to its shape, the five points of a star directing towards the different points and lengths in the men's haircut.
Whatever the origin may be, or the history that lies behind it, the mullet is making an unprecedented U-turn in today's fashion and is being adopted willingly by millions who know that the mullet is back and here to stay.
What Is A Mullet Haircut?
The mullet haircut has evolved through the years and has come to the form that we now know. It typically involves a multi-tiered system of the crop on the head, with shorter layers at the front and longer lengths at the back of your head.
A taper or drop fade is incorporated on the sides of the head where you can go for a sharper and more neat look with shorter sides with closely shaved sides.
A subtle taper is more practical for those who are looking for a mullet and who like to stay in their comfort zone but want to try the mullet hairstyle nonetheless. There are so many ways you can rock a classic mullet, with a straight or curly head really doesn't matter as long as you are wearing it right.
Here's how you can determine which kind of mullet is best for you.
What Is The Best Way To Wear A Mullet?
Due to the different layers from back to front, you can wear the style in a variety of ways, depending on the ways you want to adopt the hairstyle.
A classic mullet is best worn messy and in your natural texture since it complements almost all hair types and textures, and can even be adjusted according to to suit your texture.
However, you can, of course, switch it up from time to time. For example, if you have a straight mullet, you can permit up to have a curly one, or blow dry it to achieve one with maximum volume. For a sleek, more precise look, use a hairspray or product to put your mullet on hold.
Since there are so many ways you can wear the mullet, it can get a bit overwhelming to choose one for yourself. First, ask yourself what kind of mullet haircut you are looking for, and whether or not it's the right one.
There is a certain length of hair you should have if you're going for a mullet haircut. Consult your barber and talk about the mullet haircut you are going for with them in detail. They'll be able to guide you and work you through the process if they're the right one.
Here are some of the best mullet hairstyles for men to give you a head start.
Mullet Haircut Types And Styles
Shaggy Mullet 2022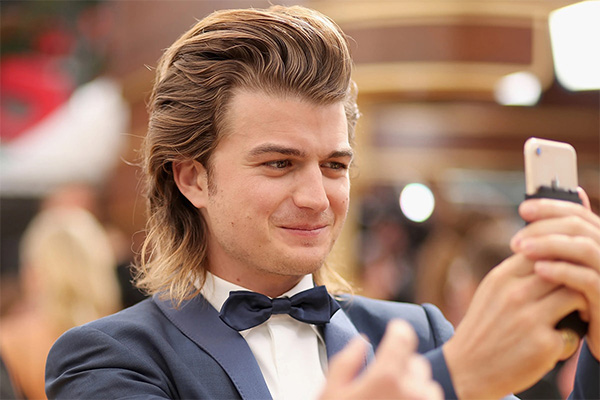 Just as a classic mullet should be worn, a shaggy mullet is best left to its natural texture. However, you can definitely go for mousses and products to add volume to your hair and take your shaggy mullet game to the next level.
You don't even need to put much effort into this men's mullet style, giving way to a truly effortless rockstar hairstyle one could think of.
Mullet Fade
Nothing speaks modern mullet better than a mullet fade. Add definition and depth to your mullet by defining the edges and going for a seamless fade into your locks. You can forget the last part and create sharp edges and borders to make the modern mullet fade even more prominent.
Flat Top Mullet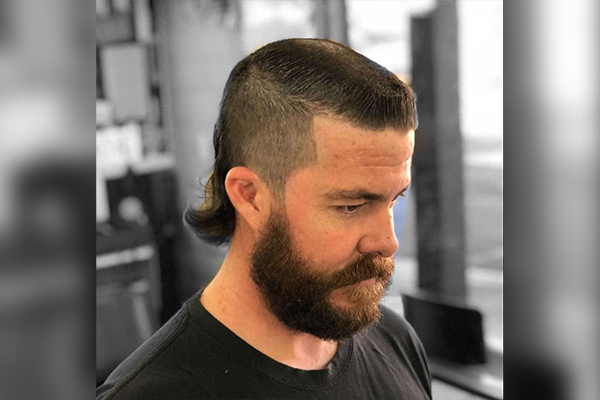 This one works best for men with thick hair textures, makes the mullet more manageable, and gives you the sharpness you are looking for. Create a flat top mullet, for a mullet that is daring enough to stand out in the crowd and sophisticated enough to sport on all occasions.
Curly Mullet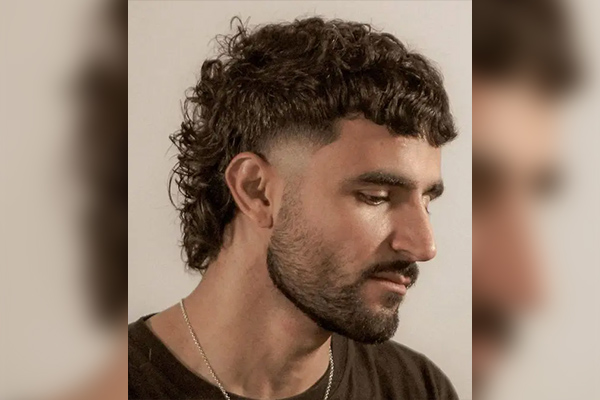 Most mullets are medium-length hairstyles that require at least some length at the bottom of your head to create the classic mullet. However, if you have curly hair, you might want to go for something shorter to flaunt your curls and still enjoy the mullet in all its glory.
Keep the hair at the back of your head short and tidy and place all the attention on the top of your head incorporating the different lengths across its middle. This modern curly mullet is a fun way to enjoy your curls while blending into current hairstyles.
Blonde Mullet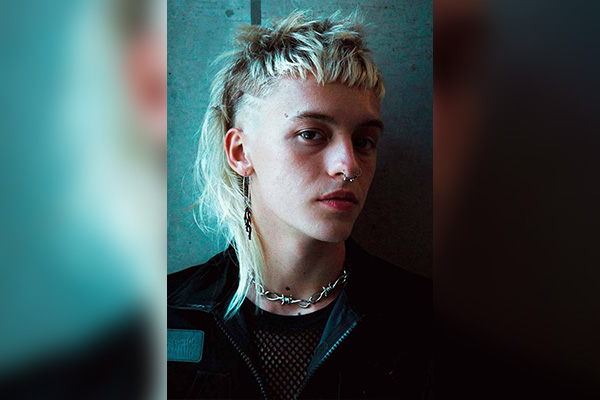 We all know how 'in' the platinum wash is this season. A blonde mullet is the ultimate game changer this season where you get to enjoy two trends in one hairstyle.
The hairstyle gives you a fresh new look, where you can experiment with the different layers and adopt a mullet hairstyle suited to your taste and personality. You can go for a full bleached look, a partial one
where you can, the roots will be left to their natural color, or go for highlights depending upon your choice.
Permed Mullet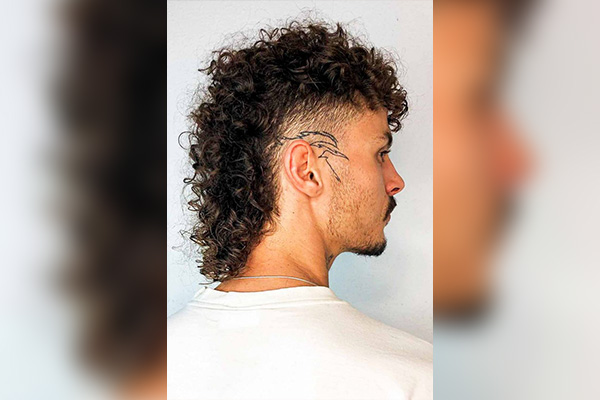 An intricate hairstyle that is making waves this year, a permed mullet is a way to flaunt your curls the way you want to take your mullet game to the next level. You can go for a short or long mullet really doesn't matter. It's a nice change of pace if you're someone with a straight mullet, and is a cool way to liven up your day-to-day look.
80s Mullet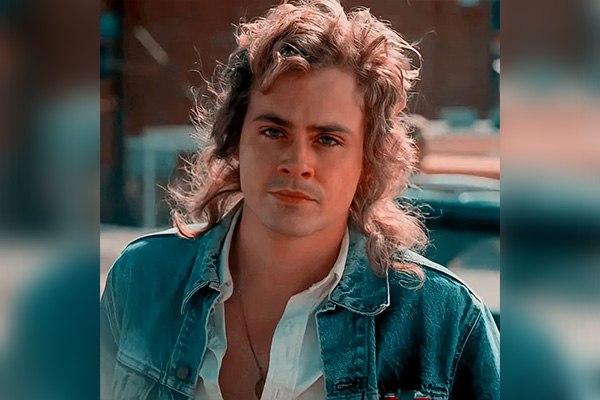 When you think of the 80s fashion, the 80s mullet haircut for men is actually unforgettable as it gives you a major throwback to the rock and roll session of the 80s. It has a balanced outlook over the conventional mullet with a longer fringe in the front that can be swept back or on the side for a more laid-back look.
The equal-length layers and neatly swept sides are the perfect mullet haircut for men who are not yet ready to sport the classic mullet haircut.
Short Mullet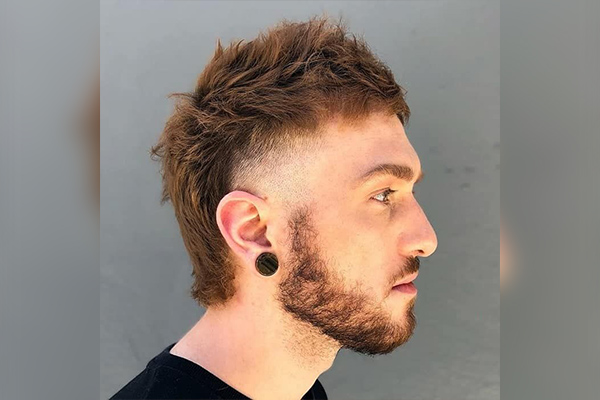 A mullet is a medium hairstyle for men, that can be maintained in both men's long hairstyles and short tresses of hair.
You can go for a short hair mullet too, where the layers within your mullet will be of more or less the same length. The front layer can be dampened, the middle portion of your mullet spiked up and the layers at the back could be straightened out.
This creates the illusion of the multi-tiered system of hair crops that a mullet is all about.
Choppy Mullet Haircut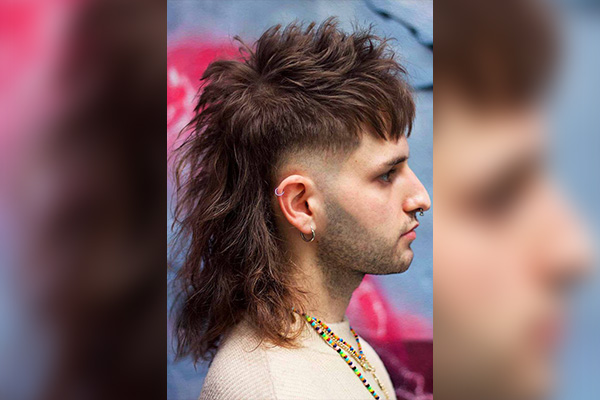 Have you noticed something common in all the mullet haircuts mentioned so far? No? Well, let me tell you, a mullet haircut is all about the chunky layers of hair that give your hair a choppy effect.
This also boosts your hair volume and gives you a low-maintenance hairstyle that is easy to rock. You don't need to put in much effort and still look bomb in its messy, natural state.
Taper Short Mullet Fade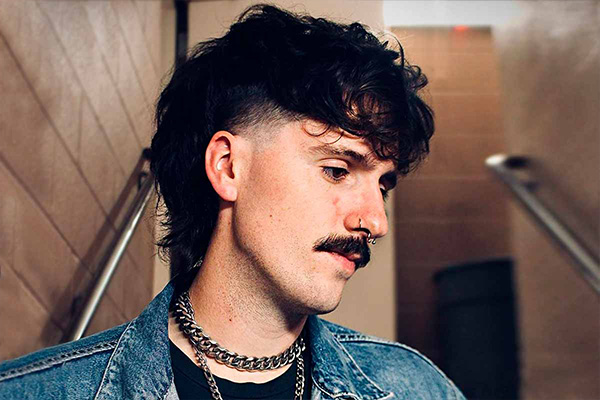 The definition of a modern mullet, this taper short mullet fade haircut is a quintessential hairstyle for you to rock this season, where the traditional cuts of a mullet have been adapted to suit the needs of the present time.
The hair is kept short all around and subtle taper is incorporated at the sides to create a more balanced look. This mullet haircut seems to be an easier blend in modern times where sporting a mullet couldn't ever be easier than this.
Slicked Back Mullet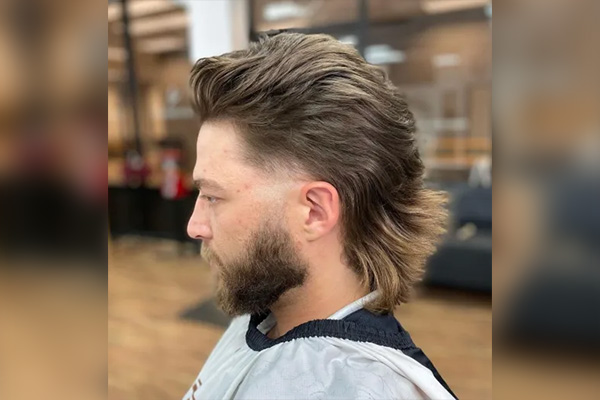 This sleek mullet will be the favorite mullet of most men, that's for sure. The juicy secret? You don't need to cut your hair in different lengths that are long at the back and short at the front, rather all the hair can be of the same length!
Slick back your mullet and enjoy a classy look, which is highly favored in professional and formal settings.
Layered Mullet On Longer Hair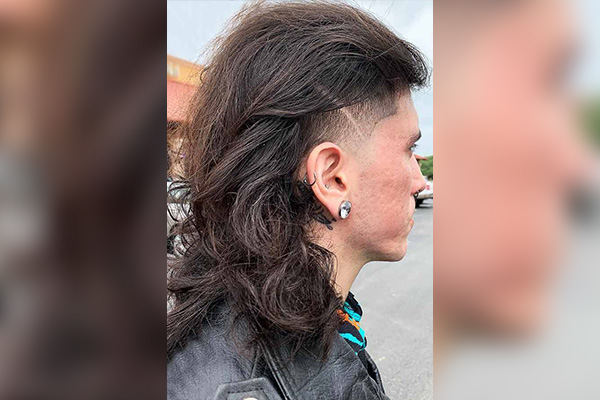 A layered mullet goes for layers not only from front to back but also from top to bottom. To opt for this hairstyle you will need longer hair length, to show off the layers otherwise, it won't work.
It is a perfect way to add volume to men who have long thin hair and creates a unique daring look for all who adopt it.
Modern Mullet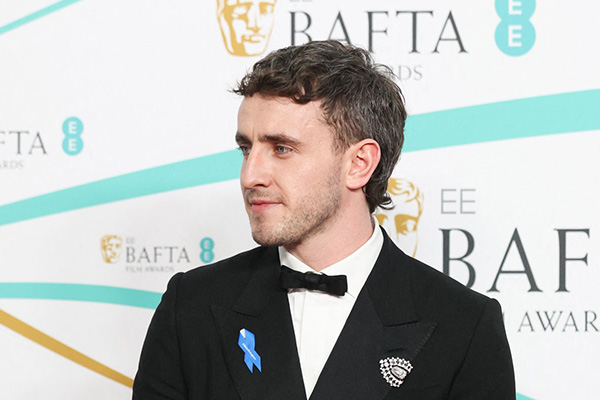 Best to go to the barber for this one.
A modern mullet asks for expertise in the hair realm, where your hair is snipped and snapped to a mullet that suits you best. The barber takes into account your hair texture, length, and face shape as well as personality to find a mullet haircut that's made for you.
Burst Fade Mullet
This is definitely one of the cleanest mullets we have got on our plates. The definition the burst fade adds to your haircut along with the edginess of mullet, guarantees you the well-earned attention of the crowd.
Middle Part Mullet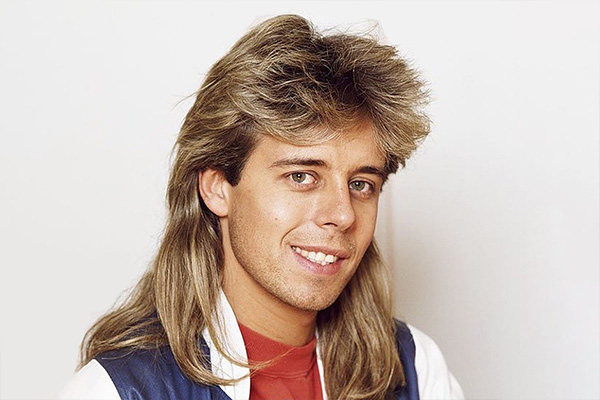 The middle part of the mullet works best on jewel face cuts but can be sported by anyone willing to adopt the hairstyle.
Slick down your bangs or go for a messy hairstyle with this middle part, and draw attention to your features with the unique hairstyle in 2022.
Straight Mullet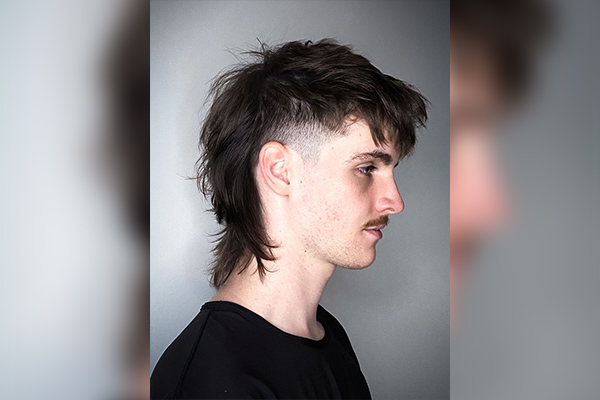 A mullet with straight hair really draws attention to the different sides of the mullet haircut and is a cool way to switch up from your curly mullet if you are a dude who has curly locks.
Create depth into your hairstyle, going for a taper, or burst fade and play around with different products to shape your mullet in different ways.
Mullet Haircut Men With Side Part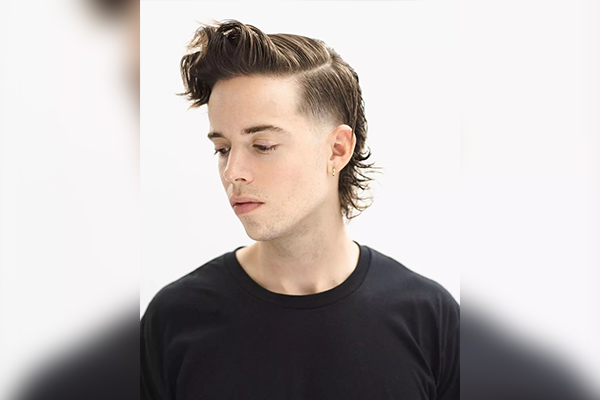 Mullet haircut with a side part is the first option for many men when going for a mullet hairstyle, partially due to its versatility and partially owing to the freedom it allows in stylizing the haircut.
The side part hairstyle is one that can be sported by most men without having to worry about whether it's suitable or not and can be stylized in more ways than one.
Wolf Cut Men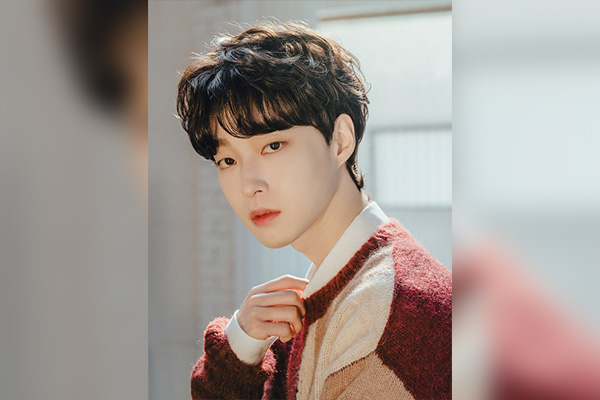 A daring yet stylish take on the mullet haircut, the wolf cut is messy and wild with a lot of layers added to it.
It can be worn and styled in a couple of ways, but the true essence comes out when straightened out where it gives the grunge, rockstar look associated with the mullet.
Spiky Mullet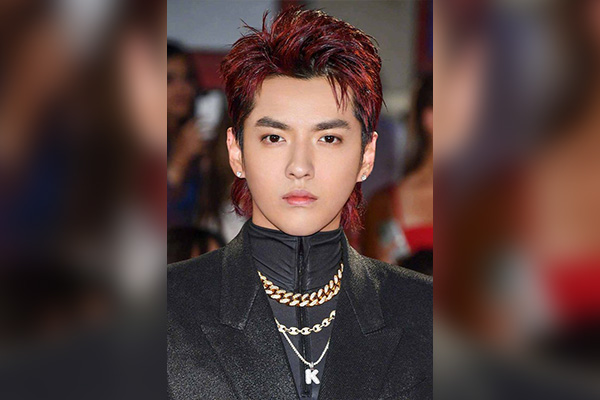 The spiky mullet emphasizes the importance of styling your mullet, which plays an essential role in determining how your mullet would look.
Spiky mullet creates the extra edge you could be looking for and can be used to tidy up the day-to-day messy mullet hairstyle. Not that it is wrong in any way, it's just healthier to experiment with your hair when you've got such a versatile haircut.
FAQs – Mullet Hairstyles for Men
Is The Mullet Coming Back In 2022?
If you've got an account on Tik Tok or Instagram, you'll get your answer. Of course, it is! It is back with a roar, where it is bigger and better, or even shorter for men with short hair so that no one has to feel left out.
How Much Does A Mullet Cost?
A mullet isn't too expensive or hard to get, and it usually costs around 30-40$ for you to get it done by a professional barber. All you need to do is have a good understanding of the barber and know the mullet haircut you want to go for.
Is Mullet A Professional Haircut?
A mullet is quintessentially an edgy haircut that not many people are willing to get. Yet with its ever-growing trends, many men are changing their views and are looking forward to getting one. However, they remain skeptical of whether or not the mullet would suit their office or workplace setting, even though it's not much of a deal, and can look pretty professional if styled the right way.
How Do You Ask For A Mullet Haircut?
The haircut is a pretty popular one, and it's not the first time it's raging as a trend in the fast fashion world. But if you still have doubts, then it's best to bring a picture of the mullet for your barber to see and work accordingly, through the haircut.
Are Mullets Attractive?
Mullet haircuts are a hairstyle for bad boys and good boys, alike. Whether or not the mullet is attractive mostly depends on the choice of haircut that you have gone for. If you have gone for one that suits your face shape and overall style, then there's no other haircut that can look better. However, if you have done the opposite, then it's for sure a recipe for disaster.
What Does A Mullet Look Like?
Essentially, a mullet is a haircut in which you have longer layers at the back and shorter ones at the front. However, the modern definition of the mullet is quite different and can be adapted to suit its wearer, rather than giving the same haircut to everyone who dares to go near a mullet.
Conclusion
The fact that everyone seems to be going for a mullet haircut this season, it is quite easy to get overwhelmed and get one for yourself.
However, it is best to approach the haircut with caution, because even though the haircut is quite versatile and the variety has expanded considerably, there are still so many ways you can go wrong with the haircut.
The modern mullet hairstyles for men have a place for those men who are more daring to approach the haircut or just have an infatuation with the 90s hip-hop hairstyle, as well as those who want to take it slow and steady. These are the folk who are, perhaps, getting it for the first time.
The mullet haircut and style that you are going for depends entirely on you. Also, don't underestimate the power of a trustee barber.