You might have seen the edgy haircut while scrolling through your Tik Tok or Instagram feed and have been tempted to adopt the style, probably more than once. But how do you get it, and will it even suit you?
Well, that's the thing about the Edgar cut. It's quite versatile and comes in different variations so that anyone can adopt it. It's just a matter of who you're getting it from and the style you are opting for as well as what would suit your face shape. 
There's so much that you can do with the style, due to the different dimensions in the haircut that allow you to adjust it to your needs and settings. More than that, the haircut is quite easy to maintain, meaning you won't need much to keep your mane on a fleek.
So what is this Edgar cut? And is it even worth all the hype?
Let's find out.
What Is An Edgar Cut?
An Edgar cut is a blend between different cuts and styles, incorporating different techniques to bring out the desired outcome. 
Even though there are a variety of ways you can adopt the hairstyle, the basic elements of the haircut remain the same. A high-rise skin fades,  with the essential undercut to create the edge that the Edgar cut is known for, along with a French crop on top are some of the key features of the Edgar cut.
What the Edgar cut is called, doesn't have any sound basis, although it is said to be named after the basketball player named Edgar. It came to its origin after a fan sketched his image within his hair, with the help of razors and scissors, and has been given the name ever since.
Whatever the truth may be, it is no doubt that the Edgar cut is being adopted by men all around and has been the highlight of 2022 men's hairstyles. 
Here are a few Edgar cuts for you to have a look at, that might hype you into getting one yourself.
Classic Edgar Cut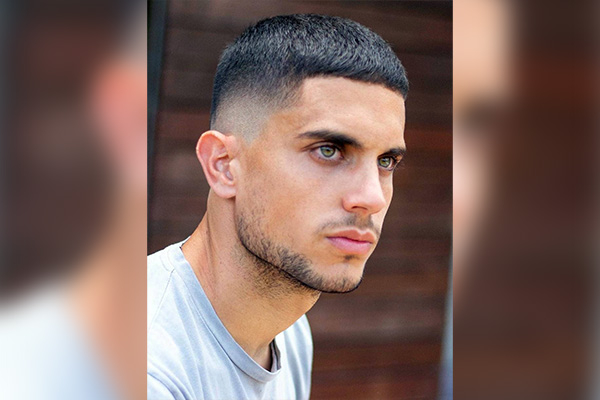 The classic Edgar cut is edgy, bold, and just what you should be looking for if you are a dude with thick hair. 
A straight front is created along your forehead and is embodied with high-rise fade lines. The top is rather short and can be textured to create a multi-dimensional hairstyle, with the mandatory undercut. 
The classic Edgar cut is the perfect way to elevate your men's hairstyle game in 2022, where the haircut is sharp enough to cut.
Messy Edgar Cut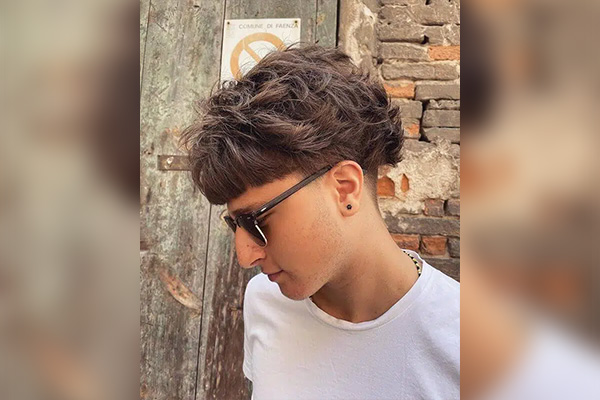 Please don't be dissuaded by its name. The haircut is actually pretty cute, with the straight fringe, and longer layers at the top to play around with different lengths, and allows you to experiment with your haircut with different styles. 
It is followed by the same high-rise fade as the classic Edgar, although this one is more playful than its older sibling.
Textured Edgar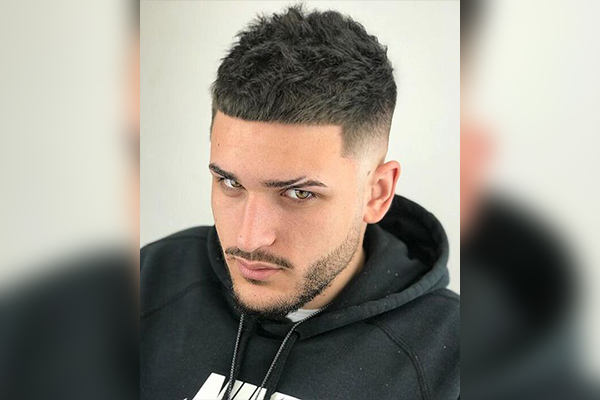 Can we just talk about how important it is to have a textured haircut in these times of fashion desperation?
This is the kind of Edgar cut you want if you are quickly bored with a hairstyle and want a different look every day. The textured edgar comprises different lengths along your french crop at the top, with the high-rise skin fade and rather a blunt undercut. 
You can experiment a lot with this haircut, molding your hair to whatever shape you want with the help of styling products.
Wavy Edgar Cut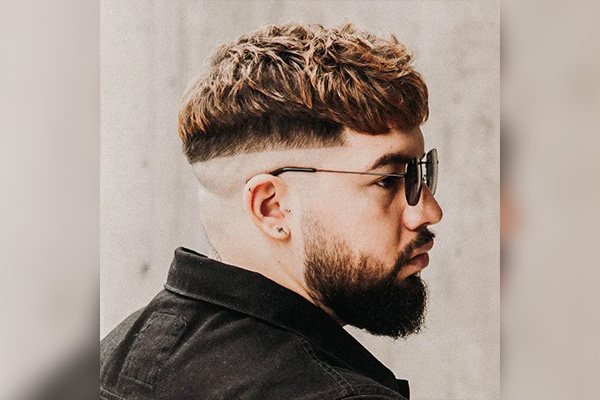 If you're not willing to chop off much of your length when getting a haircut, then go for this wavy hairstyle that lets you keep your length to a certain level while giving you a bold new look.
The wavy Edgar cut allows you to keep your hair longer at the top. The undercut and high-rise skin fade is still incorporated into the haircut but become somewhat discreet thanks to the longer layers at the top.
The straight fringe is further highlighted due to the mix and match of lengths and has room for all textures of hair.
Edgar Bowl Cut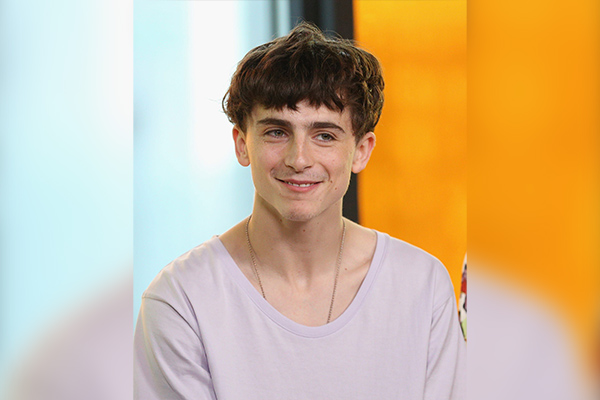 The Edgar cut comprises a variety of cuts that allows it to be tampered with and consequently shares many similarities with other hairstyles too.
The bowl cut is no exception. With the emphasized front fringe and high-rise fade and undercut, the bowl edgar gives the military style haircut a healthy twist, to blend in with today's hairstyles.
This is not a hairstyle for everyone, so beware of the cut before going anywhere near it. Analyze your face shape and have a talk with your barber about the haircut you're looking for.
Edgar Cut With Curly Hair
The curly edgar haircut works with all kinds of hair, curly or straight doesn't matter as long as you've got your hair done properly.
You can go with longer hair at the top to flaunt your curls or cut them short, however, you like. Having textured hair really helps maintain this curly edgar cut, with shorter hair at the back and longer hair in the front for a laid-back, polished look.
Low Fade Edgar Cut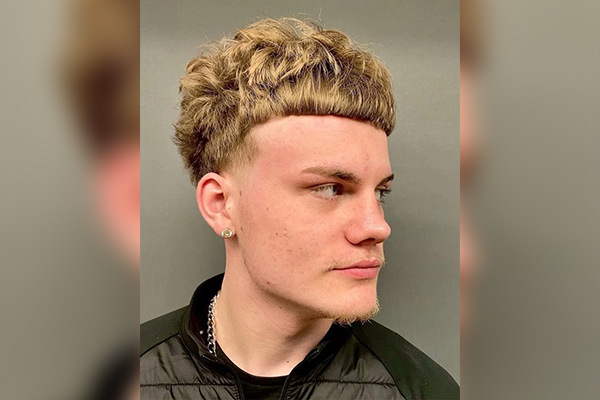 You know what's edgier than a classic edgar cut?
A low fade, mid-rise edgar cut. Incorporating a lower fade with your edgar cut is sure to blow the onlookers away with the strikingly sharp look. It also creates a more defined barrier between your french crop and low fade.
Edgar Cut with Taper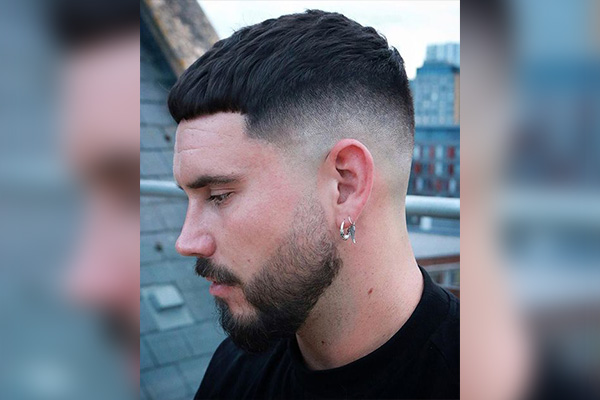 Slightly different from the conventional edgar cut, this taper edgar haircut adopts a more subtle fade along the sides of your head. A low taper edgar cut is balanced too, and perfect for those guys who are not yet brave enough to sport the classic edgar.
Short Spiky Edgar Haircut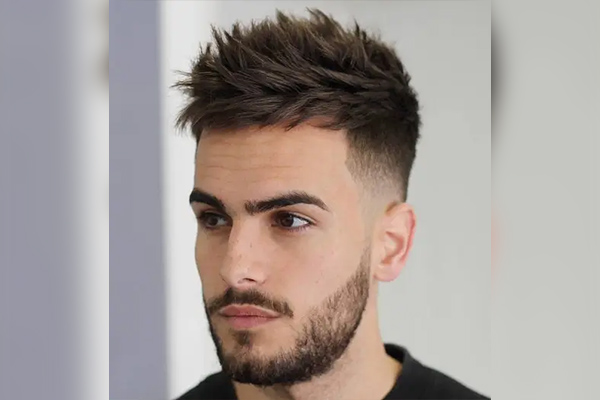 This is perhaps the sharpest variation of the edgar cuts. Short spiky french crop, where the fringe is left more natural, a high rise fade or taper and undercut, this edgar cut gives a sleek, professional look to all those who adopt it, where not much maintenance is required to rock the hairstyle.
Jagged Edgar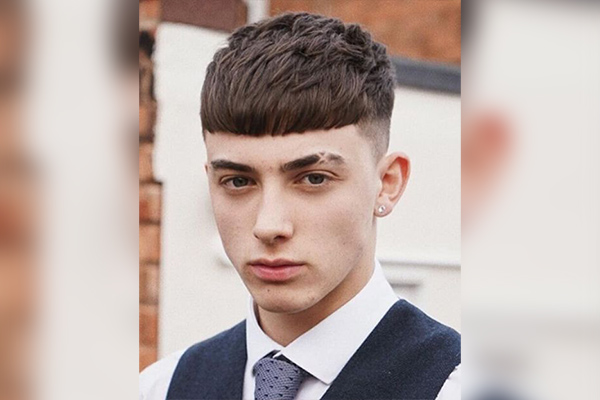 Quite a versatile option when it comes to edgar haircuts, this fluffy edgar cut tik tok rocks the hairstyle and adds its own personal twist to it.
The front is rather jagged and the french crop is rather long along with the traditional undercut and skin fade. This edgar cut adds drama to your whole look and gives you the option to experiment with your hairstyle where you can wear it however you like based on your setting.
Experimental Edgar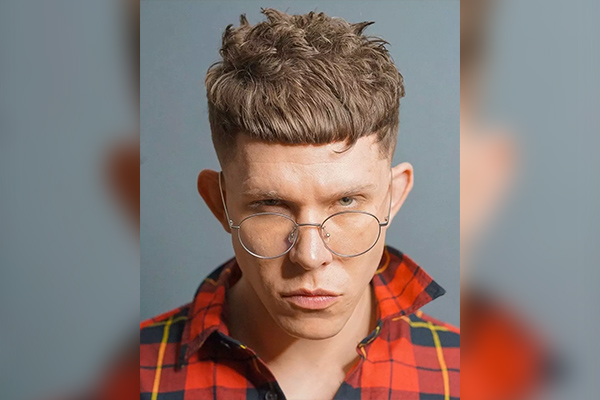 Here's the ultimate hairstyle for all those guys wanting to venture into undisclosed territories.
This haircut has a lot going on. From the traditional neat sides of the regular edgar to a textured top and a
"Fang" which is basically a longer strand of hair incorporated into the straight fringe of the edgar cut, the experimental edgar is all that you could ask for if you are looking forward to turning heads this season.
Edgar Haircut + Platinum Hair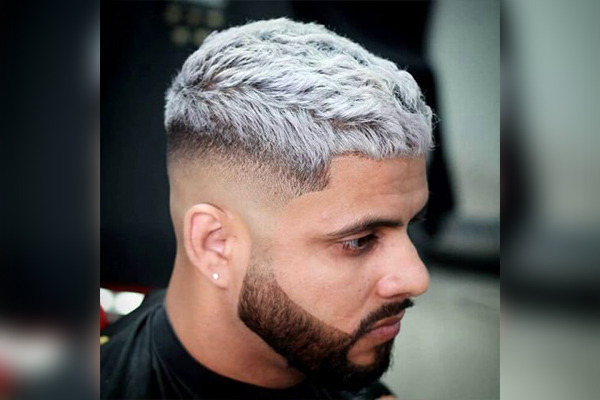 Bleached hair can really make your hair weak, making them prone to breakage and hair fall.
Going for a short edgar cut will help strengthen your hair while adding more personality to the haircut (if that's even possible). Platinum hair with the haircut is really a lethal combo of men's hairstyles in 2022, completely changing your look and taking your hair game to the next level.
FAQs – Modern Edgar Haircut
Where Did The Edgar Cut Come From?
The Edgar cut seems to have its roots in Mexico and is often sported by young Mexican men who like pickup trucks, and are named after the haircut.
Who Invented The Edgar Cut?
Although the origin is yet to be determined, it is said to be first worn by a boy who was a big fan of the basketball player Edgar and got his image sketched into his haircut.
Why Is It Called The Edgar Cut?
The Edgar haircut is said to be named after the basketball player Edgar Martinez and seems to offer a mix and match of certain hairstyles such as the Caesar haircut with sharper lines and more attitude. 
How To Get Rid Of An Edgar Cut?
The only way to get rid of an Edgar cut is to wait for it to grow longer. Alternatively, you can cut it even shorter to get rid of the lines separating the different levels of the haircut in order for it to grow in a more balanced way. Cut your fringe to give it a more natural appearance, and crop your French crop for a closely shaved buzz cut.
Conclusion
The Edgar cut has different levels across its surface, which can be adjusted according to a person's preferences. However there are certain features that make the Edgar cut, THE modern Edgar haircut, and without them, you would not be sporting the true Edgar cut.
There are quite a lot of variations you can do with the hairstyle and sport the haircut, but the basic elements remain the same.
The lengths at the top and the level of intensity of the fade and undercut can be managed by your barber and the Edgar cut you are going for, but it is important to choose one that suits your face shape.
The Edgar cut is quite a versatile haircut that can be sported by practically anyone. It's just a matter of making the right choice and opting for a barber who knows how to do their job.